Spicy Pork Wontons + Red Chili Broth – a wonderful combination of pork wontons made with fennel and shallots, soaked in chicken broth with cilantro and lemon zest, drizzled in spicy red chili oil. Comfort food that warms the soul!
Oooh I am so excited about these wontons! I could literally eat them all. day. long. The pork mixture is well-balanced with flavors of fennel, lemon zest, shallots and soy sauce coming through. The pork is wrapped in a doughy wonton wrapper and then you can just let them hang out for a while in some extra-special chicken broth that I would drink straight up if you let me. The chicken broth isn't just regular old chicken broth…. no. no. no. You start with regular chicken broth (homemade is preferred because it is going to have more savoriness to it) but then add in some celery, cilantro, green onion, sesame oil and mirin. Then and only then do you drizzle your desired amount of red chili oil all over. You guys need this in your lives.
If you are looking at this picture and at all thinking "Man, that looks pretty good, but there is no way in frittata that I would ever be able to make that." Stop. Yes you can. I promise promise that you can. Seriously. Turn that frown upside down and go get a your grocery list for next week and add the items listed below. Do it. Go!
Here is a little step-by-step on the wontons to lift your confidence…..
Once you have your pork all mixed together, get your wonton-creating-station put together. You need your wontons, your pork, a teaspoon and a little bowl of water.
Take a wonton and place it flat on your hand. Take approximately a teaspoon full of pork and place it in the middle of the wonton.
Then, dip your pointer finger of your other hand into your bowl of water and trace your finger around the outside of the wonton, making sure it is wet all the way around.
Then fold the wonton in half, pressing down around the pork.
Then, take the two corners on the side where there is the folded edge (the bottom two corners in the picture above) and bring them together. You are going to want to get one of the corners wet with your water and then cross the two corners and press together (like arms crossing).
Aaaaaand repeat about 30 times. You will be a pro before you know it.
Once those are all ready to go, in batches, toss them in a pot of boiling water for 2 minutes or so, remove and serve in a bowl with your amazing chicken broth. You can add the chili oil to the broth at the outset, but it can get pretty spicy real fast. I would almost recommend serving the wontons in the broth and then everyone can pour as much or as little of the spicy chili oil as they would like.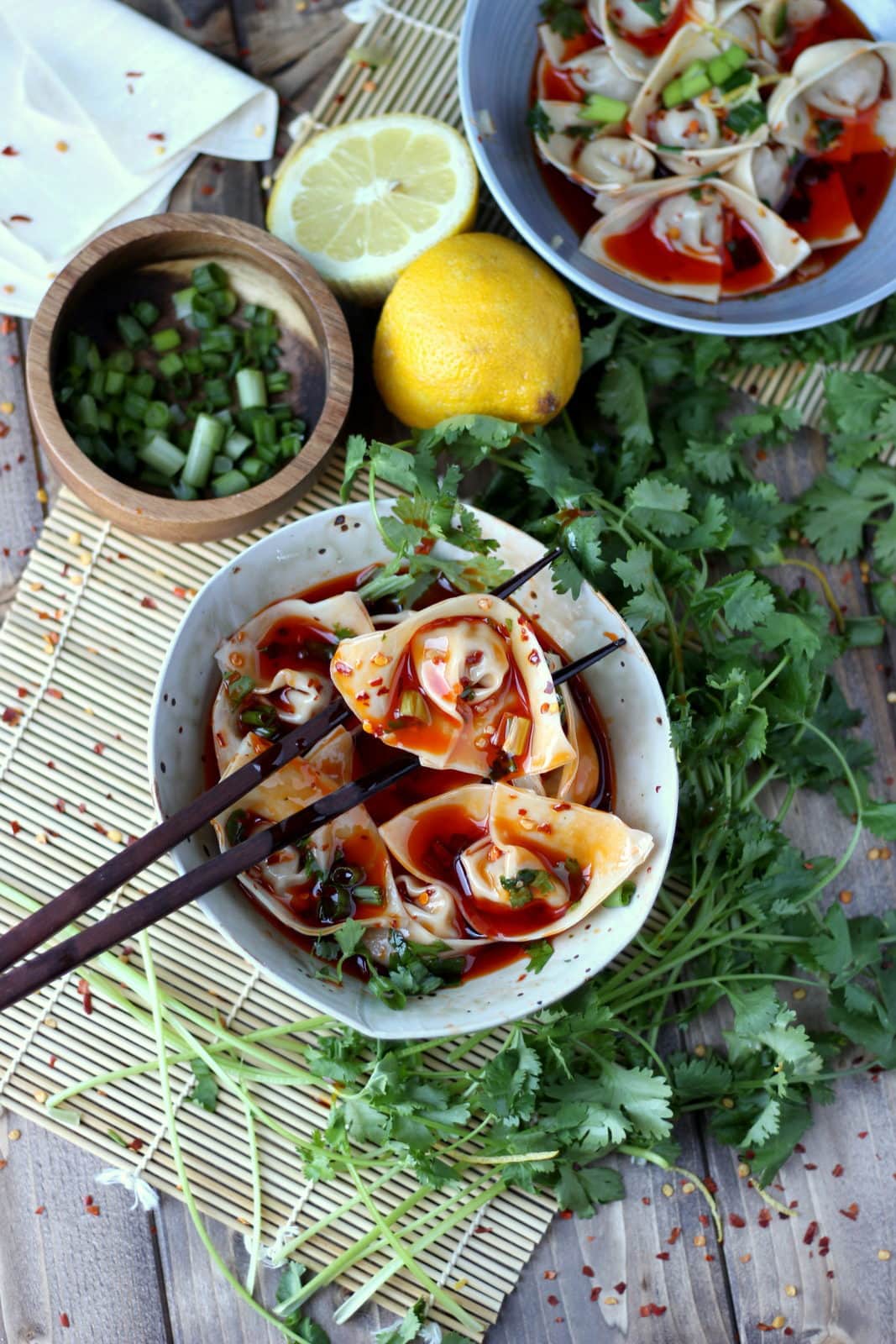 Don't forget to follow me on Facebook, check out my Instagram account or see what I am pinning on Pinterest!
Love,
E
Print
Spicy Pork Wontons + Red Chili Broth
---
30–40 wontons
Pork Filling:
8 oz ground pork
1 Tablespoon finely chopped shallot
1/2 Tablespoon lemon zest, roughly chopped
1/2 Teaspoon fennel seed
1 teaspoon mirin
1/2 Teaspoon kosher salt
1 Teaspoon sesame oil
1 Tablespoon soy sauce
1 Tablespoon olive oil
pinch of ground black pepper
Chicken Broth:
2 cup chicken broth
3 Teaspoons sesame oil
1/2 Teaspoon salt
2 Teaspoons chopped garlic
2 Teaspoons chopped shallot
2 Tablespoons chopped scallion
2 Tablespoons chopped fresh cilantro
3–4 Tablespoons thinly sliced celery
1/2 Teaspoon lemon zest
4–6 Tablespoons red chili oil
---
Instructions
Combine Chicken Broth ingredients listed below (except red chili oil) in medium saucepan and let simmer.
In small mixing bowl, combine Pork Filling ingredients listed above and mix thoroughly.
Bring large pot of water to boil.
Add approx. 8 wontons and let simmer for 2 minutes (or more depending upon how firm you like your wontons – I personally do no more than 2 minutes).
Remove with slotted spoon and place in bowl.
Pour some chicken broth over wontons.
Drizzle 1/2 Tablespoon Red Chili Oil over the bowl and mix with chicken broth. Taste it – if you want it spicier add another 1/2 Tablespoon.
Garnish with additional chopped cilantro and scallions and even some red pepper flakes if people are feeling really daring.
Enjoy!
---
This post contains affiliate links. Thank you for supporting all things The Wooden Skillet.