Smoked Pork Belly is a family favorite around here! This smoked pork belly recipe is slow-smoked at a low temp and then we raise things up for the last hour to really get that fat rendered. Feel free to finish it up with a sear on the grill or a minute or two under the broiler for that crispy top!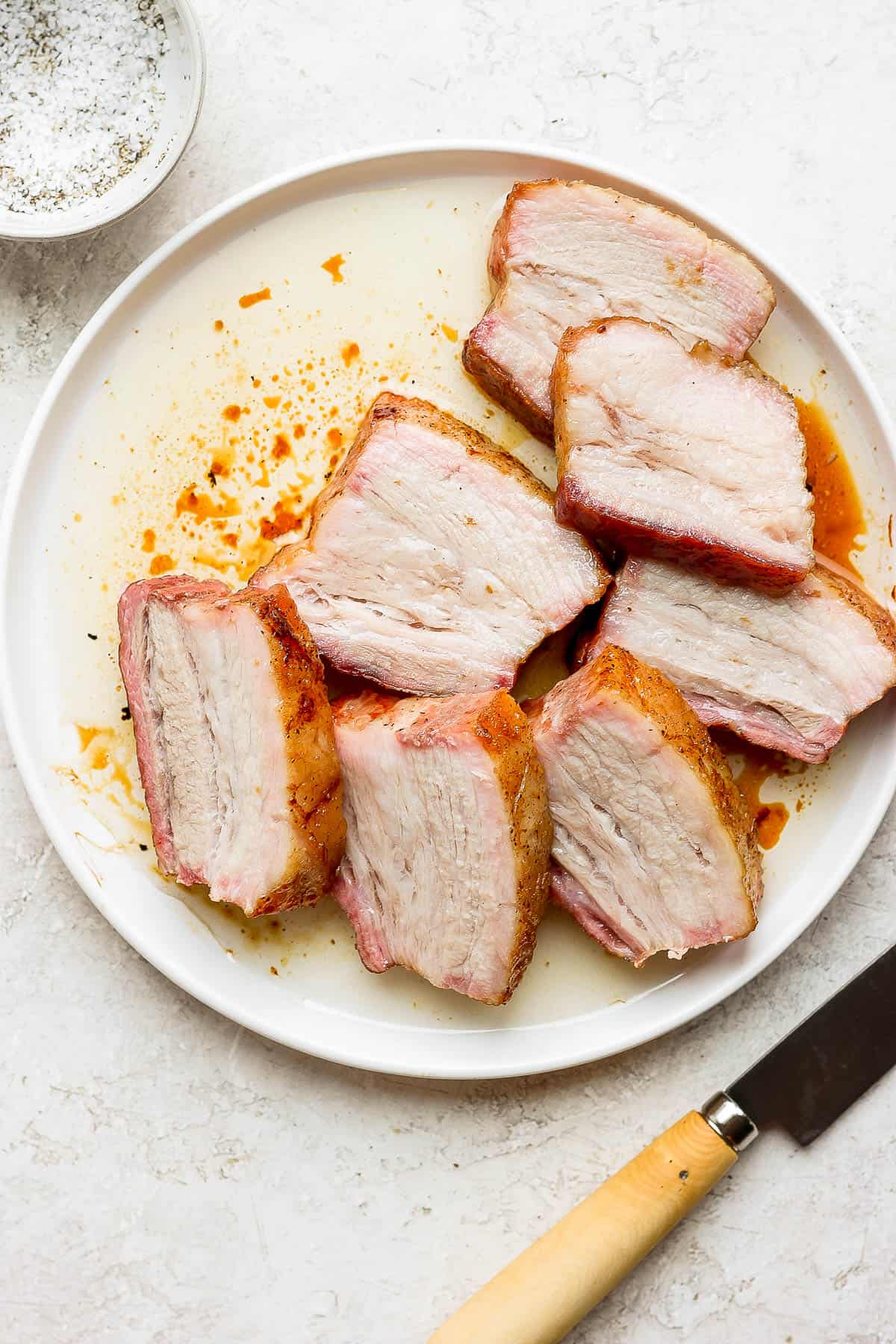 BEST Smoked Pork Belly Recipe
Pork Belly is honestly one of my favorite foods. If I see it on the menu, I am ordering it. I can't decide whether I like this oven version or this smoked version – both are insanely good for different reasons! Serve in some Pork Belly Ramen, Pork Belly Tacos or a Pork Belly Sandwich.
Pork Belly Recipes – if you love pork belly try our Pork Belly Burnt Ends!
What You Will Need
pork belly: while not every grocery store has pork belly out, I would recommend just asking at your deli if they have any in the back. Grocery stores that process their own bacon will usually be able to give you a slab of pork belly before they cut it up.
kosher salt + ground black pepper: I like to keep the seasoning simple as their is so much flavor already in pork belly, but I have some other suggestions in the Notes section of the recipe card.
Is Pork Belly the Same as Bacon
Pork Belly is essentially uncut slabs of bacon – so yes, they are same thing, just presented differently.
Do you Cut the Skin Off Pork Belly
Yes, if there is skin present on your pork belly slap cut it off and remove the skin before cooking. That being said, normally I do not find the skin to be still attached.
How do I Know if My Pork Belly is Cooked
Pork belly is fully cooked when it reaches an internal temperature of 145 degrees F., BUT just because it is safe to eat, doesn't mean it is going to taste amazing. As the pork belly continues to cook beyond 145 degrees F. it just gets more and more tender. It is considered done for the recipe when it reaches 165 degrees F., but you can let it keep cooking until it reaches about 205 degrees F, at which point it will be almost like pulled pork. Personally, I don't mind if it gets up to about 190 or so!
Do You Smoked Pork Belly Fat Side Up or Down
Yes, place the fat-side up when you put it on the smoker. The fat will render during the smoke time and self-baste the pork, keeping it juicy and delicious!
How do You Eat Smoked Pork Belly
Rice Bowl + Soy Sauce
How to Smoke Pork Belly
Score the fat with a sharp knife and then season liberally.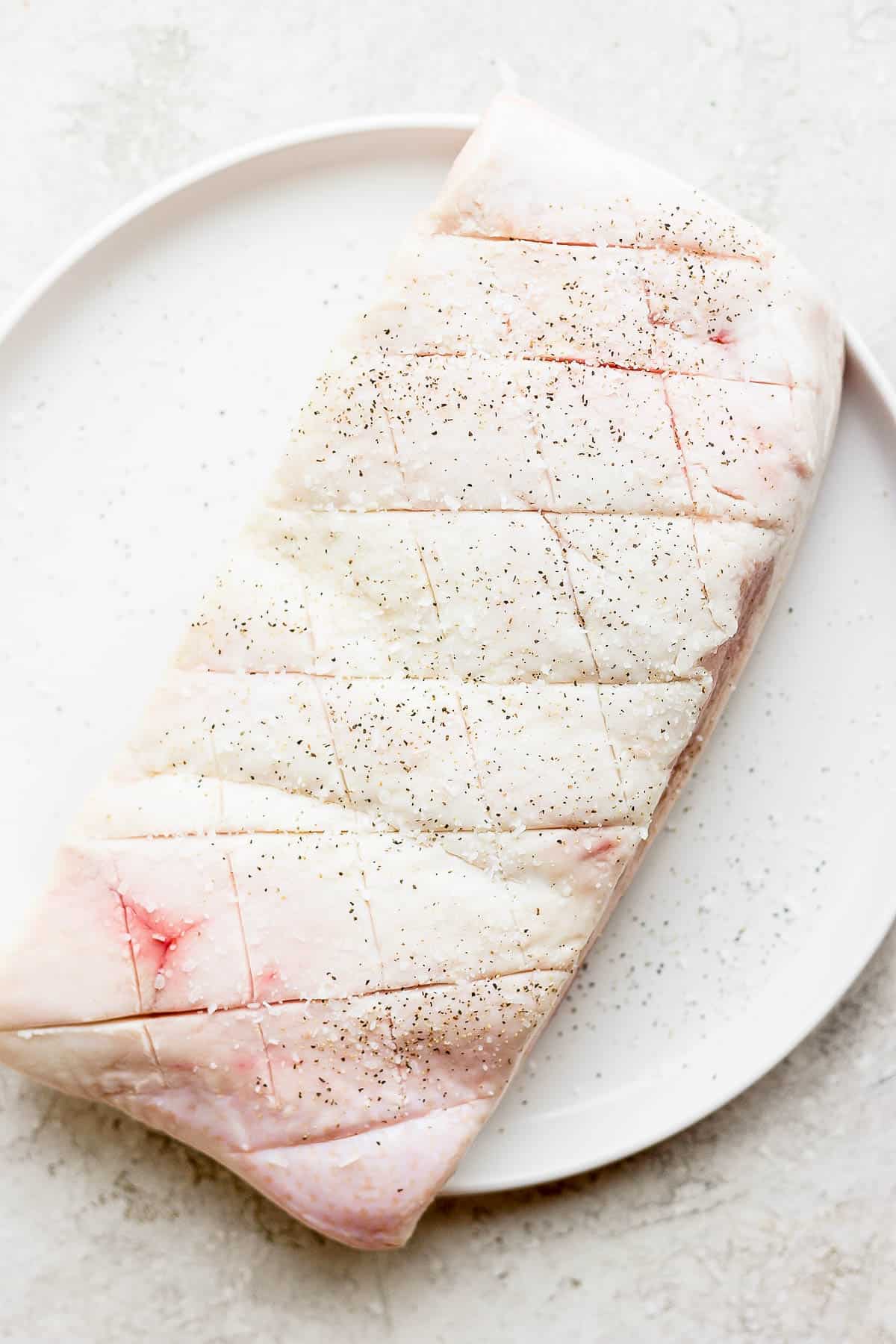 You can wrap in plastic wrap and keep in the fridge overnight if you want and have time. Highly recommend!
Place on the smoker, fat side up, at 225 degrees F.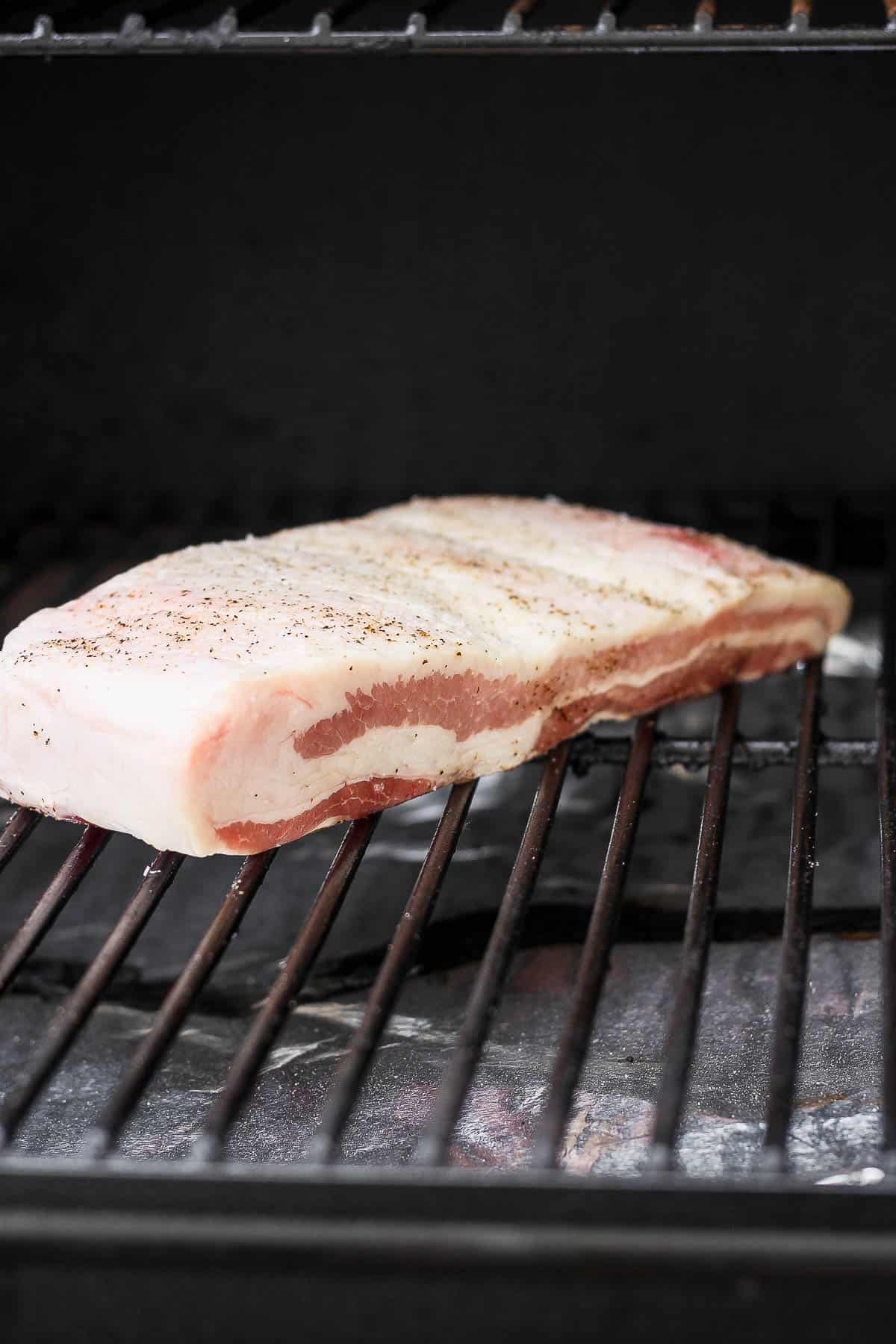 After you hit at least 165 degrees F then crank up the smoker and place a little foil "boat" under the pork belly.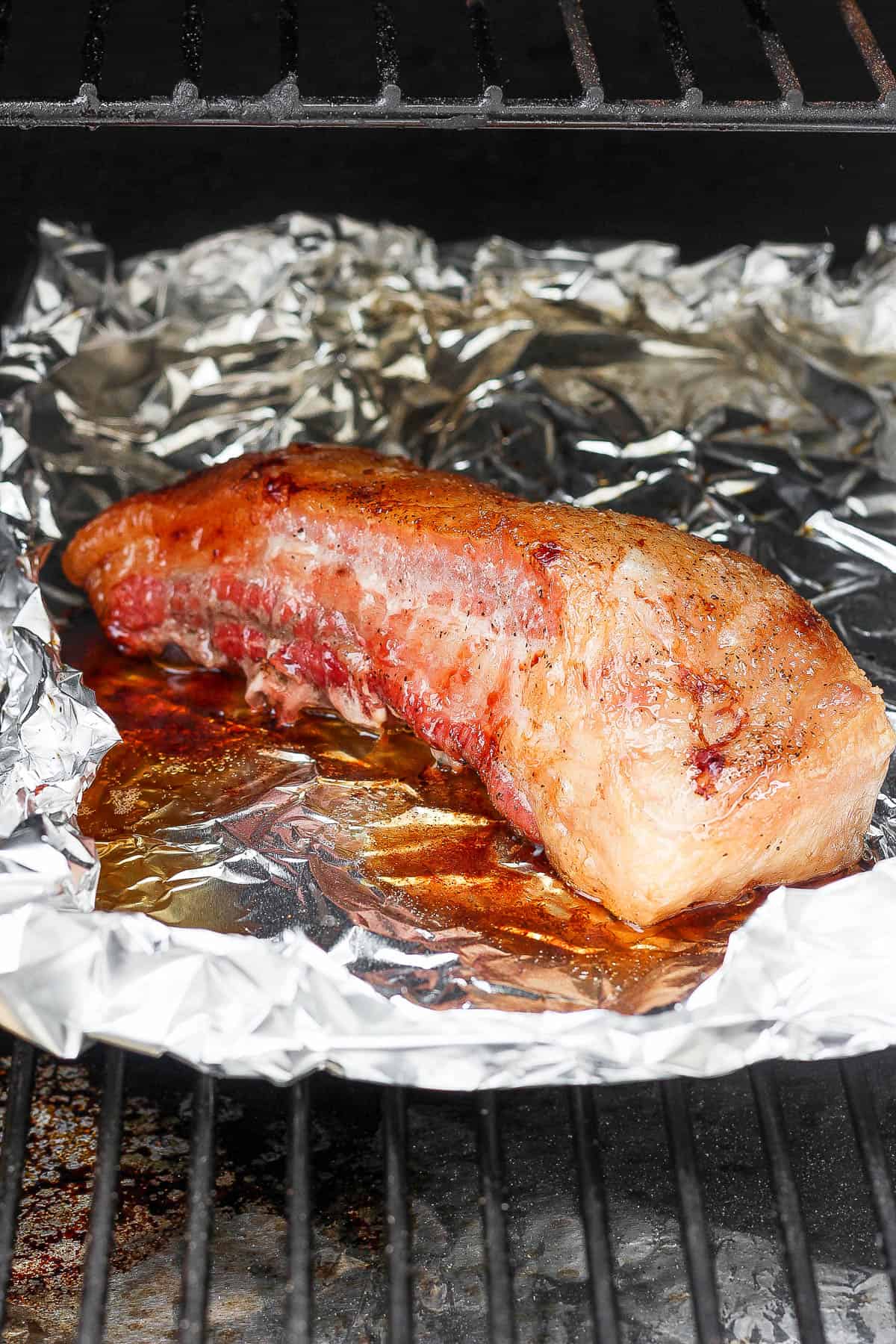 Isn't she beautiful! Let her rest for 5-10 minutes.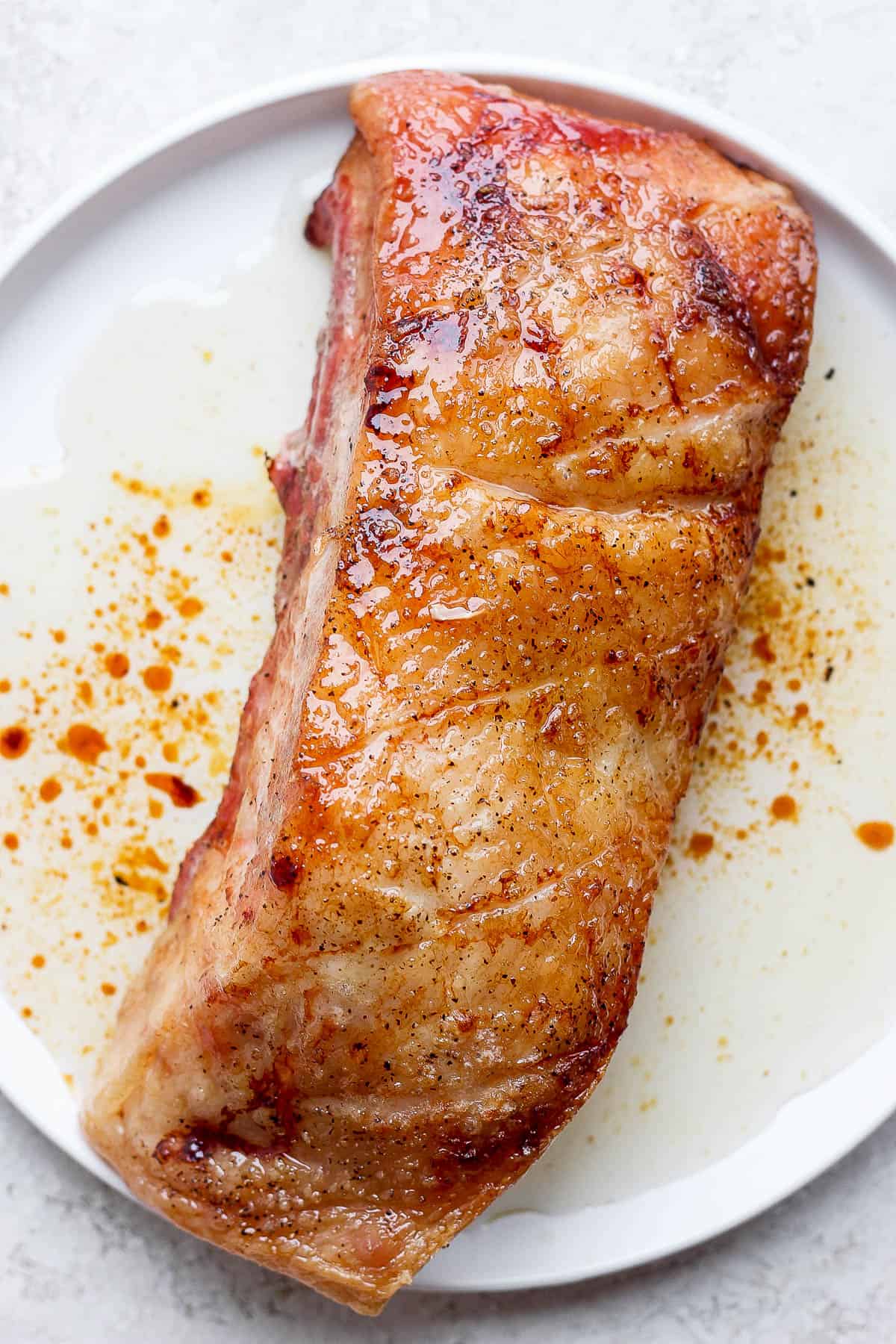 Or if you want to you can sear in a cast iron skillet, under a broiler or even on a grill to get a little more crisp to it.
Slice and devour.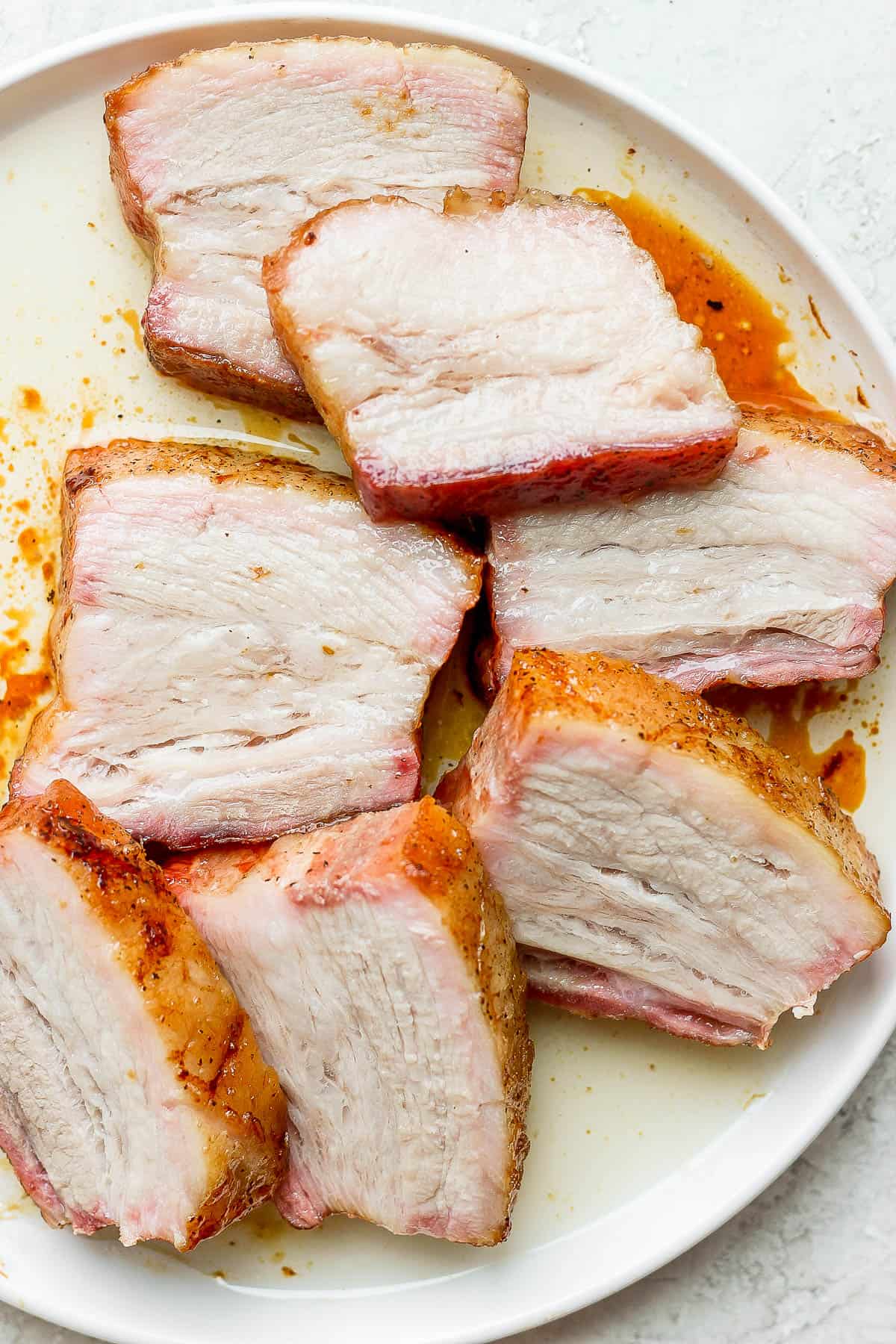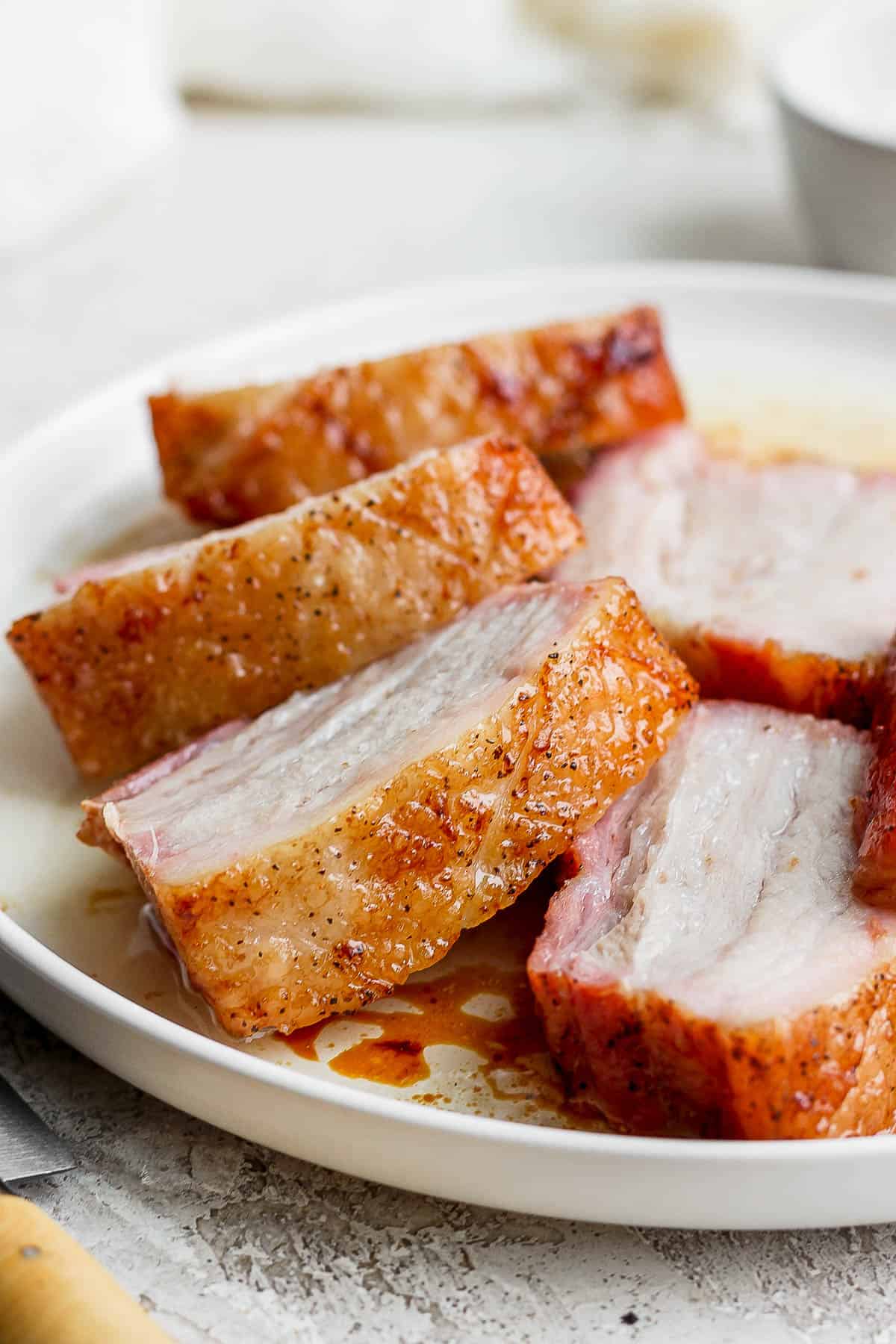 You can serve in a little rice bowl.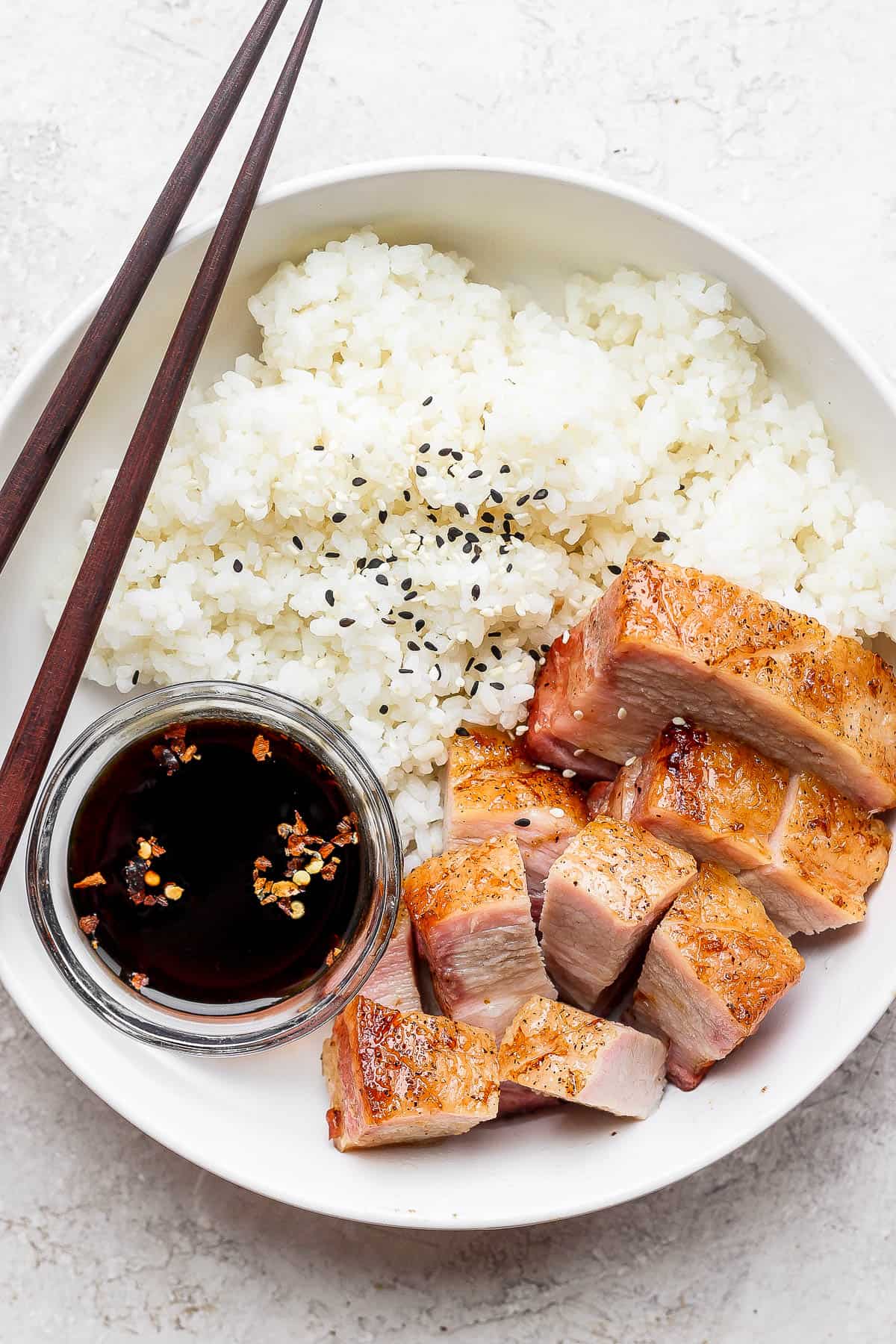 Or make some pork belly tacos.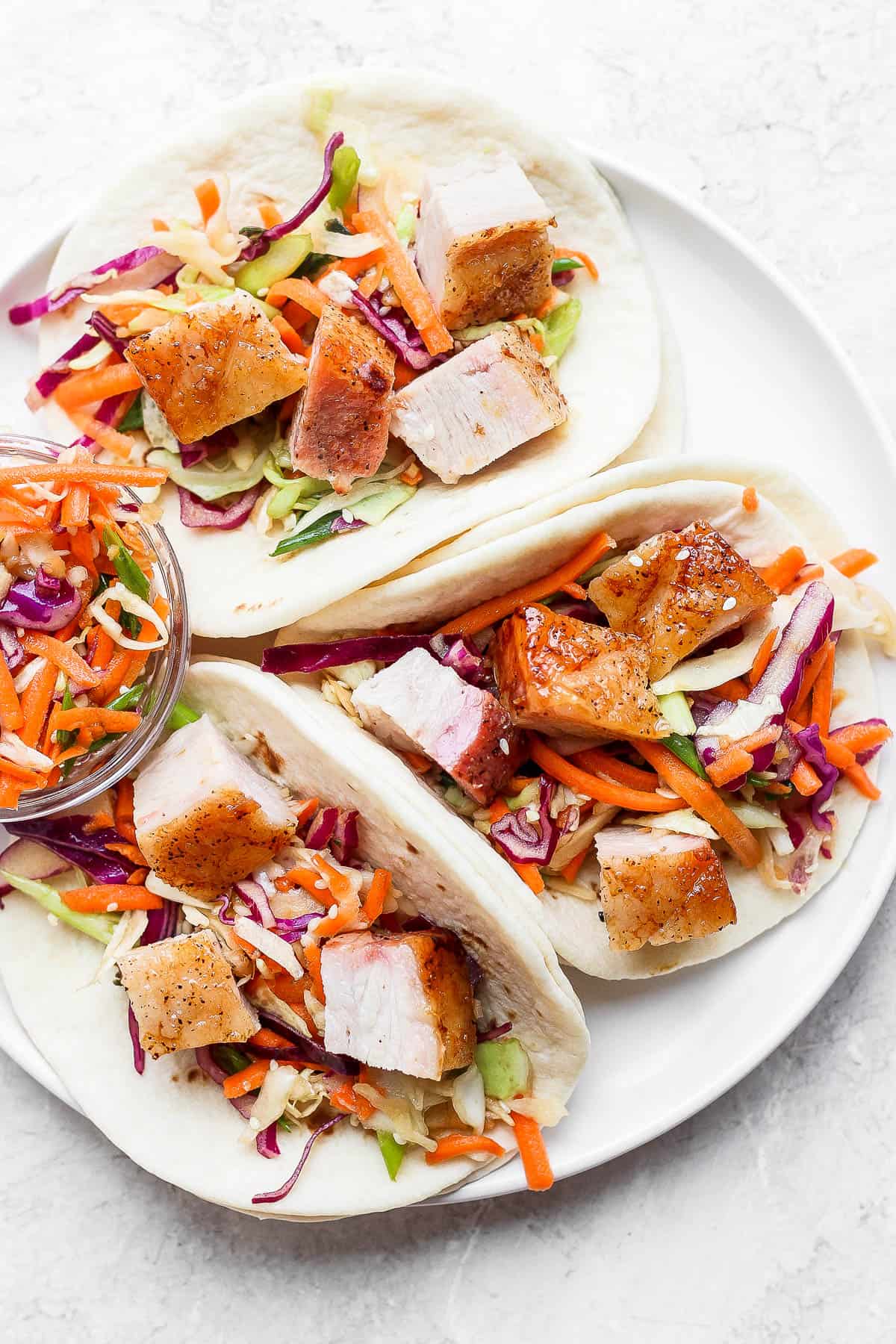 Pork Belly Ramen is good too!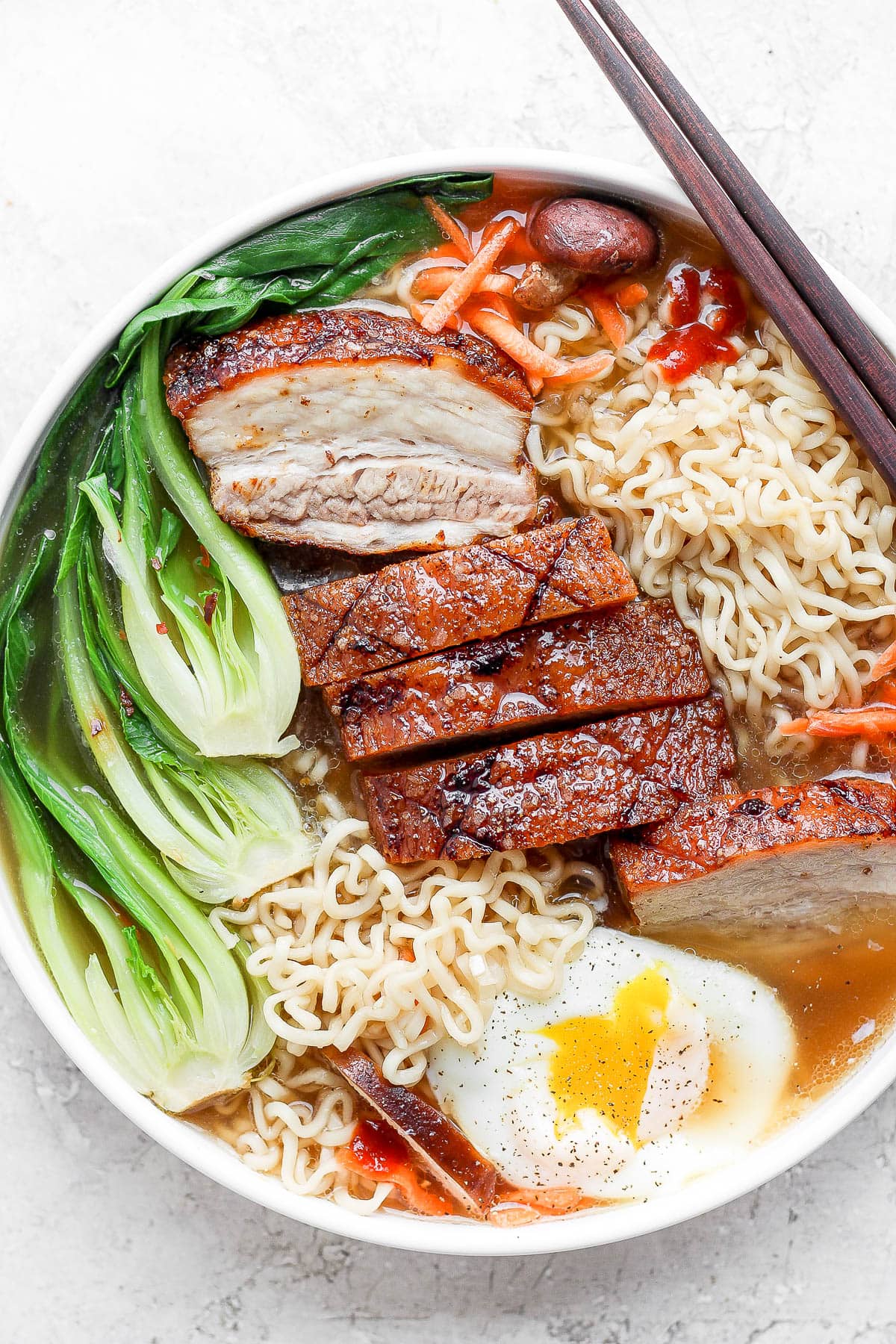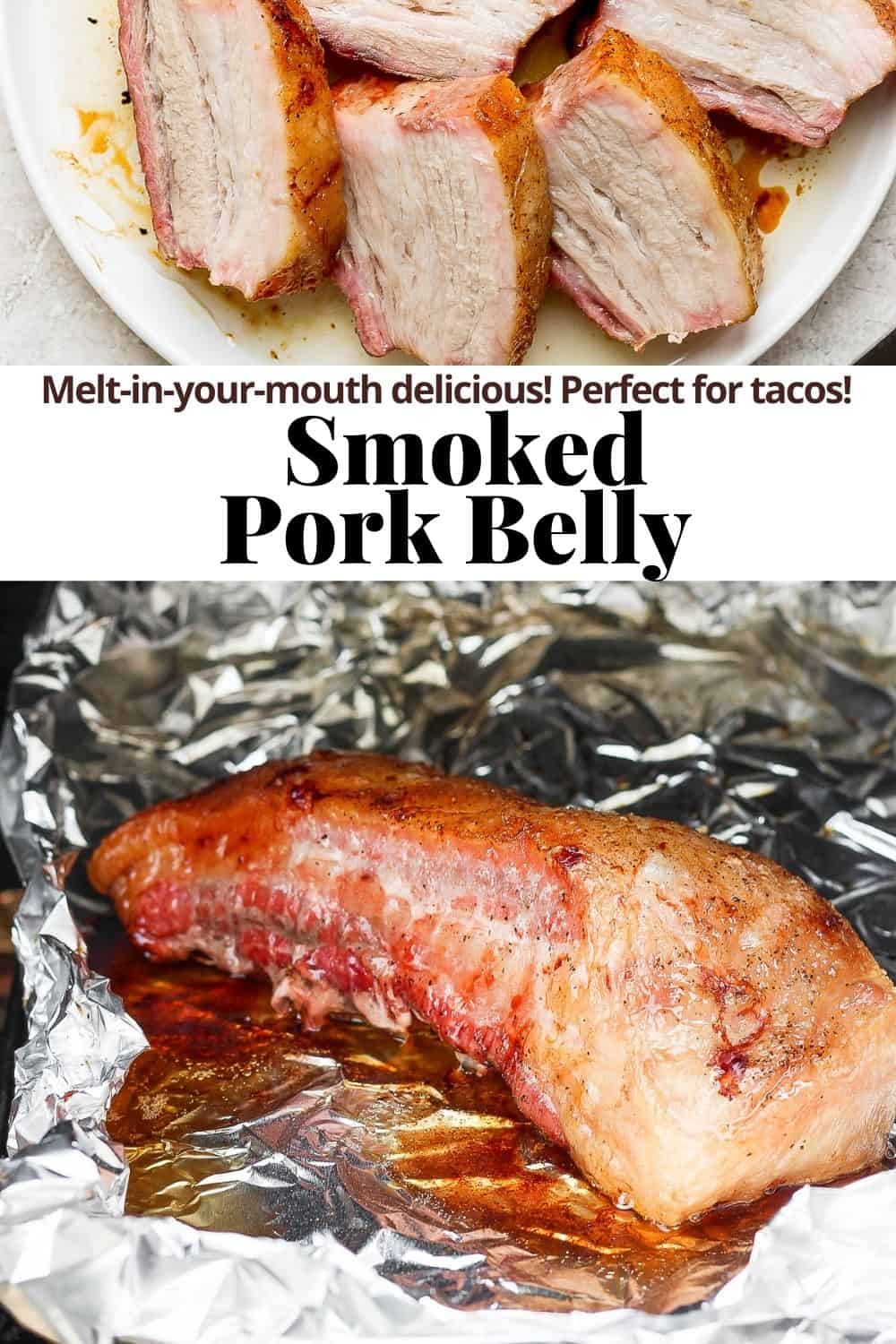 Made this recipe and loved it?! We would love it if you would take a minute and leave a star rating and review – it is also helpful if you made any substitutions or changes to the recipe to share that as well. THANK YOU!
Don't forget to check out my Instagram account for some behind-the-scenes action! Or give me a follow on Facebook or see what I am pinning on Pinterest!
Print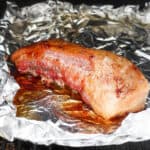 Smoked Pork Belly Recipe
Author: Erin Jensen
Prep Time: 10 minutes
Cook Time: 4 hours
Total Time: 4 hours 10 minutes
Yield: 12 servings 1x
Category: Dinner/Entree
Method: Smoker
Cuisine: American
---
Description
Smoked Pork Belly – this delicious smoked pork belly recipe is melt-in-your-mouth delicious! Perfect for ramen, tacos, etc.!
---
1/2 – 1 pound pork belly
kosher salt
ground black pepper
---
Instructions
Remove skin from pork belly (if still attached).
Score the fat side of the pork belly with a sharp knife, be sure not to cut too deep (you really just want to score the fat, not the meat).
Pat pork belly dry and season generously with kosher salt and pepper (see notes for seasoning alternatives).
OPTIONAL: wrap if plastic wrap and place in fridge overnight – not required, but can lead to a more flavorful pork belly.
Remove pork belly from refrigerator about 30 minutes to an hour before cooking to allow it to come to room temperature and if you wrapped it in plastic wrap overnight, remove and discard.
Preheat smoker to 225 degrees F. and ensure there is a drip tray/pan ready.
Place pork belly on the smoker rack, fat side up.
Smoked for approximately 3-4 hours or until it reaches an internal temperature of 165* degrees F.
Increase smoker temperature to 400-450 degrees F and place a piece of heavy duty foil underneath the pork belly (folding the edges up so it acts like a little boat or pan).
Let smoke another 30 minutes or so to help crisp up the top layer of fat.
OPTIONAL: once you remove the pork belly from the smoker you can either place it under the broiler for a few minutes or even sear it quickly on the grill (fat side down) to really get that crispy top. Not necessary and up to personal preference .
Let rest 5-10 minutes before cutting into. We love serving this in tacos or pork belly ramen!
---
Notes
*Internal Temp: you can definitely go higher than 165! I wouldn't go much higher than about 205 or so (at which point it might be more like pulled pork). But that is totally up to you! Use an internal meat thermometer to keep track of the temp.
Seasoning option: I also love combining – 1 tsp kosher salt, 1/4 teaspoon ground black pepper, 1/4 teaspoon coriander and a little bit of fennel seed (crushed if you want) in a small bowl and then season the pork belly.
Overnight Rub: you can definitely skip this step, but it will just be more flavorful if you do it.
Foil: I add in the foil at the end when we turn up the temp to help keep those lovely juices in for the last little bit. By this time, the pork belly should already have soaked up that smokey flavor and this helps make it so it isn't too soft.
Sear: there is the option to sear the fat side of the pork belly after you are done cooking. This can be done in a cast iron skillet, under the broiler or even on a grill.
Serve the next day: pork belly can be even more amazing the next day. Simply let cool and then wrap isn foil, tightly, for the next day. Then slice into strips or bite sized pieces (about 1 inch cubes) and sear in a cast iron skillet before serving.
Pellets: you can use hickory, pecan or apple wood (which leaves a subtly sweet flavor).
How to Serve: you can serve it in a simple rice bowl with soy sauce or you can do pork belly tacos, pork belly sandwiches or pork belly ramen!
Freeze: you can freeze cooked pork belly, although I am sure it is better freshly cooked. Just place in a bag, but really get out all the air so it doesn't get freezer burnt. I would only store it for a 1-3 months. Let thaw overnight in the fridge and then cut and sear in a cast iron skillet before serving.
Keywords: smoked pork belly