Best Ever Stir Fry Sauce – the only stir fry sauce recipe you will ever need! Packed with tons of flavor (ginger, garlic, etc) – so good! Made with simple ingredients that you probably already have in your pantry and perfect for meal prep!
Easy Stir Fry Sauce Recipe
A quick and easy stir fry is on the menu every week at our house (this Shrimp Stir Fry is my fav!). No matter what you toss in for a protein or vegetables, they are so easy to make and always hit the spot. And every good stir fry needs a great stir fry sauce! This one is easy to throw together and is packed with great flavor. So simple and so good!
Why This Recipe Works
Flavorful: I love the flavor combos of this classic sauce – the soy sauce (a must) with the garlic and chili garlic sauce … it works so perfectly together!
Ginger: we have added plenty of ginger into this recipe which just seem to amplify the rest of the flavors even more!
Cornstarch: we have added in a bit of corn starch so that the sauce will thicken a bit as it simmers. You could also use an arrowroot powder here if you prefer.
Make Ahead: feel free to get a bit of meal-prep done and make this the day before! Just pop it in the fridge and don't forget to give it a good shake before you use it as the cornstarch will settle (and so will the other ingredients).
What You Will Need
soy sauce – the best base for this kind of sauce! Feel free to use coconut aminos or tamari if you prefer – a low sodium soy sauce can also be used.
fish sauce, rice vinegar, & sesame oil – an amazing combination of flavors that are necessary in any great stir fry.
fresh ginger – this always provides so much great flavor for asian-inspired dishes.
minced garlic – everything is always better with a little garlic.
chili garlic sauce – this gives the sauce a little spice – add as much or as little as you like!
chicken broth – just grab your favorite. Vegetable broth works here too.
cornstarch – a little helps to thicken up the sauce.
optional: red pepper flakes & sriracha
stir fry veggies: we love using bell peppers, onion, carrots, broccoli, sugar snap peas, asparagus, mushrooms, snow peas, zucchini, etc!
stir fry protein: shrimp, chicken, beef, pork, tofu all work well with this sauce!
rice or cauliflower rice for serving
Spice it Up
You can easily adjust any of the flavors in this stir fry sauce, but if you are looking for more spice you can increase the amount of chili garlic sauce or add in some red pepper flakes or sriracha. Just adjust a little and keep tasting until it is just the way you like it!
How Long Does Homemade Stir Fry Sauce Last In The Fridge
We generally like to store our sauce in a mason jar (as shown in the images) and then place it in the fridge for 1-2 weeks. If we are on top of meal prepping for the week we will make the sauce over the weekend for easy, quick use when we make stir fry for one of our weeknight meals.
Can I Freeze Stir Fry Sauce
Yes! You can mix up your sauce and place in a freezer safe container in the freezer for up to 3 months. Make sure you label your container and leave some space in the top because it will expand slightly when freezing.
How To Make Stir Fry Sauce
Toss all of your ingredients in a mason jar.
Give it a good shake!
Alternatively you can add the ingredients to a small bowl and whisk to combine, but I like using the mason jar method the best!
And pour it on any stir fry recipe you want – this is our Shrimp Stir Fry in the photos.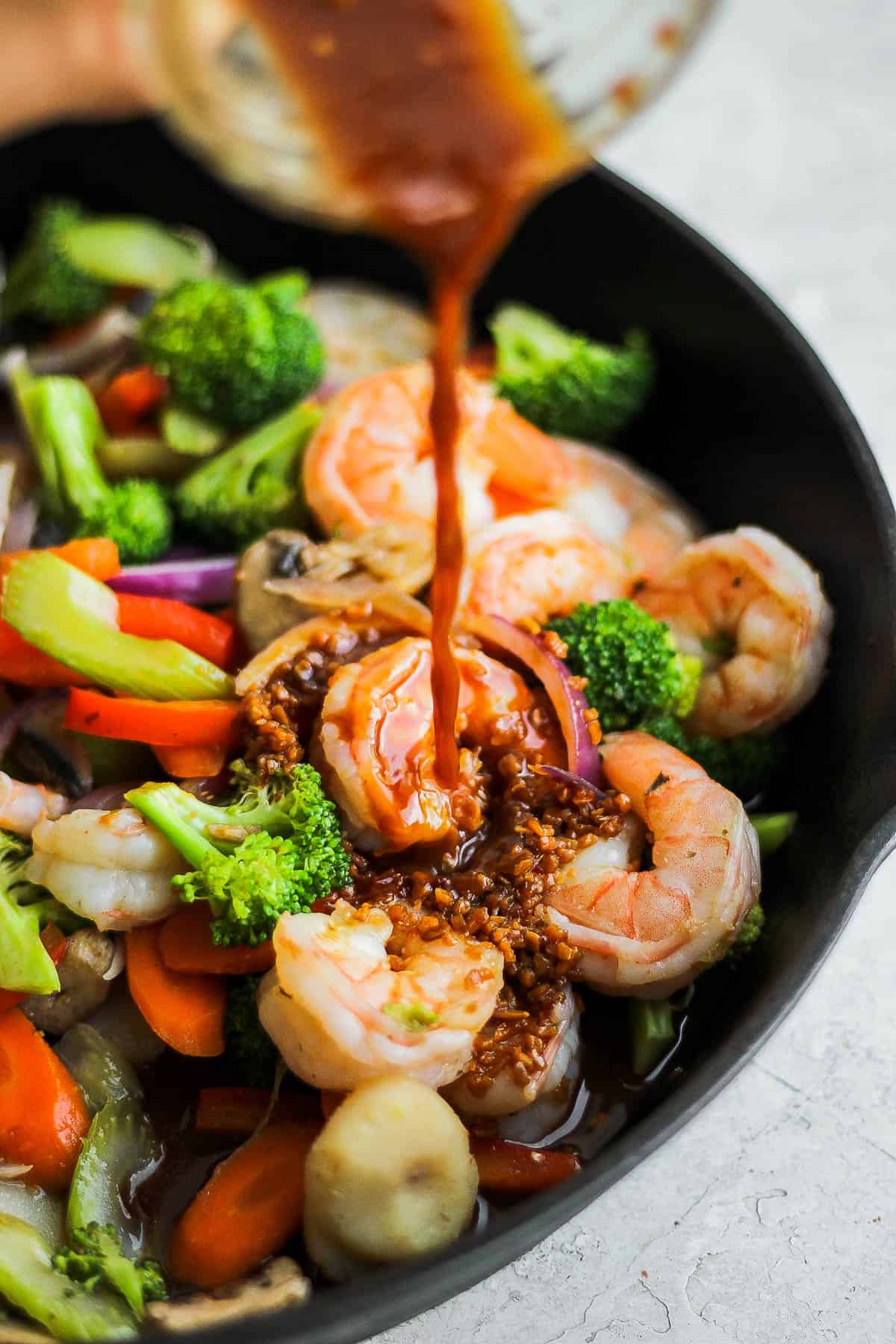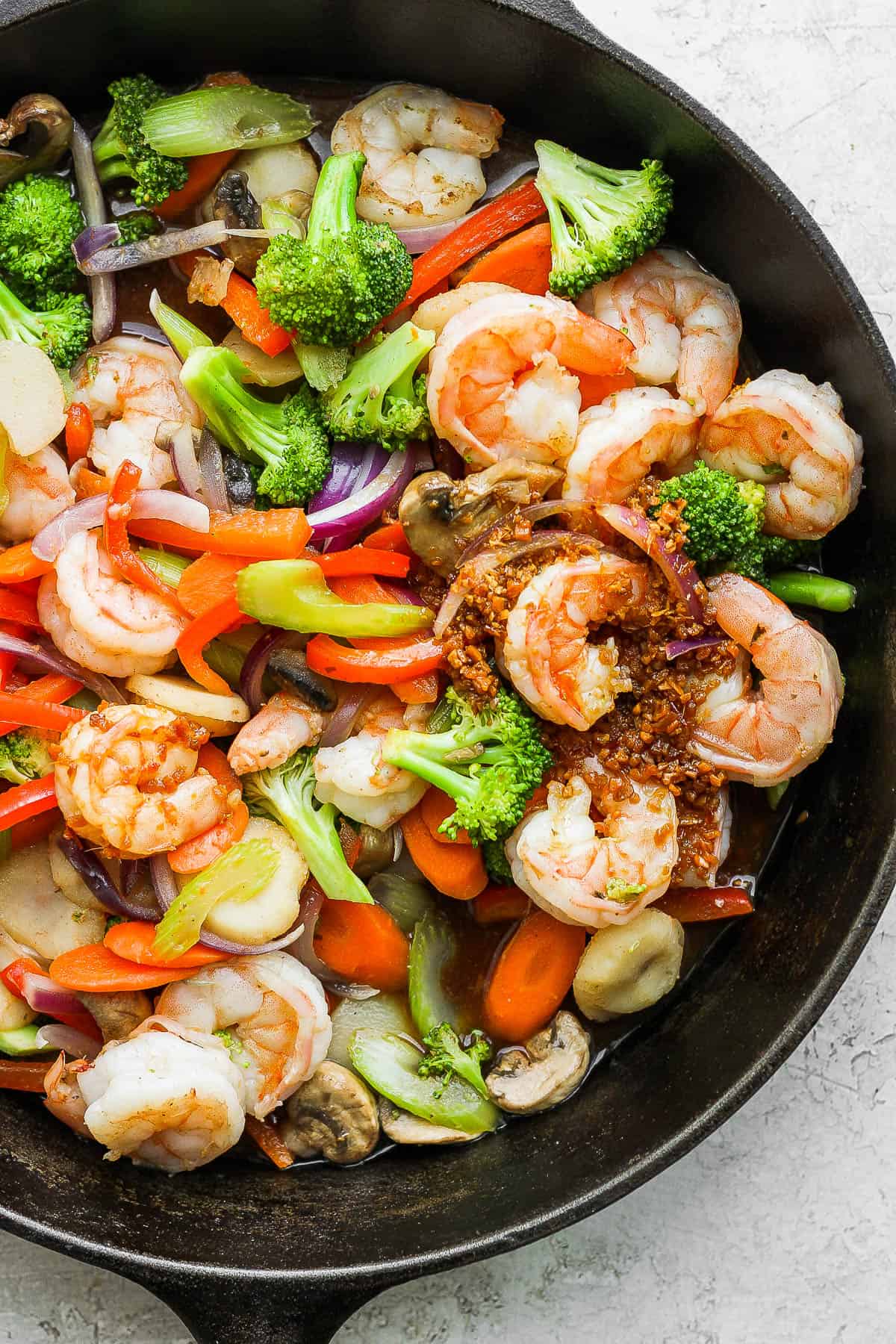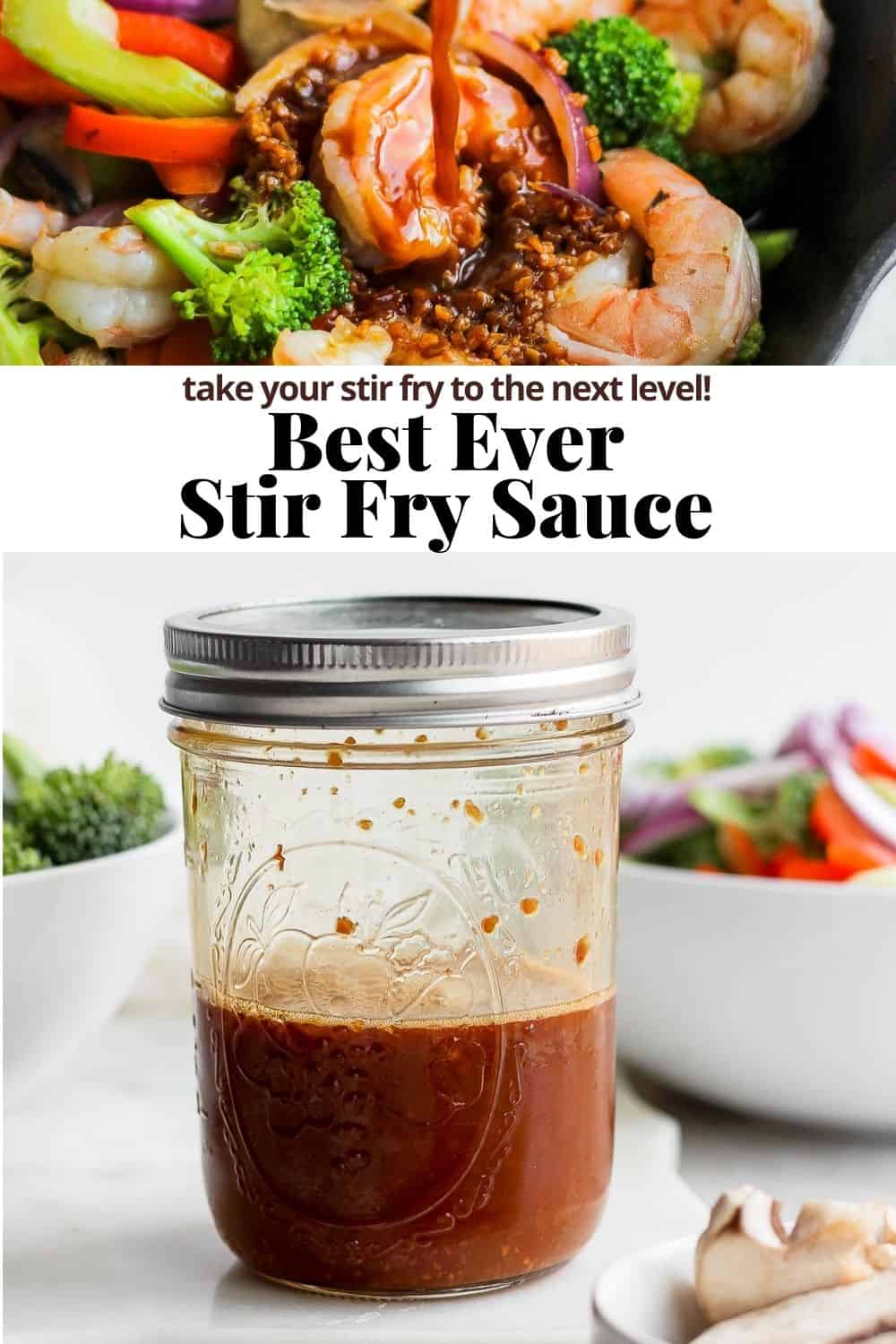 Don't forget to follow me on Facebook, check out my Instagram account or see what I am pinning on Pinterest!
Made this recipe and loved it?! We would love it if you would take a minute and leave a star rating and review – it is also helpful if you made any substitutions or changes to the recipe to share that as well. THANK YOU!
Print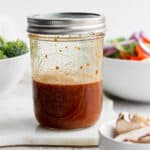 Stir Fry Sauce
Author: Erin Jensen
Prep Time: 5 minutes
Cook Time: 0 minutes
Total Time: 5 minutes
Yield: 1 cup 1x
Category: Sauce
Method: Counter Top
Cuisine: Asian-Inspired
---
Description
Stir Fry Sauce – the only stir fry sauce recipe you will ever need! Packed with tons of flavor (ginger, garlic, etc) – so good!
---
1/2 cup soy sauce
1/2 teaspoon fish sauce
3 tablespoons rice vinegar
2–3 tablespoons fresh ginger, grated
1 teaspoon sesame oil
2 tablespoon garlic, minced
2 teaspoons chili garlic sauce (more to taste)
2 tablespoons chicken broth
1/4 teaspoon red pepper flakes (optional)
1/2 teaspoon siracha (optional)
1 tablespoon cornstarch
---
Instructions
Add ingredients to a small mason jar.
Close the lid tight and then shake to fully combine.
Alternatively you can add the ingredients to a small bowl and whisk to combine, but I like using the mason jar method the best!
If you are making this sauce ahead of time, make sure you shake again right before using as it will separate a bit as it sits.
Use in your favorite stir fry recipe (we love this shrimp stir fry!).
---
Notes
Storage: Store in a lidded mason jar in the refrigerator for up to a week – just be sure to give it a shake before use as ingredients will settle to the bottom.
Gluten-Free: you can substitute a gluten-free alternative to soy sauce if you need to!