Easy Steak Stir Fry – a simple and delicious weeknight recipe! (Whole30 + Paleo + GF + DF)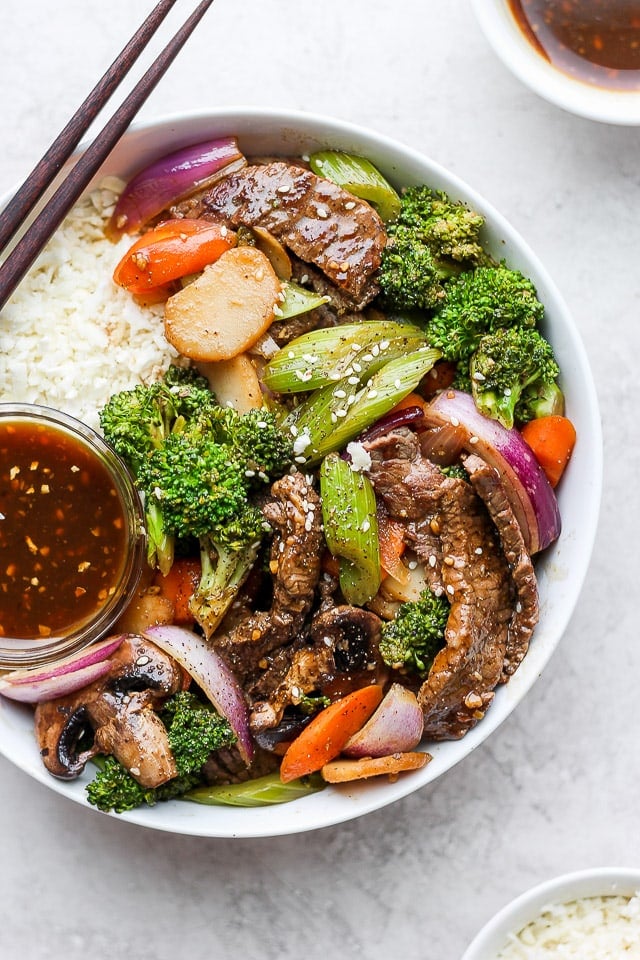 This post is sponsored by Bob's Red Mill®, but the opinions are my own.
For when you are craving ALL the veggies!
Steak Stir Fry
This is honestly one of my favorite recipes of all-time! I always crave this when we have been on vacation eating ALL the things and I just need some veggies in my life! It is packed fall of goodness and my kids actually love it (okay they may pick around the mushrooms and onions, but other than that they enjoy it!). My favorite part is probably the sauce though! My secret ingredient is Bob's Red Mill Tapioca Starch – it makes the stir fry sauce just right!!! I can't wait for you guys to make it!
Steak Stir Fry Veggies Options
Don't feel like you can only use the veggies I listed in the recipe! There are SO many different, delicious veggies out there that would work in this recipe! Here is a non-exhaustive list
broccoli
celery
carrots
water chestnuts
onion
mushrooms
pea pods
bok choy
zucchini (but at it at the VERY end or it will get mushy)
aspragus
Does it Keep Well
Yes! This recipe makes the most amazing leftovers! Just store in the fridge in an airtight container and keep for up to 5 days!
Can I use arrowroot instead of tapioca
I have only tested this recipe with Bob's Red Mill Tapioca Starch, I seem to have better result with it than arrowroot. But, I totally get it if that is all you have! If you need to use Bob's Red Mill Arrowroot I would start with 1/2 teaspoon and add more a little bit at a time if the sauce isn't thickening to your liking (remember it will thicken more as it cools!)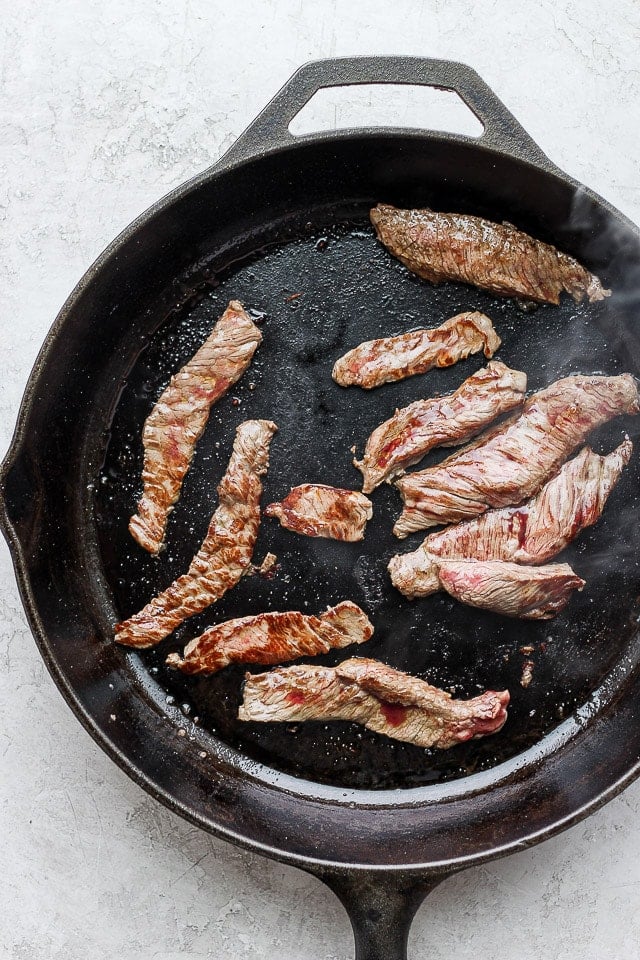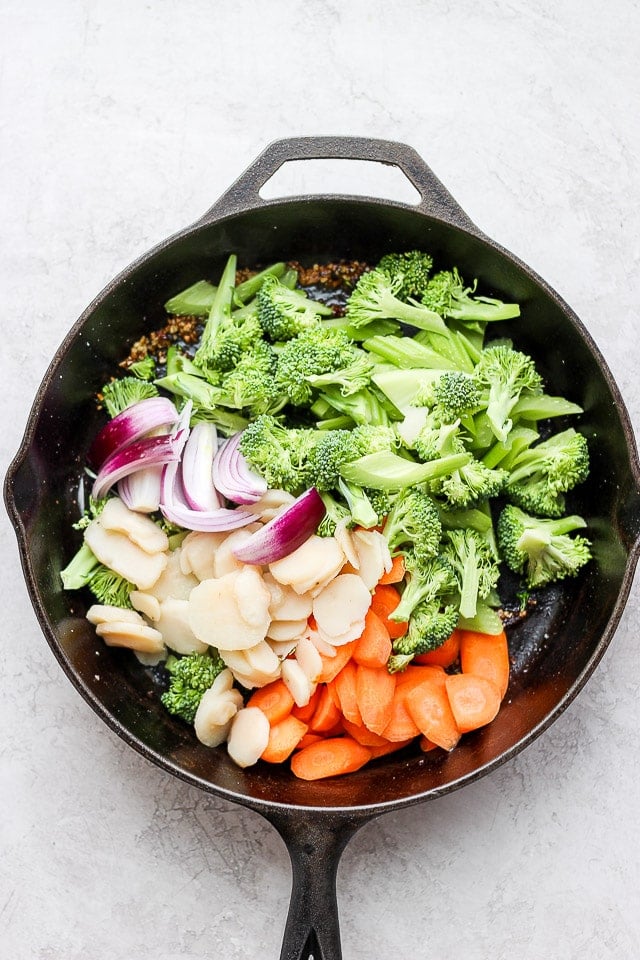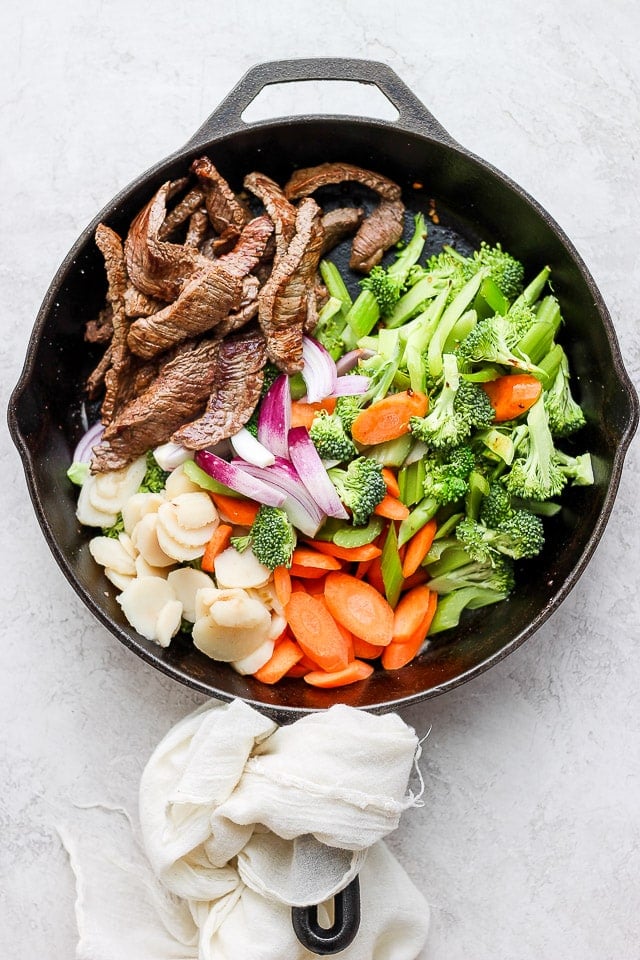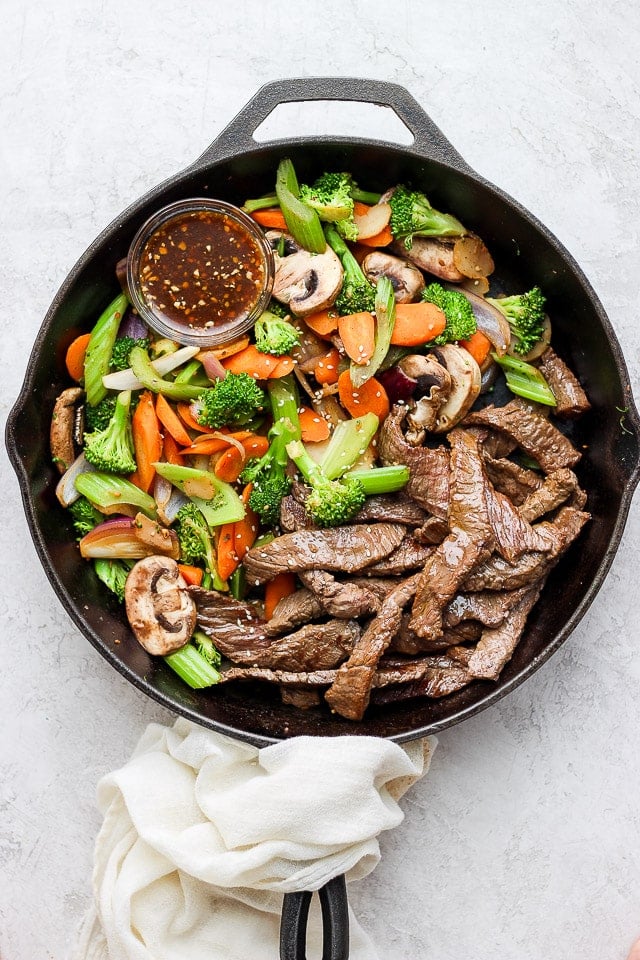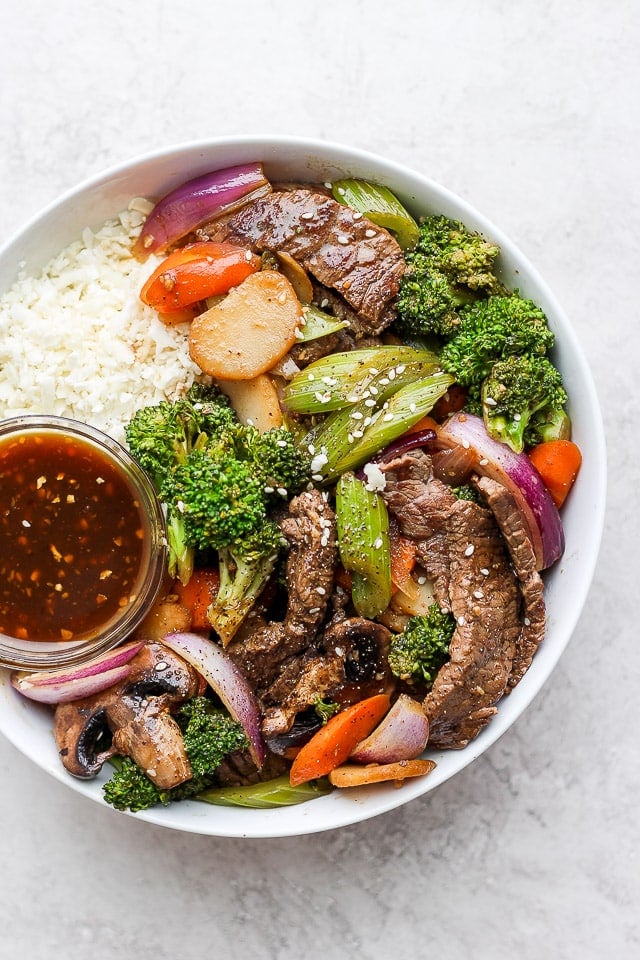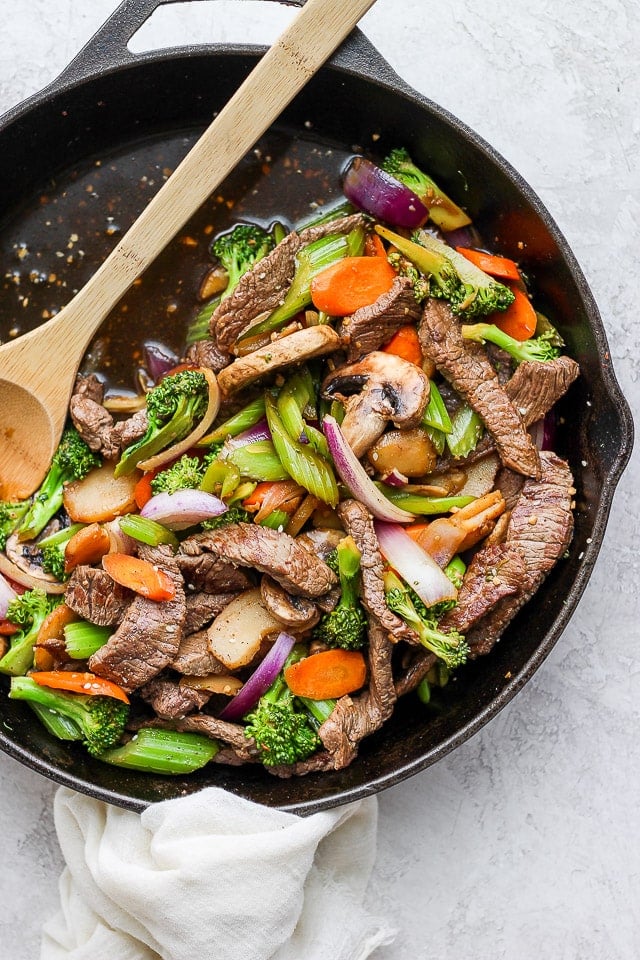 Other recipes you might like:
Don't forget to follow me on Facebook, check out my Instagram account or see what I am pinning on Pinterest!
Print
Easy Steak Stir Fry
Author: Erin
Prep Time: 15 minutes
Cook Time: 20 minutes
Total Time: 35 minutes
Yield: Approx. 4 servings
Category: Dinner
Method: Stove Top
Cuisine: American
---
Description
Easy Steak Stir Fry – a delicious and healthy steak stir-fry recipe you are going to love! Makes great leftovers and that sauce is SO delicious!!!
---
Sauce:
1 cup chicken broth
1/2 cup coconut aminos
3 Tablespoons rice vinegar
2 Tablespoons orange juice
3 Teaspoons garlic, minced
1/2 Tablespoon ginger, grated
1 Teaspoon sesame oil
3/4 Teaspoon Bob's Red Mill Tapioca Starch
Stir Fry:
olive oil
salt and pepper
1–2 tablespoon garlic, minced
1 1/2 pounds sirloin steak (trim fat and then cut against the grain into thin strips)
2 cups broccoli florets, cut into bite-sized pieces
(1) 8oz can sliced water chestnuts
2 large carrots, sliced
2 large celery stalks, sliced
1/2 purple onion
1 pint mushrooms, sliced
---
Instructions
Combine chicken broth, coconut aminos, rice vinegar, orange juice, garlic, ginger and sesame oil in small sauce pan. Bring to a boil and then reduce to a simmer, uncovered.
Meanwhile, bring large cast iron skillet to medium high heat and add a tablespoon of olive oil. Place your plate of sliced steak strips on the counter next to your cast iron.
Once pan is hot, add strips of steak (you will need to do this in batches) to the cast iron so they are all laying flat. Season with salt and pepper. Cook 1-2 minutes per side and then flip, cooking 1-2 minutes on the other side as well.
Once that batch is done, remove from skillet placing on a clean plate and setting aside. Continue working in batches, adding more olive oil to the pan as needed, until all the steak strips are cooked.
Using the same pan you cooked your steak in (don't clean it out) add another tablespoon of olive oil and swirl to coat the pan.
Add garlic and move around the pan on medium high heat, about 1-2 minutes, or until fragrant.
Add carrots, celery, water chestnuts and broccoli florets.
Move around the pan allowing them to cook down, about 5 minutes.
Add mushrooms and onions. Stir to combine with other veggies and allow to cook an additional 3-5 minutes.
Add tapioca starch to your saucepan and use a whisk to combine. Continue gently whisking and the sauce will start to thicken slightly.
Add your steak back to the cast iron skillet along with as much stir fry sauce as you want and stir to combine.
---
Notes
You may have extra stir fry sauce – some people like a lot and some don't. If you have extra either freeze it for next time or save it in the fridge for a later use!
You could make this recipe even easier and use frozen veggies in place of fresh if that is what you have on hand! Fresh will taste the best, but I know sometimes frozen is all you have!