We are bringing you the ultimate comfort food with this amazing homemade Chicken Pot Pie! Made with a perfectly flaky crust and a creamy filling that is full of tender chicken and fresh vegetables. The best home cooked dinner!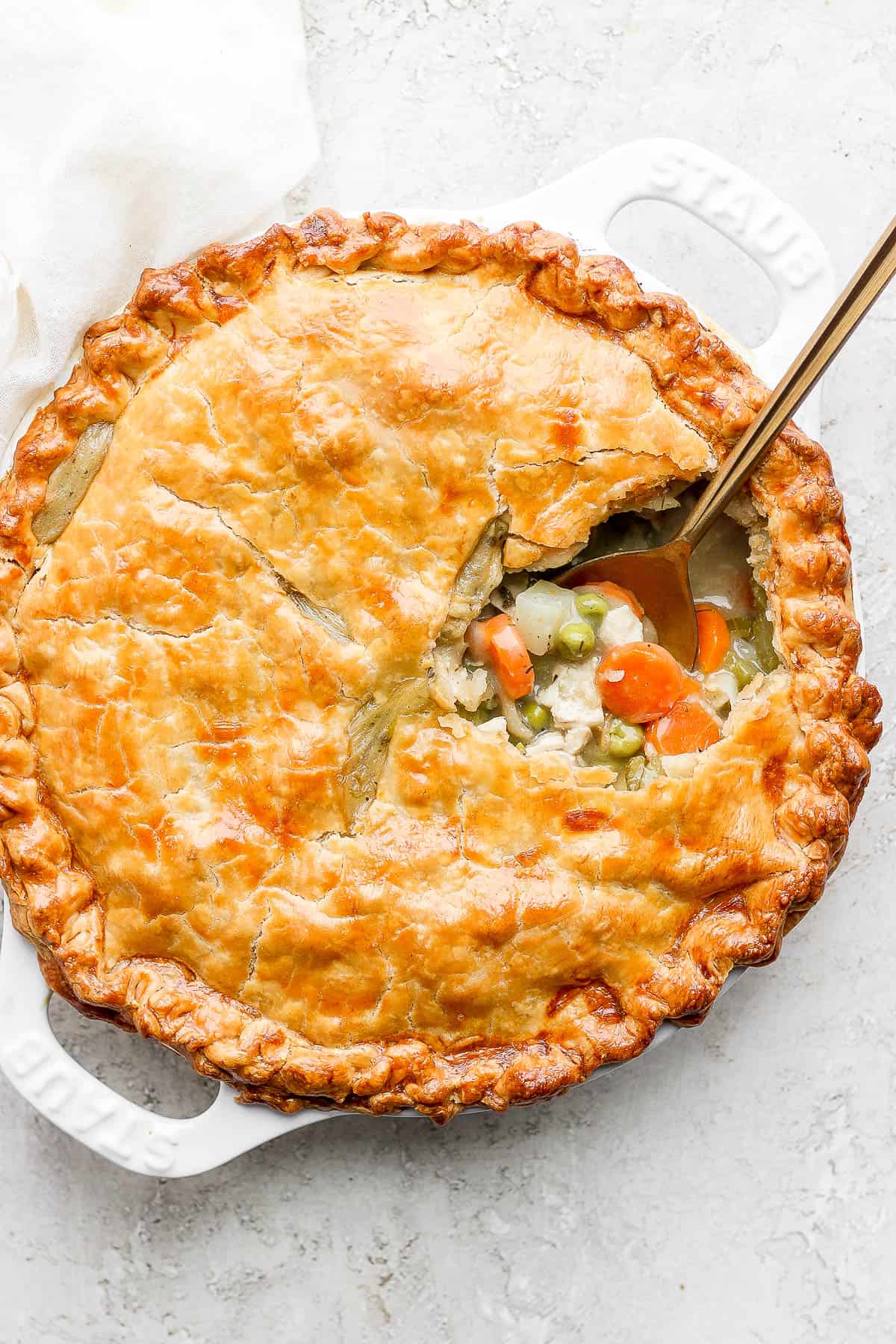 The Best Homemade Chicken Pot Pie
During those chilly winter months we love nothing more than to make the most delicious comfort food for dinner. It has everything you need right in one pie pan, cooked chicken, fresh vegetables, and a light & flaky crust. You can make it into a weekend cooking project by making your own homemade pie crust (we have a gluten-free pie crust too) or you can make it a simple weeknight dinner by using a store-bought pie crust and using rotisserie chicken. Either way, it is going to be delicious!
Make sure you also checkout our Chicken Pot Pie Soup or this Chicken Pot Pie with Biscuits!
What You Will Need
olive oil – just a splash in the pan to sauté the veggies.
garlic & sweet yellow onion – the classic aromatics that are the base to most skillet meals.
carrots, celery, frozen peas, & potatoes – a mix of fresh and frozen vegetables that are classic staples of any pot pie recipe.
butter & flour – mixed together to form a roux to help thicken your pot pie filling.
chicken broth – option to grab your favorite from your local grocery store or amp up the flavor even more and make homemade chicken broth.
kosher salt, ground black pepper, dried thyme leaves – simple seasonings that pack all of those classic flavors.
lemon zest – just a bit of acidity to really lighten and brighten the flavors of this dish.
cooked, cubed chicken – option to keep it a veggie pot pie by omitting the chicken or use leftover turkey from the holidays to make it a turkey pot pie.
pie crust – it requires a bit more work but we love using our homemade pie crust for this recipe (plus, we have a gluten-free option if you prefer).
egg – simply brush the egg wash on top of the crust to make it perfectly brown.
How To Make A Chicken Pot Pie
You can start by using a large kitchen knife and cutting board to prep all of your fresh ingredients.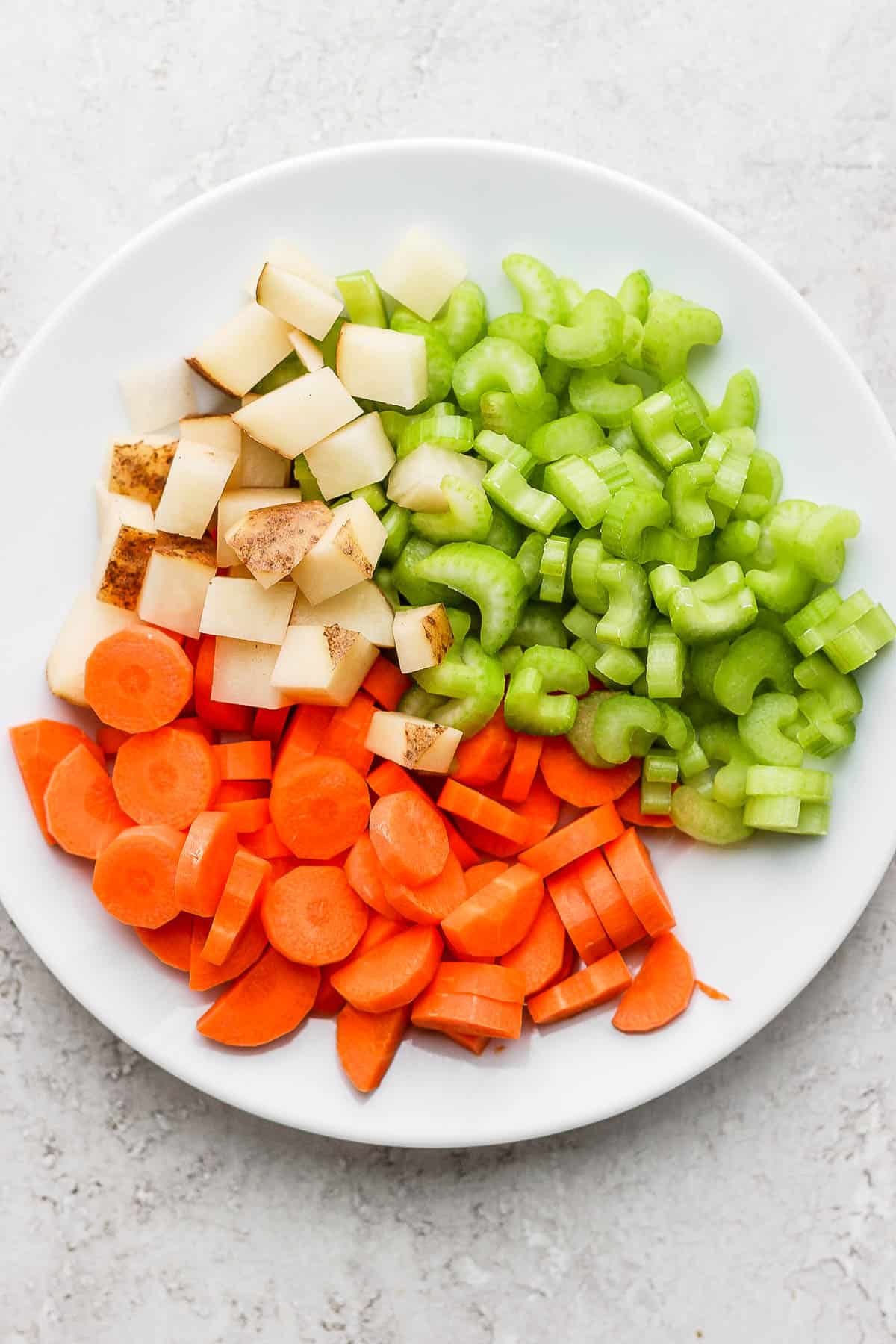 Add the olive oil to a large cast iron skillet on medium-high heat, add garlic and move around until fragrant. Then add the onion, carrots, celery, peas, and potatoes to sauté for about 5-6 minutes. Next, add the butter to melt and then mix in the flour to fully combine.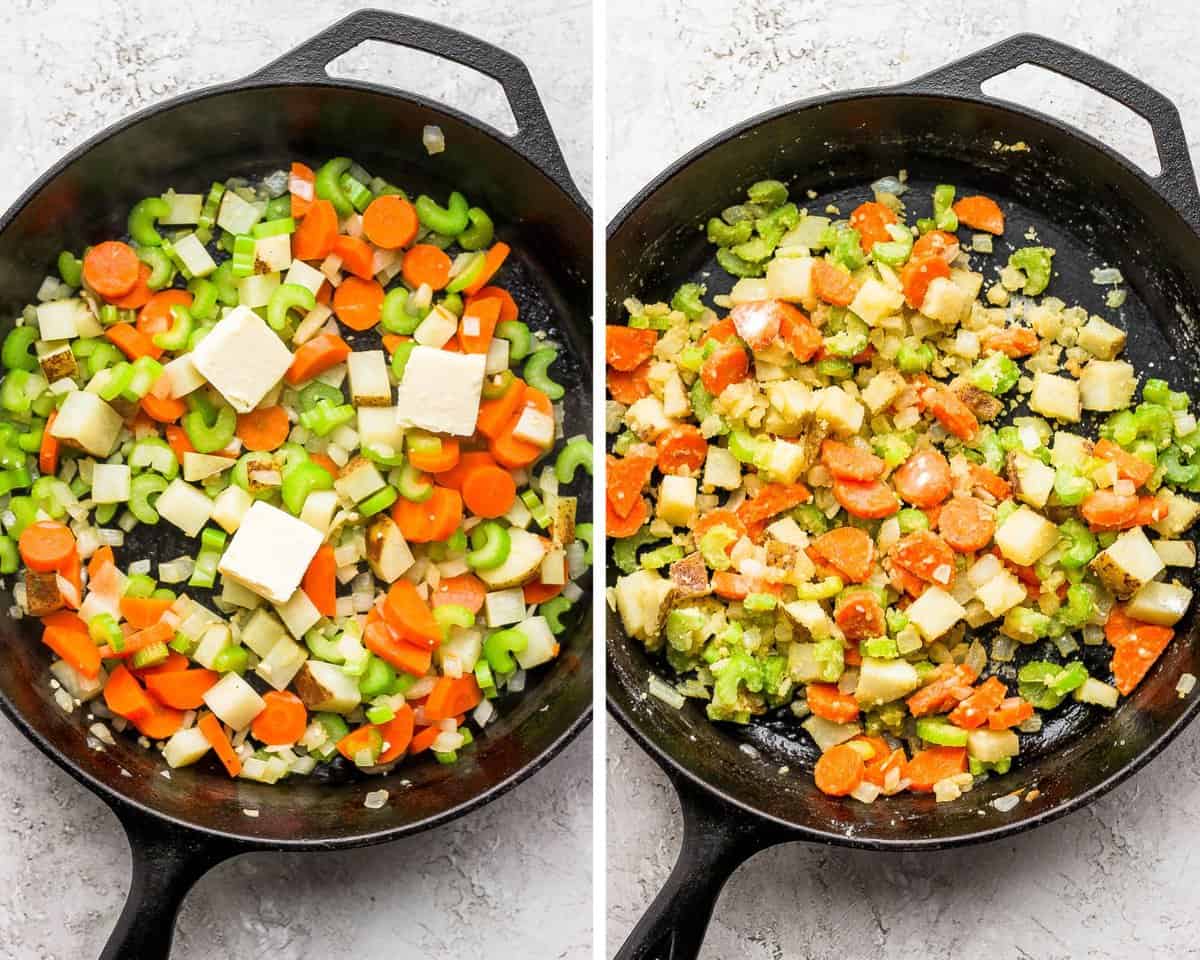 Now gradually pour in the chicken broth while continuously whisking to thicken the filling. After it simmers for a bit, add the seasonings, lemon zest, and cooked chicken. Mix to fully combine.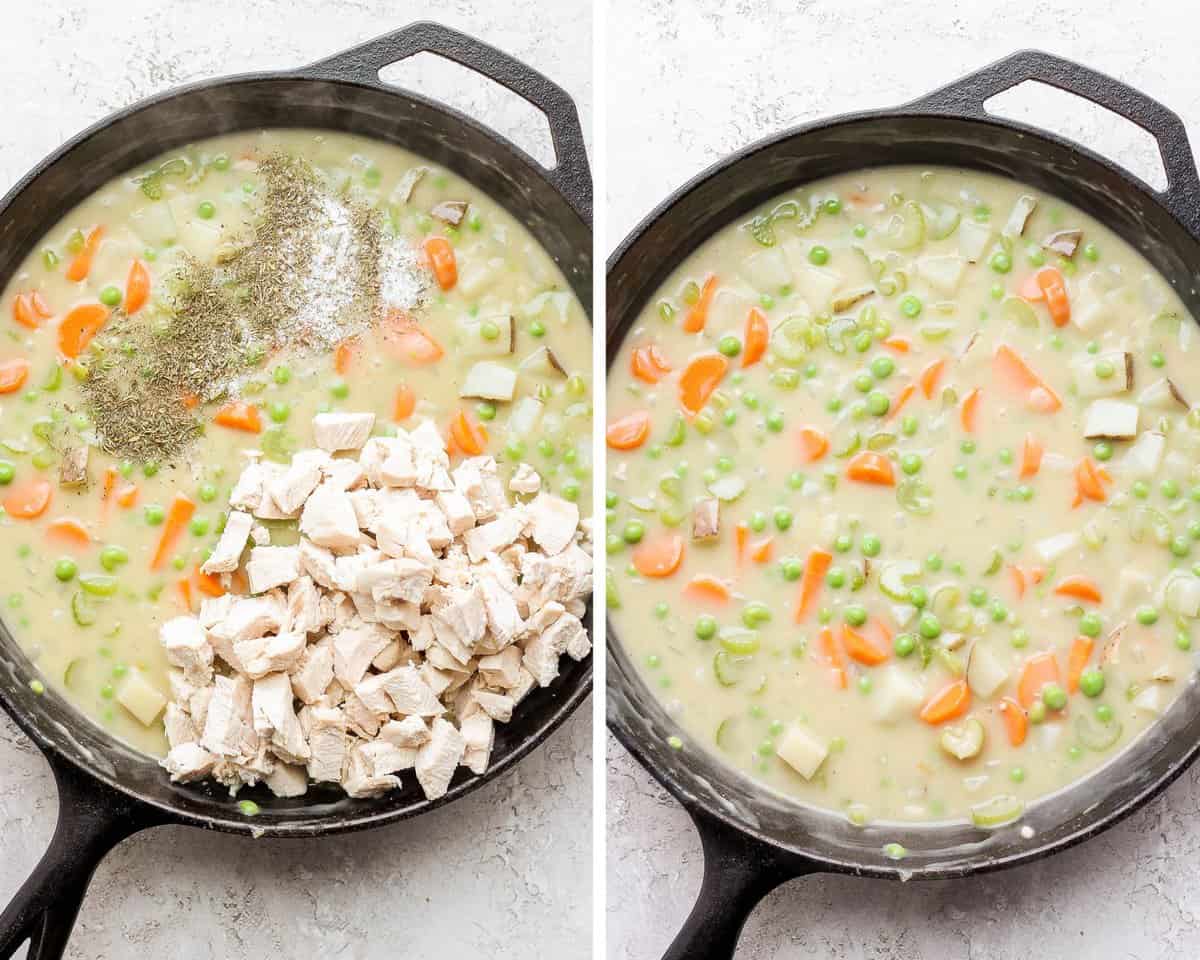 Taste and adjust any of the seasonings to your liking.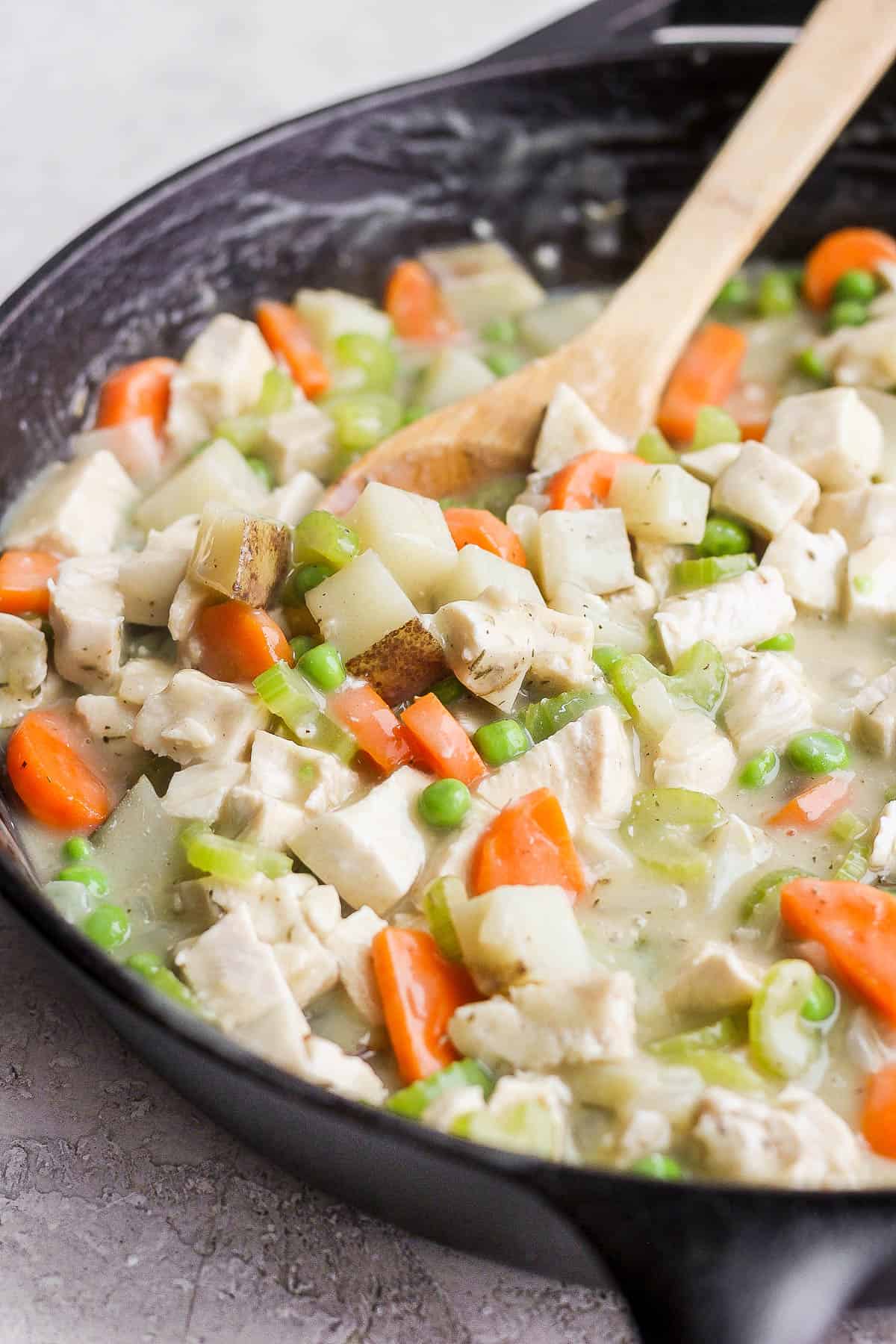 Then rub a little butter or non-stick spray in the bottom of a pie pan before you place the bottom pie crust sheet in the pan. Pour the filling in and then place the other pie crust sheet on top. And now it's time to use brush the top of the crust with an egg wash. Don't forget to cut a few slits in the top before baking.
Place the chicken pot pie on the middle rack of the oven and bake at 375 degrees F for 45-60 minutes. Let it cool a bit and enjoy!
Pro tip: if you don't like your crust getting to brown or crisp you can cover the edge with a small piece of aluminum foil. This can be done right away or later in the baking process.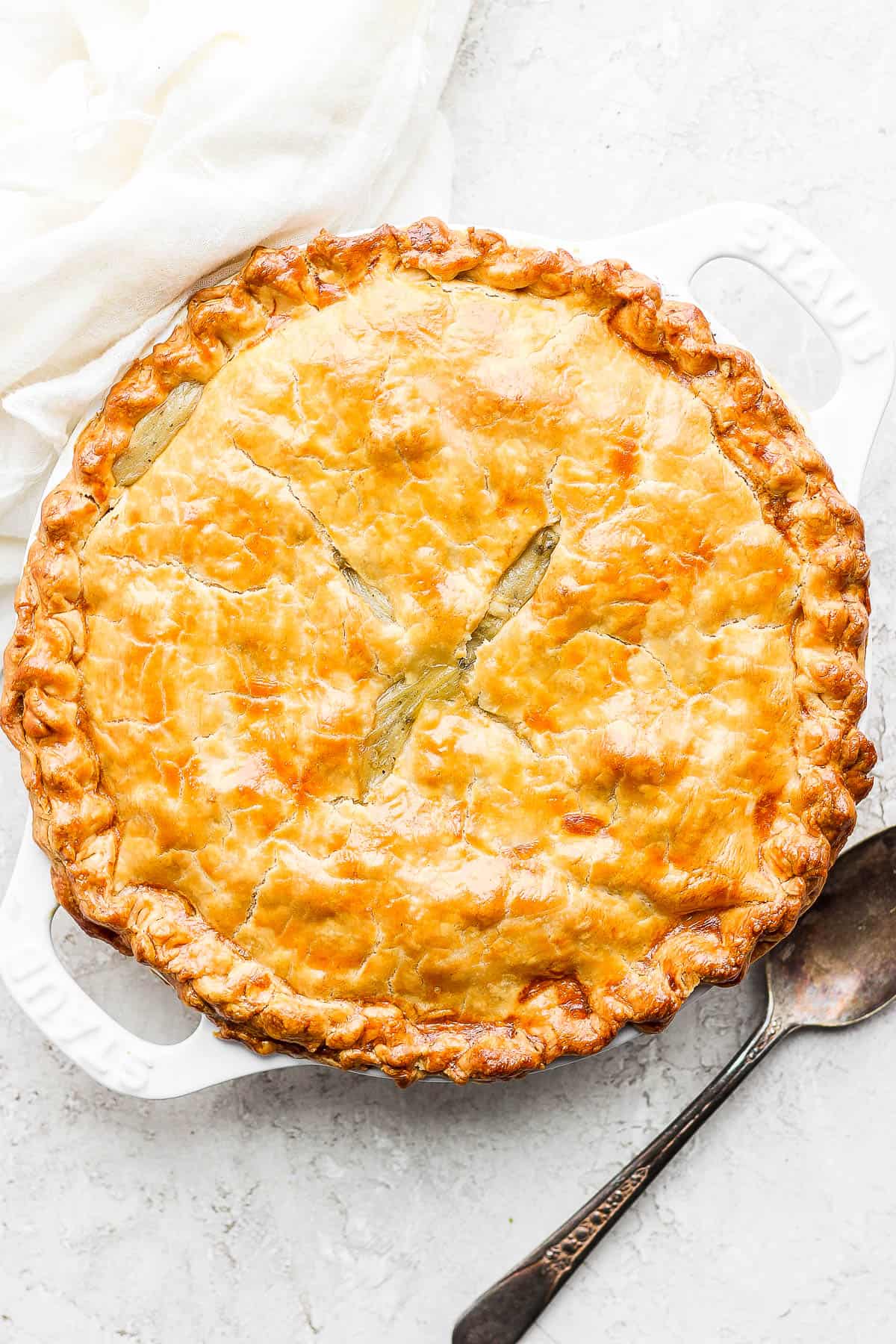 How To Serve Chicken Pot Pie
One of our favorite things about this recipe is that it is basically a meal all on its own. If you are looking to add another item to the dinner you can serve it with a simple strawberry spinach salad or a side of steamed green beans!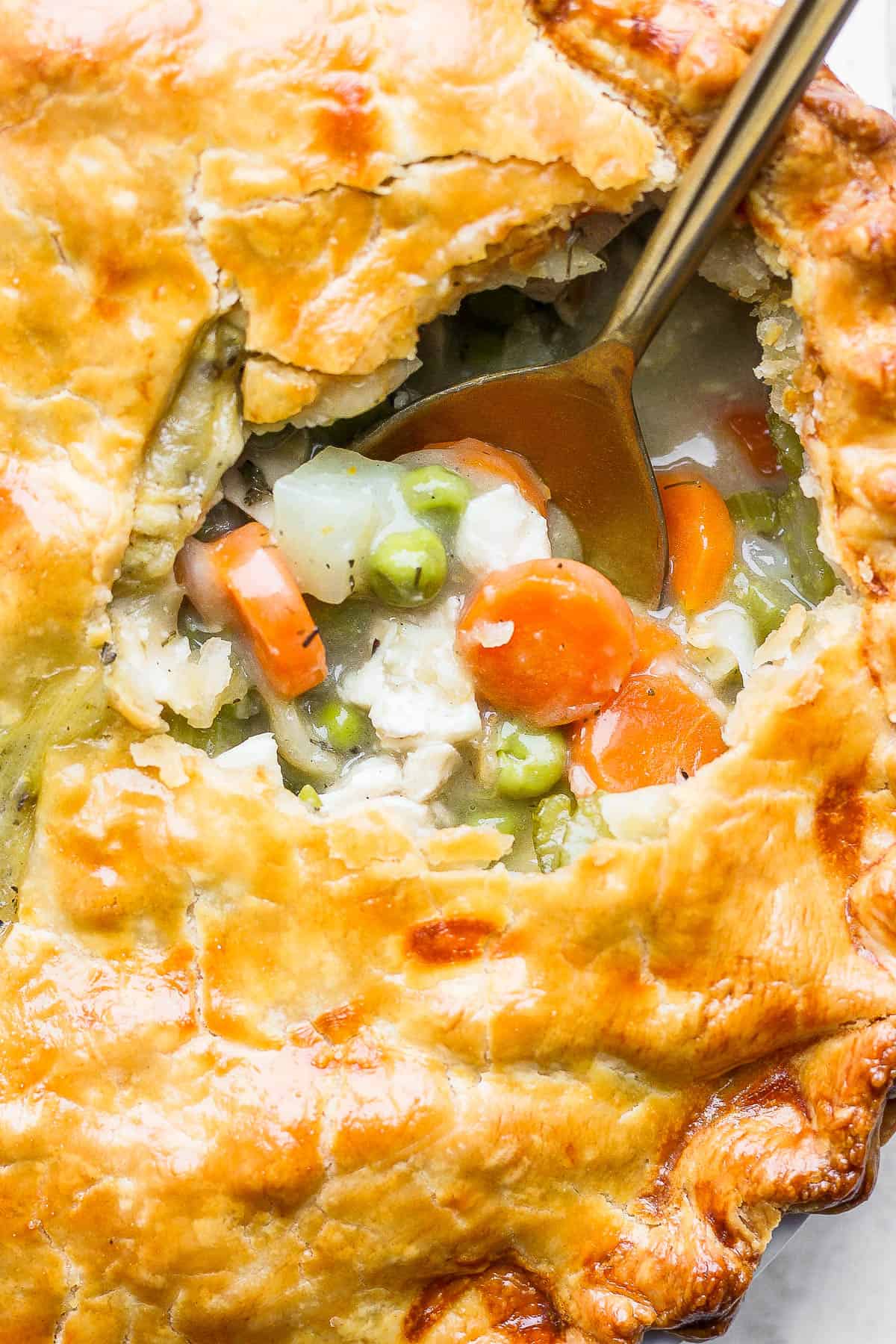 Storing Chicken Pot Pie
If you have any leftovers, they can simply be stored in an airtight container in the refrigerator for 3-4 days. They can easily be reheated in the microwave or in a warm oven until heated through.
Can I Freeze Chicken Pot Pie
Absolutely! This recipe freezes really well. You can make the entire chicken pot pie, but before you bake it you will want to wrap it in aluminum foil or freezer-safe wrap and place in the freezer for up to 2 months. When you are ready to make it, you can move it to the fridge to thaw and then the next day it will be ready to bake.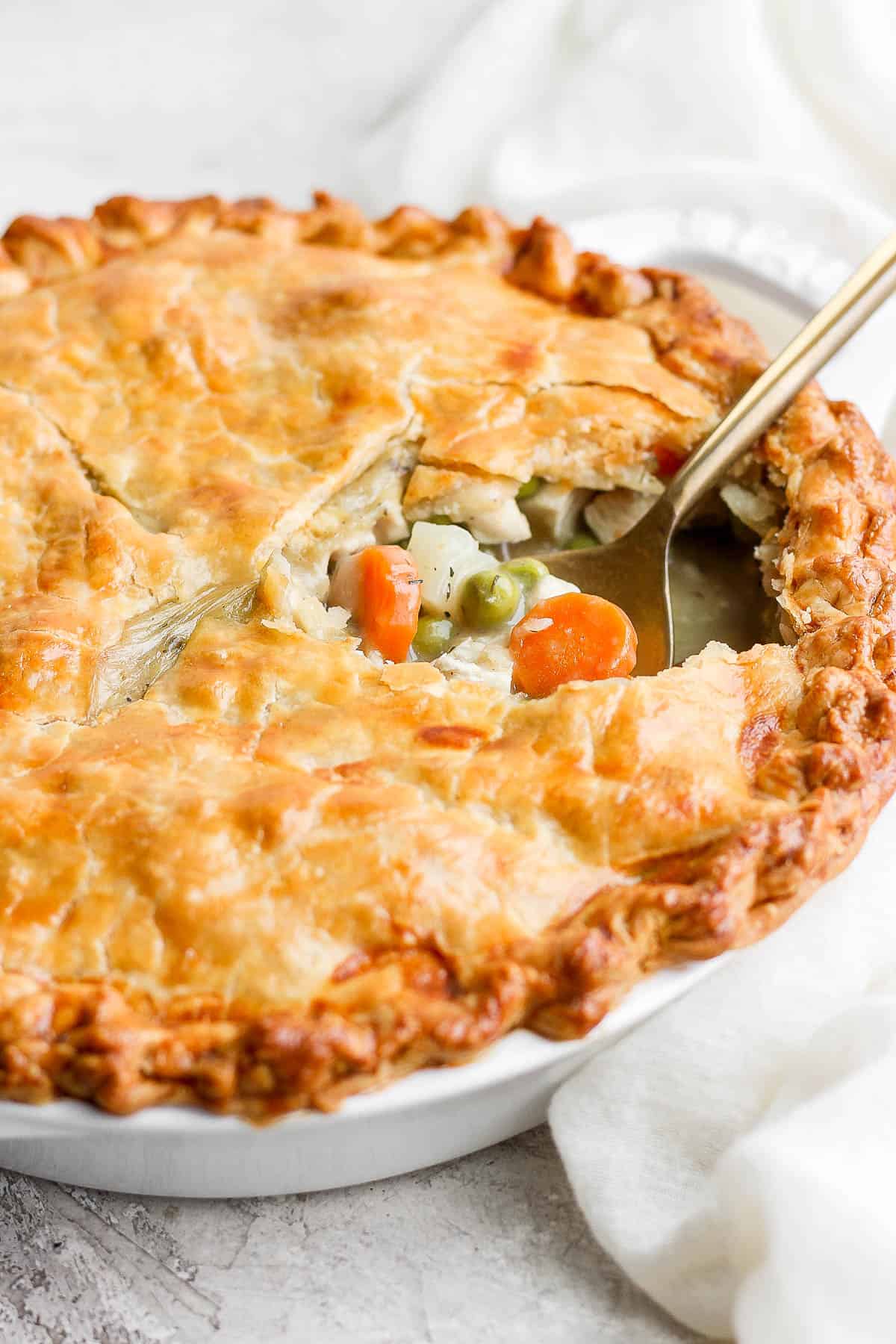 Recipe FAQ
gluten-free: just use a 1-to-1 gluten-free flour and either grab a gluten-free pie crust from the store or make your own!
dairy-free: simply substitute a vegan (plant-based) butter for the regular butter and you're good to go!
crust: you can easily make your pie crust ahead of time and store in the fridge until you are ready to use it.
vegetables: we used carrots, celery, peas, and potatoes but feel free to use any of your favorites or grab a bag of frozen vegetables to eliminate the chopping step.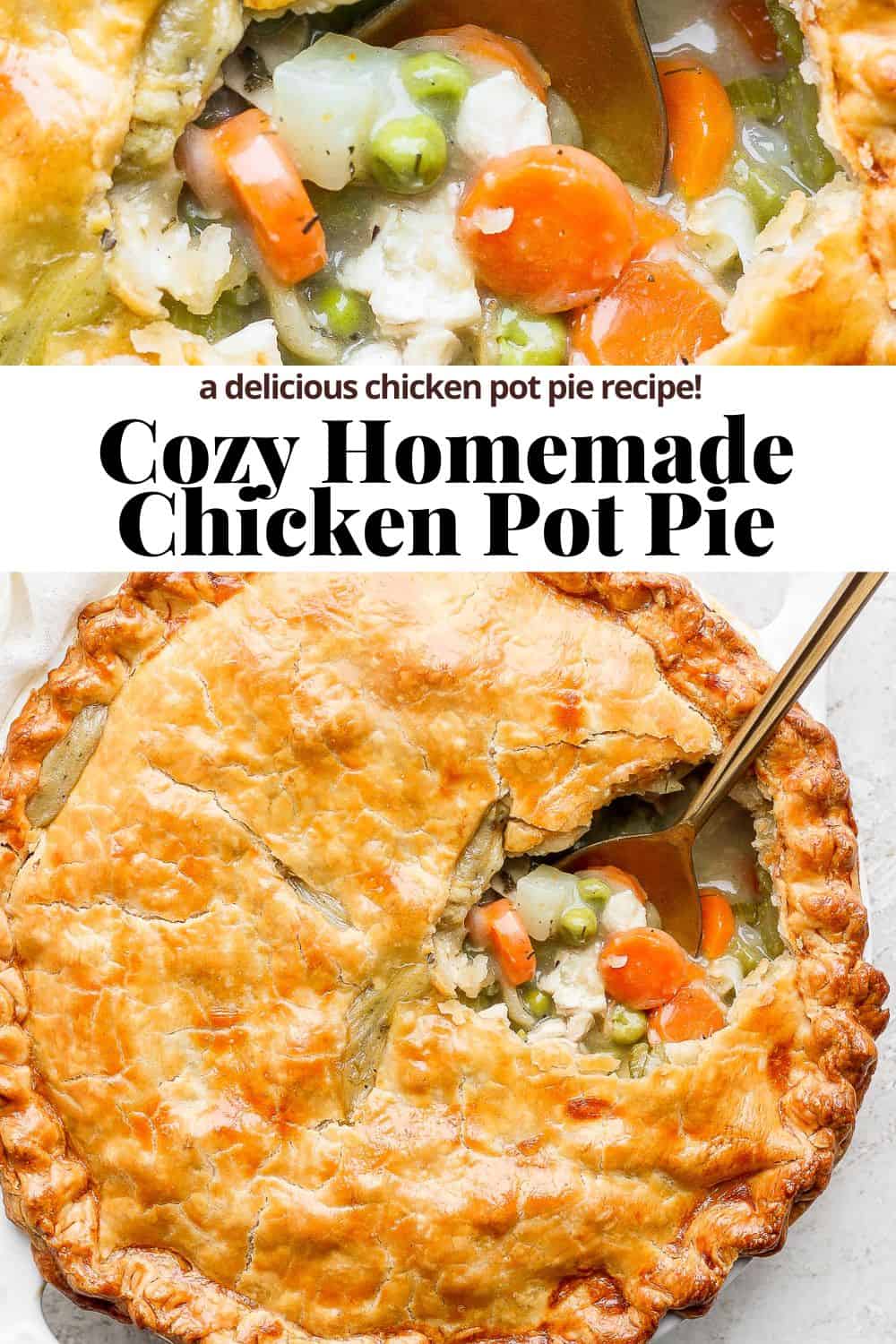 Made this recipe and loved it?! We would love it if you would take a minute and leave a star rating and review – it is also helpful if you made any substitutions or changes to the recipe to share that as well. THANK YOU!
Don't forget to check out my Instagram account for some behind-the-scenes action! Or give me a follow on Facebook or see what I am pinning on Pinterest!
Other Recipes You Might Like:
Print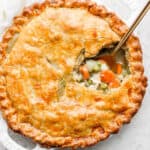 Chicken Pot Pie Recipe
Author: Erin Jensen
Prep Time: 30 minutes
Cook Time: 50 minutes
Total Time: 1 hour 20 minutes
Yield: 10 servings 1x
Category: Dinner/Entree
Method: Stove Top + Oven
Cuisine: American
---
Description
Chicken Pot Pie – a cozy + delicious chicken pot pie recipe that is perfect for those cold weather days! Made with simple, real ingredients!
---
1 tablespoon olive oil
1 teaspoon garlic, minced
1/2 cup yellow onion, diced
3/4 cup carrots, sliced
3/4 cup celery, sliced
1/2 cup frozen peas
1/2 cup russet potato, small cubes
3 tablespoons butter (vegan butter works)
1/3 cup flour (gluten-free works)
2 1/2 cup chicken broth
1 teaspoon kosher salt, more to taste
1/8 teaspoon ground black pepper
1 teaspoon dried thyme leaves
1/8 teaspoon very fine lemon zest (I used a microplane)*
2 cups chicken meat, cubed or just cut into bite-sized chunks
2 sheets pie crust (store-bought or homemade – see Notes**)
1 egg
---
Instructions
Preheat oven to 375 degrees F.
Bring large to cast iron skillet to medium-high heat. Add oil and swirl to coat. Add garlic and move around until fragrant – about 30 seconds.
Add onion, carrots, celery, peas and potatoes. Sauté for 5-6 minutes or until veggies are starting to soften.
Add butter and let melt; stir to coat veggies. Add flour and stir to coat veggies again.
Grab a small whisk and slowly start adding in the broth, about 1/3 cup at a time, and then whisk to combine with the flour. Continue whisking and adding the broth until you have a nice thick mixture – ensure the heat remains high enough for the liquid to come to a light simmer as this will help it continue to thicken if it doesn't do so initially.
Add salt, pepper, thyme, lemon zest and chicken. Stir to combine. Taste and adjust any seasonings to your liking.
Rub a little butter on the inside of a regular-sized pie plate and place your bottom pie crust inside ensure it is pressed down to fit inside.
Pour out the chicken pot pie filling inside the pie pan.
Cover with the top pie crust and pinch together the edges. Make 4-6 slits in the top of the pie crust to allow moisture to escape. Crack the egg in a small bowl and whisk. Brush egg over top the pie crust.
Place in the oven, middle rack, for 45-60 minutes or until the insides are bubbly and the crust is brown.
Remove and let cool 10-15 minutes before serving.
---
Notes
*lemon zest: you don't want a lot of lemon zest or too much of the flavor will come through – we just want a little bit thrown in to help brighten the flavors and bring them to life more.
**pie crust: use what pie crust works best for you (I used store bought for the photos since that was so much easier). I do have a gluten-free pie crust on the site if you need something gluten-free!
Foil on pie crust: feel free to cover the edges of the crust with small pieces of foil before baking OR closer to the end if you notice it is getting too brown – totally up to you – I didn't cover mine with foil and it turned out great.
Storage: leftovers can be stored in an airtight container in the refrigerator for 3-4 days.
Freezer Instructions: before baking the pot pie, simply cover it with aluminum foil or plastic freezer-safe wrap and store in the freezer for up to 2 months. Thaw in the refrigerator the night before baking.
Small Chicken Pot Pies: you could also make several small pot pies using this same pot pie filling recipe. You could put the filling in ramekins and just do a puff pastry crust on top!
Nutrition
Serving Size: 6oz
Calories: 158
Sugar: 1.6 g
Sodium: 427.4 mg
Fat: 8.9 g
Carbohydrates: 9.8 g
Protein: 9.5 g
Cholesterol: 50 mg
Keywords: chicken pot pie, chicken pot pie recipe