Chicken and Dumplings Soup is pure comfort food! The perfect combination of warm, creamy (dairy-free) broth, shredded chicken, vegetables, and light & fluffy dumplings. It is one of our favorite options for a cozy & comforting, weeknight family meal or for making a big batch to share with friends and family!
An Easy Chicken And Dumplings Soup Recipe
Our whole family loves this simple Chicken and Dumplings Soup because of the warm, creamy broth that also happens to be dairy-free plus the perfectly tender chicken and vegetables and of course, the fluffy dumplings on top! We frequently make this one for Sunday supper during the cooler months, but it is easy enough for a quick, weeknight meal too.
If you love easy chicken soups as much as we do, you also have to checkout our Easy Chicken Tortilla Soup, Chicken Pot Pie Soup, Chicken Potato Soup & Lemon Chicken Orzo Soup.
What You Will Need
Soup Base:
olive oil – a drizzle in the dutch oven for sautéing the garlic and onion.
garlic & yellow onion – the perfect combo to get the flavor party started in any soup!
chicken broth – feel free to grab your favorite store-bought broth or make your own.
boneless, skinless chicken breasts – we love using chicken breasts for this soup but you could use chicken thighs too, if you prefer.
bay leaf – a staple ingredient in most soups!
kosher salt & pepper – option to adjust the salt amount to your preferred taste, this may also depend on what type of broth you use.
fresh thyme – this is simply perfection in this soup – it really brings a lot of flavor!
carrots, celery, frozen peas – the vegetable combo that we used but feel free to use what you have.
coconut milk – brings the creaminess to the broth, plus added flavor.
all-purpose flour – used in combination with some of the broth to make a slurry for thickening the soup.
Dumplings:
all-purpose flour – the base for these light & fluffy dumplings
kosher salt & eggs – both provide structure to the dumplings so they don't fall apart.
unsweetened almond milk – brings the moisture to the dumplings – option to use regular milk too!
baking powder – this provides that fluffy texture!
Making Chicken And Dumpling Soup Ahead Of Time
The base of this soup can easily be made ahead of time and stored until you are ready to eat it. We do highly recommend that, if possible, you wait to make the dumplings until just before you are going to serve it. The dumplings can absorb quite a bit of the broth when stored together so if you are able to make them before serving, they really are best that way.
How To Store Chicken And Dumpling Soup
Fridge: Leftover soup can be stored in an airtight container in the fridge for up to 5 days.
Freezer: Chicken and Dumpling Soup can be stored in a freezer-safe container for 3-4 months. To thaw, simply place the frozen soup in the fridge the night before you plan to eat it and then warm the next day. If possible, we love to wait on the dumpling part of the soup until right before serving.
How To Make Chicken And Dumplings Soup
Begin, by sautéing some onion & garlic in a dutch oven. After a few minutes you can gradually pour in the broth and bring to a boil. Then add the chicken breasts and cook for 15 minutes.
While the soup is cooking you can place the ingredients for the dumplings in a mixing bowl.
Mix to fully combine.
When the chicken is done cooking, you will remove the chicken to shred on a cutting board. Then carefully remove 2 cups of hot broth from the pot and mix with flour to create a slurry.
Add the slurry back to the pot and mix to fully combine, then add the chicken back in with the vegetables, fresh thyme, coconut milk, bay leaf, and salt/pepper.
Mix and simmer for 5-8 minutes or until it begins to thicken.
Next, you will add the dumplings! Simply add them a 1/2 tablespoon at a time to the pot. When they are all in you will let it simmer for another 5-10 minutes.
Finally, mix in the frozen peas.
And Enjoy!!
Don't forget to follow me on Facebook, check out my Instagram account or see what I am pinning on Pinterest!
Made this recipe and loved it?! We would love it if you would take a minute and leave a star rating and review – it is also helpful if you made any substitutions or changes to the recipe to share that as well. THANK YOU!
Print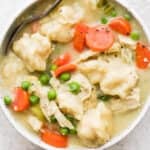 Chicken and Dumpling Soup
Author: Erin Jensen
Prep Time: 10 minutes
Cook Time: 40 minutes
Total Time: 50 minutes
Yield: 10 servings 1x
Category: Soup
Method: Stove Top
Cuisine: American
---
Description
Chicken and Dumpling Soup – the perfect comfort food and easy to make! Can be made dairy-free or gluten-free!
---
Soup:
1 tablespoon olive oil
1 tablespoon garlic, minced
1 small yellow onion, diced
6 cups chicken broth
1 pound boneless, skinless chicken breast
1 bay leaf
1 1/2 teaspoons kosher salt
1/4 teaspoon ground black pepper
2–3 sprigs fresh thyme
1–2 carrots, peeled and sliced
1–2 celery stalks, sliced
1 cup frozen peas
1/2 cup full fat coconut milk*
1/2 cup all-purpose flour** (sub gluten-free 1-to-1)
Dumpling Ingredients:
2 cups all-purpose flour** (sub gluten-free 1-to-1)
1 teaspoon kosher salt
1/2 cup unsweetened almond milk***
2 large eggs
1/2 teaspoon baking powder
---
Instructions
Bring Dutch Oven to medium-high heat. Add oil and swirl to coat the pan.
Add garlic and onions. Move around pan until garlic is fragrant and onions softens, about 1-2 minutes.
Add broth and bring to a boil. Add chicken. Cover and let chicken cook through, about 15 minutes.
Meanwhile, combine Dumpling Ingredients in a small bowl. Set aside.
Remove cooked chicken from Dutch Oven and set on a plate. Shred with two forks. Set aside.
Ensure broth is very hot and then using a glass measuring cup with a handle, carefully scoop out two cups of hot broth. Add in 1/2 cup flour and whisk immediately.
Add the broth/flour mixture back into the Dutch Oven. Stir to combine.
Add in the shredded chicken, bay leaf, kosher salt, ground black pepper, thyme, carrots, celery and coconut milk.
Bring to a simmer and stir fairly constantly as it thickens, about 5-8 minutes.
Take your dumpling dough and add to soup 1/2 tablespoon at a time. Once all the dumpling dough has been used cover the Dutch Oven and let gently simmer 5-10 minutes or until dumplings are fully cooked.
Add the frozen peas and mix to fully combine. Cover and remove from heat. Let stand 5-10 minutes or until peas are fully thawed.
Serve immediately.
Notes
*Coconut Milk: feel free to use heavy cream if you aren't omitting dairy.
**Gluten-Free Friendly: you can use regular or 1-to-1 gluten free flour.
***Almond Milk: feel free to sub regular milk if not omitting dairy.
Keywords: chicken and dumpling soup