These juicy and tender Chicken Teriyaki Meatballs make the perfect 30-minute weeknight dinner! Serve with our delicious homemade teriyaki sauce, broccolini, and rice for the best meal that is packed with great flavor!
THIS POST IS SPONSORED BY:
This post is sponsored by Bob's Red Mill, the opinions are my own.
Baked Chicken Teriyaki Meatballs
On a busy weeknight we love nothing more than a meal that can be in 30 minutes and almost entirely in one skillet. Our easy teriyaki sauce pairs well with just about anything. We love it on salmon, shrimp, and now these baked chicken meatballs! Roast the broccolini right in the pan and then serve over your favorite rice for an easy, flavor-packed dinner.
We are so proud to be partnering with our friends over at Bob's Red Mill for this delicious recipe! We are using their Super-Fine Almond Flour in the meatballs to make them gluten-free! Bob's Red Mill Super Fine Almond Flour is my go-to almond flour for all my gluten-free cooking and baking!
Looking to make dinner in your Instant Pot? We have a great Teriyaki Chicken Bowl recipe that you have to try!
What You Will Need
teriyaki sauce – our simple teriyaki sauce comes together in minutes and it totally worth the effort, but you could use a store-bought option from your local grocery store too!
ground chicken – we love using this for the base of these tender meatballs, but you could also use ground turkey.
egg – this helps to provide some structure to the meatballs.
almond flour – you have to use Bob's Red Mill Super-Fine Almond Flour, it's the best!
onion powder, kosher salt, & ground black pepper – a simple combination of seasonings that really compliment the other flavors.
garlic & ginger paste – both bring so much great flavor that pair well with the teriyaki sauce.
soy sauce – option to tamari, if you want.
green onion – flavor plus a pop of color!
broccolini – one of our all-time favorite vegetables, but you can easily sub with another vegetable.
rice – to keep it simple we love making jasmine rice in the Instant Pot!
How To Make Chicken Teriyaki Meatballs
First, you can begin by placing all the teriyaki sauce ingredients in a small saucepan and bring to a simmer on medium heat. When you reach your desired thickness you can remove it from the heat.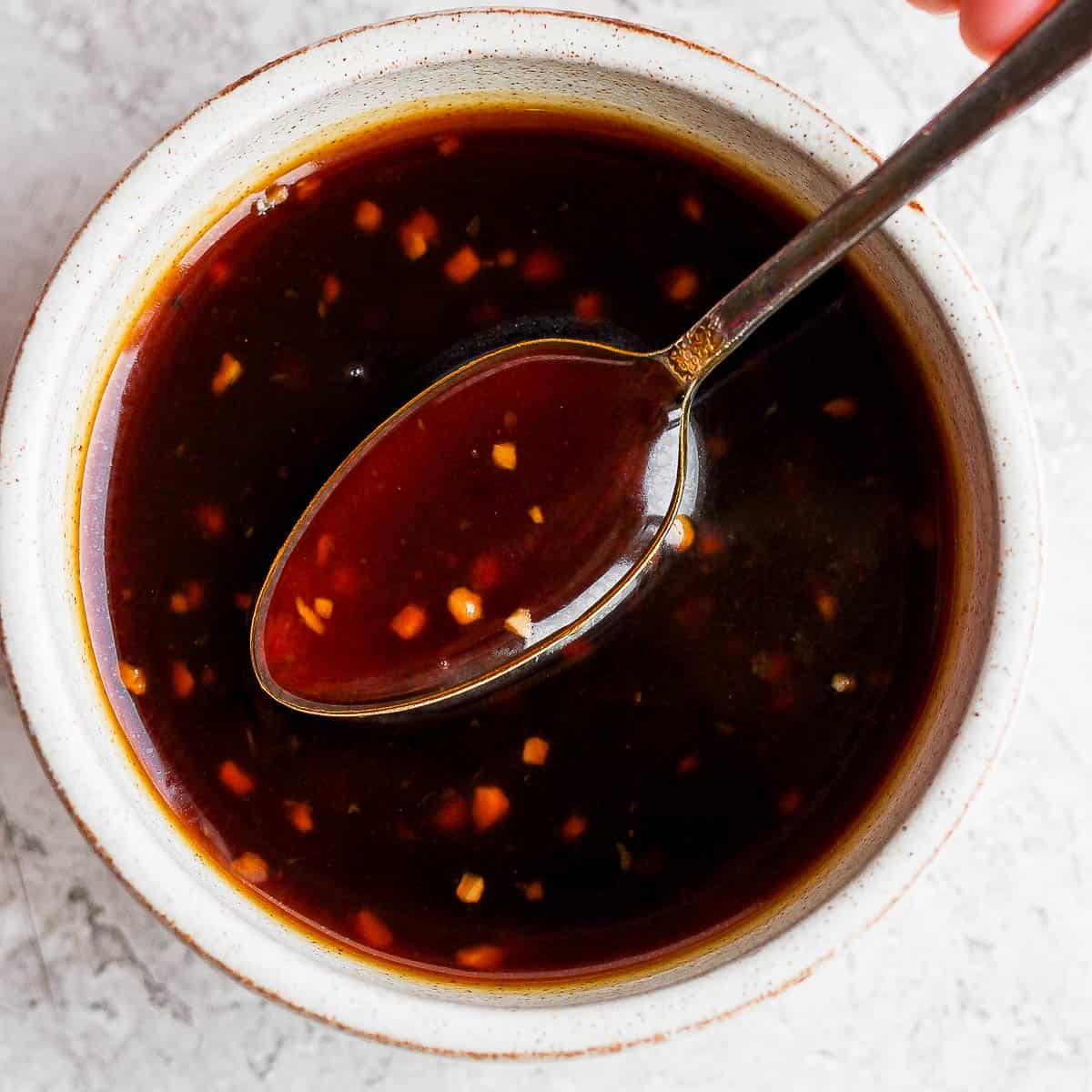 While the teriyaki sauce is simmering, place all the meatball ingredients in a mixing bowl.
Can I Make Chicken Teriyaki Meatballs On A Sheet Pan
Absolutely! We love the crisp outside that a quick sear in a cast iron skillet can provide, but if you would rather toss it all on a sheet pan to bake you can definitely do that. Simply place the uncooked meatballs and broccolini on a sheet pan and place in the oven for approx. 20 minutes (or use two different baking sheets if you are making a bigger batch or want to use more veggies). Totally up to you!
Use a spoon to fully combine the meatball ingredients.
For best results, preheat a large cast iron skillet with a drizzle of olive oil and give the chicken meatballs a quick sear on all sides.
Pro tip: use a cooke dough scoop to form uniform meatballs that are all about the same size.
Now you can pour about 1/3 of the teriyaki sauce in the frying pan to coat the meatballs, then move the meatballs to one side of the pan and add the broccolini. Place the entire skillet in a preheated oven at 400 degrees F and bake uncovered for 10-15 minutes.
Serve with your favorite rice of choice and drizzle on the rest of the teriyaki sauce!
What To Make With Chicken Teriyaki Meatballs
We chose to serve these with our favorite broccolini and basmati rice, but you can easily serve it with another vegetable or any your favorite rice varieties! You could also use regular broccoli, asparagus, or green beans. And if rice isn't your thing, they would also be delicious as a pasta with your favorite noodles (regular or gluten-free).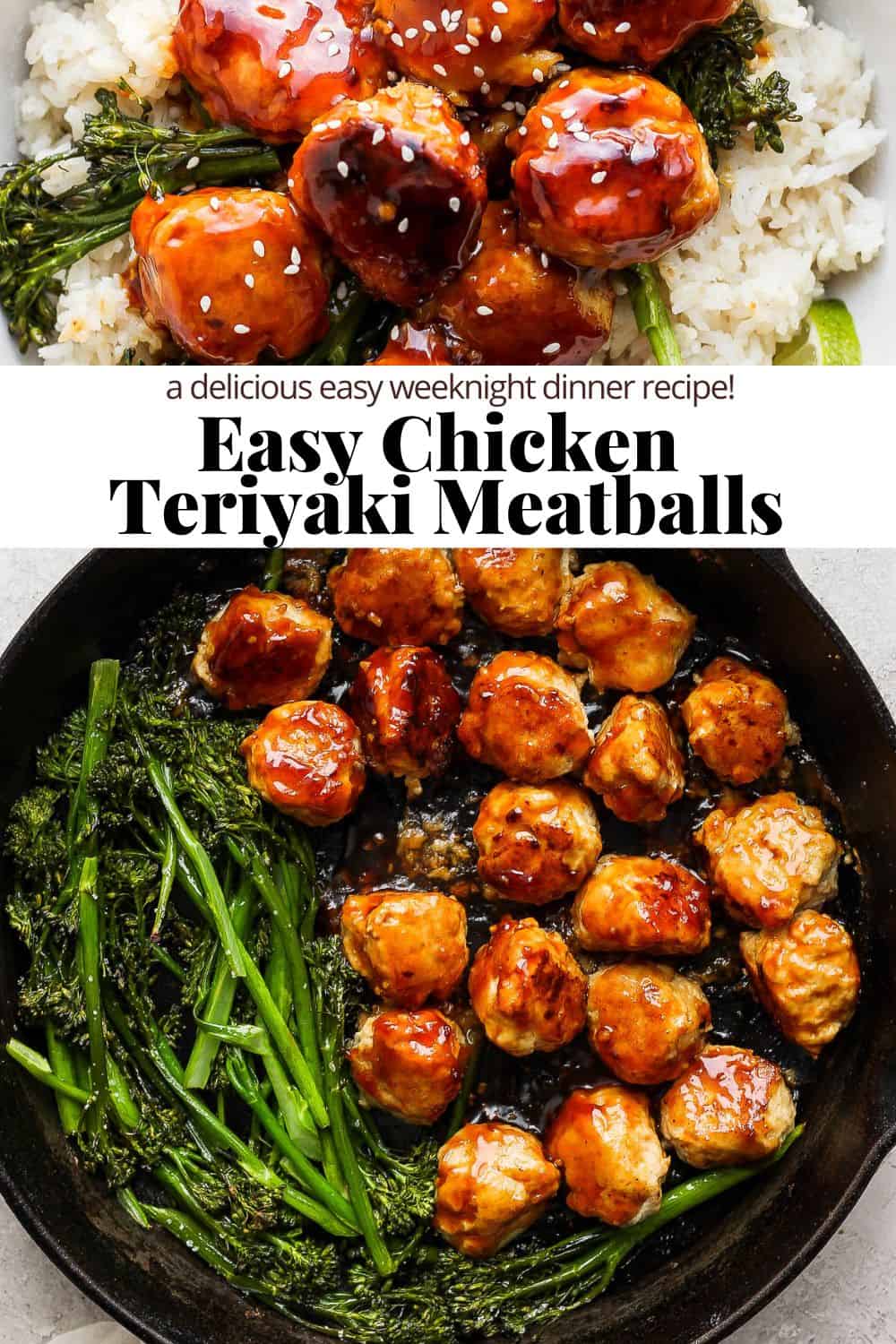 Made this recipe and loved it?! We would love it if you would take a minute and leave a star rating and review – it is also helpful if you made any substitutions or changes to the recipe to share that as well. THANK YOU!
Don't forget to follow me on Facebook, check out my Instagram account or see what I am pinning on Pinterest!
Other Meatball Recipes You Might Like:
Print
Chicken Teriyaki Meatballs
Author: Erin Jensen
Prep Time: 10 minutes
Cook Time: 20 minutes
Total Time: 30 minutes
Yield: 2–4 servings 1x
Category: Dinner/Entree
Method: Stove Top + Oven
Cuisine: Asian-Inspired
---
Description
Chicken Teriyaki Meatballs – a simple and delicious weeknight dinner option the whole family will love! Packed with flavor!
---
Teriyaki Sauce:
1 cup of water
1 teaspoon sesame oil
4 tablespoons brown sugar (or coconut sugar)
1/2 cup soy sauce (or coconut aminos)
2 teaspoons honey
2 teaspoons garlic, minced
1/2–1 teaspoon fresh ginger, minced
Slurry: 2 tablespoon cornstarch + 1/4 cup cold water
Meatballs:
1 pound ground chicken
1 egg
1/2 cup Bob's Red Mill Super Fine Almond Flour
1 teaspoon onion powder
1 teaspoon garlic, minced
1/2 teaspoon kosher salt
1/2 teaspoon ground black pepper
1 teaspoon ginger paste
2 teaspoons soy sauce (sub tamari)
1 tablespoon green onion, minced
Other:
6oz broccolini
rice of your choice
---
Instructions
Teriyaki Sauce:
In medium saucepan whisk together water, sesame oil, brown sugar, soy sauce, honey, garlic and ginger.
Whisk together slurry in a small bowl; set aside.
Bring ingredients in saucepan to a simmer.
Add slurry to saucepan; whisk to combine.
Whisk slowly but continuously while bringing sauce to a simmer.
After a few minutes of simmering, sauce will start to thicken.
Remove when it reaches your desired thickness – remember it will thicken more as it cools slightly.
Meatballs + Broccolini:
Preheat oven to 400 degrees F.
Combine Chicken Meatball ingredients in a medium mixing bowl.
Place broccolini on a plate and drizzle with olive oil. Massage the oil into every little bit of the broccolini. Sprinkle with a little kosher salt.
Bring a large cast iron skillet to medium-high heat and add just enough oil to barely coat the pan. Use a 1 tablespoon cookie dough scoop (or add a little oil to your hands) to help form the meatballs.
Quickly sear the meatballs on all sides. Pour in approx. 1/3 of the teriyaki sauce; toss to coat the meatballs. Move the meatballs to one side and place the broccolini next to the meatballs.
Place in the oven, middle rack and uncovered, for 10-15 minutes or until the meatballs are fully cooked.
Remove from oven. Serve with rice and drizzle with remaining teriyaki sauce.
---
Notes
Broccolini: I would recommend cutting larger/thicker pieces in half once or even twice lengthwise to create thinner pieces of broccolini so they cook faster.
Sheet Pan Method: you could definitely skip the searing of the meatballs and simply place the uncooked meatballs and broccolini on a sheet pan and place in the oven for approx. 20 minutes (or use two different sheet pans if you are making a bigger batch or want to use more veggies). Totally up to you!
Storage: store leftovers in an airtight container in the refrigerator for up to 3 days.
Nutrition
Serving Size: 5 meatballs
Calories: 439
Sugar: 15.1 g
Sodium: 1179.6 mg
Fat: 14.3 g
Carbohydrates: 40.5 g
Protein: 28.3 g
Cholesterol: 142.8 mg
Keywords: chicken teriyaki meatballs