Curried Meatballs + Cauliflower Rice and Avocado – weeknight or weekend-worthy, this simple and savory meal is easy and delicious!!!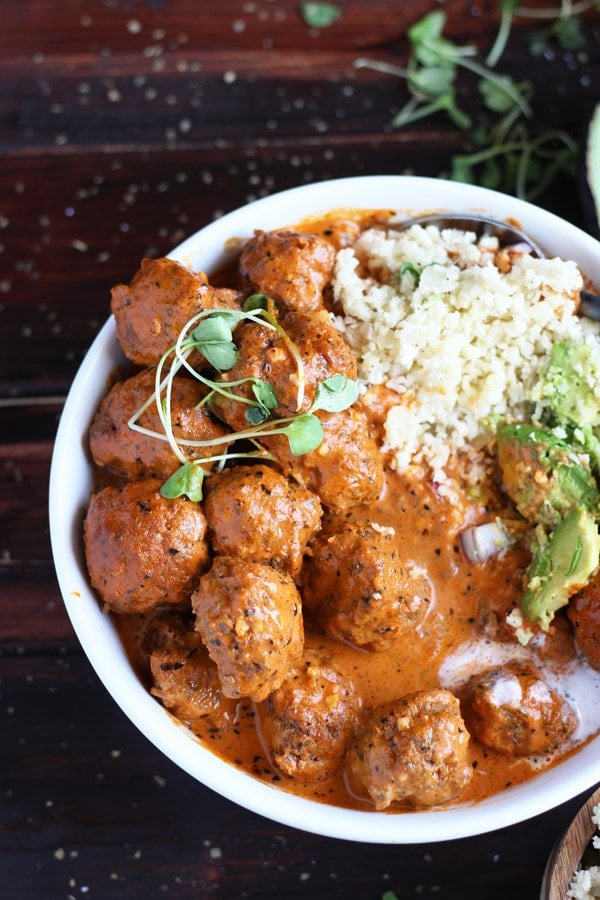 Welcome to my world right now….. the world of Whole30 that is. This amazing Curried Meatball recipe just happens to be a "go" if you are also going through this "eating experiment" – as I am calling it. But don't let that scare you if that isn't your thang. It is ridiculously good regardless of that. Just switch out the cauliflower rice for any other kind of rice you like (I would recommend jasmine). But those meatballzzzz. So, so good. And just enough heat from the curry to keep things interesting…
Curried Meatballs:
Sooooo, this recipe for Curried Grassfed Meatballs + Cauliflower Rice and Avocado is something I came up with as new weeknight meal that was complaint and that I thought my family would like (I am NOT making separate meals for every dinner for 30 days. Not. Doing. It). It was ah-mazing. Like, clean-plate-club good.
Did I mention it is super easy? Totally is.
Whole30 Re-Cap – why I did it:
Okay, a little bit of why I decided to do Whole30:
Gut. As in, acid reflux, stomach aches…. I felt like I was walking on eggshells with my body every day. Depending upon what I did or didn't eat, I would get a stomach ache or just generally not feel well. It was exhausting! I never realized I had an issue with acid reflux until last summer when I got a stomach for almost a week. I finally went to the doctor (after self-diagnosing myself off of Web-MD – naturally) and it became clear I very well may have an ulcer. In the very least, I had a horrible case of acid reflux. I was on a Rx for I don't know how many months (I strongly dislike taking medicine – it just never seems to agree with me). Fast forward to this year, I had it mainly under control, but my stomach was still pretty touchy. In doing my research before starting this program, it became clear that a very popular result from doing the program was an alleviation of gut-related issues. I haven't had ANY stomach aches so far, no heartburn, nothin. Nada. It is awesome.
Energy. Come on you guys, we are SUPER busy people. I have a full-time job, 2 kiddos, a house to clean, a husband….. a blog. I don't have time to be TIRED!!!! I just don't. I need to be running at full capacity all day. every day. And I totally wasn't. I would get that after-lunch lull and want to take a nap or that after-dinner lull and I would literally excuse myself from the table early and go take a quick 20-30 minute power nap at 6:45pm! Energy levels were up and down constantly. I have to say this is my favorite side-effect of Whole30… energy levels are always high. I am up after dinner playing with my kids or vacuuming ….. whatever … NOT sleeping. It's pretty cool.
I'm not saying this program is for everyone. It's for you if you decide it's something you want to do. These are just two ways it has really made an impact on me in my life. It has been 2.5 weeks and I honestly feel amazing. If these are issues you deal with, it may be something you want to do some research on too.
Quick ground beef recommendation:
If you are looking for a great place to stock up on high quality ground beef, I highly recommend Butcher Box (a service that delivers 100% Grass-Fed and Grass-Finished Beef, Heritage Breed Pork, Free-Range Organic Chicken and Wild Caught Alaskan Salmon). All of their meat, including their ground beef, is absolutely amazing. Click here for $20 off your first order + free bacon!
Oh – and if you don't know how to make cauliflower rice (or maybe don't even know what it is) I have this handy tutorial for you so you can learn how to make it perfect every time!
Don't forget to check out my Instagram account for some behind-the-scenes action! Or give me a follow on Facebook or see what I am pinning on Pinterest!
Made this recipe and loved it?! We would love it if you would take a minute and leave a star rating and review – it is also helpful if you made any substitutions or changes to the recipe to share that as well. THANK YOU!
Print
Curried Grassfed Meatballs + Cauliflower Rice and Avocado
Author: Erin Jensen
Prep Time: 5 minutes
Cook Time: 30 minutes
Total Time: 35 minutes
Yield: 3–4 servings 1x
Category: Dinner
Method: Stove Top
Cuisine: Indian-Inspired
---
Description
Weeknight or weekend-worthy, this simple and savory meal is easy and delicious!!!
---
---
Instructions
In large skillet, role hamburger into large meatballs (about 1.5 – 2 Tablespoons) and place in pan.
Sprinkle with a generous amount of ground black pepper and some salt.
Bring heat up to medium/high and cover meatballs for approx. 5 minutes.
Uncover and turn.
Cook for an additional 5 minutes.
Then uncover and keep repeating until the meatballs are fully cooked.
Drain some of the grease, but leave about 1/4 cup in the pan.
Place curry paste, coconut milk, garlic and basil into the pan and stir to combine well.
Bring to a simmer and leave uncovered to let reduce.
Taste and add any additional salt or pepper, as needed.
Let simmer for approx. 5 minutes, or until it has reduced to a consistency you like.
Serve over cauliflower rice (or regular rice) and with 1/2 an avocado.
---
Keywords: curried meatballs