This simple Homemade Pizza Dough Recipe is going to be your new go-to dough for pizza night! You only need 7 real, simple ingredients and you can use it the same day you make it (no need to have it rest overnight). The whole family is going to love it!
An Easy Homemade Pizza Dough Recipe
Our family absolutely loves having a pizza night, at least once a week, and this dough has become our go-to crust for making our own delicious pizzas at home. It is so simple and so good! Whether you are baking a pizza in the oven, grilling it, or cooking it on the smoker, it is going to turn out amazing every time. We love making our own pizza sauce and then we put out a bunch of toppings for everyone to make their own combination. The kids love it!
And if you are feeding a crowd, maybe you want to pair this pizza with a big salad…. our strawberry spinach salad would round out the perfect meal!
What You Will Need
warm water – you want your water to be around 80-100 degrees F, warm but not hot.
instant yeast – using instant yeast will help your dough to rise quickly so that it doesn't need to sit for a long time.
granulated sugar – a little sugar helps with tenderizing the dough and helps with browning during the cooking process.
00 flour & all-purpose flour – the perfect combination of flours to get just the right consistency.
olive oil – adds a little flavor plus it makes the dough nice and stretchy.
kosher salt – this helps with regulating the yeast and tightening up the gluten structure of the dough.
semolina flour – it isn't used in making the dough itself, but we have found it to be incredibly helpful with working with the dough so that it doesn't stick to the pan, counter, or whatever surface you are using to prep your pizza.
What Is The Best Flour To Use For Pizza Dough
We have found that using a combination of 00 flour (or double zero flour) and all-purpose flour seems to yield the perfect texture for a homemade dough. Double zero flour is a very finely ground Italian flour that is typically used in Italy and other parts of Europe. We also love using a generous amount of semolina flour to keep the dough from sticking to the surface you are using to prep the pizza.
Proofing The Yeast
You will begin making your homemade pizza dough by proofing the yeast. This is when you gently mix your instant yeast, sugar, and warm water (around 100 degrees F), then let it sit for about 5 minutes until it starts to get foamy and bubbly on top. You can use a thermometer to check the temp of the water, but it should be warm and not hot. If it is too hot it will kill the yeast.
Can I Make This Pizza Dough Ahead Of Time
Absolutely! You can follow all of the steps below as they are written and then when you get the step where you separate the dough into 2 equal portions, you can simply place those portions in a bowl, cover it in plastic, and store it in the fridge until you are ready to use or overnight.
Can I Freeze This Pizza Dough
Yes, you can definitely store it in the freezer if you are looking to keep it for longer than just 24 hours in the fridge. There are two different ways you could freeze it:
As dough: you can simply wrap the balls of dough in plastic wrap and then store in a freezer safe container. You can freeze it for up to 5 months.
As a partially baked crust: another option would be to follow all the steps in the recipe card below to prep the dough, bake it by itself (no sauce or toppings) for about 5 minutes, and then let the crust cool, wrap in plastic & aluminum foil, and store in the freezer for up to 5 months. When you are ready to use it, let it thaw, add the sauce/toppings, and bake.
Sauce And Toppings
First, you definitely have to start with the best pizza sauce in all the land… our super easy homemade pizza sauce! It is so simple and so good! Then you can top your pizza with just about anything. We love to put out a variety of toppings like mozzarella cheese, pepperoni, sausage, mushrooms, green peppers, black olives, fresh basil, tomatoes, onions, or even some pineapple with Canadian bacon, if you are feeling crazy! We love having the options and then everyone can make their own combination.
What Is The Best Way To Cook This Pizza
Once you have your pizza all dressed up with the sauce, cheese, and toppings, it is time to cook it! You can cook your pizza in the oven, on the grill, or on the smoker. This can simply be done on a regular baking sheet or you can use a pizza stone. Our personal favorite is to preheat the pizza stone and then carefully slide your pizza on to the stone and either bake it or smoke it. Any way you cook it, it will be amazing!
How To Make An Easy Homemade Pizza Dough
For starters, you will begin by proofing the yeast. That means putting the warm water, yeast, and sugar in a bowl for a stand mixer and let it sit for about 5 minutes.
It will get foamy (or bubbly) on top.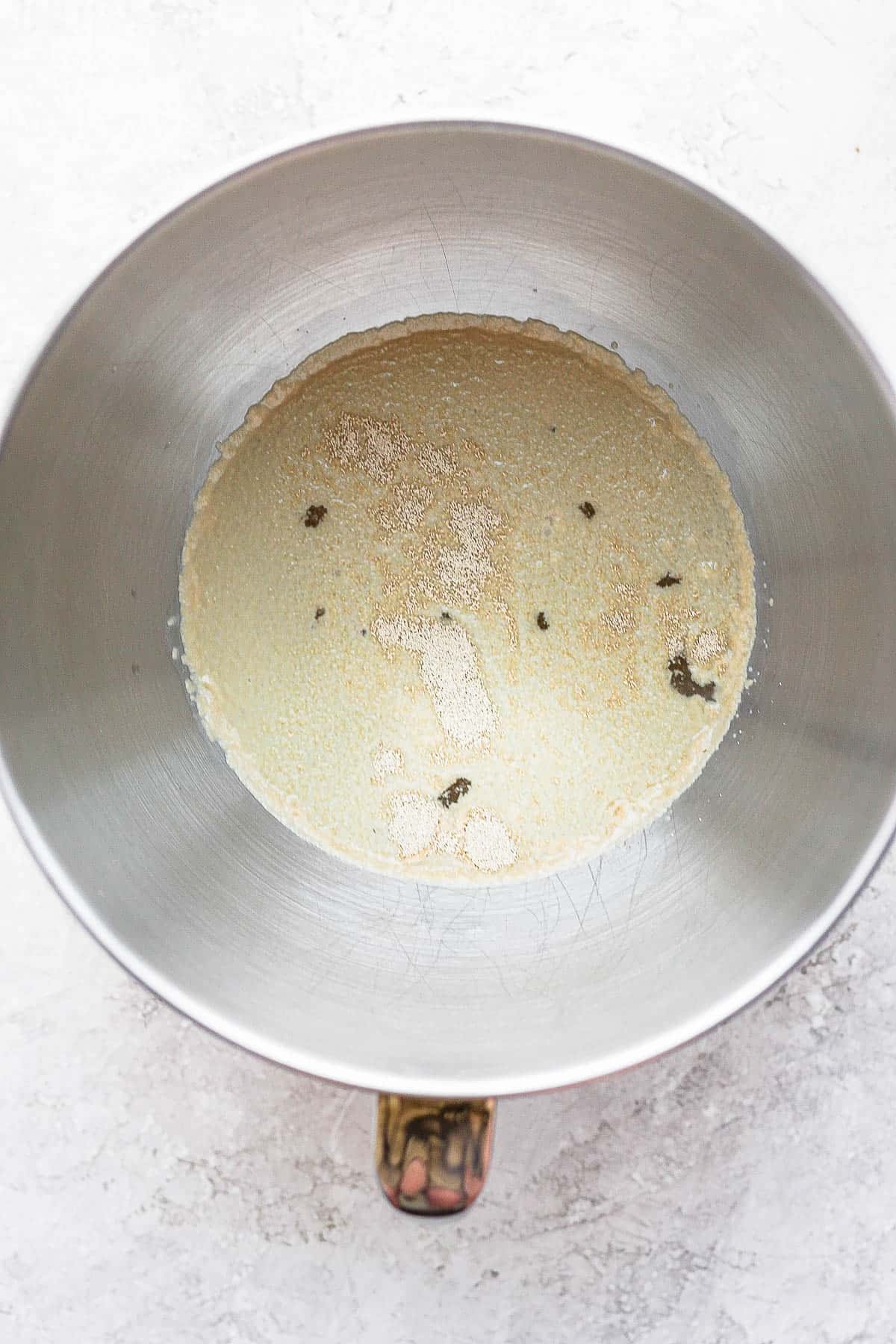 Next, you add the flour and oil and mix with the dough hook for about 2 minutes.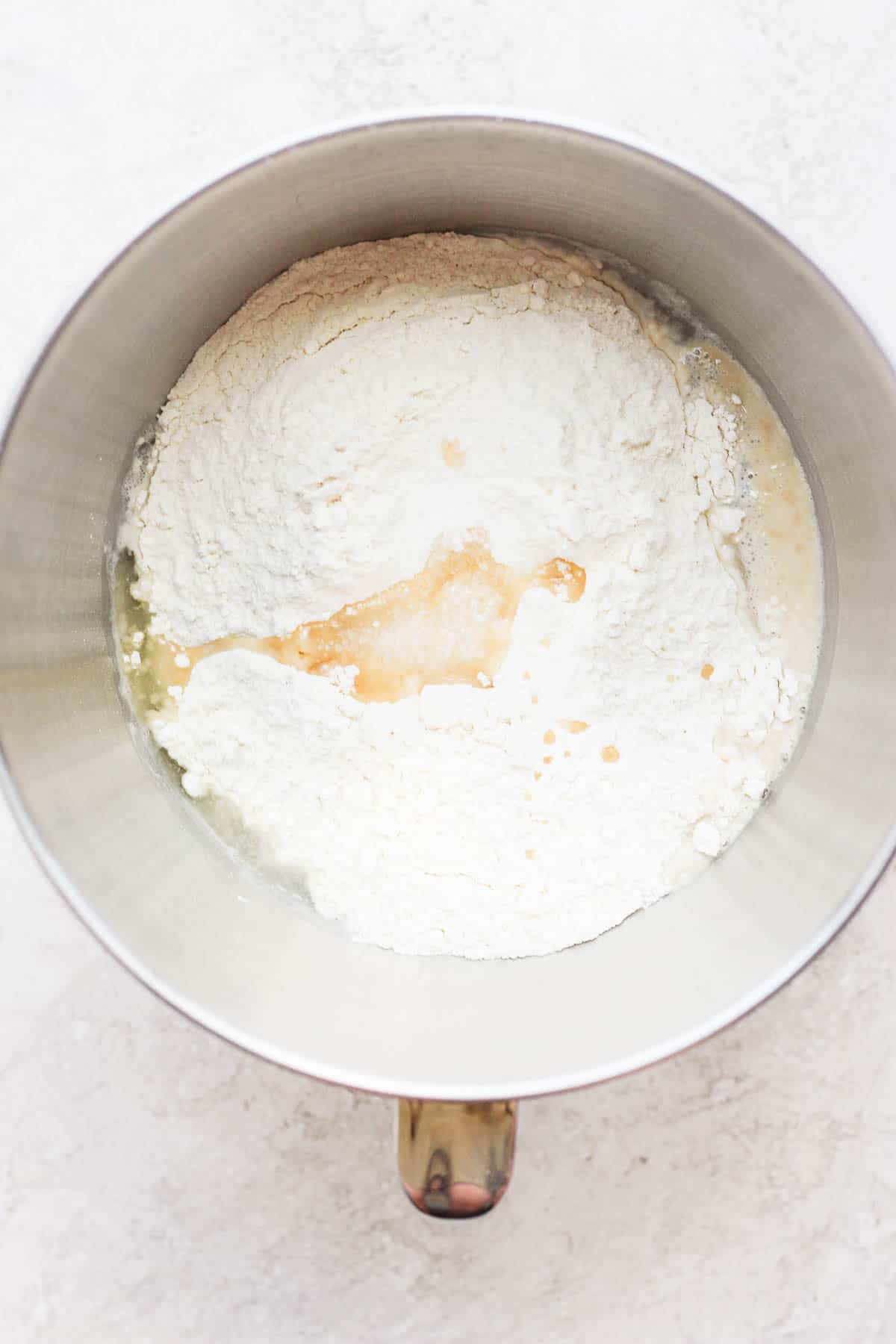 Then add the salt and knead for about 5 more minutes. After that you can oil up your hands, remove the dough, spray the bowl with a non-stick spray, and place the dough back in the bowl.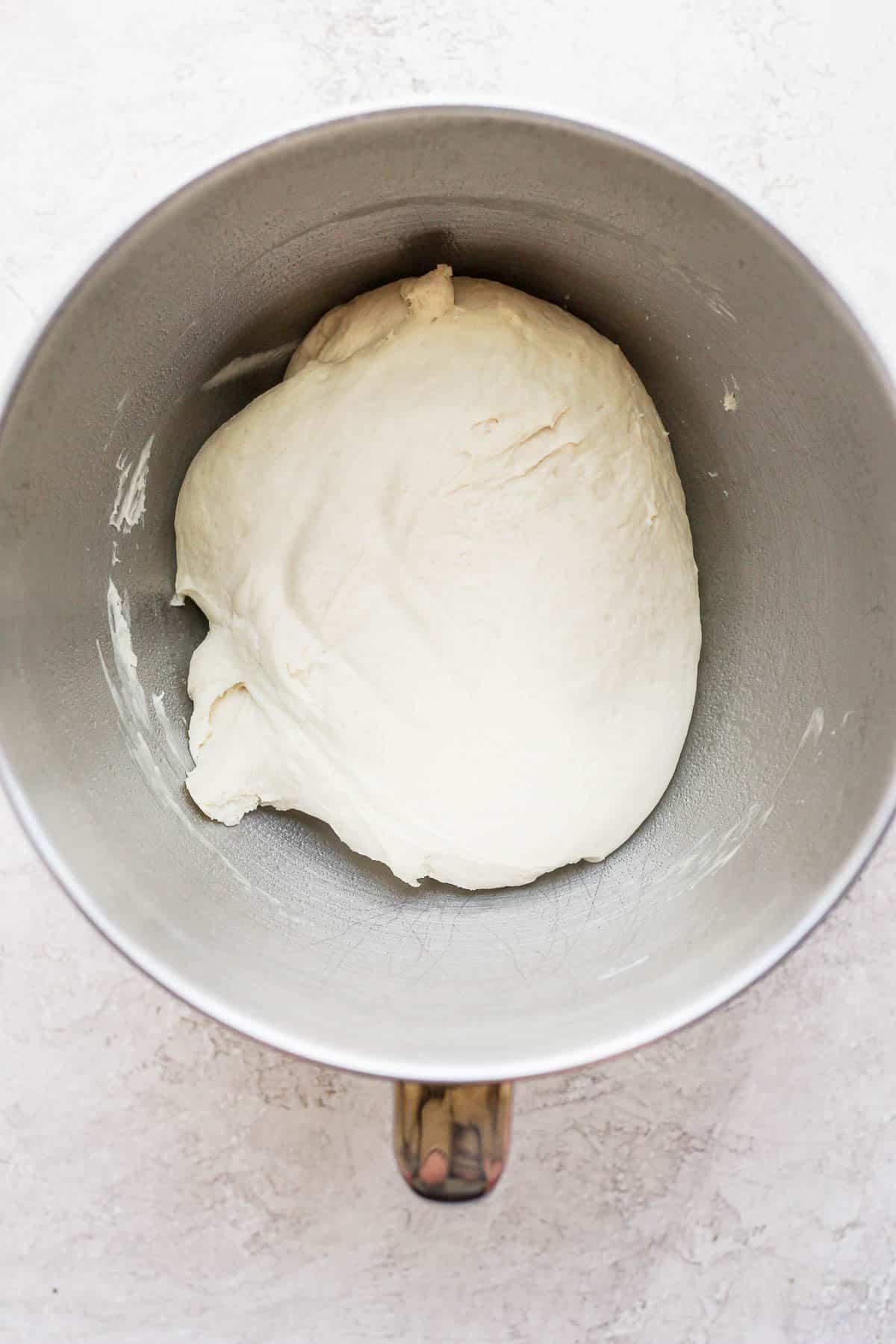 Let it sit, uncovered, for about 30 minutes. You will notice that the dough should double in size.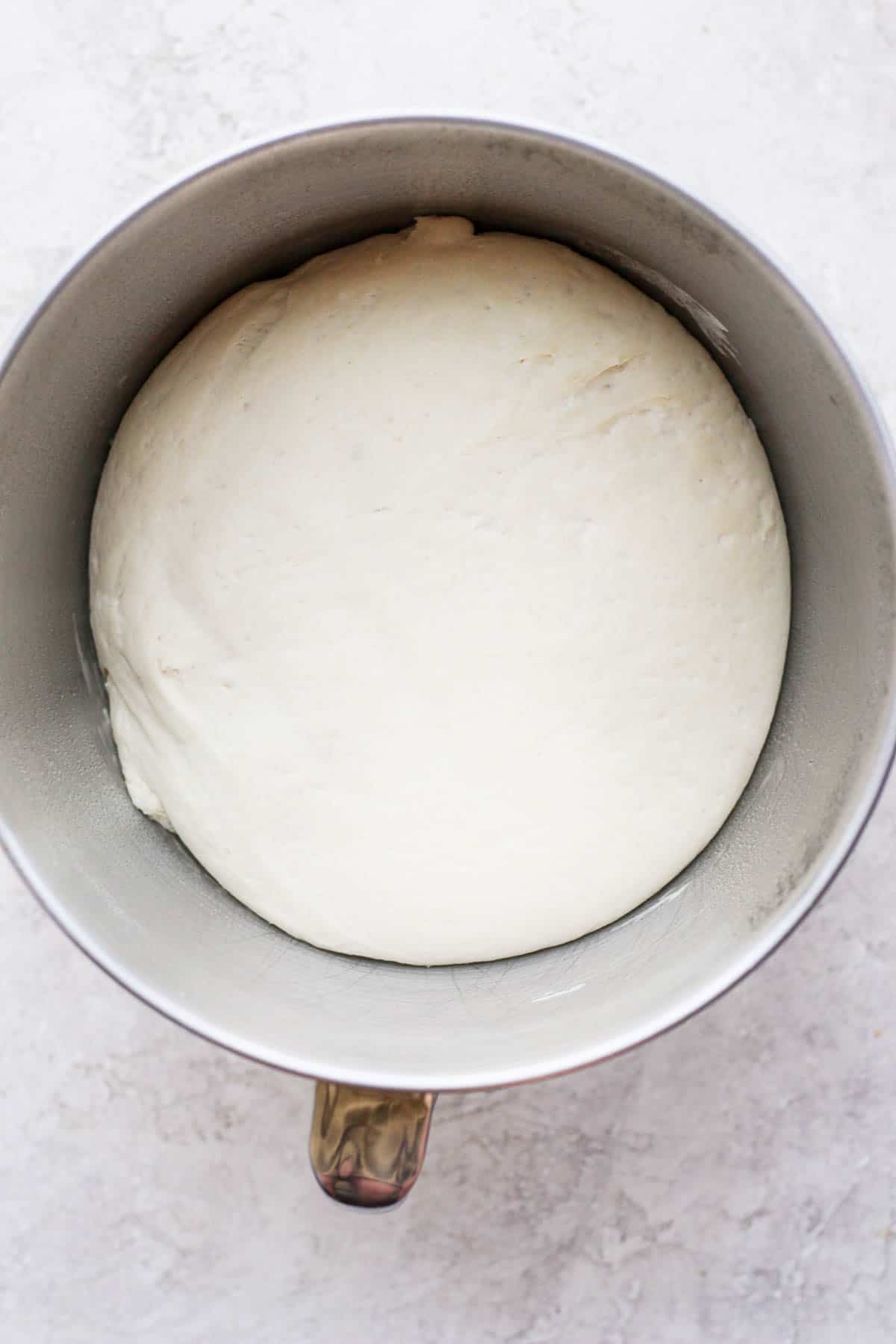 Now you can separate the dough into 2 equal portions and place them on a parchment-lined baking sheet, far enough apart so that they won't touch when they rise. They can hangout like this for 15-20 minutes.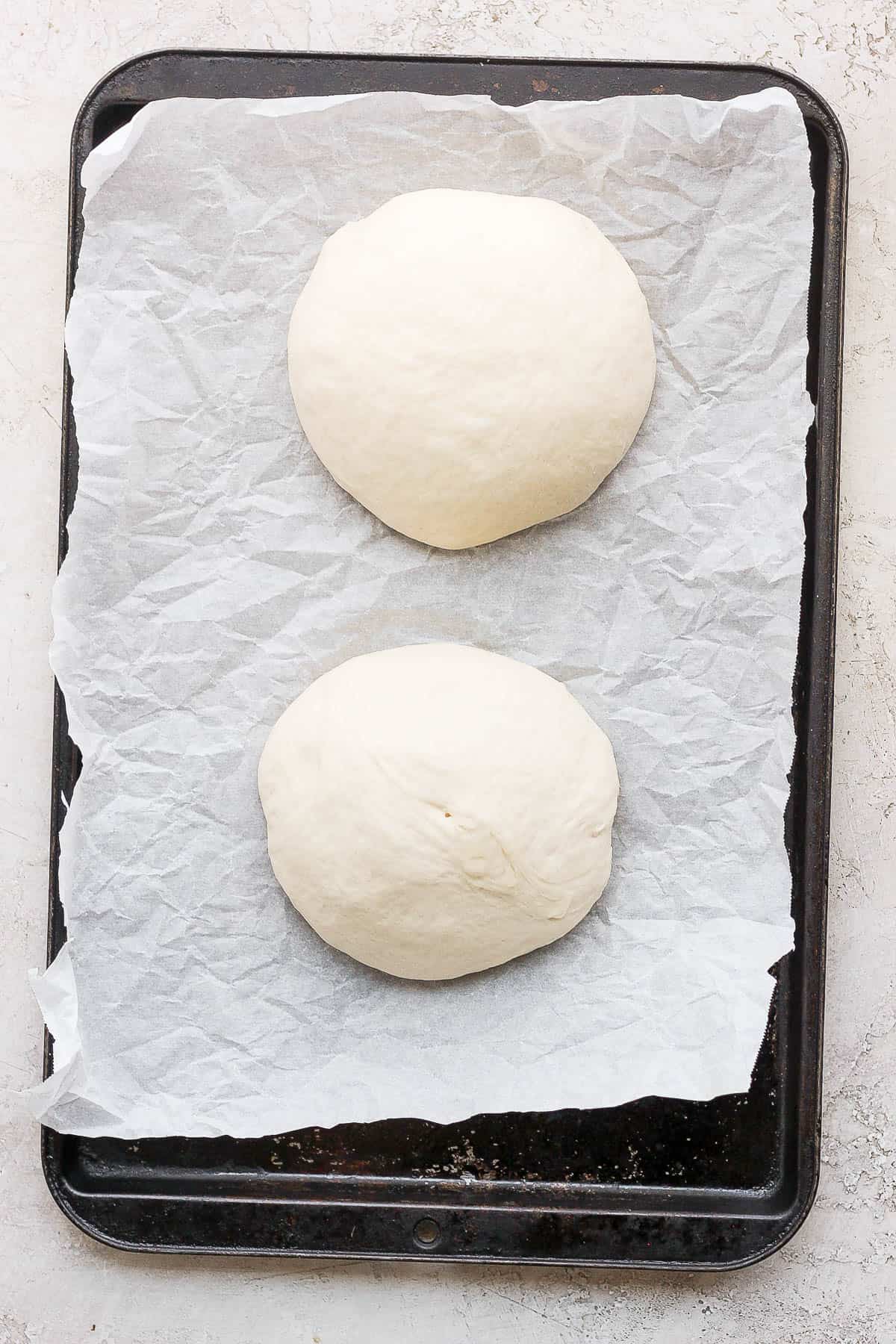 When you are ready you can place one ball of dough on a generous sprinkling of semolina flour and begin to roll it out with a rolling pin or push it out with your hands.
Continue this process until it reaches your desired thickness.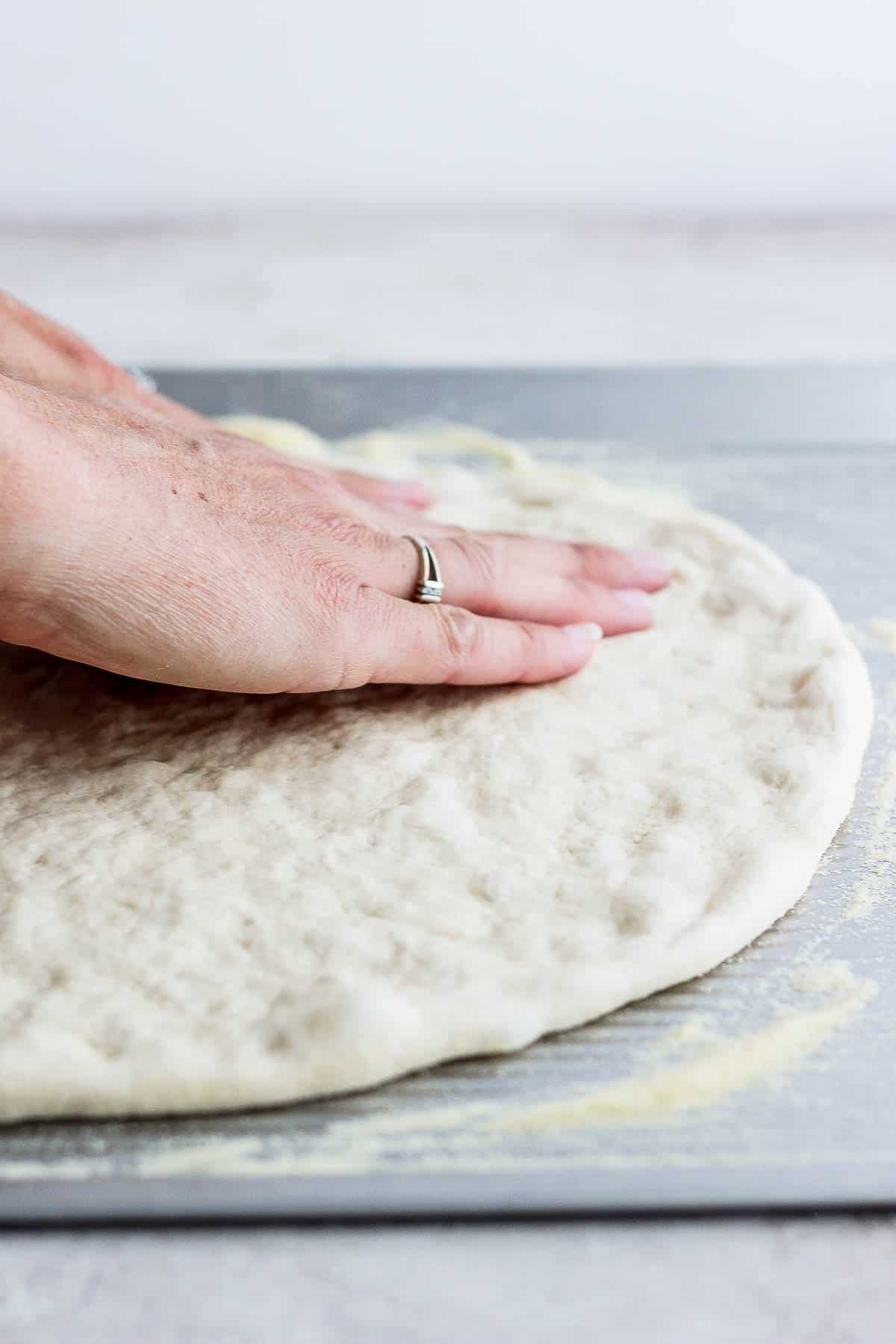 Now it is ready for the sauce!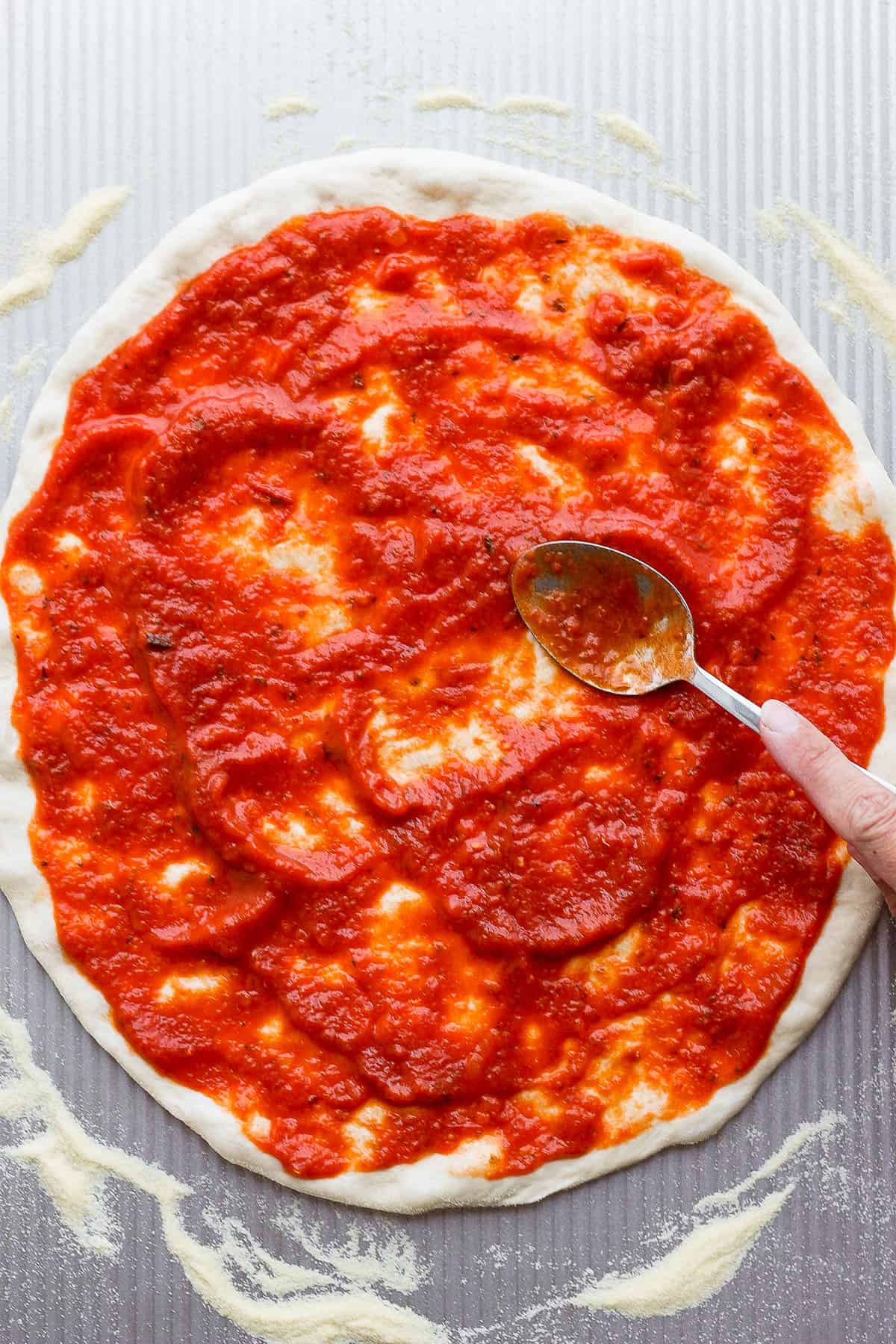 And the cheese and toppings!
Then bake it at 450 degrees F for about 10-15 minutes and enjoy!
Made this recipe and loved it?! We would love it if you would take a minute and leave a star rating and review – it is also helpful if you made any substitutions or changes to the recipe to share that as well. THANK YOU!
Don't forget to check out my Instagram account for some behind-the-scenes action! Or give me a follow on Facebook or see what I am pinning on Pinterest!
Other Recipes You Might Like:
Print
Easy Homemade Pizza Dough Recipe
Author: Erin Jensen
Prep Time: 10 minutes
Resting Time: 50 minutes
Cook Time: 10 minutes
Total Time: 1 hour 10 minutes
Yield: 2 pizzas 1x
Category: Pizza
Method: Counter Top
Cuisine: Italian-Inspired
---
Description
Easy Homemade Pizza Dough – a simple, straightforward easy homemade pizza dough recipe that is ready the same day! Elevate pizza night!
---
1 1/2 cup warm water
2 teaspoons instant yeast
1/2 teaspoon granulated sugar
2 cups 00 flour
2 cups all purpose flour
2 tablespoons olive oil
2 1/4 teaspoons kosher salt
semolina flour
---
Instructions
Combine warm water, yeast and sugar (stir gently). Let sit 5 minutes or until the mixture starts to look foamy/bubbly on top.
Add flour and oil; use dough hook to knead for 2 minutes on low.
Add salt and knead with dough hook for 5 minutes.
Add a little oil to both hands and gently remove dough. Spray mixing bowl with olive oil or your preferred nonstick. Place dough back in the bowl and let sit, uncovered, 30 minutes (dough should double in size).
Remove dough from bowl and divide into two equal portions. Form into balls and place on a baking sheet (ensure they are far enough away from each other so they don't touch – they will expand as they rest). Let rest 15-20 minutes.
Preheat oven to 450 degrees F.
Spread a generous amount of semolina flour on your baking sheet or pizza stone. Place one portion of dough on top and start pressing down and pushing edges out with your fingers. Alternatively, you can use a rolling pin, but the dough has a strong bounce-back so your fingers may work better.
Once pizza is as thin as you want it cover with a layer of pizza sauce, cheese of your choice and any other toppings.
Place in the oven, middle rack, for 10-15 minutes.
Remove and let cool slightly.
Slice and enjoy!
---
Notes
Semolina Flour: highly recommend using the semolina flour underneath the pizza dough – be generous when using! It will allow you to slide off the pizza which would otherwise stick quite a bit!
Baking Sheet: I would recommend using a large, flat baking sheet or pizza stone.
Preheat Baking Stone: if you want you can preheat your pizza stone and roll out your pizza dough on a different baking sheet (I would recommend quite a bit of semolina flour underneath your dough so you can slide if off onto the pizza stone easily). Spread some semolina flour on your preheated baking stone and then slide your pizza onto the preheated stone. Return to oven – bake time may be a little less so just keep a close eye on your pizza.
Refrigeration: once you have your 2 separate balls of dough you can place them in separate bowls, cover with plastic wrap, and place in the fridge until you are ready to use it (up to overnight).
Freezer: wrap your balls of dough in plastic wrap, place in a freezer safe container, and store in the freezer for up to 5 months. Thaw when ready to use, roll it out, and add the sauce/toppings.
Smoker: we also love using this dough recipe in this Smoked Pizza!
Keywords: easy homemade pizza dough, homemade pizza dough recipe