Smoked Pizza is a fun way to elevate pizza night! Got a smoker and want to try cooking pizza on it – we got you! This easy smoked pizza recipe is relatively easy with a pizza dough and pizza sauce recipe included. Perfect for family pizza night!
Delicious Smoked Pizza Recipe
Is there anything better than pizza night!! Especially if your pizza is cooked on your smoker? I am so excited to share this recipe with all of you – this homemade pizza dough has taken me a while to perfect, but it is ready and this is the perfect way to use it. We have a homemade pizza sauce recipe as well! Get that family pizza night on the calendar!
Why You Will Love This Recipe
That homemade dough: this easy homemade pizza dough recipe is quick enough to make the same day, but still has plenty of flavor to it. It is doughy, but not TOO doughy.
Smoker: We use our Traeger for so many recipe (see our Smoker Recipes) and after developing the pizza dough recipe we just decided to randomly try it on the smoker one night – it was SO good!!
All the toppings: whether you want to keep it to just a cheese pizza or really go crazy with all the toppings – that is what everyone loves about a good pizza night, right?! Make it your own!
Smoked Pizza Ingredients
warm water + instant yeast + granulated sugar: the warm water helps activate the yeast and the sugar helps feed the yeast so it works quickly in the short amount of time we are giving it.
00 flour + all purpose flour: I love using both regular, all-purpose flour AND the super-fine pizza flour (aka 00 flour) for the perfect pizza texture.
olive oil + kosher salt: these add delicious flavor.
semolina flour: okay this is a must … roll your pizza dough out over top a generous amount of semolina flour and it won't stick to your pan!
pizza sauce: here is our homemade recipe (also included in the recipe card below) – we hope you love it as much as we do!
cheese: you can use regular or dairy-free here!
pepperoni: totally optional, but it is what we used in the photos for this particular batch.
other toppings: feel free to go crazy with mushrooms, olives, artichokes, chicken, pineapple, etc.
Other Tools You Might Need
flat baking sheet
pizza cutter
Smoked Pizza Side Dishes + Cocktails
Looking for some yummy side dishes to serve with your pizza, here are a few we suggest:
How to Make Smoked Pizza
Combine the warm water, instant yeast and sugar. Let it sit until it starts look almost look like foam is gathering on the top.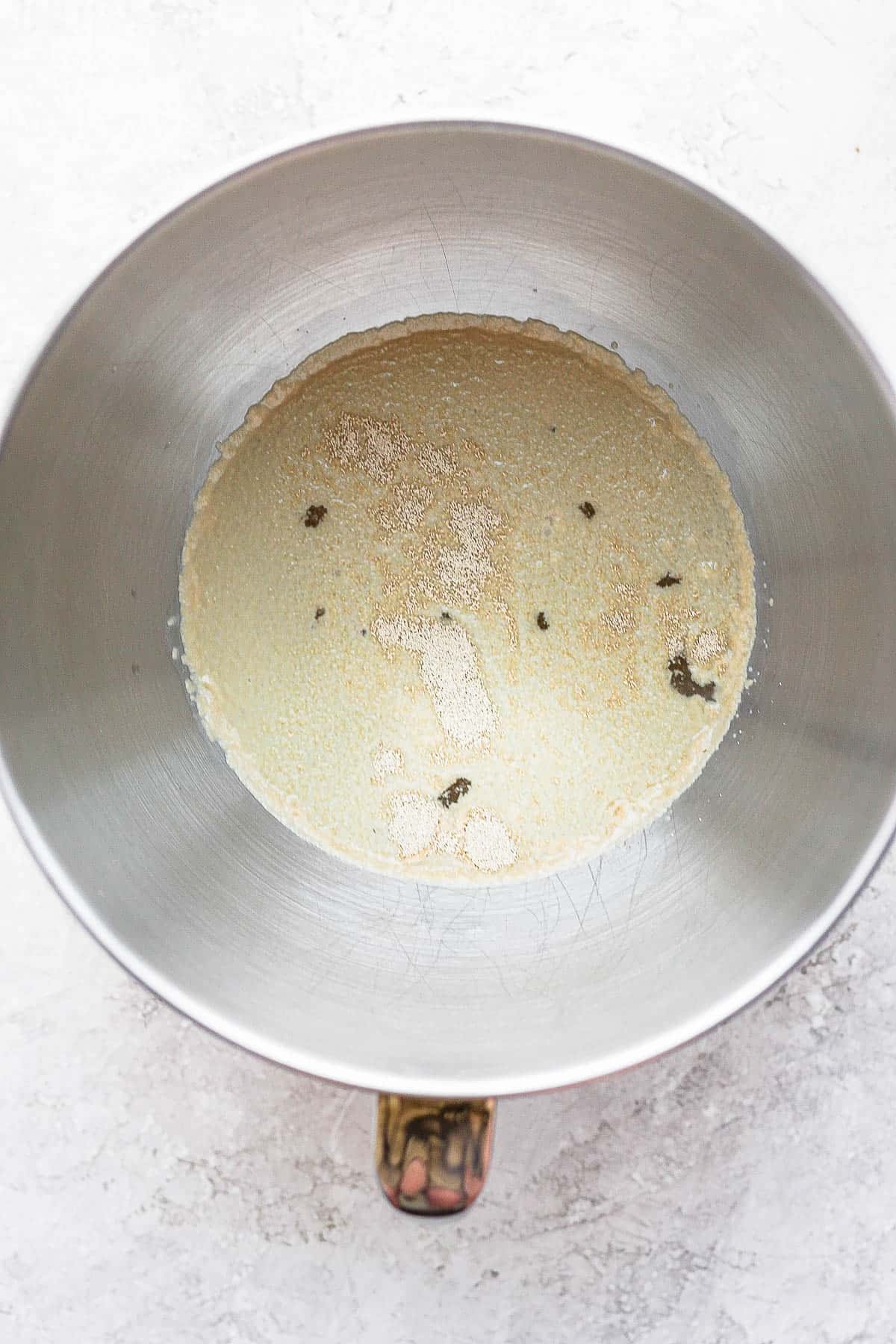 Add in both flours and olive oil. Knead.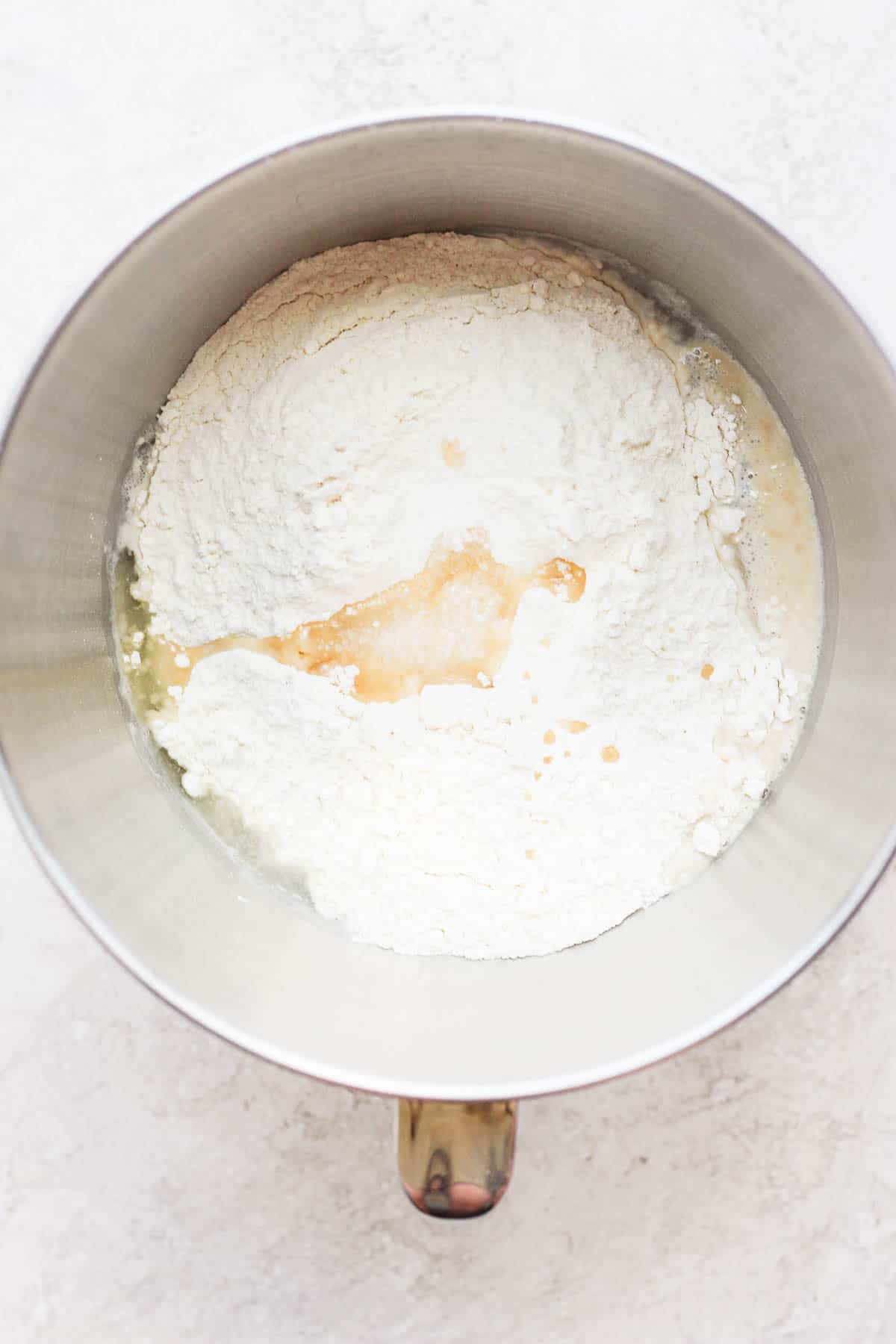 Add in salt and knead some more.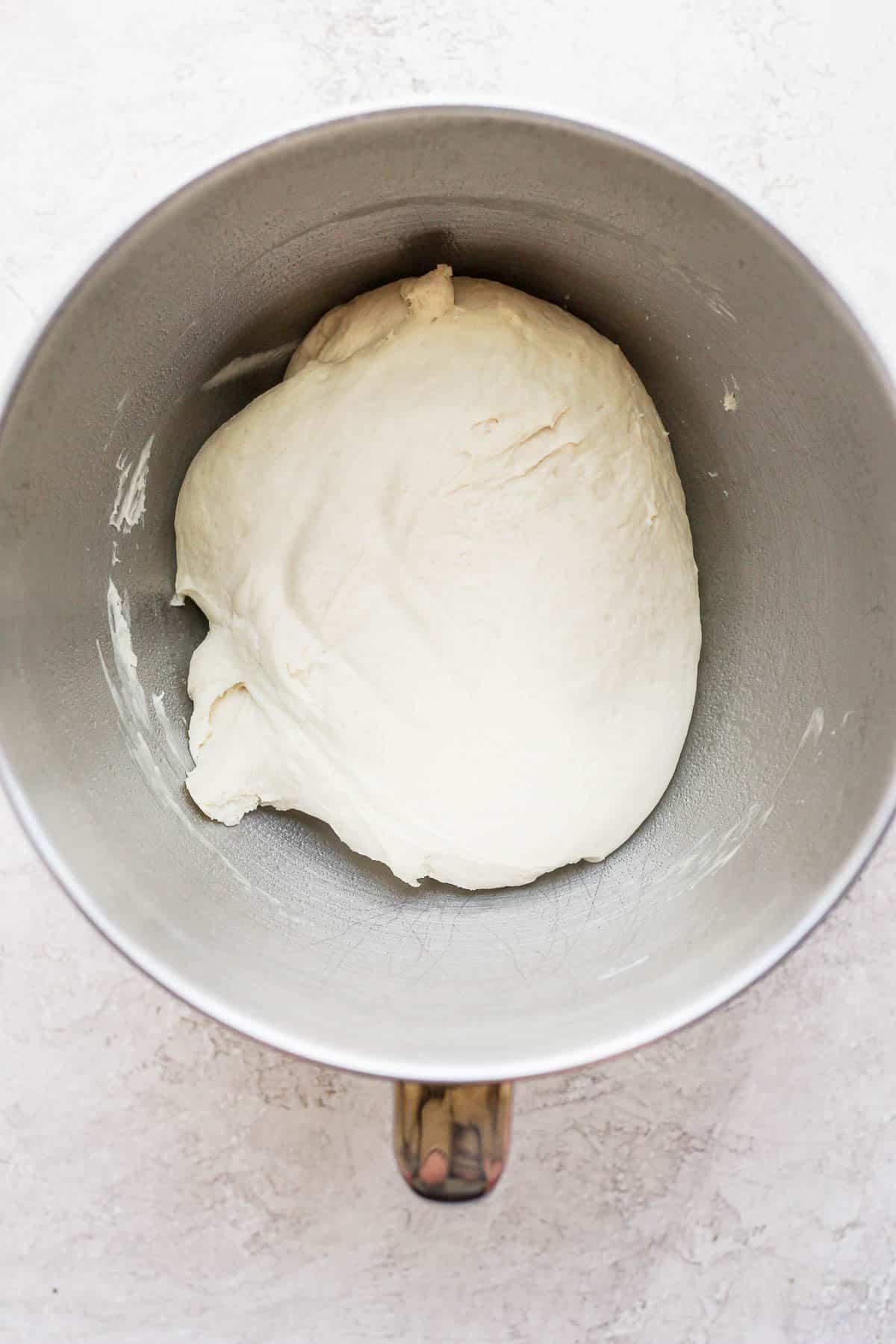 Then let rest until the dough doubles in size.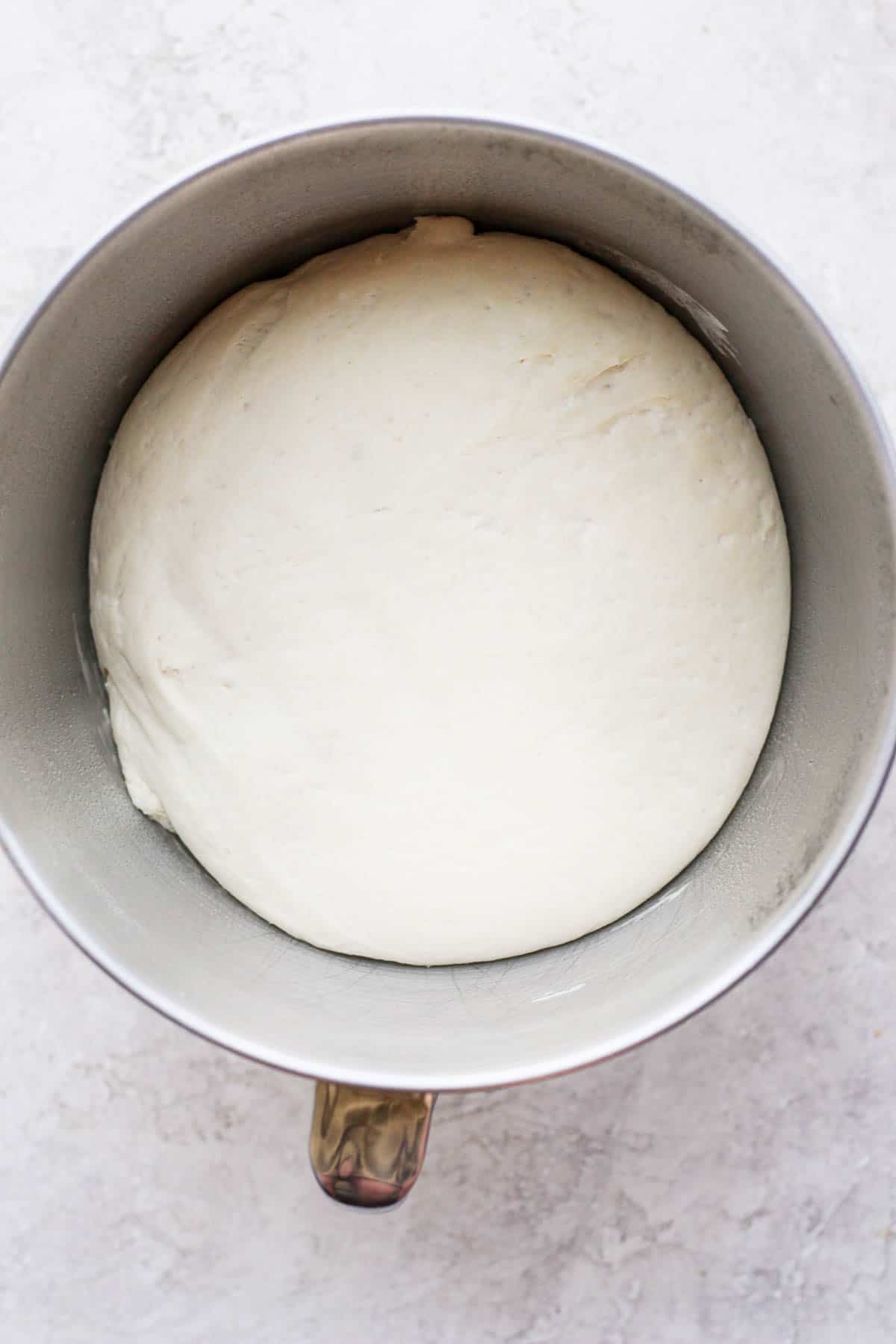 Divide into two balls and let it rise a bit longer, about 20-30 minutes, and then use in your recipe!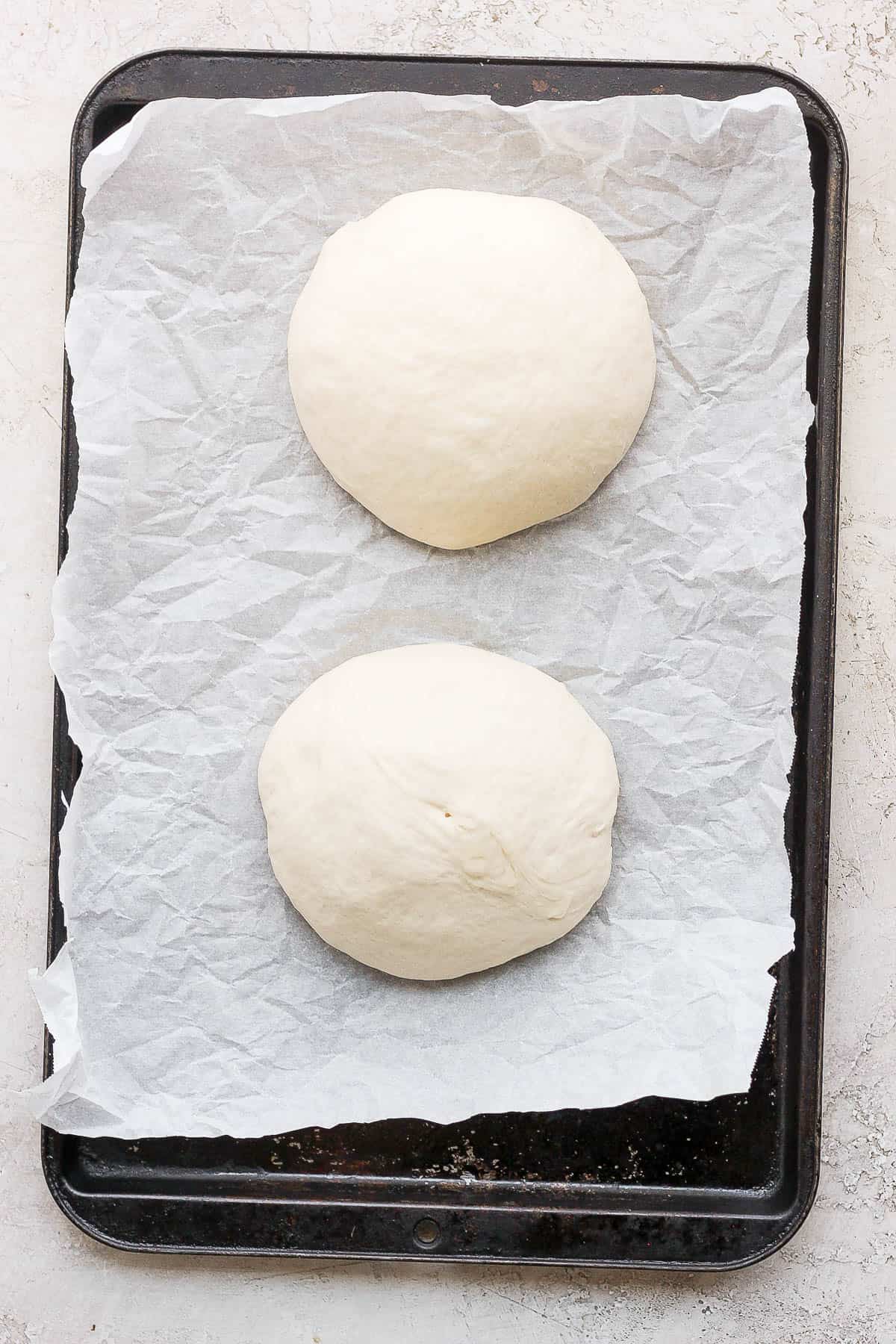 Take one portion of dough and place it on top of a generous amount of semolina flour. Start pushing out the sides until you have a nice round piece of dough the size of a large pizza. How big you make it really depends upon your preferences, but the thinner your pizza dough is the thinner it will be after cooking the shorter cooking – the thicker it is the thicker your pizza will be and the longer it will need to cook.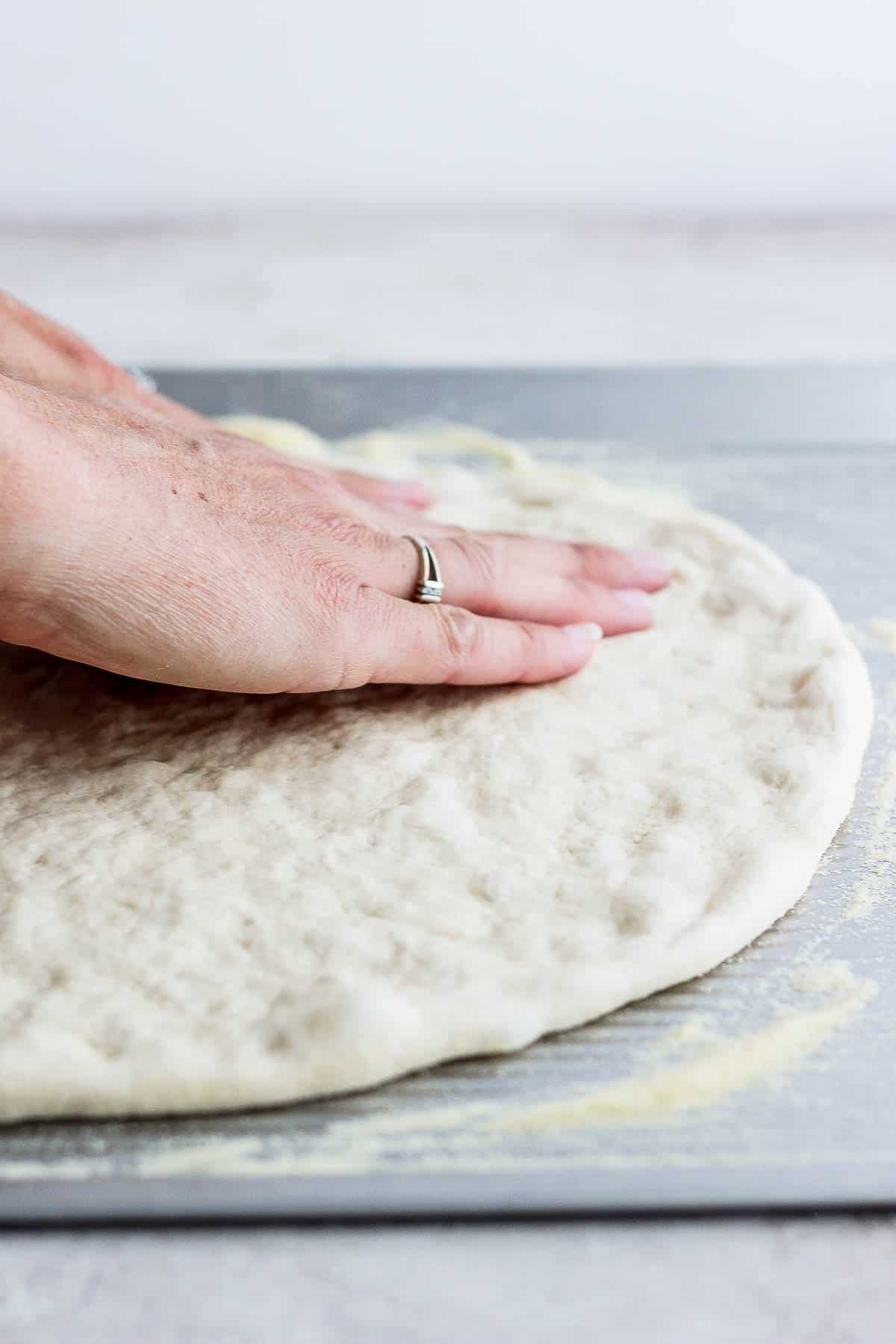 Add your favorite pizza sauce – we love our homemade recipe!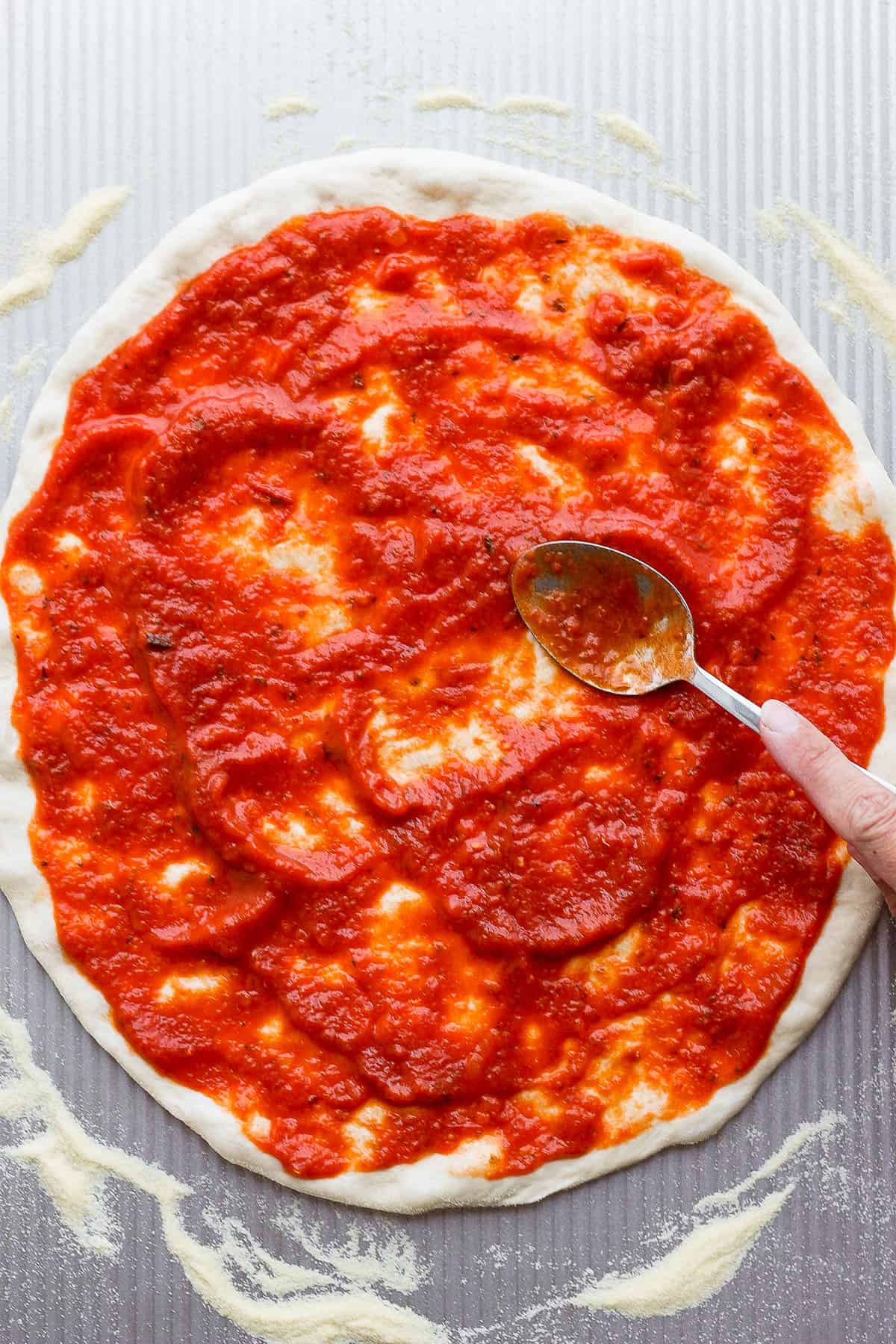 Add on your favorite toppings – we kept this one simple with just cheese and pepperoni.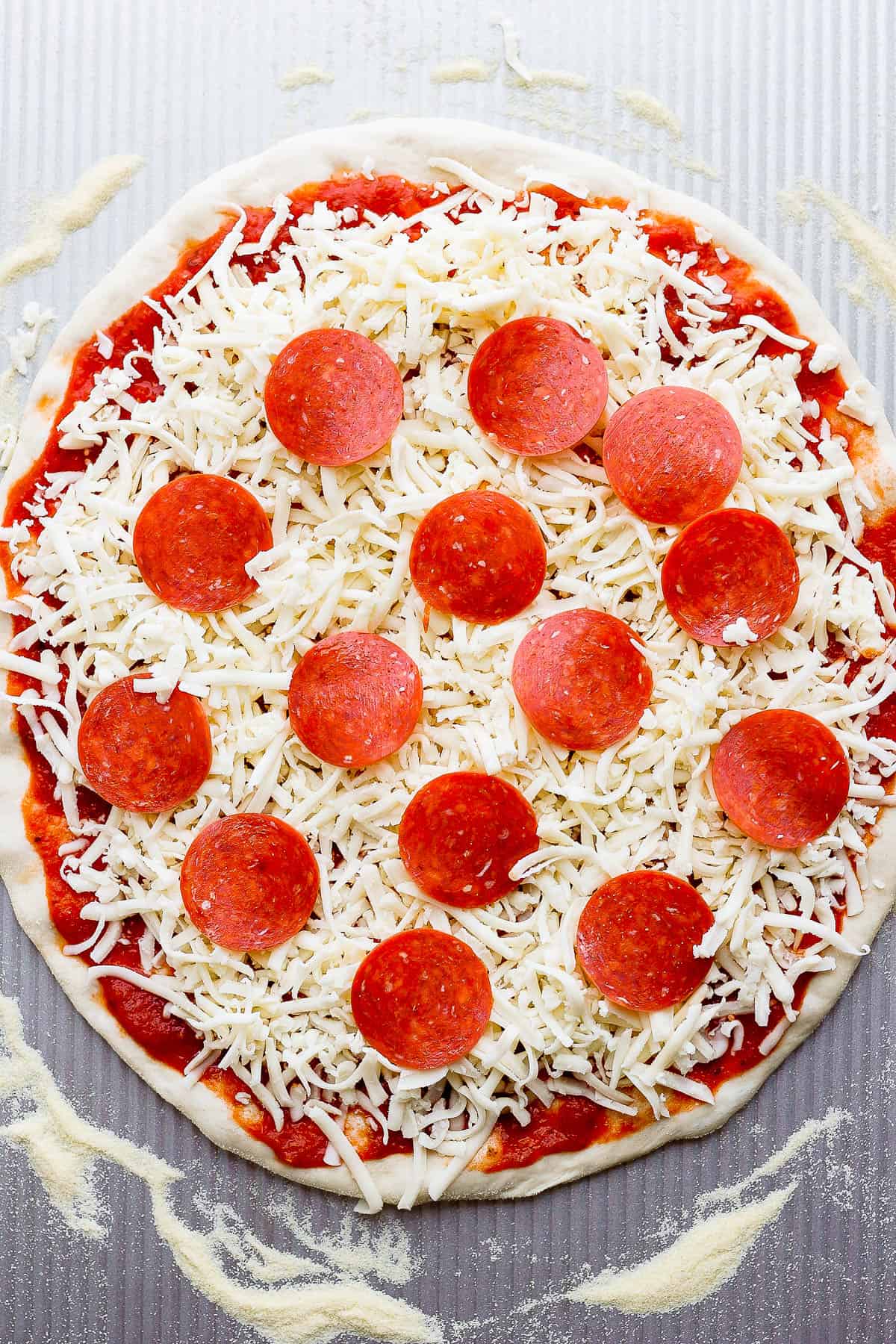 Slide your prepared dough off of the cooking sheet and onto the pizza stone that has been warming on the smoker – don't forget to add some semolina flour to the pizza stone too. Shut the lid and just let it cook!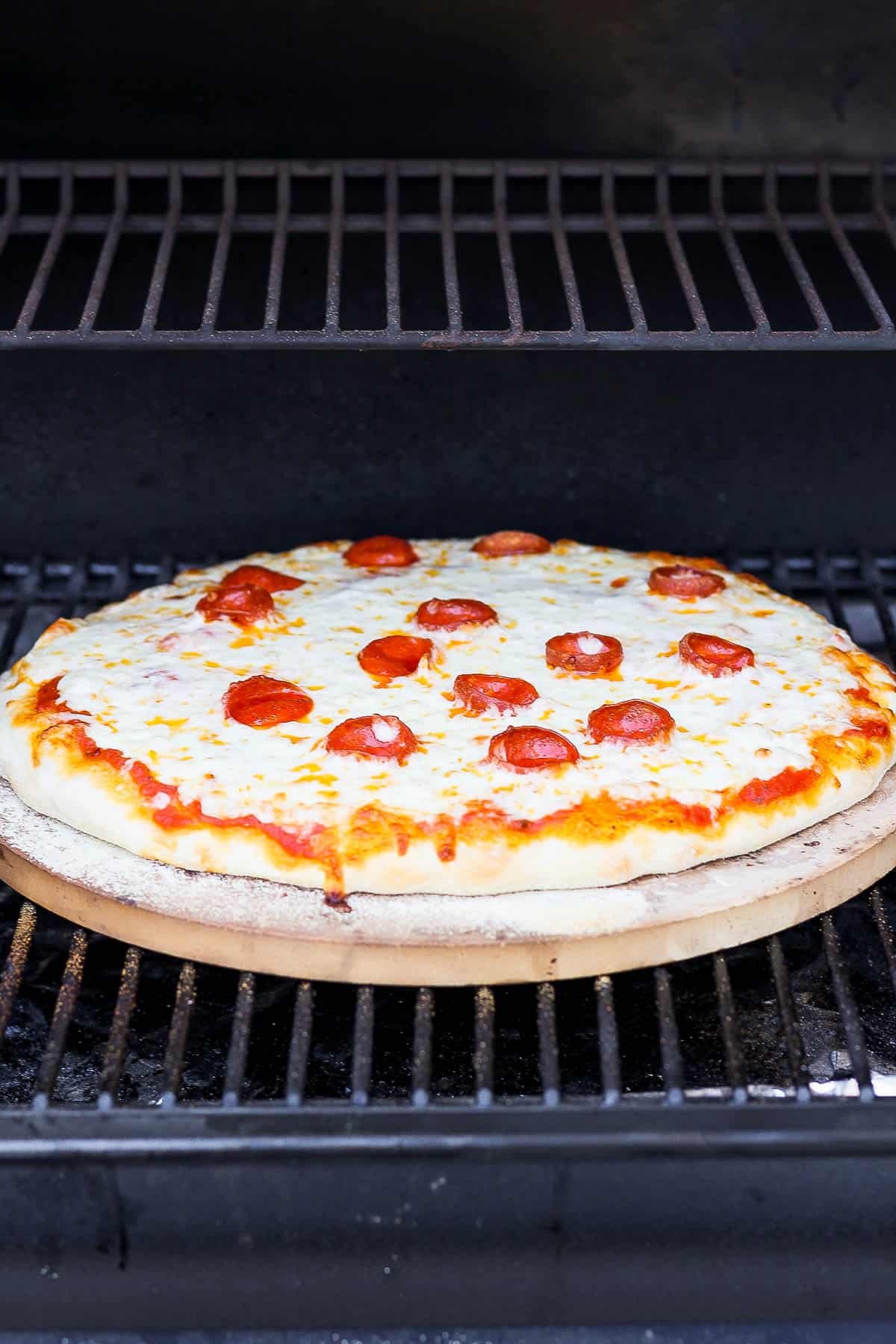 It should take about 15 minutes (give or take a few minutes depending upon different variables).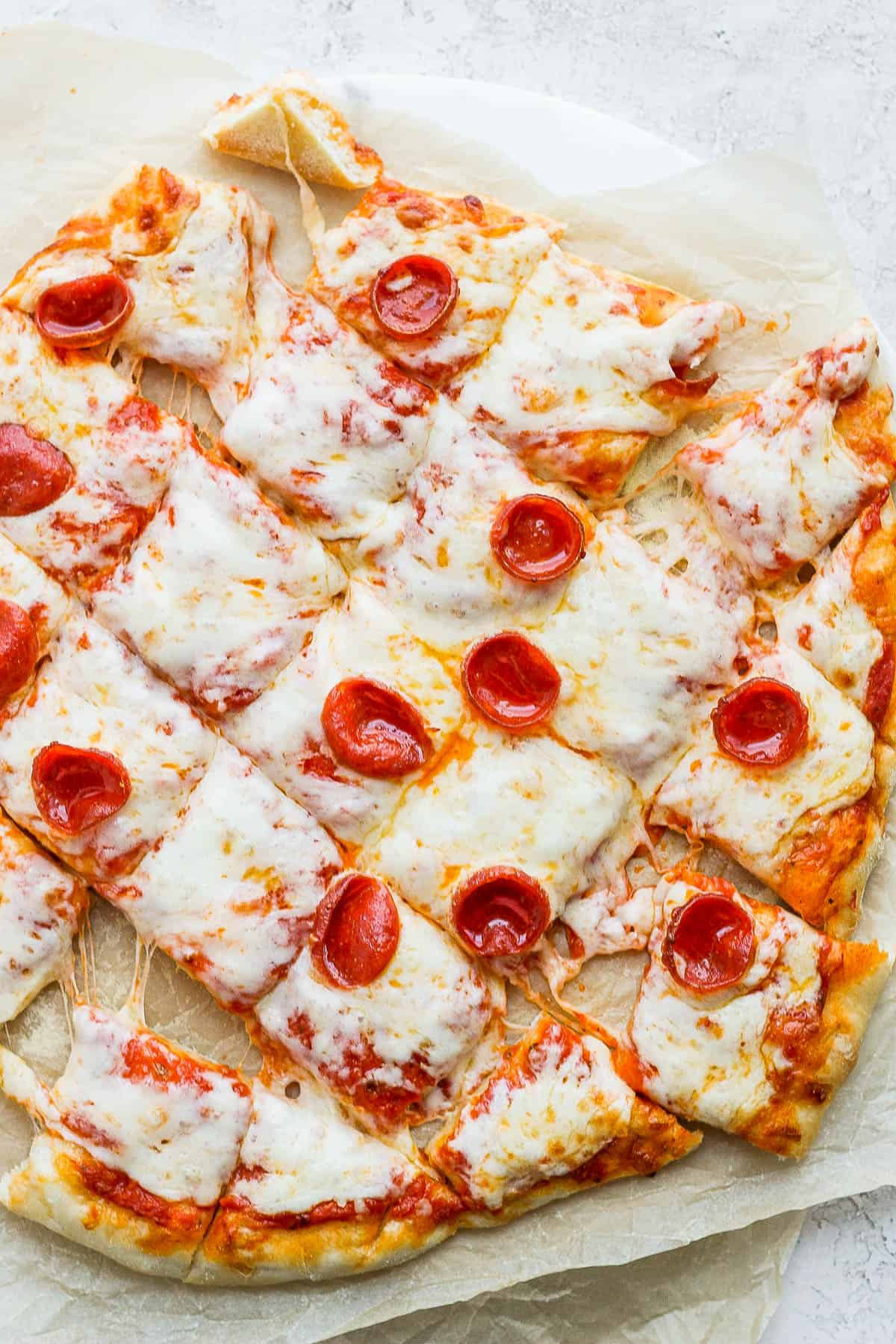 Remove from the smoker by either using a pizza peel or carefully slide it onto a cutting board – the semolina flour will help it slide.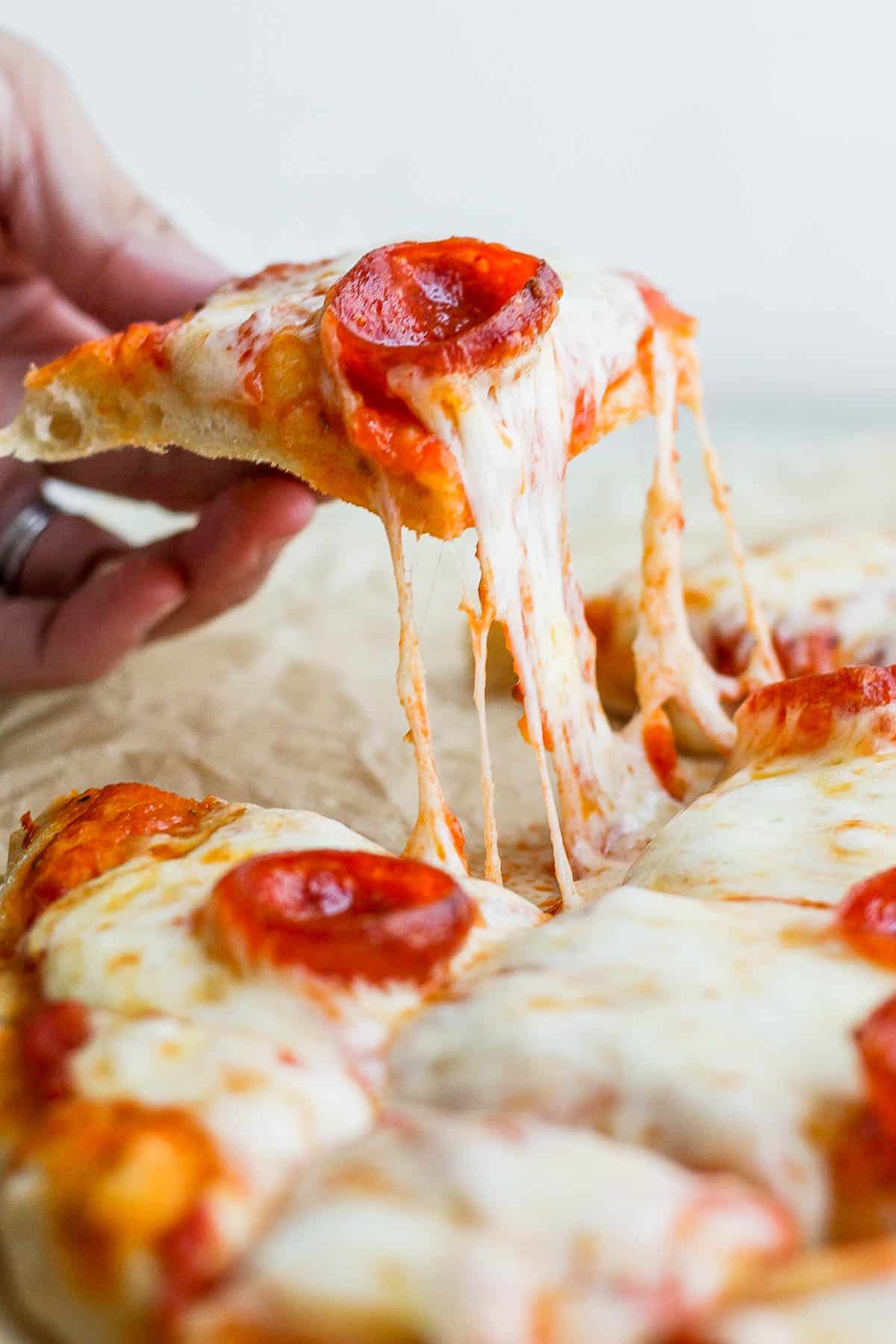 Let cool a bit and then cut into slices and enjoy!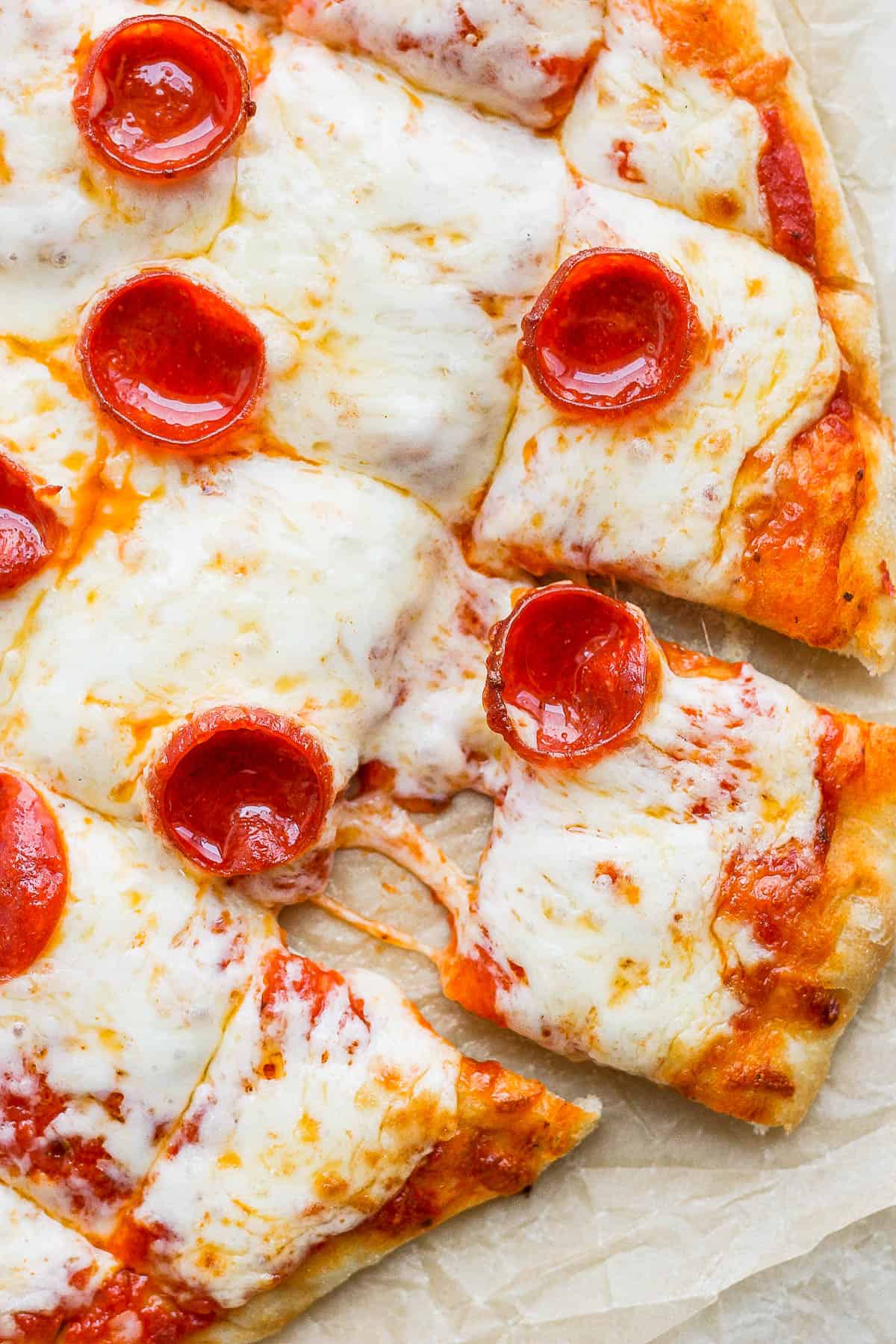 Sometimes we like to serve extra pizza sauce on the side and use it as a dipping sauce – so good!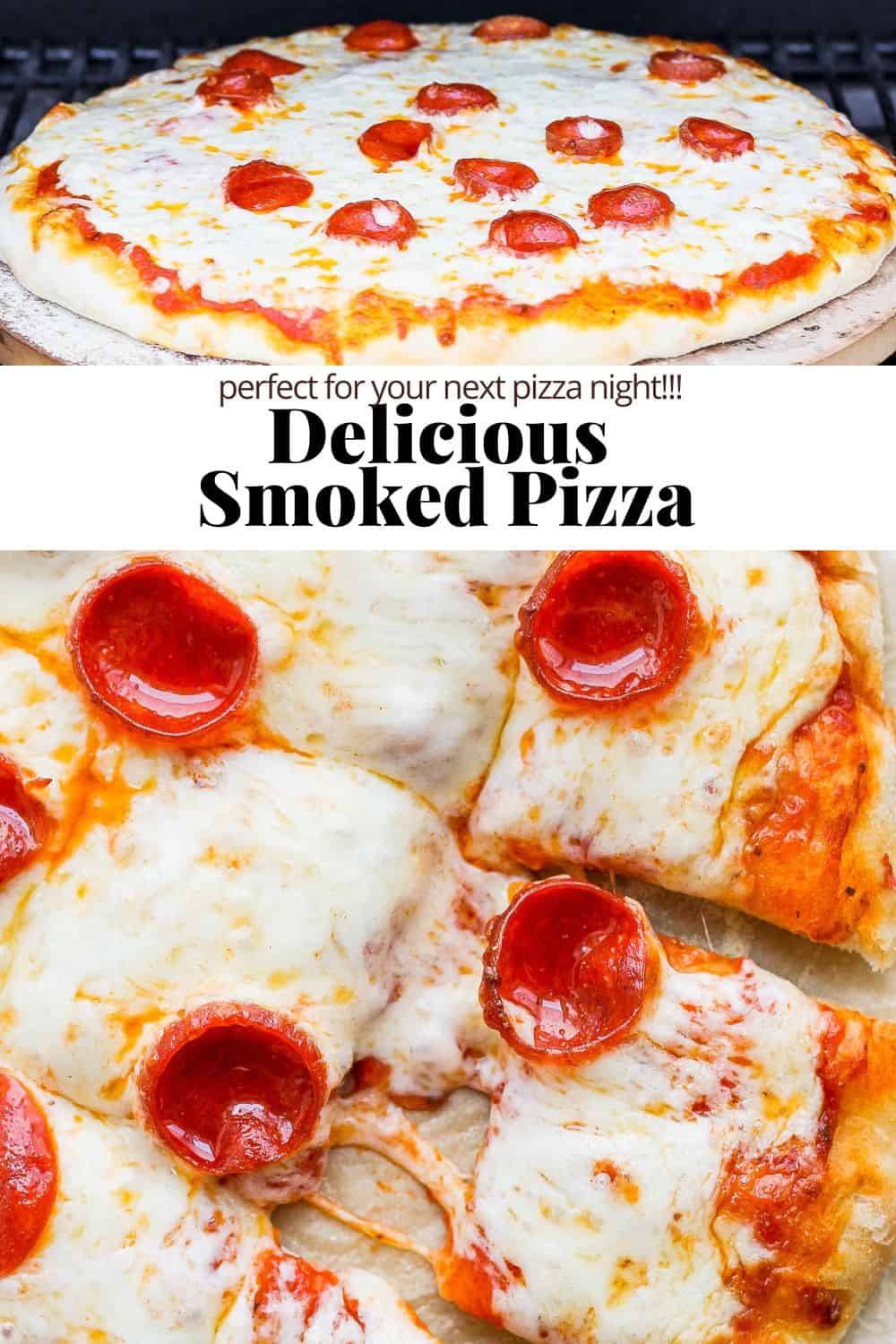 Other Recipes You Might Like
Made this recipe and loved it?! We would love it if you would take a minute and leave a star rating and review – it is also helpful if you made any substitutions or changes to the recipe to share that as well. THANK YOU!
Don't forget to check out my Instagram account for some behind-the-scenes action! Or give me a follow on Facebook or see what I am pinning on Pinterest!
Print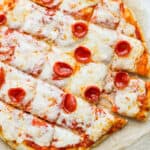 Smoked Pizza
Author: Erin Jensen
Prep Time: 10 minutes
Resting Time: 50 minutes
Cook Time: 15 minutes
Total Time: 1 hour 15 minutes
Yield: 12 servings 1x
Category: Dinner/Entree
Method: Smoker
Cuisine: American
---
Description
Smoked Pizza – a delicious smoked pizza recipe that is perfect for your next pizza night! Dough recipe included!
---
Making the Dough:
1 1/2 cup warm water
2 teaspoons instant yeast
1/2 teaspoon granulated sugar
2 cups 00 flour
2 cups all purpose flour
2 tablespoons olive oil
2 1/4 teaspoons kosher salt
semolina flour
Toppings:
grated mozzarella cheese (regular or dairy-free)
pepperoni (optional)
any other toppings you want
---
Instructions
Making the Dough:
Combine warm water, yeast and sugar (stir gently). Let sit 5 minutes or until the mixture starts to look foamy/bubbly on top.
Add flour and oil; use dough hook to knead for 2 minutes on low.
Add salt and knead with dough hook for 5 minutes.
Add a little oil to both hands and gently remove dough. Spray mixing bowl with olive oil or your preferred nonstick. Place dough back in the bowl and let sit, uncovered, 30 minutes (dough should double in size).
Remove dough from bowl and divide into two equal portions. Form into balls and place on a baking sheet (ensure they are far enough away from each other so they don't touch – they will expand as they rest). Let rest 15-20 minutes.
Rolling the Dough + Toppings:
Place a large pizza stone directly on your grill grates and preheat smoker to 450 degrees F.
Spread a generous amount of semolina flour on your baking sheet. Place one portion of dough on top and start pressing down and pushing edges out with your fingers. Alternatively, you can use a rolling pin, but the dough has a strong bounce-back so your fingers may work better. Ensuring you have plenty of semolina flour underneath your dough will allow you to smoothly slide it off onto your pizza stone.
Once your dough is as thin as you would like it spread pizza sauce evenly on top and then cover with mozzarella cheese any any other toppings you desire.
Add a tablespoon or two of semolina flour directly on top of your pizza stone (careful, it will be hot so don't touch it directly).
Slide the pizza off your baking sheet and onto the preheated pizza stone on the smoker.
Close the lid and let cook 12-17 minutes or until fully cooked.
Use a pizza peel to carefully remove the pizza and place on a cutting board. Alternatively, you can carefully scoot the pizza onto a cutting board – if it is done cooking it really should slide off the pizza stone easily. Allow to cool slightly.
Cut into pizza and enjoy!
---
Notes
Semolina Flour: highly recommend using the semolina flour underneath the pizza dough – be generous when using! It will allow you to slide off the pizza which would otherwise stick quite a bit!
00 Flour: 00 flour is finely ground Italian flour that is commonly used to make pizza or pasta.
Dough Recipe – more information: we have a whole tutorial post on How to Make Pizza Dough if you want more info on our dough recipe.
Dough Refrigeration/Make Ahead: once you have your 2 separate balls of dough you can place them in separate bowls, cover with plastic wrap, and place in the fridge until you are ready to use it (up to overnight).
Freezing the Dough: wrap your balls of dough in plastic wrap, place in a freezer safe container, and store in the freezer for up to 5 months. Thaw when ready to use, roll it out, and add the sauce/toppings.
Leftovers: store leftover pizza in an airtight container in the refrigerator for up to 3 days.