Gluten Free Zucchini Muffins – light and fluffy zucchini muffins that are gluten-free AND vegan! Perfect for those extra zucchini you have laying around!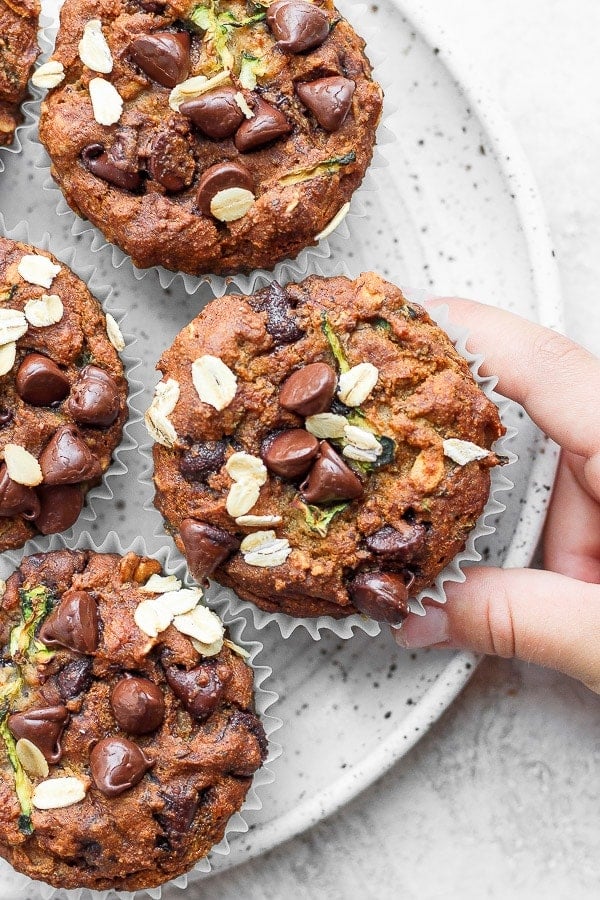 Gluten Free Zucchini Muffins
Fall is right around the corner and we all have a ton of zucchini and tomatoes from our garden laying around so let's get cooking (and baking)! These Gluten Free Zucchini Muffins are vegan + gluten-free and I am SO excited to get them on the blog for you! Tested and tested I FINALLY got the perfect light and fluffy texture that can be difficult to achieve sometimes with gf/df baking!
How to Store
Store in an airtight container on the counter top for up to 5 days (if they last that long!).
Recipe Substitutions
Banana: I have used oil in place of the banana with success.
Flax Eggs: You should be able to use 2 eggs in their place.
Gluten-Free Flour: I have NOT tested the recipe with any other flour besides the combination in the recipe card!
Recipes FAQs and Tips
Spray your muffin tin liners: otherwise they will stick!
Flax Eggs: make sure they sit for at least 5 minutes (or longer) to really congeal
Don't over-mix: once you add in those flax eggs try not to mix anymore than you need too! The flax eggs will work better that way!
Take out of muffin tin: Let the muffins cool for about 5 minutes or so after you take them out of the oven, but then remove them (carefully) and set them on a cooling rack.
Let fully cool: I repeat – let fully cool! Especially with gluten-free baking it is especially important to let them cool and the moisture/steam escape. Once they are cooled they will be light and fluffy on the inside!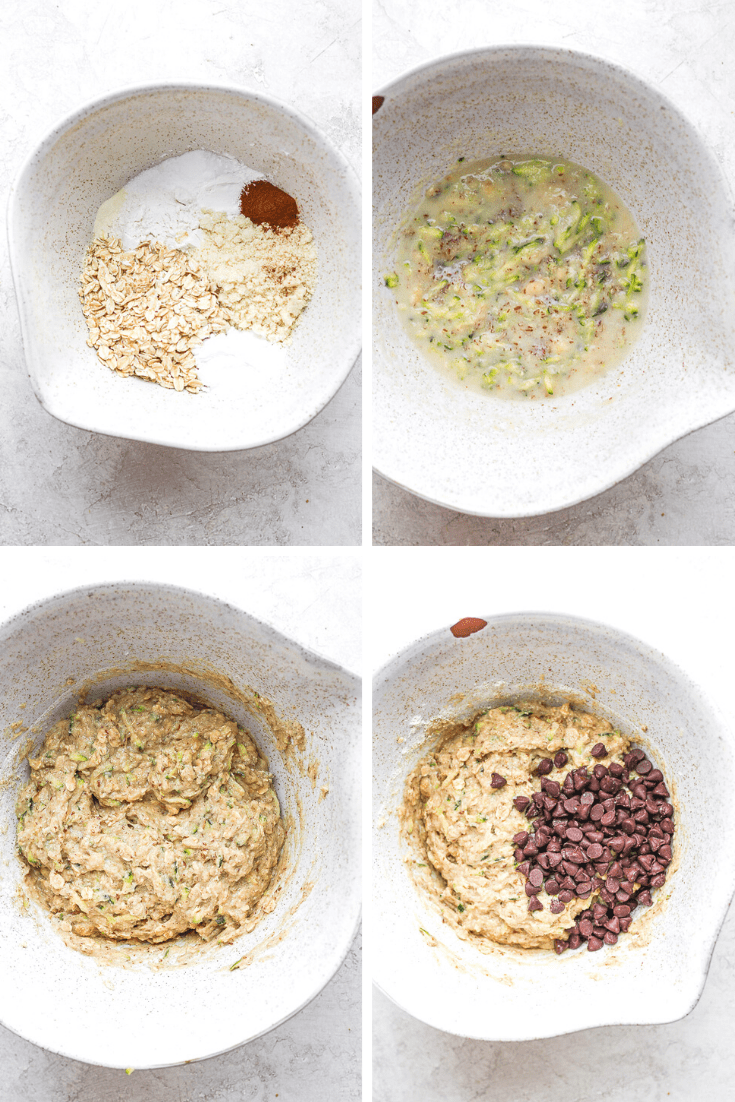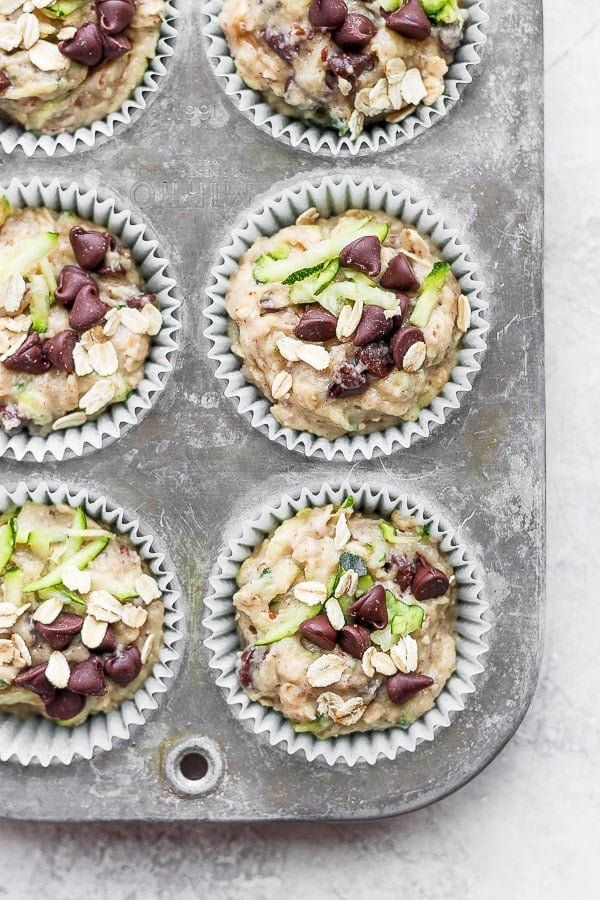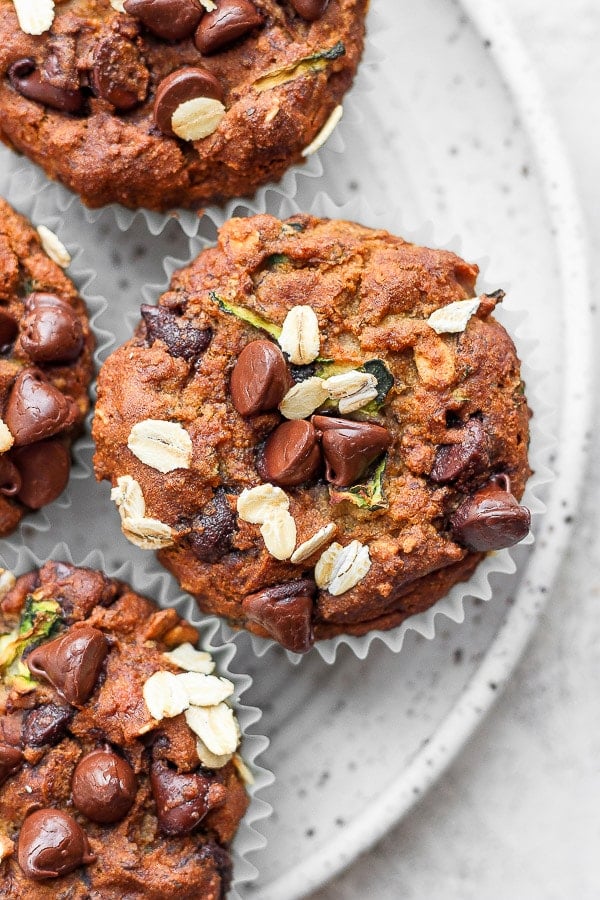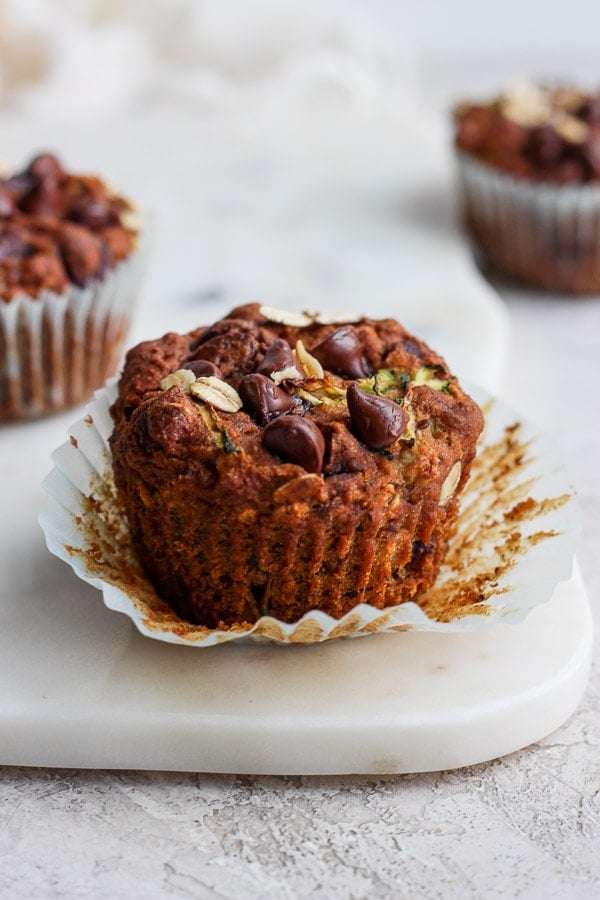 OTHER RECIPES YOU MIGHT LIKE:
Don't forget to check out my Instagram account – Or give me a follow on Facebook or see what I am pinning on Pinterest!
Print
Healthy Zucchini Muffins
Author: Erin Jensen
Prep Time: 20 minutes
Cook Time: 32 minutes
Total Time: 52 minutes
Yield: 12 muffins 1x
Category: Dessert
Method: Oven
Cuisine: American
---
Description
Gluten Free Zucchini Muffins – you are going to love how fluffy these healthy zucchini muffins are! So easy and delicious! GF/Vegan
---
Dry Ingredients:
1 cup 1-to-1 gluten-free flour
1/2 cup almond flour
1/2 cup gluten free oats
1 tablespoon tapioca starch
1 1/2 teaspoons baking powder
1 1/2 teaspoons baking soda
1 teaspoon cinnamon
2/3 cup coconut sugar
1/8 teaspoon xanthum gum
1/8 teaspoon kosher salt
Wet Ingredients:
heaping 1/2 cup unsweetened applesauce
1/4 cup banana, smashed (about 1 small banana)
1/2 cup unsweetened almond milk
2 flax eggs

2 tablespoons ground flax meal, divided
4 tablespoons water, divided

1 cup zucchini, grated
Other Ingredients:
1/3–1/2 cup dairy free chocolate chips
1 tablespoon plant based butter, melted
---
Instructions
Preheat oven to 375 degrees F.
Place muffin tin liners in a 12 muffin tin and spray with olive oil. Set aside.
Take two small bowls and make two flax eggs by adding 1 tablespoon of ground flax meal to each bowl and then 2 tablespoons of water to each bowl. Stir to mix the flax and water together and then set aside for at least 5 minutes.
Grate your zucchini and squeeze out as much liquid as possible using either your hands, paper towel or cheese cloth (don't skip this part!). Set aside.
Combine Dry Ingredients in a medium mixing bow. Stir to combine with a fork or whisk to ensure no lumps and that everything combines really well. Set aside.
Take a large mixing bowl and add applesauce, mashed banana and almond milk. Stir to combine.
Add the two flax eggs to the applesauce mixture and mix gently for just a few seconds.
Add the zucchini to the applesauce mixture and gently mix for just a few seconds.
Pour the Dry Ingredients about a 1/3 at a time into the Wet Ingredients and stir to combine.
Once the wet and dry ingredients are fully combined (don't over-mix) add the chocolate chips and melted Plant Butter.
Stir to combine, again being careful to not over-stir.
Scoop dough into muffin liners, filling almost to the top (they will rise a bit).
Bake on the middle rack for 32 minutes or until a toothpick comes out clean.
Let cool for 2-3 minutes and then carefully remove and place on a cooling rack as soon as possible.
Let fully cool before serving.
---
Notes
Spray with olive oil (or nonstick): definitely remember to spray the muffin tin liners or the muffins will stick!
Flax Eggs Separately: I have just had better luck making my flax eggs separately.
Flax Egg Substitutions: I have tested these with eggs and it was successful!
Let cool!: Make sure you let these fully cool! If you break them open before they are fully cool they may look a little mushy in the very center. Once they have cooled they will be fluffy and delicious!
Keywords: healthy zucchini muffins, vegan zucchini muffins, gluten free zucchini muffins