Our classic Homemade Egg Noodles are surprisingly easy to make and you only need 5 pantry staples – flour, eggs, salt, water, and oil! They are perfect for adding to any of your favorite soup recipes, stroganoff, or by themselves with a little butter!
The Best Homemade Egg Noodle Recipe
On those slow Sunday afternoons, our whole family loves nothing more than a little cooking project and this simple egg noodle recipe is always a favorite! Perfect for making homemade chicken noodle soup with egg noodles, adding to a classic beef stroganoff, or any of your other favorite recipes.
Once you see just how easy they are to make, you may never want to go back to store-bought noodles again! Just follow along as we show you how to make the most amazing pasta noodles that can be enjoyed any way you want.
If you like making different doughs from scratch, you should definitely try our easy homemade pizza dough.
What You Will Need
all-purpose flour – we always have plenty of flour on hand in the pantry. Some will be needed for the dough and for sprinkling on the work surface to prevent sticking.
kosher salt – helpful with the structure of the dough.
large eggs – you will need 1 whole egg and 2 egg yolks for this easy recipe.
water – just make sure the water is at room temperature, not too hot and not too cold!
olive oil – adds a little flavor plus it makes the dough nice and stretchy.
How To Make Homemade Egg Noodles
The first steps to making these classic egg noodles are to gather all of the simple ingredients.
Now whisk together the flour and salt in a large bowl and the eggs, water, and oil in a separate mixing bowl.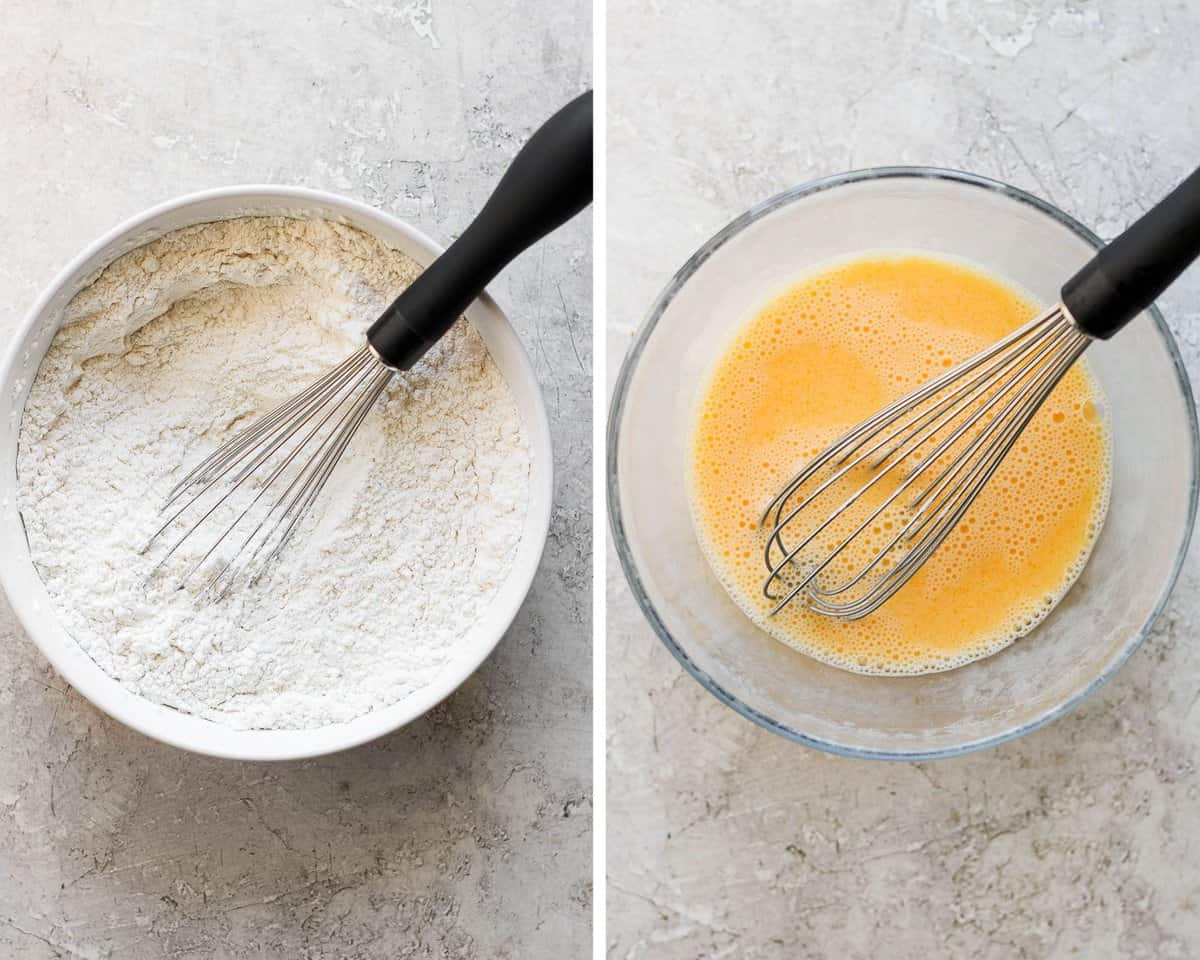 Place the flour mixture in a pile on a clean work surface and create a well in the middle. This is where you will pour the egg mixture.
Use a fork to slowly mix together the flour and eggs until a dough is formed.
Using the remaining 1/4 cup of flour, knead the ball of dough for about 5-10 minutes and then let it rest for 10 minutes. Then cut the dough into four equal parts.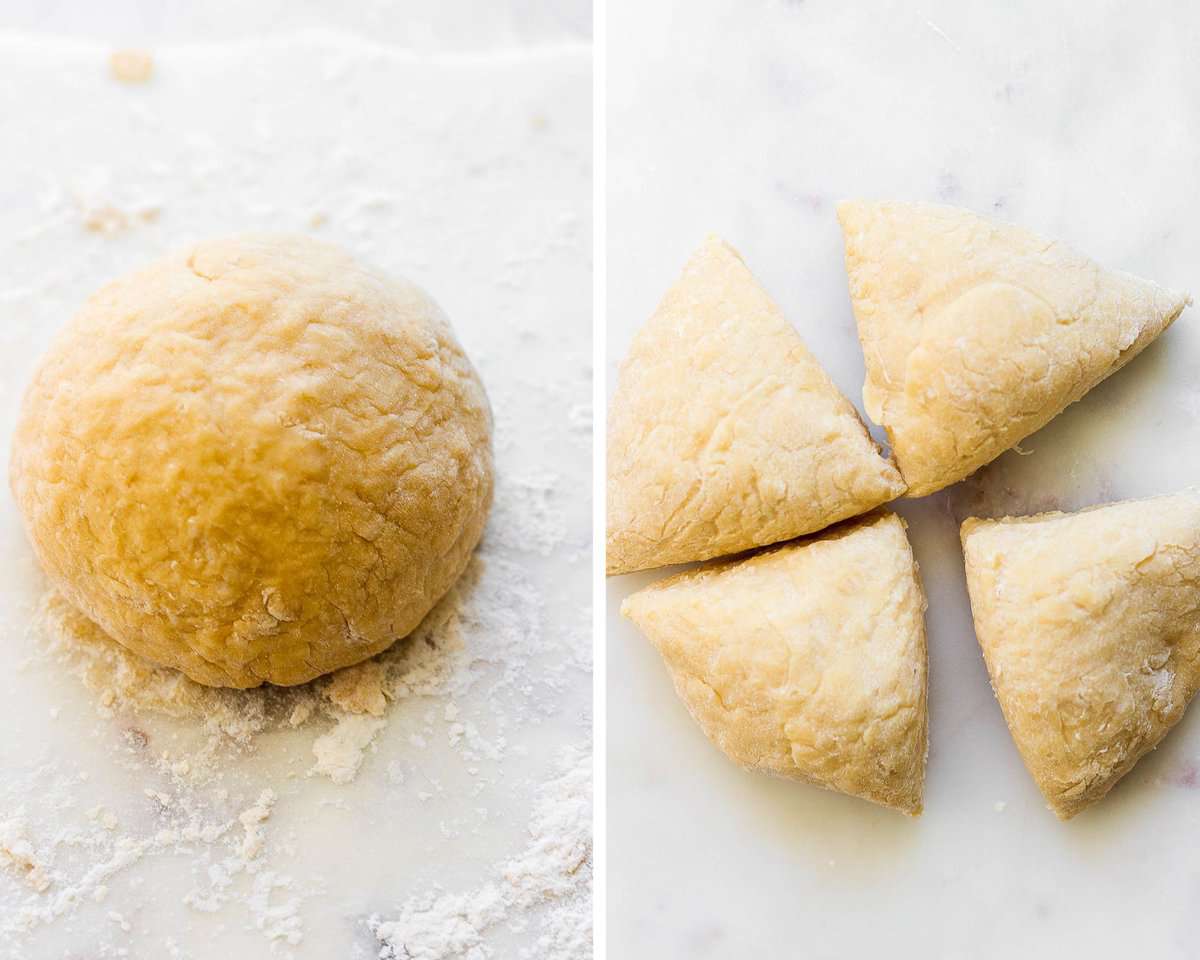 Roll out each section of dough using a rolling pin to your desired thickness. For best results, you will want it to be pretty thin. Otherwise, they will take longer to cook and have more of a doughy, dumpling texture (which maybe is what you prefer!).
Next, use a pizza cutter (or sharp knife) to cut the dough into noodles. Option to keep them long or make horizontal cuts to create smaller, bite-size noodles (ideal for a soup). This is such an easy way to cut the dough and you don't need any special equipment (i.e. pasta machine)!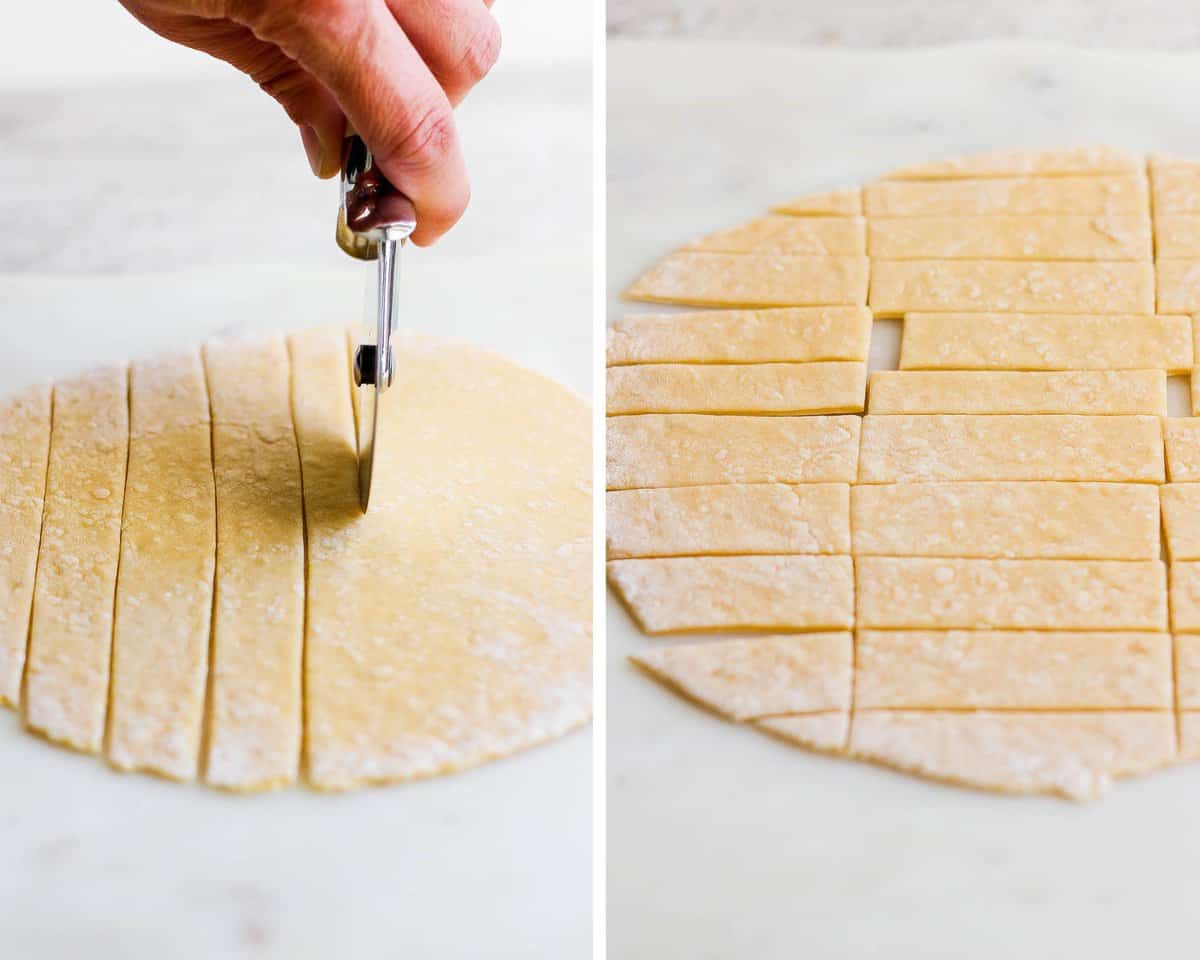 Place the egg noodles on drying racks, cooling racks, a dry towel, or parchment paper. They can dry out here until you are ready to cook them or store for later.
Best Ways To Use Homemade Egg Noodles
There are so many different ways to enjoy these easy egg noodles! Here are just a few of our favorite ways to use them:
Recipe FAQ
Do you need a pasta machine to make homemade egg noodles: nope! You don't need this or a pasta roller in order to make homemade pasta. Just a rolling pin and a pizza cutter!
Kneading the dough: we like to keep it simple and just knead the dough by hand. we like to keep it simple and just knead the dough by hand. You could use a stand mixer with the dough hook attachment for the kneading process, but be careful not to over mix the dough. That would make the texture of the noodles a bit tough.
Do egg noodles have to dry before cooking: they don't have to dry, but we love to prep them ahead of time so they can dry for a few minutes while we prepare the rest of our recipe.
How do you cook egg noodles: this depends on how you are using them. If you are enjoying them with soup, they can just be tossed right in and cooked in the broth. If serving with something else, they can just be cooked in boiling water for about 3-5 minutes.
Storage: the notes section of the recipe card below contains everything you need to know for making fresh noodles for future use! You can also make the dough ball, wrap that in plastic wrap, and store that way. Just thaw or bring to room temperature before rolling out, cutting, and cooking.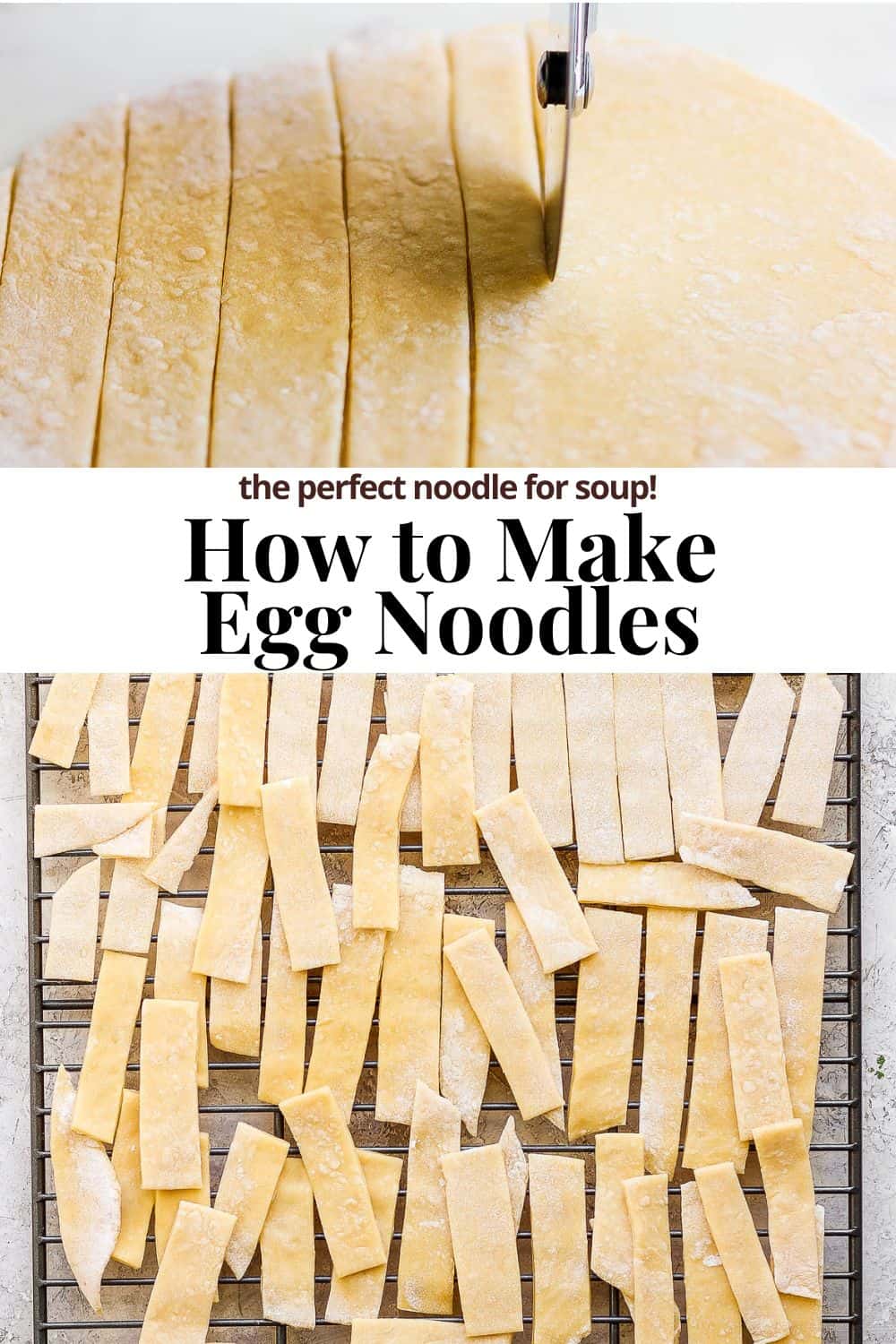 Made this recipe and loved it?! We would love it if you would take a minute and leave a star rating and review – it is also helpful if you made any substitutions or changes to the recipe to share that as well. THANK YOU!
Don't forget to check out my Instagram account for some behind-the-scenes action! Or give me a follow on Facebook or see what I am pinning on Pinterest!
Other Recipes You Might Like
Print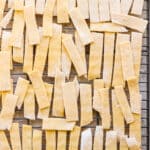 Homemade Egg Noodles
Author: Erin Jensen
Prep Time: 20 minutes
Cook Time: 5 minutes
Total Time: 25 minutes
Yield: 10 servings 1x
Category: Pasta
Method: Stove Top
Cuisine: Italian-Inspired
---
Description
Noodles for Chicken Noodle Soup – if need an easy recipe for some homemade egg yolk noodles to use in your favorite recipe – this one is perfect!
---
2 cups all-purpose flour, more for dusting
1/2 teaspoon kosher salt
2 egg yolks + 1 egg
1/4 cup water (room temp)
1 teaspoon extra virgin olive oil
---
Instructions
Whisk together 1 3/4 cup flour and 1/2 teaspoon kosher salt in a medium bowl.
In another medium mixing bowl, add eggs and whisk. Add water and oil and whisk once more.
Pour out the flour mixture on to a clean surface and create a well. Pour egg mixture in the middle. Slowly use a fork to mix the egg and flour together until it is combined.
Knead the dough, using the remaining 1/4 cup flour (use more, if needed) for approx. 5-10 minutes. Let rest 10 minutes.
Divide the dough ball into 4 equal parts. Taking a portion at a time, roll out on floured surface until thin with a rolling pin. Cut into 1-2 inch strips. Place on wire rack until use.
Cooking in soup: add to your favorite soup (while simmering) for 3-7 minutes or until al dente. How long they need to cook will depend upon how thick they are. The noodle shown were a bit on the thick side and took 5-6 minutes to fully cook.
Cooking in water: to cook the egg noodles by themselves, simply add them in to a pot of boiling water and let them cook for about 3-5 minutes or until al dente.
---
Notes
Storage (in soup): we stored these noodles in our Homemade Chicken Noodle Soup and they retained their consistency perfectly (and reheated well).
Storage (uncooked): let dry in a single layer and then place in an airtight container in the refrigerator for approx. 3 days. To freeze: place dried noodles in a freezer-safe container (labeled) and store in the freezer for approximately 3 months.
Gluten-Free: we have not yet tested this recipe using a 1-to-1 gluten-free flour, but will add a Note when we do!