Our delicious Homemade Chicken Noodle Soup (from scratch) is the ultimate comfort food that is perfect for all those cold nights this winter! Made with tender chicken, fresh vegetables, flavorful chicken broth, and homemade noodles. This is a tried-and-true recipe that has been a family favorite for years!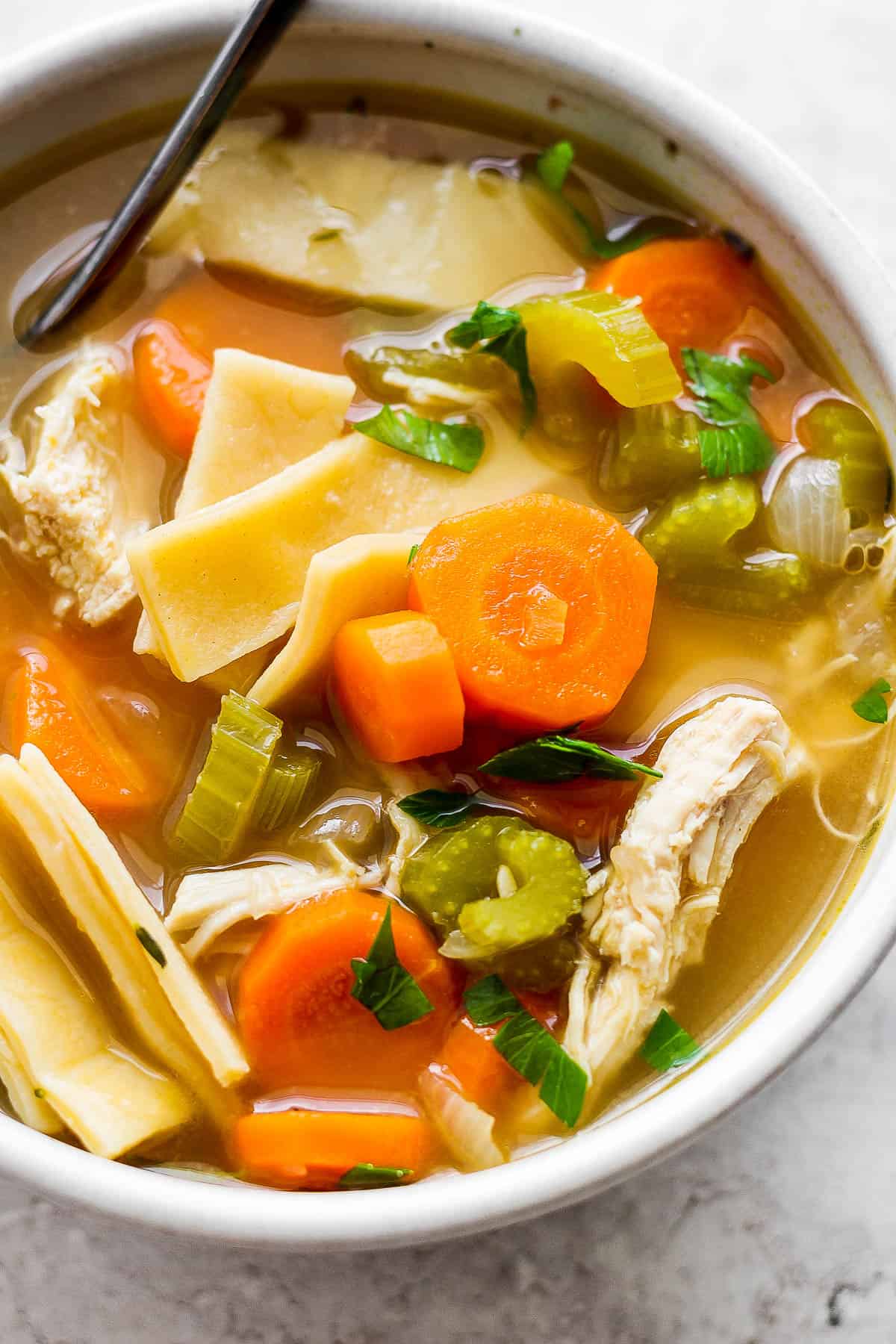 The Best Chicken Noodle Soup Recipe
It is that time of the year when our whole family gets excited to make a big batch of homemade chicken noodle soup from scratch! Definitely one of those soup recipes that is also a Sunday afternoon project for everyone to help make it together (so is this French Onion Soup!). Not only will it be delicious to eat but it also gives your kitchen the most amazing aroma. And it makes enough soup that you can put all the leftovers in airtight containers to enjoy for lunch all week!
If you are looking for an easy chicken noodle soup recipe, you should checkout out our slow cooker chicken noodle soup!
What You Will Need
butter – just a little bit in the soup pot to help sauté all the fresh veggies!
garlic & yellow onion – flavor starters that are always a must when making homemade soup.
carrots & celery – staple ingredients for any chicken soup recipe.
chicken broth – you will definitely get the most flavor when you make homemade stock or chicken bone broth, but you also have the option to buy store-bought chicken broth from your local grocery store.
bay leaves – another essential ingredient for the added flavor!
herb bundle – easily make your own herb bundle with your favorite fresh herbs and a little kitchen twine.
smashed garlic cloves – everything is always better with some fresh garlic in the mix.
chicken breasts – this is the cut of chicken that we prefer to use, but you could also use boneless, skinless chicken thighs.
kosher salt & ground black pepper – simple seasonings that needed when making any type of meat.
lemon zest – just a little sprinkling of acidity will really help to lighten & brighten all those flavors.
noodles – in the recipe card below we have included ingredients and directions for making homemade noodles from scratch, but if you are in a pinch you can also use store-bought noodles.
How To Make Homemade Chicken Noodle Soup
The first steps to making this homemade chicken noodle soup with egg noodles is to grab a sharp knife and cutting board and start chopping all those fresh vegetables.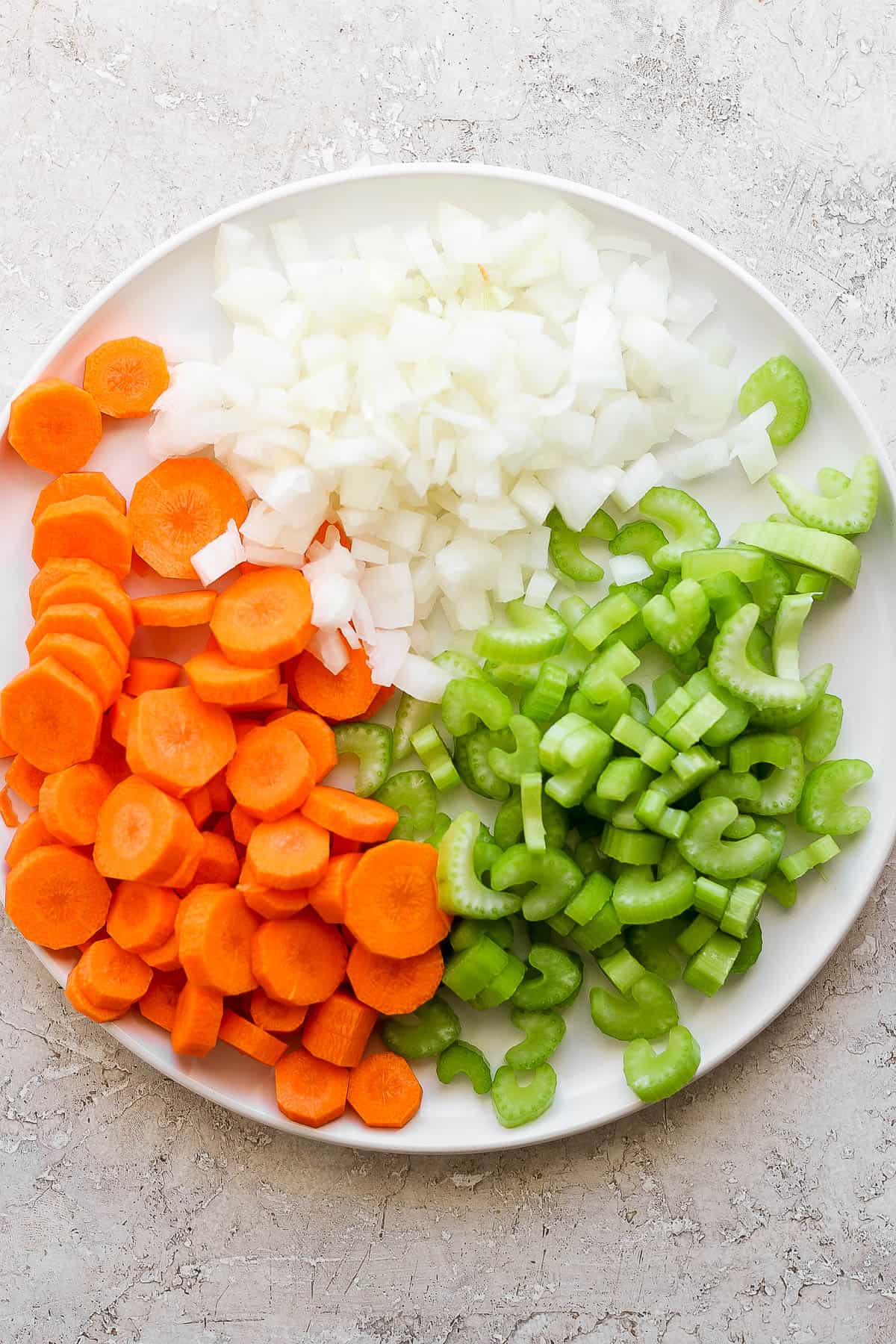 Now bring a large pot to a medium heat, add the butter to melt, and then toss in the garlic. Move around the pot until fragrant.
Next, add the sliced carrots, celery, and diced onion to the pot and them them cook for about 5 minutes.
Then pour in the homemade broth, add the bay leaves, herb bundle, and smashed garlic. Bring the whole pot to a gentle simmer. Carefully add the chicken breasts, cover, and let it all simmer for about 15 minutes of cook time or until the chicken is cooked to an internal temperature at the thickest part of 165 degrees F (use a meat thermometer).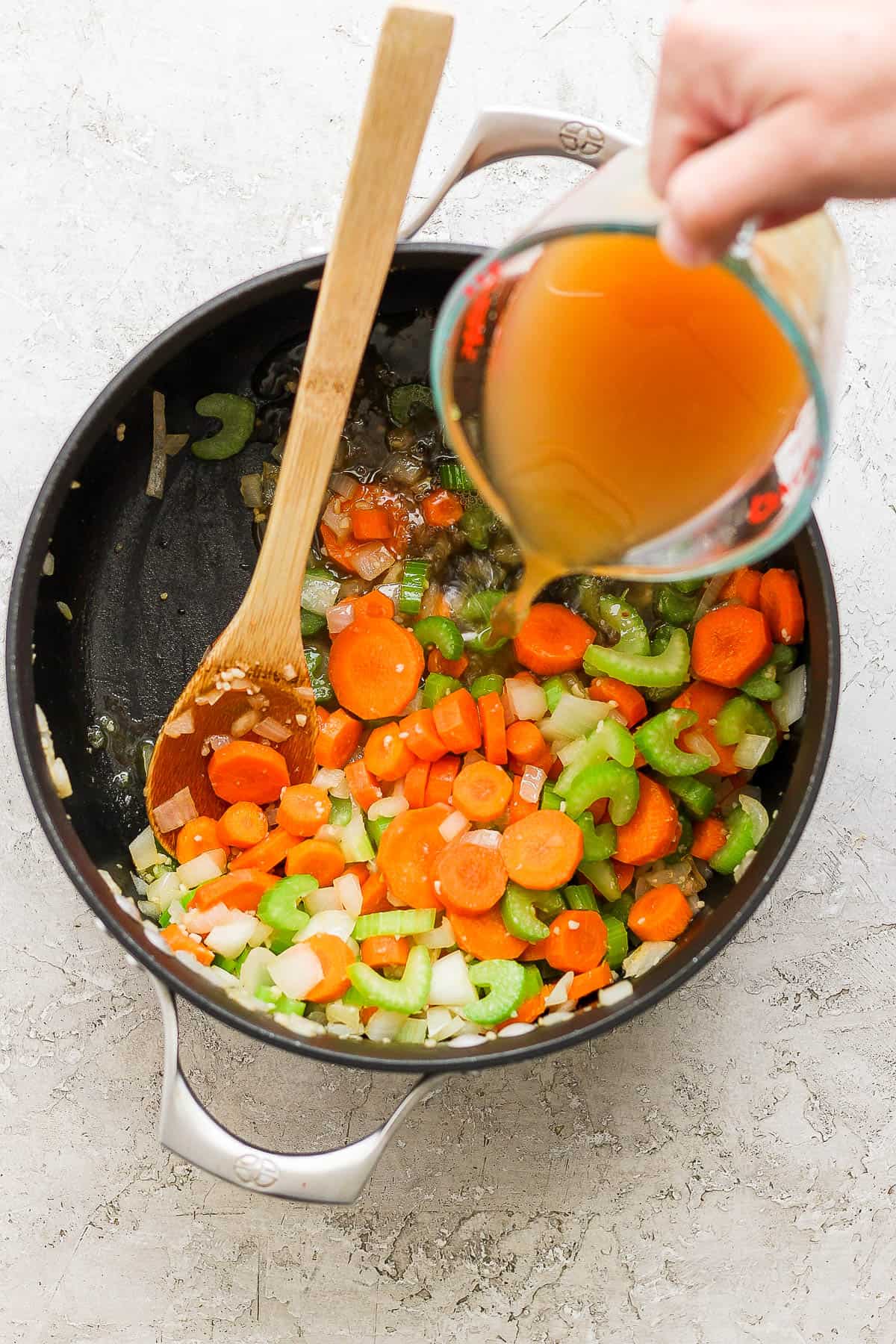 Remove the cooked chicken from the dutch oven, shred with two forks, and return the shredded chicken meat to the soup along with the salt, pepper, and lemon zest. Cover again and let it continue simmering for 15 minutes.
While the chicken and soup simmer, it is the perfect time to prepare the homemade egg noodles from scratch. This can be done by whisking together the flour and salt in a medium bowl and the eggs, water, and oil in another bowl. Then pour the flour mixture on to a clean surface and create a well in the middle. Pour the whisked eggs in this well.
Use a fork to carefully mix the flour and eggs together. Knead this dough using the remaining 1/4 cup of flour for about 5-10 minutes and then allow it to rest for 10 minutes. Divide this dough into 4 equal parts and use a rolling pin to spread each until thin. A pizza cutter works really well for cutting the dough into thin strips.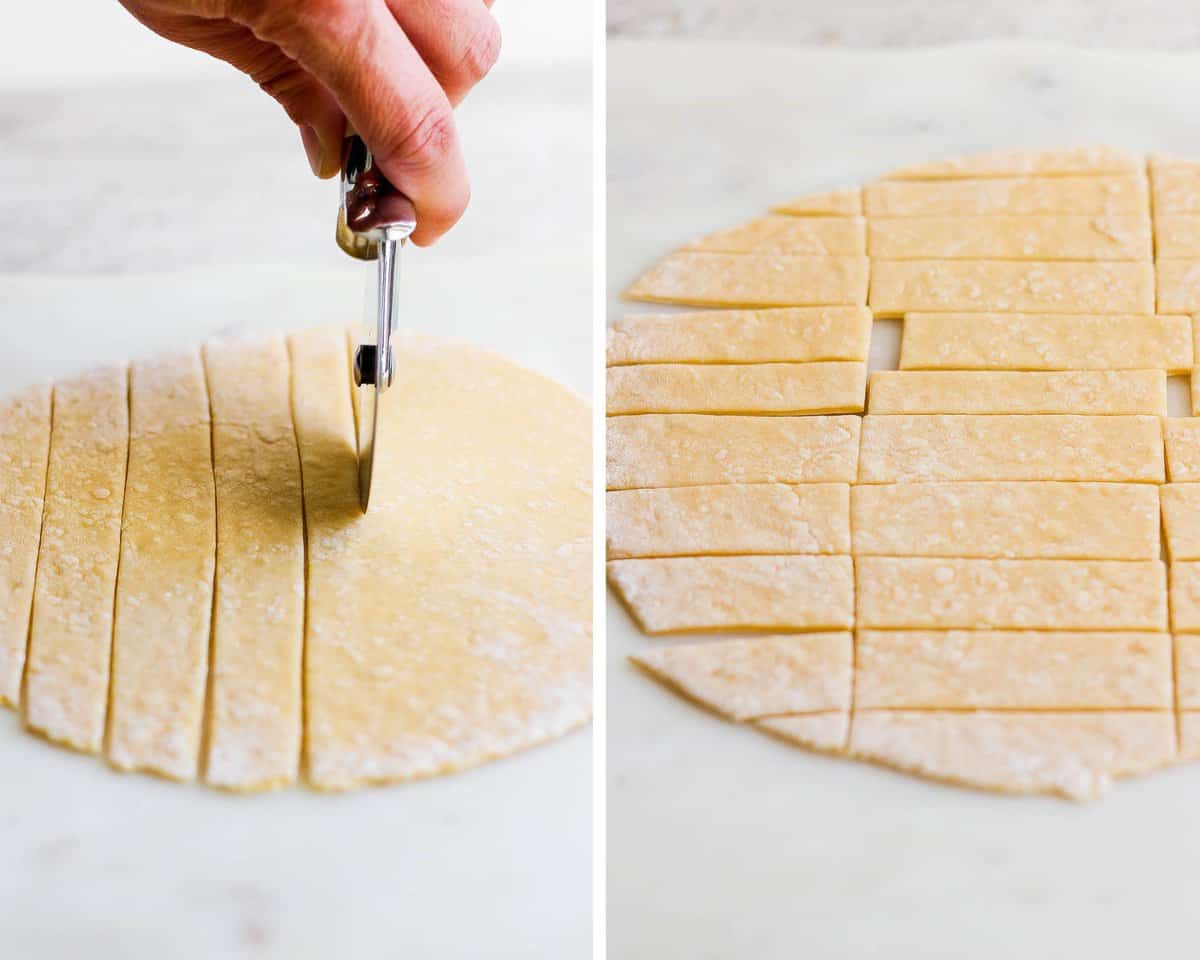 Once the soup is done simmering, remove the lid, and carefully add the noodles. Try to add these noodles a little at a time. Stir in between to prevent them from sticking to each other. Let the noodles simmer in the soup until al dente (about 3-7 minutes) before serving.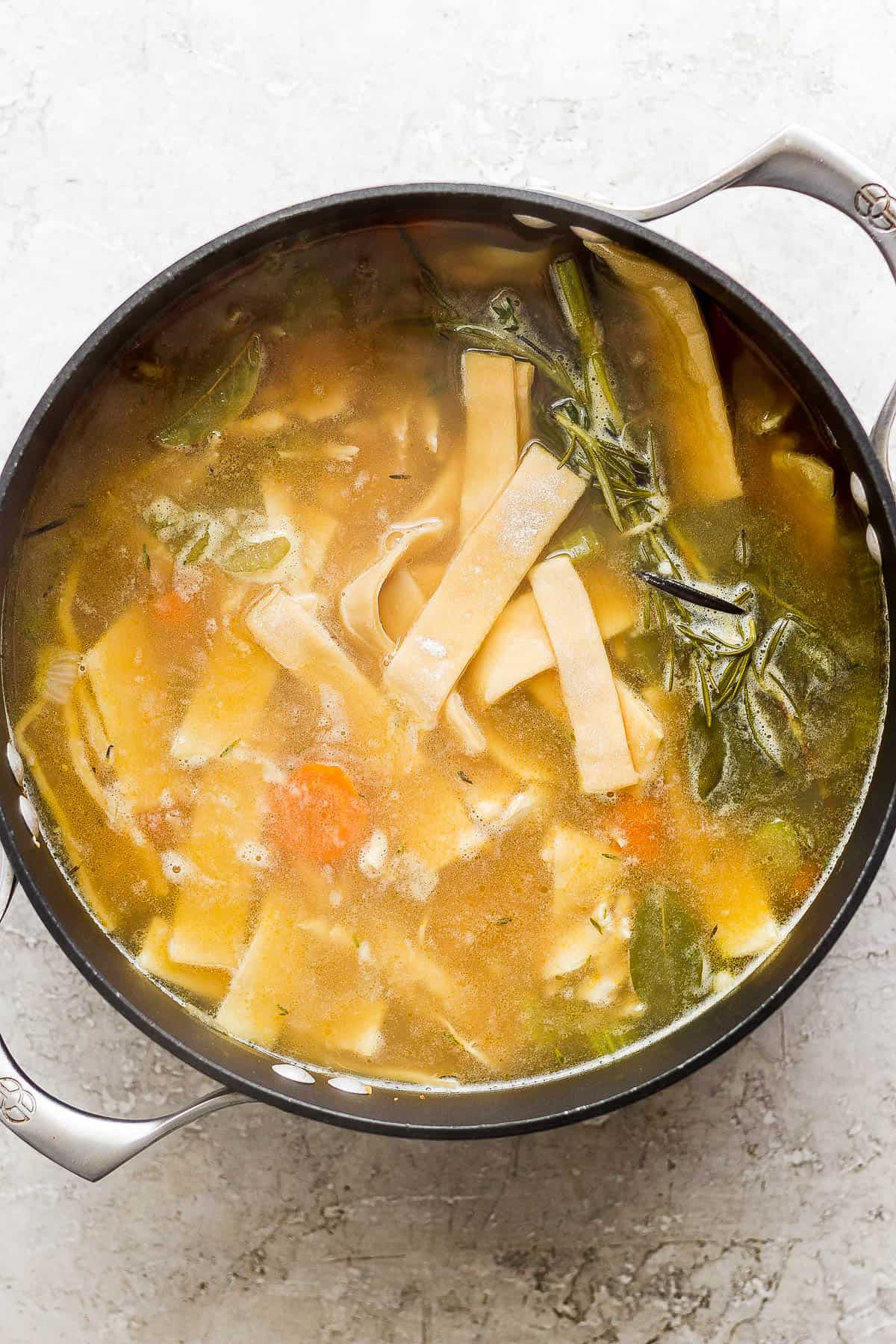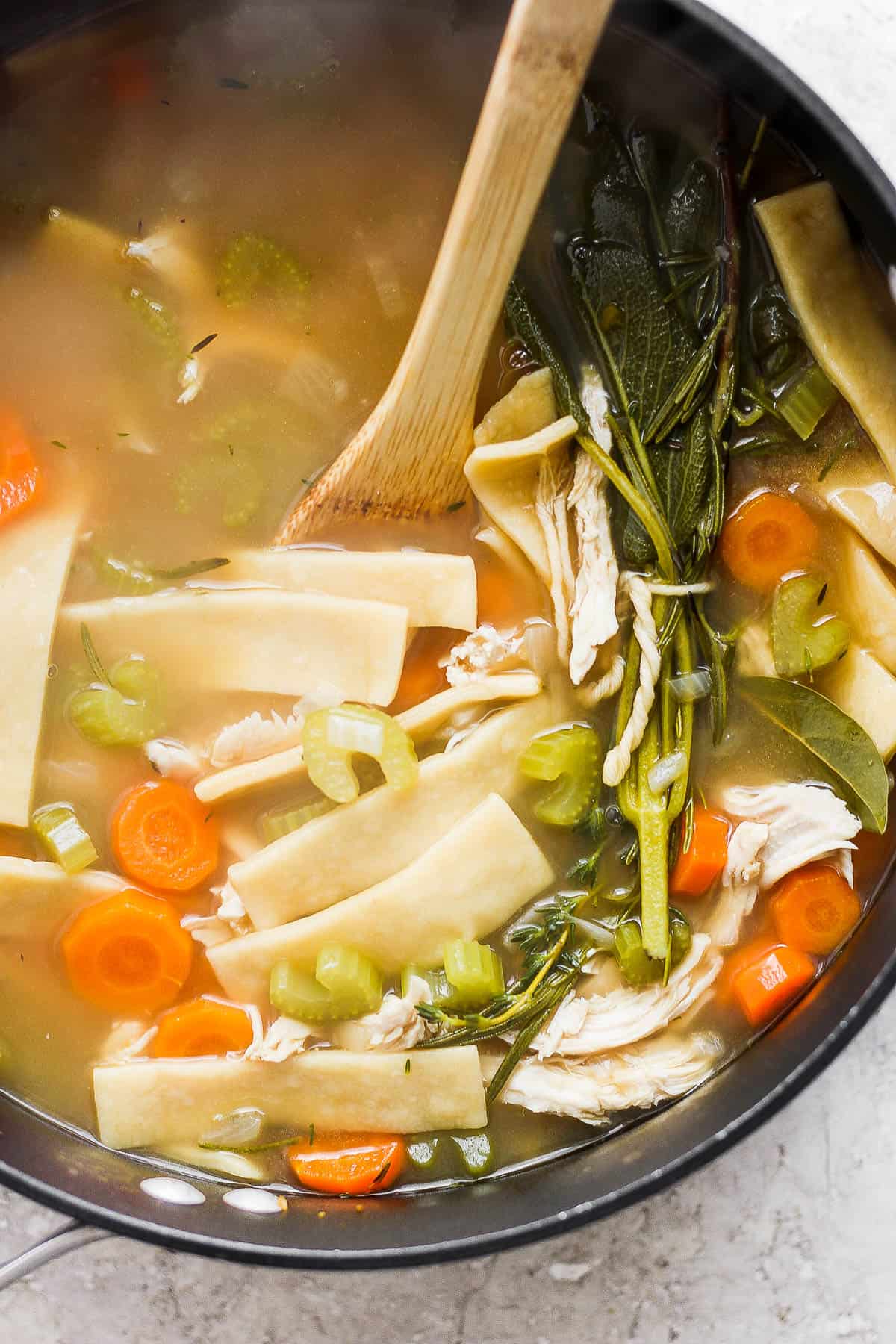 Best Ways To Serve Homemade Chicken Noodle Soup
There is simply nothing better than classic chicken noodle soup! When we serve our soup, we like to add a sprinkling of fresh parsley or any other fresh herbs and then a big piece of crusty bread, grilled bread, or another type of bread that is perfect for soaking up all that flavorful broth!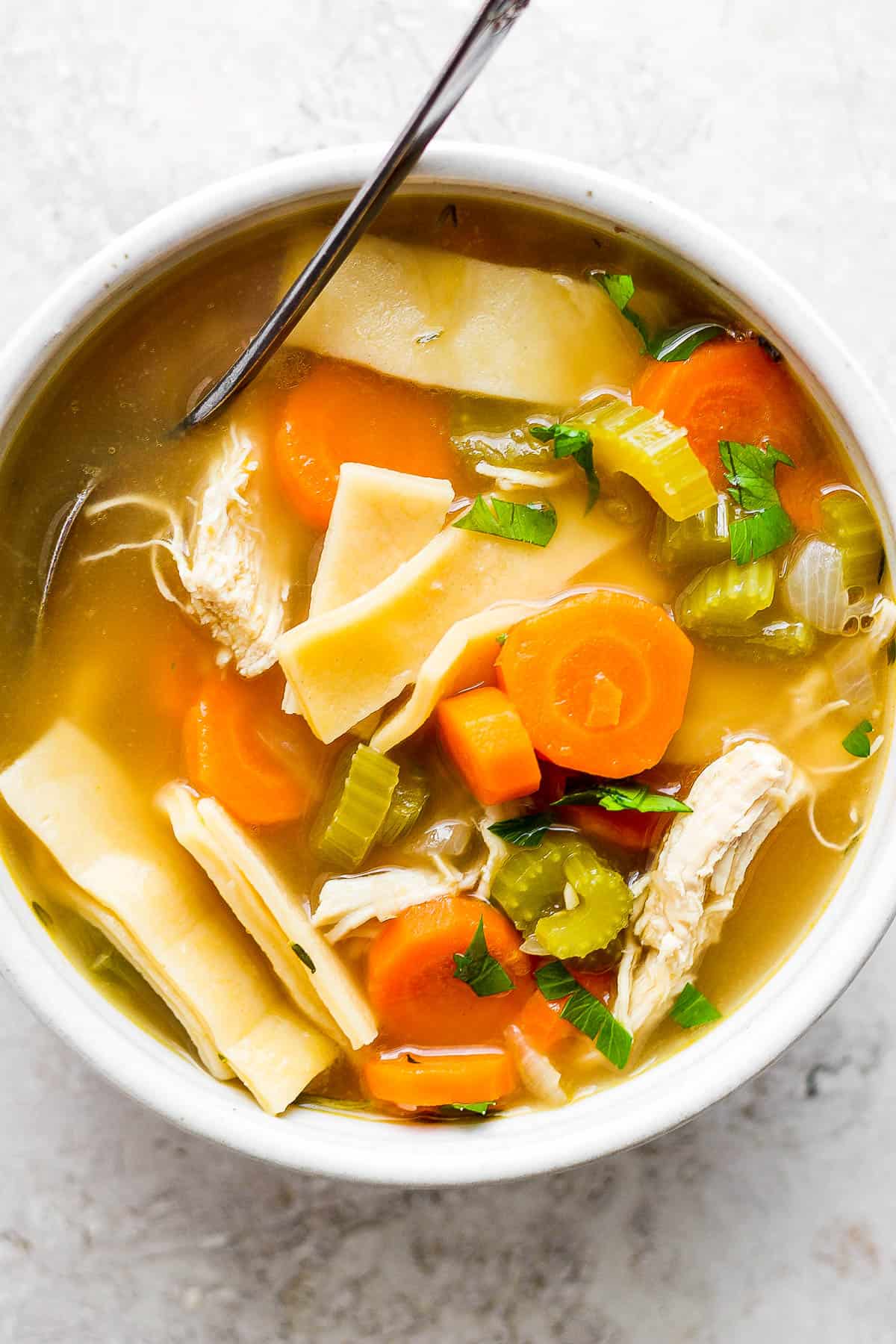 Recipe FAQ
Is homemade chicken noodle soup healthy: absolutely! The combination of that warm broth, soft vegetables, chicken, and noodles has been known to warm the soul and, as mom says, is the best remedy for any illness!
Noodles: to truly make a chicken soup from scratch, we have included the ingredients and instructions for making homemade noodles too. But, of course, you can also purchase egg noodles, spaghetti noodles, or any other store-bought option.
Chicken: cooking your favorite cut of chicken right in the broth is going to give you the most flavor. But if you need to cut some corners you could also use a rotisserie chicken!
Can I freeze chicken noodle soup: Yup! Just let the soup cool, place it in a freezer-safe container (leave room for it to expand), and store for 2-3 months. Thaw in the fridge overnight and warm on the stovetop. To keep noodles from getting soggy, you may want to wait on this step until you reheat the soup.
Made this recipe and loved it?! We would love it if you would take a minute and leave a star rating and review – it is also helpful if you made any substitutions or changes to the recipe to share that as well. THANK YOU!
Don't forget to check out my Instagram account for some behind-the-scenes action! Or give me a follow on Facebook or see what I am pinning on Pinterest!
Other Chicken Soup Recipes You Might Like
Print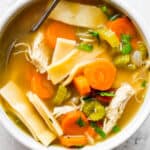 Homemade Chicken Noodle Soup Recipe
Author: Erin Jensen
Prep Time: 30 minutes
Cook Time: 45 minutes
Total Time: 1 hour 15 minutes
Yield: 10 servings 1x
Category: Soup
Method: Stove Top
Cuisine: American
---
Description
Homemade Chicken Noodle Soup (from scratch) – delicious homemade chicken noodle soup with from scratch noodles!
---
Soup:
1 tablespoon butter
3 teaspoon garlic, minced
1 sweet yellow onion, diced
3–4 medium carrots, sliced
2–3 stalks celery, sliced
8 cups homemade chicken broth
2 bay leaves
1 herb bundle (rosemary, thyme and sage sprigs tied together with cooking twine)
1–2 garlic cloves, smashed
2 pounds boneless, skinless chicken breast
kosher salt, to taste
1/8 teaspoon ground black pepper
1/2 teaspoon lemon zest
Noodles:
2 cups all-purpose flour, more for dusting
2 egg yolks + 1 large egg
3/4 teaspoon kosher salt
1/4 cup water (room temp)
1 teaspoon extra virgin olive oil
---
Instructions
Noodles:
Whisk together 1 3/4 cup flour and 1/2 teaspoon kosher salt in a medium bowl.
In another medium mixing bowl, add eggs and whisk. Add water and oil and whisk once more.
Pour out flour mixture onto clean surface and create a well. Pour egg mixture in the middle. Slowly use a fork to mix the egg and flour together, until it is combined.
Knead using the remaining 1/4 cup flour (use more, if needed) for approx. 5-10 minutes. Let rest 10 minutes.
Divide into 4 equal parts. Taking a portion at a time, roll out on floured surface until thin. Cut into 1-2 inch strips. Place on wire rack to dry until use.
Soup:
Bring a large Dutch Oven to medium-high heat. Add butter and let melt; swirl to coat the pan. Add garlic and move around the pan until fragrant, approx. 1 minute. Add onions, carrots and celery and cook until they soften, approx. 5 minutes.
Add broth, bay leaves, herb bundle and smashed garlic. Bring to a simmer.
Add chicken (see Notes for other options), cover and let simmer 15 minutes. Remove chicken and let cool slightly. Shred and return meat to the pot along with the salt, pepper and lemon zest. Stir and cover. Let simmer, covered, for another 15 minutes. Taste and add additional salt, pepper or lemon zest, as desired.
Uncover and ensure broth is still simmering. Add noodles and stir so they aren't sticking to each other. Let simmer 3-7 minutes (depending upon how thick your noodles are – the noodles in the picture took 5 minutes).
Serve immediately with fresh chopped parsley.
---
Notes
Dairy-Free: feel free to use plant-based butter instead of regular butter.
Chicken Broth: if you want this to truly be from scratch, use that homemade chicken broth for maximum flavor! Of course, use store-bought if you need to – whatever works!
Chicken Thighs: you can use boneless, skinless chicken thighs in place of the chicken breasts.
Rotisserie Chicken: instead of chicken breast you can use a store-bought rotisserie chicken and simply shred the meat and use in the soup. Or you can roast a chicken at home and use that (kind of like we do in our Roasted Chicken Soup recipe).
Storage: store soup leftovers in an airtight container in the refrigerator for up to 3-4 days – the noodles will hold up just fine!
Nutrition
Serving Size: 6oz
Calories: 257
Sugar: 2.2 g
Sodium: 634.6 mg
Fat: 5.2 g
Carbohydrates: 24.1 g
Protein: 26.7 g
Cholesterol: 106.1 mg
Keywords: homemade chicken noodle soup