Roasted Greek Lemon Chicken Soup is packed with flavor and is a spin on the blog classic: Homemade Roasted Chicken Soup! Absolutely perfect for cold winter days!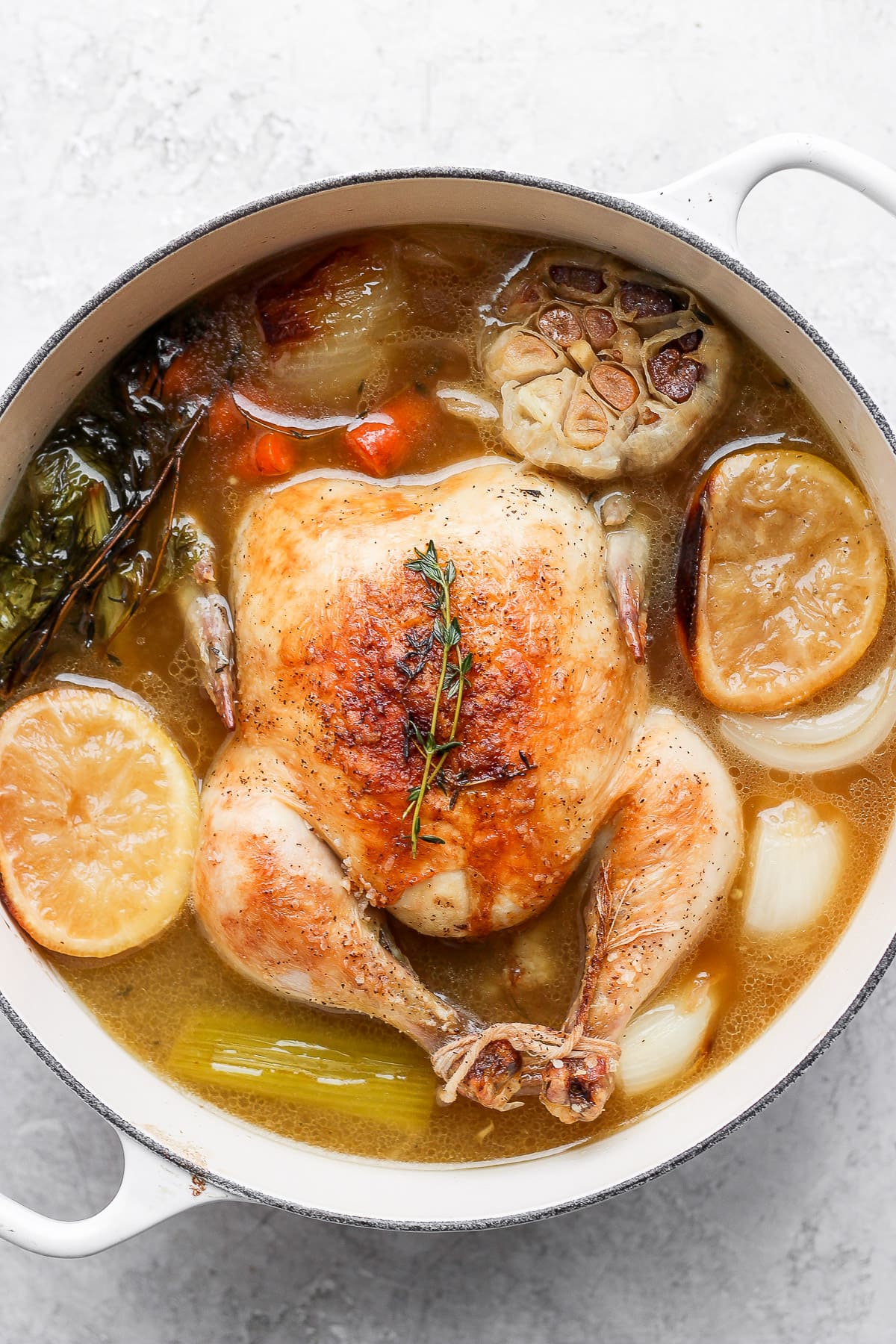 Best Greek Lemon Chicken Soup
Our classic Roasted Homemade Chicken Soup is SUCH a popular recipe so I am very excited to share this fun spin on that beloved recipe! I love the lemon and garlic flavor in here!
Why You Will Love This Recipe
Flavor: the flavor here is just SO good! Between the roasted chicken and the amazing garlic and lemon – this is a go-to for me when I am not feeling 100%!
Weekend Cooking: I am a big fan of cooking quick on the weeknights, but a little slower on the weekends … this would be more of a weekend recipe! Yes, it takes a bit of time, but it is so worth it!
Comfort Food: this is comfort food … elevated! Everyone loves your classic chicken soup, but this kind of takes it to the next level.
Is there another name for Greek Lemon Chicken Soup
Yes! It is also called Avgolemono and it is a very famous Greek soup. I put my own spin on it here and hope you enjoy it!
Recipe FAQs and Tips
Ensure Chicken is Thaw/Fresh: make sure your chicken is 100% thaw before roasting or it will impact the cooking time.
Whole30/Paleo: if you are concerned with Whole30/Paleo just make sure you are checking your broth ingredients.
Broth temp: before you add in your egg mixture to the soup make sure the soup isn't boiling – I added it when the temp the broth was approximately 170 degrees and it was perfect! If you add in the egg mixture when it is boiling the eggs will cook (so it would be like scrambled eggs floating in your soup – yucky) – so make sure you don't do that! I used a meat thermometer to test the broth temp and feel free to toss in an ice cube or two if you need to.
Add-Ins: If you aren't concerned with Whole30/Paleo feel free to add in orzo or noodles of your choosing – I would recommend adding them in at the end (pre-cooked) so they don't soak up the broth while they cook.
Other Chicken Soups You Might Like
How to Make Roasted Greek Lemon Chicken Soup
Roast your chicken.
Add your broth, cover and let simmer.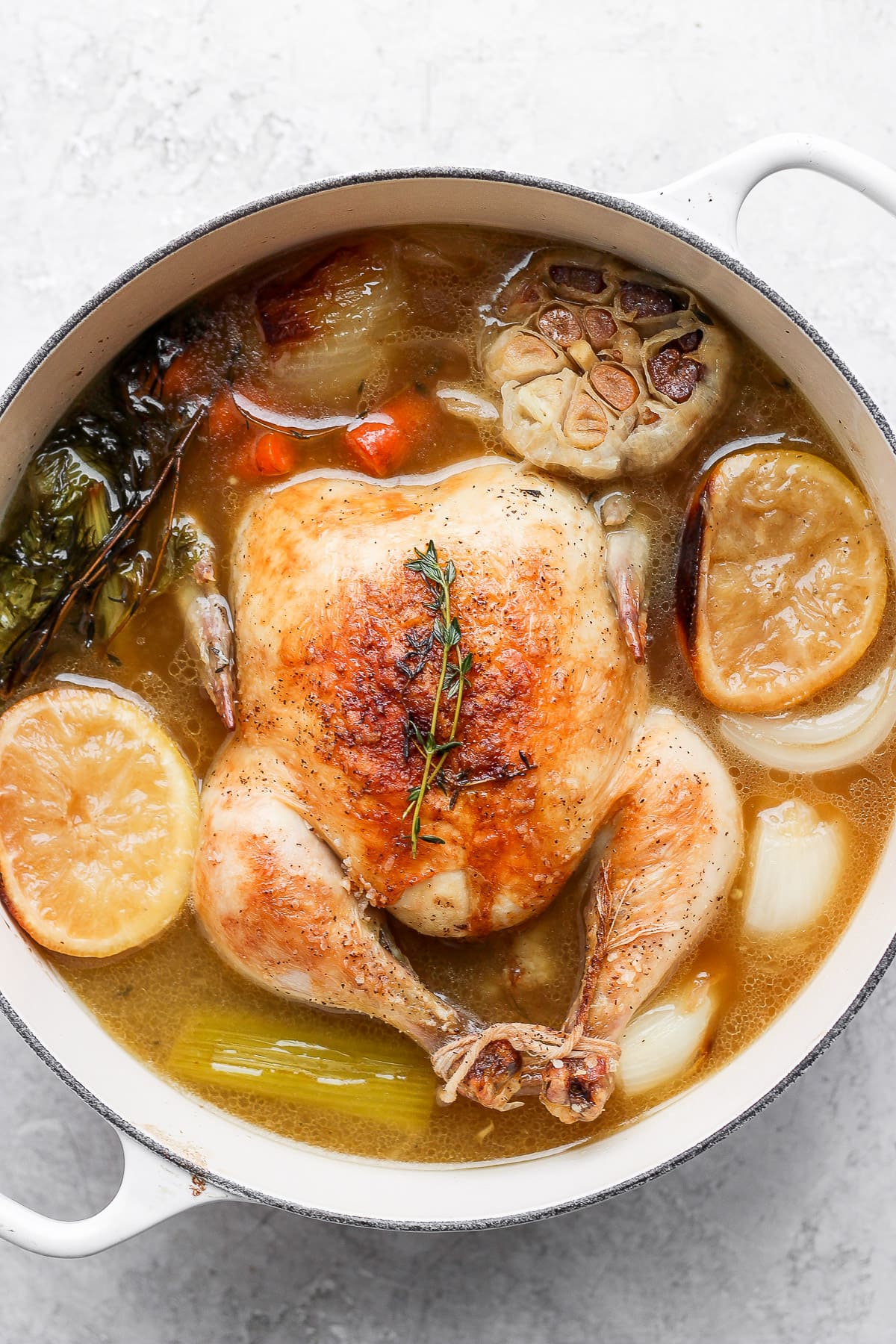 Remove chicken (let cool) and then break down, separating the meat from the bones. Strain the broth and add chicken + broth back to same pot. Add in fresh veggies and allow to simmer.
Combine eggs and some warm broth – whisk to combine.
Add egg/broth mixture to pot and stir to combine.
Serve and enjoy!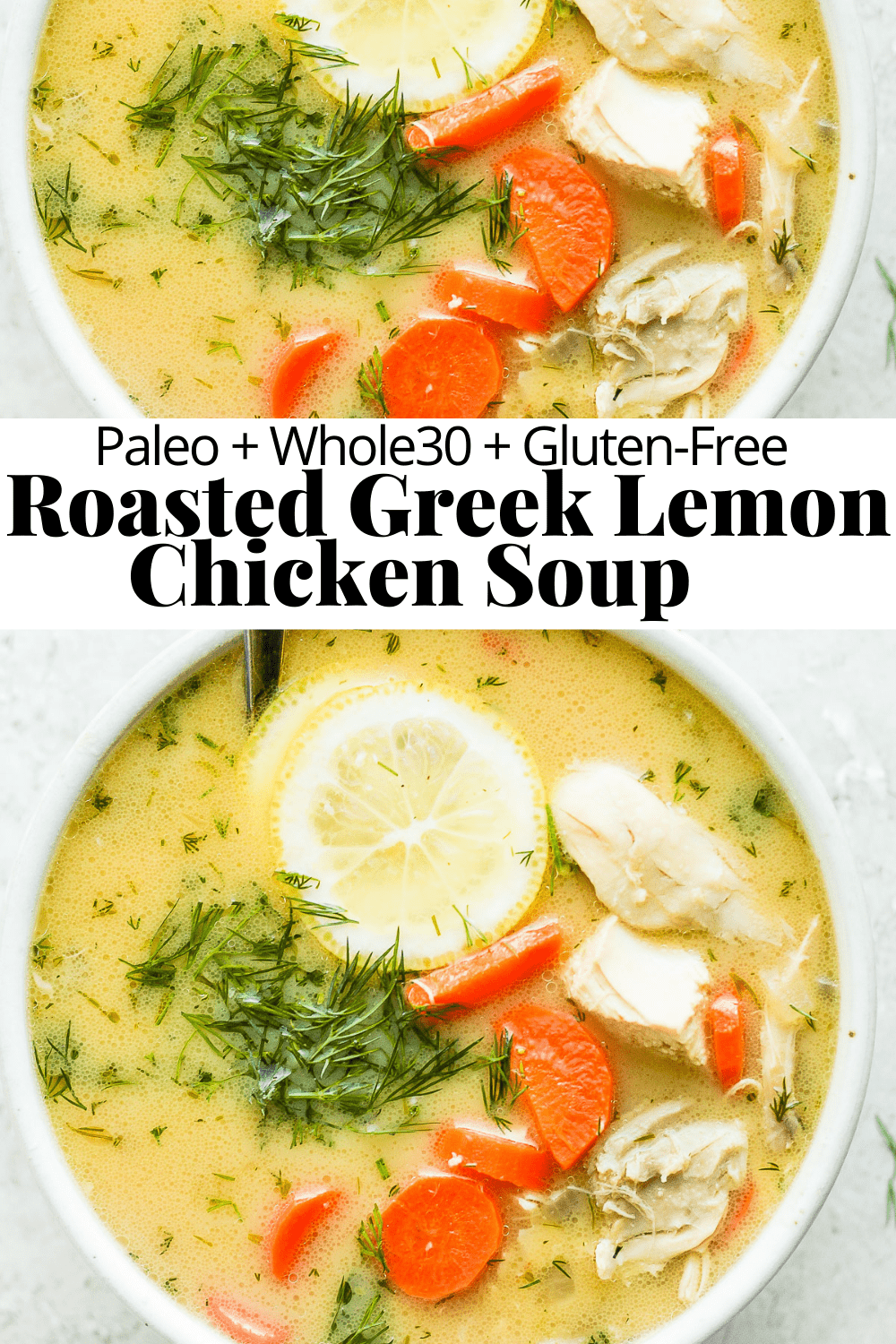 Made this recipe and loved it?! We would love it if you would take a minute and leave a star rating and review – it is also helpful if you made any substitutions or changes to the recipe to share that as well. THANK YOU!
Don't forget to check out my Instagram account for some behind-the-scenes action! Or give me a follow on Facebook or see what I am pinning on Pinterest!
Print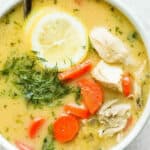 Roasted Greek Lemon Chicken Soup
Author: Erin Jensen
Prep Time: 15 minutes
Cook Time: 2 hours 30 minutes
Total Time: 2 hours 45 minutes
Yield: Approx. 15 cups
Category: Soup
Method: Stove Top + Oven
Cuisine: Greek-Inspired
---
Description
Roasted Greek Lemon Chicken Soup – a flavorful and delicious winter comfort food!
---
Broth
(1) 5-6 pound whole roasting chicken (fresh or thawed)
2–3 tablespoons ghee, softened (or butter or olive oil)
salt and pepper
1 small yellow onion, quartered
1–2 stalks celery, cut into 2–3 inch chunks
2 medium whole carrots, cut into 2–3 chunks
1 head of garlic, cut off the top
1 lemon, halved
1–2 sprigs fresh rosemary
1–2 sprigs fresh dill
Soup
8–10 cups chicken broth
shredded chicken (using the roasted chicken)
4 stalks celery, sliced
1 medium sweet yellow onion, chopped
4–6 medium carrots, peeled and sliced
1/4 cup fresh dill, chopped
3 eggs
1/2 cup fresh lemon juice
(optional) a few handfuls of either spinach or kale
---
Instructions
Broth:
Preheat oven to 375 degrees F.
Place chicken in a dutch oven and rub all over with softened ghee.
Sprinkle with generous amounts of salt and pepper to coat.
Place onion, carrots, celery, garlic and lemon around the chicken.
Roast on middle rack, uncovered, for 1.5 hours.
Remove from oven and place on burner.
Add broth and turn heat up to high.
Bring to a boil and then reduce to a simmer and cover for 45-60 minutes.
Soup:
Remove chicken from the broth and set aside to cool slightly.
Strain broth and discard the cooked vegetables, reserving the garlic and lemon.
Place strained broth back in your dutch oven along with fresh onion, carrots, celery and dill.
Take the roasted lemons and squeeze into the broth.
Take garlic and remove 2-4 cloves and roughly chop; add these to the broth as well (you can add more if you want).
Shred chicken and add meat to the pot. Stir to combine and let simmer 15-20 minutes.
Remove from heat to let broth cool a bit.
Meanwhile, whisk together the eggs and fresh lemon juice in a medium bowl. Then take approximately 1 cup of broth (which should be around 170 degrees) and slowly whisk together. Once that is combined, slowly add it back into the dutch oven, whisking to combine.
Feel free to place back on low heat, but be sure not to boil as the eggs will cook!
Taste and add any salt or pepper, as necessary, as well as any additional dill.
Before serving feel free to add a handful of fresh spinach or even kale if you want!
Serve and enjoy!
---
Notes
Size of dutch oven: I used a 5 1/2 qt. dutch oven.
Meat thermometer: I used an internal meat thermometer to test the temperature of the broth.
Whole30/Paleo: if you are concerned with Whole30/Paleo just be sure and check your broth ingredients and ensure you use ghee or olive oil instead of butter.
Add-ins: if you aren't concerned with Whole30/Paleo feel free to add in some cooked orzo or pasta of your choosing at the end! I wouldn't recommend cooking it in the broth as it will soak up quite a bit of broth during the cooking process.
Consistency: If you want your soup thicker than I would suggest sticking with 8 cups broth and if you want it thinner I would lean towards 10 cups broth.
Keywords: greek lemon chicken soup