Leftover Turkey Noodle Soup – a delicious way to use up any Thanksgiving turkey! So easy and kid-friendly!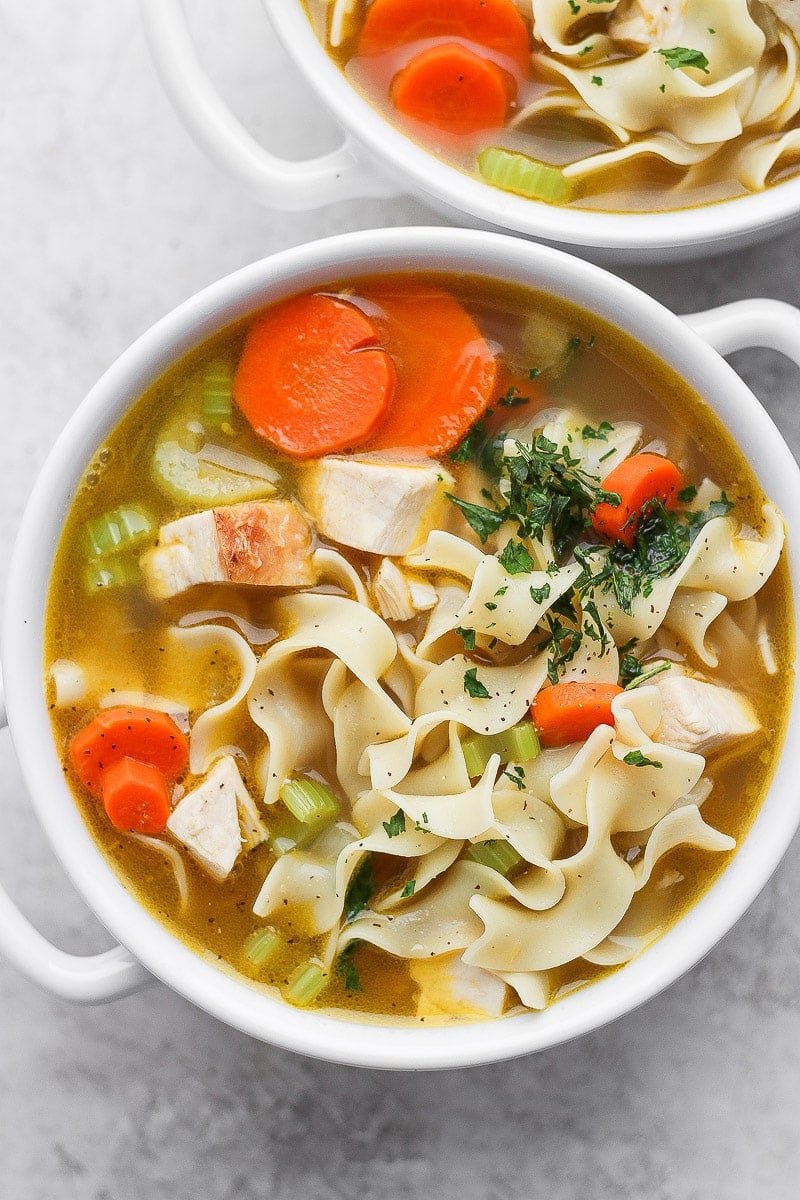 This is a MUST every year after Thanksgiving!
Every year after Thanksgiving we always have a ton of leftover turkey (who doesn't), actually sometimes I think it is better to buy a bigger turkey so that we have A LOT of leftovers! Because there is nothing better than tossing those leftovers into a delicious soup! Perfect for the cool, cozy end-of-November days. It is made with real ingredients and comes together in only 45 minutes!
WHY YOU WILL LOVE THIS RECIPE
Utilizes Leftovers – this amazing soup is made with you delicious leftover Thanksgiving turkey.
Family Friendly – even your kiddos are going to love this one!
Simple – this recipe comes together so easily with about 10 real food ingredients.
WHAT YOU WILL NEED
Olive oil
Garlic
Carrots
Celery
Yellow onion
Leftover Turkey
Fresh parsley
Salt and pepper, to taste
Dried noodles (regular or gluten-free)
RECIPE FAQs + TIPS
Can I use store-bought turkey broth? – Yes! You can use store-bought broth but I also highly recommend making your own turkey broth (you won't regret it). Chicken broth would also work.
Is it better to cook the noodles separate or in the broth with the soup? – We recommend cooking them separately and then add them to the soup but you can cook them in the broth itself, if you want to. In that case you would want to increase the amount of broth you use because the noodles will soak it up.
Can I store the leftovers? – You can keep any leftover soup in an airtight container in the fridge for 3-4 days.
Salt – this really depends on how salty your broth is but you can always adjust by adding more salt along the way to your desired taste.
Noodles – Feel free to use whatever noodles you want (gluten-free or otherwise).
HOW TO MAKE LEFTOVER TURKEY NOODLE SOUP
Step 1: Chop up your vegetables.
Step 2: Cut-up about 4 cups of leftover turkey.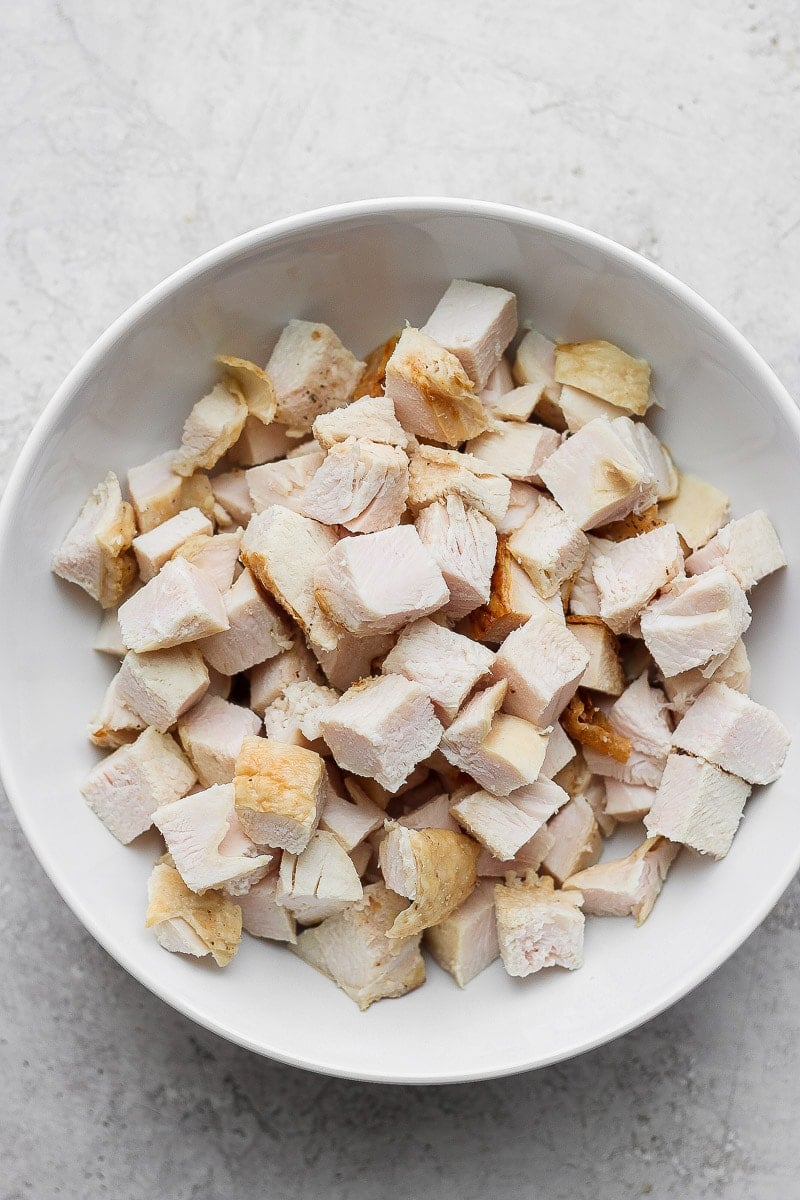 Step 3: Bring a large dutch oven to medium-high heat with olive oil coating the bottom. Add the garlic, then the onion, some salt/pepper, and then the carrots.
Step 4: Add the turkey, broth, and parsley. Bring to a boil and then reduce to simmer.
Step 5: In another pot, cook your noodles according to the directions on the box.
Step 6: Once the noodles are cooked, drain them, and add them to the soup. Also give it a taste and add any more salt and pepper, if needed.
Step 7: Enjoy!!
OTHER RECIPES YOU MIGHT LIKE:
Don't forget to check out my Instagram account – Or give me a follow on Facebook or see what I am pinning on Pinterest!
Love,
E
Thank you so much for reading & supporting The Wooden Skillet! This post includes affiliate links for products I actually use in my own home and personally recommend. Should you make a purchase using one of these links, The Wooden Skillet will earn a small commission at no extra cost to you, which helps me continue to bring you great original content. Thank you!
Print
Leftover Turkey Noodle Soup
Author: Erin Jensen
Prep Time: 15 minutes
Cook Time: 30 minutes
Total Time: 45 minutes
Yield: 8-10 servings 1x
Category: Soup
Method: Stove Top
Cuisine: American
---
Description
Leftover Turkey Noodle Soup – such a great way to use those Thanksgiving leftovers! Simple, delicious and kid-friendly!
---
1–2 tablespoons olive oil
1 tablespoon garlic, minced
5 medium carrots, peeled and sliced
4 stalks of celery, sliced
1 yellow onion, diced
4 cups turkey, cubed
8 cups turkey broth
1 tablespoon fresh parsley, chopped
salt and pepper, to taste
Approx. 5 cups dried noodles
---
Instructions
Bring a large dutch oven to medium-high heat.
Swirl with olive oil and let coat the pan.
Once pan and oil are hot, add the garlic. Move around the pan until garlic becomes fragrant, about 1-2 minutes.
Add in onion and let cook down, about 2-3 minutes. Sprinkle with a little salt and pepper.
Add celery and carrots. Sauté those as well for approximately 3-4 minutes.
Add in turkey, broth and parsley.
Bring to a boil and then reduce to simmer.
Let simmer approximately 10-15 minutes or until vegetables have reached your desired consistency.
Taste and add any additional salt or pepper, as desired.
Meanwhile, cook noodles in a separate pan according to the box instructions.
Drain noodles and add into soup.
Remove from heat and serve immediately with additional parsley.
---
Notes
Broth: I highly recommend making your own turkey broth (it's amazing), but store-bought will work too! You can also use chicken broth.
Salt: How much salt you need really depends upon what broth you use and how salty (or not) it already is. Just taste along the way and adjust accordingly.
Noodles: Feel free to use whatever noodles you want (gluten-free or otherwise). I recommend cooking the noodles separately because if you cook them in the soup itself, they will soak up a lot of the broth. If you are wanting to cook the noodles in the broth itself you will need to increase the amount of broth you use (and possibly use a bigger pot).
Keywords: Turkey noodle soup