This simple Homemade Sauerkraut is easily made with only 2 ingredients – cabbage and kosher salt! After it ferments for about a week you will have some tangy and delicious sauerkraut, perfect for topping your grilled brats and grilled hot dogs all summer long!
A Simple Homemade Sauerkraut Recipe
For a long time we were buying all of our sauerkraut at the grocery store, until we tried to make our own and realized just how easy it is! It takes some time (~7 days) but if you have the patience, we highly recommend trying it. The slightly salty and sour tang make it a perfect topping for the beer brats that will be grilling up all summer.
Another one of our favorite cabbage-based recipes for the summer is our spicy purple cabbage coleslaw. It's a regular side dish for all of our cookouts!
What You Will Need
cabbage – sauerkraut is simply fermented cabbage so this is the base for this recipe, make sure you slice it nice and thin.
kosher salt – this helps to leach the moisture out of the cabbage to help it ferment.
mason jar, cheesecloth, & rubber band – just 3 tools needed to store the sauerkraut properly in the pantry while the fermentation process happens.
How Long Does Homemade Sauerkraut Have To Ferment
Once sauerkraut is ready to ferment you will want to place it in the pantry, away from any light, to do its thing for a minimum of 7 days. Make sure you keep checking on it during this process and then when it is ready you can place it in the fridge for storing.
Best Ways to Serve Sauerkraut
You can simply eat sauerkraut by itself, if you want. However, we typically like serving it on some traditional Wisconsin Beer Brats! They are a match made in heaven that we like to serve for cookouts or an easy weeknight dinner.
How To Store Homemade Sauerkraut
When you see that the sauerkraut has fermented to your liking you can decide how you would like to store it. We typically move the mason jar to the fridge and store it in there for up to 6 months. If you make a large batch of sauerkraut you might want to can it for long-term storage in the pantry, if that's the case you can follow these guidelines.
How To Make Homemade Sauerkraut
First, remove the outer layers of the cabbage and set them aside before slicing the cabbage in half.
Next, remove the hard core in the middle from both sides.
Then begin slicing each half of cabbage into small thin slices.
Place the cabbage slices in a large mixing bowl with kosher salt.
Mix the cabbage and salt with clean hands for about 15 minutes.
The cabbage will begin to wilt and breakdown.
Place the cabbage and any juices in a large mouth mason jar.
Press the cabbage firmly down and place some of your discarded cabbage leaves on top.
Place a smaller jar or container on top.
Put a piece of cheesecloth over the top of the jar.
And secure in place with a rubber band.
It can then be stored in the pantry (away from light) for a minimum of 7 days. You can then move it to the fridge and enjoy it any way you want!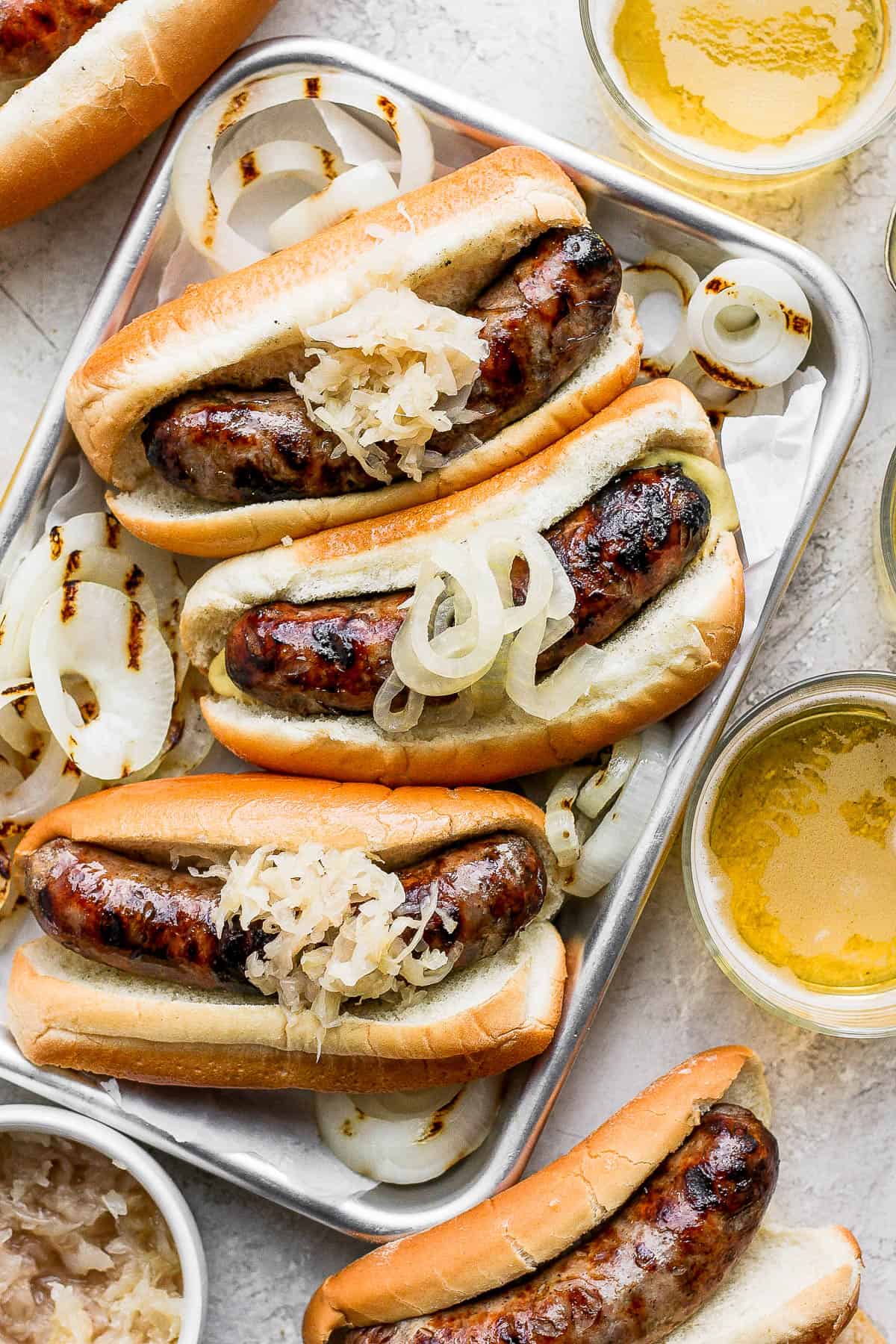 Don't forget to check out my Instagram account for some behind-the-scenes action! Or give me a follow on Facebook or see what I am pinning on Pinterest!
Made this recipe and loved it?! We would love it if you would take a minute and leave a star rating and review – it is also helpful if you made any substitutions or changes to the recipe to share that as well. THANK YOU!
Print
Homemade Sauerkraut
Author: Erin Jensen
Prep Time: 20 minutes
Fermentation Time: 7 days
Cook Time: 0 minutes
Total Time: 168 hours 20 minutes
Yield: 16 servings 1x
Category: How-To
Method: Counter Top
Cuisine: American
---
Description
Homemade Sauerkraut – learn how to make sauerkraut at home with this simple and easy step-by-step tutorial + recipe!
---
1 small cabbage
4 teaspoons kosher salt
large, wide-mouth mason jar
cheesecloth
rubberband
---
Instructions
Remove outer layers of cabbage (reserve 1-2 pieces for later).
Cut cabbage in half.
Remove the core from both sides.
Very thinly slice the cabbage, cut extra along pieces in half.
Place cabbage in large bowl. Add salt.
Massage with clean hands for 15 minutes – cabbage will continually wilt during this process.
Add cabbage to the mason jar along with any settled liquid – pushing down so it is packed down.
Place the 1-2 extra pieces of out layer of cabbage on top.
Place a smaller jar or container on top of that and then put the cheesecloth over top, securing in place with a rubber band.
Place in a pantry or somewhere away from direct sunlight.
Let ferment a minimum of 7 days.
Use in your favorite recipes – we love serving it with these Wisconsin Beer Brats!
---
Notes
Additional add-ins: caraway seed is a very common addition, I like it without, but feel free to add in a teaspoon or so if you desire!
Storage: Once your sauerkraut has reached your desired fermentation, place in the fridge (which will significantly slow down/stop the fermentation) for several months.
Keywords: homemade sauerkraut