Follow our step-by-step tutorial on How to Grill Brats perfectly every time! Great for a quick dinner on a busy weeknight or when feeding a crowd at a backyard cookout, family gathering, or 4th of July celebration!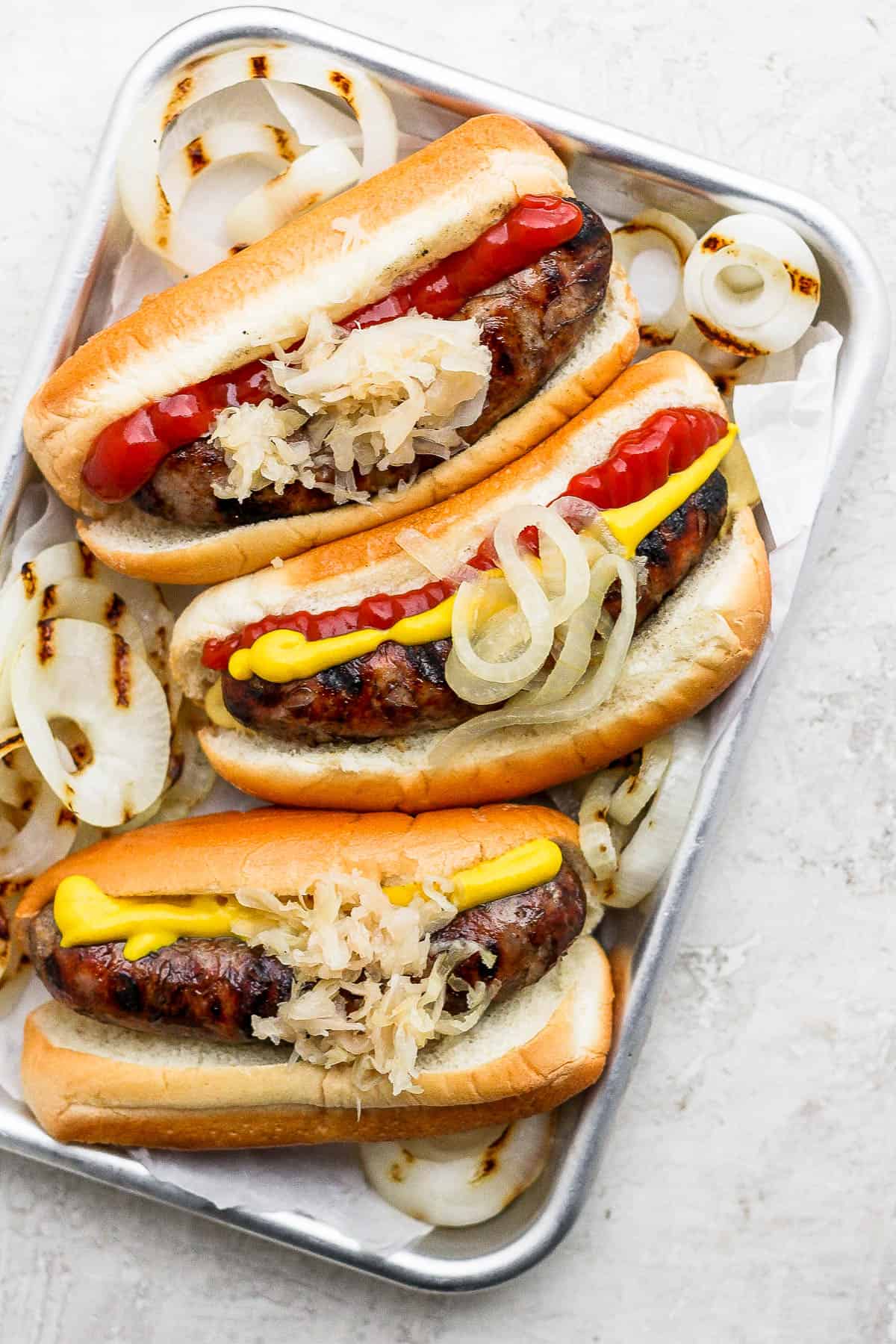 The Best Grilled Brat Recipe
During those warm, summer months we are always cooking dinner on the grill and traditional grilled bratwurst sausage are frequently on the menu! We love to serve a variety of topping options to create a make-your-own brat bar. That way everyone can get creative and make the perfect brats they want! And for anyone that doesn't want a brat, you can also toss some grilled hot dogs on the grill grates right next to the brats. We usually add these for the kiddos!
Ever tried a beer brat!? We highly recommend trying our Wisconsin Beer Brat Recipe – it's another great way to enjoy this classic summer food!
What You Will Need
fresh bratwursts – you can use this recipe card to make uncooked brats or precooked brats that are picked up from a local grocery store or local butcher shop.
brat buns – any variety of brat bun or hot dog bun should work fine, just make sure they are large enough for the type of bratwurst you are cooking.
How To Grill Brats
The first step to cooking brats is to make sure you have enough to feed everyone that you will be serving. We also like to toss on a few extras because leftover brats are also delicious!
Pre-cooked bratwursts are also great for cooking on the grill.
Gather all of the topping options that you would like to serve with these easy grilled brats.
When you are ready to cook your brats, clean the grill grates and preheat the gas grill to 300-350 degrees F. Place the brats directly on the hot grill.
How Long Does It Take To Cook Brats On The Grill
At 300-350 degrees F, you will grill brats for about 18-24 minutes or until they reach an internal temperature of 160 degrees fahrenheit. Be sure to rotate them every 5 minutes with a pair of tongs. The cook time will vary depending on if they were precooked or not.
Pro tip: when we first place the brats on the grill we like to get a nice sear but then we like to cook them at a lower temperature on indirect heat for the remainder of the cooking time.
Remove the juicy brats from the grill and let them sit on a plate or cutting board to rest for 5 minutes.
Favorite Toppings For Grilled Brats
For starters, we like to brush a little bit of melted butter on the inside of the buns and place them directly on the grill grates for 1-2 minutes to toast them. Then we love to add a variety of toppings, like chopped onions, grilled onion slices, sauerkraut, ketchup, yellow mustard, honey mustard sauce, and pickle relish.
Recipe FAQ
Do you have to boil brats before grilling: this cooking method is entirely optional! You certainly can and a lot of people like to boil them in beer before grilling, but it is not necessary. If you do boil them first you won't need to cook them as long on the grill and can minimize the charring and add some extra flavor, if that's what you prefer.
Charcoal grill: we love using our propane grill (we love our Traeger), but a charcoal grill can be used too. Simply bring the heat of the grill to a cooking temperature of 250-325 degrees F. Once it has preheated you can cook the brats over direct heat to for about 18-24 minutes, rotating every 5 minutes.
Precooked brats vs. raw brats: either option will work for this recipe. They actually cook for about the same amount of time. The precooked brats have already been fully cooked so as long as it is warmed through you don't have to make sure the internal temp is 160 degrees F.
Made this recipe and loved it?! We would love it if you would take a minute and leave a star rating and review – it is also helpful if you made any substitutions or changes to the recipe to share that as well. THANK YOU!
And don't forget to check out my Instagram account for some behind-the-scenes action! Or give me a follow on Facebook or see what I am pinning on Pinterest!
Other Easy Recipes You Might Like
Print
How to Grill Brats (Grilled Brats)
Author: Erin Jensen
Prep Time: 5 minutes
Cook Time: 20 minutes
Total Time: 25 minutes
Yield: 6 servings 1x
Category: Dinner/Entree
Method: Grill
Cuisine: American
---
Description
How to Grill Brats (grilled brats) – your go-to guide to grilling brats so they are juicy, delicious and ready for your next cookout!
---
---
Instructions
Ensure grill grates are clean and greased. Preheat grill to medium / medium-low heat (300-350 degrees F).
Place brats over direct medium heat and rotate every 5 minutes or so. Let cook until the internal temperature reaches 160 degrees F. (approx. 18-24 minutes).
Remove from grill and let rest 5-7 minutes.
Serve with homemade sauerkraut, grilled onions, honey mustard sauce, ketchup and all the fixings!
---
Notes
Low and Slow: when it comes to brats (bratwurst), if you cook them on high they have the tendency to burst or crack open which will leave you with dry, overcooked brats. I like getting an initial sear, but then it is low and slow!
Don't Pierce: don't pierce your grilled brats until after they rest for a bit – if you pierce them or cut into them took quickly all of the flavorful juices will come running out and your brats will dry out real quick.
Toasted Buns: feel free to put your brat buns on the grill (brush with a little melted butter first) for a minute or so!
Cooked vs. Uncooked Brats: whether you are cooking raw, uncooked brats or pre-cooked brats you will want to bring both up to an internal temperature of 160 degrees F. This generally takes the same amount of time, but the raw brats can take a bit longer.
Storage: store leftovers in an airtight container for up to 3 days.
Beer Brats: want to mix things up and make beer brats instead? Here is our favorite Wisconsin Beer Brats recipe!
Keywords: how to grill brats, how long to grill brats, grilled brats