How to Roast Spaghetti Squash in the Oven – a step-by-step tutorial so your spaghetti squash turns out perfectly every time!
Spaghetti squash is one of those ingredients that has so many possibilities! I have a ton of fun spaghetti squash recipes up my sleeve, but before we did into those I wanted to get the basics out there on how I prefer to cook mine. It really couldn't be much easier! I also pre-emptively tried to answer a couple of FAQ's that I get a lot about cooking/storing spaghetti squash. Let me know in the comments if you have any other questions!
How to safely cut a spaghetti squash:
I know people commonly get frustrated/nervous cutting a big'ole spaghetti squash in half. Here are my tips for making it a little easier:
Use a larger knife that is clean and sharpened.
Make sure it is not on a slippery surface
Place the whole spaghetti squash in the microwave and cook on high for about 2-3 minutes. This will help soften the outside just enough to help you cut it with a little more ease.
How to clean spaghetti squash:
Cleaning a spaghetti squash is very similar to cleaning out a pumpkin. Once you have sliced it in half lengthwise, simply take a spoon or ice cream scoop and clean out the seeds, etc. until you can scrape the inside clean!
How to store spaghetti squash so they don't get mushy:
I have also gotten a couple of questions about the best method for storing spaghetti squash with the issue being that liquid tends to pool in the bottom of any storage container after a day or so. To help with this I would suggest:
Placing your spaghetti squash noodles in a strainer (over a plate to catch the liquid) until they cool completely (you could even sprinkle just a bit of salt to help pull out moisture).
Place a handful of noodles on a piece of paper towel and then place another piece of paper towel on top – squeeze very gently to try and soak up some of the liquid.
Use a fruit-saver container that will separate the spaghetti squash from the bottom of the container, keeping the liquid and squash separate. (Here is an example of one – I am sure there are lots of different varieties out there).
Here is the step-by-step:
Step 1: Cut squash in half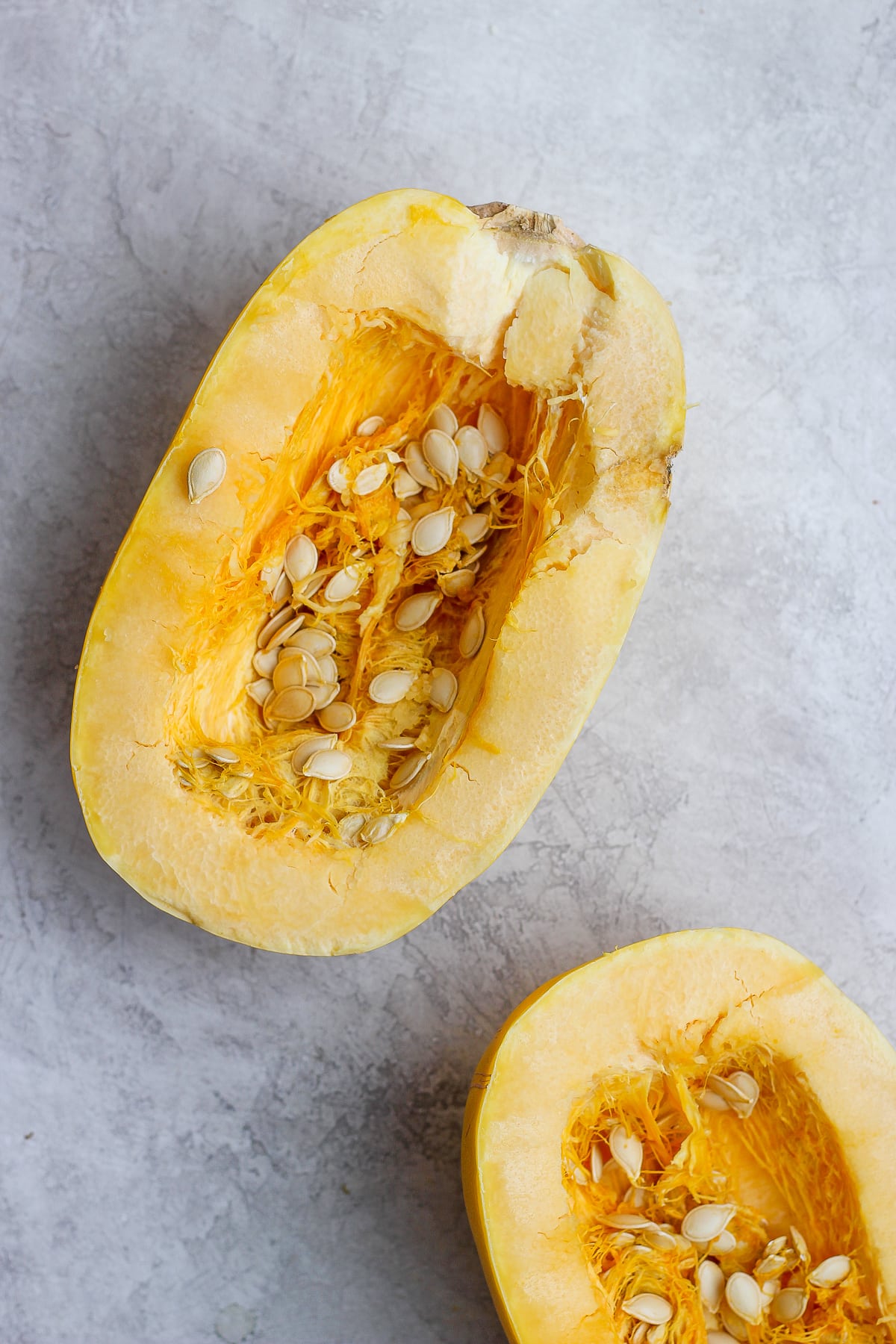 Step 2: Scrap out seeds.
Step 3: Flip over and roast on parchment-lined baking sheet.
Step 4: Remove from oven and let cool slightly.
Step 5: Use fork and gently scrape "noodles" lengthwise across the squash.
Step 6: Use immediately in recipe or save in airtight container in fridge.
Also – if you are curious as to how you can cook spaghetti squash in the Instant Pot® – that works REALLY well too! Here is my tutorial!
Don't forget to follow me on Facebook, check out my Instagram account or see what I am pinning on Pinterest!
Print
How to Roast Spaghetti Squash in the Oven
Author: Erin Jensen
Prep Time: 10 minutes
Cook Time: 1 hour
Total Time: 1 hour 10 minutes
Yield: 1 cooked spaghetti squash 1x
Category: Dinner
Method: Oven
Cuisine: American
---
Description
A step-by-step tutorial on how to roast spaghetti squash in the oven so it turns out perfectly every time! Roasted spaghetti squash is the first step for so many recipes – the possibilities are endless!
---
---
Instructions
Preheat oven to 350.
Take cookie sheet and line it with parchment.
Halve the spaghetti squash and remove seeds (an ice cream scoop works well!).
Place spaghetti squash cut-side down on parchment and roast in oven on middle rack for 1 hour.
Optional: rub ghee, olive oil or butter on the inside first and sprinkle with a little salt – I personally don't do this, but feel free to if you would like!
Remove from oven and let cool slightly.
Take fork and gently scrap from one end to the other (the long way).
Use in your favorite spaghetti squash recipe!
---
Notes
If you struggle cutting spaghetti squash in half, place in the microwave whole for 3 minutes on high to help soften the outside first.
If you like a more firm spaghetti squash "noodle" simply reduce cooking time by 10-15 minutes.
Spaghetti squash can be prepped ahead of time for the week. Store in air-tight container and keep in refrigerator for 3-5 days.
To help reduce water pooling in your storage container, place cooked and spaghetti squash noodles in strainer over a plate. You can also use one of these containers like these to help keep the noodles separate from any liquid.
If you want to try cooking it in the Instant Pot – here is my tutorial!
Keywords: spaghetti squash, roasted vegetables, meal prep
T