Seared Scallop Salad + Grapefruit and Avocado is a simple, quick meal that is light and healthy! (Whole30/Dairy-Free)
Just look at this salad you guys. Don't you want to just grab a fork and go to town? (BTW – who knew scallops were good in salads?!). This salad is clean, simple and so healthy – not to mention flavorful. So, basically it has it all. It is the Tom Brady of salads (hey it's not fair that someone gets to be that good-looking and that athletic … it's just not).
I have been all over the salads lately – I love Whole30 salads because they are so much more than a salad. They are a meal – and this is no exception. Buy the biggest scallops you can – this salad will fill you up! And, it is easy enough to do on a weeknight! Win-win. My favorite thing about this salad, if I have to pick one, is the flavor/texture combination. The creamy avocado with the buttery scallop and then the tart/sweet grapefruit with a bit of green onion – dash a little salt on top and drizzle with olive oil. It is just perfection for me.
How is everyone doing on their Whole30 journey so far? I have gotten a couple questions about whether my kids eat Whole30. In short, no, we don't have them do Whole30's with us (my husband is joining me this round). That being said, they generally eat what we eat. But they don't eat special food at school and they still eat all the "normal" kids stuff like granola bars; albeit I am fairly picky about ingredients. I would say the biggest place they eat Whole30, is at the dinner table. 9 times out of 10 they eat exactly what we are having and absolutely love it. But I would say breakfast and lunch they just eat healthy food. Our 6 year old shows interest in the Whole30 philosophy and it is a really good learning moment to talk to her about sugar, in particular, and how there is so much of it in so many foods most people eat on a day-to-day basis. If nothing else, I know we are at least creating a very good awareness in our kids as far as what they are eating.
I love your questions – keep'em coming!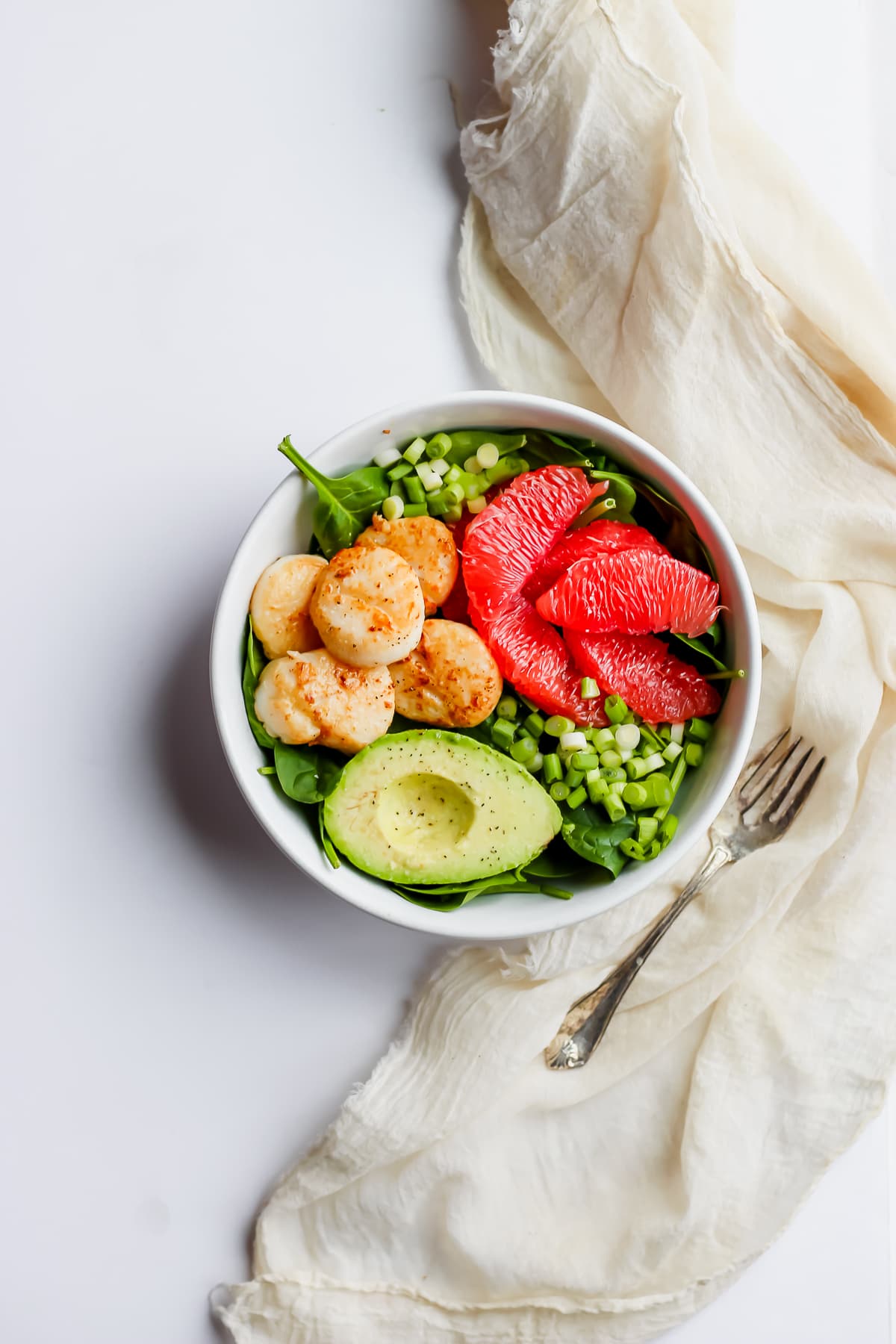 Don't forget to check out my Instagram account for some behind-the-scenes action! Or give me a follow on Facebook or see what I am pinning on Pinterest!
Love,
E
Print
Seared Scallop Salad + Grapefruit and Avocado
Author: Erin
Prep Time: 10 mins
Cook Time: 5 mins
Total Time: 15 mins
Yield: 1 salad 1x
---
Description
Seared Scallop Salad + Grapefruit and Avocado is a simple, quick meal that is light and healthy!
---
1 cup mixed greens (or spinach or kale – whatever you prefer)
4–5 large sea scallops
1–2 Tablespoons ghee (or substitute olive oil to make it completely dairy free)
salt and pepper
1/2 avocado, sliced
1/2 grapefruit, sectioned
1/4 cup chopped green onion
3 Tablespoons olive oil
Dressing:
olive oil
---
Instructions
Remove scallops from packaging and pat dry with paper towel or clean dish towel; Ensure they are very dry before cooking.
Bring skillet to medium heat and met ghee, swirling to coat the pan.
Sprinkle scallops with salt.
Place scallops in skillet and cook for 2-3 minutes per side.
Add additional olive oil if pan starts to get dry.
While scallops are cooking, place greens in bowl along with avocado, grapefruit and onions.
As soon scallops are done, place on top of salad.
Sprinkle salad with a little bit of salt and use as much or as little olive oil as you would like for your dressing.
Serve immediately.
---
Thank you so much for reading & supporting The Wooden Skillet! This post contains affiliate links for products I actually use in my own home and personally recommend. Should you make a purchase using one of these links, The Wooden Skillet will earn a small commission at no extra cost to you, which helps me continue to bring you great original content. Thank you!