Shrimp Cocktail is a quick and easy appetizer to add to your next holiday party menu. In less than 20 minutes, you'll have a flavorful platter of perfectly cooked shrimp paired with our savory shrimp cocktail sauce.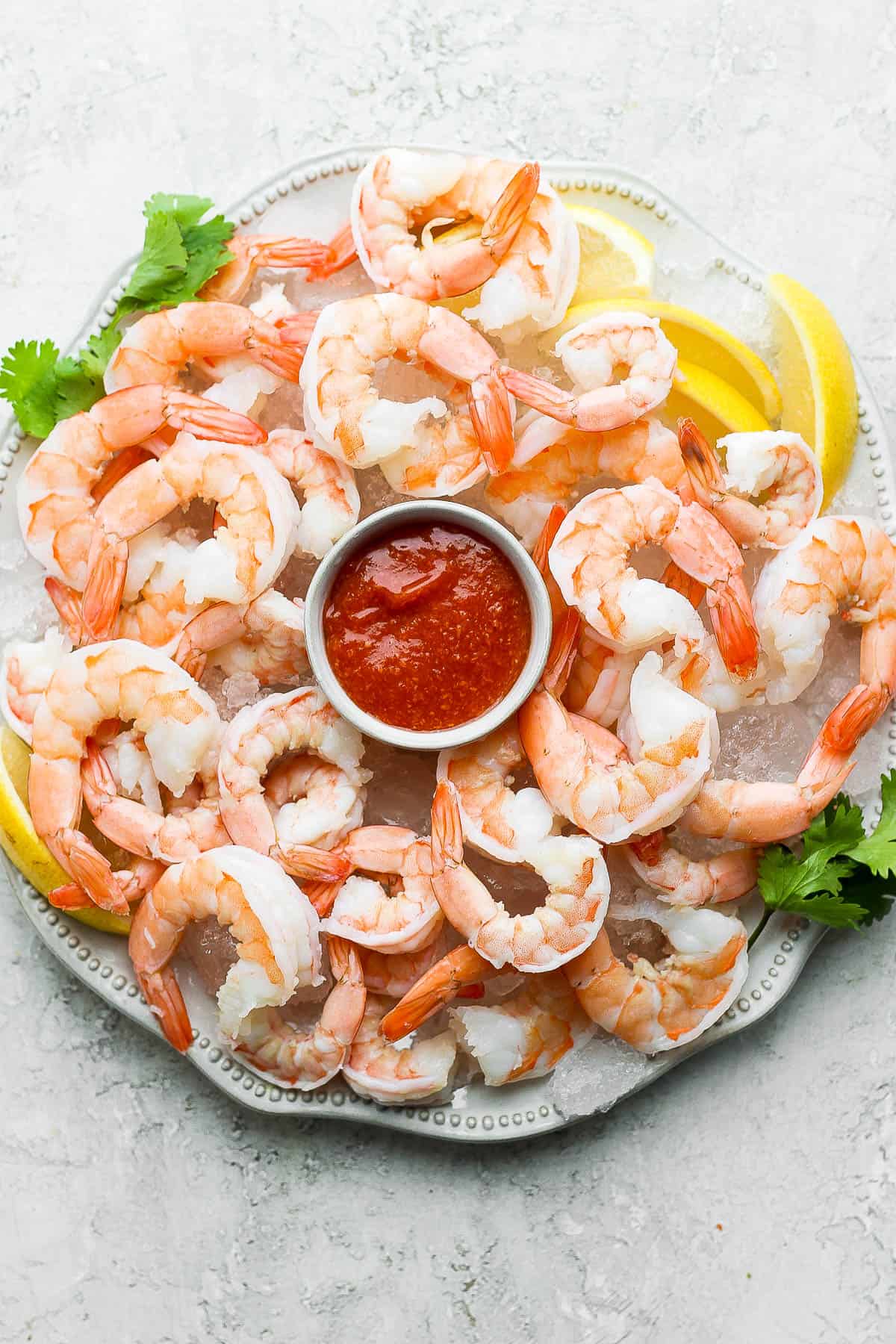 Easy And Delicious Shrimp Cocktail
This is one of our favorite appetizer recipes to wow a crowd. Our perfectly balanced homemade cocktail sauce with a bit of spiciness, sweetness, and tanginess, pairs wonderfully plump, juicy shrimp. This dish is a favorite among friends and family and is always out during the holiday season. And knowing that a lot of people enjoy grazing on a table full of appetizers during the holiday season, we've rounded up our favorite holiday appetizer recipes to help you put together your menu.
What You Will Need
Shrimp Cocktail Sauce
ketchup – Pick up your favorite grocery store brand or whip up some of our very own Whole30 ketchup.
horseradish – A bold and spicy ingredient that brings the flavor.
chili sauce – A little bit will go a long way to adding complex notes of sweet, sour, and spicy.
fresh lemon juice – This simple ingredient ads an undertone of citrus along with brightness throughout. Substitute with lime juice if that's what you have on hand.
worcestershire sauce – Tricky to say and an absolute must to add great flavor consisting of tanginess, sweetness, and richness throughout.
hot sauce – If you prefer a spicy sauce, this optional ingredient is for you!
Shrimp
shrimp – Be sure to grab shelled, tail-on jumbo shrimp.
lemon slices – Citrus is a natural pairing for seafood dishes.
Old Bay Seasoning – A classic seasoning with familiar flavors of mustard, paprika, and celery salt.
kosher salt – Add just enough to let all the other flavors shine their brightest.
Frozen Shrimp Or Fresh Shrimp
We prefer fresh shrimp for its noticeably fresher flavor and texture, but frozen will do in a pinch. Just be sure to thaw your shrimp per the package instructions.
How To Make Shrimp Cocktail
Start by bringing water to a boil in a large stock pot, ensuring that there will be enough room for your raw shrimp. Meanwhile, add cool water and ice cubes to a large bowl and set off to the side. This will be used as an ice bath for your shrimp to ensure that stop cooking when they're removed from the boiling water.
Next, add your slices of lemon, Old Bay Seasoning, and salt to the boiling water and stir all the ingredients together.
How To Boil Shrimp For Shrimp Cocktail
Trust us when we tell you that shrimp cook quickly. The best way to end up with tender and juicy shrimp rather than tough and rubbery shrimp: find the crevice on the back of the shrimp and notice the thickest part, opposite from tail – when the flesh at the base of that crevice turns from translucent to opaque, remove your shrimp to the bowl of ice water.
Larger shrimp will take longer while smaller shrimp will cook quicker. This typically only takes 1-2 minutes, so set a timer and keep your eye on your shrimp to remove when they're fully cooked.
Remove the shrimp from the boiling water with a slotted spoon.
Place your fully cooked shrimp directly in an ice bath and let them cool for about 5 minutes.
How To Make Shrimp Cocktail Sauce
You're welcome to buy some from the store, but we promise that you'll never go back once you've tried our homemade version. Measure out your cocktail sauce ingredients and mix them together in a small bowl to make the best homemade shrimp cocktail.
Remove your shrimp from the ice bath and place them in a shallow bowl filled with ice, leaving room for your small dish of cocktail sauce and lemons wedges. This is our favorite way to serve this tasty appetizer to allow for easy snacking.
Pro Tip: if you're wanting to go the fancy route, fill up martini classes with cocktail sauce and hang your cooked shrimp around the edges for an extra wow factor.
Bring out a secondary small bowl for your guests to discard the shrimp tails into. Finally, dig in and enjoy!
Recipe FAQs
making in advance – You can make shrimp cocktail 24 hours in advance! Place your cooked shrimp and cocktail sauce in separate, airtight containers and store in the fridge. Assemble the shrimp over ice right before serving time.
storage – For any leftovers, store your shrimp and cocktail sauce in separate airtight containers and store for up to three days in the fridge. Or get creative and use leftovers to make a shrimp salad!
Made this recipe and loved it?! We would love it if you would take a minute and leave a star rating and review – it is also helpful if you made any substitutions or changes to the recipe to share that as well. THANK YOU!
Don't forget to check out my Instagram account for some behind-the-scenes action! Or give me a follow on Facebook or see what I am pinning on Pinterest!
Other Recipes You Might Like
Print
Shrimp Cocktail Recipe
Author: Erin Jensen
Prep Time: 15 minutes
Cook Time: 3 minutes
Total Time: 18 minutes
Yield: 10 servings 1x
Category: Appetizer
Method: Stove Top
Cuisine: American
---
Description
Classic Shrimp Cocktail – a delicious and easy shrimp cocktail recipe (with cocktail sauce recipe) – the perfect appetizer for any occasion!
---
Shrimp Cocktail Sauce:
1/2 cup ketchup
2–3 tablespoons prepared horseradish
1/4 cup chili sauce
1 tablespoon lemon juice
1/2 teaspoon worcestershire sauce
1 teaspoon hot sauce (optional)
Shrimp:
1 pound jumbo shrimp, shelled/tail-on
2–3 lemon slices
2 teaspoons Old Bay Seasoning
1–2 teaspoons kosher salt
---
Instructions
Combine the Shrimp Cocktail Sauce ingredients in a small mixing bowl. Stir to combine. Taste and add any additional horseradish, as desired. Set aside.
Bring a large pot of water to boil (leave enough room in the pot to add the shrimp).
Fill a large mixing bowl with cold water and add ice (this is your ice bath to stop the shrimp from cooking). Set next to the stove.
Add the lemon slices, Old Bay Seasoning and salt to the pot of boiling water. Stir to combine.
Add shrimp and let cook 1-2 minutes or until fully cooked.
Remove with a slotted spoon and place directly into the ice bath. Let cool 5 minutes.
Remove from ice bath and place on a shallow bowl filled with ice.
Serve with Shrimp Cocktail Sauce and lemon wedges.
---
Notes
Make Ahead: Make this appetizer up to 24 hours in advanced. Put the sauce and shrimp in separate airtight containers and store in the fridge until you're ready to serve.
Storage: Store leftovers in an airtight container in the fridge for up to 3 days.
Keywords: shrimp cocktail