Simple Mother's Day Breakfast Toast – a quick, easy, yet elegant breakfast for your Mother's Day brunch!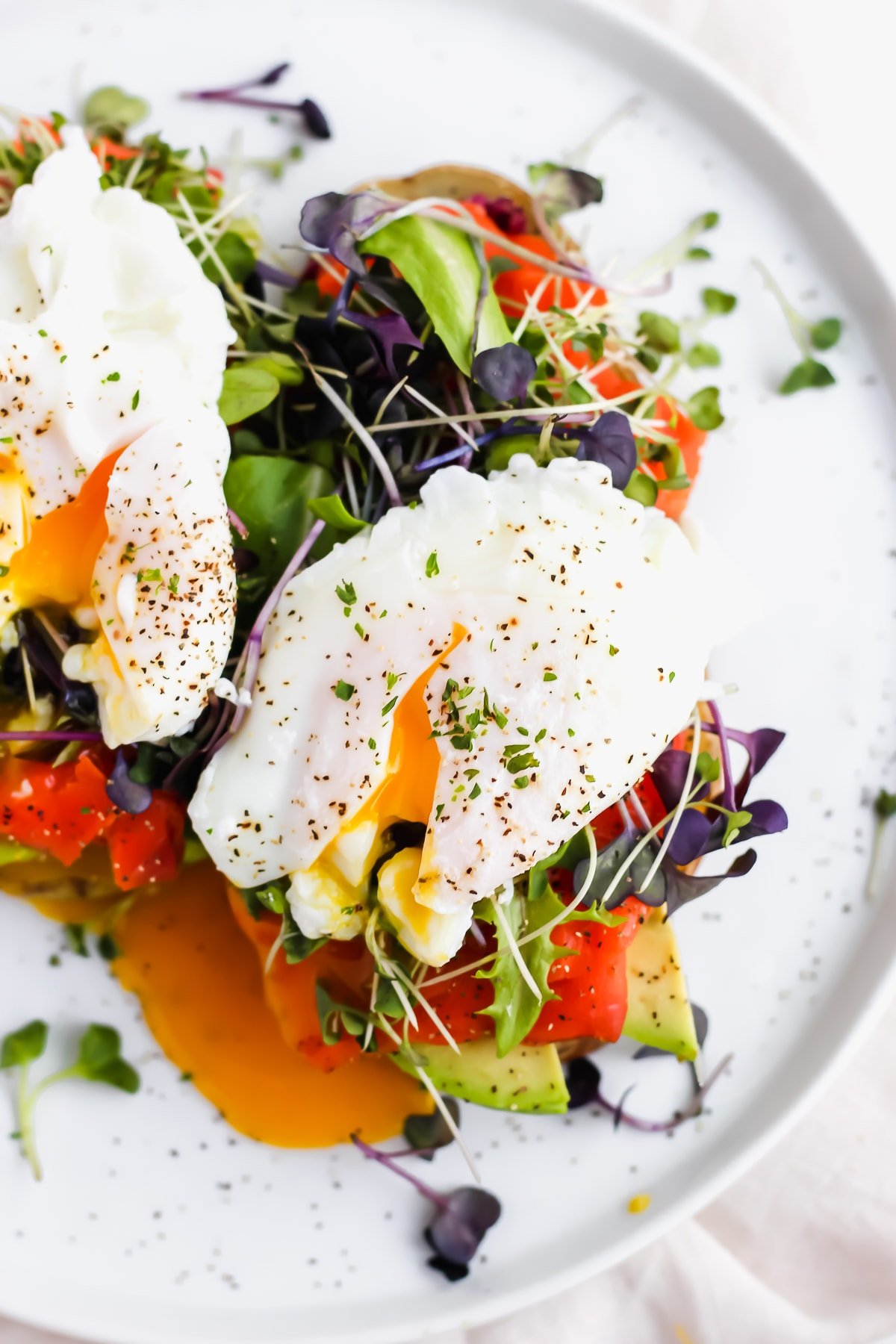 I know we just got done with Cinco de Mayo, but you guys, it is Mother's Day this Sunday! What are your plans – what are you cooking?
If you are looking for complete simplicity, but still want something a little better than almond butter toast, then I would HIGHLY recommend this little combo. We have some potato toast (feel free to use sweet potatoes if you want!), topped with some avo (of course, I eat it every day twice a day), smoked salmon or lox (just check those ingredients!), some greens and then a poached egg. So many different flavors coming together with a perfectly runny egg. It's colorful, healthy and delicious – what more could Mom want?
And, of course, it doesn't have to be Mother's Day to enjoy this! I will take this any morning for breakfast!!! Perfect for when guests are over or brunch – you could build-your-own-toast?! That sounds amazing! Anyway, point is, this is delicious and you should make it anytime you want, but especially on Mother's Day!
Oh, and if you need a little assist on poaching eggs, I have a tutorial right here!!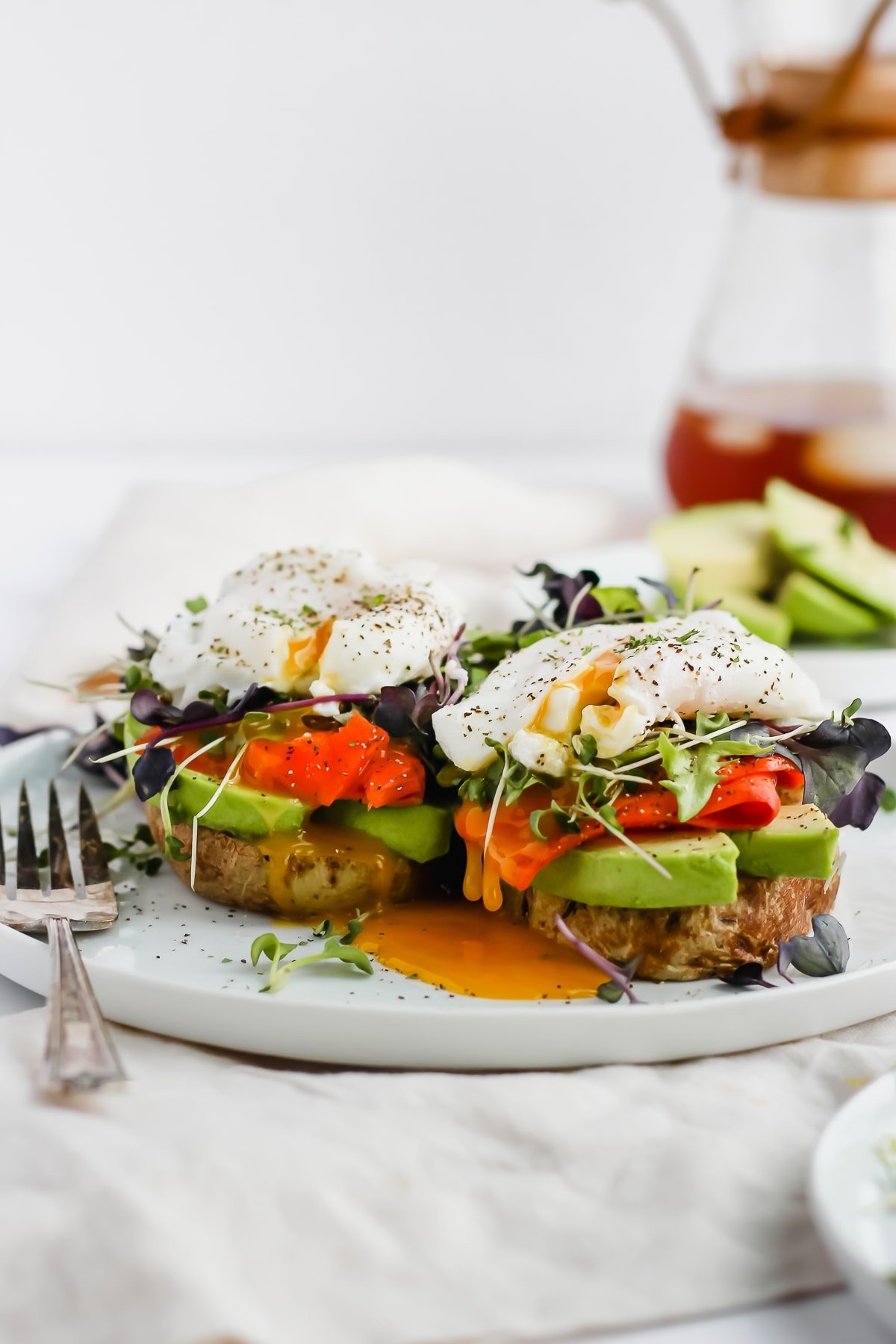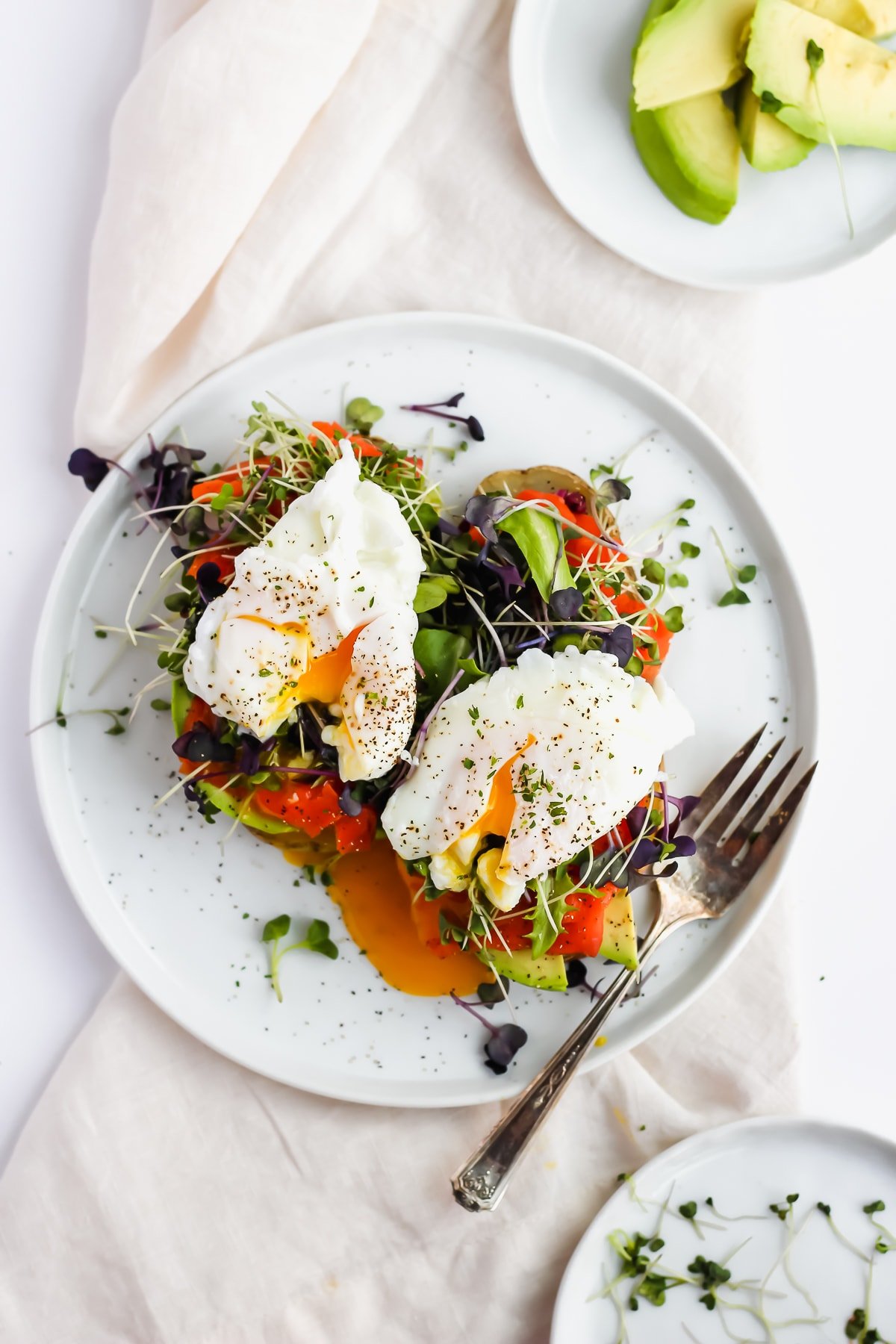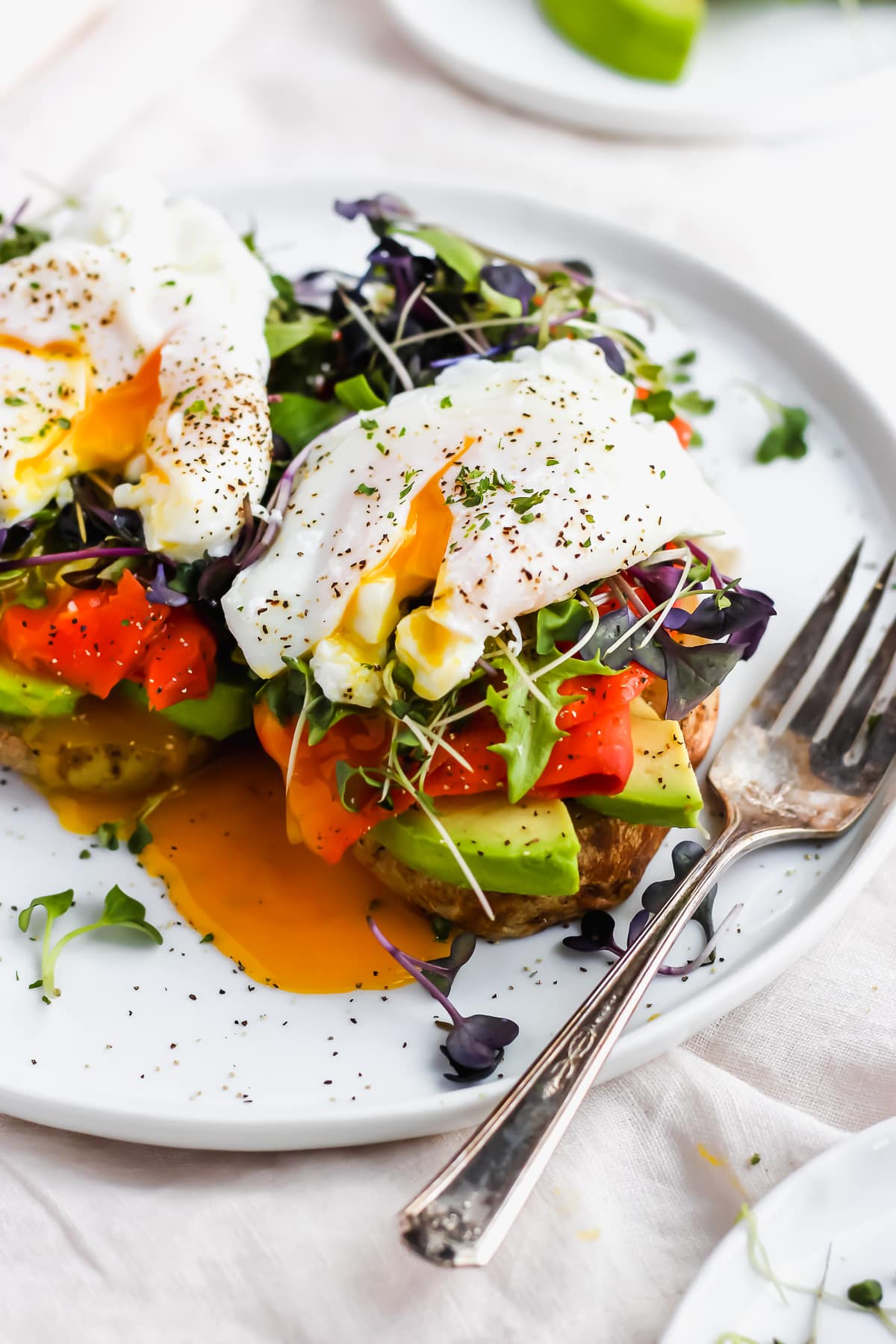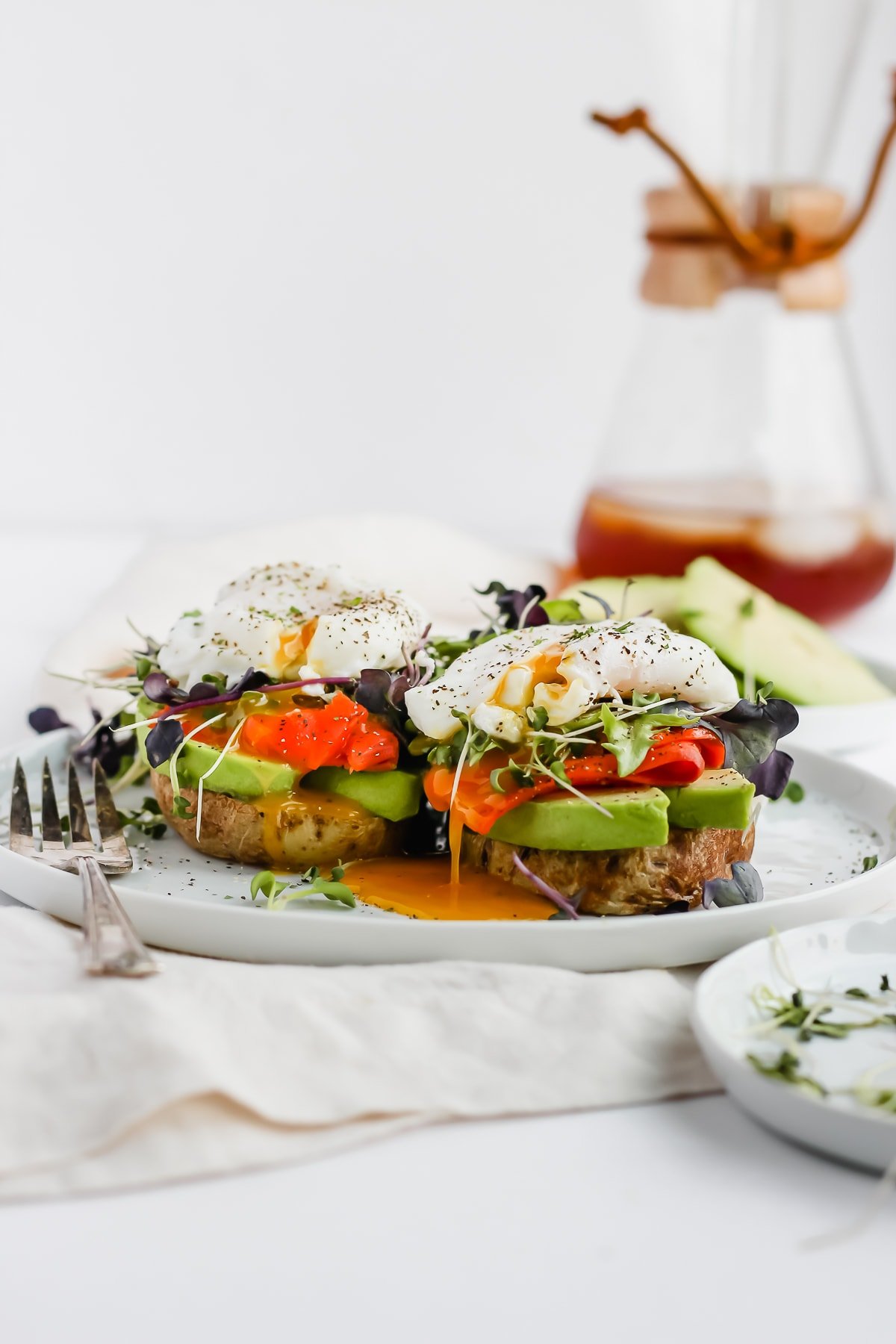 Don't forget to follow me on Facebook, check out my Instagram account or see what I am pinning on Pinterest!
Love,
E
Print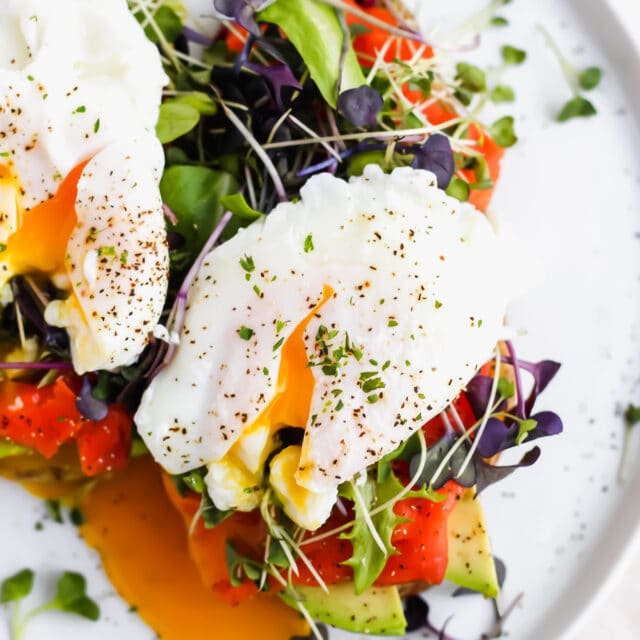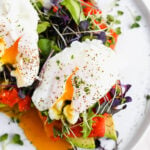 Simple Mother's Day Breakfast Toast
Author: Erin
Yield: 2 pieces 1x
Category: Breakfast
Method: Oven
Cuisine: American
---
Description
A quick, easy, yet elegant breakfast for your Mother's Day brunch!
---
(2) 1/2 or 3/4 inch slices of russet potato (feel free to use sweet potatoes)
salt
pepper
1/2 avocado, cut into 6 slices
4–6 pieces of smokes salmon or lox (check ingredients if you want Whole30)
micro-greens or some mixed greens
2 eggs
---
Instructions
Preheat oven to 375.
Take 2 slices of potato and ensure both sides are coated with olive or avocado oil.
Place on lined cookie sheet and sprinkle top generously with salt and pepper.
Bake for 10 minutes.
Remove and flip over, sprinkling the other side with salt and pepper.
Bake for an additional 5 minutes and then test with a fork; depending on how thick the slice is, it may need an additional 5 minutes. Keep checking until you can easily pierce with fork.
Place potato toast on a plate, top with avocado, salmon and greens.
Poach 2 eggs and place on top.
Sprinkle with salt and pepper (or any other seasoning you desire).
Serve immediately.
---
Thank you so much for reading & supporting The Wooden Skillet! This post contains affiliate links for products I actually use in my own home and personally recommend. Should you make a purchase using one of these links, The Wooden Skillet will earn a small commission at no extra cost to you, which helps me continue to bring you great original content. Thank you!