Smoked Green Beans are a delicious and easy smoked green bean recipe. Easy step-by-step directions and photos! Such an easy recipe and the perfect side dish!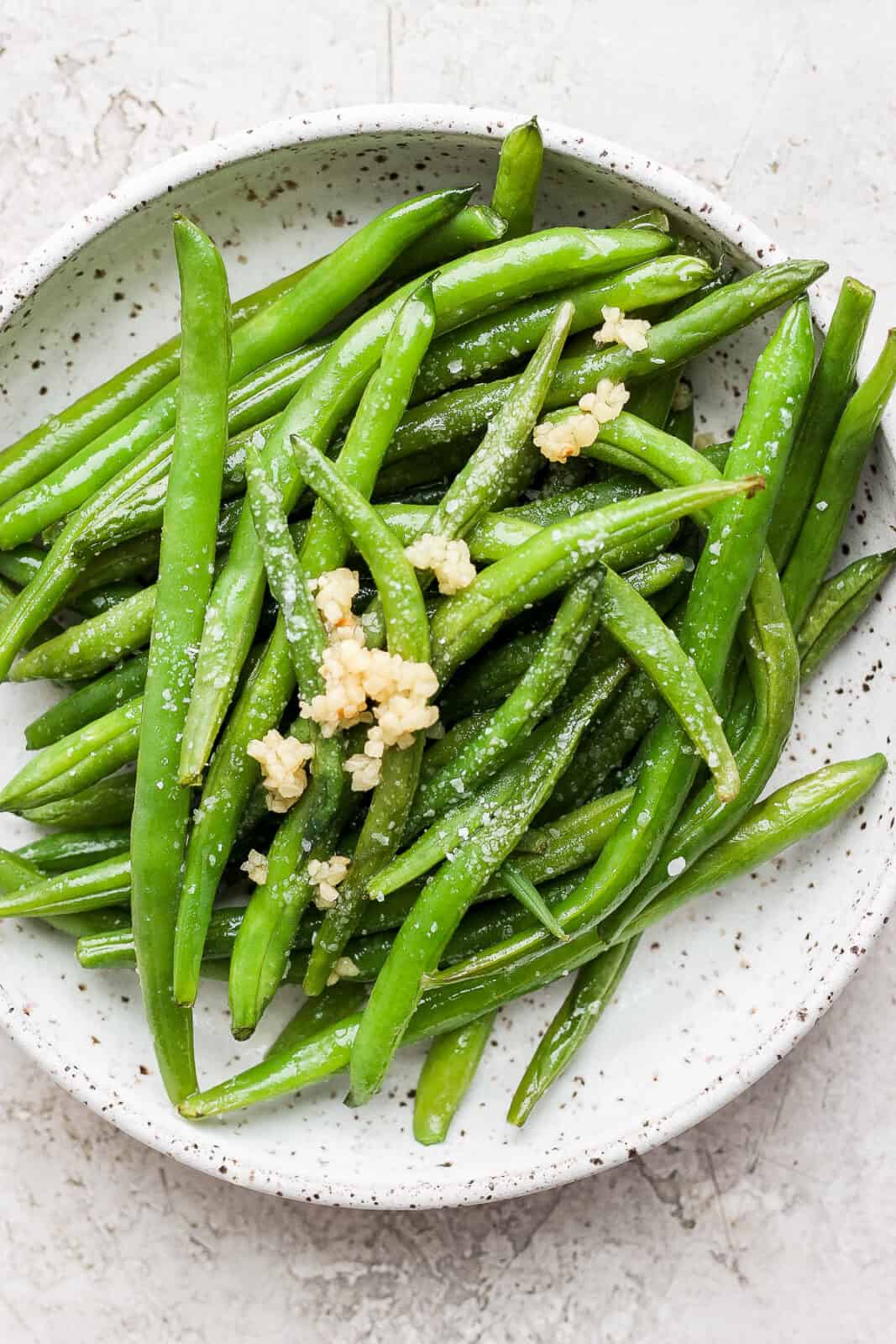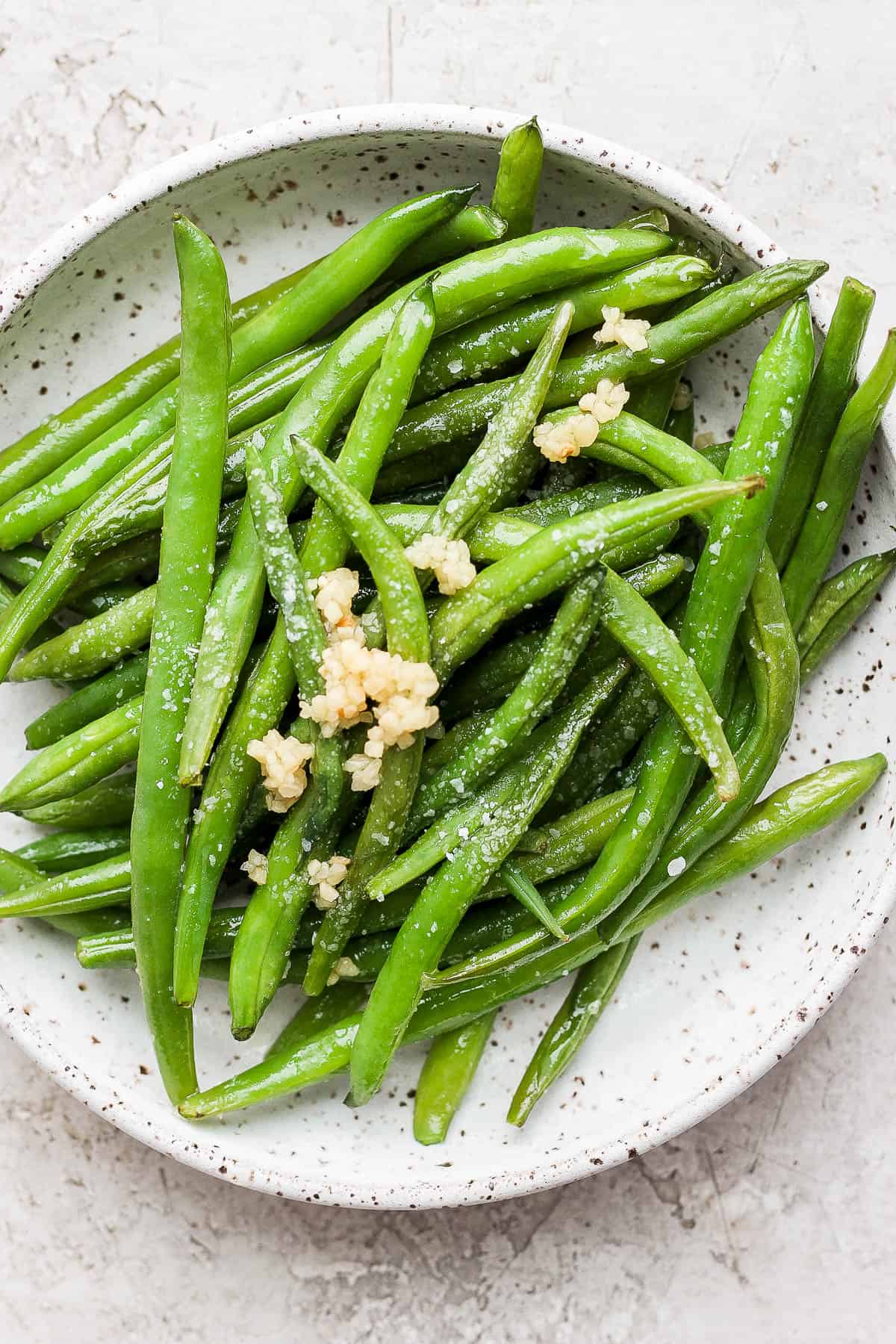 Easy Smoked Green Beans
We are huge fans of putting anything on the smoker and greens beans are no exception! They pick up the smokiness so well and are the perfect side dish for so many meals (like these Smoked Chicken Legs or this Smoked Meatloaf). And we really try to keep all our smoked recipes around 225 degrees F. so they can easily be made together. Perfect for Thanksgiving or really any meal!
Why This Recipe Works
Blanching: after testing this recipe without first blanching the green beans we realized that if you smoked your green beans long enough for them to be soft at all …. they would ultimately get too wrinkly and became almost inedible. So, we decided that blanching them first would allow them to soften a bit and then they would cook perfectly on a pellet grill – we were right!
45 minutes: I love blanching my green beans for about 3 minutes and then about 45 minutes of smoking – they are still a bit crisp and tender, not hard and they have lots of smokey flavor.
Options: feel free to just cook them with oil and salt OR you can add red pepper flakes, lemon zest, lemon juice, garlic, etc.
Smoked Green Beans Ingredients
fresh green beans: make sure you are using fresh green beans that are cleaned and trimmed.
olive or avocado oil: either will work in this recipe.
kosher salt + ground black pepper: to add seasoning! Black pepper is optional, but I wouldn't skip the salt!
(optional) butter, ghee or plant-based butter: these are optional, but of course they add that lovely buttery goodness. I would still make sure your green beans have a light coating of oil though.
(optional) lemon zest: love the acidity this adds – always good!
(optional) garlic: this pairs perfectly with lemon too, so feel free to do both.
How Long to Smoke Green Beans
If your smoker is set to 225 degrees F. you will want to smoke your blanched green beans for approximately 30-60 minutes (depending upon how soft you like your green beans. You can also increase your blanching time to get them softer that way as well.
How to Smoke Green Beans
Blanch your green beans (we have a whole tutorial on this here if you want to learn more, but it is pretty simple). Place your beans in hot, salted water and let simmer until they are bright green – about 2 minutes.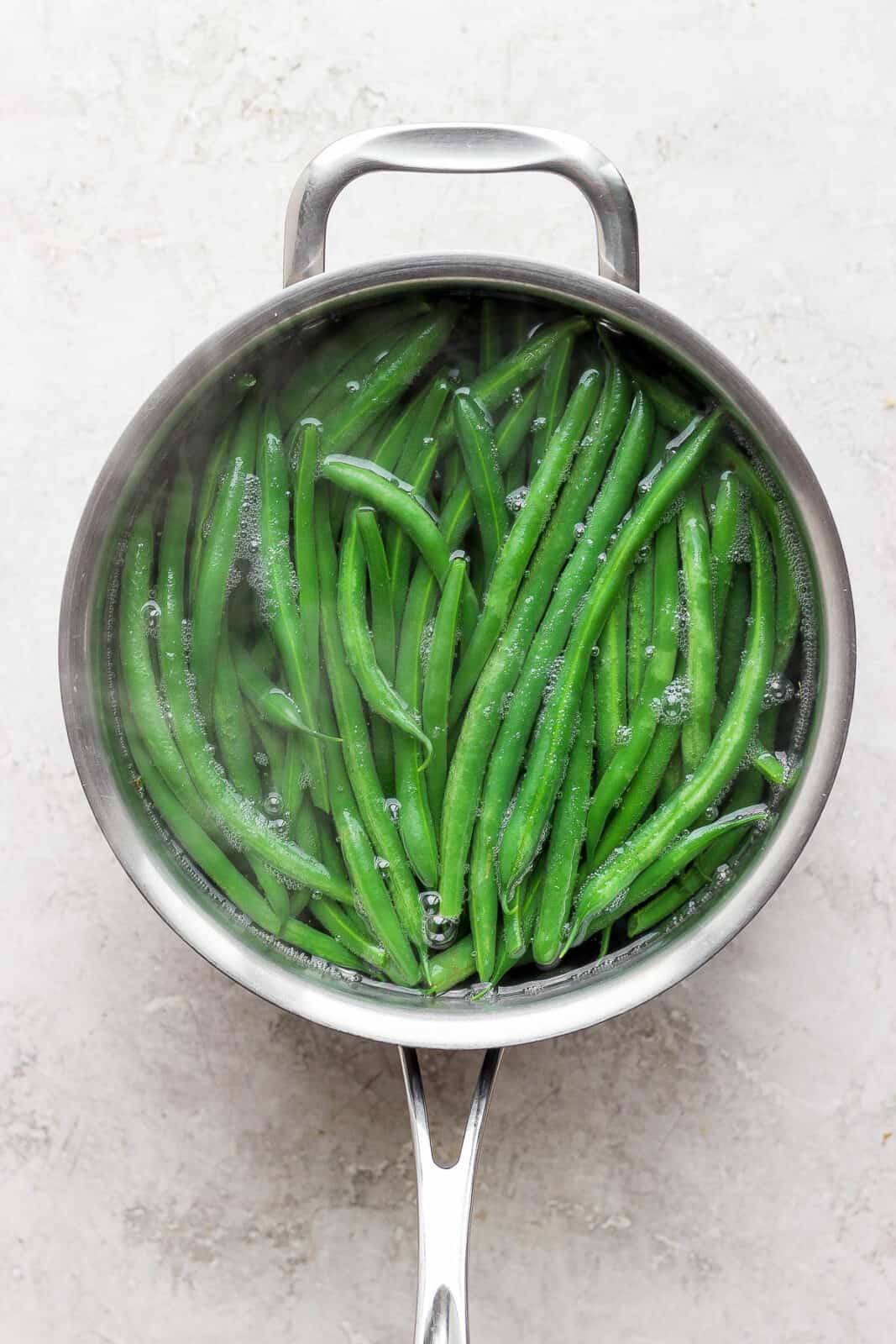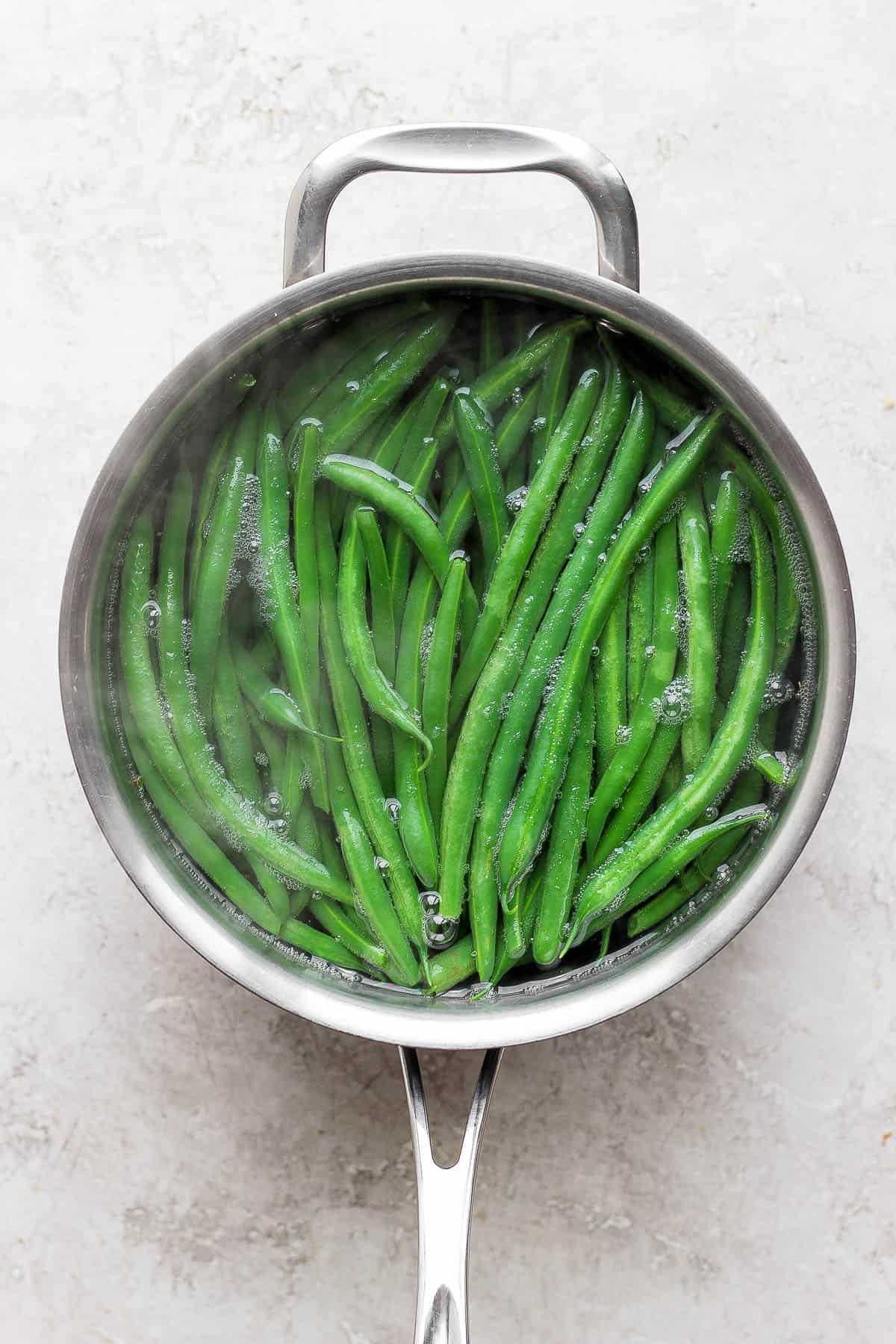 Transfer the green beans to an ice bath. The cold water will stop the cooking process.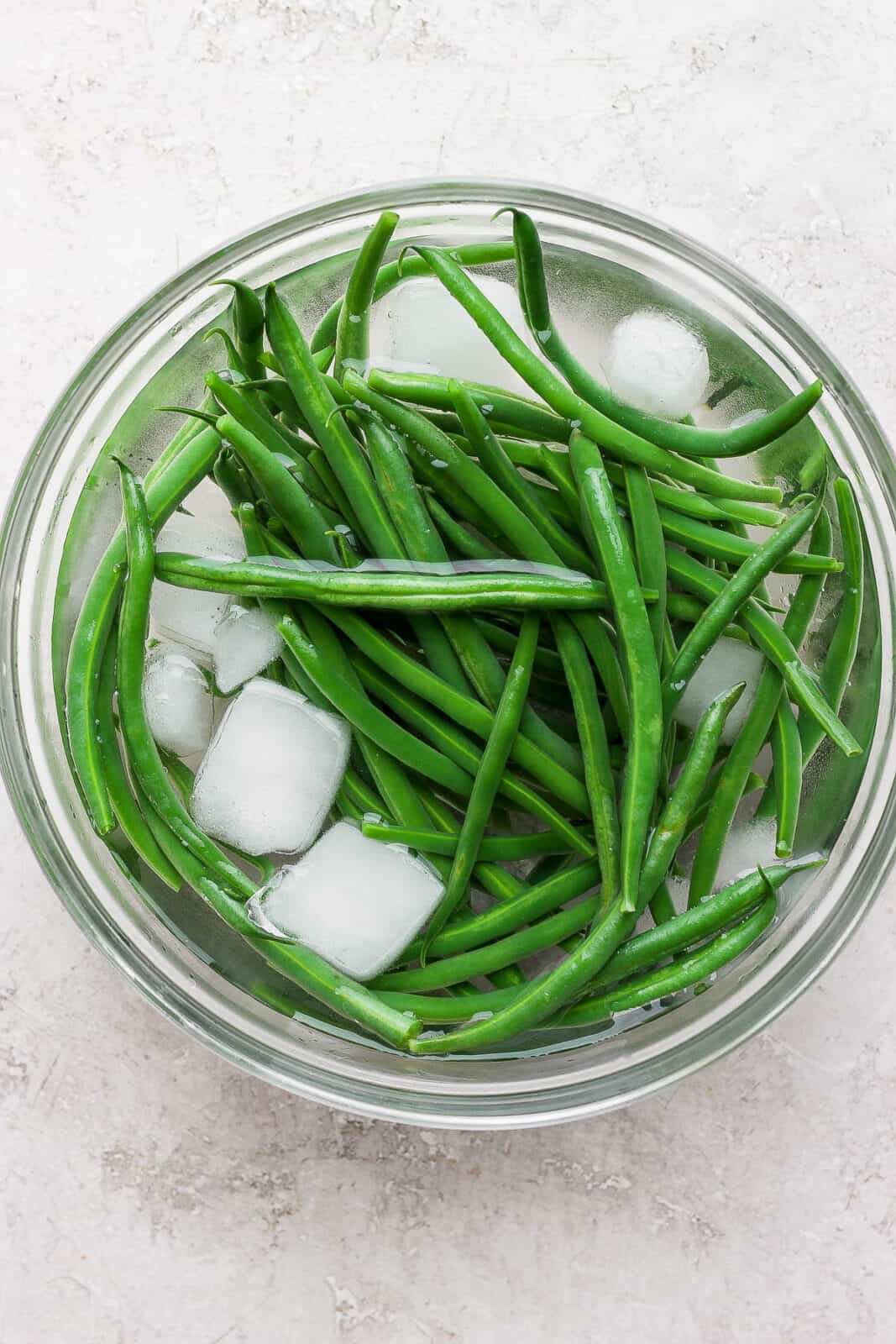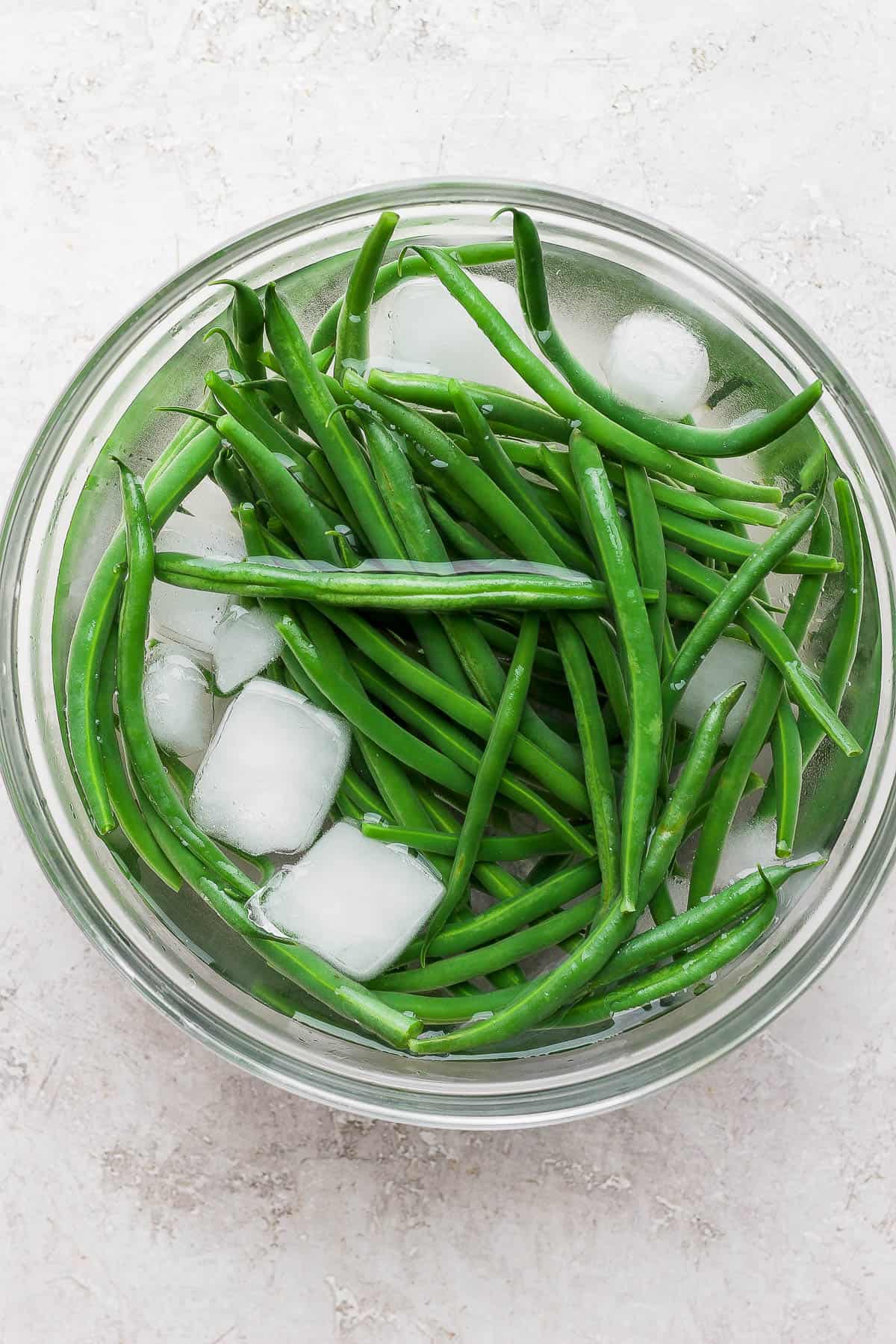 Dry them as best you can with a paper towel so that the oil will stick to them.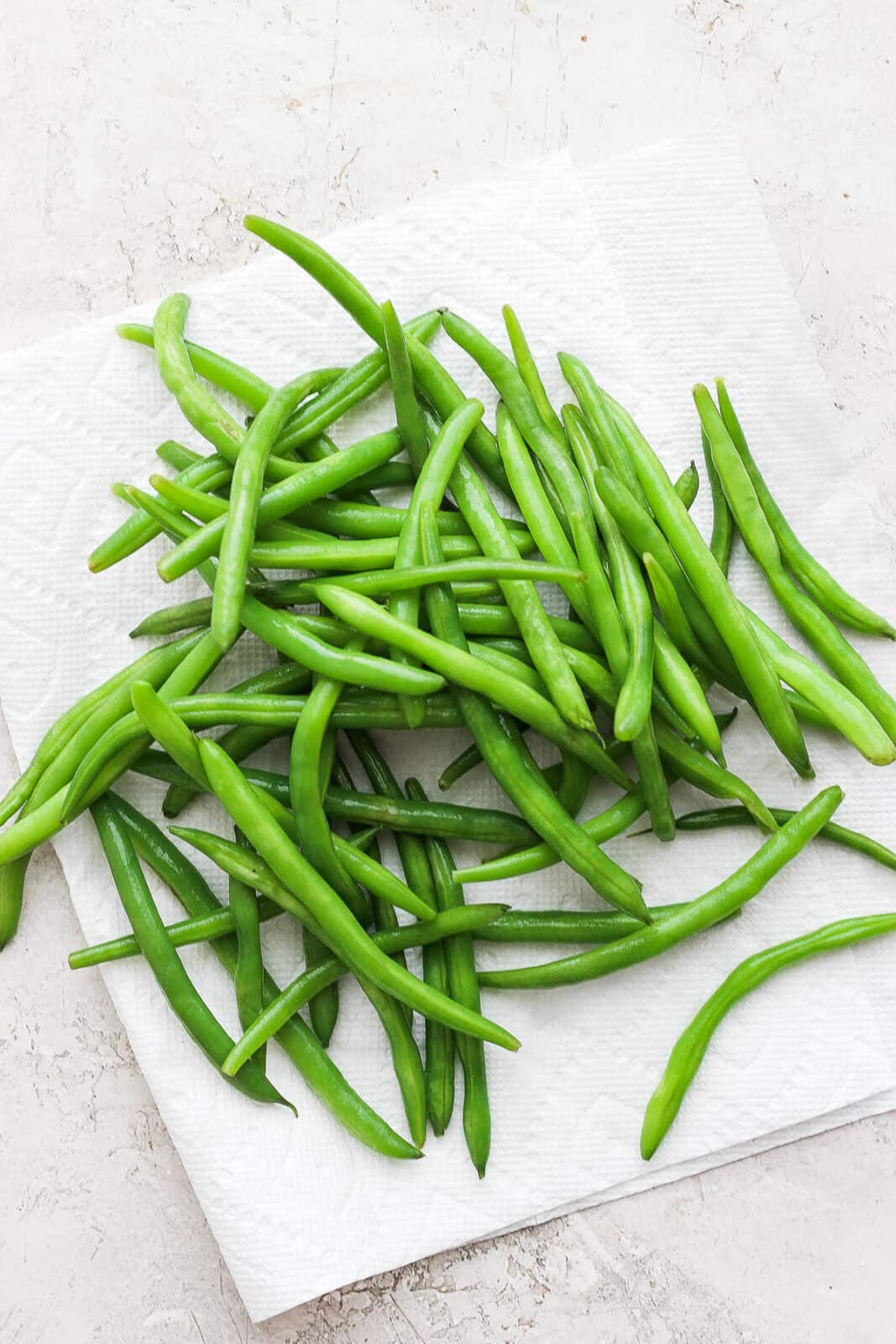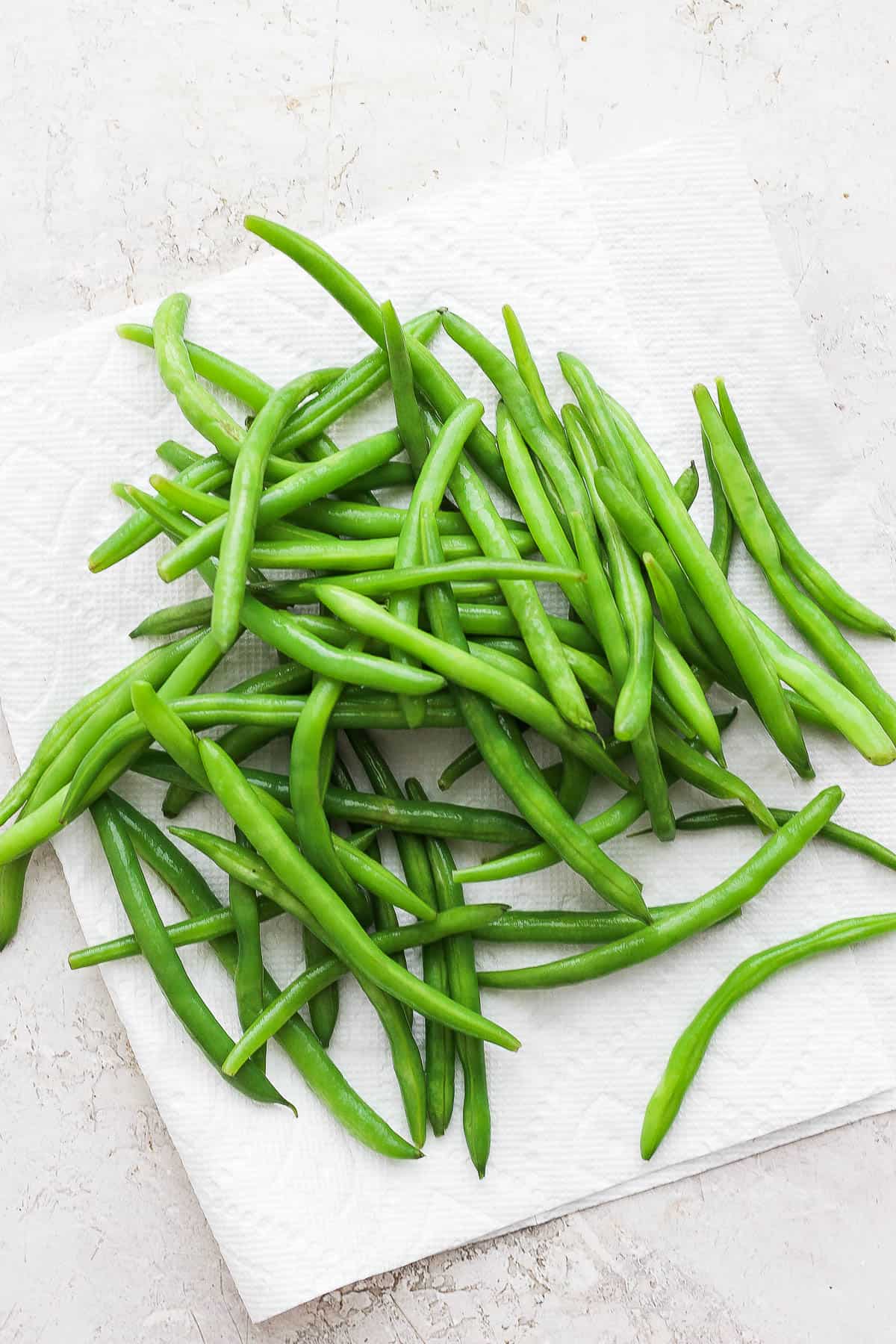 You can use either a grill basket or just make a basket out of foil. Place the green beans inside and drizzle with olive oil and salt. You can also add some butter (or ghee or plant-based butter), lemon zest and/or minced garlic.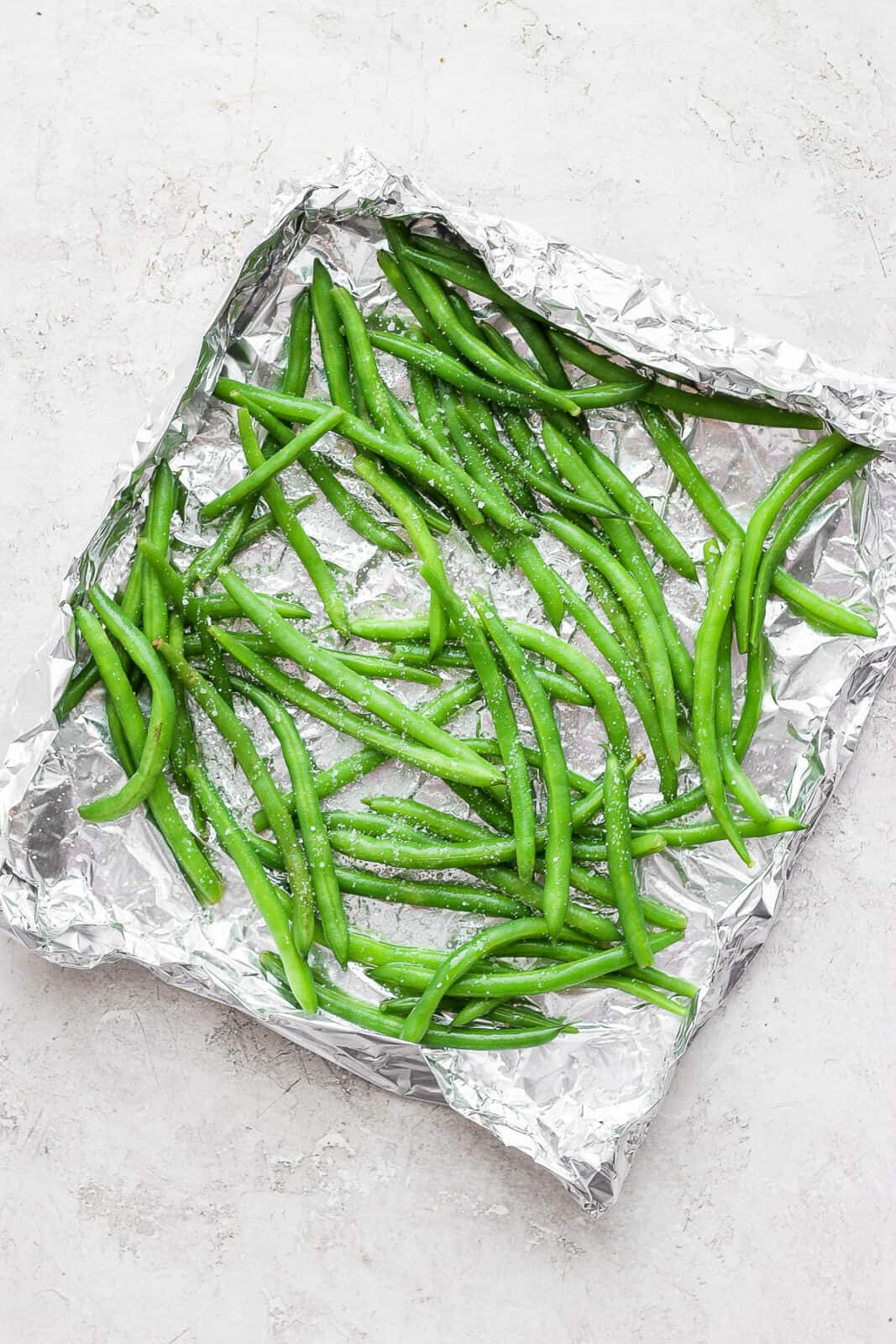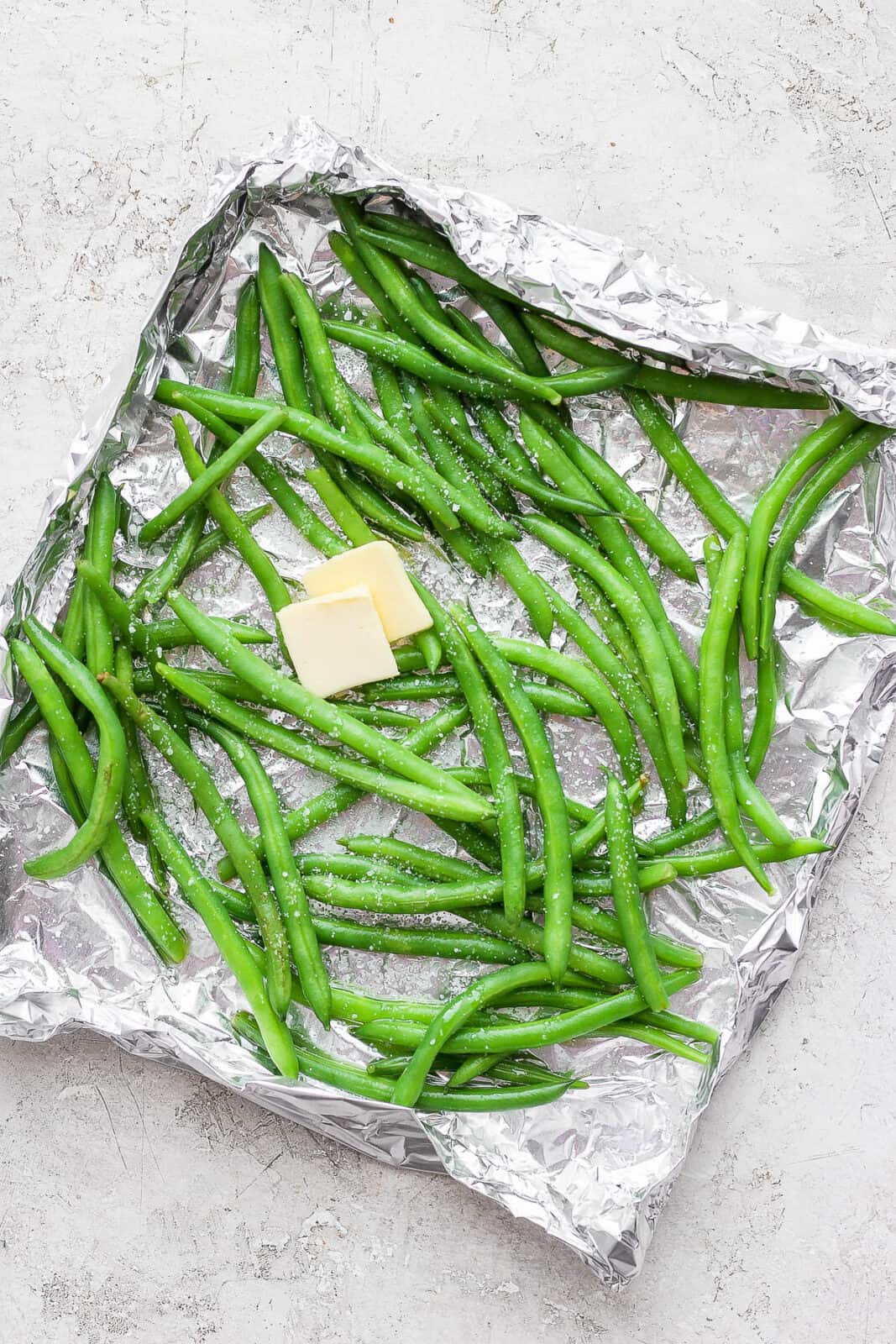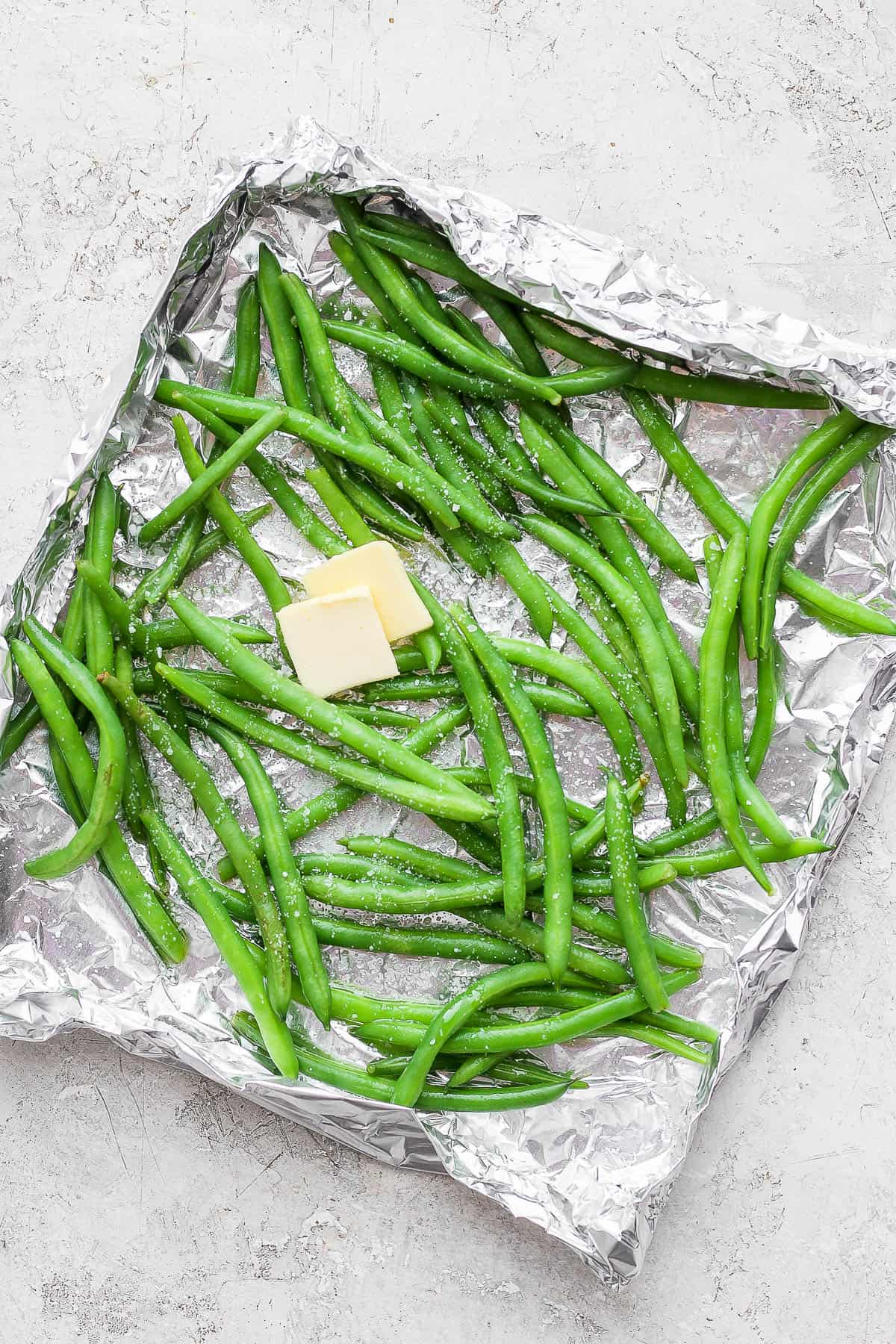 Place on the smoker (see recipe card for cook time breakdown).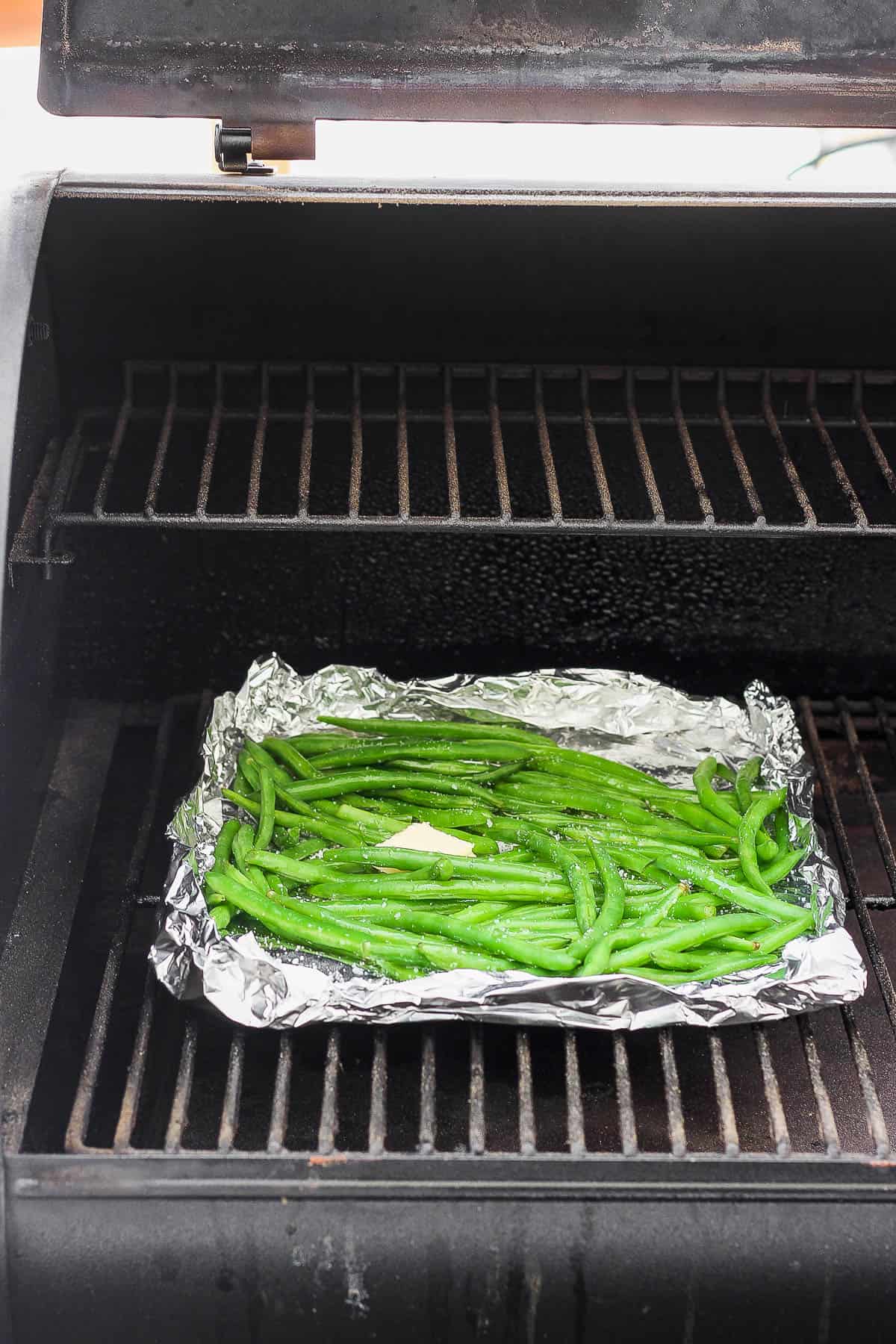 Remove and serve immediately.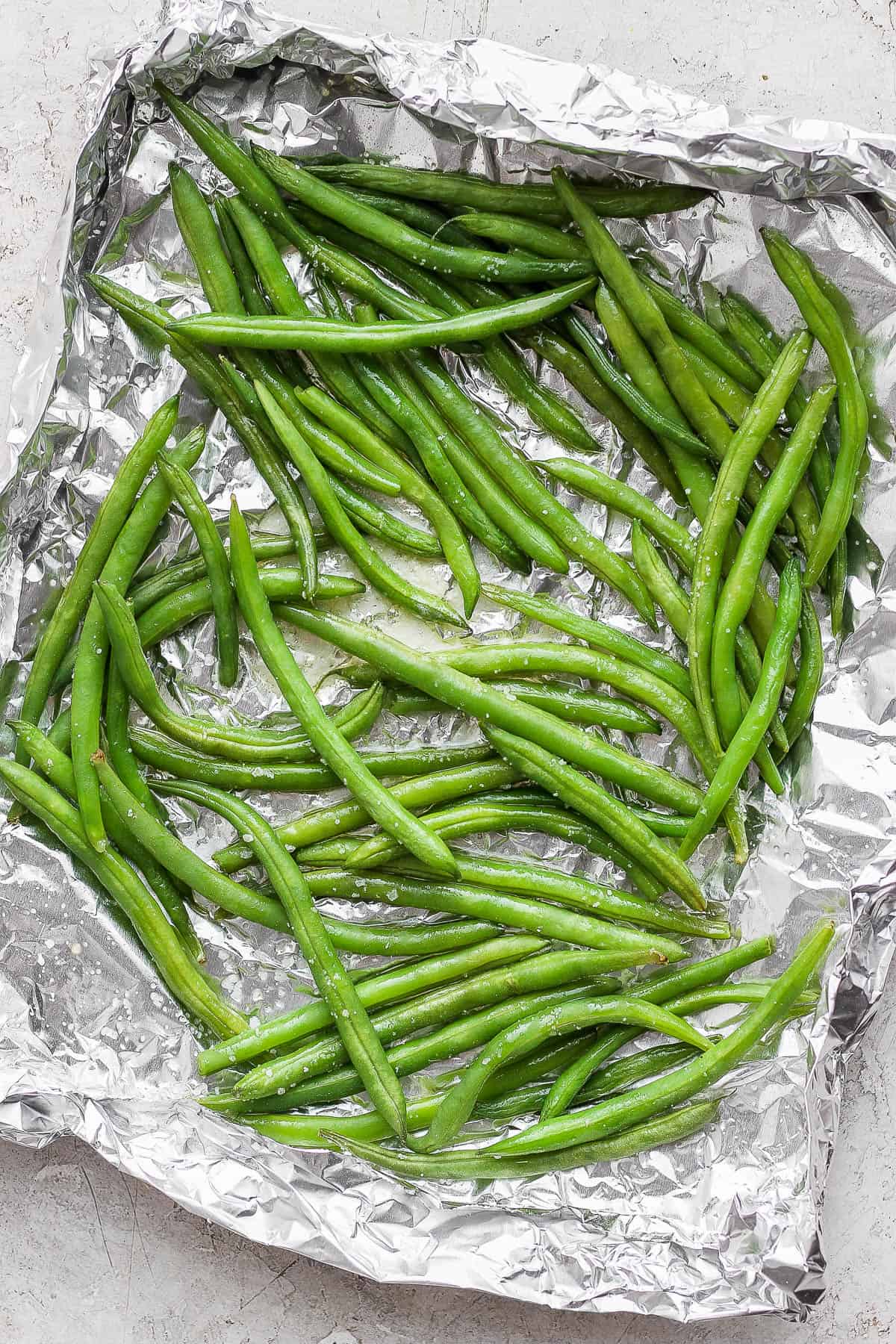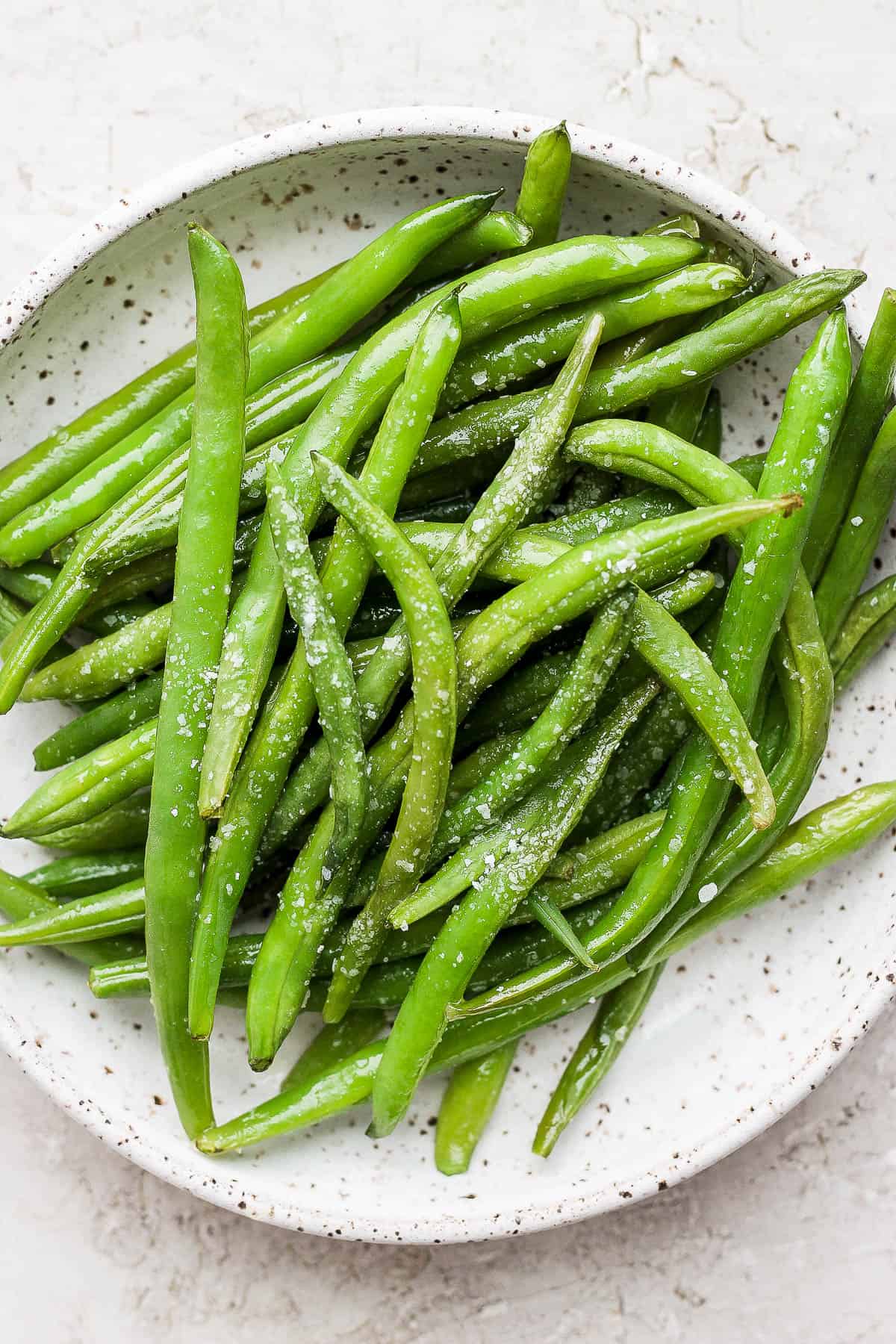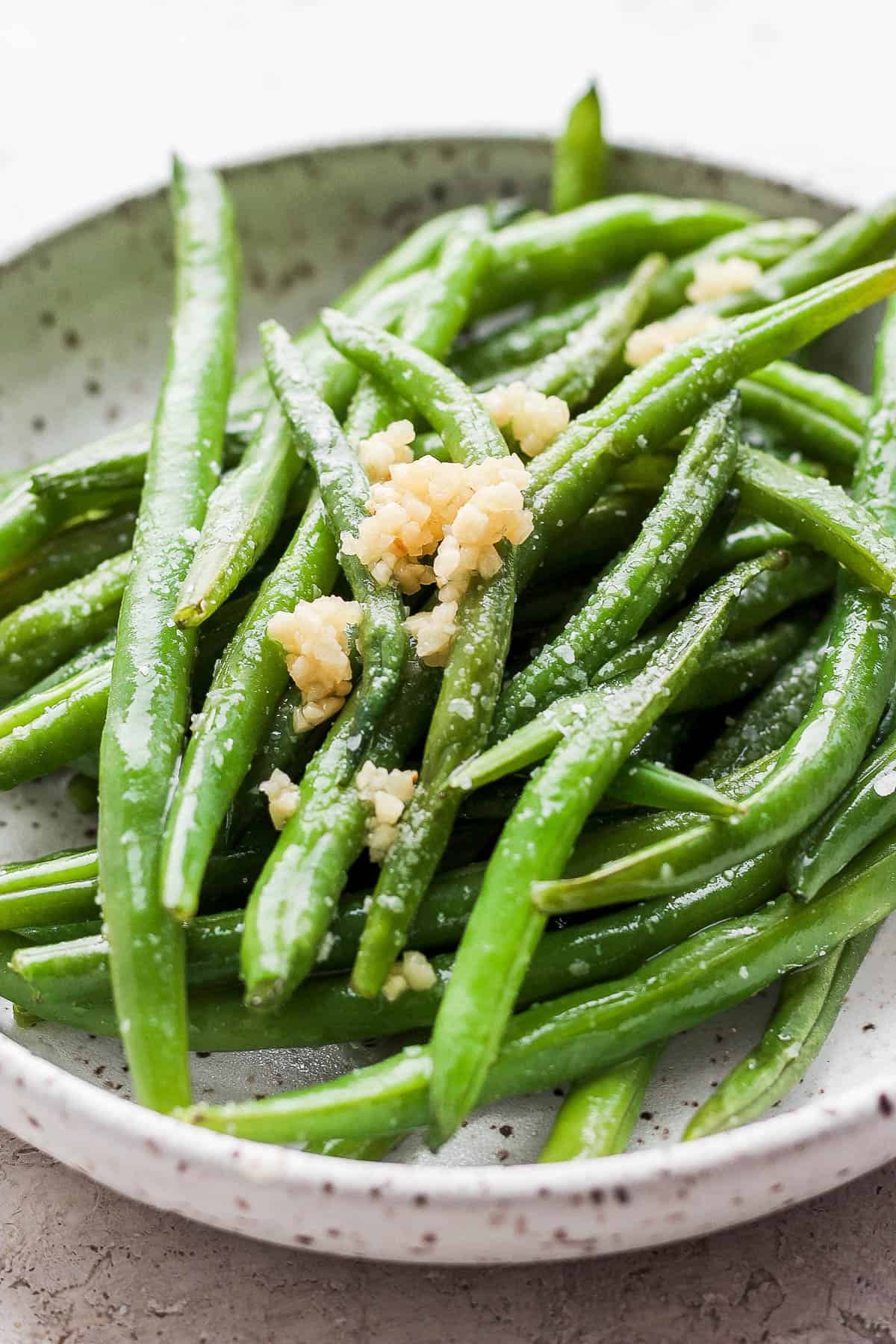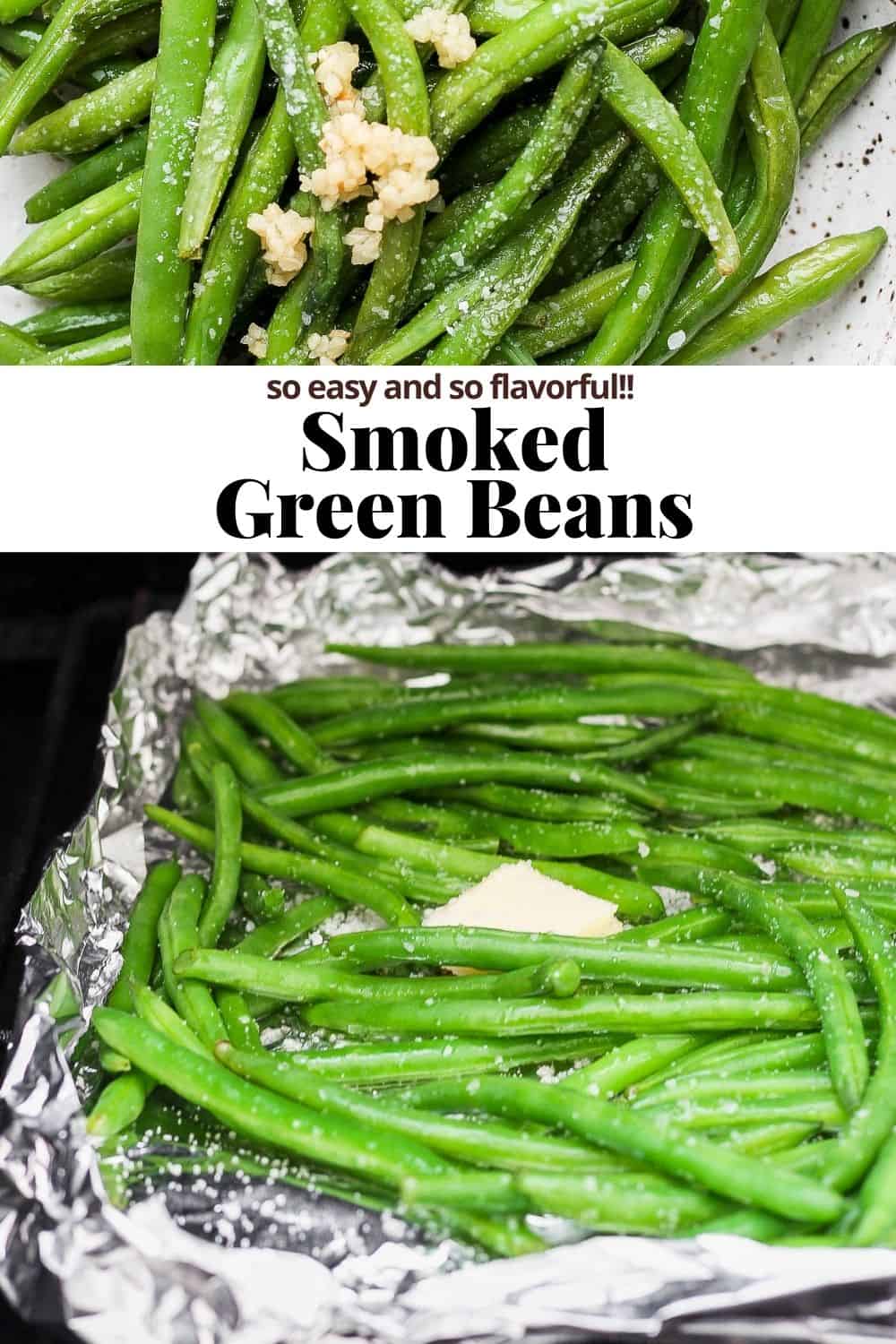 Made this recipe and loved it?! We would love it if you would take a minute and leave a star rating and review – it is also helpful if you made any substitutions or changes to the recipe to share that as well. THANK YOU!
Don't forget to check out my Instagram account for some behind-the-scenes action! Or give me a follow on Facebook or see what I am pinning on Pinterest!
Print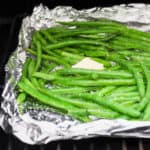 Smoked Green Beans
Author: Erin Jensen
Prep Time: 15 minutes
Cook Time: 1 hour
Total Time: 1 hour 15 minutes
Yield: 6 servings 1x
Category: Side Dish
Method: Smoker
Cuisine: American
---
Description
Smoked Green Beans – a delicious and easy smoked green bean recipe. Easy step-by-step directions and photos! Perfect side dish!
---
1 lb fresh green beans
1–2 tablespoons olive or avocado oil
1–2 teaspoons kosher salt (more to taste)
(optional) 1/4 teaspoon ground black pepper
(optional) 1 tablespoon butter, ghee or plant-based butter
(optional) 2 teaspoons lemon zest, minced
(optional) 2-3 teaspoons garlic, minced
---
Instructions
Set smoker temp to 225 degrees F.
Trim your green beans, as necessary, and set aside.
Bring a large pot of water to boil and have an ice bath ready. When water is boiling, add green beans and set timer for 2-3 minutes (the longer you blanche the softer your green beans will be). Remove and immediately transfer to an ice bath. Let soak in the ice bath until cooled through.
Prepare a grill basket or use a piece of heavy duty foil to create a tray; if using foil I recommend spraying with olive oil to prevent sticking.
Pat green beans dry with a paper towel and then place in the basket in an even layer.
Drizzle green beans with olive oil and sprinkle generously with kosher salt. Toss to coat. (optional: add some ground black pepper, garlic, lemon zest and/or 1-2 tabs of butter or ghee).
Place basket of prepared green beans on the smoker and close the lid.
Let smoke for 30-60 minutes or until they have reached your desired doneness.*
Remove and toss the green bean mixture in the melted butter with a pair of tongs.
---
Notes
Blanching Green Beans: yes, this is necessary! We tested without blanching and found that initial cook time was needed. Without it, by the time the green beans were done, they were so shriveled they were almost inedible. Blanching first works perfectly!
Smoke Time: the ultimate smoke time will depend upon a variety of factors including humidity, outdoor temp, hot spots on your smoker, etc. It will also depend upon how you like your green beans cooked.

Cooked but a little crisp: blanche for 2 minutes and smoke for 30 minutes or so.
In the middle: Blanch for 2 1/2 minutes and smoke for about 45 minutes.
Softer: I would recommend blanching for 3 minutes and smoking for 45-60 minutes. The green beans may start to get a bit wrinkly with this method.

Check along they way: given the nature of smoking I would check their progress along the way using these times as your guideline!
Variations: feel free to add in some sliced onions, bacon or even some shredded parmesan cheese! So many different ways you can go with this base recipe.
Pellet + Wood Chips: I would recommend hickory or pecan for this recipe, but you really can't go wrong!
Keywords: smoked green beans