Smoked Meatloaf is the only smoked meatloaf recipe you will ever need! Easy to make and don't forget that glaze on top (of course use bbq sauce if you prefer)! Make it a meal by serving with smoked green beans and smoked mashed potatoes. Ready for some total comfort food!
Best Ever Smoked Meatloaf
We have such a great new recipe for you to try! We have taken blog favorite and made it smoker-friendly! This Meatloaf recipe will rival all others! A simple, easy recipe with some awesome seasonings and an option for a homemade glaze or homemade barbecue sauce! We love serving it with these Smoked Mashed Potatoes and Smoked Green Beans – the perfect meal. We tested this on a Traeger, but it will translate just fine to any pellet grill/smoker.
Why This Recipe Works
Tried and True Mix: this recipe is based off of my tried and true Healthy Meatloaf Recipe which I have made about a thousand times! So excited to make it into a smoked version!
225 Degrees F: love smoking whatever I can at 225 degrees F. as that is a great spot to really get that smokiness going!
That Glaze: I am in love with this glaze recipe and it takes this recipe to the next level.
Smoked Meatloaf Ingredients
ground beef + ground pork: you can use all beef if you want, but I personally think the flavor is just better with the mixture.
rolled oats or almond flour: you can use either here. I prefer the oats, but if you are looking to make this paleo or Whole30 then the almond flour works perfectly as well. Both help act as a binder to hold everything together. You can also sub in bread crumbs if that is what you prefer.
unsweetened almond milk: this brings in a bit of moisture to the mix.
egg: this also acts a binder, holding everything together.
yellow onion: it adds almost a bit of acidity to the recipe.
1 batch meatloaf seasoning: we have included this in the recipe card, but also linking it here in case you want to use it for a different recipe.
1 batch meatloaf glaze: this isn't included in the recipe card just because some people might want to exclude it.
How to Know When Meatloaf is Fully Cooked
Meatloaf is fully cooked when it reaches an internal temperature of 160 degrees F. at it's thickest part – use a meat thermometer or probe to track the internal temperature.
How to Make Smoked Meatloaf
Add your meatloaf ingredients to a large mixing bowl.
Mix together.
Pour out the mixture onto a piece of heavy-duty foil and form into a loaf using your hands.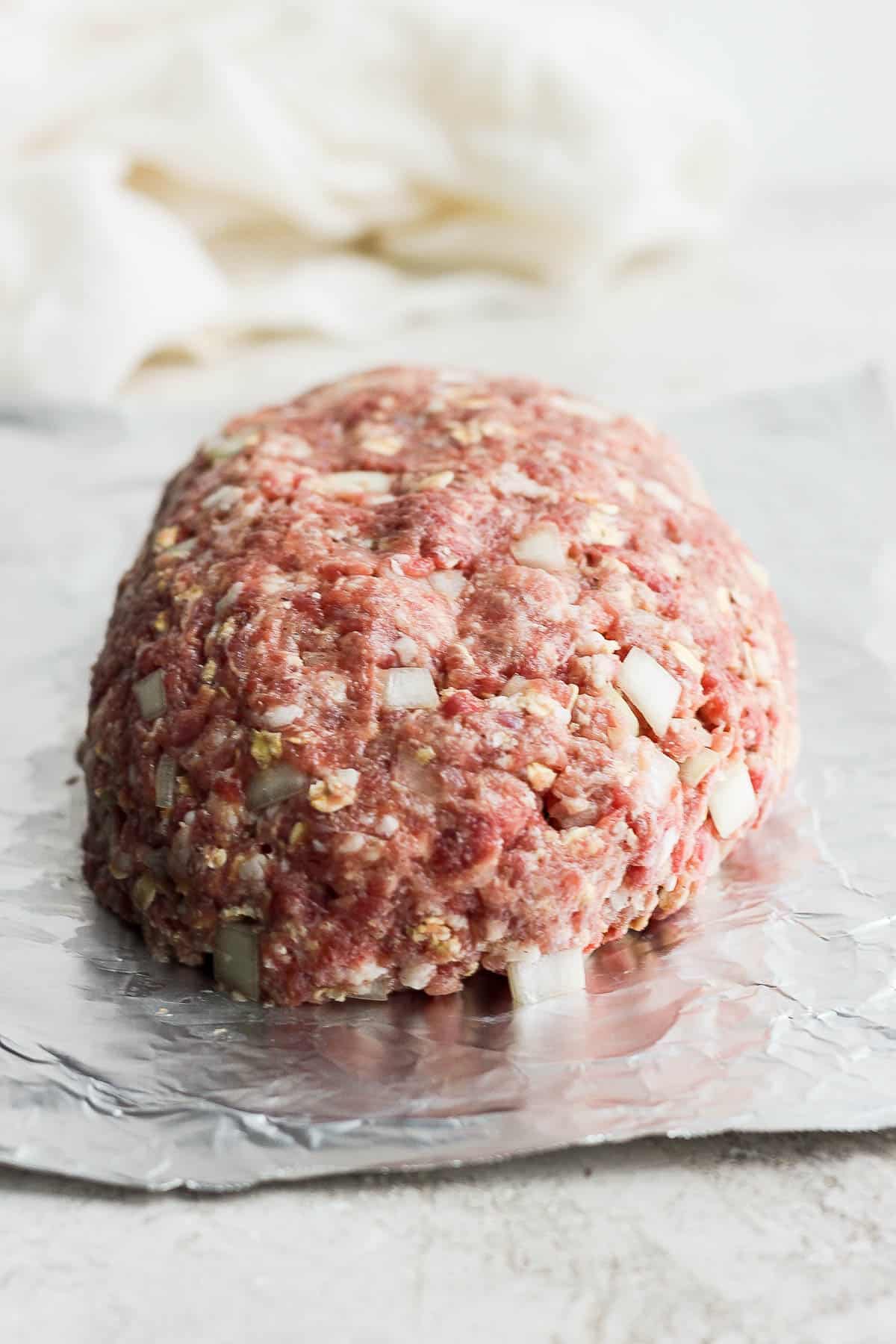 Place on meatloaf (and foil) onto the smoker grates and shut the door.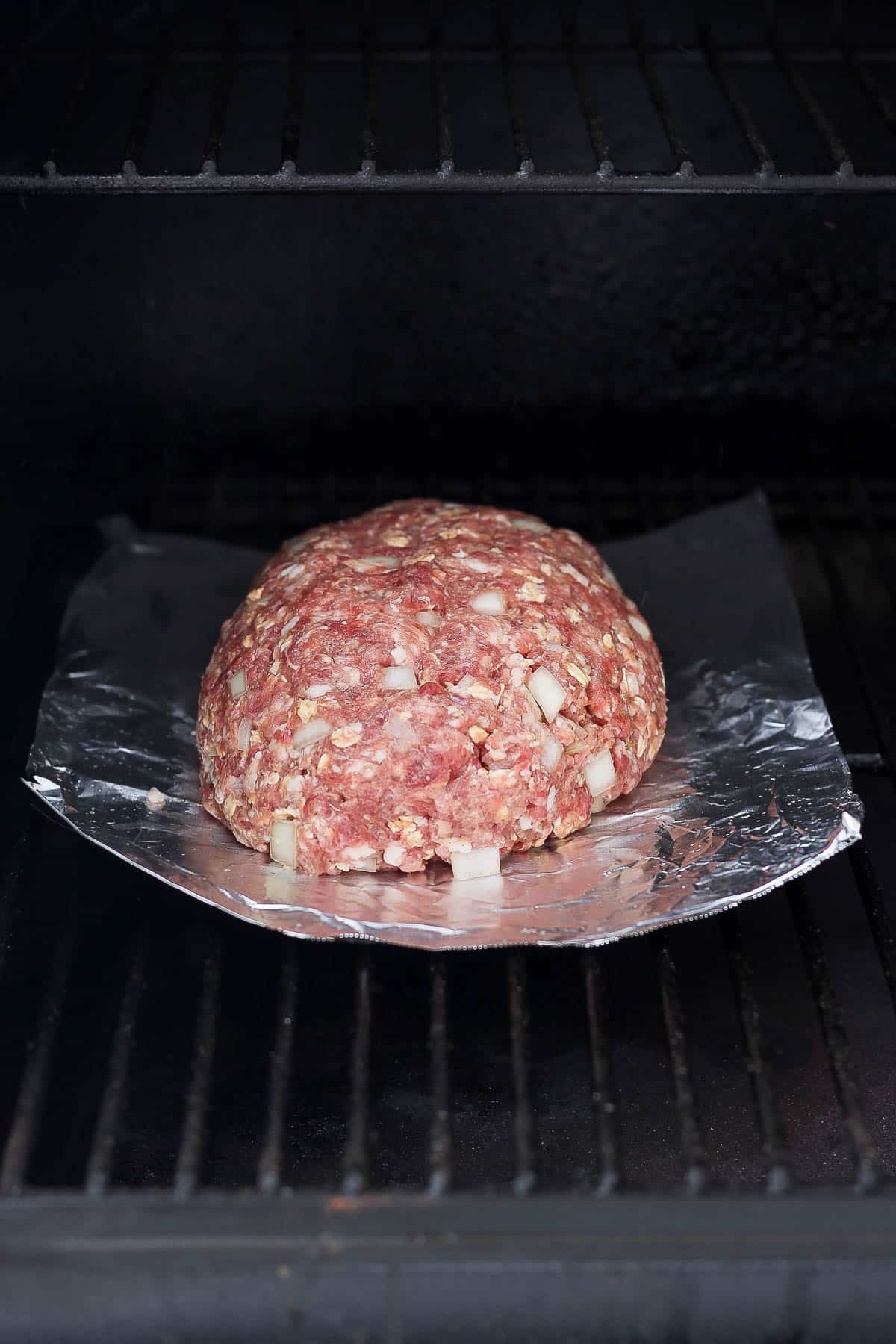 Let smoke until it reaches an internal temperature of approximately 155 degrees F.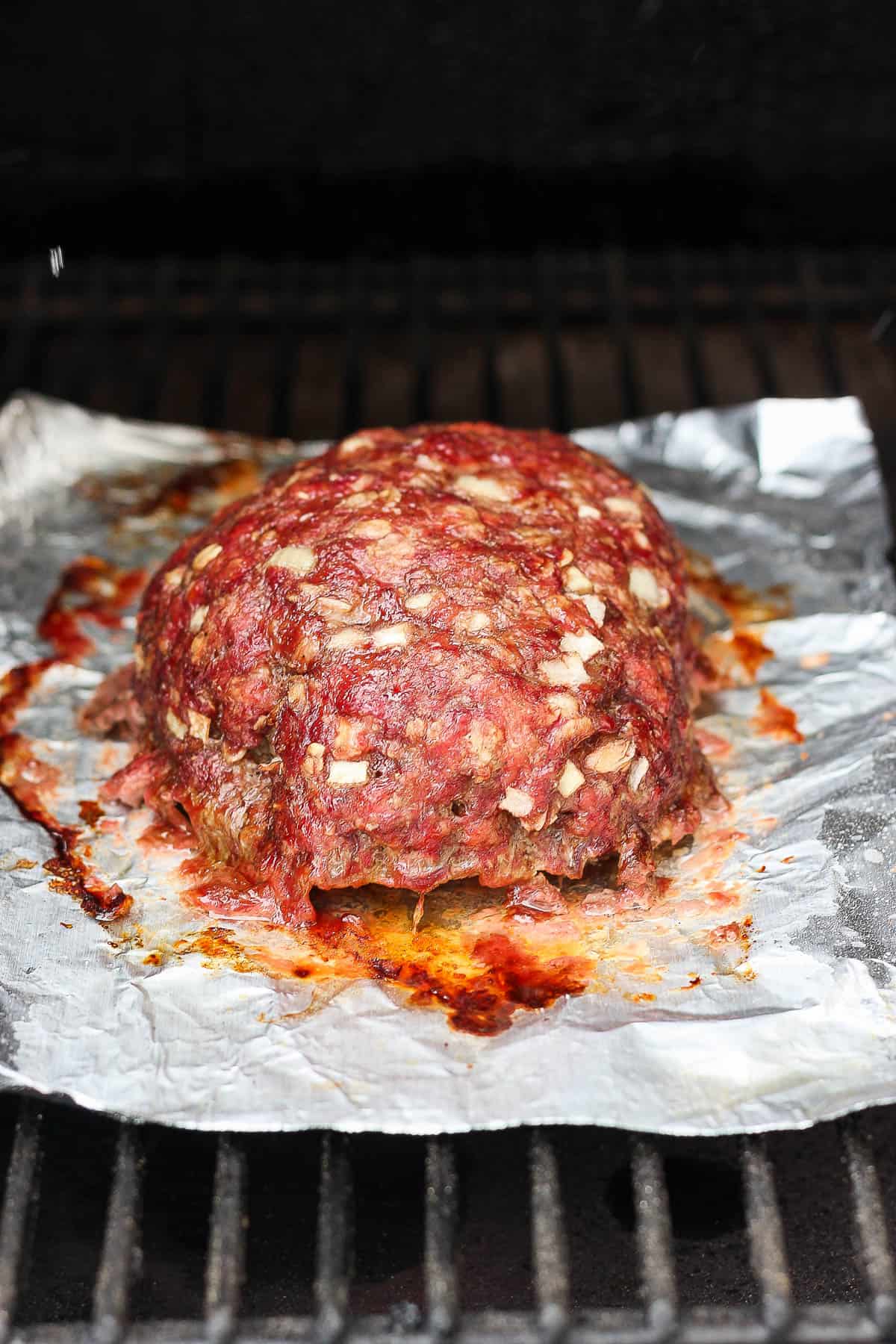 Then add your glaze and close the lid again, allowing it to continue to smoke for approximately 5-10 more minutes or until the internal temperature reaches 160 degrees F.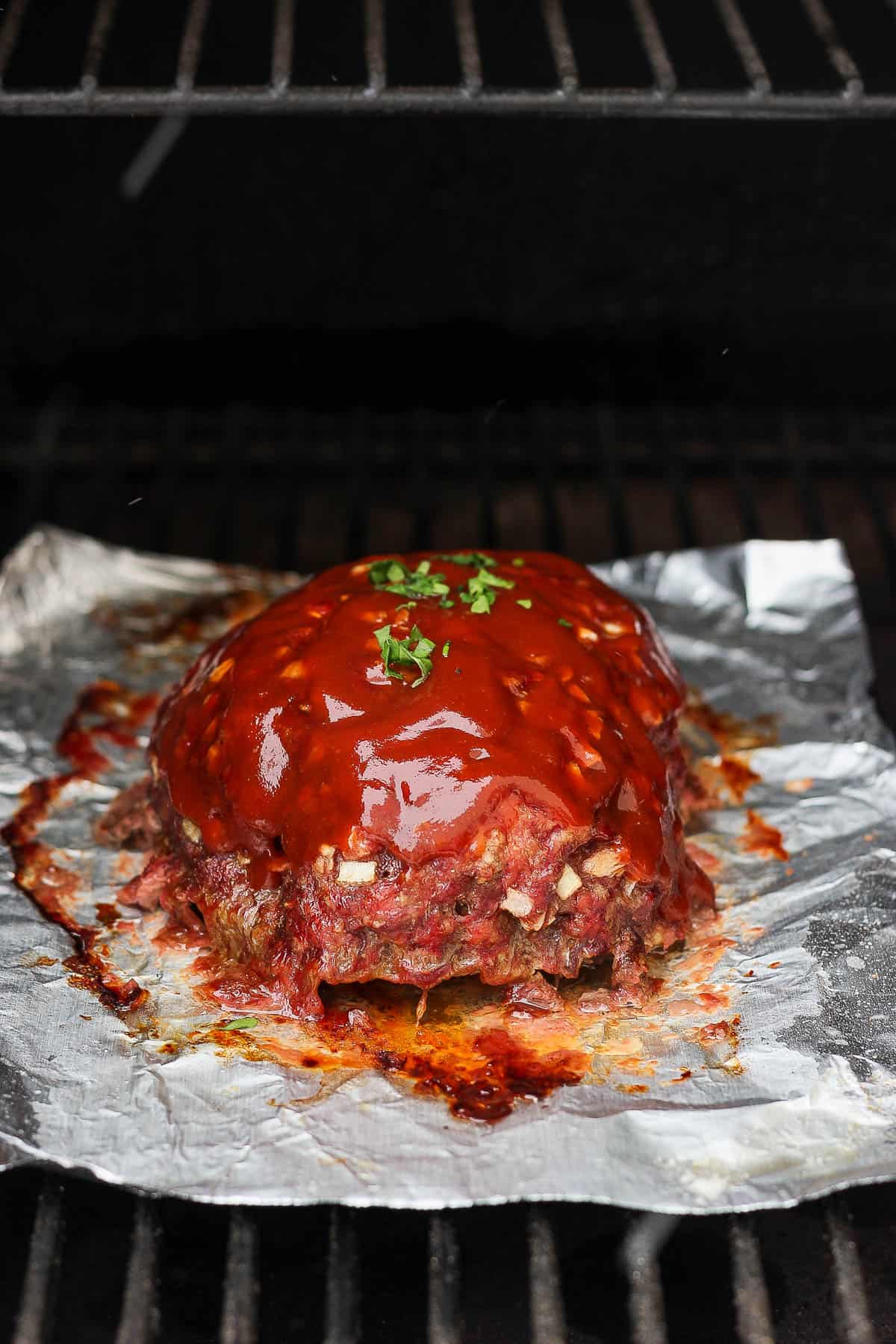 Remove from smoker and let rest 10 minutes.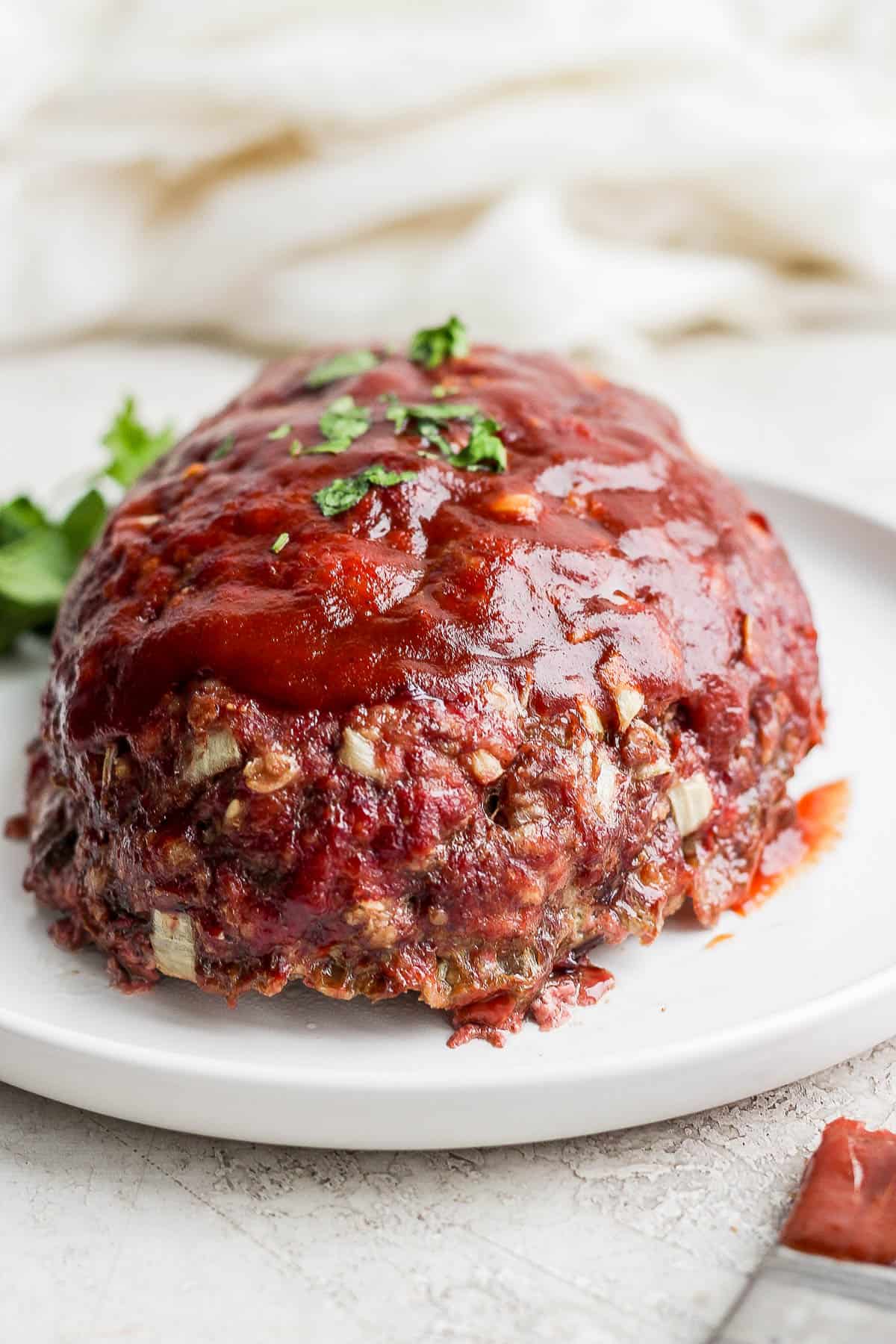 Serve and enjoy!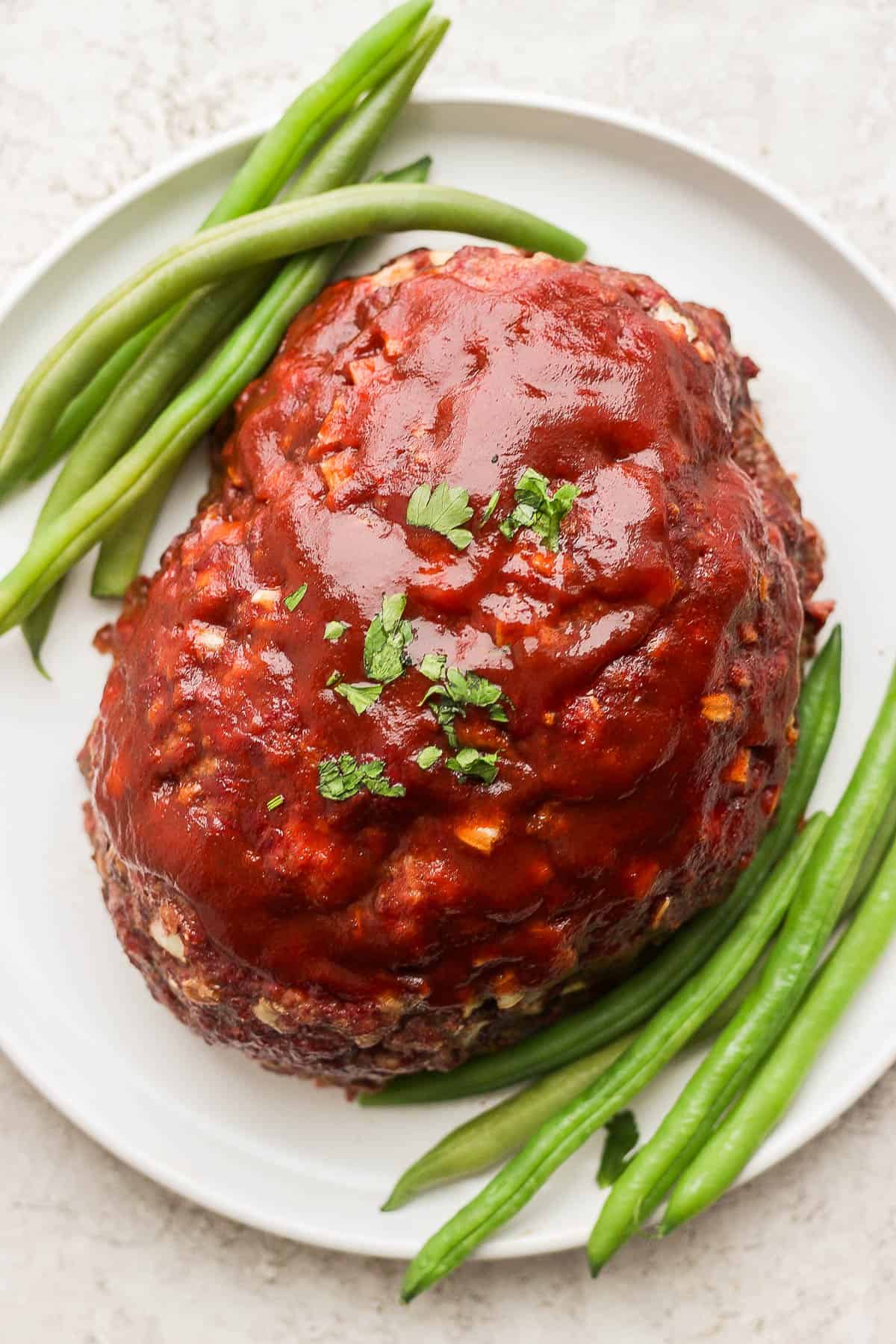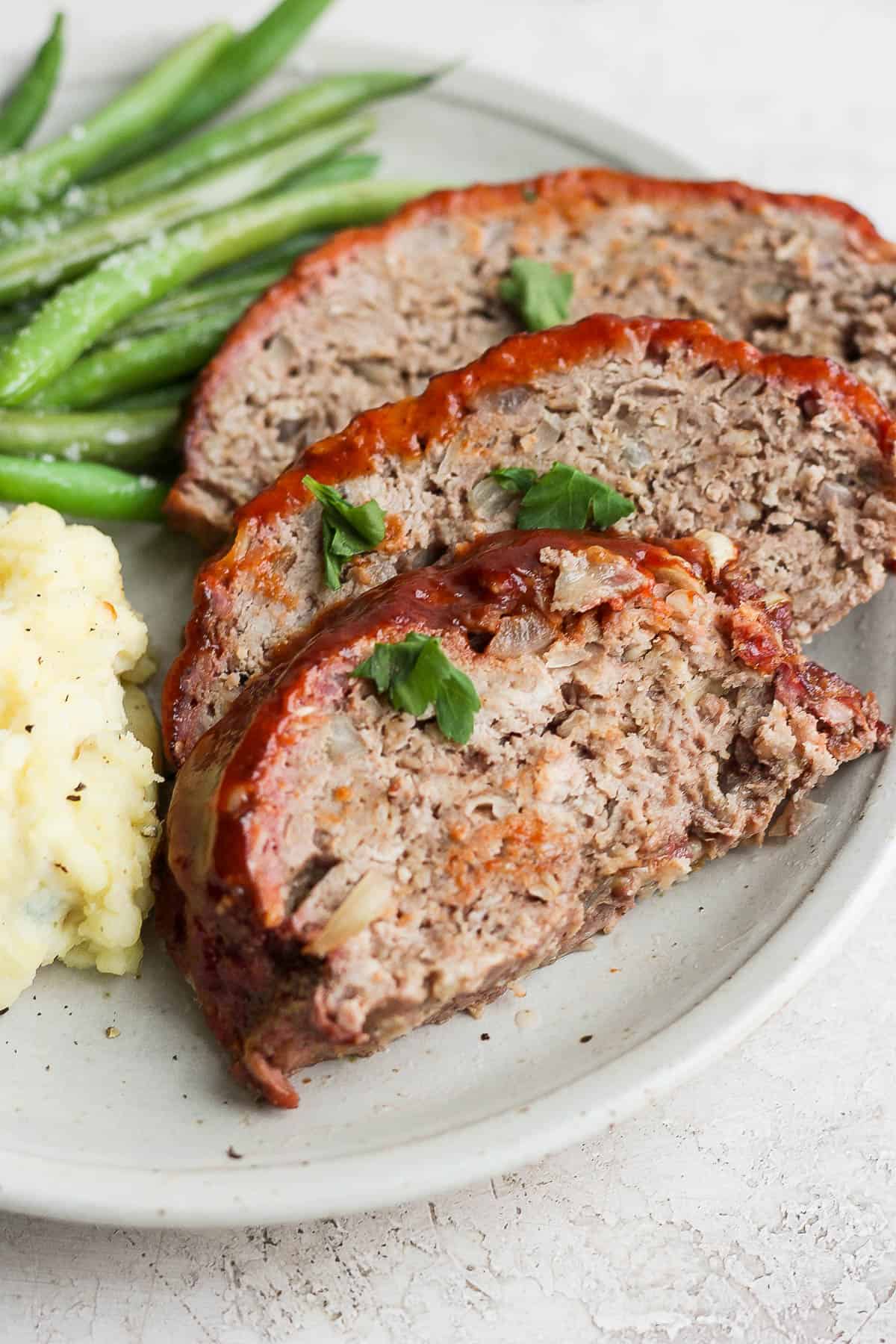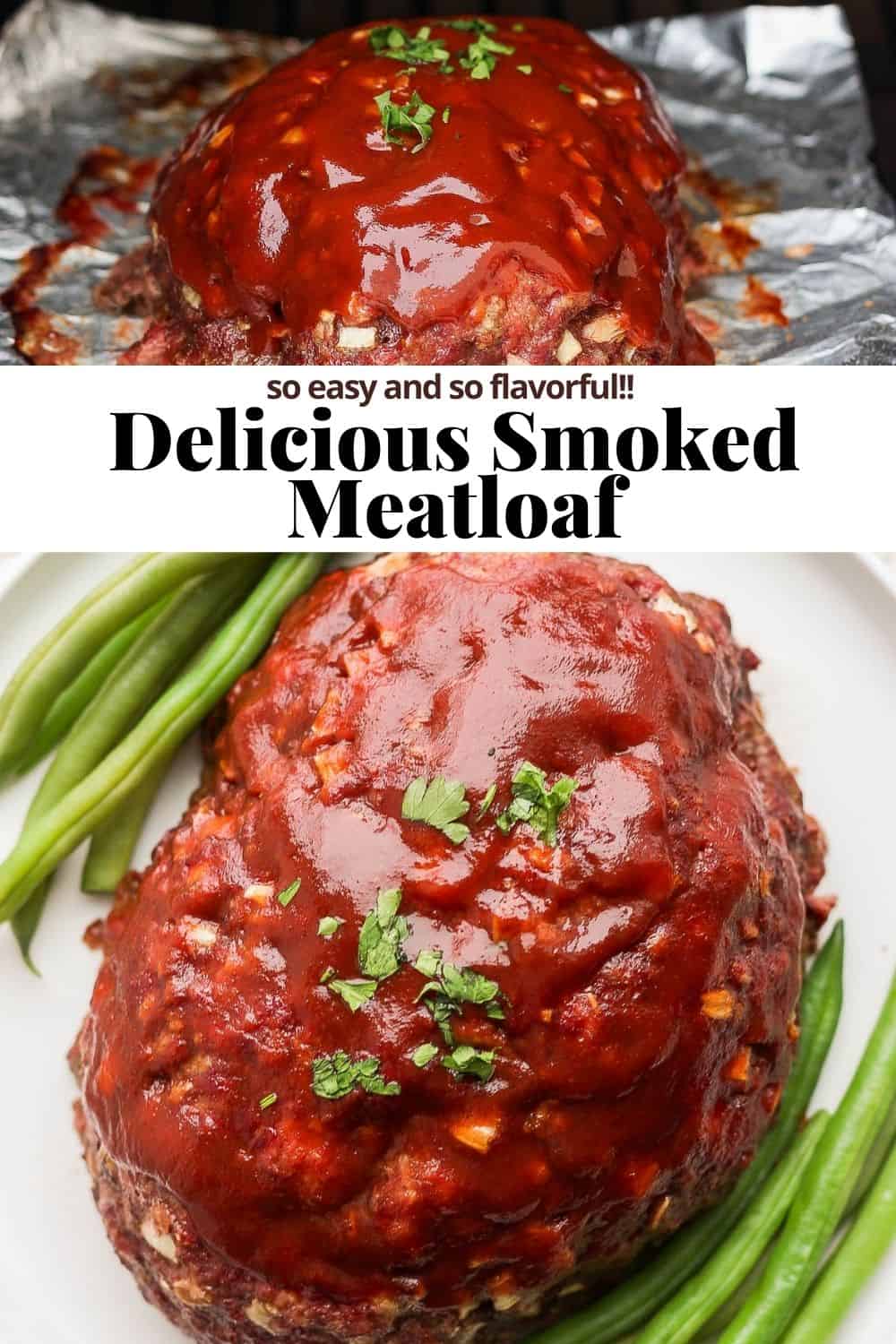 Don't forget to follow me on Facebook, check out my Instagram account or see what I am pinning on Pinterest!
Made this recipe and loved it?! We would love it if you would take a minute and leave a star rating and review – it is also helpful if you made any substitutions or changes to the recipe to share that as well. THANK YOU!
Print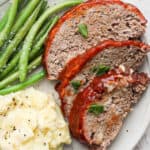 Smoked Meatloaf Recipe
Author: Erin Jensen
Prep Time: 10 minutes
Cook Time: 2 hours
Total Time: 2 hours 10 minutes
Yield: 4 servings 1x
Category: Side Dish
Method: Smoker
Cuisine: American
---
Description
Smoked Meatloaf – a delicious and easy smoked meatloaf recipe that you will come back to again and again! So good!
---
1 lb ground beef
1/2 lb ground pork
1/2 cup rolled oats or almond flour*
1/2 cup unsweetened almond milk
1 large egg
1/2 cup yellow onion, diced
1/2 teaspoon kosher salt
1/2 teaspoon ground black pepper
1 tablespoon ground mustard
1/2 teaspoon onion powder
1/2 teaspoon garlic powder
---
Instructions
Set smoker to 225 degrees F.
Combine ingredients in a medium-sized mixing bowl.
Lay out a piece of foil and transfer the meatloaf mixture on top. Using clean hands, form the meatloaf mixture into a loaf.**
Transfer the meatloaf and foil to your smoker and place inside; shut the smoker.
Meanwhile, combine those ingredients and set aside while the meatloaf cooks.
Let meatloaf smoke for 1 hour 30 minutes up to 2 hours 30 minutes* (or until the internal temperature at the thickest part reaches 155 degrees F.).
Lift smoker and brush on the meatloaf glaze. Close the smoker and let cook another 5-10 minutes or until the glaze becomes a bit tacky and the internal temperature reaches 160 degrees F.
Remove from smoker and let rest 10 minutes before slicing.
Serve with smoked green beans and smoked mashed potatoes.
---
Notes
*Paleo: to make this recipe paleo simply opt for the almond flour instead of the oats.
*Breadcrumbs: you can also use 1/2 cup bread crumbs if you prefer!
** you can also place in a small aluminum pan if you prefer, but I wouldn't recommend it if you want to really taste that smokey flavor.
Cook Time: there are so many factors and variables that go into how long it takes to smoke something. It can depend upon hot spots on your smoker, wind, humidity, etc. The best way to tell when something is done is to track the internal temperature with a meat thermometer or probe. During testing this particular recipe took about 1 hour and 30 minutes for us to cook, but it could take longer for you and your smoker under your conditions and how thick you shape your meatloaf.
Pellets: any will do, but I have had great results using mesquite, hickory or cherry.
When is meatloaf fully cooked: meatloaf is fully cooked when it reaches an internal temperature of 160 degrees F. at it's thickest part.
Storage: store any leftovers in the refrigerator in an airtight container for up to 3 days.
Venison or Turkey: you CAN sub in venison or turkey for the ground beef – I would still keep the ground pork in there for the flavor and some fattiness. If you use something like turkey, the consistency will definitely be different and a bit dryer than beef which naturally has more fat in it.
Keywords: smoked meatloaf, smoked meatloaf recipe