Smoked Beer Can Chicken a great summer recipe that is fun to make for a crowd! Super simple and always turns out moist, tender and delicious!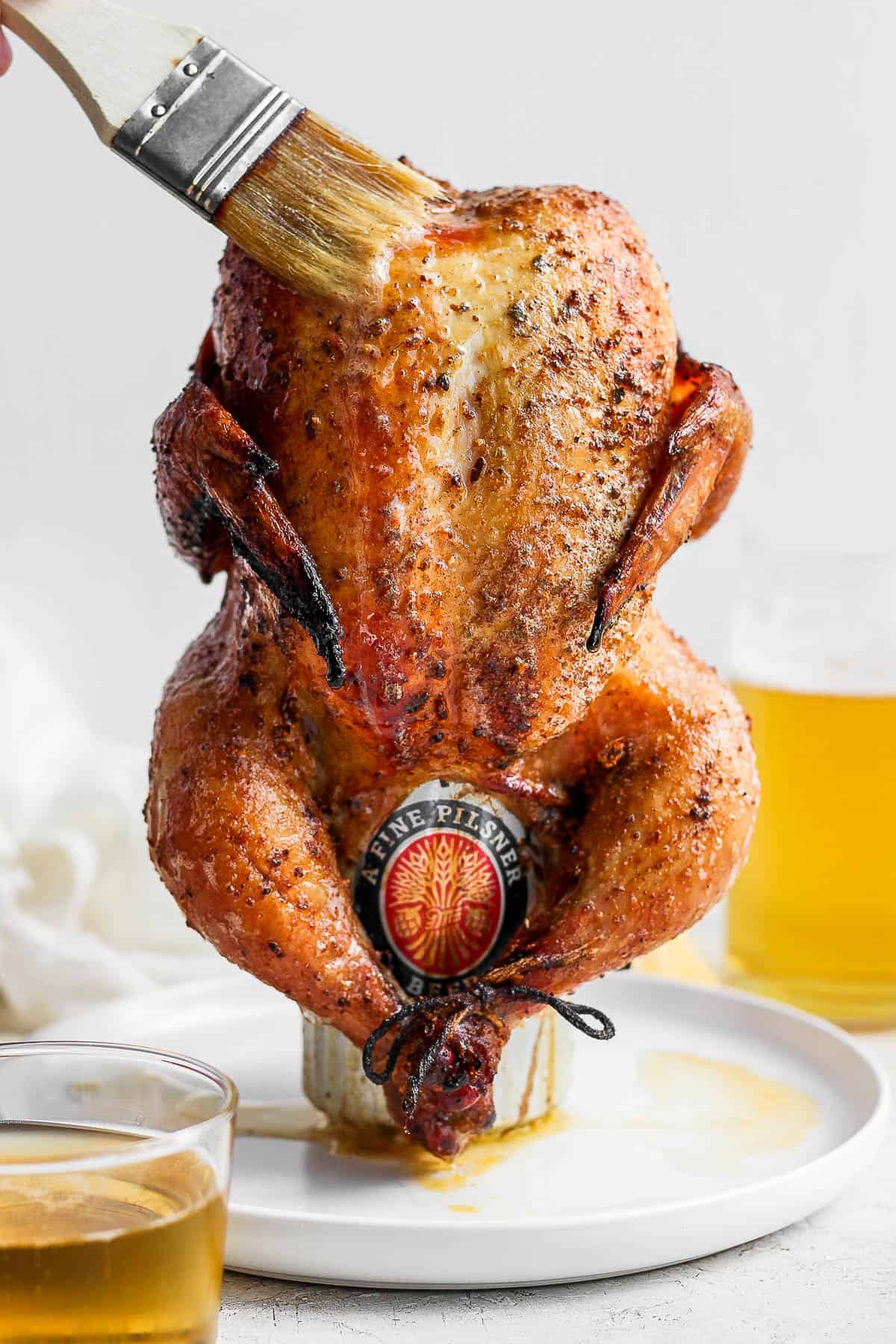 BEST Smoked Beer Can Chicken Recipe
Whether you are smoking your beer can chicken on a pellet grill like a Traeger (that's what we used), or any other smoker …. this recipe is a tried-and-true recipe that is crazy easy to make. Pro tip: if you are already heating up your smoker to make one of these, why not make at least two? The leftover chicken can be used for so many recipes like Smoked Chicken Salad, BBQ Chicken Tacos or Healthy Apple Salad!
Why This Recipe Works
Start Low/End High: we are starting the smoker off pretty low to get some of that amazing smokiness to seep into the chicken. If you have your smoker on really high you are treating it more like a grill than a smoker. After we smoke the chicken for a bit, then we crank up the heat to finish it off so the skin gets nice and crispy!
Super Moist: the beer keeps the chicken super moist and delicious!
Easy: It's as easy and putting rub on your chicken, placing the beer in the cavity (open it first) and then placing it on the smoker – make one temperature change during the cooking process and that's about it! A pretty foolproof recipe!
What You Will Need
Whole Chicken: we used approximately a 4 lb chicken – if you use a bigger chicken you will just need to adjust the cooking time.
Smoked Chicken Dry Rub: this is our FAVORITE dry rub to use on chicken! Of course, if you have a different one on hand – use that instead! This one uses a great mixture of salt, black pepper, garlic powder, paprika, onion powder, cumin, etc.! Feel free to toss in a little chili powder if you want more heat!
Can of Beer* (see notes): I like to use an extra-tall beer can so it is easier to place inside the cavity.
(Optional) Melted ghee or butter: if you want to take the extra step to baste the chicken a couple times, I would highly recommend!
How Long to Smoke Beer Can Chicken
It generally takes between 2-3 hours to smoke a beer can chicken. We start out smoking it at 225 for an hour or so and then crank up the heat too 350 degrees F. until the bird reaches an internal temperature of 160-165 degrees F.
Chicken needs to reach an internal temp of 165 degrees F. to be safe to eat, but by pulling it off around 163 degrees F. the last two degrees will happen as the bird rests and then you definitely won't dry out your chicken! Use an internal meat thermometer to track the internal temp. The best place to check the temperature is in the bird's thigh – just be sure not to touch the bone!
How to Make Smoked Beer Can Chicken
Remove any gizzards inside the chicken and then set on a plate or tray and pat dry with clean paper towel.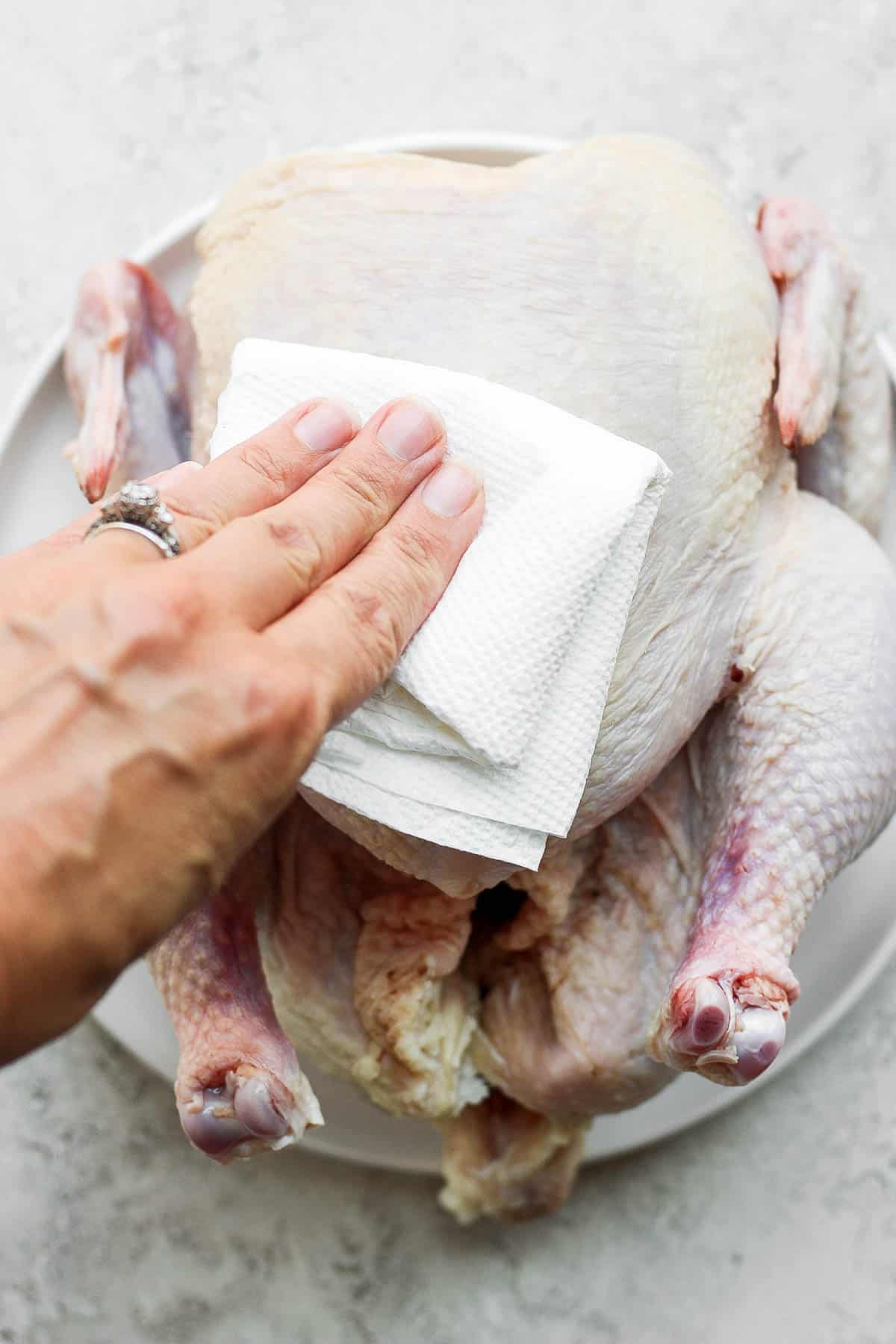 Season with some smoked chicken dry rub (or whatever dry rub you want).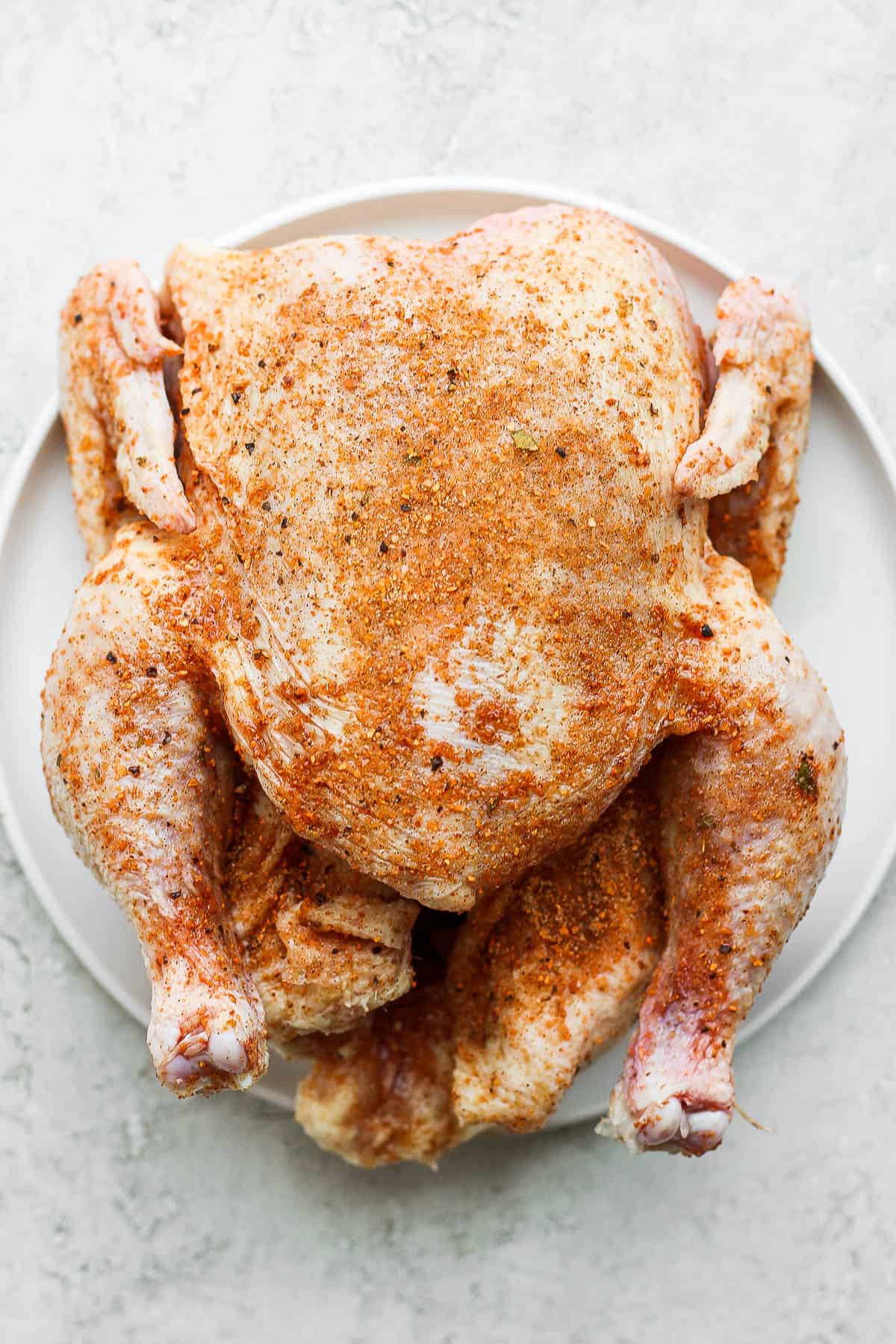 Open your beer can and then carefully place the top of the beer can into the cavity of the bird, setting the chicken upright – I like to do this over a pan or plate to catch any extra juices or anything.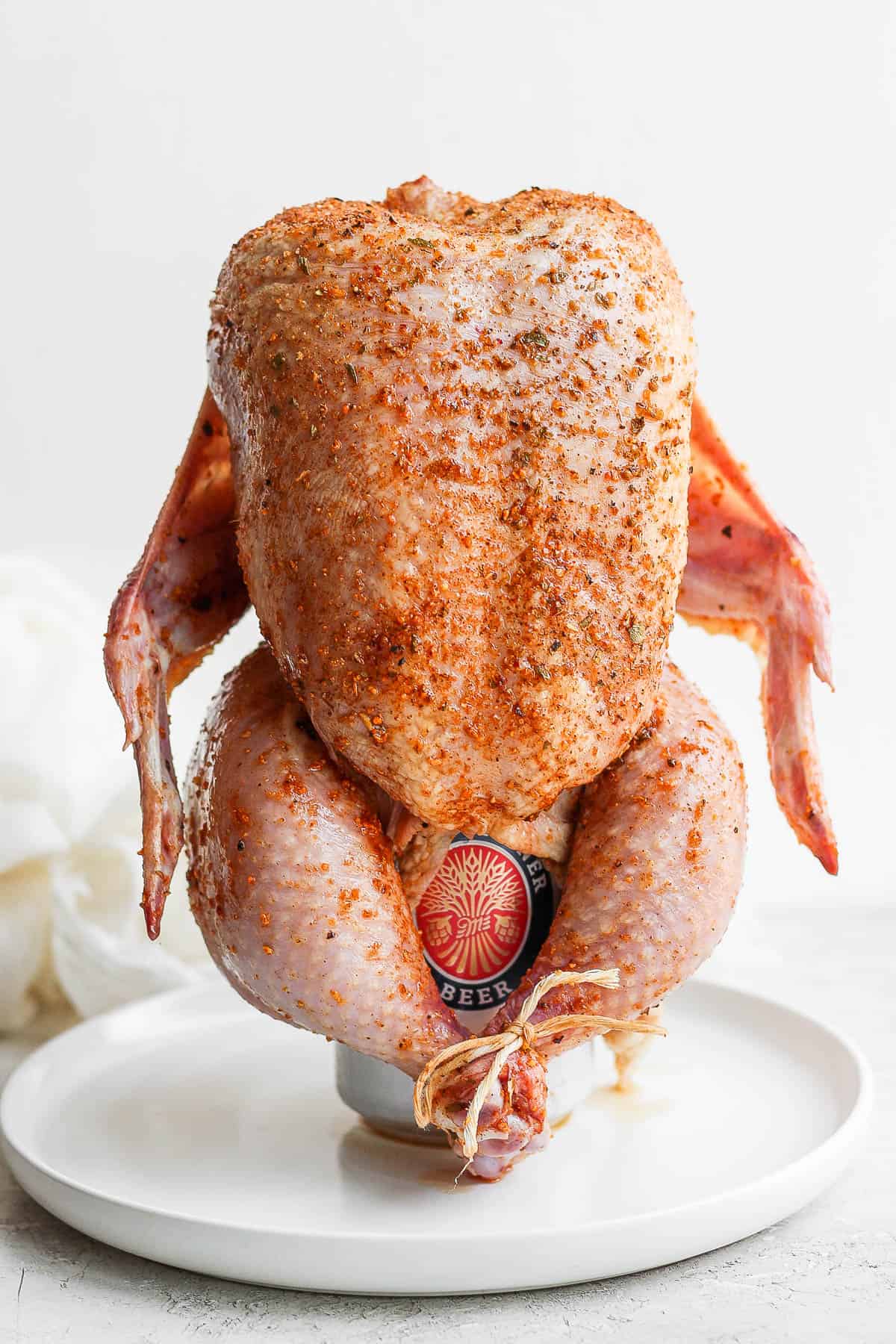 Alternatively, you can use a chicken throne, like the one shown below if you don't want to use a can of beer.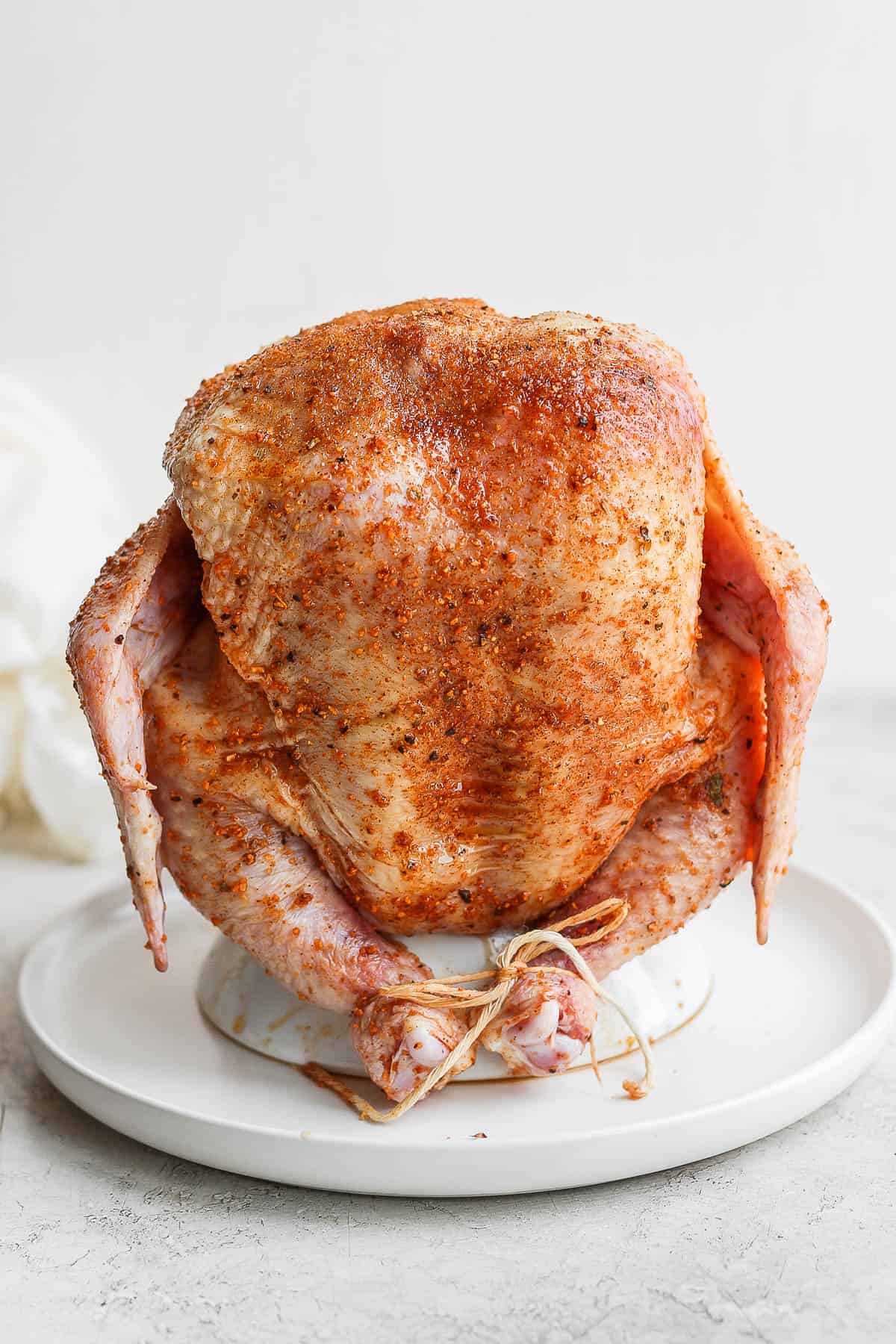 Preheat smoker to 225 degrees F. and place your chicken on the grates.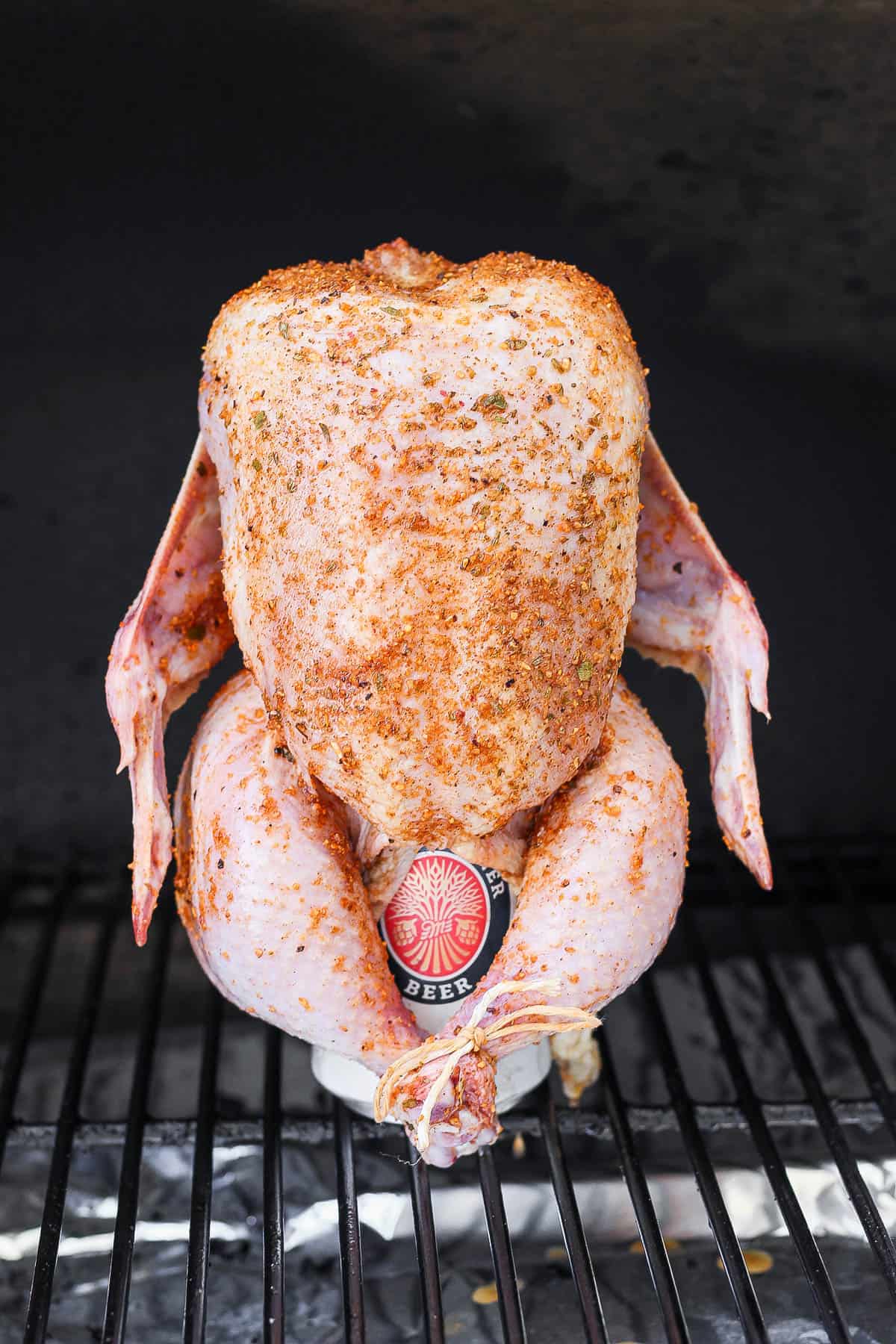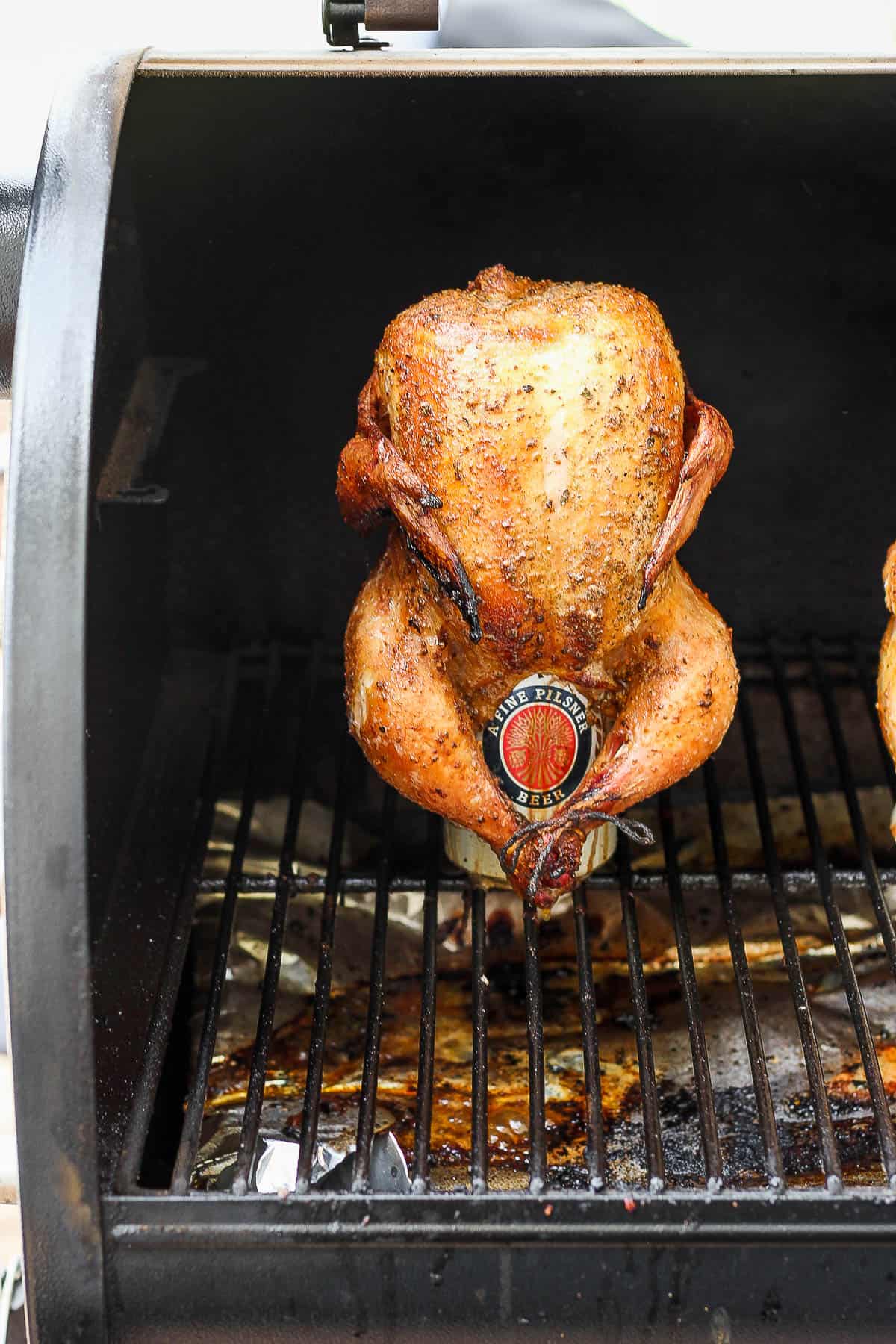 After about an hour turn the heat up to 350 degrees F. to finish off cooking. You can also baste a couple times with melted butter or ghee if you want!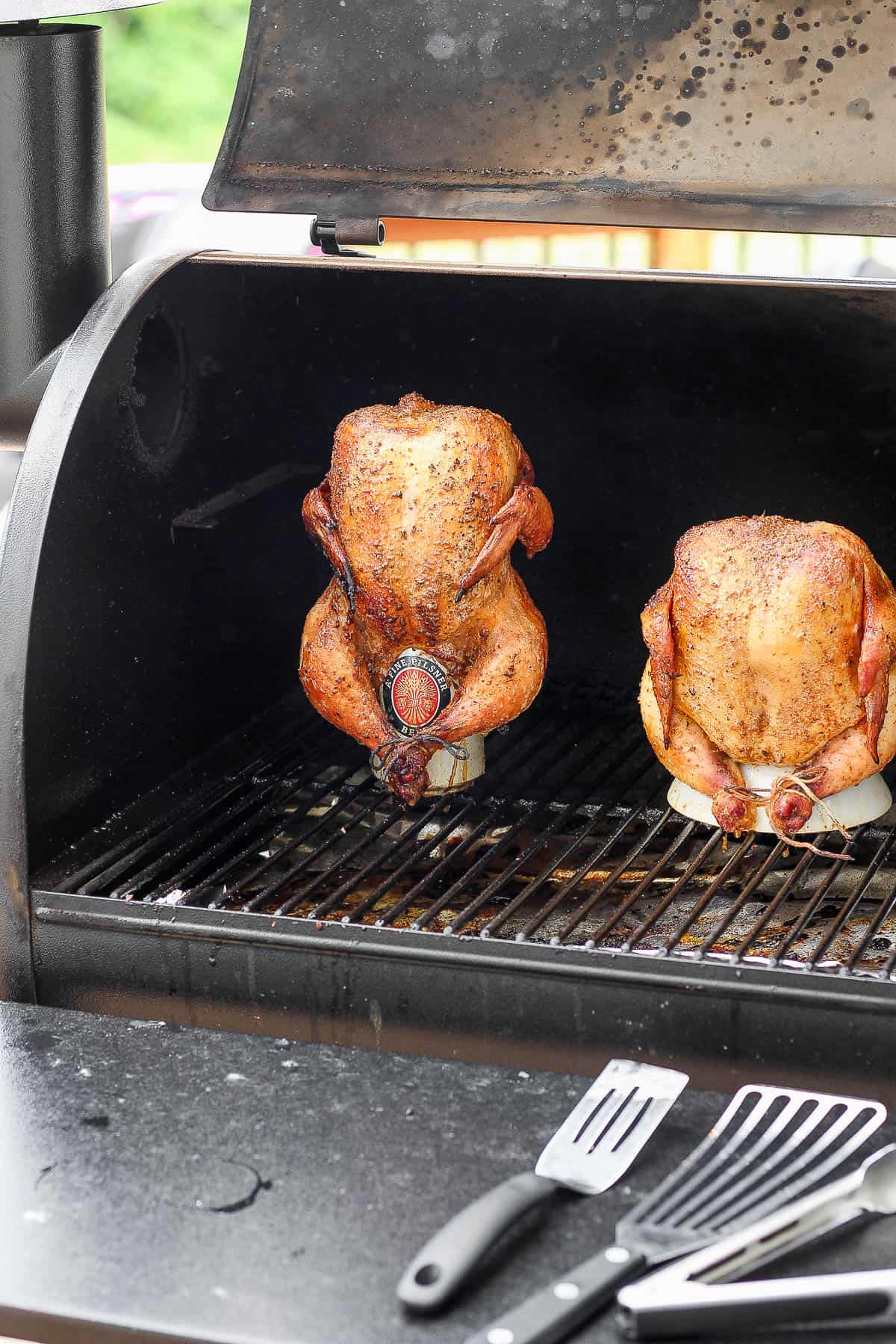 Remove from smoker when internal temperature hits 160-165 degrees F and then let rest 10 minutes (the internal temp will continue to rise while it rests.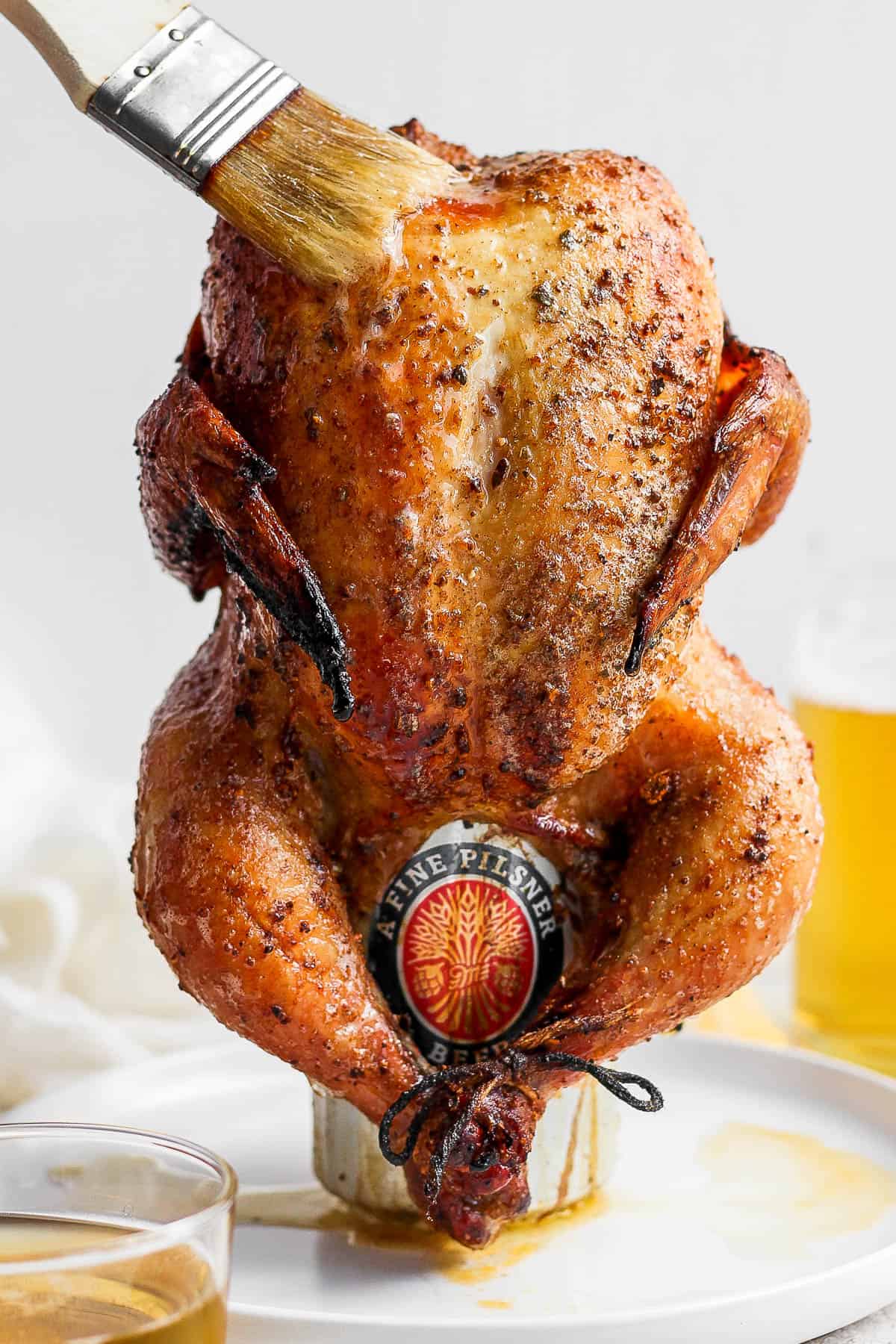 Enjoy!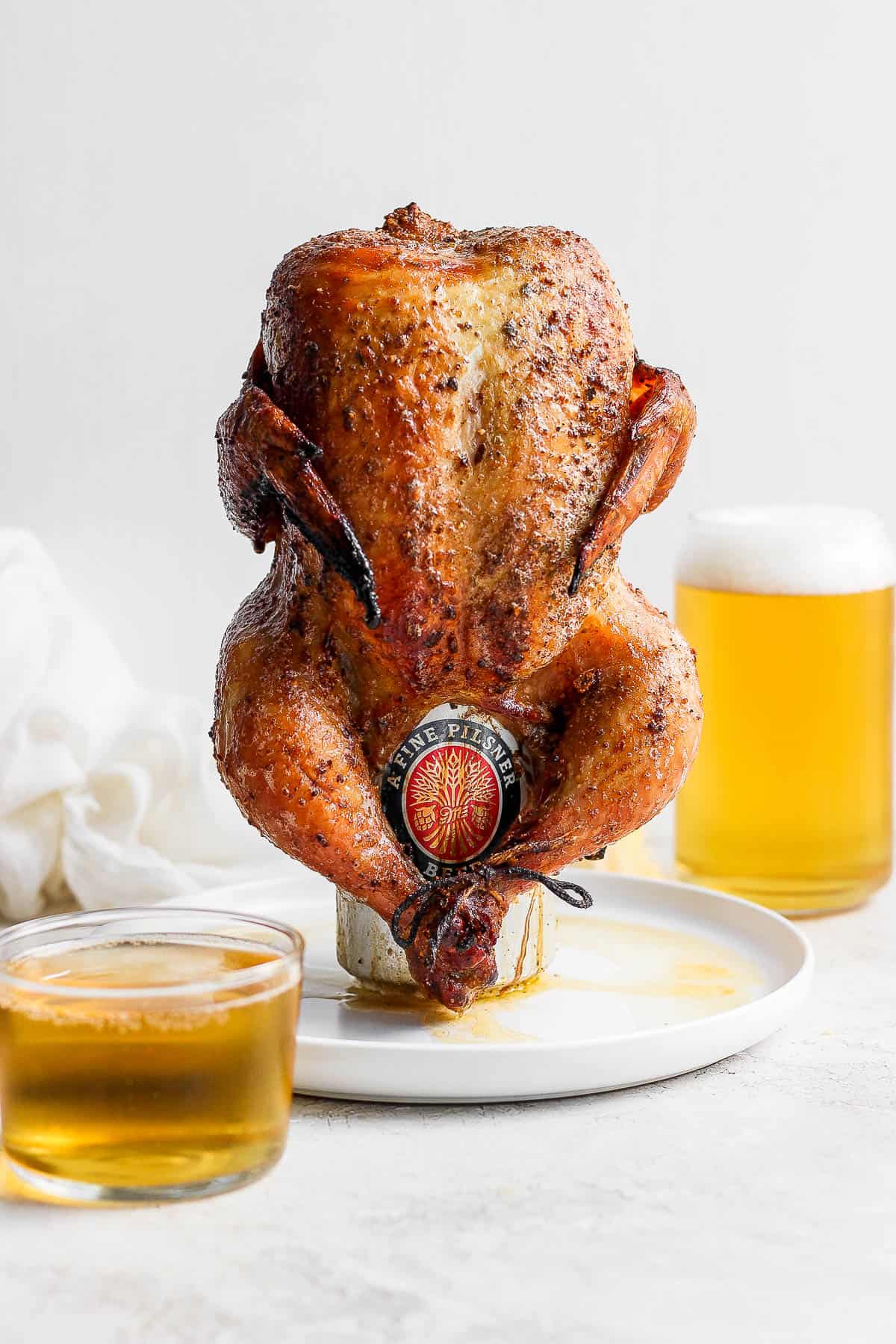 Traeger Beer Can Chicken
This recipe works great on the Traeger (that's what we used) – if you are using a Traeger I would recommend placing the chicken on the left side of the smoker as that is where it is going to be the hottest and, thus, a shorter cook time.
Electric Smoker Instructions
You can follow the same instructions for the use in an electric smoker – so easy!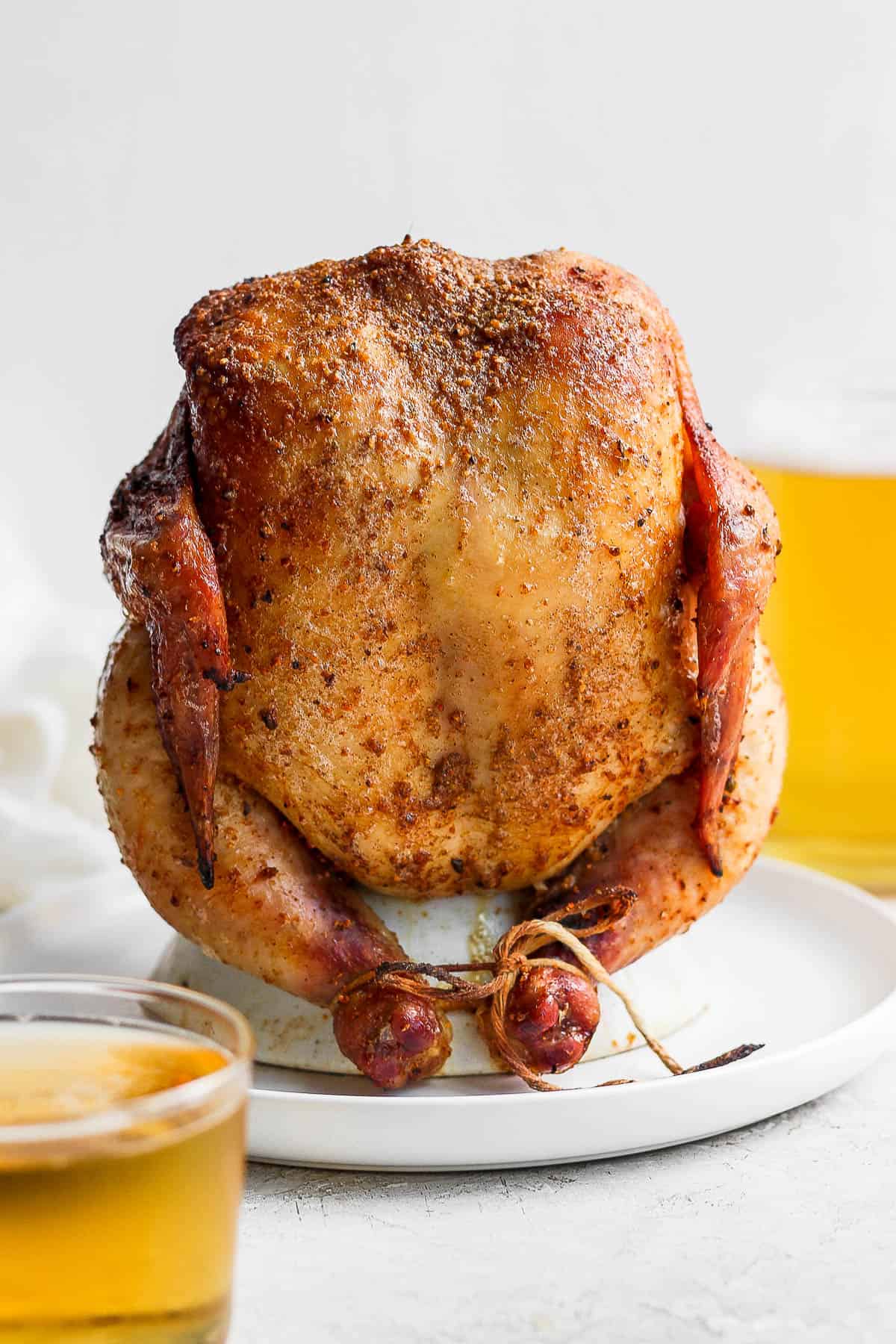 What's a Good Beer for Beer Can Chicken
We recommend choosing kind of a middle-of-the-road beer or even something more on the light side. If I use anything adventurous I tend to grab something with citrus in it as that acidity pairs well with the chicken. That being said, it's really up to you what kind of beer you want to use. It's not like the chicken is going to be completely over-powered by the beer flavor.
Best Type of Wood Chips to Use
It is hard to go wrong, but we love using hickory, mesquite or cherry wood chips!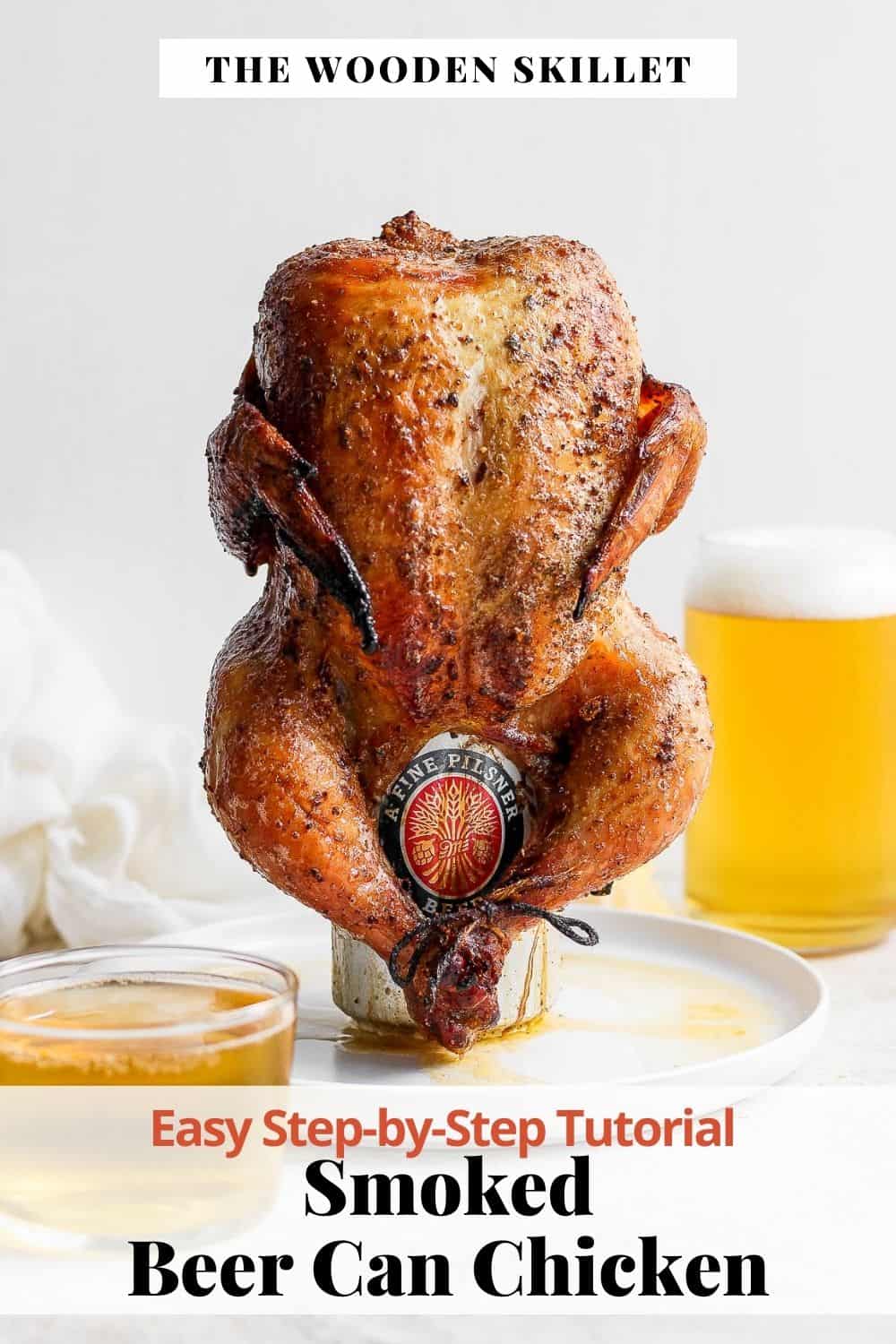 Made this recipe and loved it?! We would love it if you would take a minute and leave a star rating and review – it is also helpful if you made any substitutions or changes to the recipe to share that as well. THANK YOU!
Don't forget to check out my Instagram account for some behind-the-scenes action! Or give me a follow on Facebook or see what I am pinning on Pinterest!
Print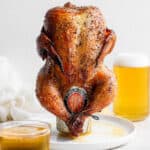 Smoked Beer Can Chicken
Author: Erin Jensen
Prep Time: 10 minutes
Cook Time: 3 hours
Total Time: 3 hours 10 minutes
Yield: 6–8 servings 1x
Category: Dinner/Entree
Method: Smoker
Cuisine: American
---
Description
Smoked Beer Can Chicken – perfect beer can chicken recipe for your Traeger (or any type of smoker) and so easy to make! The flavor is amazing!
---
Dry Rub:
1 tablespoon kosher salt
2 teaspoons onion powder
2 teaspoons garlic powder
2 teaspoons paprika
1 tablespoon dried oregano leaves
1/2 teaspoon turmeric
1/2 teaspoon ground black pepper
1/4 teaspoon ground ginger
1/2 teaspoon ground cumin
1/2 teaspoon coriander
Beer Can Chicken:
(1) 4-5 pound whole roasting chicken
1 can of beer* (see notes)
(optional) 1/4 cup melted ghee or butter
---
Instructions
Prep Dry Rub: Combine Dry Rub ingredients in a small bowl. Set aside.
Prep Smoker: Turn on smoker according to manufacturer's instructions and set to 225 degrees F.
Prep Chicken: Remove any gizzards from the inside of the chicken and then pat dry with a clean paper towel. Rub dry rub all over chicken ensuring you get it into every nook and cranny.
Insert Beer Can: Open can of beer and carefully place the top of the beer can inside the cavity of the chicken, setting the chicken upright. Use kitchen twine to tie the legs together and try and tuck the wings in a bit.
Cook: Place on the smoker and close. Let smoke for 1 hour – 1 hour and 30 minutes.
Raise smoker temperature to 350 degrees F.
Let cook for 1 hour – 1 hour 30 minutes, opening the smoker 2-3 times to quickly baste with melted ghee or butter (if you want).
Remove + Rest: Remove when the internal temperature reaches 160-165 degrees F. and let rest 10 minutes (the internal temp will continue to raise during the time). Feel free to baste one more time as it is resting.
Serve: Remove beer from the cavity and carve chicken.
---
Notes
Seasoning: we love the smoked chicken dry rub included in the recipe card, but feel free to use whatever works best for you!
Can of Beer: I like to buy the extra-tall beer cans for this recipe so that it is easier to get the chicken on there!
Beer Can Alternatives: if you aren't thrilled about using an actual beer can for this recipe you can always use a beer can stand/chicken throne in it's place, like this one from Traeger.
Cooking Time: the ultimate amount of cooking time depends upon a lot of factors such as the size/shape of your chicken, if you have hot spots on your smoker, temperature outside, wind and humidity. So, you have to be a little flexible when it comes to cooking time and smoking – the best way to know when the chicken is done is to watch the internal temp.
Storage: store leftover chicken in an airtight container in the refrigerator for up to 3 days.
Leftovers: make a batch of our smoked chicken salad!
Keywords: smoked beer can chicken, beer can chicken