If you are looking for a simple, but delicious side dish you definitely came to the right place! This quick & easy Steamed Asparagus can be made in only a few minutes on the stove top and goes great with any main dish, like our Pesto Salmon!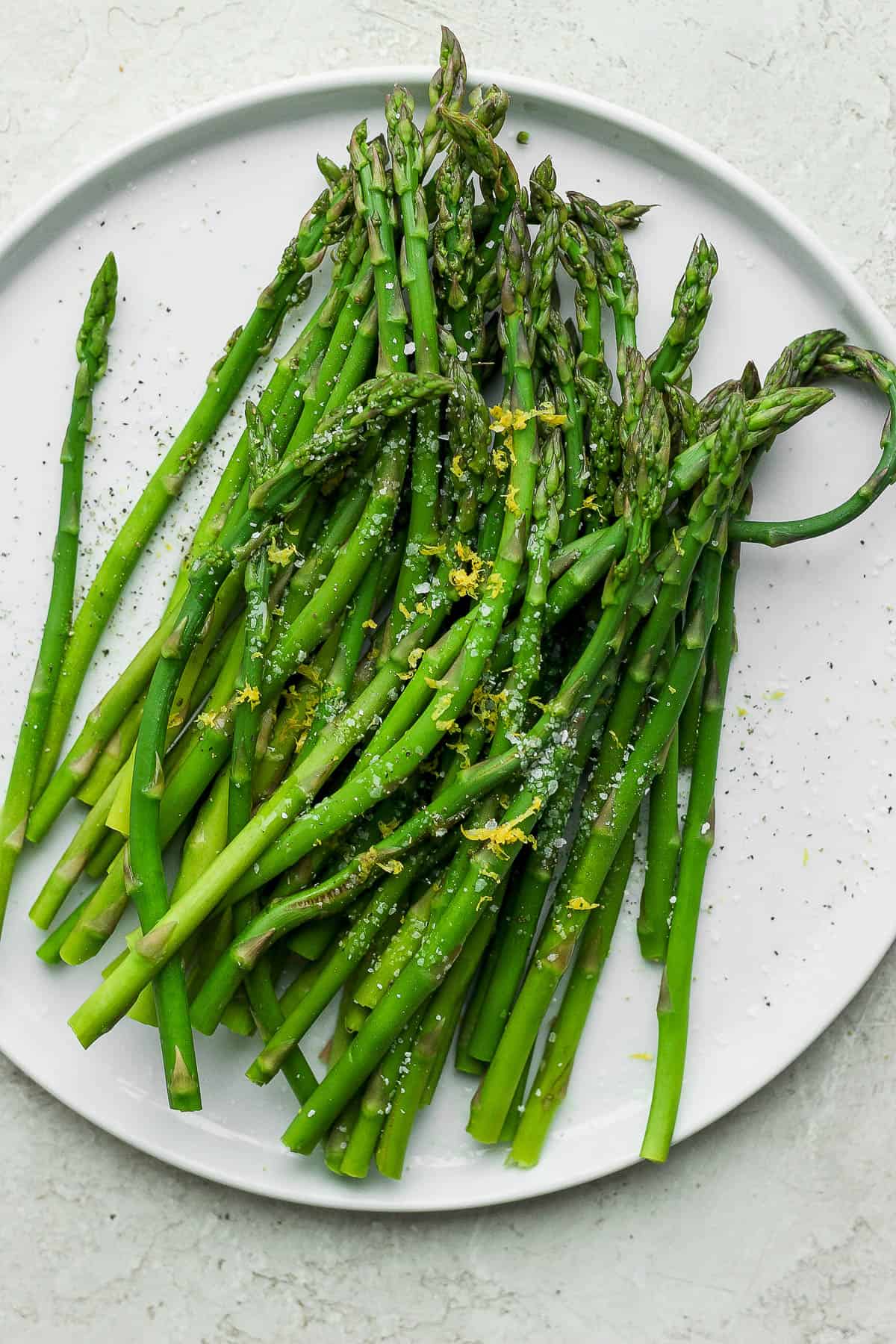 Simple & Quick Steamed Asparagus
On those busy weeknights we love a simple vegetable side dish that can be made in just a few minutes! You can keep this steamed asparagus simple with some olive oil, salt, and pepper or dress it up with some lemon & garlic!
Other great options for cooking asparagus include smoking and grilling it, but if you don't have either of those or just prefer the stovetop, then steaming is a great option for you.
What You Will Need
fresh asparagus – these tend to vary in size, but we usually like the skinnier ones if you can find them. The size of your asparagus will vary the cook time a bit.
olive oil – option to use avocado oil or butter – whatever works for you!
kosher salt & pepper – the perfect, simple seasoning.
How Long Should You Steam Asparagus
This will depend on how thick your stalks of asparagus are, the thicker the stalks the longer they will need to steam. It also depends on how you like your asparagus – more crisp or more soft? If you have thinner stalks and like to keep it more crisp, then you will only need to steam them for 2-3 minutes. If you have thicker stalks or like them more soft, then you might have to steam them for 4-7 minutes. Just check them along the way and remove them from the heat when they are done to your liking.
Seasonings & Flavor Additions
For this tutorial we kept the seasoning simple with a drizzle of olive oil and a sprinkling of kosher salt & pepper. If you want to jazz up your asparagus you could add a splash of lemon juice, some garlic, parmesan cheese, or even a little bit of bacon!
What To Serve With Steamed Asparagus
This simple side dish would make a great addition to any main dish! Some of our favorites are Pesto Salmon, Blackened Chicken, & Smoked Pork Chops. It is a nice, light side dish that can go with anything!
How To Steam Asparagus
You can begin by trimming the ends off the asparagus.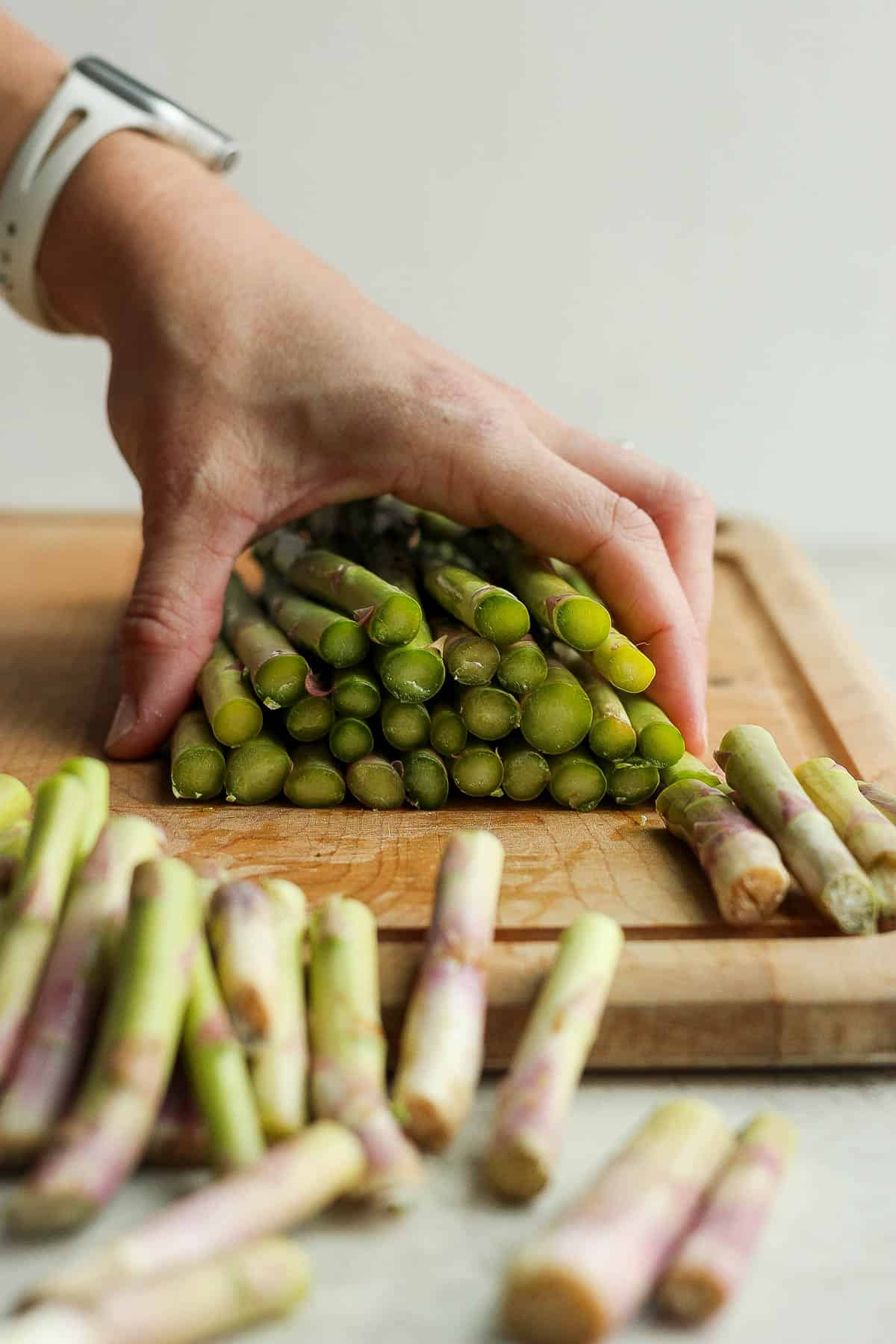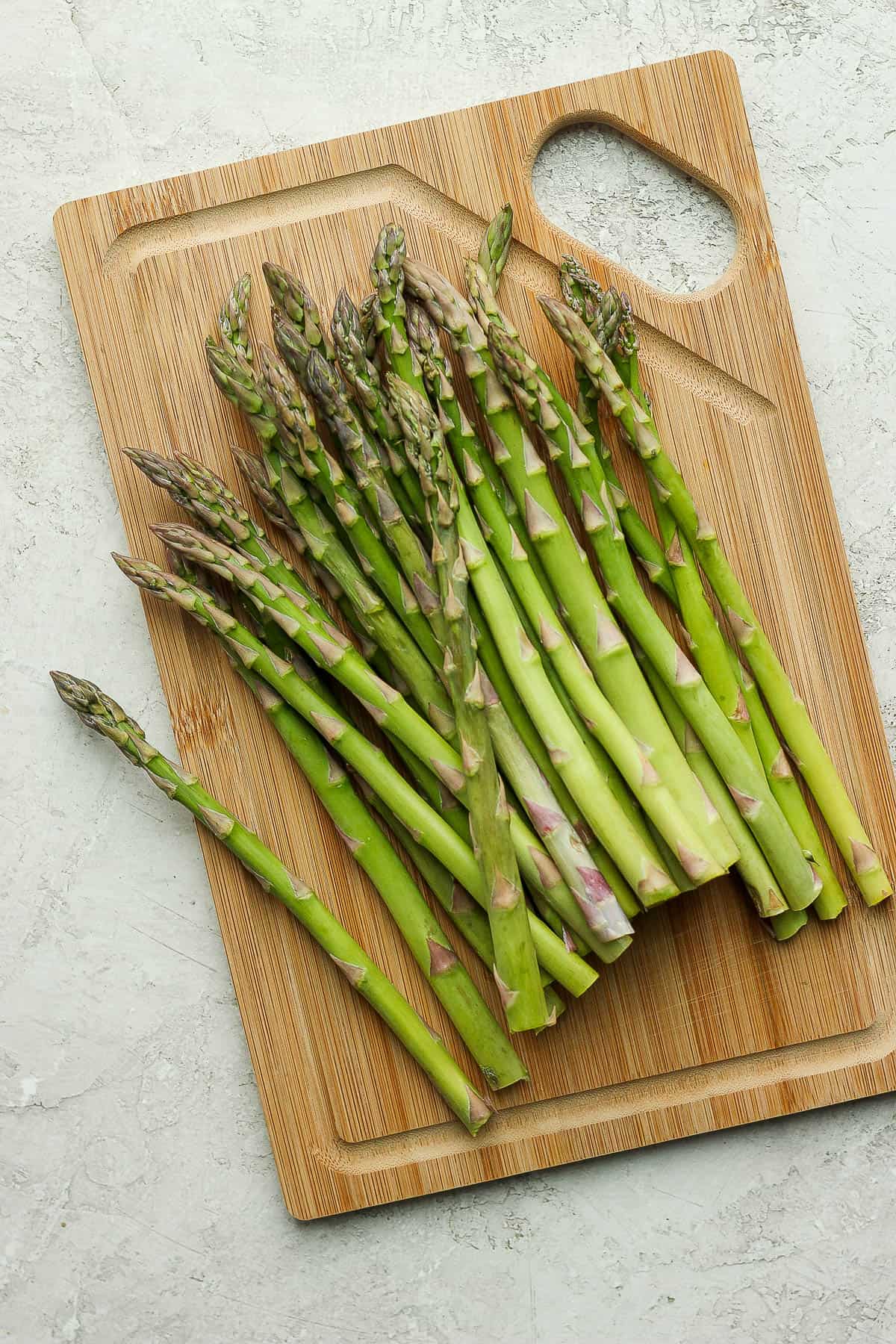 Then place a steam basket in a pot with just enough water in the bottom to barely come up to the steam basket.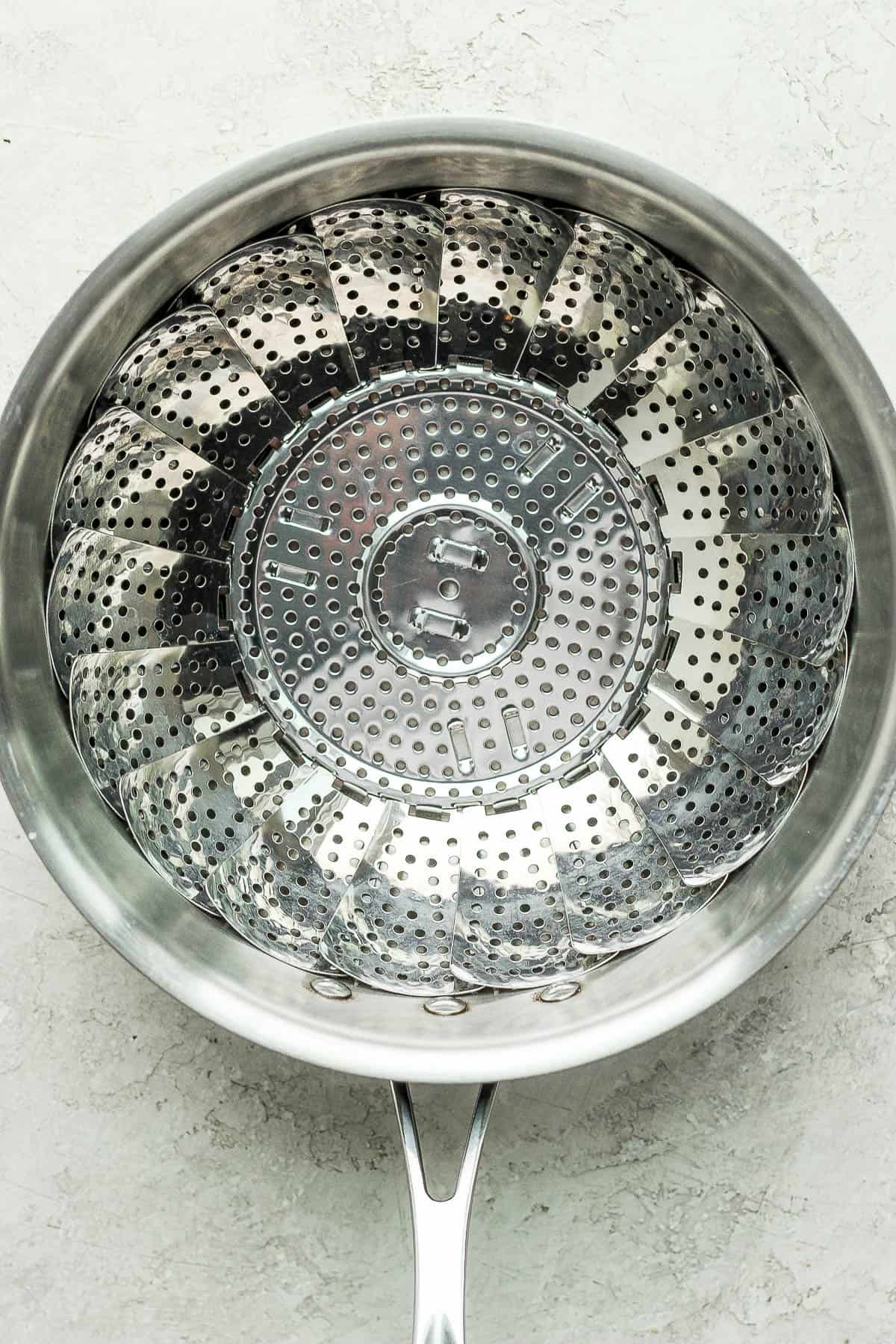 Place your asparagus stalks in the steam basket, cover, and bring the water to a boil.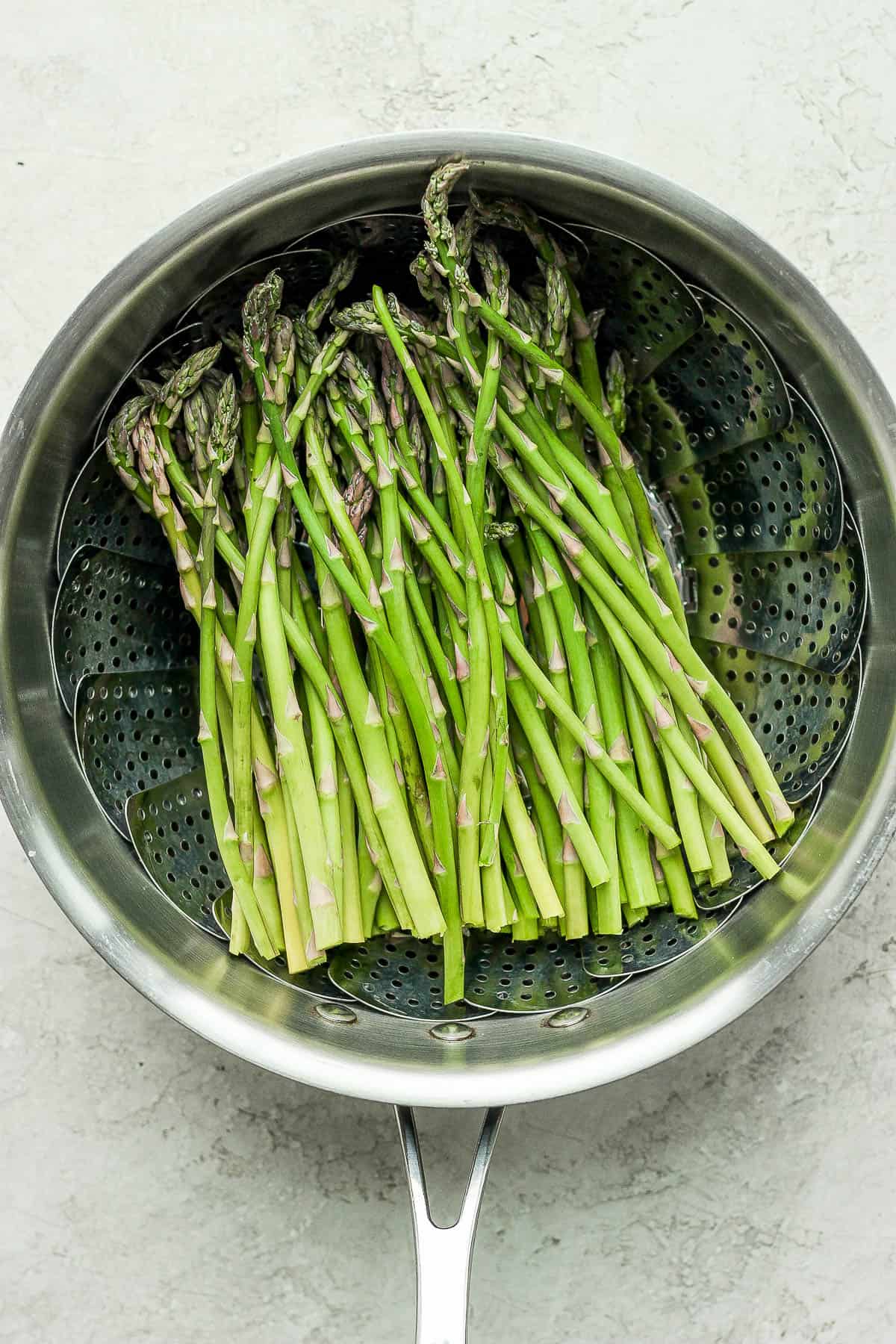 Simmer the asparagus until it is cooked to your liking.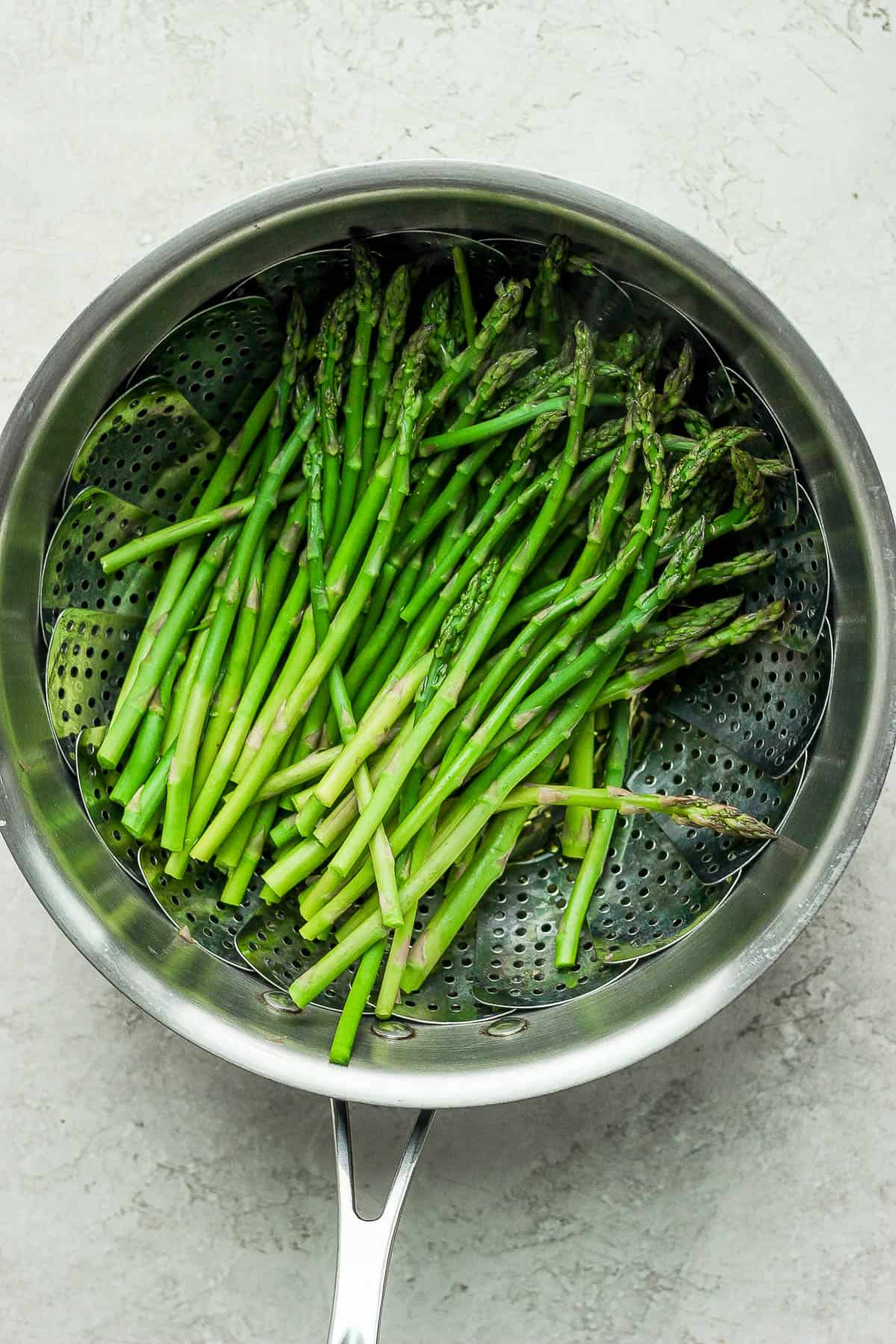 Enjoy!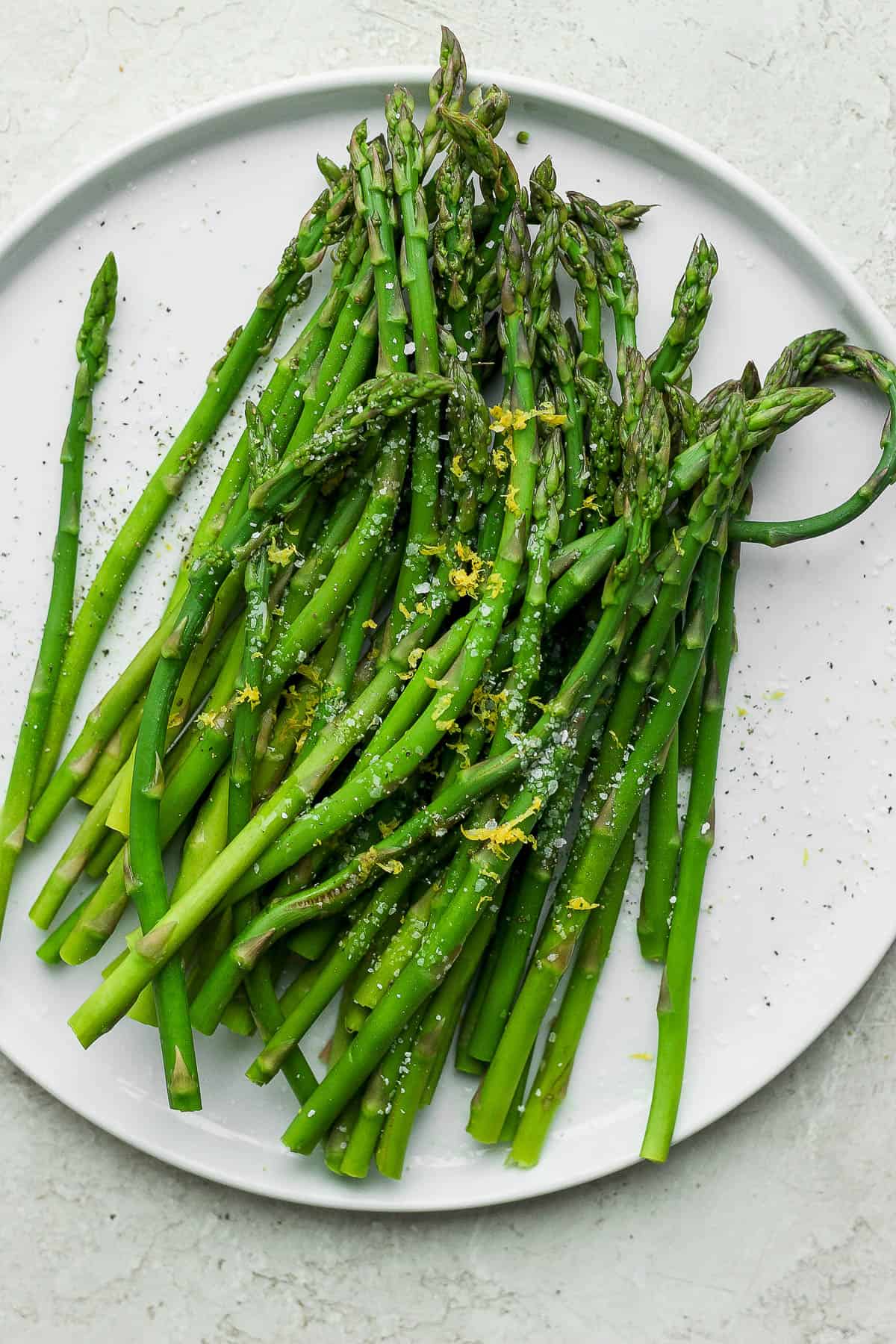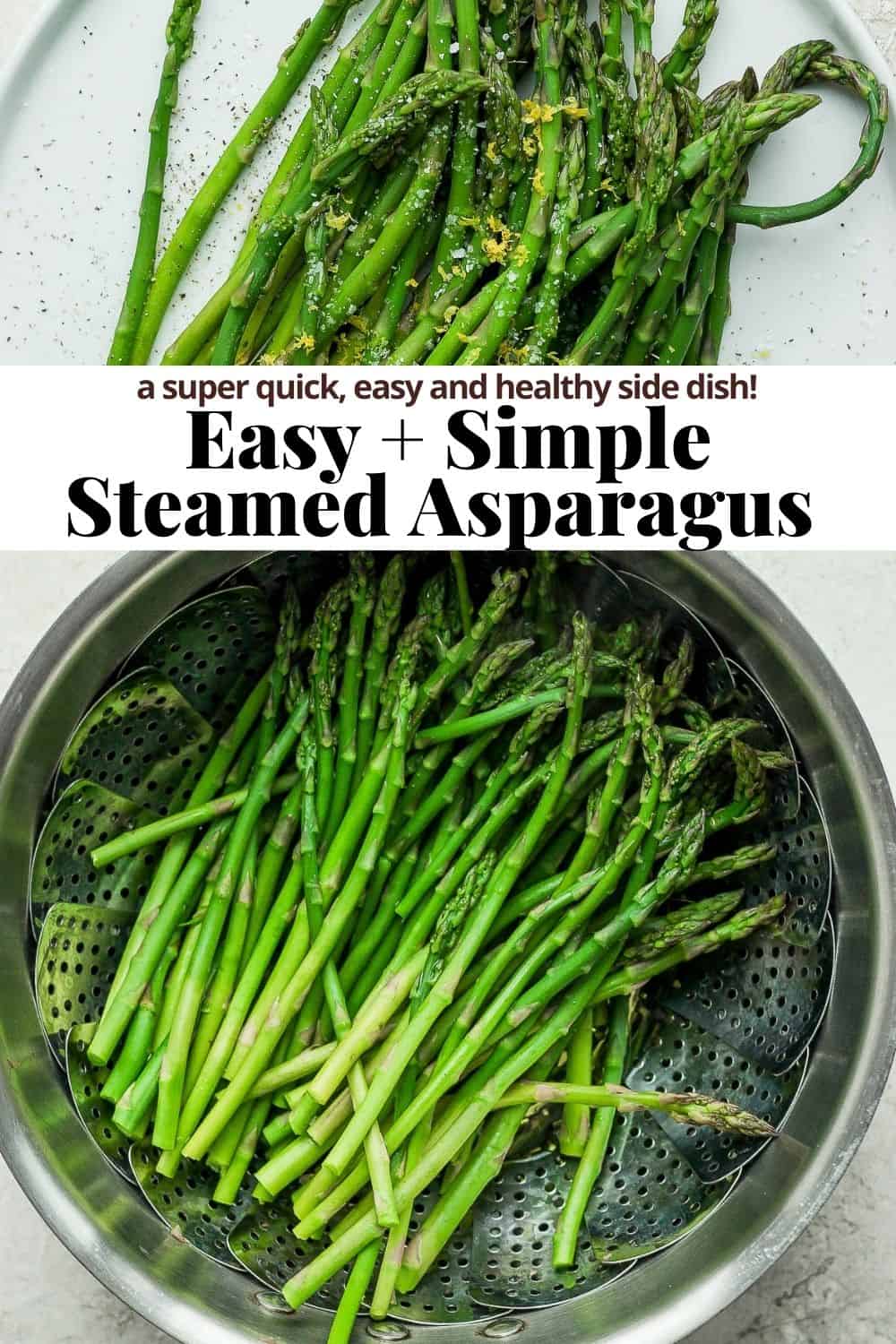 Don't forget to follow me on Facebook, check out my Instagram account or see what I am pinning on Pinterest!
Made this recipe and loved it?! We would love it if you would take a minute and leave a star rating and review – it is also helpful if you made any substitutions or changes to the recipe to share that as well. THANK YOU!
Print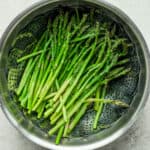 Steamed Asparagus
Author: Erin Jensen
Prep Time: 5 minutes
Cook Time: 10 minutes
Total Time: 15 minutes
Yield: 6 servings 1x
Category: Side Dish
Method: Stove Top
Cuisine: American
---
Description
Steamed Asparagus – learn how to easily make steamed asparagus! An easy and quick healthy side dish, perfect for any meal!
---
1 lb fresh asparagus
1–2 tablespoons olive oil
1 teaspoon kosher salt
1/8 teaspoon ground black pepper
---
Instructions
Trim off tough ends of asparagus; discard.
Place a steamer basket in a medium/large saucepan. Add water until it just reaches the bottom of the steamer basket.
Place asparagus stalks inside and cover.
Place on stove and bring to a boil; then reduce to a simmer 3-7 minutes (how long you let the asparagus steam depends upon how soft you want your asparagus – see Notes)*.
Use tongs to remove the asparagus and place on a large plate or platter.
Drizzle with olive oil and sprinkle with salt and pepper; toss to coat.
Serve immediately.
---
Notes
How Long to Steam: if you want a more crisp asparagus I would check after 2-3 minutes and see if it is done to your liking. If you want a much softer asparagus I would recommend letting it cook 4-7 minutes – definitely check it along the way and remove from heat when done.
Butter: feel free to use butter instead of olive if you want!
Other add-ins: tossing in some fresh lemon zest or minced garlic always tastes good too!
Keywords: steamed asparagus