This simple Grilled Asparagus recipe will have you grilling asparagus like a pro in no time! Using only 2 simple ingredients (+ salt & pepper) you will have perfectly crisp asparagus in less than 10 minutes. The perfect summer side dish recipe!
The Best Grilled Asparagus
Being able to cook an entire meal on the grill is simply the best, especially in those warmer months! Great flavors, cooks pretty quickly, and very minimal clean-up. The char marks, smoky flavor, and it's ready to eat in less than 10 minutes – what is better than that!? It is a healthy side dish to have with grilled chicken thighs, grilled steaks, or cedar plank salmon. It's a family favorite and yours will love it too!
Looking for more grilled vegetable recipes to serve as a delicious side dish? We have a whole collection of easy tutorials on how to grill vegetables – so many super simple options!
What You Will Need
fresh asparagus stalks – we find the thin stalks tend to be a bit more tender and cook a little faster than thick asparagus spears, so we try to pick those at the grocery store.
extra virgin olive oil – make sure you take the time to really rub this into all the nooks and crannies.
kosher salt & black pepper – the perfect simple seasoning while cooking any fresh vegetable.
optional flavor additions – lemon juice, garlic, parmesan cheese, or red chili flakes.
Should Asparagus Be Soaked Or Blanched Before Grilling
This is completely up to you! We love nice, crisp asparagus with a bit of char on the outside so we keep it simple and cook it right on the grill without blanching or soaking first. If you like asparagus to be a bit softer or to have less char on the outside you can absolutely soak or blanch it before placing on the grill.
How To Grill Asparagus
The first steps to starting this easy side dish recipe is to use a sharp knife to trim the thicker, tougher ends off of your asparagus spears. You can also snap off the woody ends, if you prefer.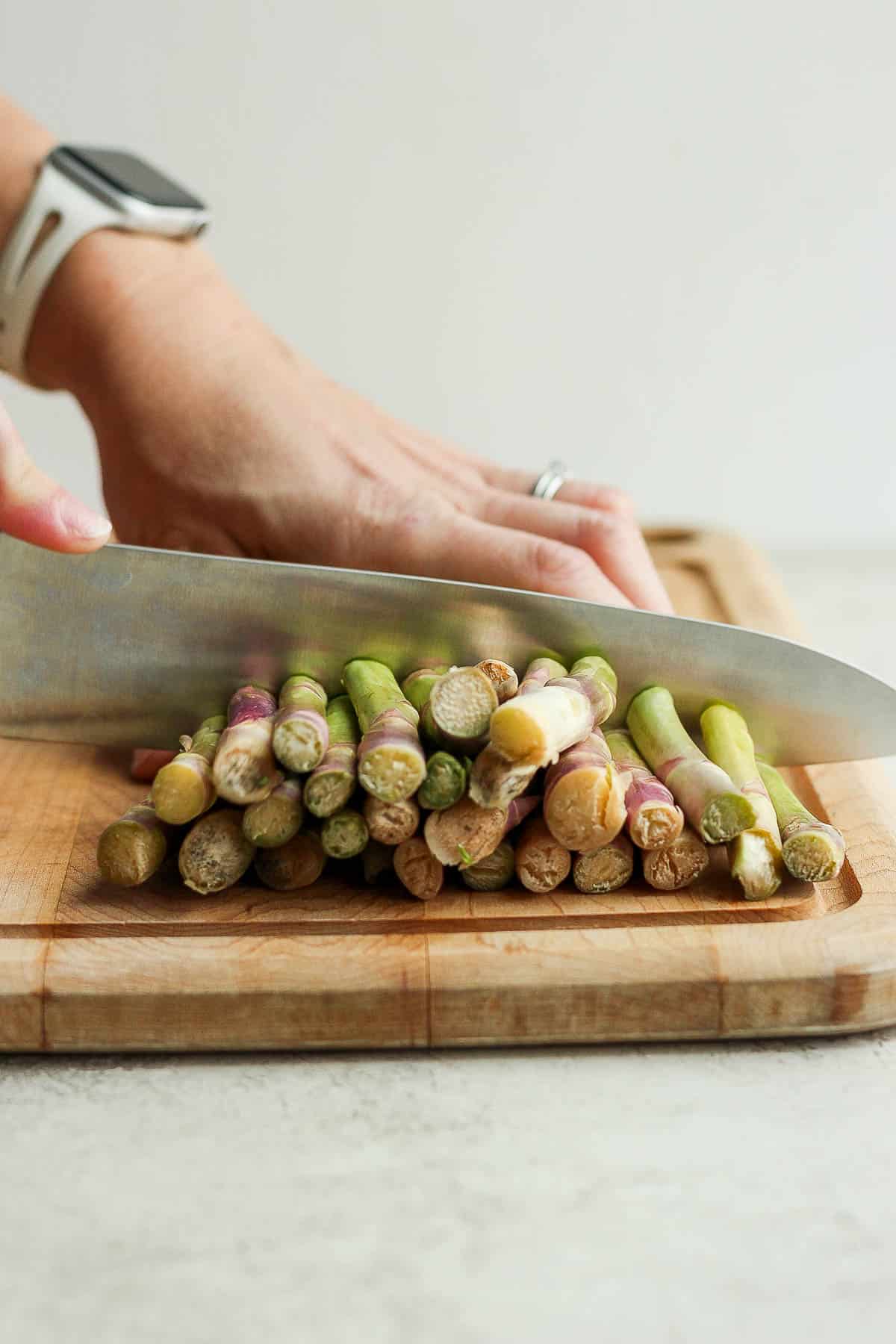 Place the trimmed asparagus stalks in a shallow baking dish or on a cookie sheet.
Drizzle the olive oil over the asparagus and use your hands to rub it in and coat each stalk.
Generously season with salt and pepper.
Place the seasoned stalks directly on the hot grill grates of the preheated grill and cook at a medium heat, turning occasionally, for about 5-6 minutes or until fork tender. Keep an eye on them because the cook time will vary depending on their thickness.
Once they are cooked to your liking, use a pair of tongs to carefully remove the perfect grilled asparagus from the grill, place on a serving platter, and enjoy!
Best Way To Serve Grilled Asparagus
We love serving this grilled asparagus recipe when our main dish is also being cooked on the gas grill. Our favorites to have with grilled asparagus are grilled spatchcock chicken, grilled pork tenderloin, or grilled salmon. Before serving you also have the option of tossing them with fresh lemon juice, pine nuts, slivered almonds, or fresh herbs for some added protein or flavor.
Recipe FAQ
How long to grill asparagus? We have found that about 5-6 minutes of cooking time seems to cook the tender asparagus, without getting it mushy or too charred.
Grilled asparagus in foil – you can absolutely place the seasoned asparagus on a piece of aluminum foil, in foil packets, or on a grill pan to cook. This will still give you grill marks, but there will be fewer.
Recipe variations – typically we keep our asparagus on the grill simple, as written in the recipe card. But feel free to add any other toppings that sound good to you – garlic powder, balsamic vinegar, lemon pepper, a squeeze of lemon juice, etc.
Don't forget to check out my Instagram account for some behind-the-scenes action! Or give me a follow on Facebook or see what I am pinning on Pinterest!
Made this recipe and loved it?! We would love it if you would take a minute and leave a star rating and review – it is also helpful if you made any substitutions or changes to the recipe to share that as well. THANK YOU!
Print
Grilled Asparagus Recipe
Author: Erin Jensen
Prep Time: 5 minutes
Cook Time: 6 minutes
Total Time: 11 minutes
Yield: Serves 4-6 1x
Category: Side Dish
Method: Grill
Cuisine: American
---
Description
Grilled Asparagus – a simple, step-by-step tutorial on how to grill asparagus perfectly every time! A super easy side dish recipe!
---
1 bunch of fresh asparagus
1 tablespoon extra virgin olive oil
kosher salt
ground black pepper
---
Instructions
Clean grill grates and preheat the grill to 450 degrees F.
Take asparagus and gently bend each one toward the white end; the asparagus will naturally snap in half where the tough part (that is too tough to eat) meets the tender part. Alternative: you can trim off the bottom inch or two with a sharp knife.
Place asparagus on baking sheet and drizzle with some olive oil.
Use your hands to massage oil into the asparagus so each piece is lightly coated and sprinkle with salt and pepper.
Place asparagus perpendicular to the grill grates so they don't fall through and cook on direct heat for a total of 5-6 minutes, use tongs to move the asparagus around once or twice so all sides cook.
Remove and serve immediately.
---
Notes
Storage: place in an airtight container and keep in the refrigerator for 3-5 days.
Keywords: how to grill asparagus, grilled asparagus, grilled asparagus recipe