Sushi Hand Roll – learn how to make a sushi hand roll with this easy, step-by-step tutorial (with photos). So easy and so good!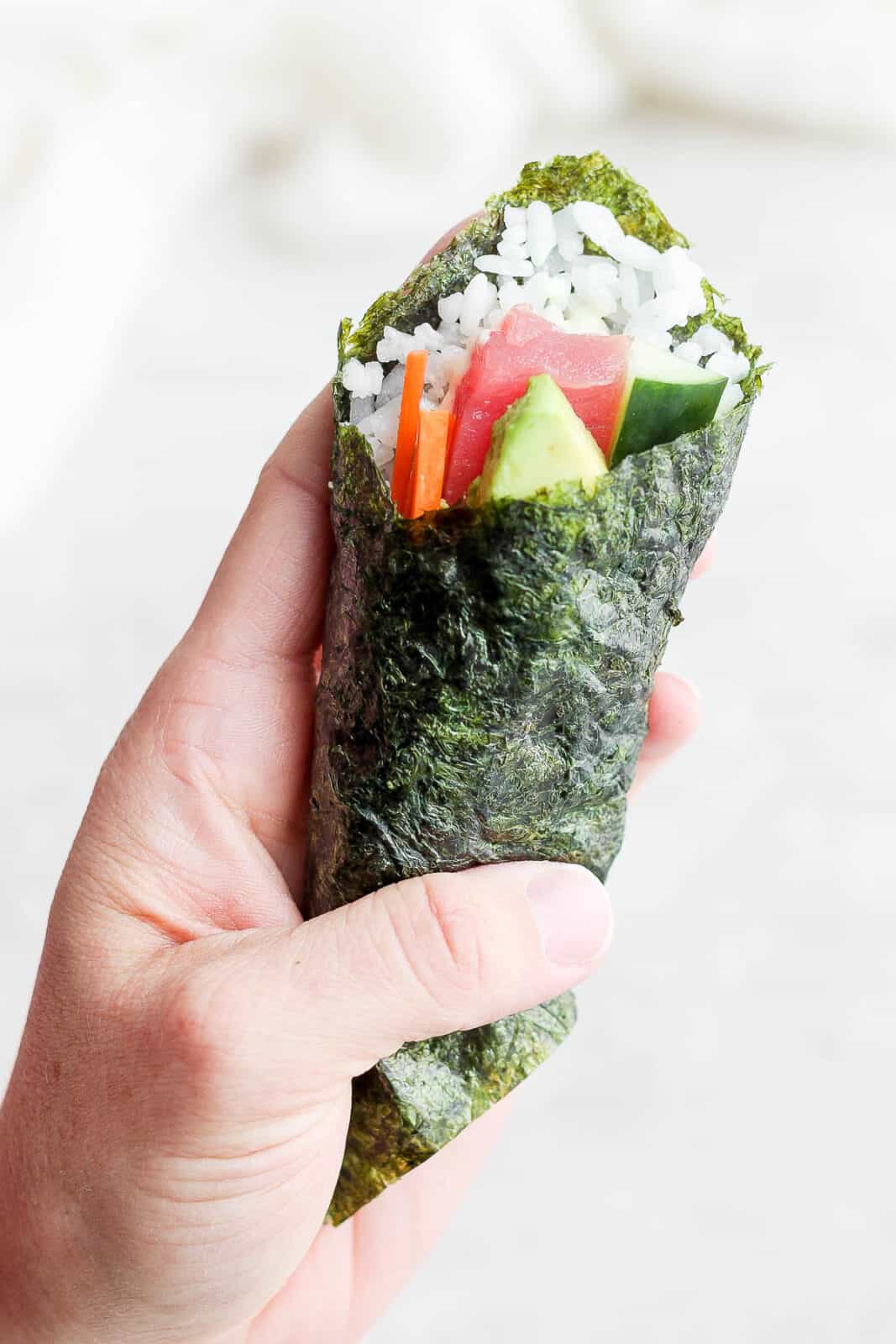 A Simple Sushi Hand Roll
Sushi chefs spend years perfecting the art of making sushi and, let's be honest, you and me aren't at that level BUT sometimes it is so fun to sit down and make your own hand rolls or sushi rolls! So if you have been curious about how to make your own sushi this would be the perfect starting point! I have been making my own sushi for about 10+ years so I am excited to finally put my own experience into writing – this is clearly an Americanized version of a sushi hand roll and if you want to truly enjoy the authentic version head out and find yourself a talented sushi chef at a local restaurant!
What You Will Need
sushi rice – we love this one! The perfect sticky texture every time and if you need an easy tutorial on how to make it you should checkout this post!
nori sheets – these are the seaweed sheets that you wrap all the ingredients in!
filling ingredients – you can really get creative here! Some of our favorites are tuna, salmon, avocado, cucumber, and carrots!
wasabi – this is totally optional! Feel free to use wasabi mayo if you want it toned down a bit.
Difference Between A Hand Roll and A Sushi Roll
A sushi roll, or maki, are made by rolling all the filling ingredients into a long roll that is cut into small pieces. A hand roll is a more simple process that doesn't require in tools for the rolling process. You just wrap all your filling ingredients up in a nori sheet and eat it by holding it in your hand.
What Should I Put In A Sushi Hand Roll
In the hand roll shown in the images below we used tuna, cucumber, carrots, avocado, and wasabi mayo. We love this combination! Other options for filling ingredients could be – salmon, cream cheese, lettuce, or tempura shrimp.
How To Make A Sushi Hand Roll
You will begin by cutting a nori sheet in half.
Place the nori sheet in your hand with the rough side up.
Carefully spread sushi rice on the top half of the nori sheet.
Option to add some wasabi mayo – this will add a bit of spice.
Place the your strip of tuna across the middle of your rice at an angle.
Add the rest of your filling ingredients.
Now it is time to wrap it up! Pull the corner near your thumb over your filling ingredients.
Then use your other hand to pull the other corner across the hand roll, making a cone shape. You may need to rub a bit of water on the edge of the nori sheet to help it stick.
And enjoy!!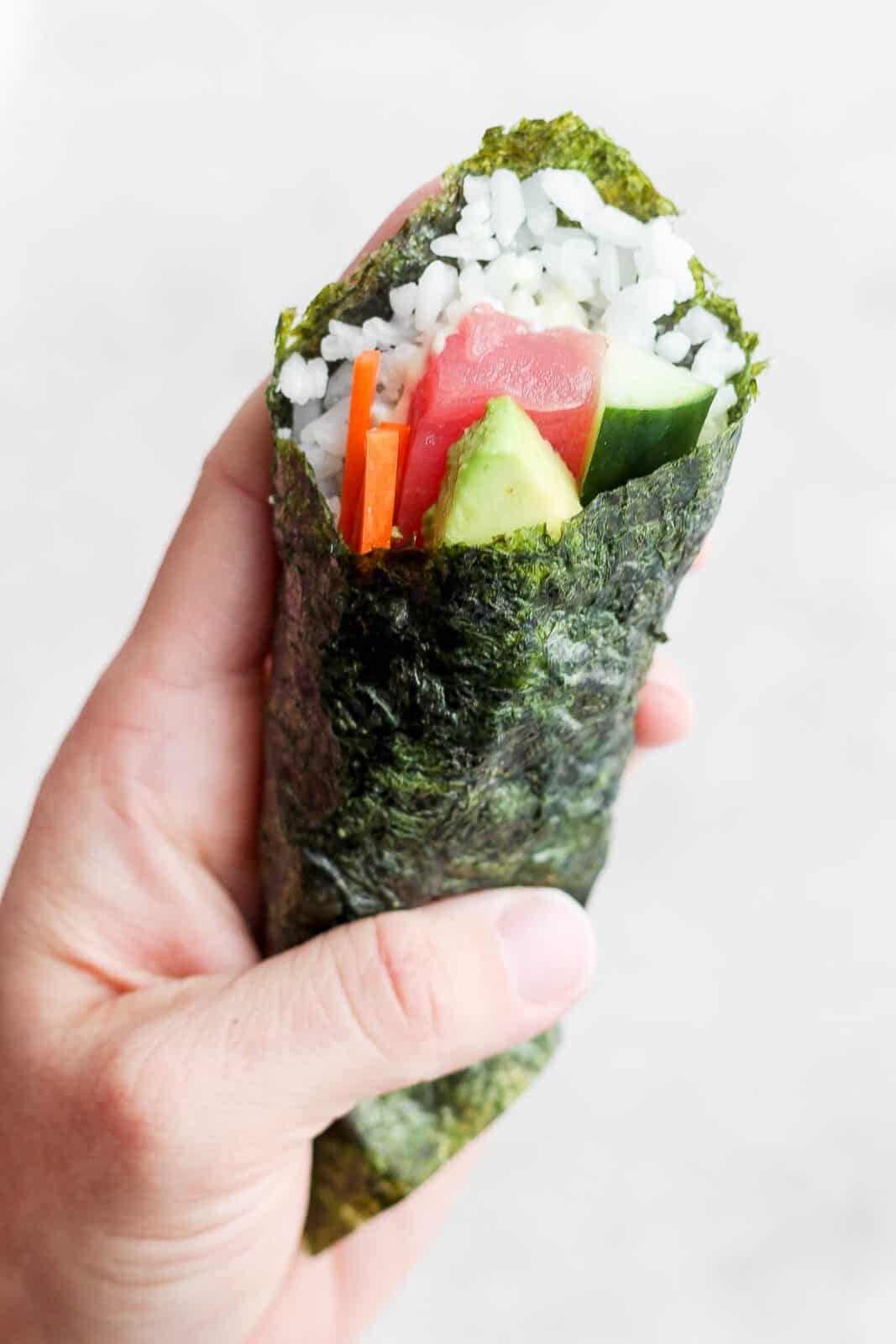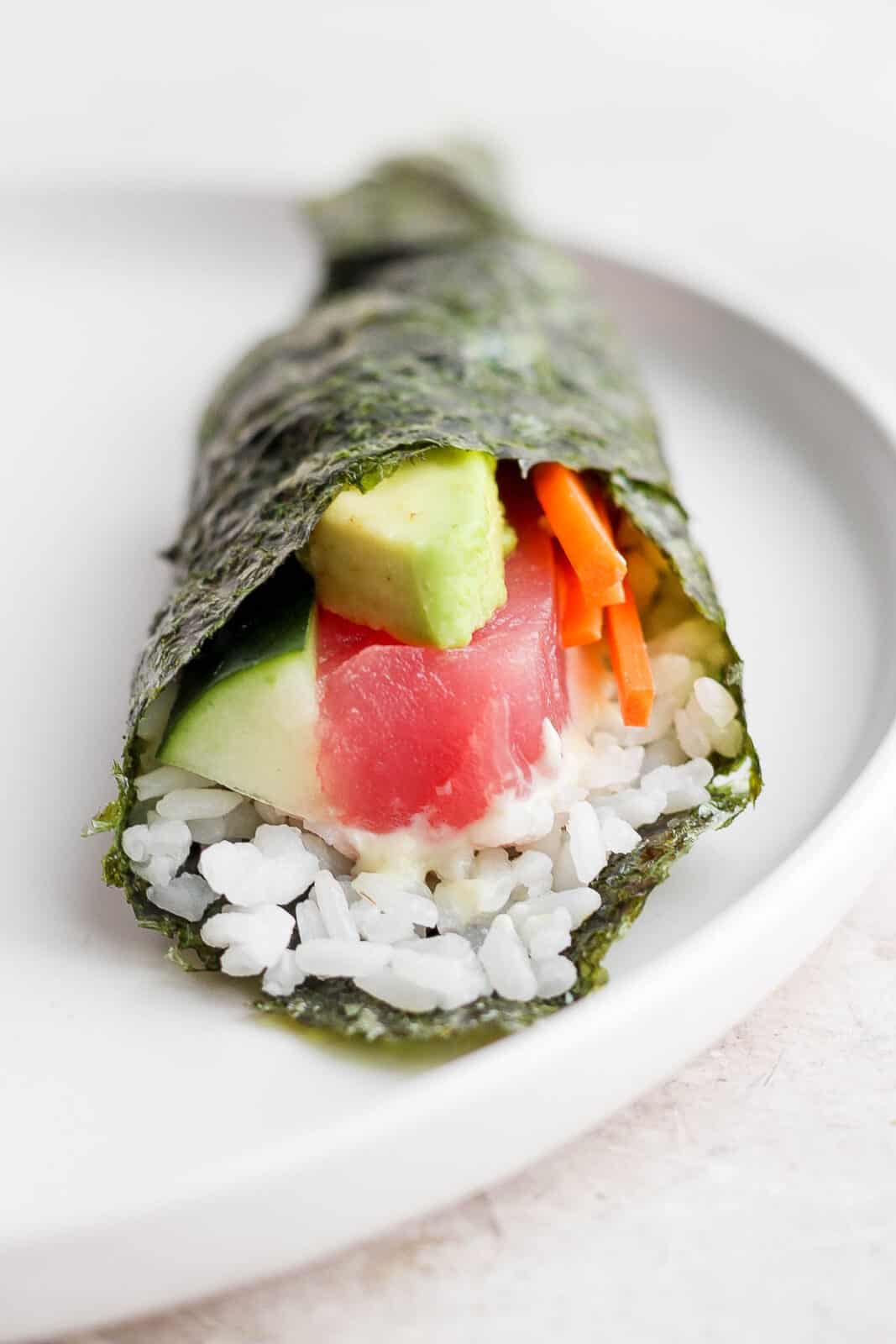 Don't forget to follow me on Facebook, check out my Instagram account or see what I am pinning on Pinterest!
Made this recipe and loved it?! We would love it if you would take a minute and leave a star rating and review – it is also helpful if you made any substitutions or changes to the recipe to share that as well. THANK YOU!
Print
Sushi Hand Roll
Author: Erin Jensen
Prep Time: 5 minutes
Cook Time: 0 minutes
Total Time: 5 minutes
Yield: 1 serving 1x
Category: Dinner/Entree
Method: Counter Top
Cuisine: Asian-Inspired
---
Description
Sushi Hand Roll – learn how to make a sushi hand roll with this easy, step-by-step tutorial (with photos). So easy and so good!
---
1 nori sheet, halved
1/2 cup sushi rice
wasabi (optional)
sushi-grade salmon or tuna (a thick strip of it)
1 slice avocado
1 slice cucumber
small bunch of matchstick carrots
---
Instructions
Pick up your piece of nori and lay flat across your left hand (rough side up).
Take a spoonful or two of sushi rice and place it on the left side of the nori; use the back of the spoon to flatten so it fills about the whole left side of the piece of nori.
Place a little wasabi (if using) down the middle of the rice.
Add fillings like tuna, cucumber and avocado.
Fold the bottom-left corner of the nori sheet over the middle of the ingredients and hold it down with your thumb.
Use your fingers to roll the nori into a cone shape. You may need to use a bit of water to get the end of the nori sheet wet so it sticks to itself.
Serve with soy sauce, if desired.
---
Keywords: sushi hand roll