Spicy Salmon and Avocado Cauliflower Rice Sushi Roll – the perfect way to keep your beloved sushi roll Whole30/Paleo/Gluten-Free!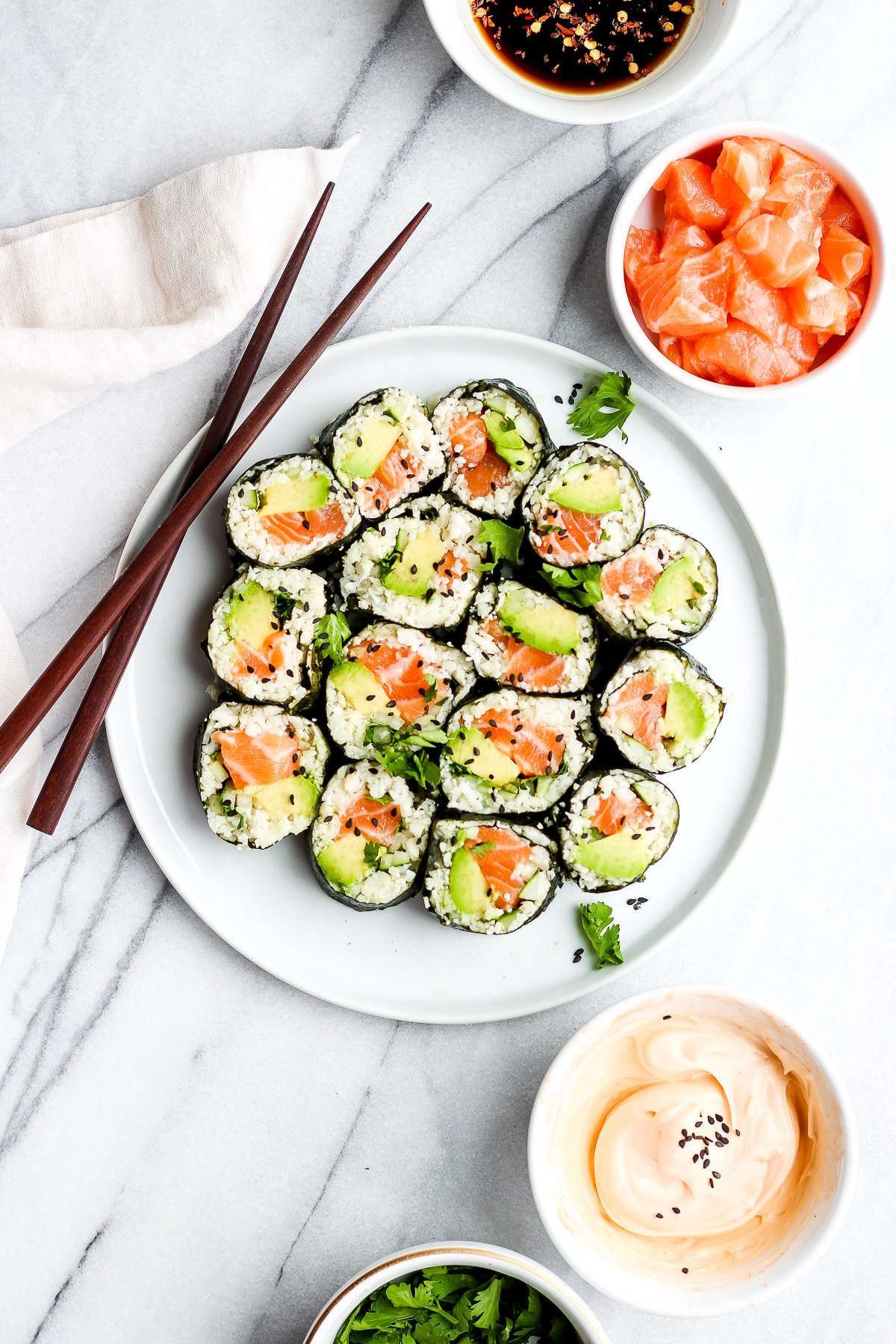 Sushi is one of my favorite things to eat (when I am not pregnant!), so you know I had to made a Whole30 version!
I don't miss alcohol very much when I am trying to clean up my eating or if I am doing a full Whole30. Sure, once in a while an ice cold beer sounds good or maybe a really good margarita, but the thing I miss most is eating sushi. I love the rice, the salmon, the avocado …. all of it :-). So I knew I had to make an attempt at cooking up some Whole30 compliant sushi that I could enjoy from time to time!
Obviously, being pregnant right now, I still can't enjoy this (sad face), but it's awesome knowing I will be able to whip this up in the future! (In the meantime, my lucky husband got to taste test these for me!
A quick note, the recipe is pretty detailed, but my best pieces of advice in working with cauliflower rice is to grate it (yes, I know, it takes time but the texture is SO much better) and make sure you have a very thin layer on your piece of nori. I am not going to pretend it is as easy as working with sticky sushi rice, but it does work!
FYI – you will need a simple Bamboo Sushi Kit to make these though – let's face it, you should probably have one anyways 🙂
Enjoy you guys!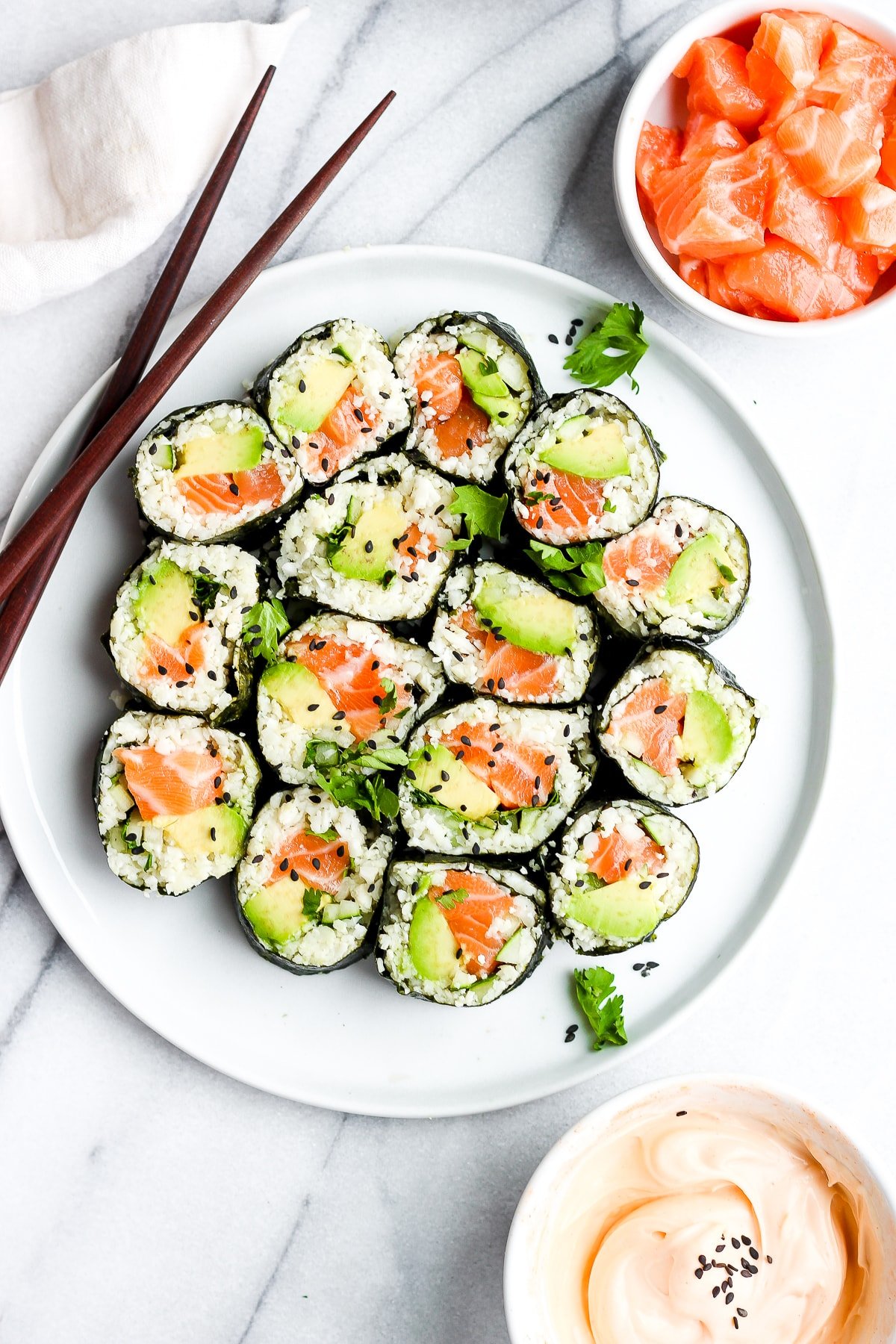 Don't forget to check out my Instagram account – Or give me a follow on Facebook or see what I am pinning on Pinterest!
Love,
E
Print
Spicy Salmon and Avocado Cauliflower Rice Sushi Roll
Author: Erin Jensen
Prep Time: 15 minutes
Cook Time: 5 minutes
Total Time: 20 minutes
Yield: 3–4 rolls 1x
Category: Dinner
Method: Counter Top
Cuisine: Asian
---
Description
So you can enjoy your favorite sushi roll in a way that is gluten-free, Whole30 and Paleo!
---
Cauliflower Rice:
3 cups grated cauliflower rice
2 Tablespoons rice vinegar
2 Teaspoons tapioca starch
pinch of salt
Sushi Roll:
1/2 lb sushi grade salmon (or tuna or smoked salmon)
1/2 Tablespoon Franks Red Hot (if not worried about Whole30/Paleo, use siracha instead)
1 large avocado, sliced
1 cup cilantro
1/2 cucumber cut into small "sticks"
3–4 sheets of nori
(you will also need a bamboo sushi roller)
Dipping Sauce:
Coco amino and some red pepper flakes
Spicy Mayo (optional):
3/4 cup Compliant mayo
1–2 Tablespoons Franks Red Hot or Siracha (not Whole30) – (mix per your desired spicy level)
---
Instructions
Grate cauliflower (I would HIGHLY recommend grating it so that it is the right texture)
Place grated cauliflower in skillet and turn to medium high.
Start moving the cauliflower around constantly with a wooden spoon, letting it cook for about 3 minutes.
Add a pinch of salt and the rice vinegar.
Continue to stir constantly, letting the vinegar coat the cauliflower – about 2 minutes.
Add the tapioca starch and stir to fully combine.
Remove from heat and pour rice into separate bowl to allow to cool slightly.
Take a large plate and place a paper towel on it.
Pour rice onto paper towel and the place another paper towel on top; press down to absorb excess water.
Place cauliflower rice back into bowl.
Take salmon and cut into small cubes and place in a bowl.
Add Franks Red Hot or Siracha and stir to coat; set aside.
To assemble sushi roll, place bamboo sushi roller on cutting board.
Take one sheet of nori and place on top.
Take a metal spoon and start spooning some cauliflower rice onto nori; use the back of the spoon to press down and spread out the cauliflower rice – you want a very thin, compressed layer.
Start at the bottom of the nori sheet and work your way up, away from your body, leaving approximately the top 1 inch of nori uncovered with rice.
Take some cucumber, cilantro, salmon and avocado and lay across in a straight line, parallel with the bottom of the nori sheet, about 1 inch from the bottom.
Then take the bottom of the nori sheet (closest to you) and lift up and fold over your salmon, etc., lifting the bamboo roller along with it, tucking the bottom of the nori sheet under the salmon, etc. and then continue pulling the bamboo roller away from your body, pressing down firmly on the roll as you go.
Continue pulling away from you until your roll is complete.
Cut into 1 inch slices using a very sharp knife, wiping your knife off into between cuts.
Serve immediately with coco aminos.
Garnish with additional cilantro, black sesame seeds and spicy mayo.
---
Keywords: cauliflower rice sushi, whole30 sushi