How to Make Sushi Rice – an easy, step-by-step tutorial (with photos) that teaches you how to make sushi rice at home!
How To Make Sticky Rice For Sushi
At our house, sushi is always on the menu! We definitely aren't professionally trained sushi chefs, but we love getting creative and making our own sushi at home! For about 10+ years we have loved nothing more than getting a bunch of friends together and making our own sushi rolls.
This very easy tutorial will show you the steps to making the perfect sticky sushi rice in your own kitchen. That way it is ready for everyone to make their sushi the way they want it! This is clearly an Americanized version of sushi rice and if you want to truly enjoy the authentic version head out and find yourself a talented sushi chef at a local restaurant!
What You Will Need
short grain sushi rice – we love this one! Turns out great every time!
water – you will need water for rinsing & cooking the rice.
rice vinegar, granulated sugar, & kosher salt – the perfect combo of flavors and sweetness to get your sushi ready for rolling!
Can You Use Any Rice For Sushi Rice?
We have continued to use the same sushi rice every time, because it works so well! You can definitely try other options, but I would stick with one that is labeled sushi rice.
Do You Cook Sushi Rice Like Regular Rice?
There are similarities but definitely some differences too! For regular rice you would give it a rinse before cooking it, but for sushi rice you are going to want to make sure you rinse it several times until the water runs clear.
Once it is ready to cook, that is pretty much the same as making regular rice. After that, the other difference is that once it is cooked you will add a sushi vinegar into the rice before using it to make sushi. This will give it some great flavor and add to the stickiness.
How Do You Store Sushi Rice After Cooking?
Once the rice has fully cooled you can place it in an airtight container and store it in the fridge for up to 3-5 days, but it really tastes best to use it within 2 days. If you are using sushi rice for homemade sushi rolls it really is best to use it immediately after making – it doesn't work as well once it gets cold.
How To Make Sushi Rice
Grab your favorite sushi rice.
Measure out your rice in a large mixing bowl.
Pour enough water into the bowl to cover the rice.
Use your hand to move around the rice in the bowl making sure that all the rice is getting rinsed.
Very carefully drain the water into the sink without letting too much rice out of the bowl.
Continue this process until the water in the bowl in pretty much clear.
Pour the rinsed rice into a large pot.
Add 3 cups of water.
Bring the pot to a boil and then let simmer for 12-15 minutes. Then let it rest off the heat for about 10-15 minutes.
Pour the cooked rice into a large shallow dish.
Mix up your sushi vinegar.
Pour the sushi vinegar evenly over the top of the rice.
Use a rice paddle or wooden spoon to cut through the rice which will help spread out the sushi vinegar.
It is ready to make some sushi!
To keep the rice moist while you are using it you can place a damp cloth over the top.
Use it in homemade sushi rolls!
Or a poke bowl!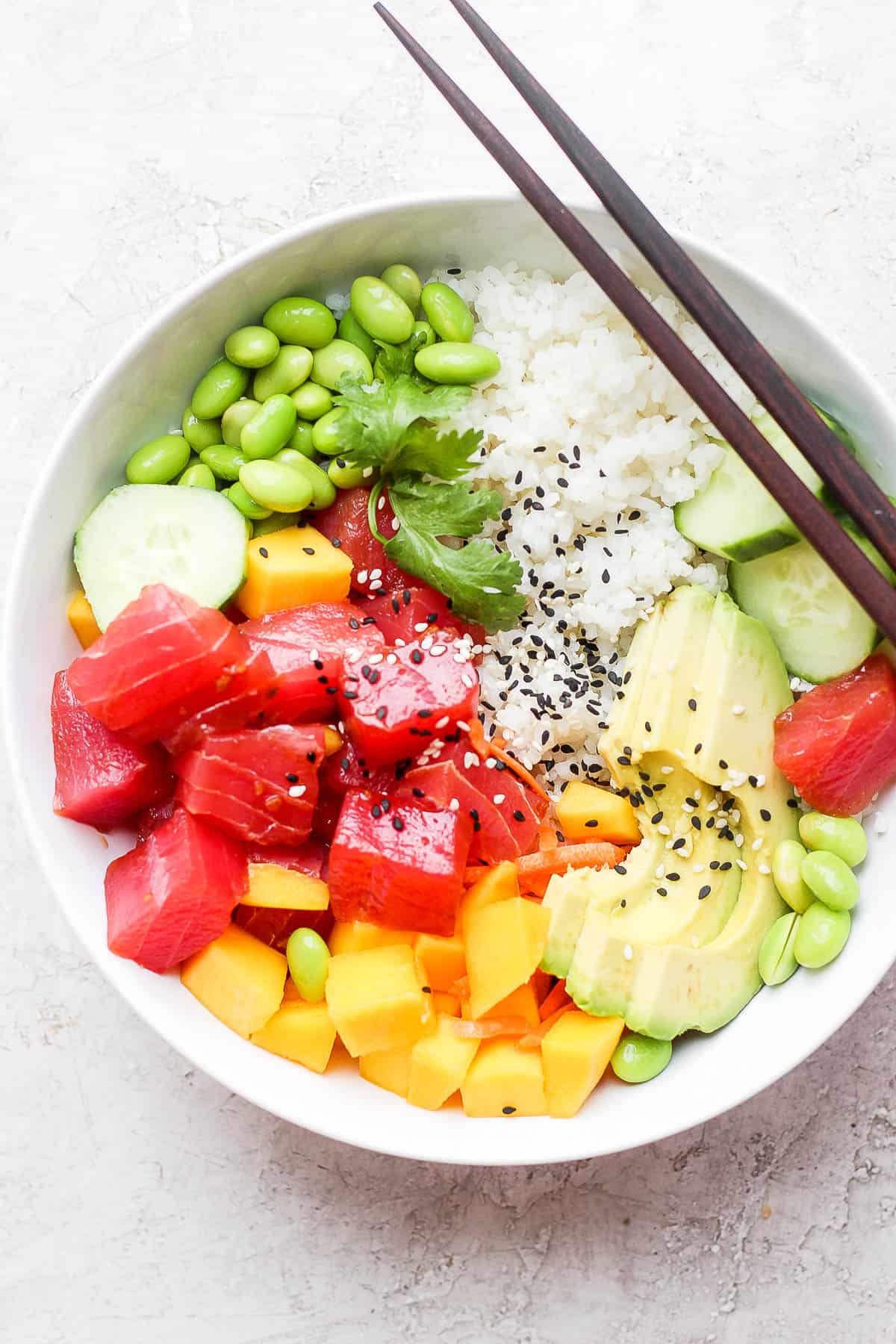 Try these sushi rolls:
Made this recipe and loved it?! We would love it if you would take a minute and leave a star rating and review – it is also helpful if you made any substitutions or changes to the recipe to share that as well. THANK YOU!
Don't forget to check out my Instagram account for some behind-the-scenes action! Or give me a follow on Facebook or see what I am pinning on Pinterest!
Print
How to Make Sushi Rice
Author: Erin Jensen
Prep Time: 30 minutes
Cook Time: 15 minutes
Total Time: 45 minutes
Yield: Approx. 9 cups
Category: How-To
Method: Stove Top
Cuisine: Asian-Inspired
---
Description
How to Make Sushi Rice – an easy, step-by-step tutorials (with photos) that teaches you how to make sushi rice at home!
---
Sushi Rice:
3 cups uncooked short grain sushi rice
3 cups water*
Sushi Vinegar:
1/4 cup + 2 tablespoons rice vinegar (unflavored)
1/4 cup granulated sugar
1/2 teaspoon kosher salt
---
Instructions
Place sushi rice in a medium-sized bowl. Fill with enough water to cover the rice. Use your hand to move the rice around until the water becomes cloudy. Drain and continue to repeat this process until the water becomes clear (it takes a bit of time and the water doesn't need to be 100% clear).
Place drained rice in a medium/large saucepan. Add 3 cups water. Bring to a boil and then reduce heat to simmer and cover.
Let simmer until water is fully absorbed, about 12-15 minutes.
Remove from heat and let stand, covered, 10-15 minutes.
Meanwhile, combine the Sushi Vinegar ingredients in a mixing bowl or large measuring cup with a spout; set aside.
Pour out rice carefully into a deep baking sheet.
Using a rice paddle or wooden spoon begin slicing through and gently folding in the sushi vinegar as you slowly pour it evenly over the sushi rice. Continue gently folding the rice (you don't want to mix or stir it in as it can squash the grains) until the sushi vinegar is combined.
Continue to let the sushi rice cool until it comes down to room temperature; do not refrigerate before use.
To keep the rice moist simply cover it with a damp cloth.
Use in your favorite sushi recipes, hand rolls or poke bowls (here is a tutorial on how to make sushi at home)!
---
Notes
*Water: if you like your rice texture to be more on the softer side add an additional 1/4 cup water. If you like a more firm rice texture, use the 3 cups listed.
Keywords: how to make sushi rice