What is a Real Food Diet -interested in eating more of a real food diet? This is a great place to start!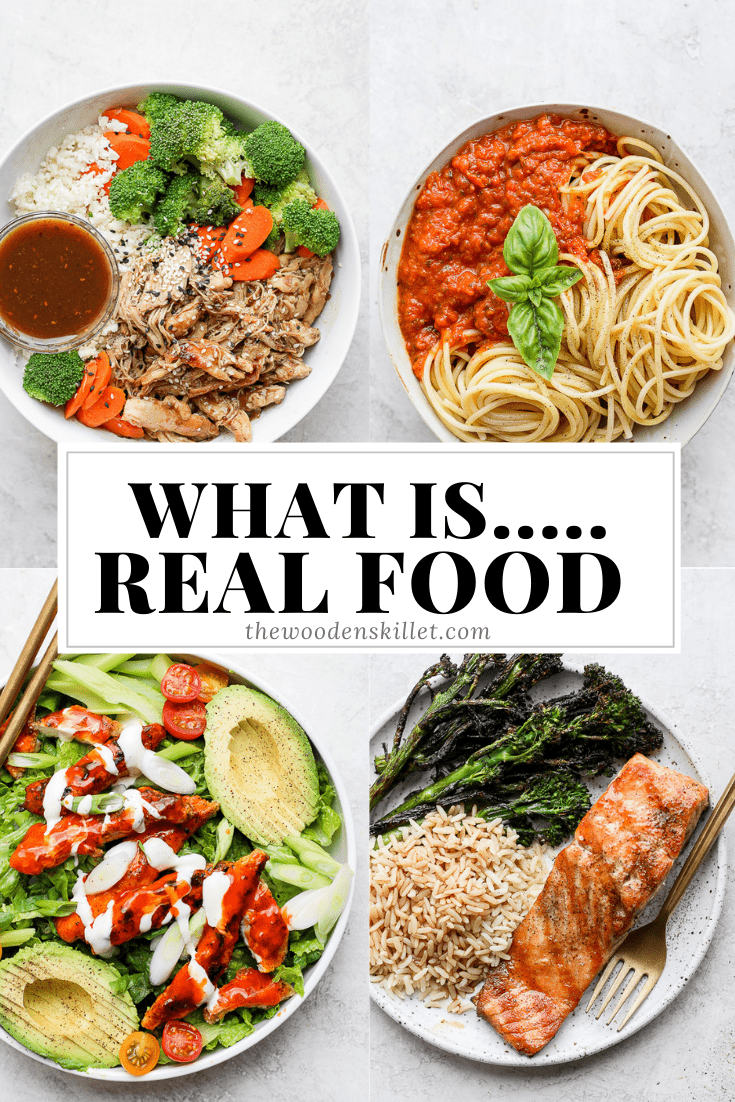 Learn where to start, resources and try some fun new real food recipes!
(This is informational ONLY. If you are considering a real food diet please discuss with your doctor or a dietitian)
What is Real Food
Real food is just that: food. Simple and pure. No weird preservatives, ingredients you can't pronounce or highly processed food-like substances. Simple food. That's it.
Real Food Categories
Meat + Seafood
Fruits + Vegetables
Nuts + Seeds
Beans + Legumes
Whole Grains (no refined grains)
Dairy + Eggs
Fats (unrefined)
Natural Sweeteners (maple syrup, honey or fruit juices)
Spices + Herbs + Seasonings
Pre-Packaged Foods
Pre-packaged foods can most DEFINITELY be made up of real, simple ingredients! But it is all about reading the labels! Can you understand everything you are eating? Good rule of thumb: if you have to ask if it is "real" then it probably isn't.
What is a Real Food Diet
A real food diet is simply a diet that consists of eating these simple, unprocessed foods. It means knowing where you food comes from and what ingredients are in them (and understanding them).
What are Some Reasons People Choose to Eat a Real Food Diet
More and more people are choosing to eat a more real-food diet because it matters what you put in your body! If you want to get high-quality results (i.e. live a high-quality life) it only makes sense that it matters what type of fuel you are putting into your body. For many, simply focusing on putting real food into their body is a much more sustainable solution instead of trying a fad diet that has very little chance of lasting more than a month or so. Making little change here and there to increase the amount of real food in your diet can result in more energy, clearer skin and better mood.
Here are a few real food reader favorites
Interested in eating a real food diet: tips on starting
Learn ALL the foods that may contain the food you are eating, what the ingredients are and where they come from
Learn about food certifications on packaged foods (like "whole grains" etc.)
Track how you are feeling when you eat a more real-food focused diet
Talk to a doctor or dietitian
Start experimenting with new recipes! Here are a few we love!
Interested in other ways to eat