Homemade Marinara Sauce – your go-to homemade marinara sauce recipe (aka spaghetti sauce recipe)! Turns out beautifully every time and the perfect way to use your garden-fresh tomatoes!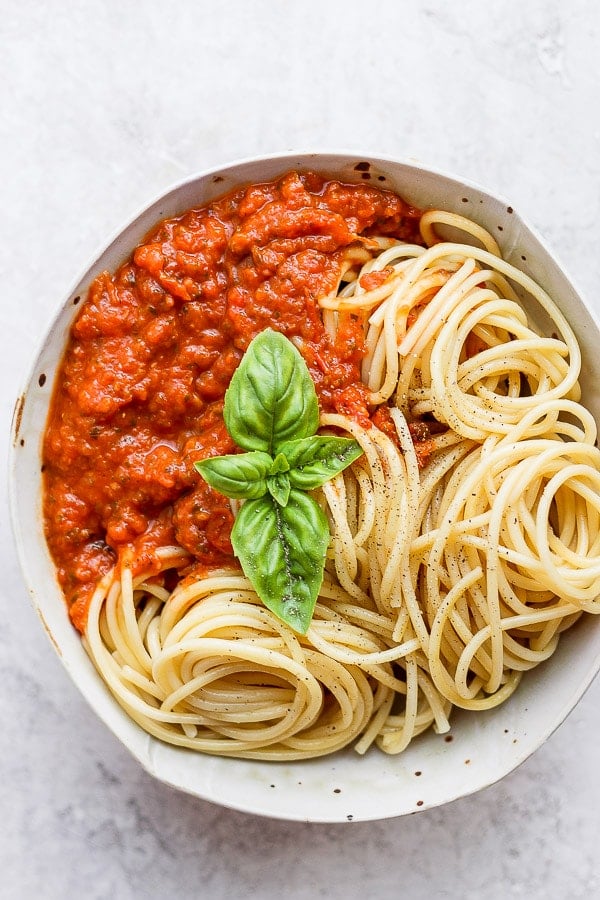 BEST Marinara Sauce Recipe
This Homemade Marinara Sauce (aka spaghetti sauce) combines 6 different types of tomatoes, garlic, red wine (optional) and other amazing flavors to create a rich, deep and flavorful sauce that will become a family favorite. No canned tomatoes/crushed tomatoes found here – only fresh ingredients!
This recipe is going to become your FA-avorite. I know it already. There really is something about making something from scratch, especially when you have grown the tomatoes, basil and oregano yourself. Yes, I could very easily run to the store and pick an "okay" jar of tomato sauce, but a) it simply doesn't taste as good and b) knowing the time, effort and love that goes into a homemade jar just makes it tastes a gabazillion times better.
Once you make this – you won't be able to go back to store-bought. Feel free to use it in your lasagna, as your pizza sauce, dipping sauce, on your chicken parmesan, eggplant parmesan, with spaghetti, baked rigatoni and meatballs … the possibilities are endless!
Why You Will Love This Pasta Sauce Recipe
Depth of Flavor: we have all sorts of different tomatoes, dried herbs and fresh herbs, red wine (or pomegranate juice), garlic …. there is just SO much flavor packed into this recipe!
Blending: no blanching your tomatoes – we just blend it all up together after hours of roasting.
Big Batch and Small Batch: I initially only had a "big batch" recipe here, but after many requests I also included a smaller batch version (perfect for a Dutch Oven) – so glad you are enjoying it!
Homemade Marinara Ingredients
Raw Garlic Cloves: and lots of it!
Tomatoes: we are using whole bunch of different types of tomatoes to get the most depth of flavor. This recipe calls for a mix of: Beefsteak Tomatoes, Orange Tomatoes, Yellow Tomatoes, Cherry Tomatoes, Roma Tomatoes
White Onions
Sweet Basil + Italian Basil
Spicy Oregano (or regular)
Dried Oregano Leaves + Dried Basil Leaves
Kosher Salt + Ground Black Pepper
Olive Oil: the higher quality the better
Dry Red Wine (sub pomegranate juice tomato recipe Whole30/Paleo)
(optional) red pepper flakes: if you want to make it a little spicy!
(specific measurement are in the recipe card, below)
Let's Talk About the Tomatoes
What I love the most about this recipe is how flexible it is …. and it always seems to turn out amazing. As you will read in the recipe card, below, all you REALLY need to worry about is that you have approximately 23 pounds of tomatoes. The recipe will turn out the best if you have wide array of different types of tomatoes and definitely feel free to follow the recipe card exactly – just don't stress out if you have to veer from it a little!
Do You Need to Blanche the Tomatoes First
Wait …… are you wondering where the instructions are to blanch and remove the skins?? Well, you are going to be waiting on that part for a while, because it isn't happening. Yup – not here. Just one of the beautiful things about this recipe. In the end, the roasted tomatoes are put in a blender – yes, some pieces of skin will remain, but I honestly think they add more flavor and authenticity to the sauce. No blanching for me.
Large Batch Recipe
I just recently updated the recipe card to include both the full recipe (Large Batch) and then a Small Batch recipe which is in the Notes Section of the recipe card. For the Large Batch recipe your preparation will look something like this (these are still the old photos, but who cares!):
The Large Batch is made in a big aluminum roasting pan since it is so big!
Small Batch Marinara Sauce
Per popular demand I also added a Small Batch recipe to the Notes Section (and that is what is shown in the Recipe Video you will floating around!). The Small Batch version is made in a Dutch Oven and your prep will look something like this:
How to Make Homemade Marinara Sauce
Add your garlic and onions to your pan or Dutch Oven.
Then add ALL the tomatoes.
Then add all the seasoning and herb.
Drizzle in that olive oil and red wine (or pomegranate juice).
Mix everything together.
Roast for a while and then stir. Then roast some more until it has reduced down enough.
Then blend in small batches (after it cools a bit) or you can use an immersion blender!
You can use right away, freeze or can!
Recipe FAQs
Aluminum Pan: you will need a large aluminum roasting pan for this recipe
Clean Tomatoes: make sure your tomatoes are clean before use. I typically soak them in a 50/50 vinegar and water mixture for about 10-15 minutes and then rinse clean
Cutting Garlic Tip: dreading peeling a ton of garlic – simply cut each clove in half lengthwise and you can peel them so much easier!
Total Pounds of Tomatoes Needed: don't get hung up on getting specifically the exact same number and type of tomato listed. While this is what I used, you ultimately need 22-23 lbs of tomatoes, using a variety of different types and colors (for better depth of flavor).
Basil: If you can't find both Sweet AND Italian Basil just use 2 cups of fresh basil and don't worry about the type.
Red Wine: I don't use any particular brand and really any red wine you have will probably be fine, but you will get the best flavor with a dry red wine.
Paleo/Whole30: To make Paleo/Whole30 simply use pomegranate juice in place of the red wine.
Is 425 Degree Temp Too Hot?: I promise this isn't too hot! Once those tomatoes start cooking down there is going to be A LOT of liquid that needs to be cooked off.
How much will it make: This recipe resulted in approximately 14 1-pint jars, but it will vary a little. Feel free to use larger jars – we use smaller ones because that seems to work for a family of 4 making spaghetti and if we stored them in larger jars we would open them and not all of it would get used. Personal preference!
Immersion Blender or Food Processor: you could also use an immersion blender or food process to blend up the sauce.
Eat, Freeze, Can: Feel free to use some right away, store some in the fridge for a week or so if you are going to use it, freeze it or can it! I have a great post on How to Can Spaghetti Sauce 101 that can answer a lot of questions!
How to Can Marinara Sauce
I have a really helpful post on How to Can Spaghetti Sauce: 101 that you should check out if you are going to be canning your marinara sauce! Check it out HERE!
How to Freeze Marinara Sauce
To freeze simply allow to fully cool and then place in mason jars (or other airtight container), leaving some room (at least an inch) to allow for expansion during the freezing process. Place in freezer for up to 6 months. Thaw overnight then place in a medium saucepan and simmer on medium heat (covered) until heated through – then use on your favorite recipes.
Recipes that use marinara sauce:
Other Recipes You Might Like:
Made this recipe and loved it?! We would love it if you would take a minute and leave a star rating and review – it is also helpful if you made any substitutions or changes to the recipe to share that as well. THANK YOU!
Don't forget to check out my Instagram account for some behind-the-scenes action! Or give me a follow on Facebook or see what I am pinning on Pinterest!
Print
Homemade Marinara Sauce
Author: Erin Jensen
Prep Time: 30 mins
Cook Time: 5 hours
Total Time: 5 hours 30 mins
Yield: 14.5 1 pint jars 1x
Category: Sauce/Pasta
Method: Oven
Cuisine: Italian
---
Description
Homemade Marinara Sauce – your go-to spaghetti sauce recipe! Turns out beautifully every time! Whole30/Paleo Friendly!
Recipe Video: I have included a Small Batch recipe below in the Notes Section – the Small Batch recipe is used in the recipe video. It is cooked the exact same way, it just uses about 1/4 of the ingredients! Enjoy!
---
3 heads of garlic, peeled (approx. 32–35 cloves)
5 large heirloom tomatoes – cut into chunks
8 beefsteak tomatoes – cut into chunks
3 medium orange tomatoes – cut into chunks
6 medium yellow tomatoes – cut into chunks
20 cherry tomatoes
2 lbs roma tomatoes – quartered
3 large white onions – quartered
1 cup tightly packed fresh sweet basil, roughly chopped
1 cup tightly packed Italian basil, roughly chopped
1 cup fresh spicy oregano, roughly chopped (or regular oregano)
1/4 cup dried oregano leaves
2 Tablespoons dried basil leaves
3 Tablespoons kosher salt (more to taste)
1 Teaspoon ground black pepper
1 cup olive oil
1 1/2 cup dry red wine
---
Instructions
Preheat: Preheat oven to 425 degrees F.
Combine: Take large aluminum roasting pan and add all of your tomatoes, garlic, onion, basil, oregano, salt, pepper, olive oil and wine.
Mix: Mix everything together thoroughly.
Oven: Place in oven, uncovered, and let roast for at least 5 hours.
Stir: Stir about every 30-45 minutes, especially the last 2 hours.
Cool: After 5 hours, remove from oven and let cool for an hour or so.
Spoonfuls: Take blender and add several large spoonfuls (about 3 ladle-sized scoops) to it.
Pulse: Cover with thick towel and pulse the blender: 3 times for chunky sauce and approximately 8 times for smoother sauce.
Serve or Save: Serve some immediately and can or freeze the rest.
Notes
Aluminum Pan: you will need a large aluminum roasting pan for this recipe
Clean Tomatoes: make sure your tomatoes are clean before use. I typically soak them in a 50/50 vinegar and water mixture for about 10-15 minutes and then rinse clean
Cutting Garlic Tip: dreading peeling a ton of garlic – simply cut each clove in half lengthwise and you can peel them so much easier!
Total Pounds of Tomatoes Needed: don't get hung up on getting specifically the exact same number and type of tomato listed. While this is what I used, you ultimately need 22-23 lbs (352 ounces) of tomatoes, using a variety of different types and colors (for better depth of flavor).
Basil: If you can't find both Sweet AND Italian Basil just use 2 cups of fresh basil and don't worry about the type.
Red Wine: I don't use any particular brand and really any red wine you have will probably be fine, but you will get the best flavor with a dry red wine.
Paleo/Whole30: To make Paleo/Whole30 simply use pomegranate juice in place of the red wine.
Is 425 Degree Temp Too Hot?: I promise this isn't too hot! Once those tomatoes start cooking down there is going to be A LOT of liquid that needs to be cooked off.
How much will it make: This recipe resulted in approximately 14 1-pint jars, but it will vary a little. Feel free to use larger jars – we use smaller ones because that seems to work for a family of 4 making spaghetti and if we stored them in larger jars we would open them and not all of it would get used. Personal preference!
Immersion Blender or Food Processor: you could also use an immersion blender or food process to blend up the sauce.
Eat, Freeze, Can: Feel free to use some right away, store some in the refrigerator for a week or so if you are going to use it, freeze it or can it! I have a great post on How to Can Spaghetti Sauce 101 that can answer a lot of questions!
Recipe Video: I have included a Small Batch recipe below – the Small Batch recipe is used in the recipe video. It is cooked the exact same way, it just uses about 1/4 of the ingredients!
Small Batch Recipe: Cook in a Dutch Oven, uncovered, for 3 hours stirring every 30-45 minutes or until liquid has reduced. All other instructions are the same! Makes approx. (3) 1-pint jars.

1 head of garlic, peeled
6-7 lb of tomatoes with a mix of

heirloom tomatoes – cut into chunks
beefsteak tomatoes – cut into chunks
orange tomatoes – cut into chunks
yellow tomatoes – cut into chunks
cherry tomatoes
roma tomatoes – quartered

1 large white onions – quartered
1/2 cup tightly packed fresh sweet basil, roughly chopped
1/4 cup tightly packed Italian basil, roughly chopped
½ cup fresh oregano
2 Tablespoons dried oregano leaves
1 Tablespoon dried basil leaves
2 Tablespoons kosher salt
Teaspoon ground black pepper
1/3 cup olive oil
1/2 cup dry red wine
Keywords: homemade marinara sauce