Meatballs and Gravy + Cauliflower Mash (Whole30 + Paleo) – comfort food you are going to want to make over and over again!!
This post is sponsored by ALDI USA, but the opinions are my own.
Meatballs and Gravy + Cauliflower Mash (Whole30 +Paleo)
I am so excited to be partnering with one of my absolute favorite grocery stores, ALDI (my go-to for so many real-food items for such amazing prices), to bring you this delicious bowl of comfort food in honor of their new store opening! Here are the details: the new ALDI store is opening Thursday, August 22nd at 8:25am and it is located at 2601 Lyndale Ave, Minneapolis, MN 55408! To celebrate the Minneapolis Grand Opening, the first 100 shoppers will receive a Golden Ticket that contains an ALDI gift card (dollar amounts vary). Customers can also enter a sweepstakes for a chance to win a year's supply of ALDI produce! You guys have to go check out the new store – we would love to hear about your experience!!!
I have been shopping at ALDI for well over a year now (ever since they built a new store a few miles from my house it has been my go-to!) and what I honestly love about it is that it combines amazing, organic foods (so many organic options!) with blow-your-mind low prices. I know eating healthy and organic can be expensive, so one of my tricks is to shop at ALDI first before going anywhere else because I know the prices will always be lower there! You will be blown away at the savings AND by the high-quality options they have! One of my favorite finds there is the Simply Nature Organic 100% Grass Fed Ground Beef I use in this recipe!
So, onto the comfort-food recipe 🙂 I am SO excited to share this recipe with you guys as fall approaches! It is cozy, delicious and you won't even believe it is completely Paleo and Whole30 Complaint! I can't decide what I like best, the silky cauliflower mash or the hearty meatballs and gravy!
Paleo + Whole30 Gravy
Yes! I said Paleo + Whole30 Gravy! It is a real thing! I am a pro at making "regular" gravy at Thanksgiving and Christmas so I simply took the same technique I use to make that, but swapped out the butter and flour for ghee and tapioca starch 🙂 Took me a few tries, but I perfected it for you!
Cauliflower Mash
I LOVE this recipe! And so do my kiddos! It tastes like mashed potatoes, but lighter and silkier. You are going to love it!!!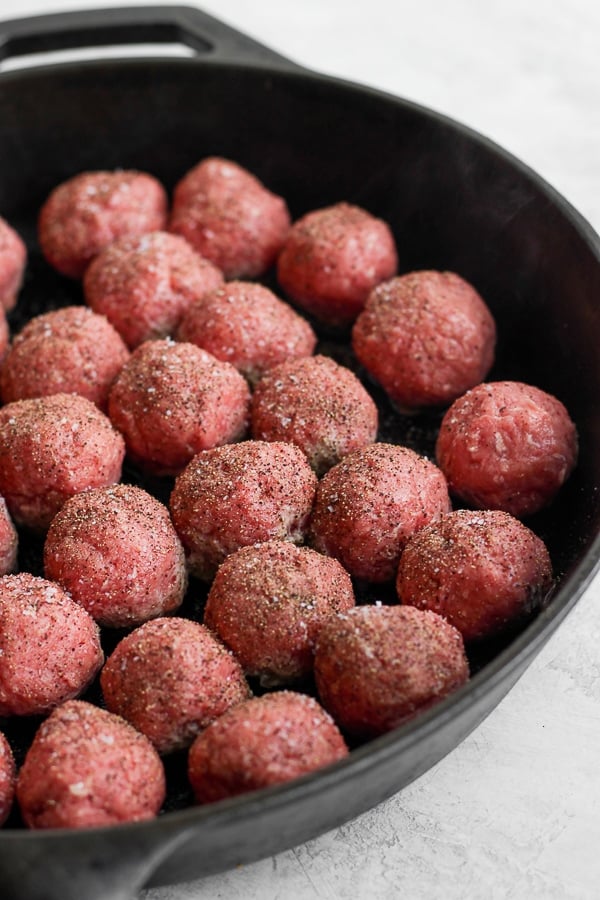 Side dishes that could be served with Meatballs and Gravy:
Don't forget to check out my Instagram account – Or give me a follow on Facebook or see what I am pinning on Pinterest!
Print
Meatballs and Gravy + Cauliflower Mash (Whole30 + Paleo)
Author: Erin Jensen
Prep Time: 20 minutes
Cook Time: 20 minutes
Total Time: 40 minutes
Yield: 4–6 servings 1x
Category: Dinner
Method: Stove Top, Blender
Cuisine: American
---
Description
Meatballs and Gravy + Cauliflower Mash – a healthy spin on your classic comfort food! You will want to make again and again!
---
Meatballs:
2 pounds Simply Nature Organic 100% Grass Fed Ground Beef
2 Teaspoons onion powder
1 Simply Nature Grade A Organic Cage Free Brown Eggs
salt and pepper
8oz baby bella mushrooms, sliced
salt and pepper
Gravy:
2 Tablespoons Carlini Ghee
2 Tablespoon tapioca starch
2 cups beef broth
Cauliflower Mash:
1 large head of cauliflower
3 Tablespoons Carlini Ghee
2–3 Tablespoons unsweetened almond milk
salt
---
Instructions
Meatballs and Gravy:
Remove ground beef from package and place in medium bowl.
Add onion powder and egg.
Use your hands to thoroughly mix together.
Roll 1-2 tablespoons of ground beef mixture into meatballs (approximately 32).
Take 12 inch cast iron skillet and bring to medium-high heat.
Swirl a tablespoon of avocado oil (or ghee or olive oil) to just barely coat the pan.
Add meatballs and sprinkle generously with salt and pepper.
Allow meatballs to cook through, turning as needed.
Remove meatballs, placing on a plate and set aside.
Leaving any grease in the pan, add mushrooms.
Sprinkle with salt and pepper and cook on medium heat until cooked, but firm, about 3 minutes.
Remove mushrooms, placing on a plate, and set aside.
Scrape any larger bits or residue from the ground beef and remove from the skillet.
Bring heat down to medium and add 2 tablespoons of ghee to the skillet.
Allow the ghee to melt and then add 2 tablespoons of tapioca starch.
Use a whisk to combine tapioca starch and ghee, allow to cook for approximately 30 seconds once combined while you continue to whisk.
Slowly add 2 cups beef broth, whisking as you add.
Once beef broth is added, continue to whisk.
Mixture will start to thicken as it warms up (it took mine at least a full minute to start to thicken).
Once thick, taste and add additional salt and pepper to taste (this will greatly depend upon the type of beef broth you use – some are already quite salty) – I added a teaspoon or two to mine.
Add mushrooms and meatballs back into the skillet and stir to combine.
Allow to sit, but ensure the gravy doesn't boil.
Cauliflower Mash:
Remove stem and leaves from head of cauliflower and cut into medium-sized chunks.
Take a medium saucepan and place approximately 1/2 cup of water in the bottom (you just want to ensure there is about a quarter inch of water in the bottom).
Place cauliflower in saucepan with water, cover, and bring to a boil.
Continue boiling until cauliflower is fork-tender.
Drain water.
Place cauliflower in high-powered blender.
Add 3 tablespoons ghee, 2 tablespoons unsweetened almond milk and 2 generous pinches of kosher salt.
Use puree function of your blender if you have it, otherwise blend on high for 10-20 second increments, stopping to scrape down sides.
Continue blending in 10-20 second increments until cauliflower reaches a creamy consistency.
Taste and add additional salt, as needed.
If you feel you need additional liquid, add more almond milk 1 tablespoon at a time.
Don't over-blend or add too much almond milk or cauliflower will lose its thickness.
---
Notes
You can substitute arrowroot powder for the tapioca starch, but I have found that tapioca seems to work better.
Always err on the side of adding less tapioca starch as opposed to too much, you can always add more to thicken!
Don't boil gravy – it may cause the tapioca to get gummy.
You will need to add salt and pepper to your gravy. Uniform amounts weren't included because it greatly depends upon what type of beef broth you are using and how salty it already is.
Keywords: meatballs and gravy, whole30 meatballs