This is a complete step-by-step guide on How to Cook a Turkey! No need to make it complicated, this simple and easy process is guaranteed to give you a juicy and flavorful bird every time. Perfect for your next Thanksgiving Day dinner!
The Ultimate Guide On How To Cook A Turkey
Thanksgiving is, without a doubt, one of our most favorite holidays and that Thanksgiving dinner is always centered around the perfect turkey. But have you ever considered making a turkey on a day other than Thanksgiving? We are here to tell you that making a whole turkey doesn't need to be a complicated process and maybe you will even want to cook one more than just once a year. Now let's dive in to all things turkey!
Ingredients & Supplies
fresh turkey – you will want to try and fully thaw your whole turkey before prepping it for roasting. It is possible to cook one that is still partially frozen but it will increase your cook time.
butter – some for placing under the skin and some for mixing with seasonings to spread on top for a nice, crispy skin.
chicken broth or stock – pour this in the roasting pan to keep things moist and will mix with the drippings to make a creamy gravy once the turkey is done cooking.
sweet yellow onion, fresh rosemary, & thyme – perfect for an optional stuffing and adding to the chicken broth for extra flavor + yummy smells.
fresh orange – another optional stuffing ingredient that is so good!
dried thyme, kosher salt, & ground pepper – the perfect combination of seasonings that bring great flavor!
twine: optional, but you can use them to tie up the legs.
basting brush: the perfect tool for adding melted butter to make sure your turkey stays juicy, with a perfectly brown, crisp skin.
meat thermometer: we always use this one to make sure our meat is fully cooked!
roasting pan: you gotta catch those turkey drippings and make some homemade turkey gravy!
How Big Of A Turkey Should I Buy
A good rule of thumb is to buy about one pound of turkey for every person that you will be serving. So if you have 15 people coming to dinner, you would want a 15 pound turkey. If you want to have leftovers (yes, please!) then you will want to add in about another 1/2 pound per person. You might only need a small turkey breast if you are cooking for only a few people.
If you need any help with the calculations you can checkout this handy turkey calculator.
How To Thaw My Turkey & How Long Does it Take
There are two ways to easily thaw your turkey:
refrigerator: to do this you will place your frozen turkey on a baking sheet (to collect any juices) in your fridge to thaw. This will be the slowest way and it will take about 24 hours for every 5 pounds of turkey. So if your turkey is 15 pounds that will take about 3 days.
cold water bath (do NOT use warm water): this is a quicker way to thaw a turkey and probably the one that we use most often. You will want to allow for about 30 minutes for every pound of turkey. So if your turkey is 15 pounds that will take 7.5 hours.
Read more: checkout our How To Thaw A Turkey tutorial for more info!
Can You Cook A Frozen Turkey (Whole or Breast)
Yes, you absolutely can. However, it will be much more difficult (if not impossible) to stuff, get butter under the skin, and to spread butter on the outside. A frozen or partially-frozen bird will also take MUCH longer to fully cook so you will need to add to your cook time. We highly recommend thawing your turkey as much as possible before cooking.
How To Cook A Turkey
Once you have a fully thawed turkey you can begin by removing the neck from the main cavity.
And the giblets bag from the neck cavity. Pro tip: save the giblets for making our Classic Giblet Stuffing!
What Is A Brine & What Does It Do
A brine is a the simple process of soaking a cut of meat, here a turkey, in a mixture of water and salt (along with other aromatics and herbs) for a period of time (usually 12-48 hours). As the meat is submerged in the brine mixture, it soaks up the extra moisture and salt resulting in a more flavorful and juicy cut of meat. This is an optional step, but we highly recommend!
Read more: we have a complete guide for How To Wet Brine A Turkey and Dry Brine Turkey check them out!
Plus, recipes for a variety of different wet brine recipes: Apple Cider Turkey Brine, Smoked Turkey Brine, & a Citrus Herb Brine.
Pro Tip: if you don't want to brine your turkey then you have to try this Turkey Injection Recipe!
After your turkey is done in the brine or if you choose to not brine your turkey, you can move forward with cutting off the hock lock.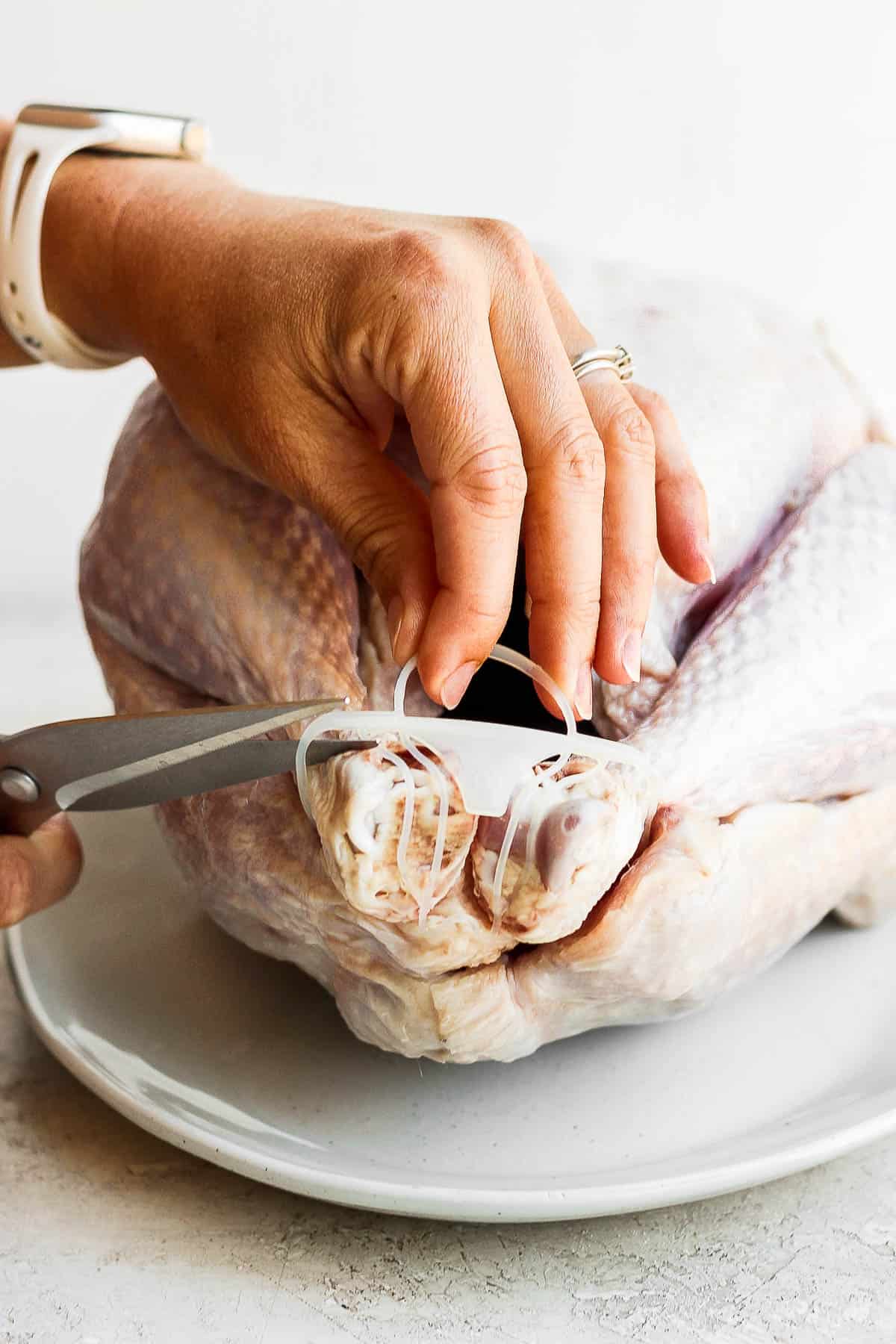 Next, pat your turkey dry with clean paper towels.
Generously season the inside of the cavity with kosher salt & ground pepper.
Should I Stuff My Turkey
Stuffing your turkey can provide some great added flavor and moisture to the inside of your turkey cavity. We love stuffing our bird with large chunks of sweet yellow onion, fresh orange, and fresh herbs, like thyme and rosemary. Feel free to stuff your turkey the same or change it up!
If you are going to stuff your turkey, now is the time! Just place the stuffing ingredients in the cavity and then peel the skin at the top of the breast back. This is when you will push in some tablespoons of butter.
Next, mix-up your herbed butter.
And prep your roasting pan by pouring the chicken broth or stock in the bottom and then add chunks of sweet yellow onion and fresh rosemary & thyme.
Place your turkey on the roasting rack and slather on the herbed butter! Make sure you get it in all the nooks and crannies.
How Long to Cook a Turkey
You will want to plan about 13 minutes of cooking time for each pound of turkey if the turkey is empty. If you did add a stuffing, then your cook time will be more like 15 minutes for each pound of turkey. So if you have a 10 pound, stuffed turkey your cook time will be around 2.5 hours.
Pro tip: if you want to considerably shorten your cooking time, try spatchcocking your turkey!
Best Ways To Cook A Turkey
Of course the classic way to cook a turkey is to roast it in the oven, like our Butter & Sage Roast Turkey. But there are so many different ways to cook a turkey that you have to try! Here are a few of our favorite options:
Grilled Turkey – an easy step-by-step tutorial for making a juicy turkey right on the grill!
Smoked Turkey – if you love your smoker as much as us, you have to try smoking your turkey too! So easy and delicious!
Deep-Fried Turkey – this may seem intimidating, but you have to try it! The result is so juicy and tender.
Turkey Baste
Looking for a go-to turkey baste recipe – we have one for your HERE!
How To Make Turkey Gravy
After your turkey is fully cooked there will be pan drippings in the bottom of your roasting pan that are perfect for making the most flavorful turkey gravy you have ever had! Let's face it, the gravy is the best part so make sure you don't skip this step.
Read more: our simple tutorial on How To Make Turkey Gravy will answer all your gravy questions. We also have a Gluten Free Gravy option, if you need it.
Don't have drippings: if you are making a Deep Fried Turkey you might not have any drippings, in that case you may want to make this Easy Giblet Gravy that doesn't require drippings!
How To Carve A Turkey
Carving a whole turkey might seem intimidating at first, but rest assured it is actually simpler than it looks. If you follow our easy tutorial on How To Carve A Turkey you will see just how easy it is. Don't forget to keep any leftover bones to make this Turkey Stock Recipe!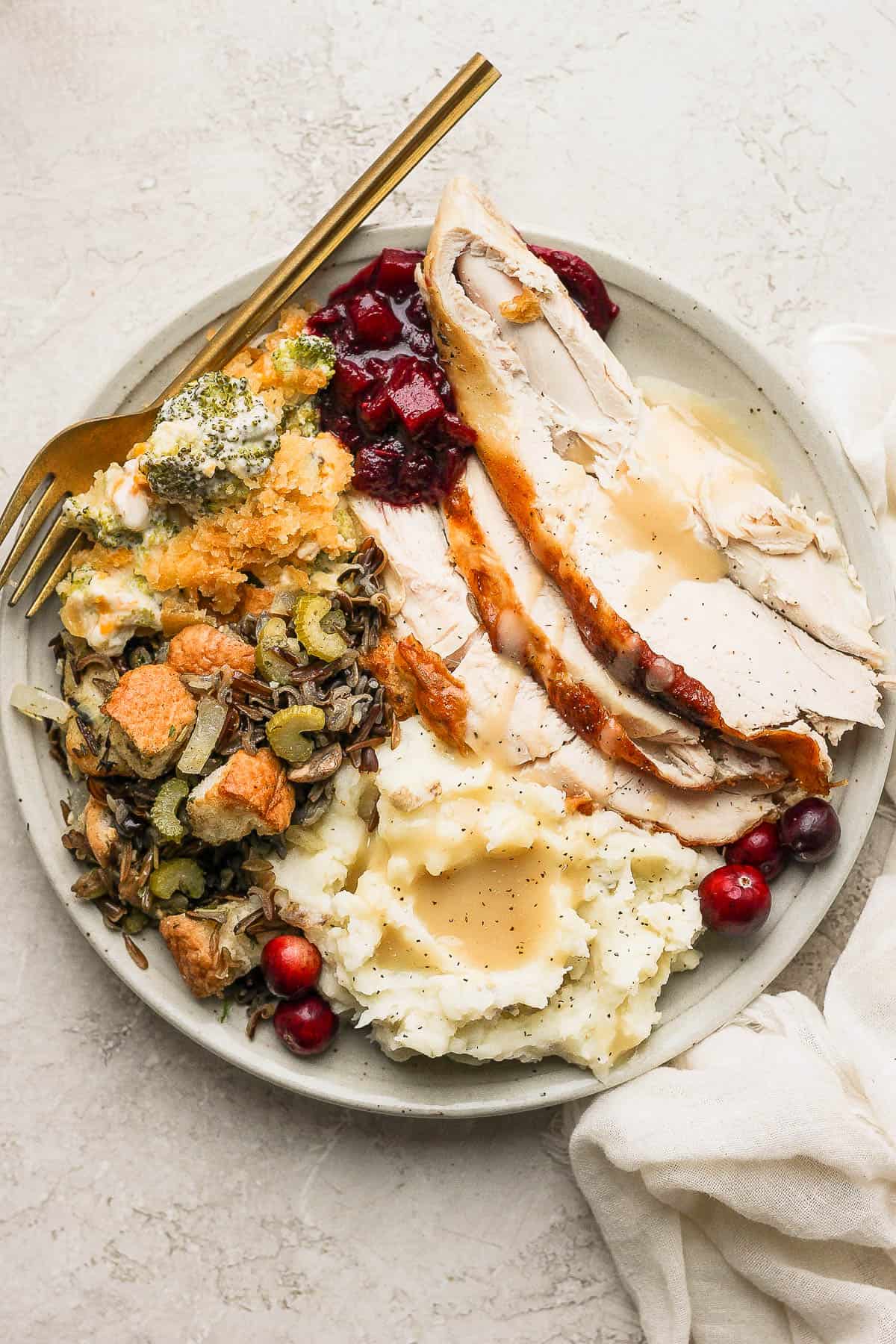 Turkey FAQs
let it rest – insert a meat thermometer in the thickest part of the breast to determine when your turkey reaches an internal temp of 160 degrees F, then place the turkey on a cutting board and wrap in aluminum foil so that it can rest for 20-30 minutes.
storage – store leftover turkey in an airtight container in the refrigerator for up to 3 days or in the freezer for up to 3 months.
leftovers – there are so many great recipes you can make with leftover turkey, our favorites are Turkey Salad, Turkey Noodle Soup, Turkey Wild Rice Soup and this Turkey Pot Pie!
Don't forget to check out my Instagram account for some behind-the-scenes action! Or give me a follow on Facebook or see what I am pinning on Pinterest!
Made this recipe and loved it?! We would love it if you would take a minute and leave a star rating and review – it is also helpful if you made any substitutions or changes to the recipe to share that as well. THANK YOU!
Other Turkey Recipes You Might Like:
Print
How to Cook a Turkey (Thanksgiving Turkey Recipe)
Author: Erin Jensen
Prep Time: 15 minutes
Cook Time: 3 hours 30 minutes
Total Time: 3 hours 45 minutes
Yield: 24 servings 1x
Category: Turkey
Method: Oven
Cuisine: American
---
Description
How to Cook a Turkey (Easy Thanksgiving Turkey Recipe) – a simple, easy and delicious thanksgiving turkey recipe the entire family will love!
---
Turkey + Basting Liquid:
(1) 10-16 pound turkey
4 tablespoons butter
2 cups chicken broth or stock
1 small yellow onion, sliced
sprigs of fresh rosemary + thyme
(optional) a splash of white wine adds a fun flavor to the drippings
Optional Stuffing:
1 small yellow onion
1 small orange
fresh sprigs of thyme + rosemary
Herbed Butter:
4 tablespoons butter, softened
1/2 teaspoon kosher salt
1/2 teaspoon dried thyme leaves
1/8 teaspoon ground black pepper
Basting Butter:
---
Instructions
Thaw + Room Temp: Ensure turkey is fully thawed. Remove turkey from packaging and remove any giblets that have been stuffed inside. Place turkey on a plate or in a roasting pan (breast side up) and let sit out at room temperature for approximately 60 minutes (why: this will help the oven get a jump start on raising that internal temp + allowing the skin to dry out a bit results in a crispier, more delicious skin).
Oven + Roasting Pan: preheat oven to 450 degrees F. (we will reduce later) and ensure you have a roasting pan + rack (which lifts the turkey off the bottom of the pan and allows it to cook a bit faster). Add the chicken broth, onion and rosemary/thyme to the bottom of the roasting pan. Ensure turkey is sitting in the roasting pan on top of the roasting rack, breast-side up.
Prepare the Turkey: Combine the Herbed Butter ingredients and set aside. Pat turkey dry (outside and inside the cavity) with a clean paper towel. Season the inside of the cavity with kosher salt + ground black pepper. If stuffing, add your onion, orange and herbs to the cavity. Using your fingers gently separate the skin from the turkey breasts as much as you can. Push 3-4 tabs of butter underneath the skin. Take the Herbed Butter mixture and spread all over the outside of the turkey. (I like to sprinkle a little extra salt and pepper all over the turkey on top of the butter)
Place Turkey in Oven: place turkey inside the oven and turn the temperature down to 325 degrees F. Do not cover the turkey initially with foil – allow it to cook and once it starts to turn brown you can tent with foil, as-needed.
Roast: Let turkey roast 13-16 minutes per pound.
Baste: Melt the Basting Butter and use that to baste the turkey with a brush every 30-40 minutes. Once the Basting Butter is all used up simply use the basting liquid in the bottom of the roasting pan.
Internal Temp: A turkey is fully cooked when it reaches an internal temp of 165 degrees F. in the thickest part (usually the thigh + breast). About halfway through the estimated cook time start checking the internal temperature so you can project how much longer will be needed. Again, if you notice certain parts of the turkey skin browning too quickly feel free to place a piece of foil over a specific area or tent the whole turkey if the whole thing is browning.
Rest: Once the turkey has reached an internal temperature of 160 degrees F. remove from oven. Lift the roasting rack up and out of the roasting pan and place on a cutting board. Cover with foil and let rest 20-30 minutes. The turkey will continue cooking and residual heat will continue to raise the internal temperature 5 degrees. Transfer any liquid remaining in the bottom of the roasting pan to a glass measuring cup or fat separator so you can use it to make turkey gravy. Don't forget to save the carcass to make homemade turkey stock.
Carve + Serve: Follow this tutorial to learn how to carve your turkey then serve with homemade turkey gravy and all of your other favorite thanksgiving side dishes!
Notes
Roasting Rack/Foil Roasting Pan: if you are using a disposable roasting pan then I would recommend using either carrots or celery stalks as your "roasting rack" – just line them up in the bottom of the pan and place your turkey breast-side up on top of them.
Tin Foil: you can start with the foil tented over the turkey and then remove it half way through cooking if you prefer, but I tend to favor starting without it and adding it as-needed as the turkey browns.
Storage: store leftover turkey in an airtight container in the refrigerator for up to 3 days or in the freezer for up to 3 months.
Leftovers: we love making these quick and easy Turkey Cranberry Wraps or this Leftover Turkey Noodle Soup!
Servings + Cook Time: the servings + cook time listed in the recipe card are assuming you are using a 12 pound turkey. Prep time also assuming you are not brining your turkey, which would take additional time to complete.
Keywords: how to cook a turkey, thanksgiving turkey recipe