Smoked Turkey Legs – learn how to cook smoked turkey legs with this simple, easy recipe! So juicy and delicious! Perfect for Game Day or Thanksgiving! It is the best way to make turkey legs with real, simple ingredients and that perfectly smoky flavor.
Serving Smoked Turkey Legs for Thanksgiving (a fun option for a smaller crowd) – then don't forget these side dishes: Ultimate Yukon Gold Mashed Potatoes, Apple Yam Bake and Stuffed Onions!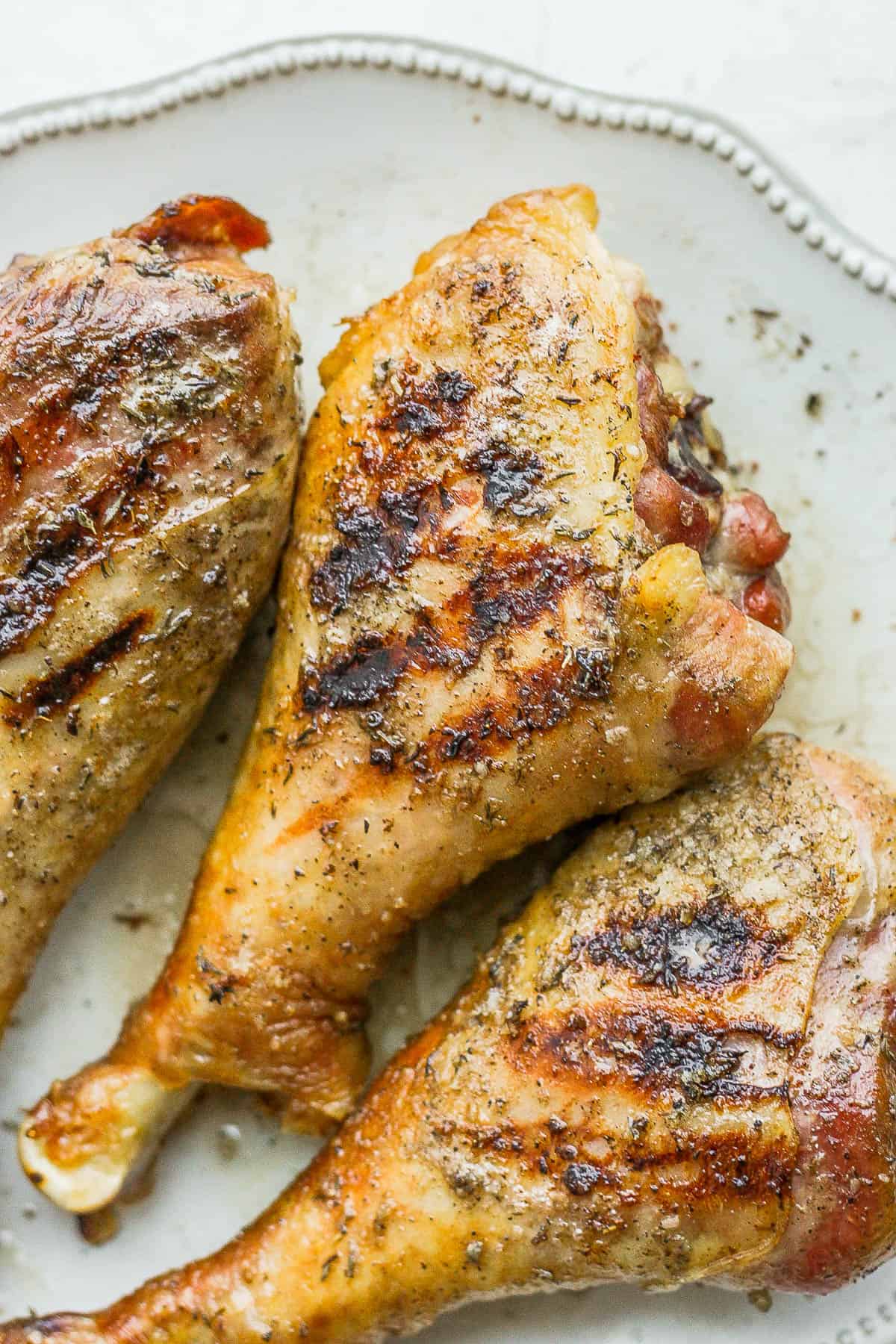 Juicy Smoked Turkey Legs
There is simply nothing better than biting into a big, ol' juicy smoked turkey leg! They are a medieval fan favorite at Renaissance Festivals, carnivals, and theme parks, like Disney World. Now you can make simple turkey legs recipe on your Traeger smoker (or another electric smoker) in your own backyard. Perfect for a fun summer meal, on a game day, or add it to your dinner menu for Thanksgiving Day! Everyone is going to love them!
Love smoked turkey – try our Ultimate Smoked Turkey recipe!!
What You Will Need
fresh turkey legs – you can pick these up from your local grocery store. Make sure they are fully thawed, if they are partially frozen they will just take longer to cook.
dried thyme leaves, kosher salt, & pepper – a simple seasoning combination that brings the perfect flavors to compliment the turkey. Option to use other seasonings too, like garlic powder or chili powder, for a little spice. Free free to use our Smoked Turkey Rub instead!
butter – helpful for roasting and browning the turkey skin to be nice and crisp on the outside.
optional turkey brine:

water – make sure you have enough to fully submerge all of the turkey legs.
apple, red onion, & lemon – light & refreshing aromatics that provide so much flavor!
kosher salt – a necessary part of any brine that ensures your meat stays tender and juicy.
bay leaf, fresh rosemary & thyme – more aromatics + herbs that help round out the flavors.

black peppercorns – adds a little punch to the overall flavor.
How To Prep Turkey Legs For The Smoker
You don't have to brine your turkey legs before smoking, but we highly recommend it! Placing the turkey legs in a wet brine prior to smoking will help keep them from drying out, plus it adds so much great flavor. We typically brine them in a large, food-grade container or large pot that can hold everything inside, but you could also use a marinade injector to inject the brine directly into them. This would require one full syringe of brine per leg. They would still need to brine for a few hours before cooking but would not need to sit overnight. Either simple brine option would work!
And if you prefer a marinade to a brine, you should checkout our delicious Turkey Marinade!
How To Smoke Turkey Legs
The first step is to let your turkey legs sit in that brine for a minimum of 30-45 minutes if you don't have a lot of time, but, for best results, we highly recommend leaving them in the brine overnight in the fridge.
The next day, remove the turkey legs from the brine and pat dry with a clean paper towel.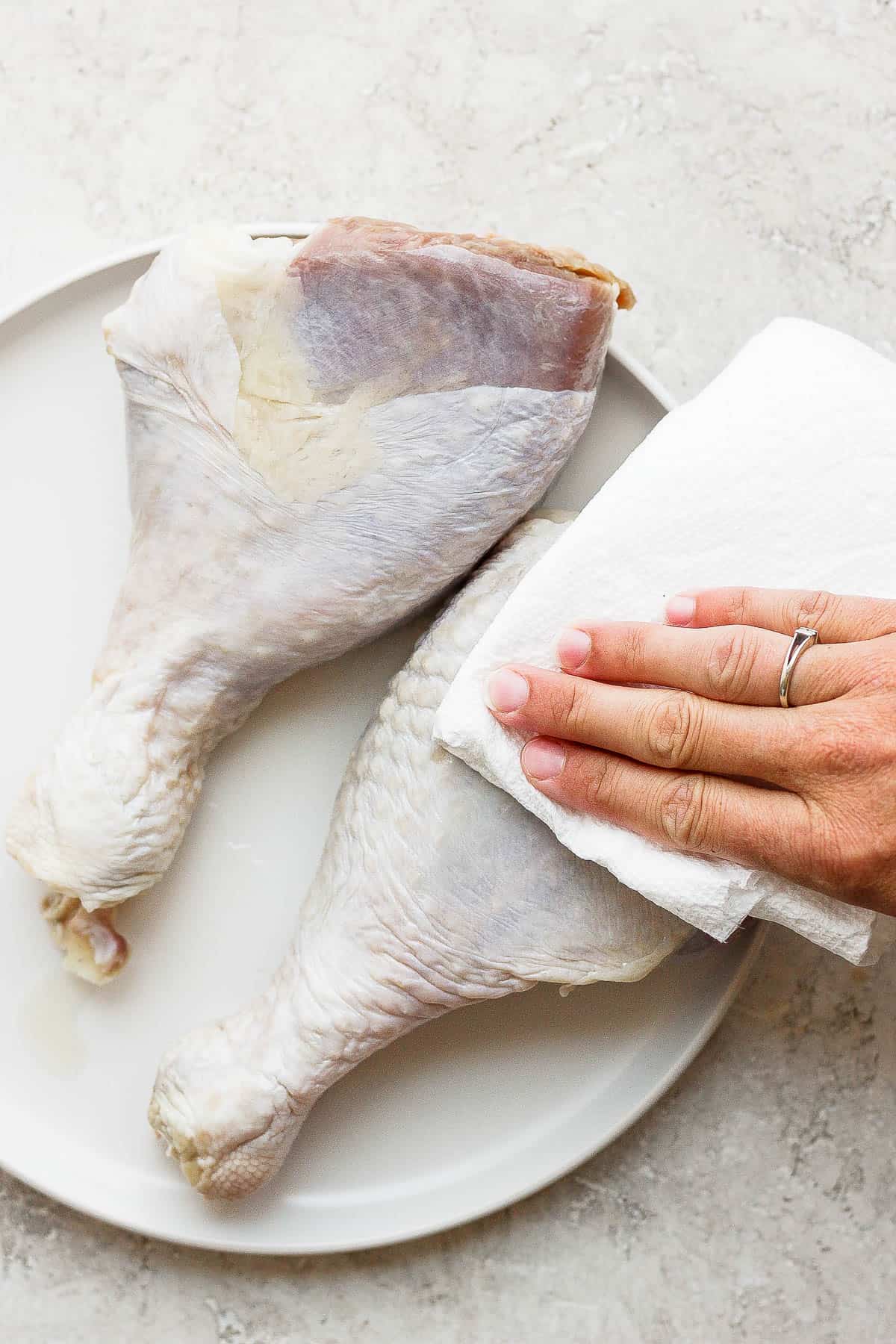 And mix up the softened butter and seasonings in a small bowl.
Rub the herbed butter all over the outside of the turkey legs to help create a really flavorful meat.
Now you can place the turkey legs directly on the grill grates of a preheated pellet smoker at 225 degrees F. Let them cook for 3-4 hours or until you are able to insert a meat thermometer in the thickest part of the leg and it reads 155 degrees F. Be sure to baste the legs with melted butter every 30-40 minutes.
How Long Does It Take Smoked Turkey Legs To Cook
This can vary a bit depending on how big your turkey legs are and if they are fully thawed or still partially-frozen. Our turkey legs were pretty large, fully thawed, and they took about 3-4 hours for them to reach 155 degrees F.
At What Temperature Are Smoked Turkey Legs Done
They are considered fully cooked and ready to eat at 165 degrees F. We recommend removing them from the smoker once they have reached 155 degrees F because we like to give them a quick sear on the grill for a little char on the outside and then we let them sit for 10 minutes. During this time on the grill and resting the temp will rise to 165 degrees F. You also have the option to tent them with aluminum foil while they rest to keep some heat in.
When they are done on the smoker, we suggest using a roasting pan to move them to a preheated grill for about 60 seconds on each side to give the turkey skin a nice char. Then let them rest at room temperature for about 10 minutes. This can also be done on the smoker (just crank up the heat first) or even in a cast iron skillet on the stove top.
Made this recipe and loved it?! We would love it if you would take a minute and leave a star rating and review – it is also helpful if you made any substitutions or changes to the recipe to share that as well. THANK YOU!
Don't forget to check out my Instagram account for some behind-the-scenes action! Or give me a follow on Facebook or see what I am pinning on Pinterest!
Other Turkey Recipes You Might Like:
Print
Smoked Turkey Legs Recipe
Author: Erin Jensen
Prep Time: 10 minutes
Cook Time: 4 hours
Total Time: 4 hours 10 minutes
Yield: 4 turkey legs 1x
Category: Turkey
Method: Smoker
Cuisine: American
---
Description
Smoked Turkey Legs (+ Herbed Butter) – learn how to cook smoked turkey legs with this simple, easy recipe! So juicy and delicious!
---
Optional Brine:
8 cups cold water
1/2 cup kosher salt
1 apple, sliced
red onion, peel off outer skin and then slice
lemon, sliced
3–4 fresh rosemary sprigs
5–10 thyme sprigs
1 bay leaf
5–6 whole peppercorns
Turkey Legs:
3–4 tablespoons butter, softened
1/2 teaspoon kosher salt
1/2 teaspoon dried thyme leaves
1/8 teaspoon ground black pepper
4 turkey legs (ensure fully thawed if previously frozen)
additional 2–3 tablespoons butter to use for basting
---
Instructions
Prep Brine: Take a small saucepan and add 1 cup water and salt. Place on stovetop and bring to medium heat. Stir until the salt has dissolved (the water shouldn't need to get TOO warm to do accomplish this). Remove from heat and let cool completely.
Brine Turkey Legs: Meanwhile, place turkey legs on a plate and pat dry with a clean paper towel. Place the turkey legs in a food-safe container (a reusable silicone bag, casserole dish or mixing bowl will work). Pour the cooled salt mixture over to the turkey legs and then add the remaining Brine ingredients into the same container (apple, onion, lemon, rosemary, thyme, bay leaf and peppercorns). Stir to fully combine and to ensure turkey legs are fully submerged. Cover and place in refrigerator for a minimum of 30-45 minutes or up to overnight. Remove and pat dry. Discard the brine.
Preheat: Preheat smoker to 225 degrees F.
Herbed Butter: In a small bowl combine softened butter, 1/2 teaspoon kosher salt, dried thyme leaves and pepper. Stir to combine. Place turkey legs on a plate and pat dry with clean paper towel. Rub the herbed butter all over each whole turkey leg ensuring you get into every nook and cranny.
Smoke Turkey Legs: Place turkey legs directly on the grill grates and close the lid. Let cook until the internal temperature reaches 155 degrees F (approximately 3-4 hours). Baste every 30-40 minutes with melted butter.
Sear: once turkey legs reach an internal temperature of 155 degrees F (use an instant-read thermometer). we are going to pull them and move them over to high heat to sear the outside to get that crispy skin. A little before the internal temperature of the turkey reaches 155 degrees F. you can preheat your gas grill to high heat (see Notes). Transfer the turkey legs and let them sear all sides about 60 seconds or so (or until there is a nice char).
Rest: move the turkey legs to a plate and let them rest for 10 minutes during which time the internal temp will continue to rise to 165 degrees F. (feel free to tent with foil). Serve and enjoy!
---
Notes
Opting not to brine: you do not need to brine your turkey if you do not want to – this recipe will still turn out delicious! Just start at Step 3 if you want to skip that step.
Reverse Searing: I love reverse searing most of my smoked meats (especially chicken and turkey) so that the skin can still get nice and crispy. The "searing" can be done on a gas grill, a hot cast iron skillet or even right on your smoker (just remove the turkey, crank up the heat, sear). It doesn't matter what method you use, but it really makes a difference. That being said, feel free to simply smoke the turkey legs up until they reach 165 degrees F.
Storage: any leftover turkey legs can be kept in an airtight container in the refrigerator for up to 5 days or in the freezer for up to 4 months.
Save the bones: don't forget to save the leftover bones to make either turkey stock or turkey broth!
Smoke Time: there are so many factors that go into how long it will take to smoke meat. The humidity, wind, hot spots, how thick your particular turkey legs are … these all impact your ultimate cook time. The most accurate way to determine cook time is to track the internal temperature with an internal meat thermometer or probe.
Internal temp: turkey is fully cooked when it reaches an internal temperature of 165 degrees F. We are pulling it off the smoker at 155 degrees and then moving it to the grill for a sear and then a rest for 10 minutes, which will allow it to reach 165 degrees.
Keywords: smoked turkey legs