This Chicken Enchilada Soup will warm you through and through with Mexican inspired flavors mixed in with tender chicken, rich chilis, and plump corn, providing mouthfuls of flavor in every bite. Top this favorite soup with our dairy-free sour cream and some grilled bread to soak up every last drop.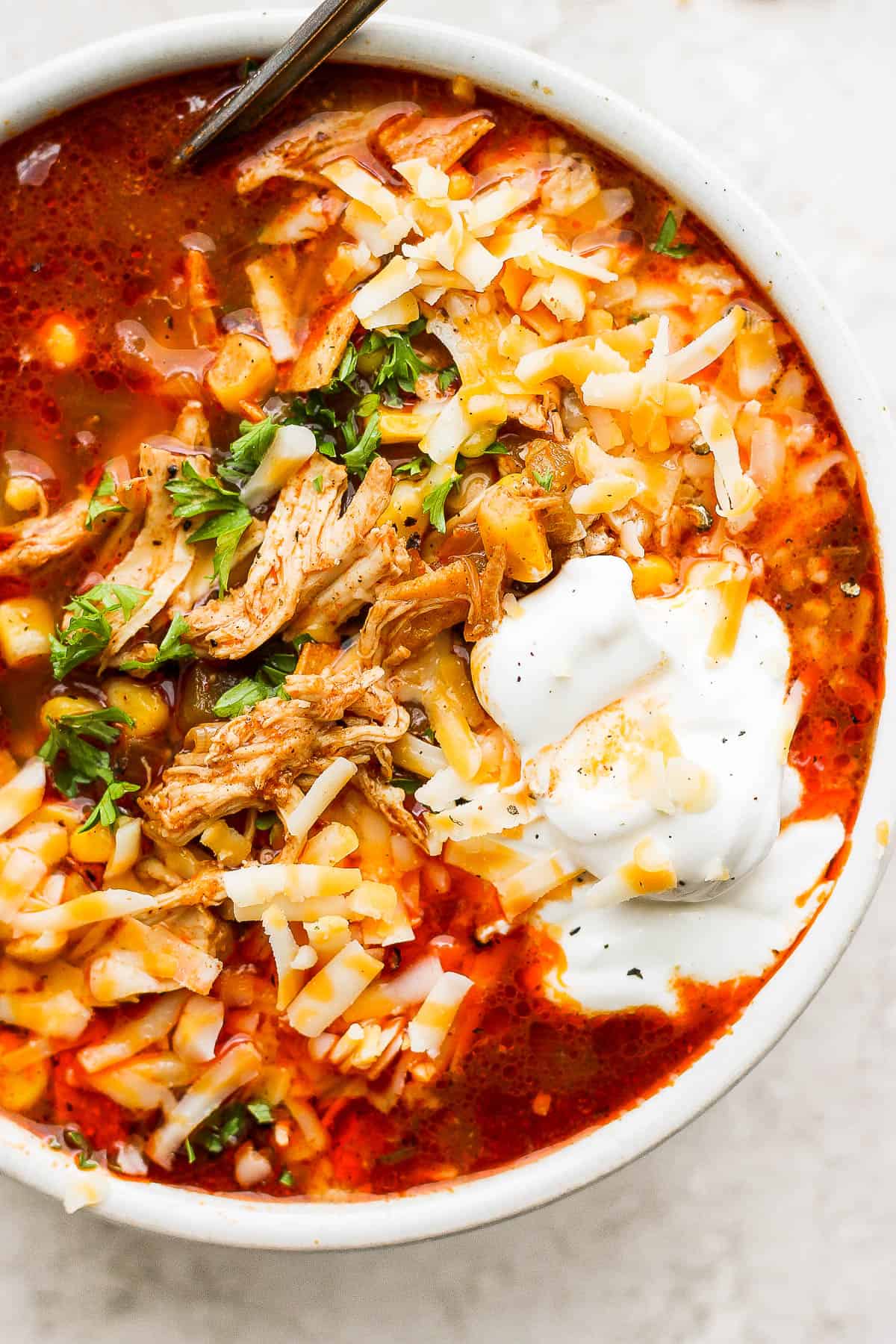 The Best Enchilada Soup
Pull on your coziest sweater, pump the jams, and whip up a big batch of this simple, creamy, and filling Enchilada soup in under an hour. Chili, cumin, and lime flavors will quickly remind you why Mexican inspired dinners are always a family favorite. And the plethora of toppings allow you and your family to customize each bowl to make it your own. If you loved the flavors in this recipe, be sure to try our healthy chicken enchiladas or our chicken enchilada casserole.
See also: try our White Chicken Chili!
What You Will Need
butter – A key ingredient when sautéing veggies in any recipe, option to use olive oil too but we love the added flavor that comes with butter
garlic & onion – Their aromas alone are sure to make your kitchen the place everyone wants to be.
flour – An important ingredient to ad texture and a mild thickness to your soup.
chili powder, ground cumin, garlic powder, onion powder & oregano leaves – These warming seasonings add the best flavor to every bite.
kosher salt & pepper – Follow our recommendations or season to your preference.
tomato paste – A simple way to add acid and a rich color.
chicken broth or chicken stock – Pick up your favorite store bought variety, or use chicken leftovers to make our homemade chicken broth recipe.
apple cider vinegar – The acid in apple cider vinegar breaks down your other ingredients just enough so that they can fully absorb flavors from seasonings and other ingredients.
lime juice – We love how a bit of tartness and subtle sweetness adds to the complex flavors in this warming soup.
green chiles – A subtle bit of heat, texture, and color throughout.
corn – This little ingredient is all about the texture and subtle sweetness.
black beans – This is an optional ingredient that will add fiber and an overall heartiness to your soup.
Toppings
sour cream – Who can say no to a dollop of fresh sour cream? Try our our dairy-free sour cream recipe or grab your favorite variety from the grocery store.
shredded cheese – We opted for a finely shredded Mexican cheese blend, but feel free to use your favorite cheese.
cilantro – A classic Mexican dish topping that we simply adore for its bright color and fresh flavor.
What Type Of Chicken Meat Should I Use
We prefer to use bone-in, skin-on chicken thighs as bones and skin always add a rich, wonderful flavor, but you can easily use boneless skinless chicken breasts if you prefer. Make this meal even quicker by using leftover chicken from our whole roasted chicken recipe, a rotisserie chicken, or smoked whole chicken recipe.
How To Make Chicken Enchilada Soup
Bring a medium sauce pan to medium heat on the stove top and add butter. Add garlic and onion to the pan and move around with a wooden spoon for about 2 minutes or until softened. Whisk in flour until fully combined. Then add all of your seasonings and tomato paste and whisk to mix.
Slowly mix in your chicken broth, about 1/4 cup at a time, until it's fully combined. Turn the burner up to a medium high heat and bring your sauce to a low simmer, which will help to thicken the liquid a bit.
Add the apple cider vinegar, lime juice and chicken. Cover and let simmer 15-20 minutes or until chicken is fully cooked.
Remove your fully cooked chicken and shred it with two forks on a cutting board and then return it all to the pot.
Next, add your chiles, corn and beans (if using). Taste and add additional salt or lime juice, as needed.
Divide between bowls and serve with lots of your favorite toppings, like shredded cheese, sour cream and freshly chopped cilantro!
Can I Use My Slow Cooker or Instant Pot
Absolutely! This easy recipe is made even quicker with the instant pot and the crock pot, which allow you to set it and forget it while you go about your day.
Slow Cooker Method
Soften the onion and garlic with butter on your stovetop and then transfer to your slow cooker.
Add in the remaining ingredients, stir, & cover.
Cook on high for 4 hours or on low heat for 6 hours.
Once the cooking time is complete, remove the chicken, shred it, and place it back in your slow cooker and mix thoroughly.
Instant Pot Method
Use the sauté setting to soften the garlic and onion with butter.
Mix in the remaining ingredients except for the optional black beans.
Place the instant pot lid on and move the tab to sealing. Set the instant pot to manual and cook on high pressure for 10 minutes. Then let the steam release naturally for 10 minutes before doing a quick release.
Remove the chicken, shred it, place it back in the instant pot along with the optional beans and stir.
Recipe Q&A
dairy-free – Make this recipe dairy-free by using a vegan butter, dairy-free sour cream and a dairy-free shredded cheese.
gluten-free – Make this recipe gluten-free by using gluten-free flour.
quantity – This is truly a crowd favorite so do yourself a favor and make a double batch and freeze half in mason jars to be used on a night when you just don't feel like cooking. Just be sure to leave a little room at the top for expansion during the freezing process.
storage – Store your chicken enchilada soup in an airtight container for 3-4 days in the fridge.
Made this recipe and loved it?! We would love it if you would take a minute and leave a star rating and review – it is also helpful if you made any substitutions or changes to the recipe to share that as well. THANK YOU!
Don't forget to follow me on Facebook, check out my Instagram account or see what I am pinning on Pinterest!
Other Easy Soup Recipes You Might Like
Print
Chicken Enchilada Soup
Author: Erin Jensen
Prep Time: 15 minutes
Cook Time: 35 minutes
Total Time: 50 minutes
Yield: 10 servings 1x
Category: Soup
Method: Stove Top
Cuisine: Mexican-Inspired
---
Description
Chicken Enchilada Soup – an absolutely delicious chicken enchilada soup recipe that is PACKED with flavor! Makes amazing leftovers!
---
3 tablespoons butter or ghee
2 teaspoons garlic, minced
1 yellow onion, diced
3 tablespoons flour (gluten-free works)
3 tablespoons chili powder (more if desired)
1 teaspoon ground cumin
1 teaspoon garlic powder
1 teaspoon onion powder
1/2 teaspoon oregano leaves
2 teaspoons kosher salt
1/2 teaspoon ground black pepper
3 tablespoons tomato paste
4–5 cups chicken broth
1 1/2 teaspoons apple cider vinegar
1 1/2 teaspoon lime juice (more to taste)
1 pound boneless skinless chicken breast OR approx. 6 bone-in chicken thighs
10 oz can diced green chiles
1 15oz can corn, drained
(optional) 1 15oz can black beans, drained and rinsed
toppings: sour cream, shredded cheese and chopped cilantro
---
Instructions
Gather all your ingredients and measure them out ahead of time + have your broth in a container with a little spout – this will help this recipe go much smoother and very quickly!
Add butter to medium sauce pan. Bring to medium-high heat.
Add garlic and onion; move around the pan until the onions softens, approx. 1-2 minutes.
Add flour and whisk immediately until fully combined with the butter to create a bit of a paste.
Add in chili powder, cumin, garlic powder, onion powder, oregano leaves, salt, ground black pepper and tomato paste into the pan. Whisk to combine.
While you continue to whisk slowly pour in the broth, adding about 1/2 cup or so at a time.
Once the broth has been added, turn up the heat a bit and bring liquid to a low simmer. Add the apple cider vinegar, lime juice and chicken. Cover and let simmer 15-20 minutes or until chicken is fully cooked.
Remove chicken and shred with two forks. Return to pot along with chiles, corn and beans (if using). Taste and add additional salt, lime juice or chili powder, as needed (everyone's tastes are different so definitely feel free to adjust).
Divide between bowls and serve with lots of shredded cheese, sour cream, chopped red onion, tortilla chips, and fresh cilantro!
Notes
Chicken: I prefer to use 6 bone-in, skin-on chicken thighs because it adds even more wonderful flavor, BUT you can easily use a pound of boneless, skinless chicken breasts if you prefer.
Creamy Chicken Enchilada Soup Recipe: if you want to make this more of a creamy, thicker soup you can add some shredded cheese (about a 1/2 cup) and 2 or 3 1-inch cubes of plain cream cheese directly into the pot and move it around until it melts!
Dairy-Free: to make this dairy free simply use a vegan butter, dairy-free sour cream and a dairy-free shredded cheese.
Gluten-Free: to make this gluten-free use gluten-free flour.
Storage: store leftovers in an airtight container in the refrigerator for up to 3 days.
Nutrition
Serving Size: 1 cup
Calories: 189
Sugar: 5.6 g
Sodium: 906.3 mg
Fat: 6.1 g
Carbohydrates: 20.6 g
Protein: 14.9 g
Cholesterol: 44.7 mg
Keywords: chicken enchilada soup