Corned Beef and Cabbage is a classic Irish meal (traditionally served on St. Patrick's Day) that is delicious and easy to make. Make sure and add this corned beef and cabbage recipe to your St. Patrick's Day menu! (Slow Cooker + Instant Pot Directions included!)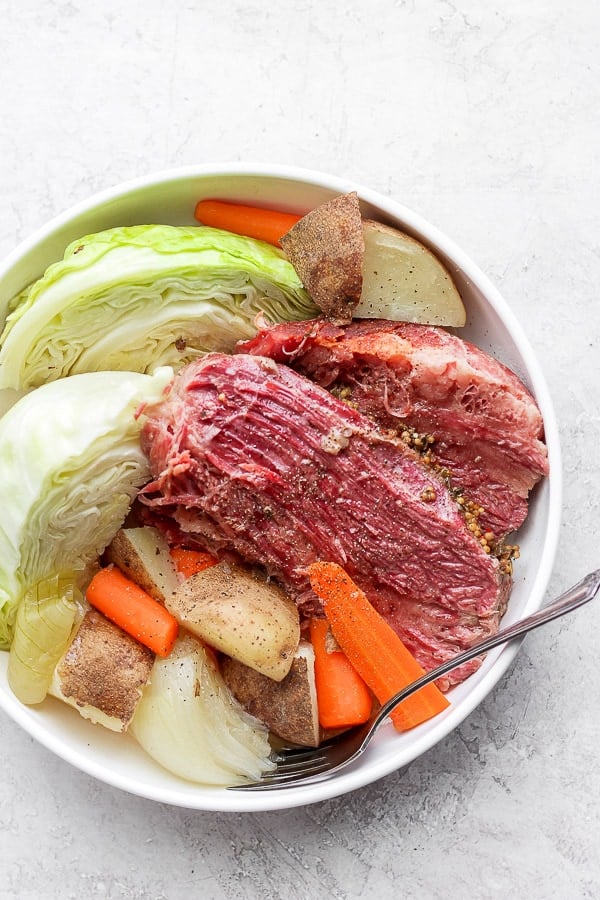 Best Ever Corned Beef and Cabbage
Talk about a tried-and-true recipe (and Irish American dish – it's actually not all that popular over in Ireland) – my family has been making this recipe for decades and it is a dish I look forward to cooking every year. It is really quite simple to make and tastes absolutely delicious. I cannot wait for all of you to try it this year!
Why You Will Love This Recipe
Classic: This is just pure, classic St. Patrick's Day flavor (and it is SO easy!).
Tried and True: My family has been making our yearly corned beef and cabbage this way for (literally) decades. I look forward to it every year!
Flavor: is it weird to say the cabbage might actually be my favorite part of this recipe (don't get me wrong I love the corned beef too), but there is something about that steamed cabbage in the corned beef broth – it is so good!
What is Corned Beef
Corned beef is a cut of beef, usually a brisket, which is essentially cooked down during a salt-filled brining process. This long process ensure that the brisket, usually a fairly tough cut of meat, becomes tender. We then cook it a little bit more in liquid and this helps it become even more tender and moist!
There are two types of cut of corned beef: the flat cut and the point cut (both would be included if you purchased a whole brisket). The Flat Cut is square and has a little less fat + cuts easily – this is what is most commonly found in your local grocery store. the Point Cut comes to a point, has more fat and shreds more easily. Either will work for this recipe.
Store-Bought Ready to Cook vs. Curing Your Own
You have two choices when it comes to corned beef:
Store-Bought Ready to Cook: This is your most typical option – you will find pre-packages and pre-brined corned beef at the store.
Curing Your Own: If you are feeling ambitious you can also cure your own brisket to make corned beef. The process takes about 7 days and here is a resource if you are interested in doing that!
Is it Better to Bake or Boil Corned Beef
We obviously prefer boiling and that is likely the most popular way to cook corned beef. Boiling in liquid helps ensure this tougher cut of meat is as tender and moist as possible.
Do I Need To Rinse Store-Bought Corned Beef
No, it isn't a requirement, but you can if you want to. Rinsing will wash off some of the brine and may result in a slightly more mild flavor.
How Long do You Boil Corned Beef
Once you have your corned beef in your pot and just barely submerged with water you will want to let it boil approximately 3 hours (for a 3 pound brisket).
At What Temperature is Corned Beef Fully Cooked
Per the USDA, corned beef is fully cooked when it reaches an internal temp of 145 degrees – then let it rest for 3+ minutes. Cooking it longer will only result in a more tender meat.
How to Make Corned Beef and Cabbage
Place your corned beef in a Dutch Oven and barely cover with water. Cover and simmer.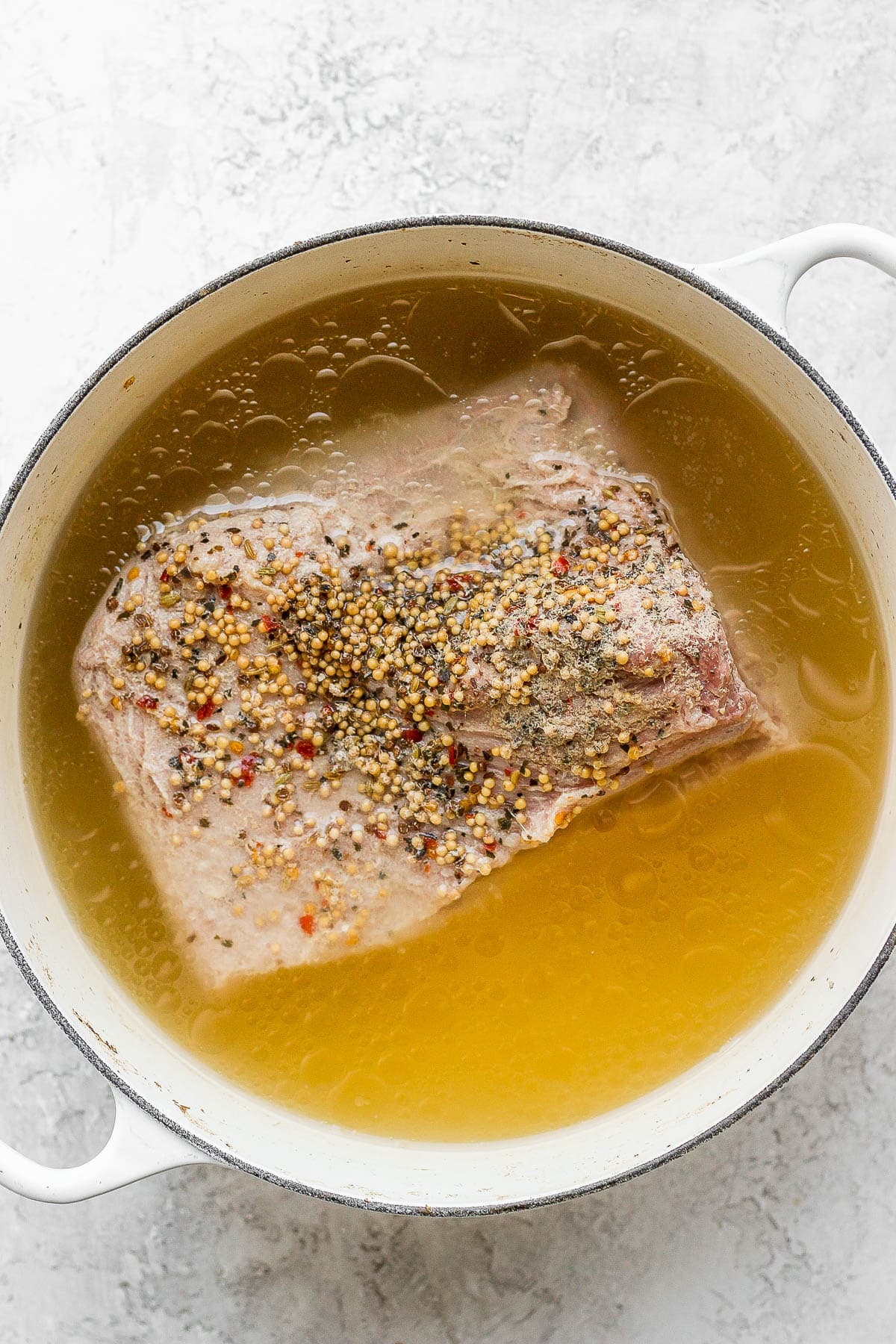 Add your veggies and potatoes. Cover and boil.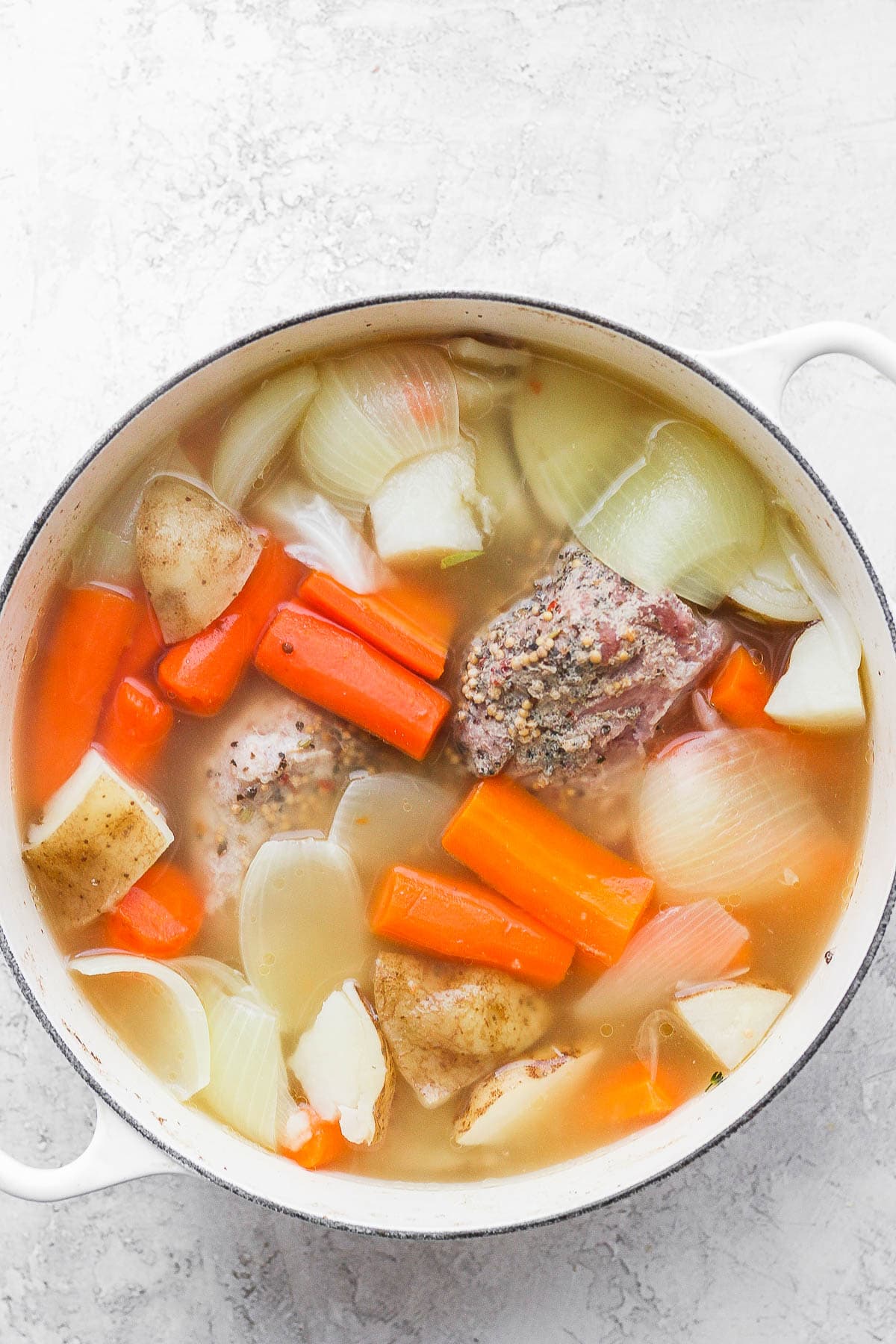 Uncover and add in your cabbage slices. Cover and let boil – this will steam your cabbage and cook it perfectly – vegetables should fork tender.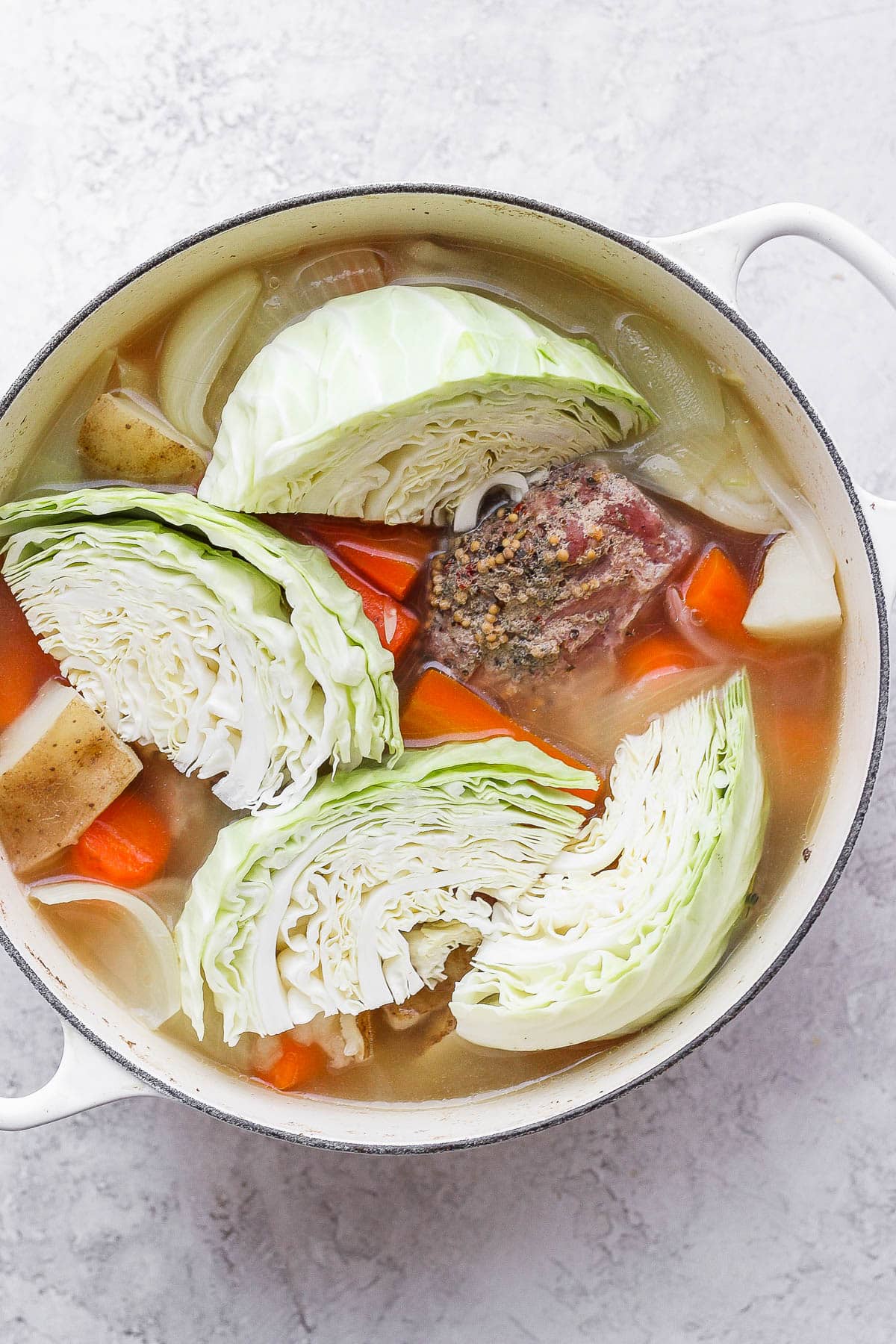 Uncover and you are done! Serve and enjoy!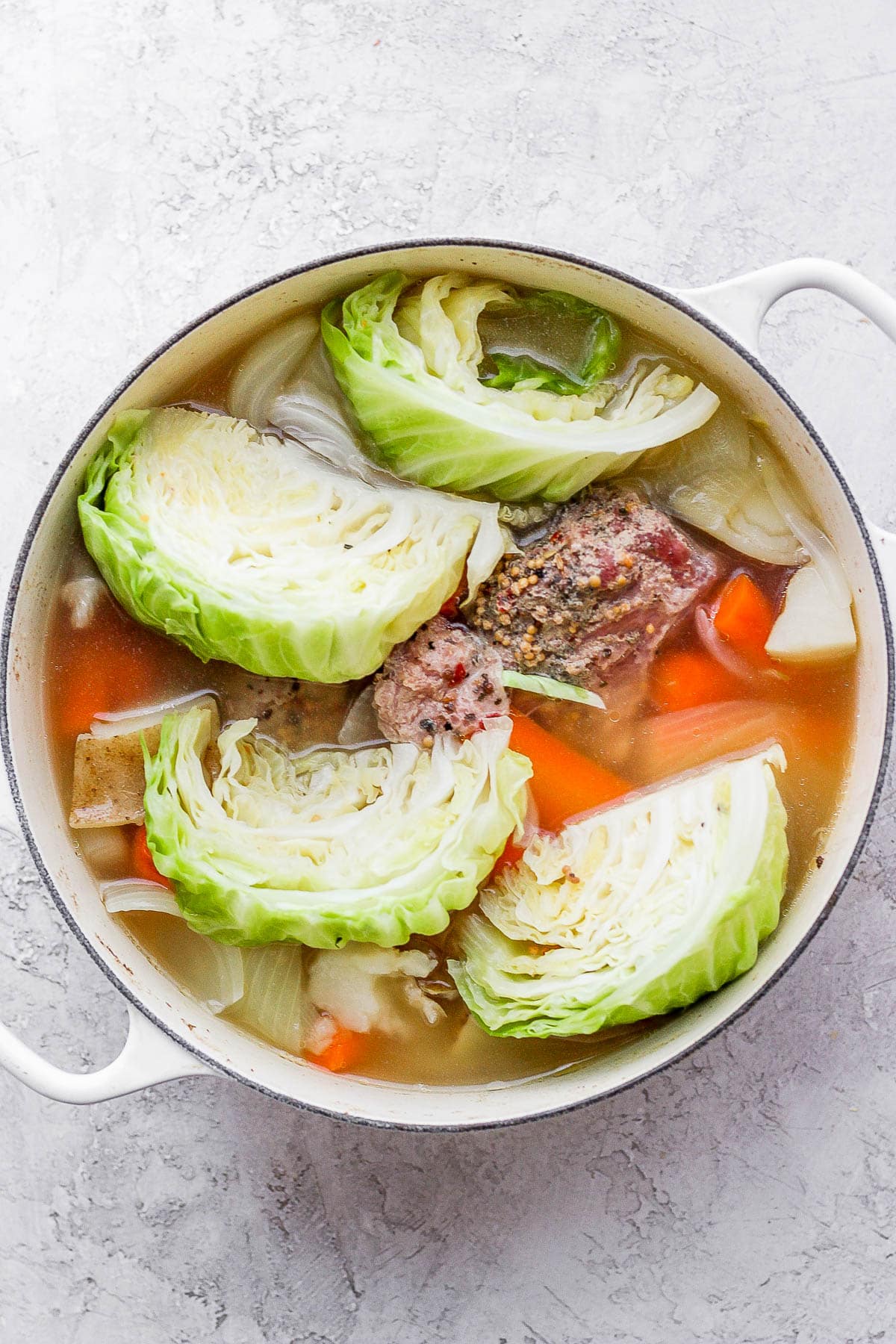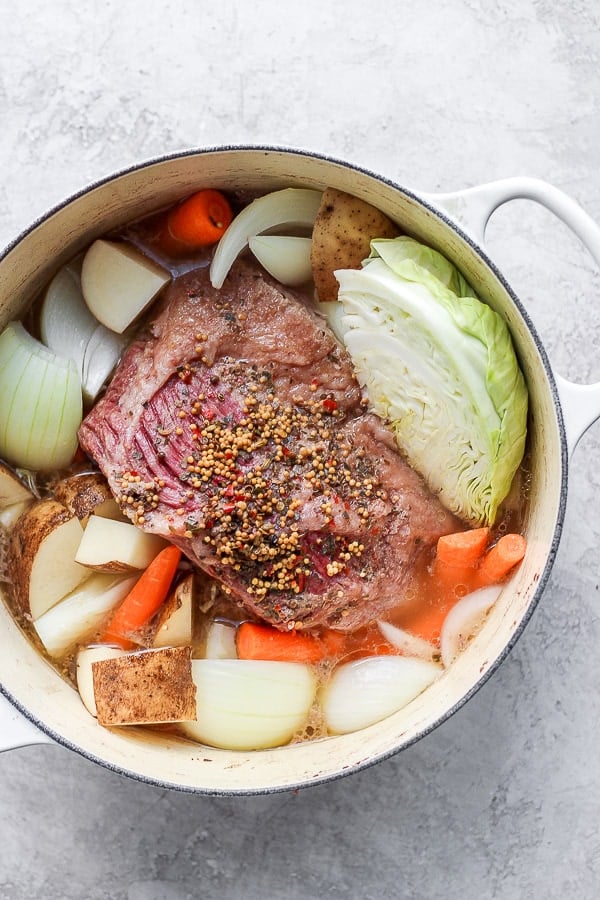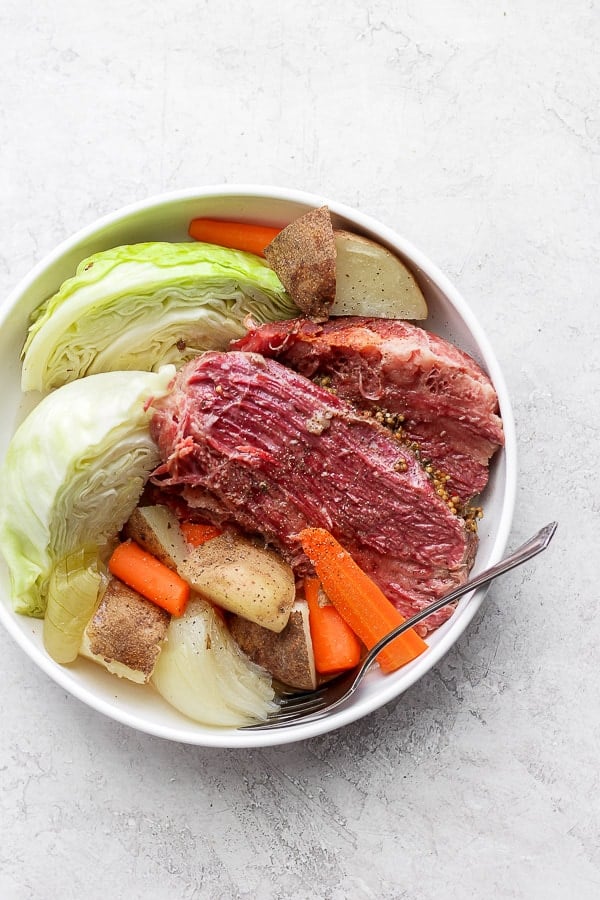 Other Recipes You Might Like:
Don't forget to see what I am up to behind the scenes on Instagram! Or give me a follow on Facebook or Pinterest!
Made this recipe and loved it?! We would love it if you would take a minute and leave a star rating and review – it is also helpful if you made any substitutions or changes to the recipe to share that as well. THANK YOU!
Print
Corned Beef and Cabbage
Author: Erin Jensen
Prep Time: 10 minutes
Cook Time: 3 hours
Total Time: 3 hours 10 minutes
Yield: Approx. 6 servings
Category: Dinner
Method: Stove Top
Cuisine: Irish American
---
Description
Corned Beef and Cabbage – A classic Irish meal (traditionally served on St. Patrick's Day) that is delicious and easy to make!
---
3–4 pound corned beef brisket
bay leaf
1 head of cabbage, cut in half, remove core, cut into medium-sized wedges
6 medium carrots, peeled and cut into uniform 1-2 inch chunks
1 yellow onion, cut into quarters
1–2 russet potatoes, cut into 1 inch chunks
water
---
Instructions
Remove brisket from packaging (rinse off if you desire or pat dry).
Place in a large Dutch Oven or other large pot – fat side up.
Take spice packet from brisket package and sprinkle on top of brisket; add in bay leaf.
Add water until brisket is barely covered.
Bring to a boil; Cover and reduce heat and simmer for approx. 3 hours (for a 3 pound brisket) or more (you can prepare your vegetables during this time).
After approximately 3 hours of simmering, add potatoes, carrots, and onion. Cover and bring back to boil for 5-10 minutes (feel free to boil the potatoes/carrots longer if you prefer a softer texture, but they will be cooked for an additional 5-10 minutes in the next step).
Then add cabbage wedges, cover again, continue boiling for an additional 5-10 minutes (this essentially steams the cabbage).
Remove the cabbage, potatoes, carrots, onion and corned beef and place on a large plate or platter.
Let the meat rest 5-10 minutes, sliced against the grain and then serve.
Suggestion: Serve the cooking liquid/broth as "au jus" to be poured over the meat.
Notes
Slow Cooker/Crock Pot Instructions: add onions and corned beef (+ spice packet) to your slow cooker along with approx. 3 cups of water. Cover and cook on HIGH 4-5 hours or LOW 8-10 hours. Add potatoes and carrots in about halfway through cooking. Add cabbage on top when there is approx. 1 hour left of cooking.
Instant Pot/Pressure Cooker Instructions: place trivet inside. Add onions and corned beef (with spice packet) along with 3 cups water. Cook on HIGH pressure for 80 minutes. Manually release the pressure. Remove corned beef (set on a plate and cover with foil). Keep any liquid inside the IP and add in the potatoes, carrots and cabbage. Cover and cook on HIGH pressure 3-5 minutes. Manually release pressure.
Dutch Oven Size – I used a 5.5qt dutch oven for the stove-top method.
Rinsing Corned Beef: Rinsing isn't a requirement, but you can if you want to. Rinsing will wash off some of the brine and may result in a slightly more mild flavor.
Cabbage Serving Suggestion – we always eat our cabbage with some butter (or ghee or plant-based butter) and salt and pepper – so good!!
Broth: it is kind of up to you how you want to use/serve the broth. You can essentially serve everything in a bowl and almost make it a soup/stew OR you can just serve the broth as an "au jus" and pour over the meat to make sure it is extra delicious! Either way its amazing!
Storage: This makes excellent leftovers! Store in an airtight container in the fridge for up to 3-4 days. Use your leftovers to make corned beef hash!
Nutrition
Serving Size: 1/4 lb corned beef
Calories: 282
Sugar: 5.7 g
Sodium: 1430.2 mg
Fat: 17.2 g
Carbohydrates: 13.6 g
Protein: 18.7 g
Cholesterol: 61.3 mg
Keywords: corned beef and cabbage