Cheesy Irish Soda Bread + Fresh Thyme and Rosemary – the perfect recipe for St. Patrick's Day. Serve as an appetizer with butter or dip in your favorite Irish stew!
I am so excited for St. Patrick's Day! St. Patrick's Day was always a big deal growing up – I have a fairly strong Irish heritage on my mom's side, so she would make Corned Beef and Cabbage and Irish Soda Bread every year. Last year I shared her recipe for Corned Beef and Cabbage, but this year I am all about the bread, Irish Soda Bread, and every fun variation of you can think of. I had beer cheese soup in my mind when I was thinking up this recipe and although there isn't any beer in here (sad face), the sharpness of the cheddar and that perfect bitterness that comes along with it satisfied my beer-cheese craving. That flavor, paired with the fresh thyme is just Irish perfection. I know it isn't the classic, but it a wonderfully cheesy version of my mom's recipe and I am so excited to be sharing it with all of you!
Look at the recipe, you guys. Cheese. Real Cheese. A lot of it. I called it "Cheesy" Irish Soda Bread for a reason. This one doesn't disappoint. Not gonna lie, it makes kneading the dough a real b*tch, but you will be able to work it in, believe me. But you will have a moment where you are cursing me – it's okay, I get it – I was a little nervous when I was trying to knead it all together too. Luckily, my husband was just passing by and he suddenly became a very important part of my recipe – the flour guy. The dough was so sticky that I there was no way for me to get to it (see the *note in the recipe where I tell you that you should have a bowl of flour next to you when you knead – yeah…. that's there for a reason). But once you get through that little challenge, you will be good to go – promise.
This truly is the perfect Irish side dish – serve it with anything Irish this Friday (or Saturday or Sunday). Hell, just slab some butter on it and eat it for breakfast.
How ever you enjoy it, I know you will enjoy it…. errrr. You know what I mean. Just make it. You won't regret it.
Stay tuned – I will have a more "spirited" recipe later this week ….. for now, some of my favorite pictures of this cheesy, herby goodness….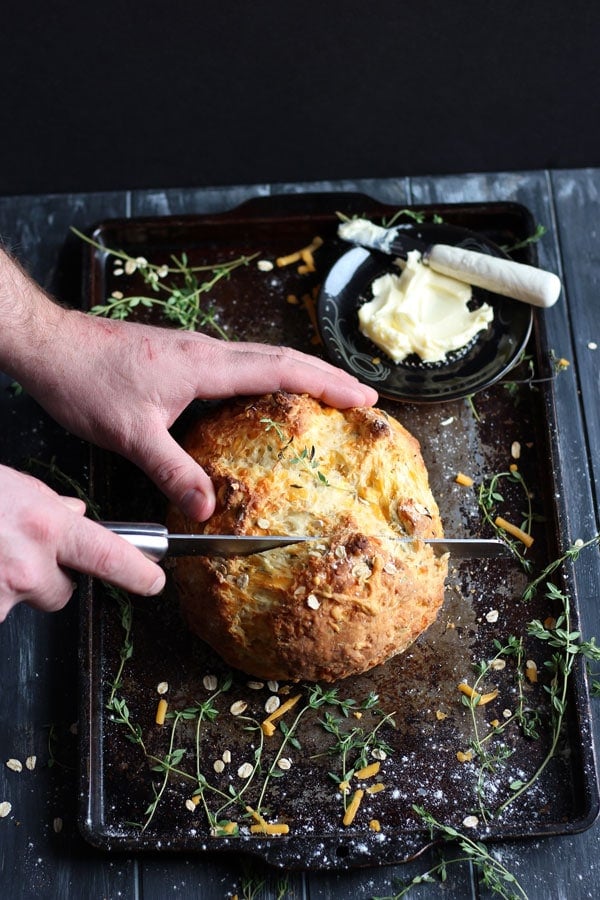 Make sure to check out my Instagram account for some behind-the-scenes action. Or give me a follow on Facebook or see what I am pinning on Pinterest!
Print
Cheesy Irish Soda Bread + Fresh Thyme and Rosemary
Author: Erin Jensen
Prep Time: 20 minutes
Cook Time: 30 minutes
Total Time: 50 minutes
Yield: 1 loaf 1x
Category: Bread
Method: Oven
Cuisine: Irish
---
Description
The perfect recipe for St. Patrick's Day! Serve as an appetizer with butter or dip in your favorite Irish stew!
---
2 cups all-purpose flour (plus extra for kneading)
1/2 Teaspoon baking soda
1 Teaspoon cream of tartar
1/2 Teaspoon kosher salt
2 Tablespoons fresh thyme
1 Tablespoon rosemary
1/4 Teaspoon cardamom
1 3/4 cup grated sharp cheddar cheese
1 cup buttermilk
1 large egg
1 Tablespoon honey
(extra salt and some oats to sprinkle on top)
---
Instructions
In large mixing bowl, combine flour, baking soda, cream of tartar, salt, thyme and rosemary.
Mix well.
In smaller mixing bowl, add egg and beat slightly.
In the egg bowl, add butter milk and honey.
Whisk until well mixed.
Add cheese to flour bowl and mix well.
Then add buttermilk/egg mixture to the flour bowl and mix with a spoon until a dough starts to form.
Ensure you have about 1/2 cup of extra flour in a small bowl next to you – sprinkle some over the dough if it already looks fairly moist.
Then, taking some additional flour your hands, start kneading the dough.
*It is going to be very sticky – just keep kneading and adding flour as needed until the dough starts to dry up and form a ball.
After several minutes of kneading, you will be able to form a ball.
Place dough on a baking sheet that is sprayed with non-stick.
Then take a serrated knife and cut an X in the middle of the ball.
Sprinkle some salt, oats and even a little extra cheese on top.
Bake at 425 for 30 minutes.
---
Keywords: Irish Soda Bread