Lemon Butter Scallops – cooked in ghee and fresh lemon juice, these scallops are savory and delicious! (Whole30/Paleo)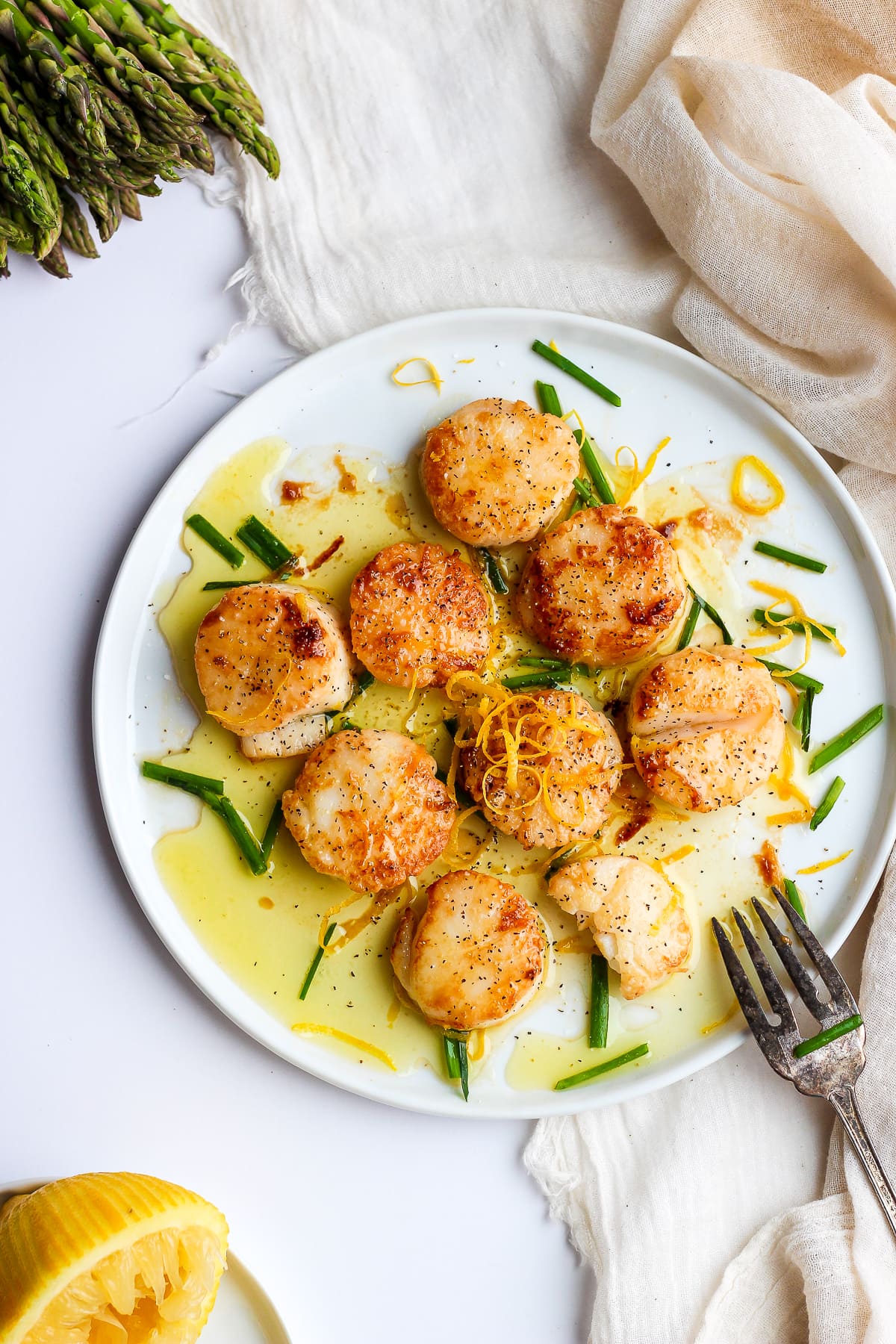 These Lemon Butter Scallops need to be on your menu!
Lemon Butter Scallops
I always forget how ridiculously easy this recipe is! Scallops are a favorite of mine and this recipe is simple, quick and SO delicious! I cannot wait for you to try it!
How to Store these Lemon Butter Scallops:
If you actually have leftovers 🙂 Then you can keep the scallops in a sealed container in the refrigerator for about 2-3 days. Don't forget to pour the extra lemon butter sauce on top! To reheat you can scrape out the solidified lemon butter sauce into a cast iron and reheat. Add scallops and just cook on low to warm up! Or you can pop them in the microwave if you want!
Should I use Fresh or Frozen Scallops?
If you have any sort of choice in the matter I ALWAYS choose FRESH! They just taste so, so much better! Plus, frozen scallops seem to lock in extra moisture so when you cook them down they add water to your recipe, thus watering down the flavor, etc. This recipe will only reach its full potential if you use fresh scallops!
How to Sear Scallops:
To sear scallops you need to:
Use a cast iron skillet, bring to medium high heat.
Add your fat (in this case ghee or olive oil) – just enough to coat the pan though!
Take your scallops and pat them dry with a paper towel – ensure they as dry as possible!!!!
Sprinkle them with a pinch of salt.
Place on hot skillet and let them sizzle for a minute or two – then flip.
Once both sides are seared, reduce heat to medium/medium-low – but scallops really don't take long to cook so it will only be for a minute or two.
Once you see cracks in the scallops, you know they are cooked.
What to serve with these Lemon Butter Scallops:
Here are some serving suggestions: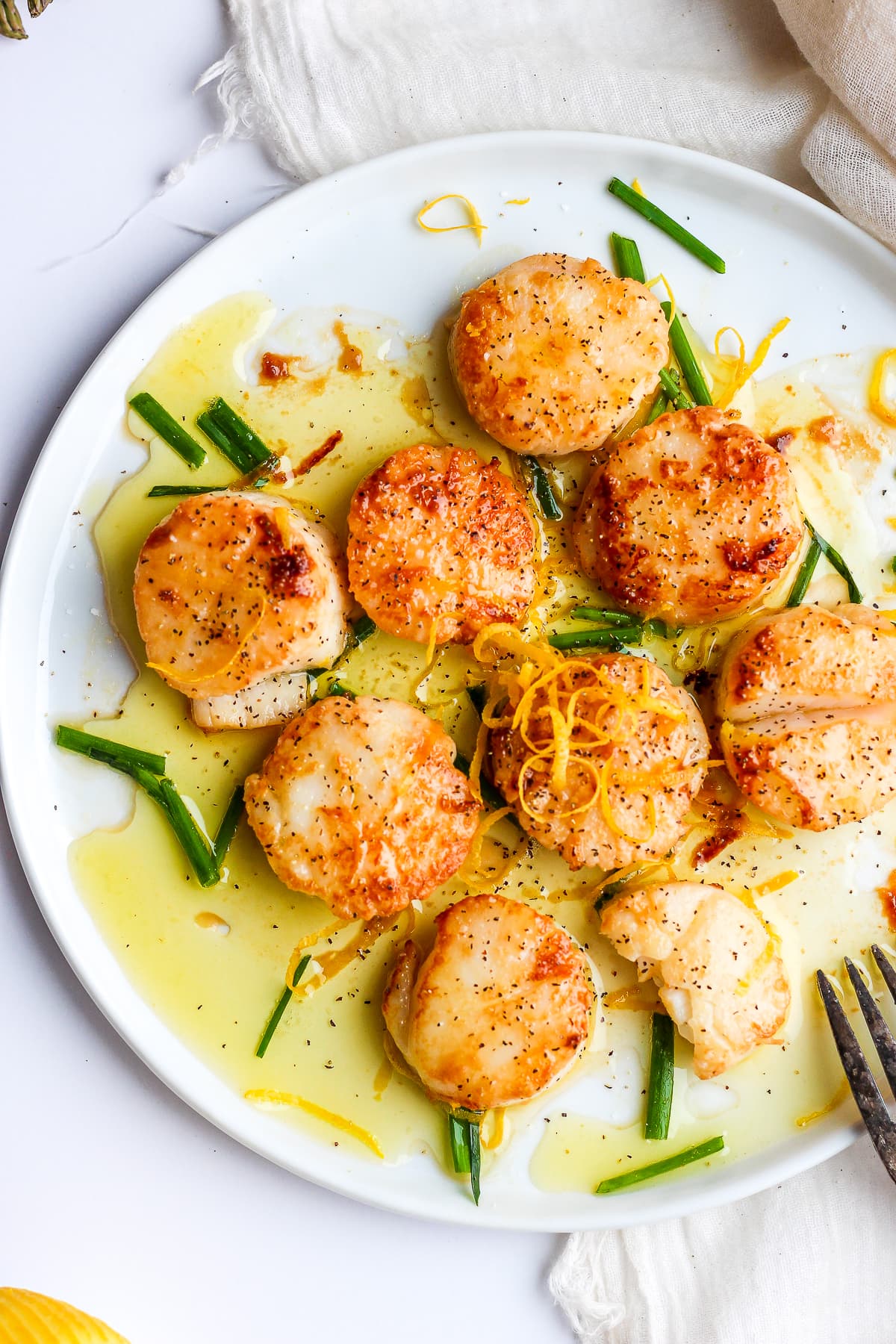 Hope you guys have a great start to your week!
Don't forget to follow me on Facebook, check out my Instagram account or see what I am pinning on Pinterest!
Love,
E
Print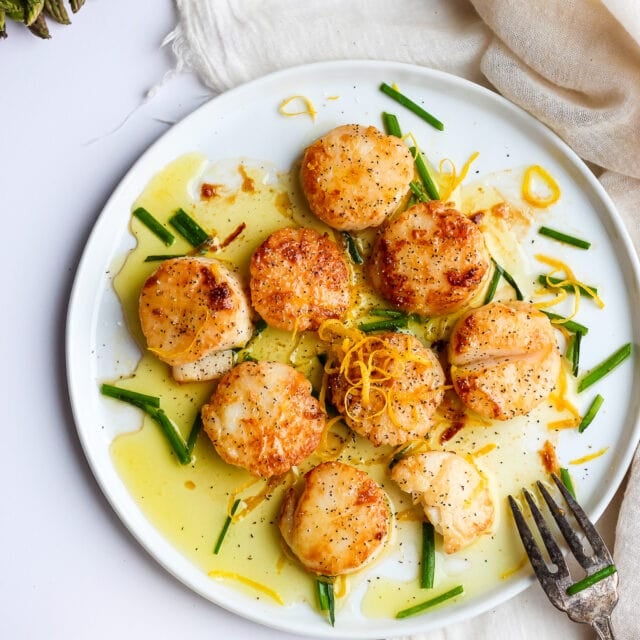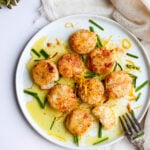 Fresh Lemon Butter Scallops
Author: Erin
Prep Time: 10 minutes
Cook Time: 5 minutes
Total Time: 15 minutes
Yield: 2 servings 1x
Category: Dinner
Method: Stove Top
Cuisine: American
---
Description
Cooked in ghee and fresh lemon juice, these scallops are savory and delicious! (Whole30/Paleo)
---
8–10 large sea scallops
the zest of 1 lemon
3 Tablespoons of fresh lemon juice
2 Tablespoons fresh chives, cut into 1/2 inch pieces
3–4 Tablespoons ghee
salt
pepper
---
Instructions
Bring a large cast iron skillet to high heat
Add just enough ghee to coat the bottom of the pan.
Pat Scallops dry (ensure they are as dry as possible!) and sprinkle with salt.
Put salt side down in hot pan to sear.
Sprinkle salt on other side of scallops.
Let sear for 1 minute and then reduce heat to medium/medium-high and add enough ghee to ensure the bottom doesn't dry out (at least 1 Tablespoon).
Sprinkle with 1/2 of the lemon zest, add 1 Tablespoon of lemon juice, and 1 Tablespoon chives.
Cook for 3 minutes on medium and then flip, pushing some ghee under each scallop as you flip to ensure they don't stick to the pan.
Cook for 2-3 minute on this side or until fully cooked (they are cooked when the tops start to crack).
After you flip, add the other Tablespoon of lemon juice.
Add additional ghee, as needed, to ensure the bottom of the pan stays nicely coated.
Once fully cooked, plate and sprinkle with other half of lemon zest, the rest of the chives and sprinkle with salt and pepper.
---
Notes
(Optional: If you want a bit of a sauce to pour over, leave any residue in the pan and add an additional Tablespoon or two of ghee, another Tablespoon or two of lemon juice and a swirl of olive oil together and mix together. Pour over scallops.)
Keywords: lemon butter scallops, scallops, healthy scallop recipes
Thank you so much for reading & supporting The Wooden Skillet! This post contains affiliate links for products I actually use in my own home and personally recommend. Should you make a purchase using one of these links, The Wooden Skillet will earn a small commission at no extra cost to you, which helps me continue to bring you great original content. Thank you!