Roasted Broccolini – seriously the BEST roasted broccolini recipe EVER! Kid-friendly, delicious and SO EASY!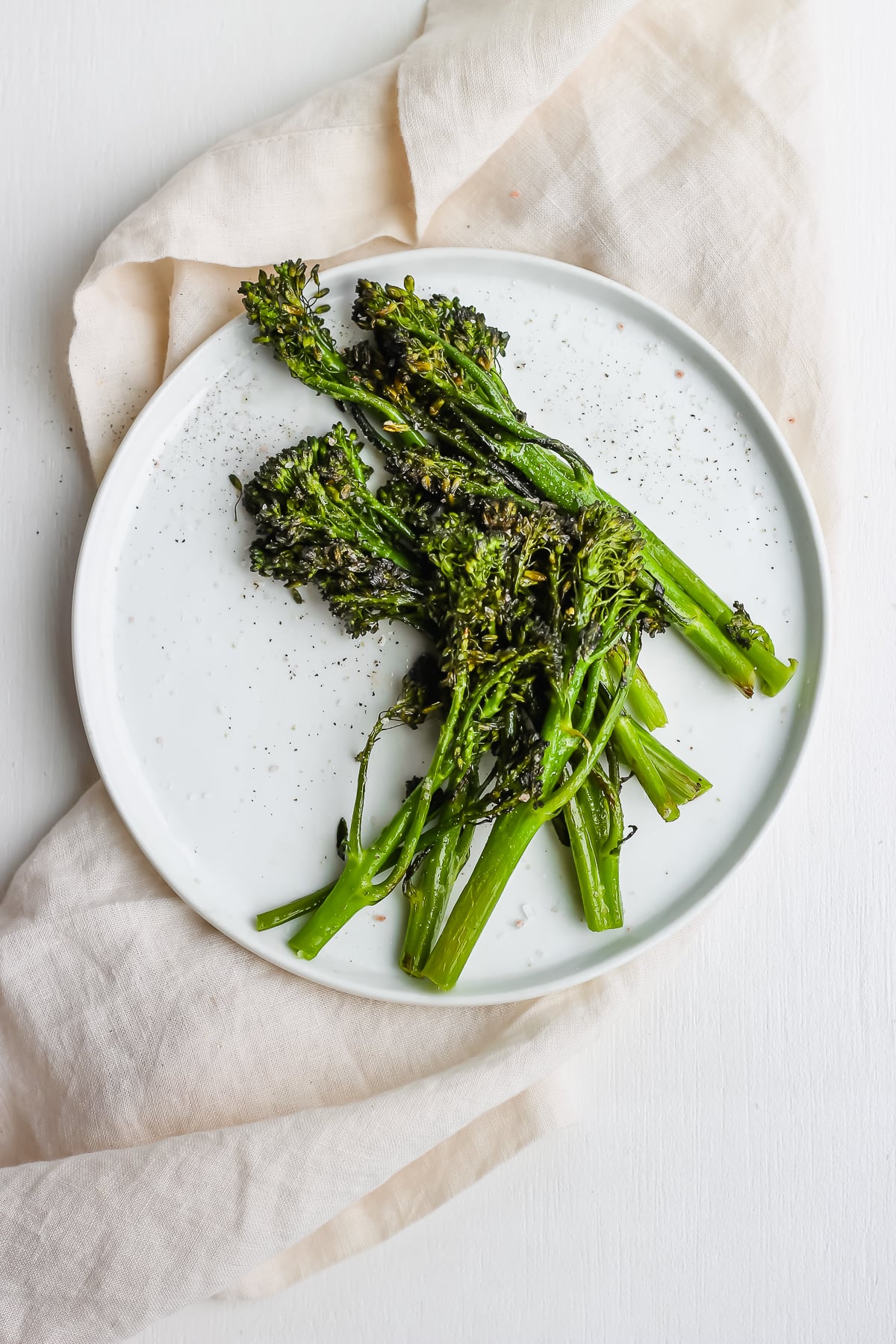 How to Make Roasted Broccolini
I am finally sharing my absolute favorite roasted broccolini recipe with you guys!! I make it ALL the time and my entire family LOVES it!!
I don't know why this post as taken me so long to put up…. maybe because I thought it was too simple? I don't know, but if you follow me on Instagram (where I generally show what I eat day-to-day) you know I eat literally eat this all the time. I love eating it in the morning with eggs and homemade sausage patties, I am known for throwing it in my lunch (which is generally leftovers) and we probably have it as a veggie with dinner about 2-3 times per week. My kids love it and actually request it, ask for seconds, etc. Yet, it is so simple!
The Secret to Making the BEST Roasted Broccolini
Okay, here is my secret. You have to massage the olive oil into your broccolini before you roast it. Yes, it's really that simple. But you need to use your hands and massage that olive oil into all of those little leaves at the top of your broccolini. Add some nice kosher salt and you are good to got.
What is Broccolini
Broccolini is a hybrid between broccoli and "Chinese Broccoli" (also known as Chinese Kale) or Gai lan. The name "broccolini" is actually a registered trademark of Mann Packaging. (Source)
Other Way to Make Roasted Broccolini
Squeeze some fresh lemon juice on before roasted
Toss in some nutritional yeast to add a dairy-free "cheesiness"
Drizzle a little balsamic glaze on after your roast it
And I have been meaning to try some nutritional yeast on it one of these days or even a little balsamic glaze….
Bottom line though, I love it. I love how the little leaves get slightly charred and crunchy with just enough salt… it's just plain and simple one of my favorite things to eat, and I hope you guys love it as much as I do. The recipe is pretty simple, so after making 2-3 times, you probably won't even need to look anymore. But here it will live in case you need a refresher!! Happy cooking!
Other Recipes You Might Like
Don't forget to check out my Instagram account – Or give me a follow on Facebook or see what I am pinning on Pinterest!
Made this recipe and loved it?! We would love it if you would take a minute and leave a star rating and review – it is also helpful if you made any substitutions or changes to the recipe to share that as well. THANK YOU!
Print
Super Simple Roasted Broccolini
Author: Erin Jensen
Prep Time: 5 minutes
Cook Time: 12 minutes
Total Time: 17 minutes
Yield: 3–4 servings 1x
Category: Side Dish
Method: Oven
Cuisine: American
---
Description
Super Simple Roasted Broccolini – My go-to broccolini recipe that I honestly make 2-3 times per week!!
---
1/2 – 1 lb fresh broccolini
Approximately 2–3 Tablespoons olive oil or avocado oil
Approximately 1 Tablespoon kosher salt
---
Instructions
Preheat oven to 415.
Line large cookie sheet with parchment or foil and set aside.
Take broccolini and cut off about the bottom inch or so and discard.
Place broccolini in large bowl.
Drizzle with olive oil and then use your hands to massage it into every inch and crevice (very important!).
Sprinkle with salt and repeat massaging.
Pour onto cookie sheet and spread out as evenly as possible.
Place in oven on middle rack and set timer for 12 minutes.
Flip with tongs after about 7-8 minutes.
Check when timer goes off – if you want it a little more crispy or charred place back in the oven for 2-3 minute increments.
You can also place under the broiler on high for just a minute or two as well to finish it off.
Serve immediately.
Keeps well in fridge for leftovers for several days.
---
Notes
If you want your broccolini extra crispy, feel free to increase cooking time up to 5 minutes.
Keywords: roasted broccolini