This quick and easy Fried Zucchini is the perfect side dish recipe that always hits the spot! It has the perfect seasoning combination that brings so much flavor. With crispy edges you will be coming back to this recipe again and again!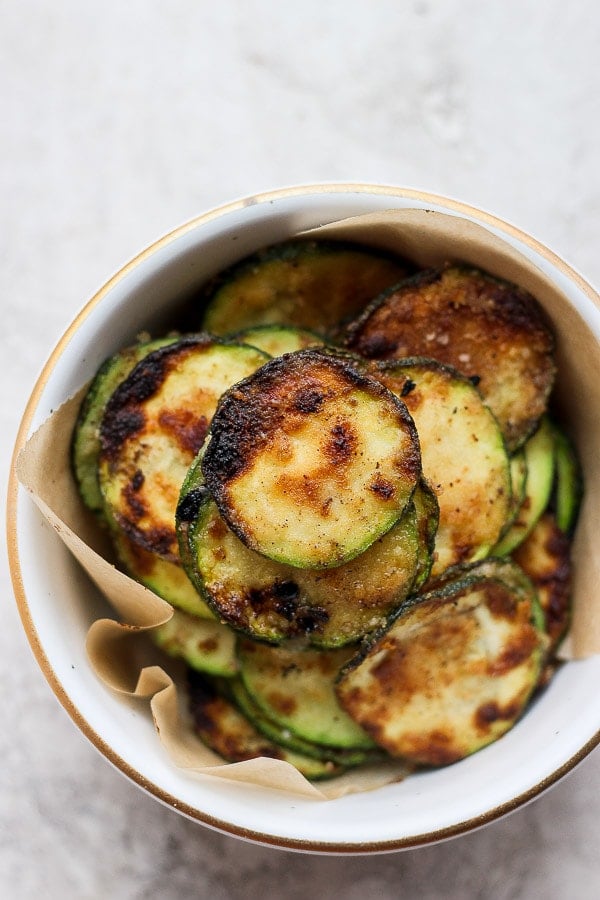 The Best Fried Zucchini Recipe
If you haven't tried making Fried Zucchini yet… this is going to be your new favorite way to cook zucchini! It's the best way to use all that garden fresh zucchini this summer. A simple side dish recipe that my mom used to make all the time this time of year and there never seemed to be enough of it – definitely one of our family favorite vegetables. There is something about the texture, these are not "zucchini crisps" no no…. They are still soft, but just ever-so-slightly charred. It just works. Once you start eating them it is just hard to stop!
Looking for more zucchini recipes to make in those warm months of summer? Try making grilled zucchini – another delicious way to enjoy your summer zucchini!
What You Will Need
medium zucchinis – we absolutely love using fresh zucchini that is bursting from our summer garden or we pick some up at our local farmers market or grocery store.
all-purpose flour – this is what we usually have on hand but feel free to use gluten-free flour, almond flour, or cassava flour.
kosher salt & ground black pepper – simple seasonings that are always a must!
garlic salt, onion powder, paprika, & celery salt – pantry staples that are bringing all the flavor to this easy recipe.
extra-virgin olive oil – add a tablespoon of oil to the pan before each batch for the perfect fry.
Is Zucchini Good for You
Absolutely! Zucchini is a fresh vegetable that is so good for you – read about some of the amazing benefits here!
How To Make Fried Zucchini
The first step to making this classic zucchini recipe is to pick 1-2 ripe zucchini and use a sharp knife to cut the top and bottom 1/2 inch off the ends.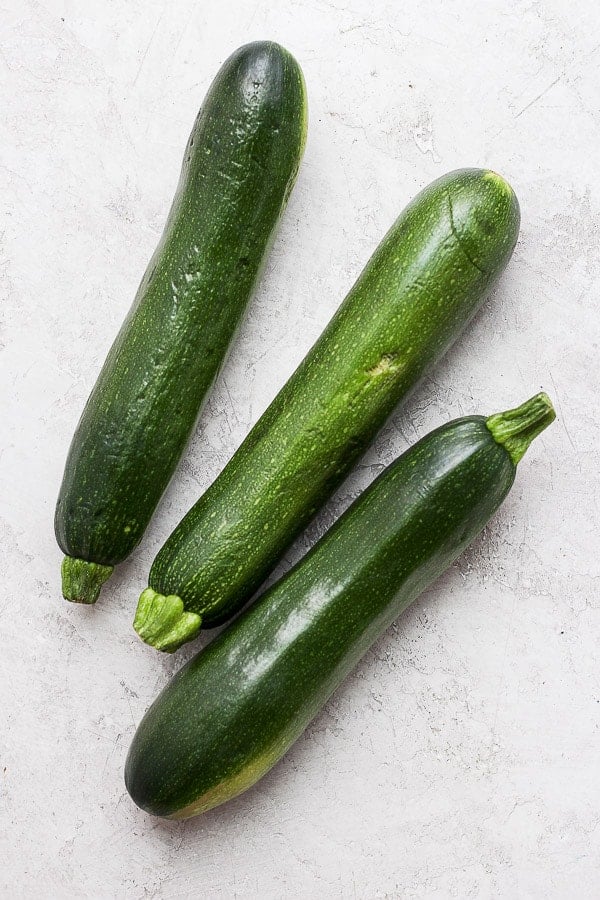 What Size Zucchini Is Best
A medium or small zucchini are best for Fried Zucchini – larger zucchini are generally not a good fit for this recipe. They get mushy and just don't taste the same for some reason. Medium zucchini are great, but try to pick the thinner ones – about 1 1/2 inch circumference.
Thinly slice the entire zucchini from one end to the other. If you want to use a mandolin, make sure you use a higher thickness so that they aren't paper thin.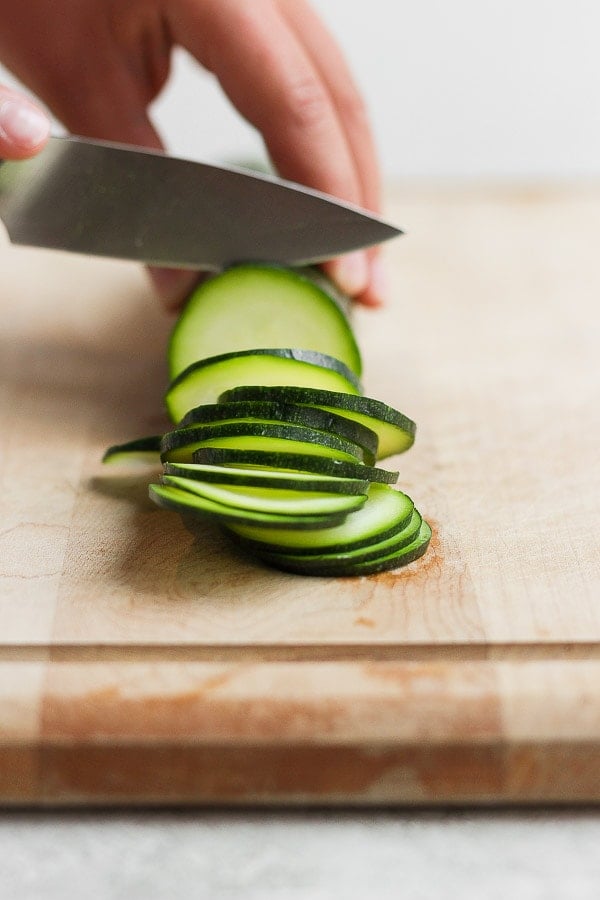 Place all of the zucchini pieces on a plate and set to the side.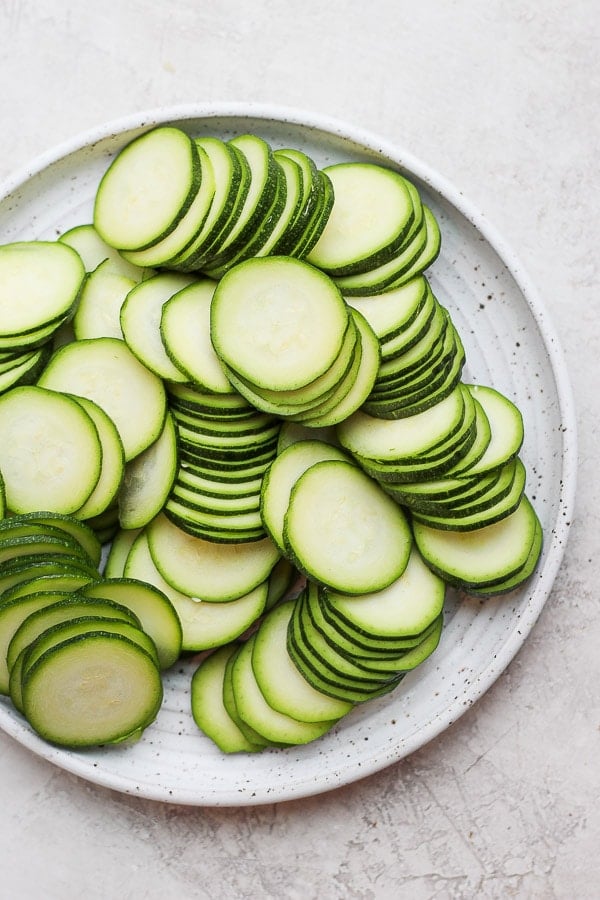 In a medium mixing bowl, combine the flour and seasonings. Add a handful of the zucchini rounds and toss to evenly coat. Don't be afraid to heavily coat the zucchini – the more flour the better. You can always shake off the excess before cooking.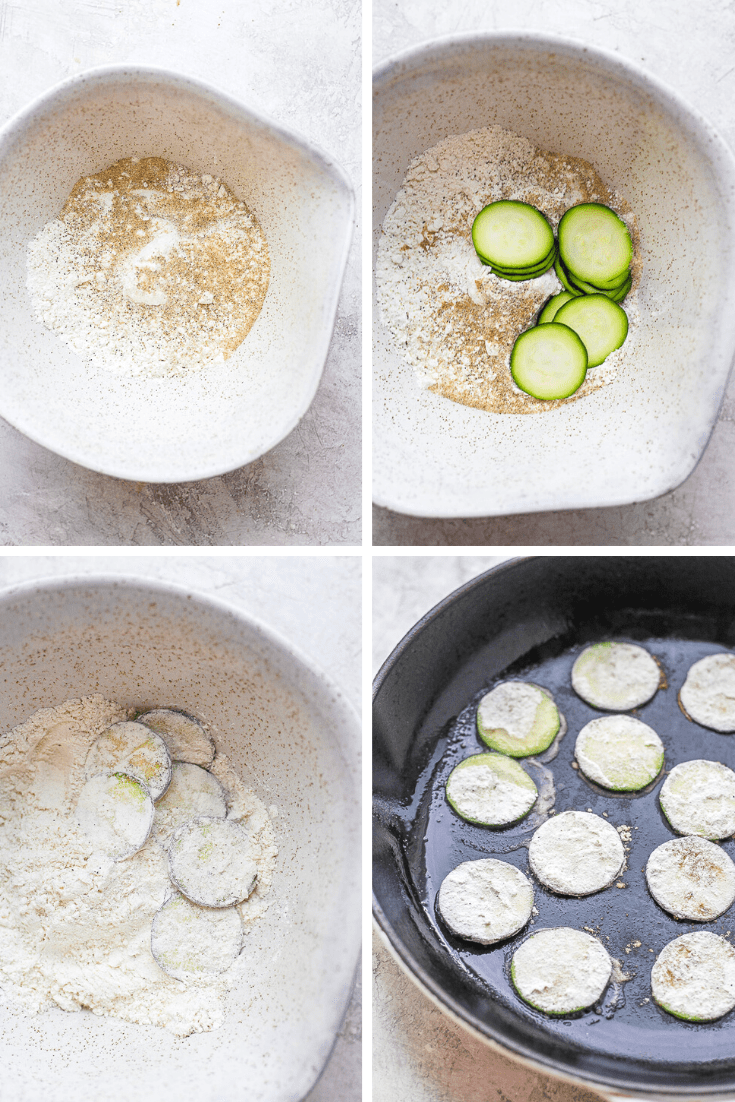 Bring a large cast iron skillet to a medium high heat and add some olive oil. Carefully place the breaded zucchini in a single layer in the hot oil. For best results, try to space them out so that they aren't touching. Cook 3-4 minutes on one side and then flip for the same cooking time on the other side. Use a slotted spoon to remove them from the pan.
If you feel that things are too hot or dry in the frying pan, add a bit more olive oil. In the end though, you want all of the olive oil to get soaked up so that you can start browning the sides. For 1 medium, thin zucchini, you will probably have to do 3 batches, using about 1-2 tablespoons of oil per batch.
How To Serve Fried Zucchini
Pan-fried zucchini is great to snack on all by itself as a healthy appetizer. Serve with your favorite dipping sauce, like ranch dressing or marinara sauce. Or you can add it as a delicious side dish to your main course. Since we usually make this in the summer we like to serve it with some grilled pork chops or grilled chicken thighs!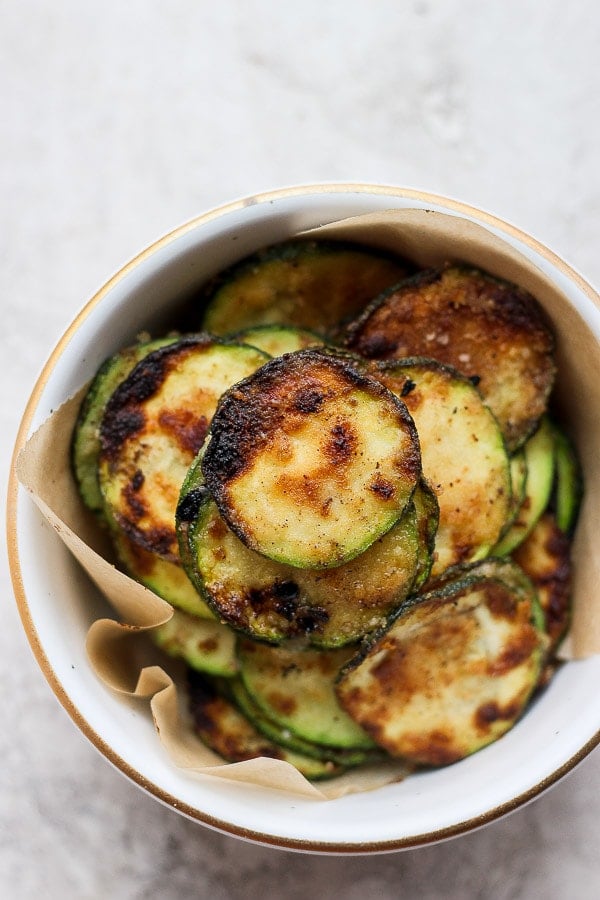 How To Prevent Fried Zucchini From Getting Soggy
As you take batches of these fried zucchini slices off the hot pan you will want to place them on a plate lined with paper towels. Once they are all done cooking make sure you serve them right away. The longer they sit, the more chance they have for becoming soggy. And nobody likes mushy zucchini!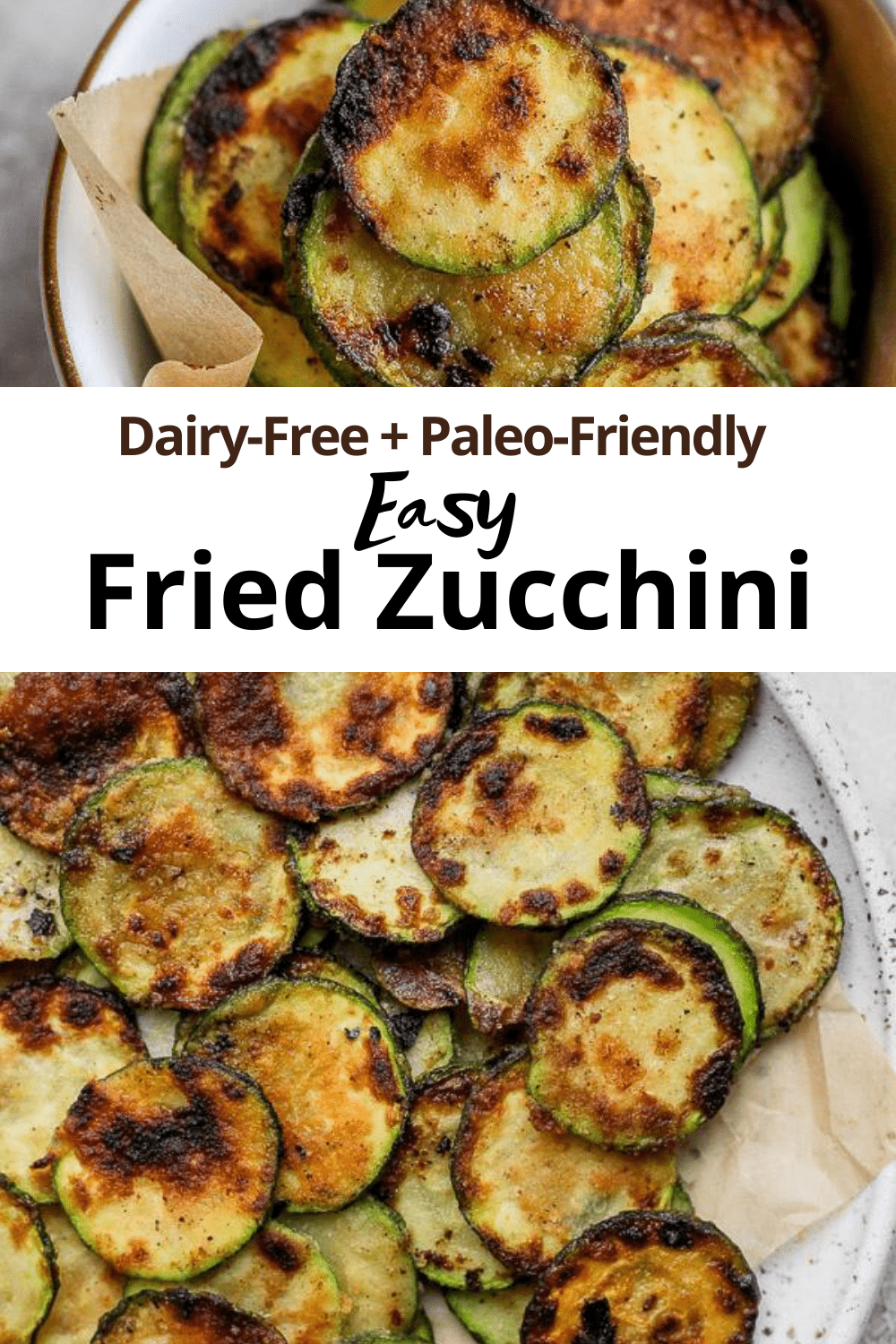 Made this recipe and loved it?! We would love it if you would take a minute and leave a star rating and review – it is also helpful if you made any substitutions or changes to the recipe to share that as well. THANK YOU!
Don't forget to check out my Instagram account for some behind-the-scenes action! Or give me a follow on Facebook or see what I am pinning on Pinterest!
Other Easy Recipes You Might Like
Print
Fried Zucchini
Author: Erin Jensen
Prep Time: 15 minutes
Cook Time: 20 minutes
Total Time: 35 minutes
Yield: 2–4 servings 1x
Category: Side Dish
Method: Stove Top
Cuisine: American
---
Description
Fried Zucchini – A tried and true method for making the BEST fried zucchini! So simple and perfect for your garden-fresh zucchini!
---
1–2 medium zucchini, thinly sliced
1 cup all-purpose flour (or cassava flour, gluten-free flour)
1 teaspoon ground black pepper
1/2 teaspoon paprika
1/2 teaspoon garlic salt (or garlic powder)
1/4 teaspoon onion powder
1/2 teaspoon kosher salt
1 teaspoon celery salt
6 tablespoons extra virgin olive oil (more as needed)
---
Instructions
Slice: Use a sharp knife or mandolin to slice zucchini as thin as possible and place on a plate next to stove.
Mix breading: In a medium bowl, combine flour and seasonings – set next to stove as well.
Heat: Add 2 tablespoons of olive oil to a large skillet; bring to medium-high heat – it is ready when you can flick water on it and it sizzles.
Coat: Make sure zucchini is still moist (sprinkle some water on them, if needed) and then take a handful of slices and drop into flour mixture. Mix around and ensure zucchini is coated on all sides.
Fry zucchini: Take zucchini out of the breading, shake off any excess flour, and place in the hot pan in a single layer, trying to evenly distribute (you will have to do several batches). Reduce to medium heat and cook zucchini for 3-4 minutes. Carefully flip and let cook another 3-4 minutes. Continue cooking until all sides are golden brown.
Continue: Continue this process until all of the zucchini have been cooked.
Serve: Serve immediately.
---
Notes
Batches: You will need to do several batches – the key is to not crowd the pan so that each individual piece of zucchini has a chance to get that nice char!
Serve Immediately: Best served right away, they may get soggy if stored for very long!
Substitutions: You can sub the flour for finely ground almond flour or gluten-free flour.
Paleo/Whole30: just sub the all-purpose flour for cassava flour.
Storage: you can keep leftover fried zucchini in an airtight container in the fridge, but they are going to get a bit soggy.
Keywords: fried zucchini, fried zucchini recipe, how to fry zucchini