Green Chicken Enchiladas – a simple, delicious green chicken enchilada recipe that uses homemade green enchilada sauce! So good!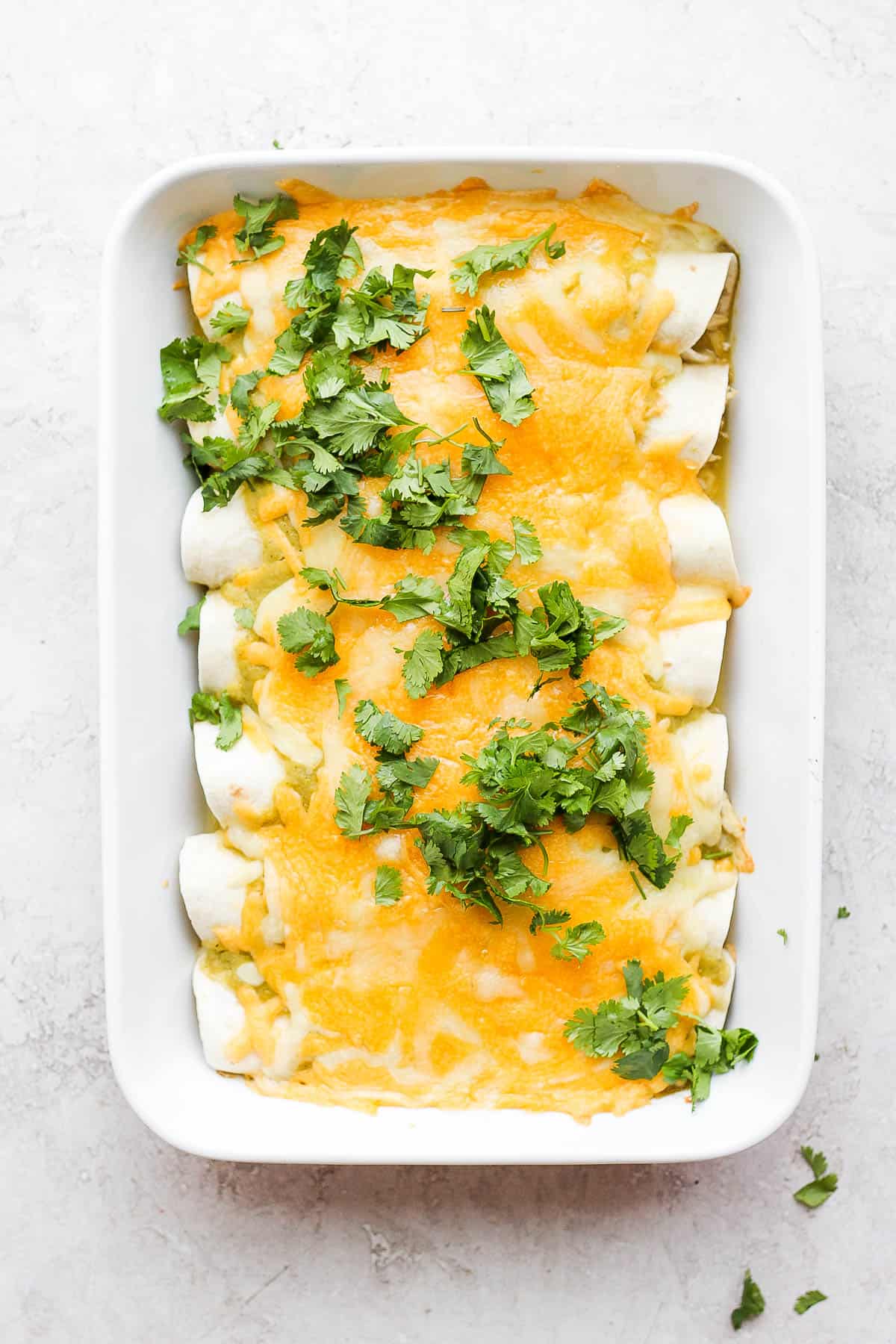 The BEST Green Chicken Enchilada Recipe
Chicken enchiladas are a family favorite around here and we love switching it up with a green enchilada sauce – especially when we make the time for HOMEMADE sauce. It is SO GOOD and really brings those enchiladas to the next level! You have to add these to your weekly meal plan. A great quick & easy option for weeknight dinner!
What You Will Need
olive oil – a drizzle in the pan to sauté up the onion and garlic
yellow onion – you could really use any type of onion here, but I prefer a yellow onion.
garlic – because you always have to have a little garlic!
boneless, skinless chicken breasts (cooked & shredded) – making shredded chicken breast is super easy, we have a couple ways to do it outlined here!
canned green chiles – a small can of green chiles adds lots of flavor.
kosher salt & pepper – always gotta season with some kosher salt and pepper!
black beans – you can sub in refried beans (or you can omit them, but then you might want to up the amount of chicken you are using).
cream cheese – you can use regular or dairy-free. We love Kite Hill's Plain Cream Cheese!
tortillas of your choice – we love using the Siete brand tortillas, but use whatever works best for you.
green enchilada sauce – we highly recommend Homemade Green Enchilada Sauce (or this Siete store-bought is great too!)
shredded cheese – feel free to use what sounds good to you – regular or dairy-free!
topping options: cilantro, red onion, and/or sour cream (regular or dairy-free)
What Is Green Enchilada Sauce Made Of?
The main players in our amazing Homemade Green Enchilada Sauce are roasted tomatillos, an Anaheim pepper, jalapeño, garlic, and white onion. These are blended together with some spices, lime juice, green chiles, etc. to make a delicious sauce that really levels up your enchiladas!
Can I Spice Up The Green Enchiladas?
Absolutely, if spice is your thing you can definitely amp it up! Simply cut up a jalapeño and add it to the skillet with the shredded chicken, onion, and green chile mixture.
Can I Prep These Ahead of Time?
Yes! If you are making the homemade green enchilada sauce, you can easily make that ahead of time and store it in the fridge. You can also prep the chicken filling and keep that in the fridge until you are ready to roll-up your enchiladas! Having everything ready to go makes these SO simple.
How Should I Store Leftovers?
Any cooked leftover enchiladas can be stored in the fridge for up about 5 days. You can also store enchiladas in the freezer for up to 3 months!
How To Make Green Chicken Enchiladas
Step one – sauté up your onion and garlic, add the shredded chicken and green chiles.
Step two – spread some cream cheese in the middle of your tortilla and add the other fillings (black beans & chicken mixture).
Step three – roll up your tortillas and place in a prepared pan.
Step four – pour on the green enchilada sauce.
Step five – top with generous amounts of cheese!
Step six – bake at 350 for about 20 minutes.
Step seven – add any of your favorite toppings.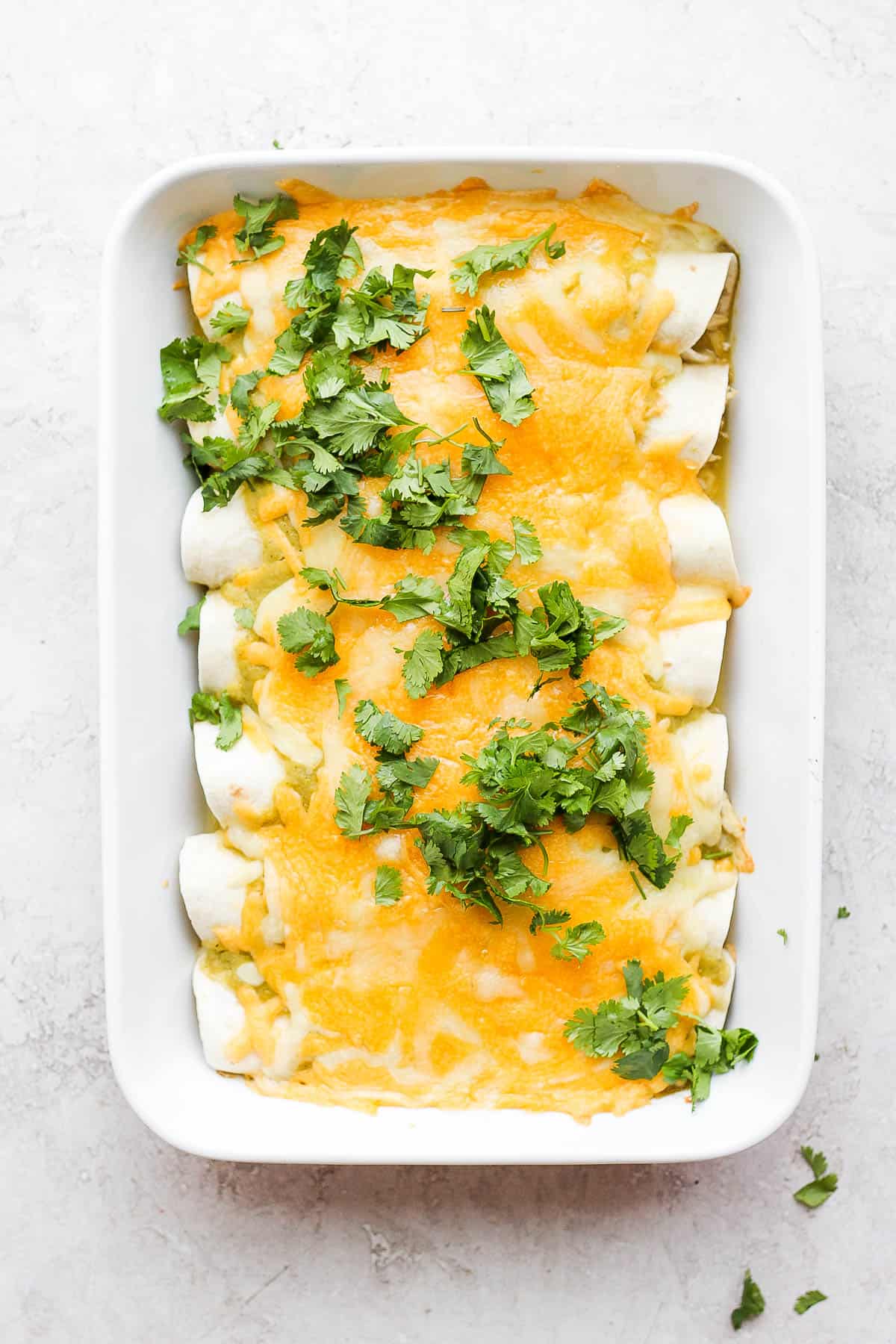 Step eight – Enjoy!!
Made this recipe and loved it?! We would love it if you would take a minute and leave a star rating and review – it is also helpful if you made any substitutions or changes to the recipe to share that as well. THANK YOU!
Don't forget to check out my Instagram account for some behind-the-scenes action! Or give me a follow on Facebook or see what I am pinning on Pinterest!
Print
Green Chicken Enchiladas
Author: Erin Jensen
Prep Time: 10 minutes
Cook Time: 30 minutes
Total Time: 40 minutes
Yield: 7 servings 1x
Category: Dinner/Entree
Method: Oven
Cuisine: Mexican-Inspired
---
Description
Green Chicken Enchiladas – a simple, delicious green chicken enchilada recipe that uses homemade green enchilada sauce! So good!
---
1 tablespoon olive oil
1/2 cup yellow onion, diced
1 tablespoon garlic, minced
2 large (3 medium) skinless, boneless chicken breast, (cooked and shredded)
1 4.5oz can green chilies
kosher salt and ground black pepper
1 15oz can black beans, drained and rinsed (or 1 15oz can refried beans)
1 8oz container Kite Hill Plain Cream Cheese (optional)
Approx. 7 large tortillas of your choice
2–3 cups shredded cheese (regular or dairy-free) (more if you want)
Toppings options: cilantro, red onion, sour cream (regular or dairy-free)
---
Instructions
Preheat oven to 350 degrees F.
Bring cast iron skillet to medium-high heat. Coat pan with a little olive oil.
Add garlic and yellow onion, let cook for a few minutes, stirring fairly constantly.
Add chicken and green chiles. Stir and let warm through, about 5-7 minutes.
Spray a 9×13 pan with olive oil.
Take one tortilla at at time and add chicken filling to the center along with some black beans and cream cheese (if using) and then roll up. Place tortilla in the pan, pushed up tight against one side. Continue filling tortillas with the chicken mixture and placing them in the pan.
Once the pan is filled, pour the enchilada sauce over top. Sprinkle with cheese.
Place in the oven (middle rack, uncovered) for 20-30 minutes or until cheese is melted and enchilada sauce is a little bubbly.
Remove and let cool a few minutes.
Serve immediately with any toppings you want: fresh cilantro, diced red onion, sour cream (regular or dairy-free).
---
Notes
Tortillas: we love using these Siete tortillas, but use whatever works best for you!
Enchilada Sauce: We love this Homemade Green Enchilada Sauce and for store-bought we love the Siete brand, they have a great green or red enchilada sauce!
Beans: feel free to use refried beans in place of the black beans if you want.
Make them spicy: add in some jalapeño to the chicken, onion and green Chile mixture if you want to spice it up more!
Make Ahead: to prep these ahead of time I would recommend making the enchilada sauce (if you are making your own) and then just prep the filling for the tortillas (chicken, onions, green chiles, etc). Then throw everything together before popping in the oven.
Keywords: green chicken enchiladas