Ah, the age old question of How Long to Boil Green Beans. Not really, but definitely a good one to know the answer to, as boiled green beans make a perfect side dish. Pair this bright veggie with fish, chicken, or steak with a side of our instant pot mashed potatoes for a complete meal on the table in no time.
Quick And Easy Boiled Green Beans
Whether you're making a quick side dish for a weeknight dinner or tender green beans for your green bean casserole, knowing how to perfectly boil green beans is a skill every home chef needs to know. Get perfectly cooked green beans in 3-5 minutes using simple ingredients and an easy cooking method.
What You Will Need
water – A large pot of water will give your beans space during the cooking process.
green beans – We used regular fresh green beans in this recipe, but feel free to try out other varieties.
kosher salt and butter – Just a bit to add flavor for serving.
Green Bean Varieties
There are quite a few different types of green beans out there, but lucky for you, most of them can be used interchangeably in recipes. The most important rule of thumb to remember is that thinner beans need less cooking time than thicker beans.
green beans, string beans, and snap beans – All the same thing, folks. And what we used to test this recipe.
haricot verts or French green beans – A thinner variety of bean, which will require less cooking time compared to thicker varieties.
wax beans – These will look identical to green beans except for their yellowish color. Feel free to use them in place of traditional green beans, but just know that the color of your final dish will be different.
purple string beans – Add an unexpected pop of color to your plate with this fun bean variety. They're slightly sweet in flavor and actually lose their purple pigment and turn green during the boiling process.
long beans – These beans are 12-18 inches long and taste the same as regular green beans.
How Long To Boil Green Beans
Fill a large pot with water and bring it to a boil on the stove top.
While the water comes to a boil, clean and trim your green beans using a sharp knife and cutting board.

Carefully submerge the green beans in the boiling water and let them boil for 3-5 minutes. Use a slotted spoon to check the doneness of your beans. For firmer beans, keep your cooking time on the short end at around 3 minutes. Shortly after adding the beans to the water, you'll notice their bright green color, which is a cue that the cooking process has begun!
If you're wondering how long to boil green beans to make them soft, they'll boil for closer to 5 minutes. If you like very soft beans, keep checking every minute to test the texture to ensure that you don't end up with soggy beans.
Once the beans are cooked to your liking, carefully drain them using a colander and serve them with a tablespoon of butter and a sprinkling of kosher salt. No need to create an ice bath, as this is a method used when blanching green beans in order to immediately stop the cooking process.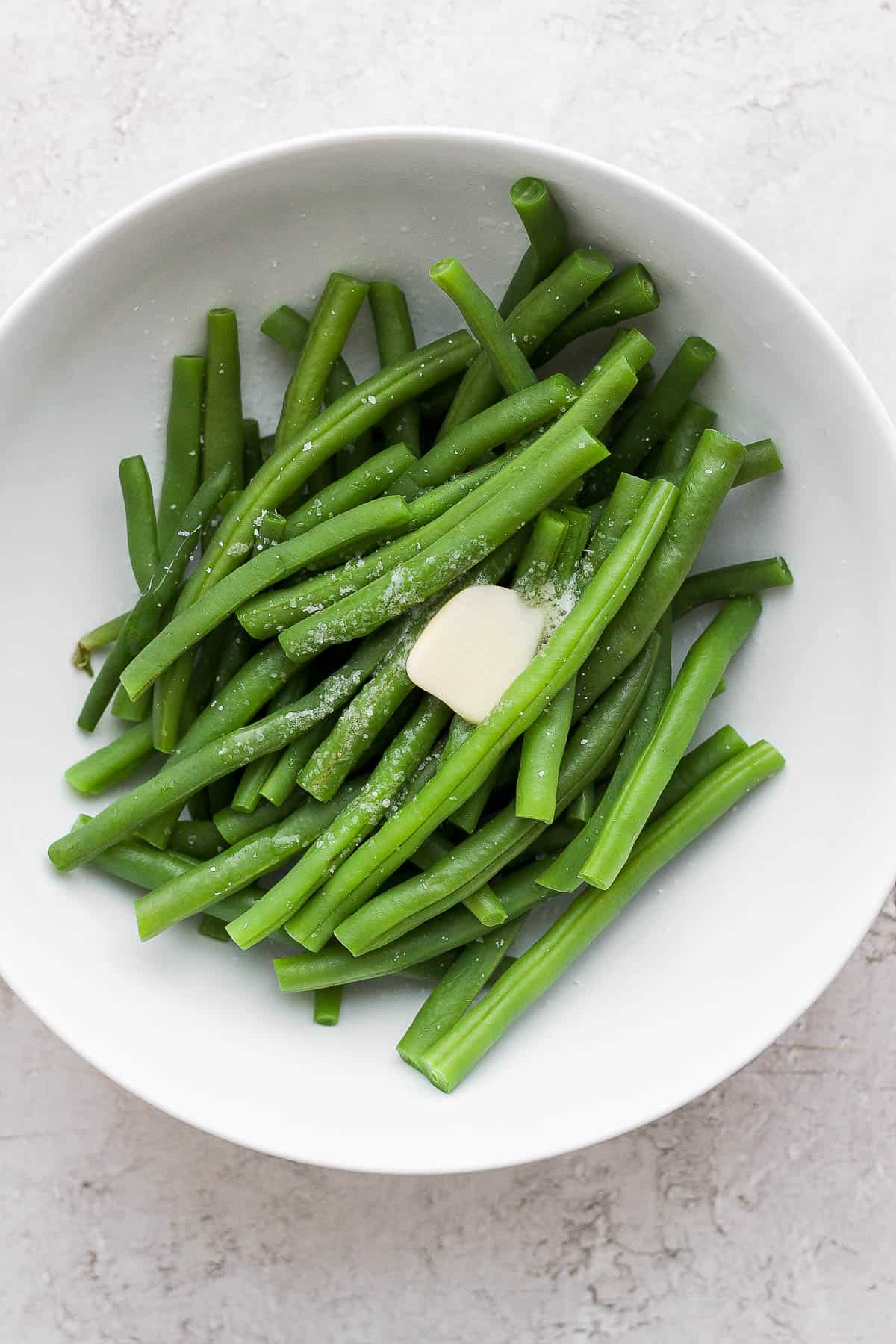 Serving Suggestions
Green beans have a mild flavor that lend themselves to a whole slew of yummy toppings and flavors.
butter and sea salt – an easy go-to topping that brings out the best in this simple veggie.
fresh herbs – Add some butter and fresh chopped parsley, thyme, basil or chives to level up the flavor experience.
fresh garlic – mince some garlic and serve it on top of green beans for a kick of flavor.
Recipe FAQs
firmer beans – Cook your beans for around 3 minutes for a crunchier bean.
softer beans- Cook your beans around 5 minutes for a softer texture.
storage – Store leftover boiled beans in an airtight container and keep in the refrigerator for up to a week.
Made this recipe and loved it?! We would love it if you would take a minute and leave a star rating and review – it is also helpful if you made any substitutions or changes to the recipe to share that as well. THANK YOU!
Don't forget to check out my Instagram account for some behind-the-scenes action! Or give me a follow on Facebook or see what I am pinning on Pinterest!
Other Fresh Green Bean Recipes You Might Like
Print
How Long to Boil Green Beans
Author: Erin Jensen
Prep Time: 5 minutes
Cook Time: 5 minutes
Total Time: 10 minutes
Yield: 6 servings 1x
Category: How-To
Method: Stove Top
Cuisine: American
---
Description
How Long To Boil Green Beans – A super simple, step-by-step guide on how to get perfectly cooked green beans every time.
---
1 lb fresh green beans, trimmed
4 quarts, water
serving options: butter and kosher salt
---
Instructions
Bring a large pot of water to boil.
Add green beans and let boil 3-5 minutes, depending upon how soft you prefer your green beans. Cook closer to 3 minutes for more firm green beans and closer to 5 minutes if you want softer green beans. If you like very soft green beans, test one after 5 minutes and cook an additional minute at a time until you have reached your desired doneness.
Remove from water with slotted spoon and transfer to a serving plate or bowl.
Top with butter and salt and serve.
---
Notes
Firmer Beans – Boil your beans for about 3 minutes for a crunchier boiled green bean.
Softer Beans – Boil beans for 5 minutes for a softer bean, checking every minute or so to test the texture.
Storage – Store in an airtight container in the refrigerator for up to a week.
Nutrition
Serving Size: 1 scoop
Calories: 40
Sugar: 2.5 g
Sodium: 30.1 mg
Fat: 2.1 g
Carbohydrates: 5.3 g
Protein: 1.4 g
Cholesterol: 5.1 mg
Keywords: how long to boil green beans, how to boil green beans