These Deviled Eggs are a classic holiday appetizer that we look forward to every year! They are perfect for special occasions, holidays, potlucks, summer picnics, or any other gathering. Top them any way you want!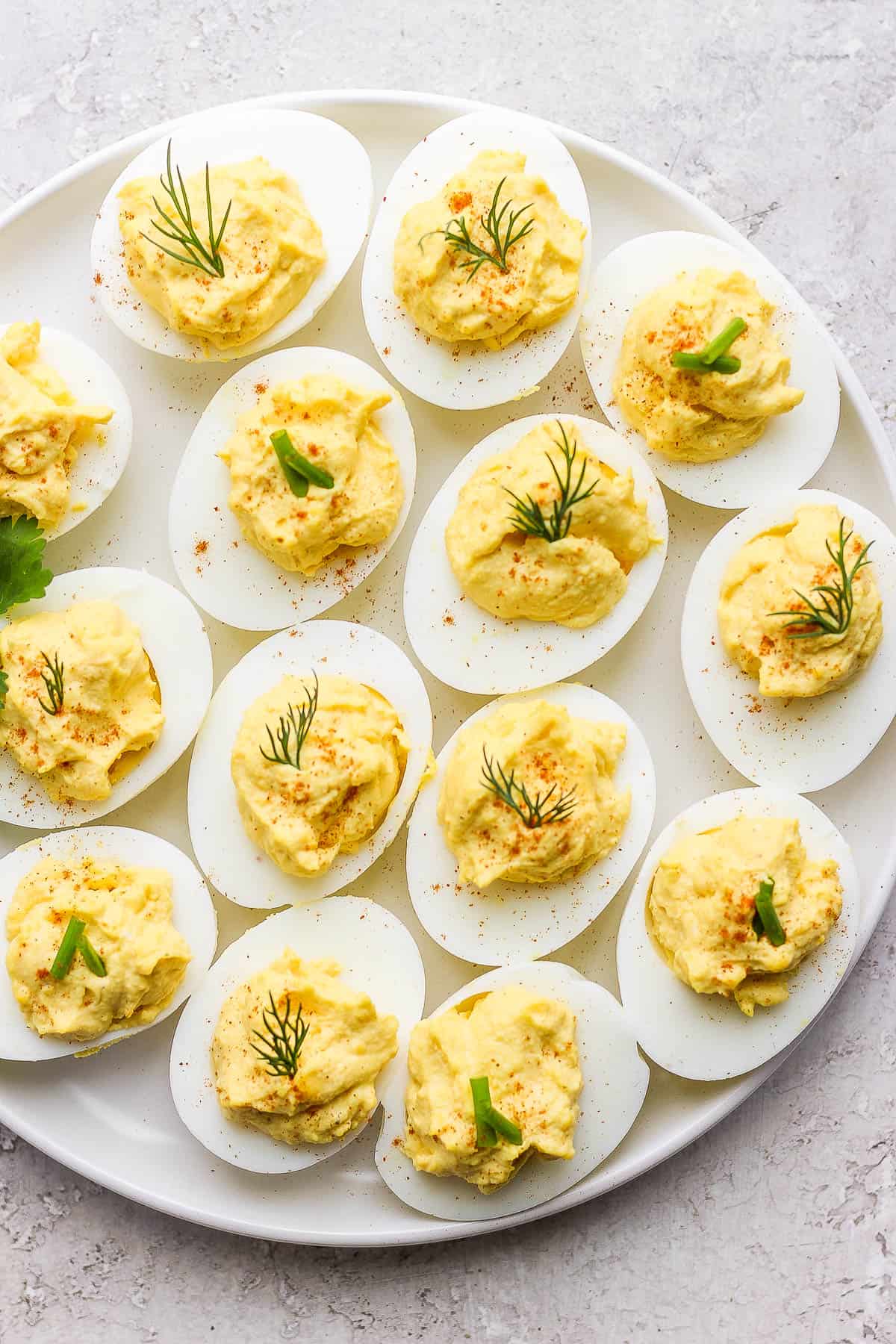 The Best Deviled Egg Recipe
Who doesn't love a classic deviled egg recipe!? This recipe is the absolute best way to make the perfect deviled egg every time! For years, this classic recipe has been a family favorite and we are excited to bring this recipe card to all of you. Easily impress a crowd with these perfectly hard boiled eggs that are cut in half and filled with a smooth paste that contains the best secret ingredient – butter pickle juice! It really brings this flavorful appetizer to the next level!
Looking for a Whole30 option? We have you covered with these Classic Whole30 Deviled Eggs!
What You Will Need
fresh eggs – just follow our easy tutorial on how to hard boil eggs on the stovetop or Instant Pot hard boiled eggs!
mayonnaise – pickup your favorite from your local grocery store or make your own.
kosher salt & ground black pepper – the perfect simple seasoning combination.
dijon mustard & yellow mustard – mustard is a traditional ingredient used in deviled eggs and we love this flavor combination.
pickle juice – this is where the magic happens! Our absolute favorite is butter pickle juice!!
white vinegar – just a little bit for some added tang.
toppings: paprika, fresh dill, fresh chives – these are some of our favorites but feel free to get creative.
Why Are They Called Deviled Eggs
Deviled eggs are traditionally a cold appetizer or side dish that's made up of hard boiled eggs that were cut in half and filled with a smooth mixture made up of the egg yolks, mayo, mustard, vinegar, and pickle juice. They have also been called stuffed eggs or Russian eggs. Checkout wikipedia for a complete breakdown of their history and more information.
How Long To Boil Eggs For Deviled Eggs
This process could not be more simple! All you have to do is place your raw eggs in a medium saucepan, cover with water, and bring to a boil on your stovetop. Once the water begins to boil you can cover the pot and reduce to a simmer for 10 minutes. Then carefully use a slotted spoon to move the hard-cooked eggs to an ice bath to cool for 5-10 minutes. For more information, checkout our tutorial on how to hard boil eggs on the stove top or in the Instant Pot.
How To Make Deviled Eggs
First, you can begin this process by hard boiling your eggs on high heat and measuring out the rest of your ingredients in a small bowl.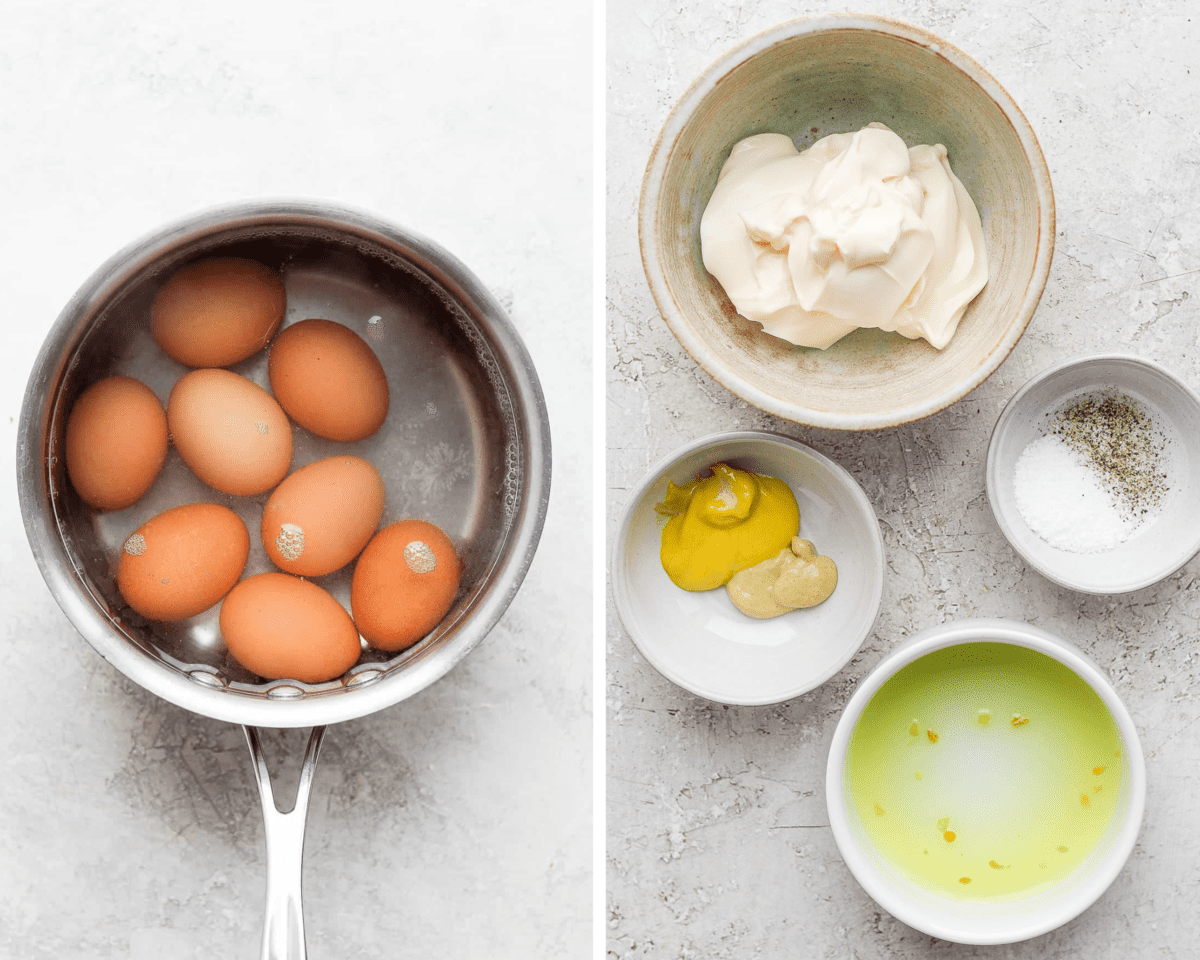 Once the eggs have cooled you can easily peel off the shell, slice eggs in half, and pop out the egg yolks. Next, mash yolks in a medium bowl with the rest of the filling ingredients and mix until smooth.
Pro tip: we like to use an electric hand mixer or food processor to get the filling as smooth as possible!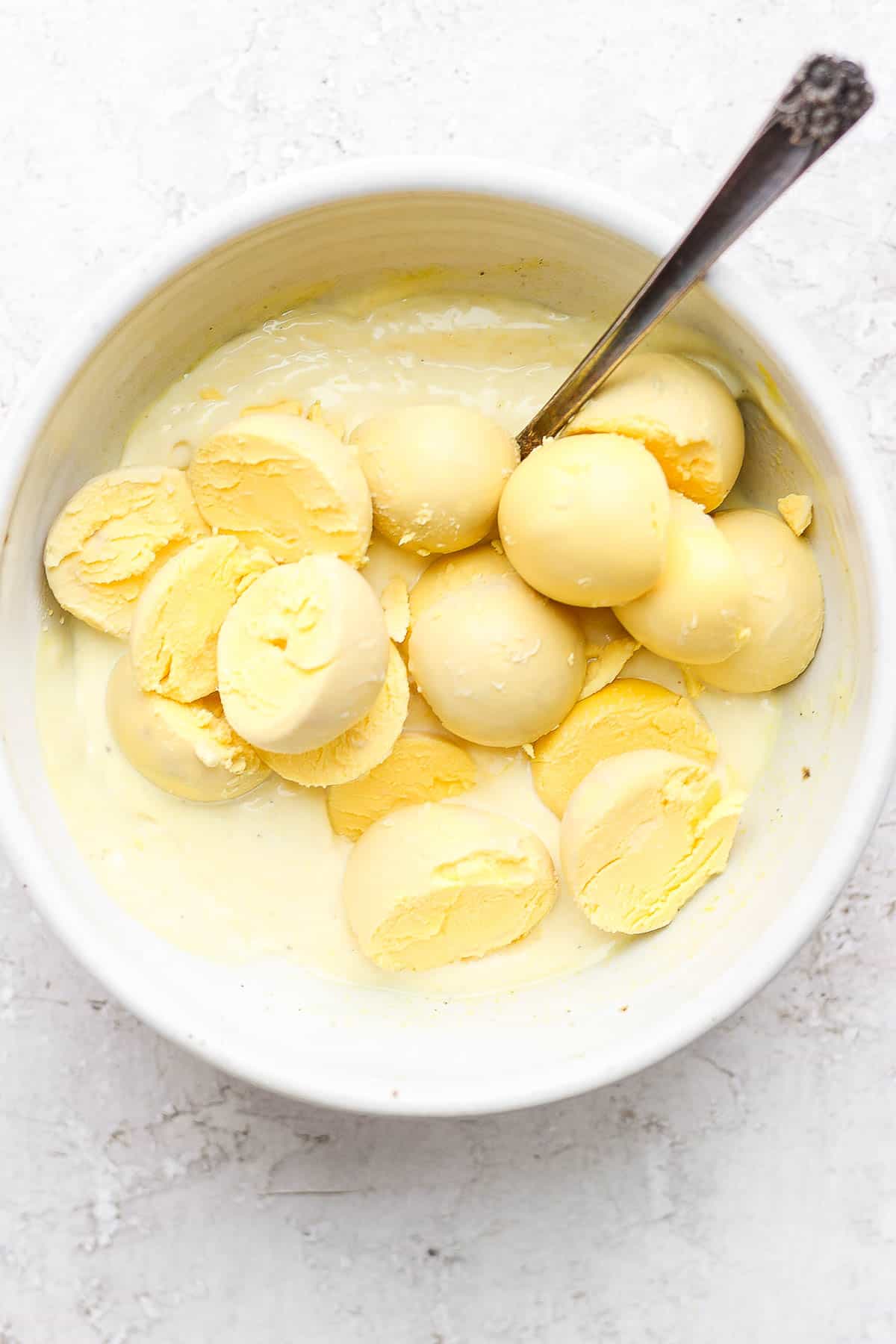 Then after you have reached your desired consistency for the filling, you can add it back to the empty egg whites. Option to use a piping bag, if that's easier for you.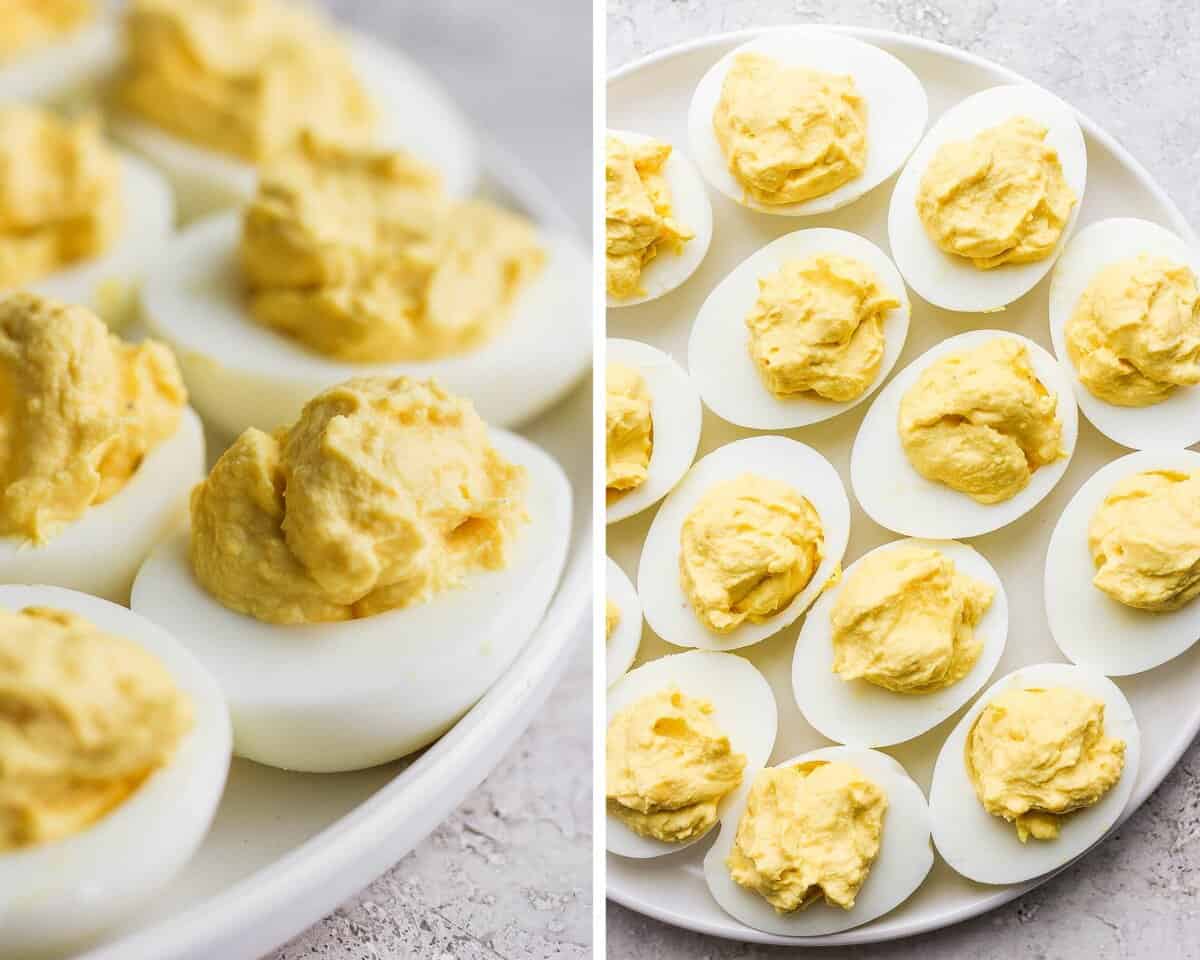 Finally, top them any way you want! We love a sprinkle of paprika and then a bit of fresh dill or fresh chives. Place eggs on a serving platter and enjoy!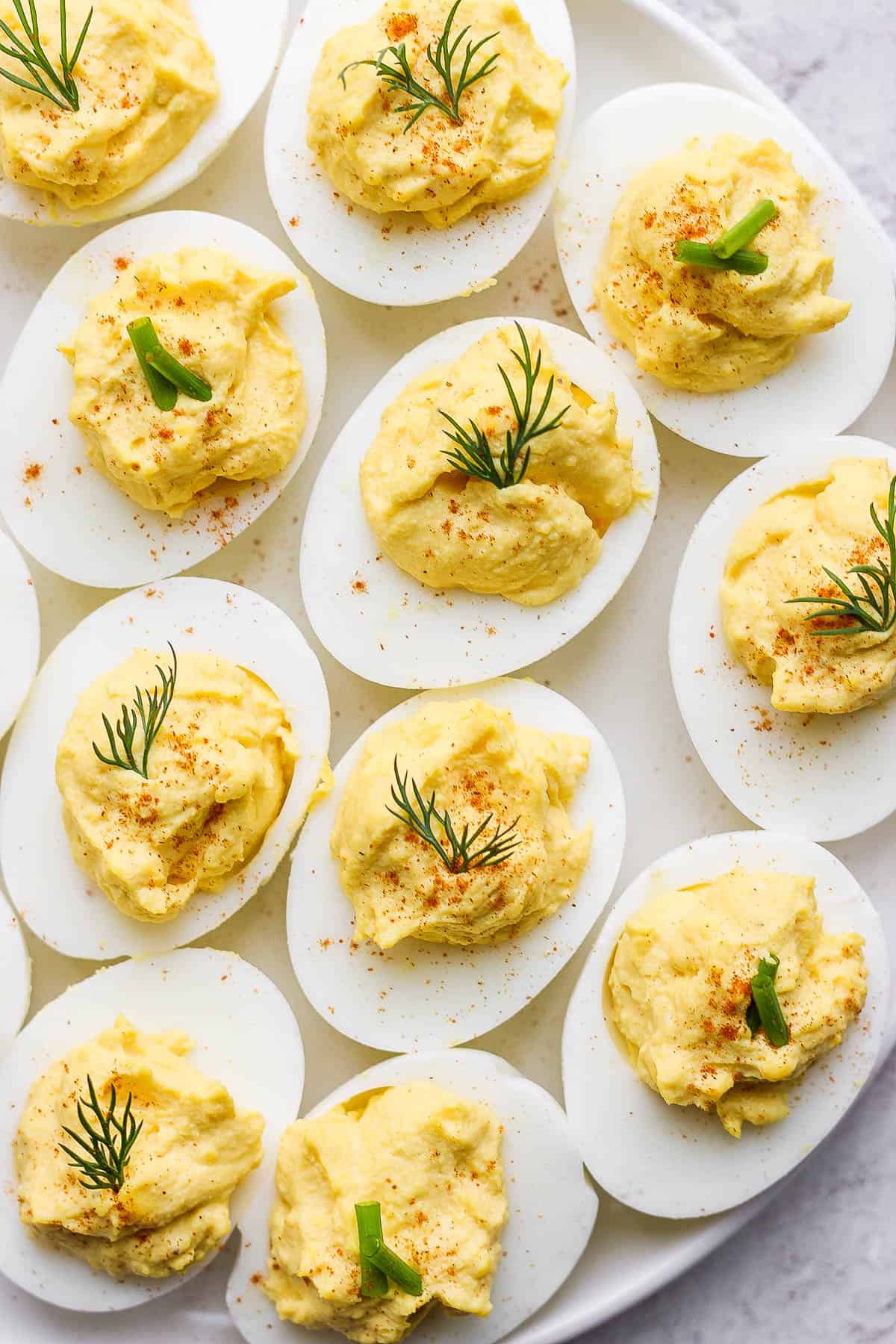 Best Toppings For Deviled Eggs
We typically top ours with a light sprinkling of paprika and fresh herbs, like dill and chives. You could also top them with a bit of bacon, shallot, goat cheese, blue cheese, basil, curry powder, or add a bit of a kick with some cajun spices, hot sauce, or jalapeños.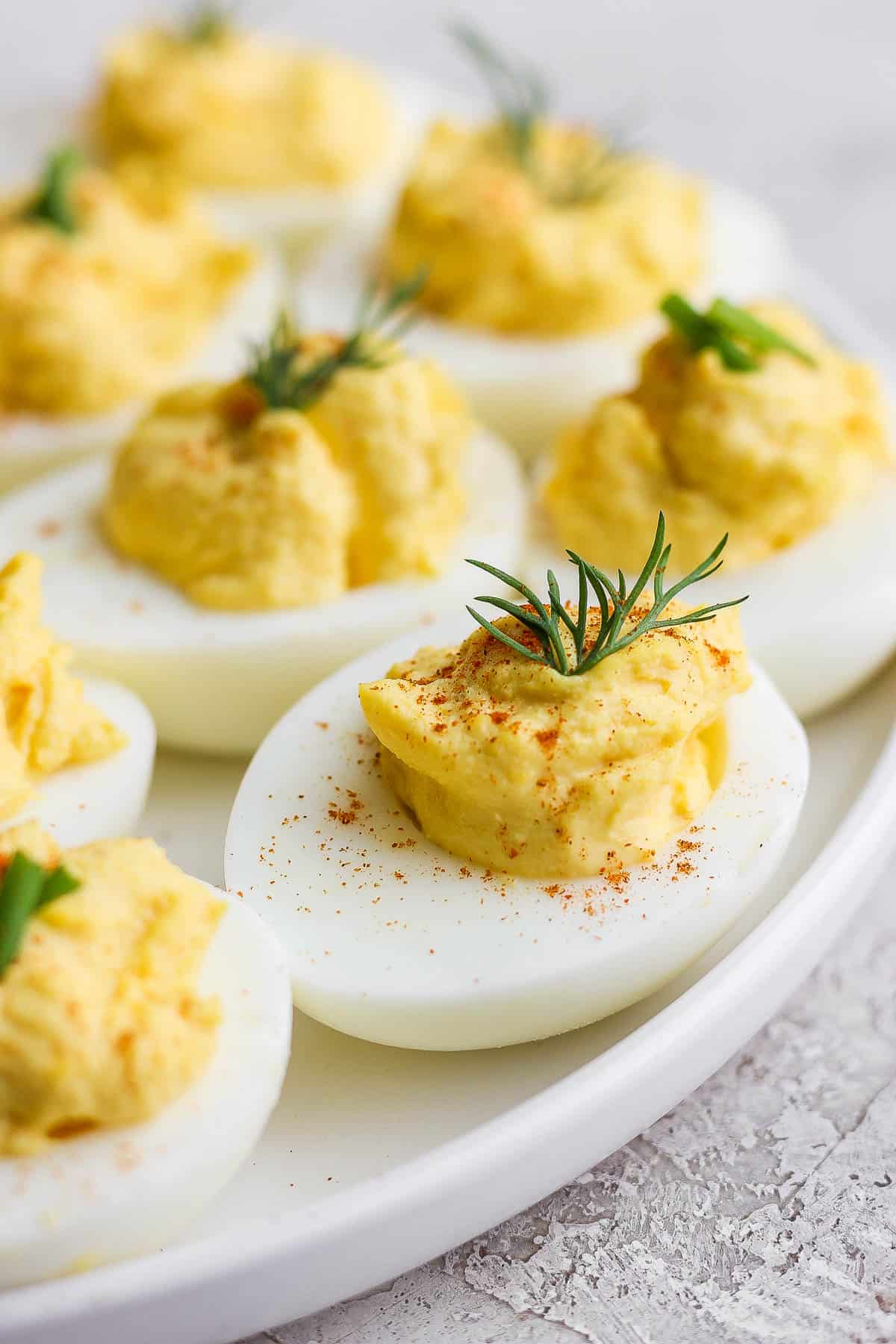 Can I Make Deviled Eggs Ahead Of Time
Absolutely! Fully prepared deviled eggs can be kept in an airtight container in the refrigerator for up to 2 days. Which means that you can prepare these the night before your gathering and just bring them out when you are ready to serve.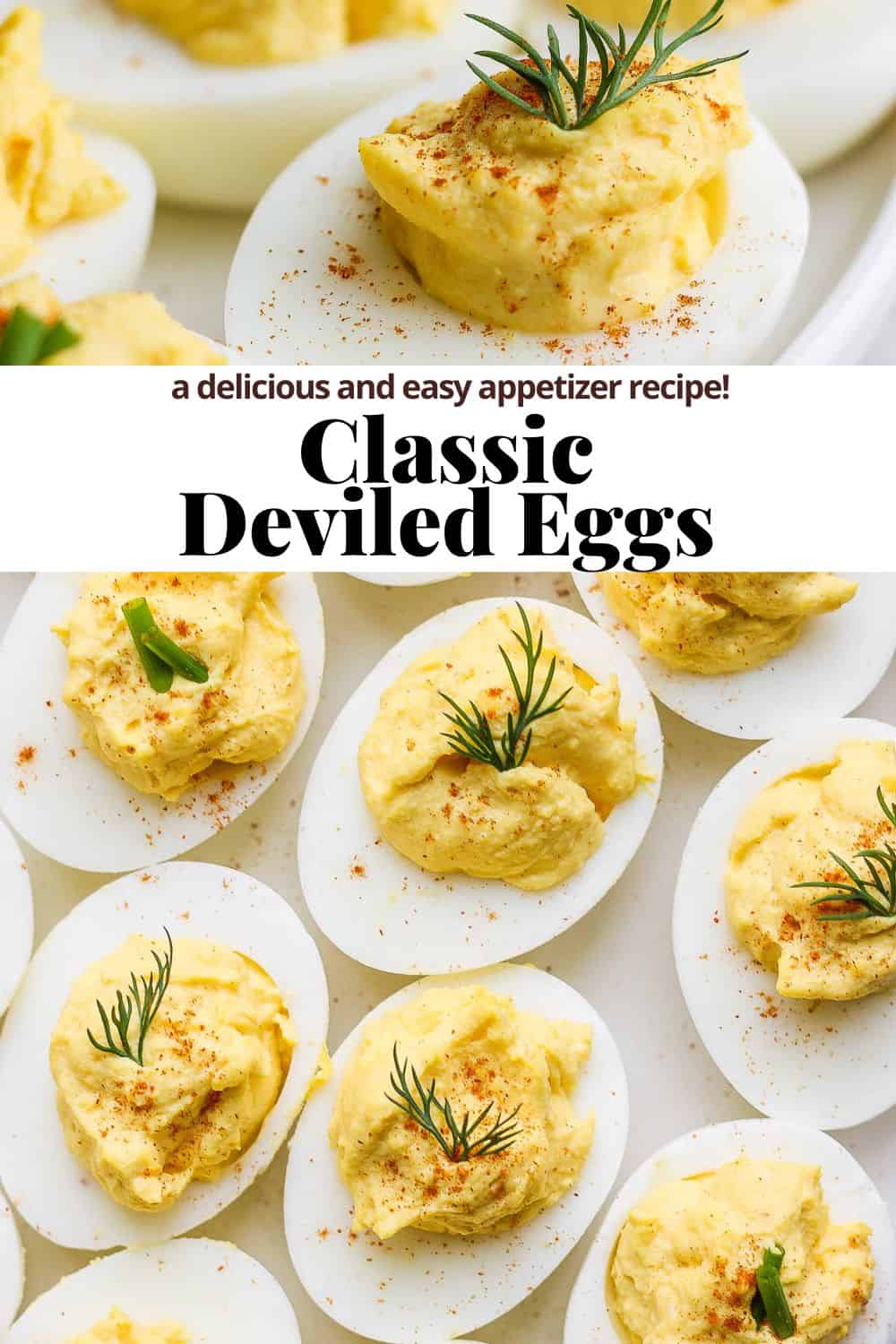 Made this recipe and loved it?! We would love it if you would take a minute and leave a star rating and review – it is also helpful if you made any substitutions or changes to the recipe to share that as well. THANK YOU!
Don't forget to check out my Instagram account for some behind-the-scenes action! Or give me a follow on Facebook or see what I am pinning on Pinterest!
Other Recipes You Might Like
Print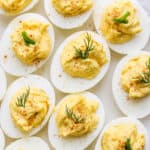 Deviled Eggs Recipe
Author: Erin Jensen
Prep Time: 10 minutes
Cook Time: 15 minutes
Total Time: 25 minutes
Yield: 20 servings 1x
Category: Appetizer
Method: Counter Top
Cuisine: American
---
Description
Classic Deviled Eggs – a delicious and easy classic deviled eggs recipe with a secret ingredient!! Perfect appetizer for any get-together!
---
1/4 cup + 2 tablespoons mayonnaise
1/2 teaspoon kosher salt
pinch of ground black pepper
1/2 teaspoon dijon mustard
1 teaspoon yellow mustard
3–4 teaspoons pickle juice (I recommend bread + butter pickle juice)
1/2 teaspoon white vinegar
toppings: paprika, dill leaves or chives
---
Instructions
Peel your hard boiled eggs and cut in half, lengthwise.
Use a small spoon to pop out the yolks and place in a medium mixing bowl along with the mayo, salt, pepper, dijon mustard, yellow mustard and white vinegar. Stir to combine (if you are finding the mixture isn't getting smooth feel free to use a hand mixer if you want).
Everyone has different taste preferences so after you mix, give the mixture a taste and add any additional salt, mayo or pickle juice, as desired.
Spoon the mixture into the halved hard-boiled eggs.
Garnish with dill leave or chives and sprinkle with paprika.
Serve and enjoy!
---
Notes
Make Ahead: these can easily be made the night before you plan to serve them! Just keep them in an airtight container in the fridge.
Storage: place your leftovers in an airtight container in the refrigerator for up to 2 days.
Whole30/Paleo: if you are looking for a Whole30/paleo version of deviled eggs check out our recipe for Whole30 Deviled Eggs.
Nutrition
Serving Size: 1 half
Calories: 55
Sugar: 0.1 g
Sodium: 95.8 mg
Fat: 4.4 g
Carbohydrates: 0.3 g
Protein: 3.2 g
Cholesterol: 94.2 mg