Chicken Ramen Noodle Soup is the epitome of comfort food. Picture: chicken noodle soup meets ramen meets fried chicken skin. It doesn't get any more savory than this, so dig in.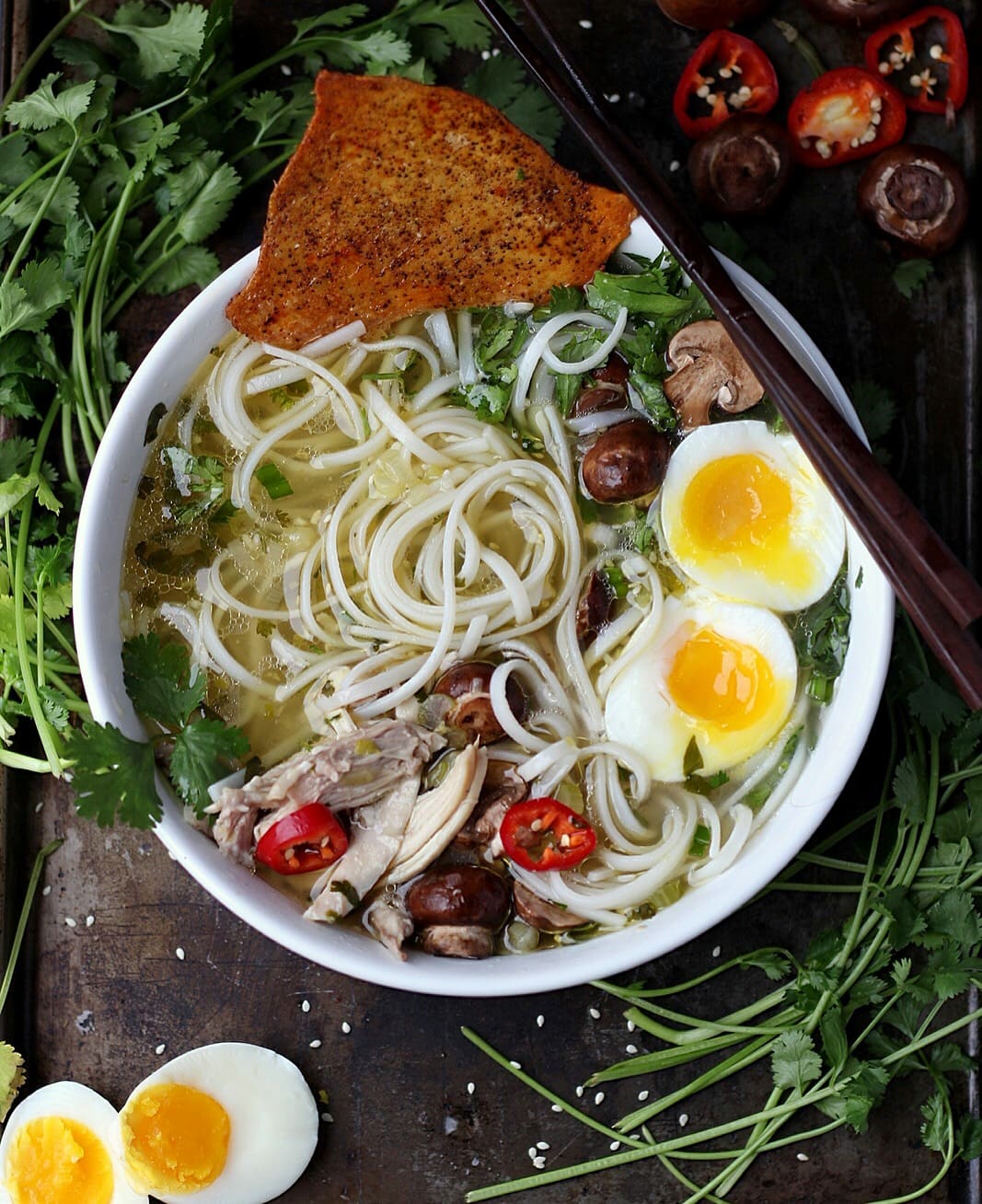 Ramen. So delectable. I don't know why we only put beautifully soft and runny eggs in this type of soup. I didn't really intend on making a "ramen" recipe. In fact, I didn't even use ramen noodles (don't judge), I actually used rice noodles (don't worry – you can use whatever noodles your beautiful heart desires) and was simply intending on making a fun spin on chicken noodle soup. Then things escalated. Somehow a perfectly runny soft-boiled egg made its way into the bowl, along with a wonderfully salty and savory crispy chicken skin. Oh my lord. I didn't quite know what to call this …. "Bowl of Awesomeness" flitted across my mind for a minute, but I quickly talked myself out of that one. Chicken 4-Ways Soup sounded…. well… just wrong. Whatever you want to call it, it has a little bit of everything in it and I cannot wait for you guys to try it!
The next time you want chicken noodle soup, make this. Period. The broth is so rich in flavor and the lemon zest, cilantro and sesame oil just give it such a unique flavor. Add in the chicken, mushrooms, rice noodles (or ramen noodles), egg and the crispy chicken skin – and it ends up being a big bowl of happiness that is really quite simple to make.
What I like about this recipe, among other things, is it is kind of a choose-your-own-adventure. Once you have the broth made, you choose exactly what you want to put in it. Don't like mushrooms – don't put'em in! Want a poached egg in there instead of soft-boiled – let's do it. Seriously, it's your food – make it so you will love it.
Enjoy!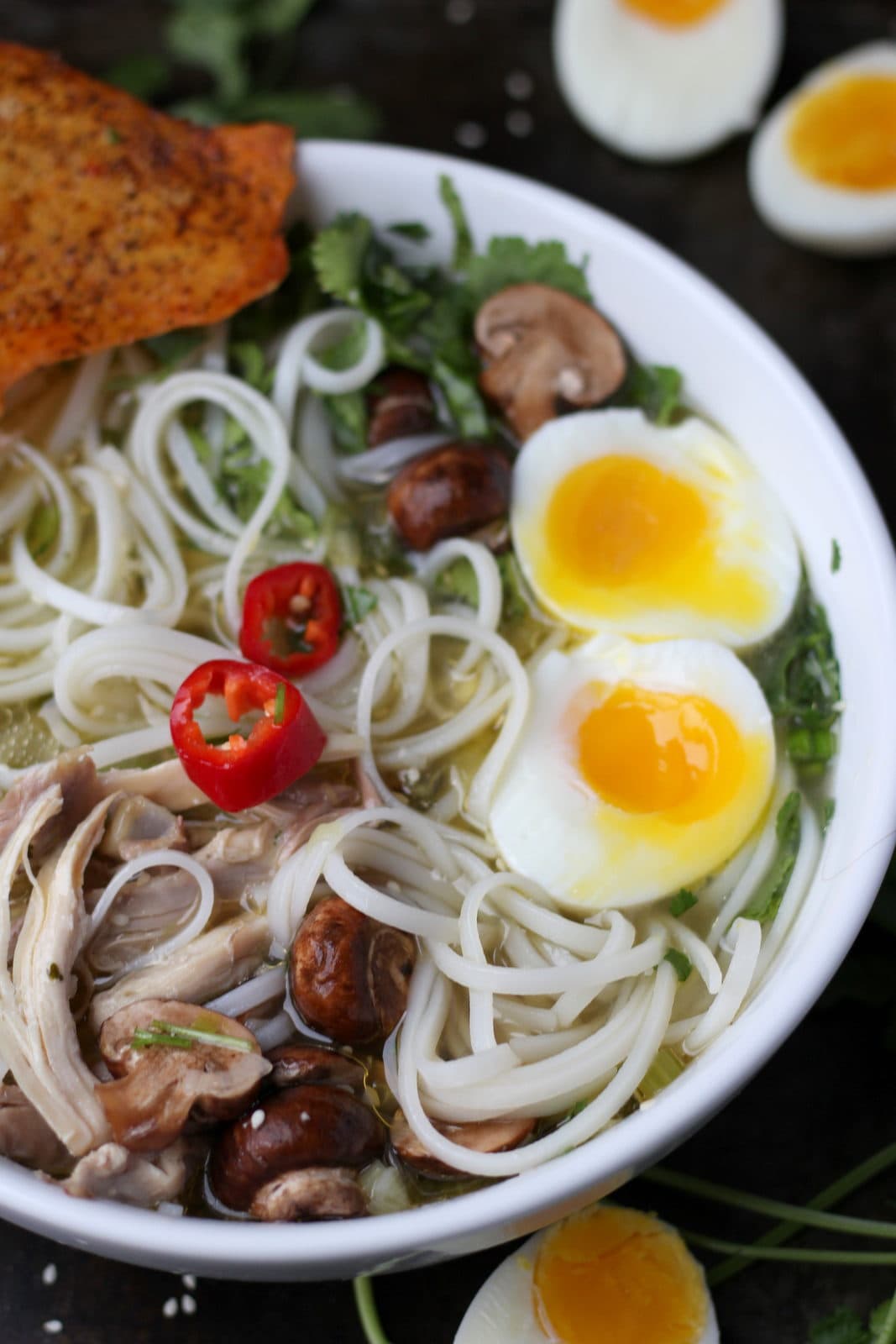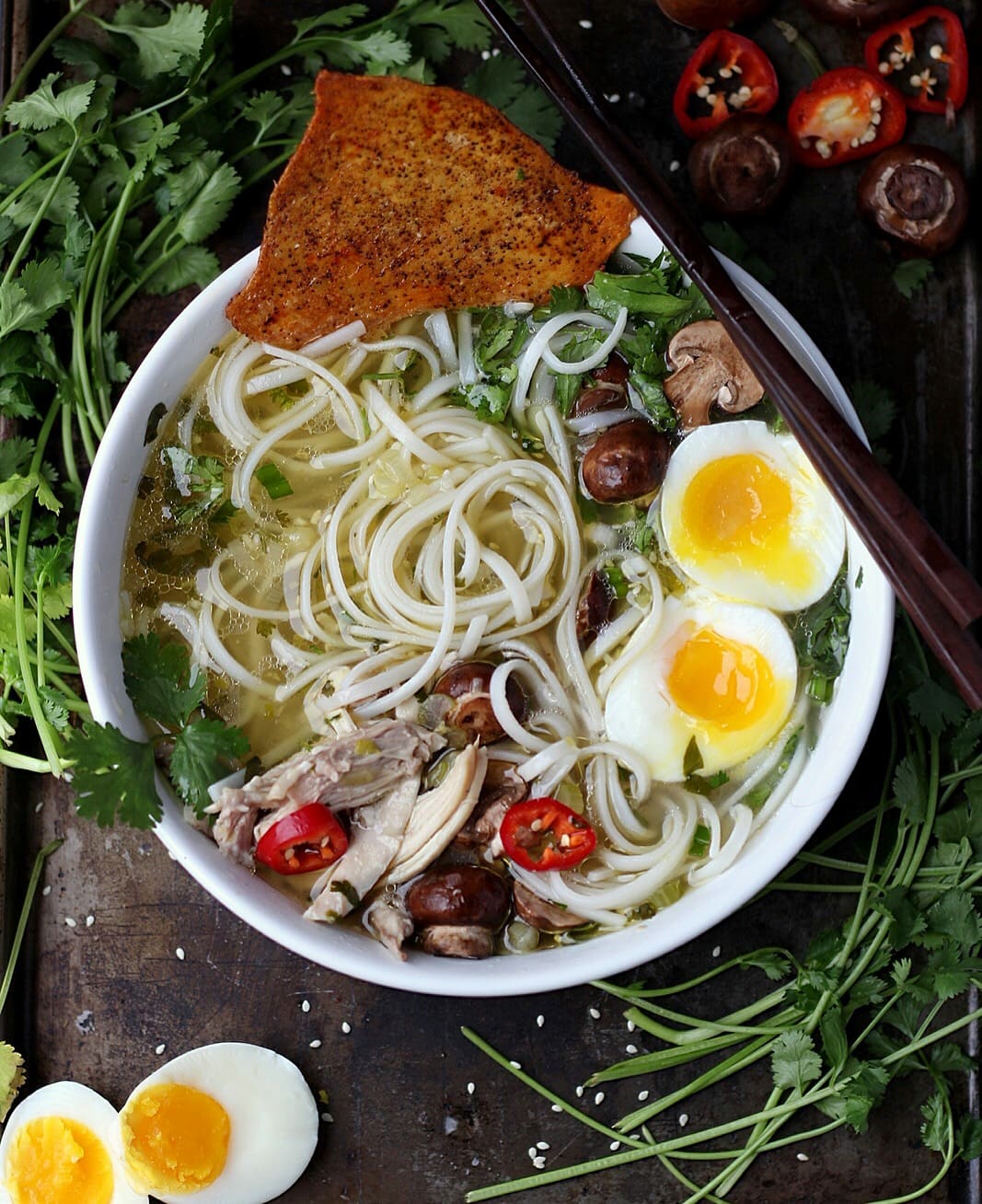 Need help making Crispy Chicken Skins? Click here for instructions!
Print
Chicken Ramen Noodle Soup + Crispy Chicken Skins and Cilantro
Author: Erin Jensen
Prep Time: 15 minutes
Cook Time: 3 hours
Total Time: 3 hours 15 minutes
Yield: 3 servings 1x
Category: Dinner/Entree
Method: Stove Top
Cuisine: Asian-Inspired
---
Description
Chicken Ramen Noodle Soup + Crispy Chicken Skins – a delicious and flavorful cozy bowl of soup that is perfect for cold weather!
---
32oz chicken broth
2 cups water
4 chicken thighs
1 Teaspoon sesame oil
1 Teaspoon kosher salt
2 Teaspoons chopped garlic
1 Tablespoon fresh chopped cilantro (another cup or so for garnish)
1/3 cup finely chopped celery
1 Teaspoon fresh lemon zest
2 cups baby bell mushrooms (slice the large ones, leave the smaller ones whole)
1 red jalapeno (sliced and added on for garnish if desired)
3 eggs, soft boiled
3 crispy chicken skins
rice or ramen noodles, prepared per package instructions
---
Instructions
In large sauce pan, add chicken broth and water; bring to boil.
Once boiling, add chicken thighs (with or without skin).
Bring back to a boil and then let simmer, covered, for 2-3 hours.
Remove chicken and set aside on plate.
Add sesame oil, salt, garlic, cilantro, celery and lemon zest to broth.
Stir well and let simmer for 15-20 minutes (or longer if you desire).
When you are ready to serve, prepare your choice of noodles per package instructions.
Take chicken and remove meat and have ready for serving.
Place cooked noodles in large bowl, pour your desired amount of broth on top.
Then add your desired amount of chicken meat, mushrooms, and additional cilantro or jalepeno (if you want to).
Place a crispy chicken skin and a soft boiled egg on top immediately before serving.
Enjoy!
---