How to Make the Best Homemade Turkey Broth – the perfect way to use that leftover Thanksgiving turkey!
You know you still have leftover turkey sitting in your fridge…. don't let it go to waste!! This is the easiest recipe for homemade turkey broth and it is absolutely delicious!
Can you believe Turkey Day is over already? I had such an amazing "turkey month" – I am going to be going through withdrawals next weekend! I have cooked a turkey 3 weekends in a row (once for the blog, once with my mom and then once with my in-laws). Needless to say, I have A LOT of turkey sitting around (most of it in the freezer at this point). While I don't really get on the leftover turkey sandwich bandwagon, I am ALL about making any kind of turkey soup in the days following Thanksgiving. So, if you don't keep your turkey bones – start doing it!! Just throw them in a freezer bag that day and keep them until you are ready to make your very own, piping hot, cozy bowl of homemade turkey soup.
But, before you can do that, you are going to need to make the broth (from there the possibilities are endless – I will be posting one of my favorite turkey soup recipes later this week).
It is so easy and then smell -it smells like cold winter days, sitting around a fire, sipping soup with a runny nose after just coming inside.
What I absolutely love about this recipe, among other things, is you really can't mess it up. And you strain out most of what you put into it, so you don't have to worry about it looking pretty. Just throw everything in a pot, let it simmer and then strain and enjoy. Freeze it or use it right away to make your favorite soup. It is a tradition and I am so excited to share it with you guys!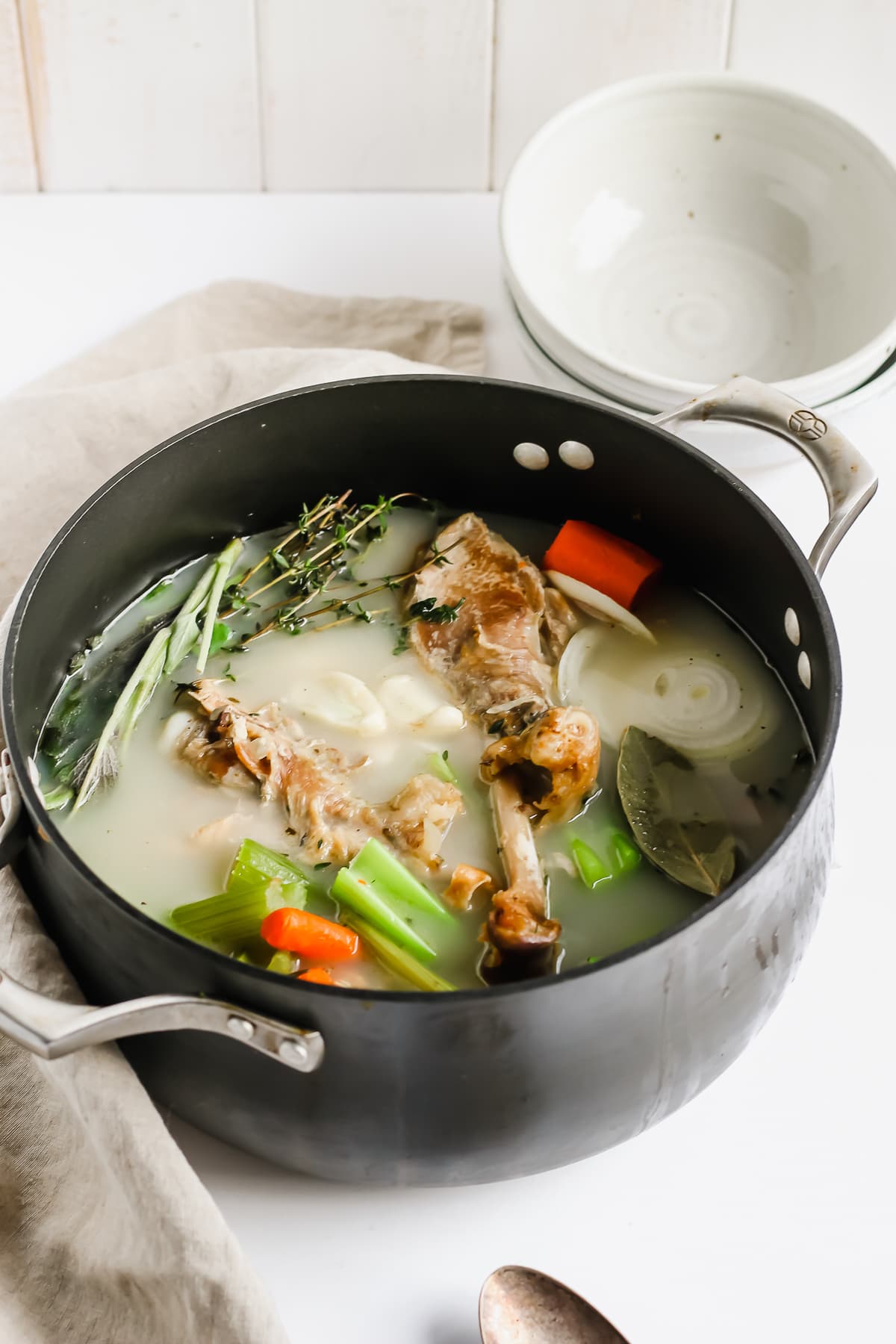 Don't forget to check out my Instagram account for some behind-the-scenes action! Or give me a follow on Facebook or see what I am pinning on Pinterest!
Love,
E
Print
How to Make the Best Homemade Turkey Broth
Author: Erin Jensen
Prep Time: 15 minutes
Cook Time: 90 minutes
Total Time: 1 hour 45 minutes
Category: Soup
Method: Stove Top
Cuisine: American
---
Description
The perfect way to use that leftover Thanksgiving turkey!
---
Leftover meat and bones from 10-15 pound turkey
3 large carrots, peeled and roughly chopped into 4–5 sections
3 stalks celery, rinsed and cut into large chunks
1 small yellow onion, cut into large chunks (you can quarter or slice)
3–4 cloves garlic, smashed
1 small bunch of fresh thyme
2 sprigs fresh rosemary
3 fresh sage leaves
2–3 bay leaves
1 Teaspoon ground black pepper
2 Tablespoons kosher salt, more to taste
water
---
Instructions
Place your meat and bone in a 6-8 qt dutch oven (other other stock pot) and cover with water.
Bring to a boil and then reduce to a simmer for 10 minutes.
Add additional ingredients.
Stir well and then cover and let simmer for a minimum of 60-90 minutes (the longer you simmer, the more flavorful it will be).
Taste and add additional salt, as needed, until reached desired flavor.
Strain and place broth in mason jar for storage or use to make soup.
---
Notes
Turkey Soup: If you are making turkey soup immediately following, you can keep any meat and use it, although it may be a little dry – otherwise simply discard.
Storage: Place in refrigerator and use within 5-7 days or place in freezer (remember to leave extra room in mason jar if freezing to allow for expanding liquid).
Keywords: how to make turkey broth, how to make homemade turkey broth
Thank you so much for reading & supporting The Wooden Skillet! This post contains affiliate links for products I actually use in my own home and personally recommend. Should you make a purchase using one of these links, The Wooden Skillet will earn a small commission at no extra cost to you, which helps me continue to bring you great original content. Thank you!