Turkey Stock Recipe – Using homemade Turkey Stock is one of the quickest ways to add robust flavors to your favorite savory recipes. All you need are some fresh herbs, staple vegetables, and a turkey carcass to make the best stock for soups, stuffings, or any other recipe that calls for chicken stock.
The Best Turkey Stock Recipe
Take your savory dishes to the next level with this simple and delicious homemade turkey stock recipe. Turn your Thanksgiving day leftovers into a savory, full-flavored stock that will add richness and depth to any dish that calls for chicken stock. If you're contemplating whether or not making your own stock is worth it, trust us on this one, it is. Homemade stock is the secret ingredient that will make all of your soups, gravies, and stuffings shine even brighter. See for yourself by trying it in our favorite leftover turkey noodle soup or turkey gravy. Follow along as we provide tips and tricks on how to make stock from a turkey carcass as simple and tasty as possible.
What You Will Need
leftover turkey bones – Roasted turkey is our favorite type of turkey to use in stock, as it's usually 10-15 lbs, yielding plenty of bones – but using a Smoked Turkey makes super flavorful stock as well.
water – The base to this tasty broth
carrots, celery, & onion – Veggies that you probably already have on hand will add flavor throughout.
garlic – A little bit goes a long way to add great flavor.
fresh thyme, rosemary, & sage – The best savory herbs to level up any stock.
bay leaves – This simple ingredient infuses minty, black pepper flavors.
peppercorns & kosher salt – Simple seasonings to elevate all your favorite stock flavors.
Turkey Stock Preparation Tips
After cooking up a big Thanksgiving dinner, turning right around to make something else is sometimes low on your list of to-dos. But after making our own stock for years, we've learned a few tricks to make this process quick and easy.
save vegetable leftovers – While you prep your carrots for sides like our whole roasted carrots & honey and celery and onion for stuffing, save the trimmings and leftovers in a container to be used for your stock. This saves you time and makes the most of your meal prep.
keep the turkey neck – The turkey neck has juicy, flavorful dark meat which will bring your turkey stock to the next level. Place it in the same bag as your leftover veggies and place it in the freezer until you're ready to make your stock.
storage containers – Decide where you plan on storing your stock ahead of time and make a game plan for what containers will work best for your storage needs. If you plan on freezing your stock in mason jars, make sure you leave a little bit of space at the top as the stock will expand when frozen.
How To Make Turkey Stock
Prep your onion, celery, carrots, and garlic so that they are easily accessible.
Place your turkey bones in a 6-8 qt dutch oven (or other stock pot) and cover with water. Bring to a boil on the stovetop and let simmer for 10 minutes.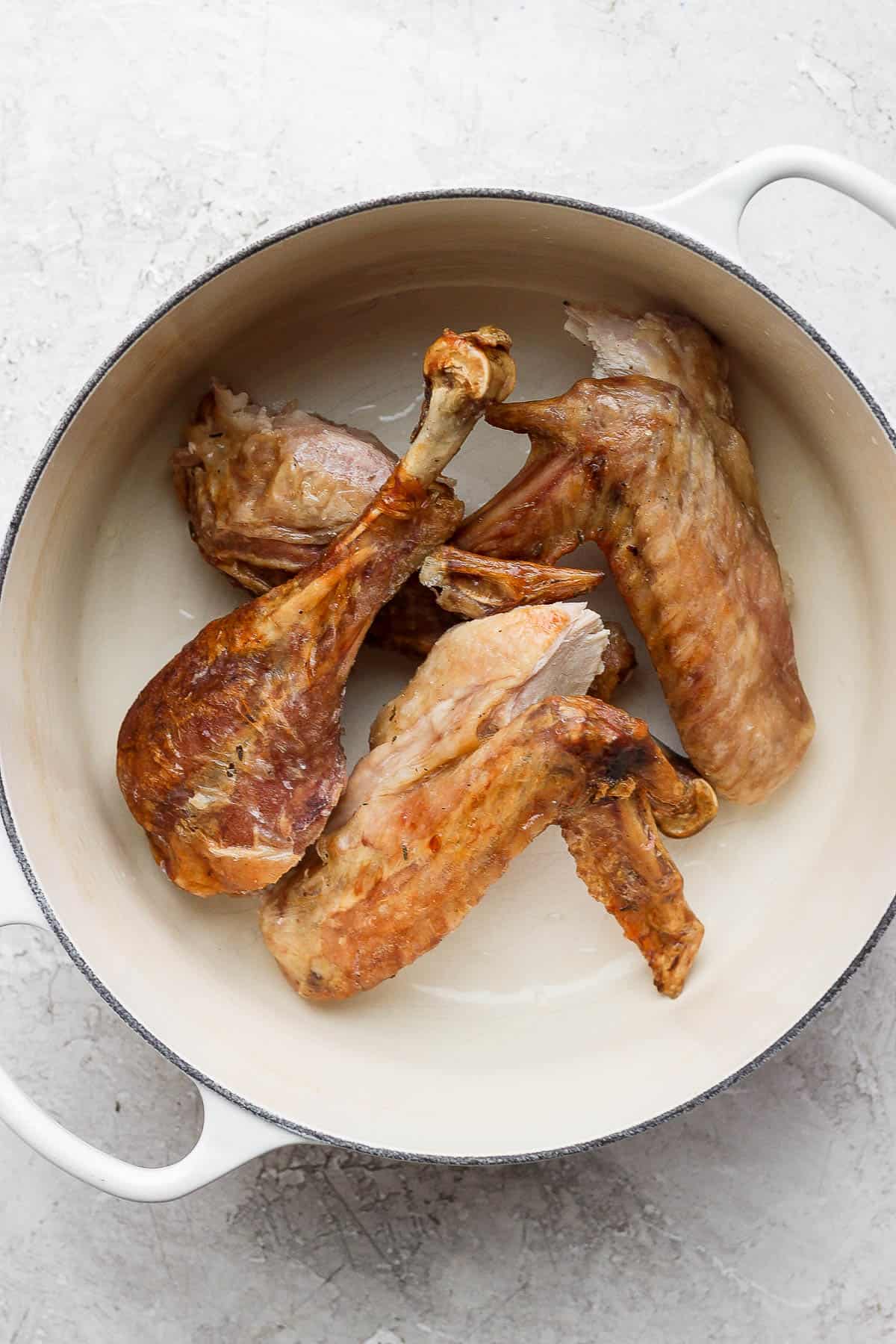 Add your veggies, fresh herbs, and seasonings. Feel free to start with one tablespoon of salt and add more as desired.
Stir well with a large spoon and then cover and let simmer for a minimum of 1 hour but up to 6 hours (the longer you simmer, the more flavorful it will be).
Taste and add additional salt, as needed, until it has reached your desired flavor.
Use a mesh strainer to strain out the veggies, herbs, and turkey bones so only the stock remains.
Use this turkey stock in your favorite soup recipe or store in a mason jar, making sure to leave room at the top if you plan on freezing it to use later.
How To Use Turkey Stock
The possibilities are endless here, folks. Feel free to substitute turkey stock for chicken stock in any recipe. They have similar flavor profiles and the homemade version always has superior flavor compared to store bought. Try out this stock in any one of the following recipes.
Recipe FAQs
stock vs. broth – The difference between a stock and broth is the main ingredient. Stocks use bones and broths use flesh. Because of this, stocks have a more gelatinous texture due to the collagen and gelatin in the bones. Both are supported with a plethora of vegetables, but stocks are typically less seasoned than broths in order to provide flexibility in a variety of recipes. Both can be used interchangeably in recipes, but just keep an eye on the seasoning as it will vary depending on which you choose.
how long is turkey stock good for – Your turkey stock will last for 5-7 days in an airtight container in the refrigerator or up to 6 months frozen in the freezer.
Made this recipe and loved it?! We would love it if you would take a minute and leave a star rating and review – it is also helpful if you made any substitutions or changes to the recipe to share that as well. THANK YOU!
Don't forget to check out my Instagram account for some behind-the-scenes action! Or give me a follow on Facebook or see what I am pinning on Pinterest!
Other Recipes You Might Like
Print
Turkey Stock Recipe
Author: Erin Jensen
Prep Time: 10 minutes
Cook Time: 6 hours
Total Time: 6 hours 10 minutes
Yield: 4–5 cups 1x
Category: Turkey
Method: Stove Top
Cuisine: American
---
Description
Turkey Stock Recipe – a simple, flavorful and delicious turkey stock recipe that is perfect for Thanksgiving leftovers!
---
Leftover bones from 10-15 pound turkey
8–10 cups water
3 large carrots, peeled and roughly chopped into 4–5 sections
3 stalks celery, rinsed and cut into large chunks
1 small yellow onion, cut into large chunks (you can quarter or slice)
3–4 cloves garlic, smashed
1 small bunch of fresh thyme
2 sprigs fresh rosemary
3 fresh sage leaves
2–3 bay leaves
1 teaspoon whole peppercorns
1–2 tablespoons kosher salt, more to taste
---
Instructions
Place your turkey bones in a 6-8 qt dutch oven (or other stock pot) and cover with water.
Bring to a boil and then reduce to a simmer for 10 minutes.
Add additional ingredients (Note: feel free to start with 1 tablespoon salt and add more, as desired, from there).
Stir well and then cover and let simmer for a minimum of 1 hour but up to 6 hours (the longer you simmer, the more flavorful it will be).
Taste and add additional salt, as needed, until reached desired flavor.
Strain and place broth in mason jar for storage or use to make soup.
---
Notes
Storage: Place in refrigerator and use within 5-7 days or place in freezer in a freezer-safe container (remember to leave extra room in mason jar if freezing to allow for expanding liquid) – Use within 3-6 months.
Keywords: turkey stock, how to make turkey stock