BBQ Meatballs – an easy, go-to barbecue meatball recipe that can be made in the slow cooker, oven, or simply on the stove top! Perfect for a quick meal or meal prep!
Why You Will Love This Recipe
Easy – they are only 10 real ingredients and they cook in about 10 minutes! So simple!
Versatile – you can smother these babies in any of your favorite BBQ sauces.
Great for meal prep – since they are so easy, it makes them perfect for whipping up any night of the week for meal prep!
What You Will Need
Lean ground beef
Bob's Red Mill Almond Flour
Yellow onion
Liquid smoke
Egg
Unsweetened almond milk
Black pepper
Garlic powder
Balsamic vinegar
Olive oil (stove top + slow cooker methods only)
Worcestershire sauce (optional)
Recipe FAQs and Tips
Ground Beef: be sure to use very lean ground beef when making these meatballs (at least 90% lean). If you use a ground beef that is less lean it will leave a fair amount of grease at the bottom of your slow cooker.
BBQ Sauce: you can use any BBQ sauce that you want! We love this one!
How long can I store leftovers? you can keep cooked meatballs in an airtight container in the fridge for 3-4 days. Great for meal prep!
Can I freeze meatballs? Yes! You can keep cooked meatballs in the freezer for 3-4 months. Wait to sauce them until you are ready to serve.
Paleo/Whole30: to make Paleo/Whole30 omit the Worcestershire sauce and ensure you are using a Paleo/Whole30 BBQ sauce!
What Should I Serve With BBQ Meatballs?
They are so versatile that you could serve with almost anything but we typically like a potato and a vegetable. Some of our favorites are Instant Pot Mashed Potatoes, Grilled Potato Wedges, Roasted Broccolini, and Steamed Green Beans.
How to Make BBQ Meatballs
Step one – place all meatball ingredients in a mixing bowl.
Step two – mix with your hands.
Step three – roll into meatballs. Pro tip – we love to use a cookie scoop for this!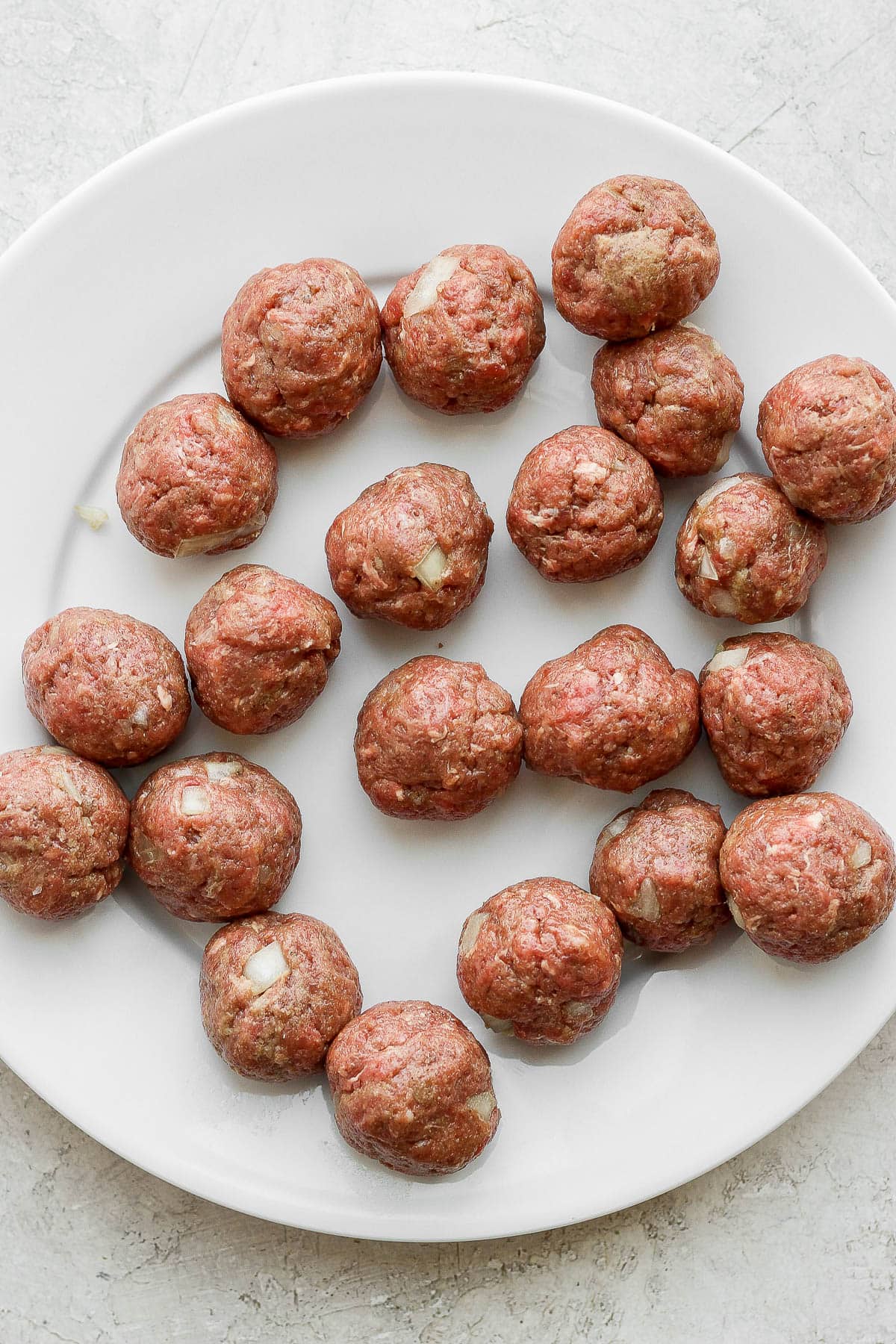 Step Four – cook via your preferred cooking method – oven, slow cooker, or stove top.
Step Five – smother in your favorite BBQ sauce and enjoy!
Print