A super easy Smoked Salmon Brine recipe that only requires 5 real, simple ingredients. This simple process will bring so much great flavor to your favorite smoked salmon recipe!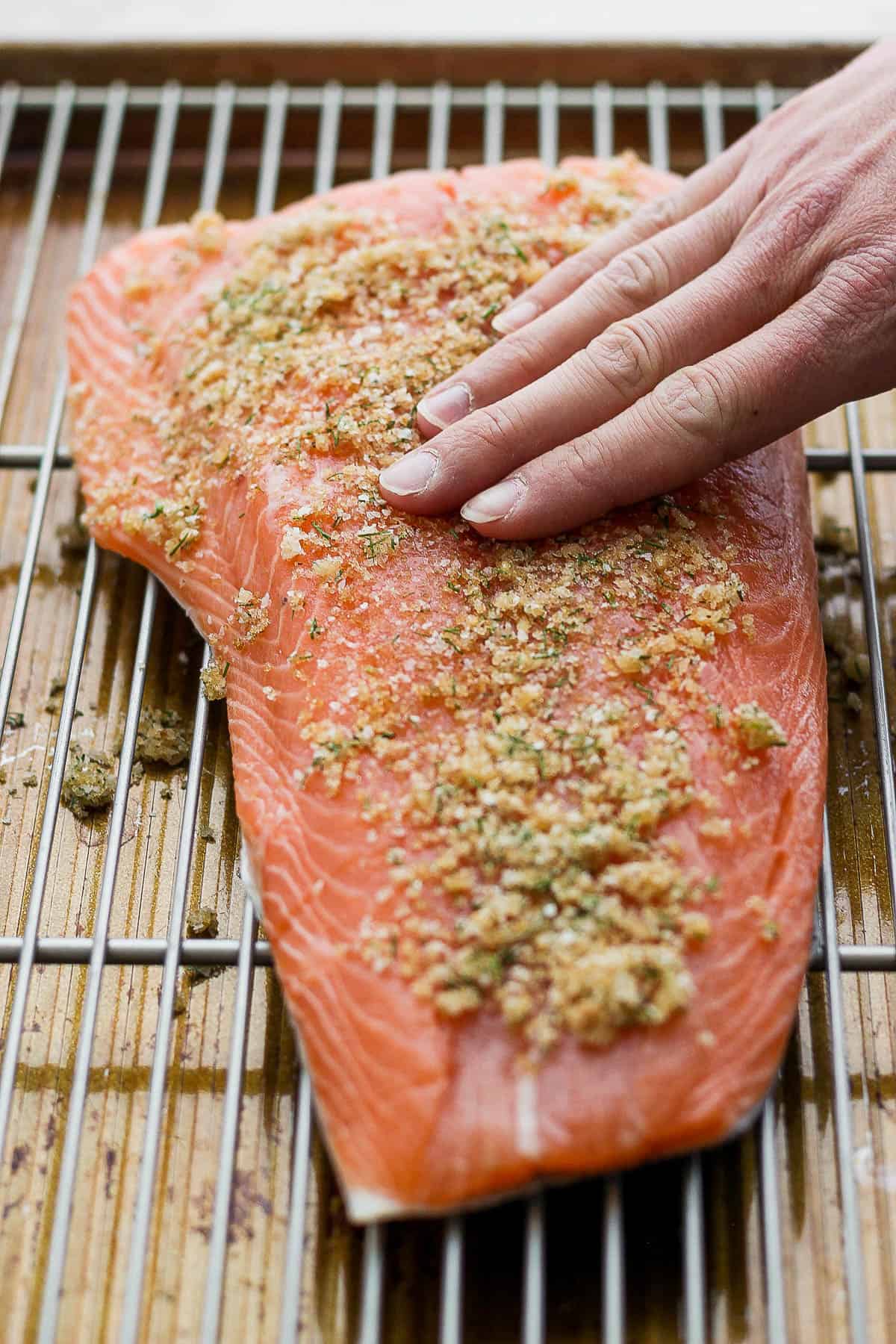 The Best Smoked Salmon Brine Recipe
At our house we love all the salmon recipes and we love cooking with our Traeger pellet grill, combine the two and it is a match made in heaven! This simple dry brine for salmon is a great way to add so much wonderful flavor and a touch of sweetness to your next smoked salmon. It is a quick brine that only requires an hour to sit before smoking, but if you prep it ahead of time it could brine as long as overnight. If you haven't tried a brine for a delicious smoked salmon before, we highly recommend trying it!
Have you ever tried a pickle brine? We highly suggest you try making our pickle brine chicken – so much flavor!
What You Will Need
brown sugar – we love adding this little bit of sweetness to the salmon, but feel free to add more or less depending on how you like your smoked salmon.
kosher salt & ground black pepper – simple seasonings that are always needed when cooking salmon.
fresh dill – a fresh herb that really brings some light & refreshing flavors.
garlic – everything is better with a little garlic in the mix!
fresh salmon filet – just pick up a fresh piece of wild salmon from your local grocery store.
How To Make A Smoked Salmon Brine
The first step to making this easy recipe is to gather your ingredients and measure them out.
Place all of those dry rub ingredients in a small bowl.
Then mix the sugar mixture together.
Put your fresh salmon on a wire rack that is on top of a cookie sheet and use your hands to rub the brine over the surface of the fish.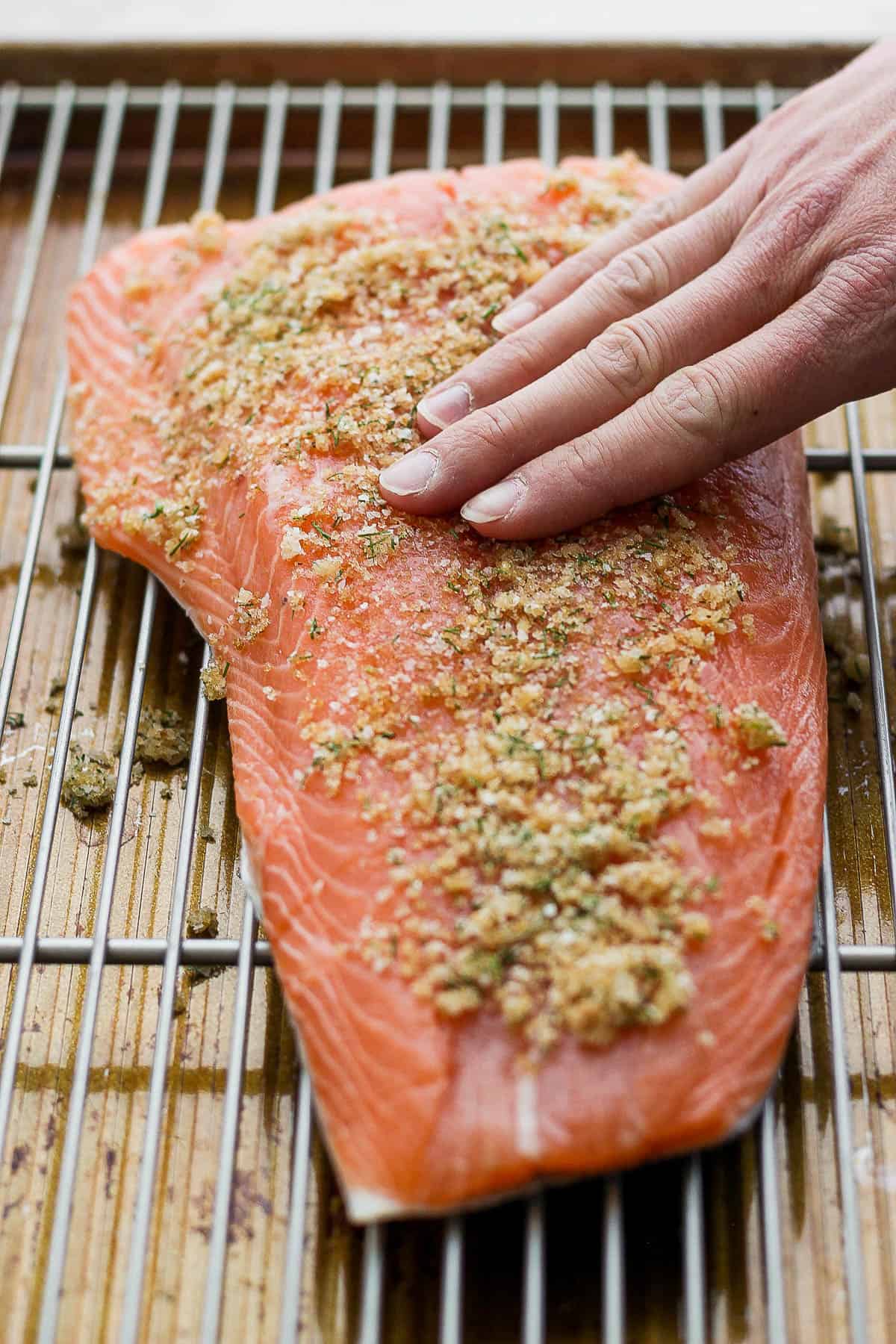 For best results, place the entire salmon fillet in the fridge for at least one hour. You can let it sit as long as overnight before you smoke salmon, if you want.
Then it is time to smoke the salmon, we highly recommend following our easy smoked salmon recipe – so good! Now enjoy that hot smoked salmon any way you want!
Recipe FAQ
dry brine vs. wet brine: the recipe card below is for a dry salmon brine, but there are also wet salmon brine recipes that usually include water or some type of liquid in addition to the salt, herbs, & spices.
Does salmon need to be brined before smoking: no, it does not NEED to be brined but we highly recommend it! Without brining the salmon will still turn out, but the flavor won't be quite as intense, it may be more dry and there will be the white "albumin" that will form on top of the salmon.
Is it ok to brine salmon overnight: we only tested this by brining it for an hour – so while you may be able to brine overnight, we haven't tested with this specific recipe yet!
Do I need to rinse salmon after brining: no, you do not need to rinse salmon after brining, simply pat dry with a clean paper towel.
Best ways to use smoked salmon: Hot-smoked salmon can be enjoyed by itself or used to make a smoked salmon dip. Leftover smoked salmon can be stored in an airtight container in the fridge. Then you can use cold smoked salmon to make an ultimate lox bagel!
Made this yogurt-marinated chicken and loved it?! We would love it if you would take a minute and leave a star rating and review – it is also helpful if you made any substitutions or changes to the recipe to share that as well. THANK YOU!
Don't forget to check out my Instagram account for some behind-the-scenes action! Or give me a follow on Facebook or see what I am pinning on Pinterest!
Other Brine Recipes You Might Like
Print
Smoked Salmon Brine Recipe
Author: Erin Jensen
Prep Time: 10 minutes
Brine Time: 1 hour
Cook Time: 0 minutes
Total Time: 1 hour 10 minutes
Yield: 1 batch brine 1x
Category: How-To
Method: Refrigerator
Cuisine: American
---
Description
Smoked Salmon Brine – an easy and flavorful smoked salmon brine recipe that is the best way to elevate your favorite salmon recipe!
---
2 tablespoons brown sugar
1 tablespoon kosher salt
1/8 teaspoon ground black pepper
1 teaspoon fresh dill, chopped
1 teaspoon garlic, minced or grated
1.5 pounds fresh salmon
---
Instructions
Combine Brine: Add brown sugar, kosher salt, ground black pepper, fresh dill and garlic to a small bowl. Stir to combine.
Brine Salmon: Place salmon on a wire rack on top of a baking sheet, skin side down. Rub brine all over the top of the salmon (no need to rub on the skin). Place in the refrigerator, uncovered, for 1 hour (up to 90 minutes).
Prep for Cooking: Remove salmon from refrigerator and pat dry with clean paper towel. Cook using your favorite smoked salmon recipe – we love this Easy Smoked Salmon recipe!
---
Notes
Sugar: the brown sugar does leave a little sweetness, but not much. Feel free to reduce or omit the brown sugar, if you desire.
Keywords: smoked salmon brine