Smoked Chicken Brine is an easy extra step that takes your smoked chicken to the next level!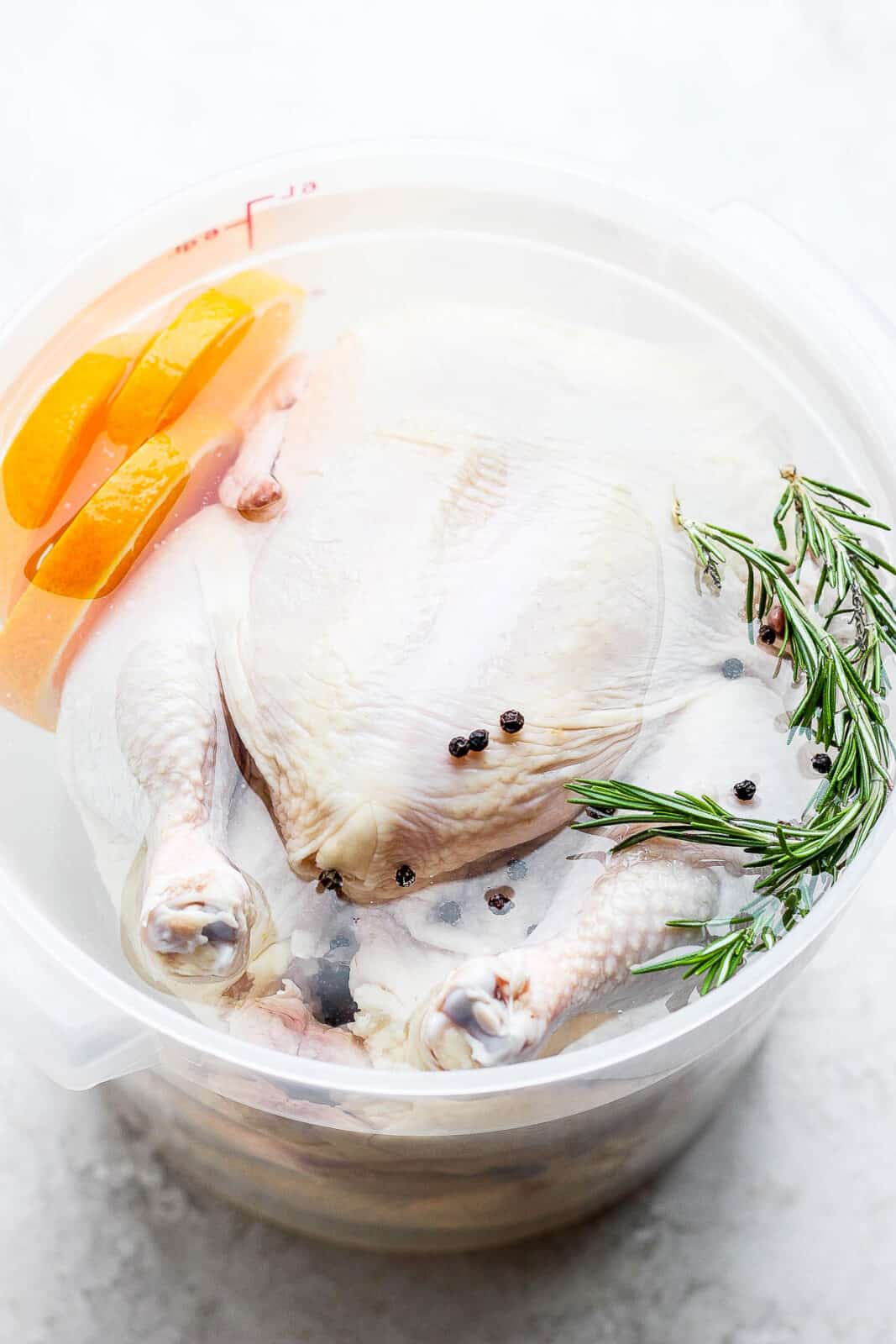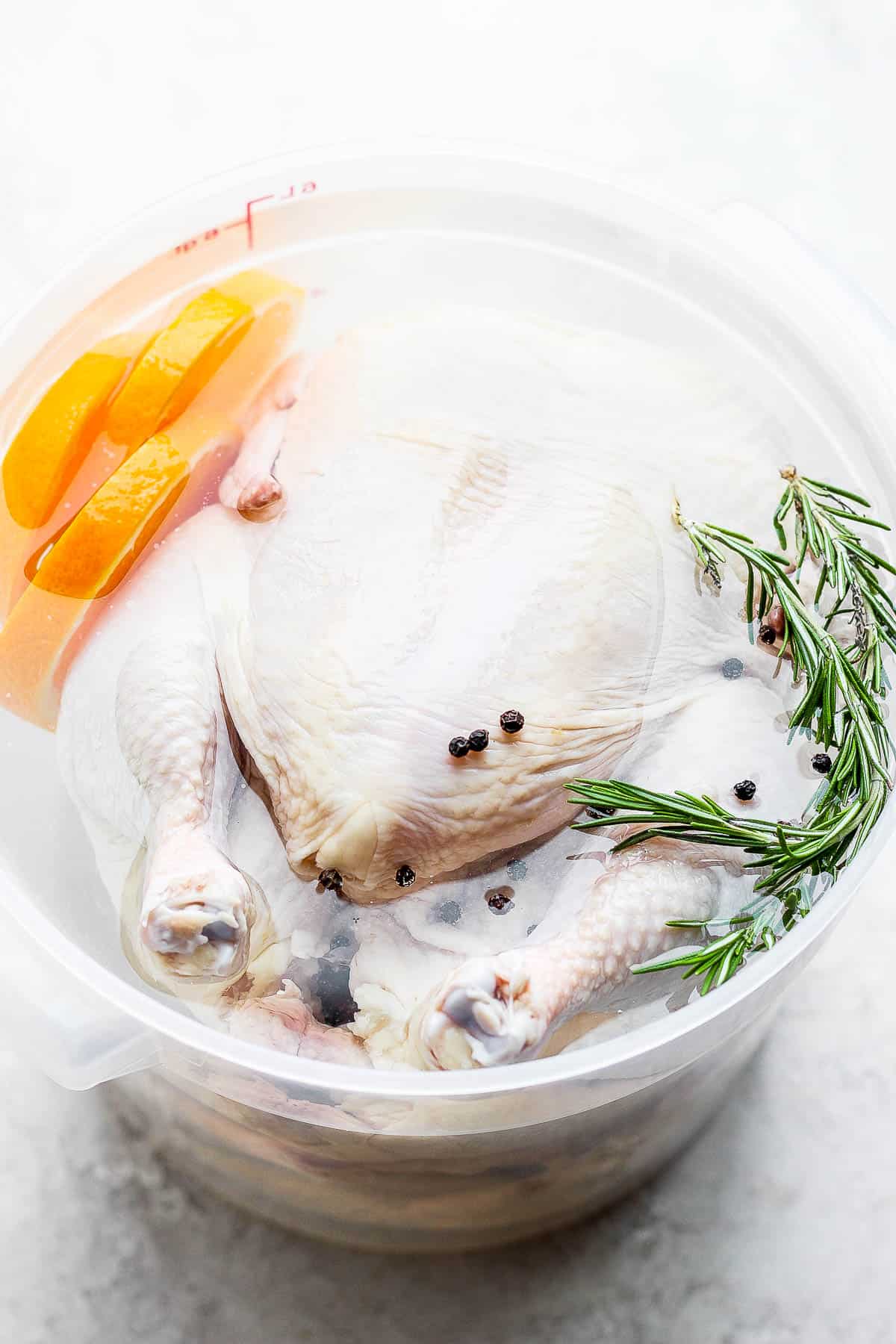 Easy Smoked Chicken Brine
We are huge fans of all the smoked meat recipe – there is nothing quite like having the smoker going on a hot summer day with maybe a Beer Can Chicken going, maybe some smoked green beans, smoked potatoes or smoked baked beans in the works? Not much better! If you are thinking of smoking a chicken and want to take it to the next level then this is a great place to start! A simple brine will result in a more juicy, tender chicken with little extra effort! We love using it on our smoked whole chicken, smoked chicken breasts and smoked chicken thighs.
Why This Recipe Works
Not too salty: we don't recommend rinsing your chicken after brining so our brine isn't overly salty, just salty enough! All you need to do is pat dry.
Aromatics: the addition of aromatics is key – the beautiful smell of the fresh herbs is amazing.
Brine time: we have broken down the brine time depending upon whether you are smoking a whole chicken or just breasts or thighs.
What You Will Need
water + kosher salt: this is our basic brine solution.
orange: adds a touch of sweetness and citrus.
whole black peppercorns: for a little bite.
fresh rosemary: contributes an earthy flavor.
other add-ins: garlic or onion work here too.
Should You Brine a Chicken Before Smoking
We recommend it! While your chicken will still turn out even if you don't, it is a fun addition to any smoked chicken recipe.
How Long Should You Brine a Chicken Before Smoking
That depends upon what cut of chicken your are smoking. For a whole chicken we recommend 12 hours (or up to 24 hours), while a chicken thigh or breast can be done is a minimum of 30 minutes (or up to 3/4 hours).
Do you Rinse Chicken Before Brining
We do not recommend rinsing your chicken before brining (and neither does the USDA) as it can lead to contamination in your sink. Simply pat your chicken dry with a clean paper towel before brining.
Why Do You Brine Meat Before Smoking
Meats are brined before smoking because the salt not only alters that meats protein by allowing the cells to retain more moisture (more juicy), but it also tenderizes the mat by causing its muscle fiber to unravel and swell. So: brining = juicy and tender.
How to Make a Smoked Chicken Brine
Gather your ingredients.
Combine your salt and water. You can do this one of two ways: you can warm up your water and add in your salt, it will dissolve more quickly this way, but then you need to cool it back down before pouring it over your chicken. Or, you can add your salt to cold water and whisk until combined.
Grab your chicken and ensure the cavity is empty.
Place chicken in a food-grade container and pour the water/salt mixture over top. Add in other ingredients. Let chicken sit per recipe card below.
Remove chicken and pat dry with clean paper towel before smoking however you like.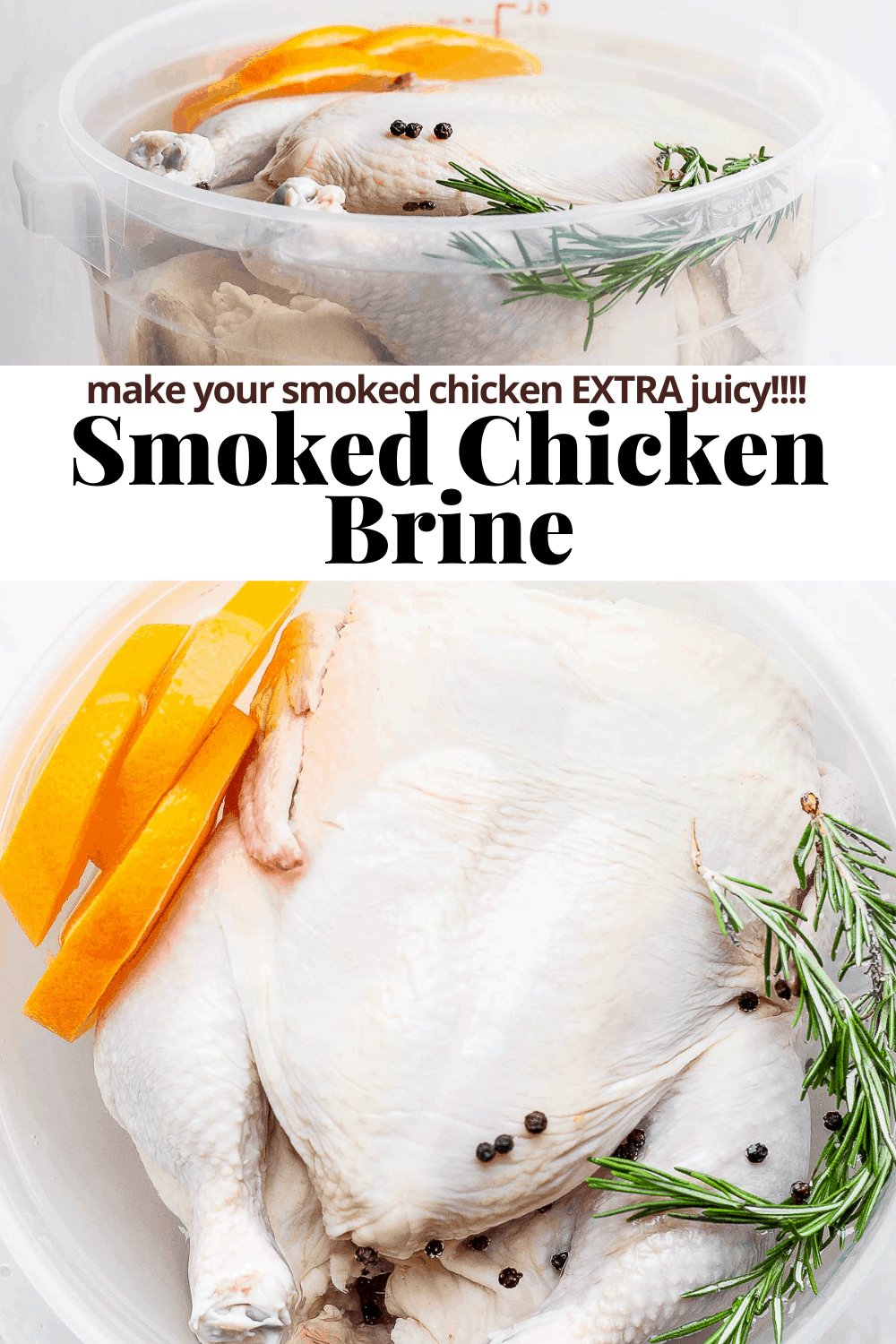 Made this recipe and loved it?! We would love it if you would take a minute and leave a star rating and review – it is also helpful if you made any substitutions or changes to the recipe to share that as well. THANK YOU!
Don't forget to check out my Instagram account for some behind-the-scenes action! Or give me a follow on Facebook or see what I am pinning on Pinterest!
Print
Smoked Chicken Brine
Author: Erin Jensen
Prep Time: 10 minutes
Brine Time: 30 minutes
Cook Time: 0 minutes
Total Time: 40 minutes
Yield: 1 brine 1x
Category: Brine
Method: Refrigerator
Cuisine: American
---
Description
Smoked Chicken Brine – a simple, easy recipe for a smoked chicken brine that is easily customizable. Results in such juicy smoked chicken!
---
4 cups water
1/4 cup kosher salt
1 orange, sliced
1 teaspoon whole black peppercorns
2–3 sprigs fresh rosemary
---
Instructions
Combine the water and salt in a medium mixing bowl; Whisk to combine.
Add in orange, peppercorns and rosemary.
Place chicken in a food grade container and pour brine over top.
Place in the refrigerator.
Let chicken brine for 30 minutes – 3 hours for breasts and thighs or 12-24 hours for a whole chicken.
Remove from brine and pat dry with clean paper towel. Then smoke however you wish (we love these Smoked Chicken Thigh and Smoked Chicken Breast recipes).
---
Notes
Smoked Chicken Recipes: We love using this brine on our smoked whole chicken, smoked chicken breasts and smoked chicken thighs.
Brine Time: the actual brine time varies; see notes below.
Container: make sure you are using a food-grade container.
Additions: feel free to add in other aromatics or even some coconut sugar for a touch of sweetness.
Whole Chicken: for a single whole chicken you will most like need to double this recipe. I recommend brining a whole chicken for 12-24 hours.
Chicken Thighs + Breasts: I recommend brining chicken thighs and breasts for a minimum of 30 minutes and up to 3-4 hours.
Pat Dry: there is no need to rinse your chicken after brining, simply pat dry with a clean paper towel.
Refrigerate: feel free to refrigerate your chicken after brining, uncovered, for about an hour or so to get even crispier skin after cooking.
Keywords: smoked chicken brine