Vegan Sweet Green Curried Noodles – a quick and easy plant-based meal!!
This post is sponsored by Califia – the opinions are my own.
Looking for a new plant-based recipe? This recipe is for you!
I am so excited to be sharing this recipe with you guys!! Okay, you all know I am a really big fan of curry. It is pure and simple comfort food for me and SO flavorful. …… but pasta is pure comfort food for me as well. So, put them together into a big bowl of curried noodles and it is a match made in heaven! Plus, I am ALWAYS looking for ways to increase the number of plant-based meals our family eats. I always feel better, it is a fun way to mix up our usual recipes and it is SO much easier on the wallet. This will be definitely be put into the regular rotation!
Califia is one of my absolute favorite brands and their coconut milk is completely delicious (also amazing in cold brew – just saying). It is perfectly rich and creamy – it really makes this recipe what it is!!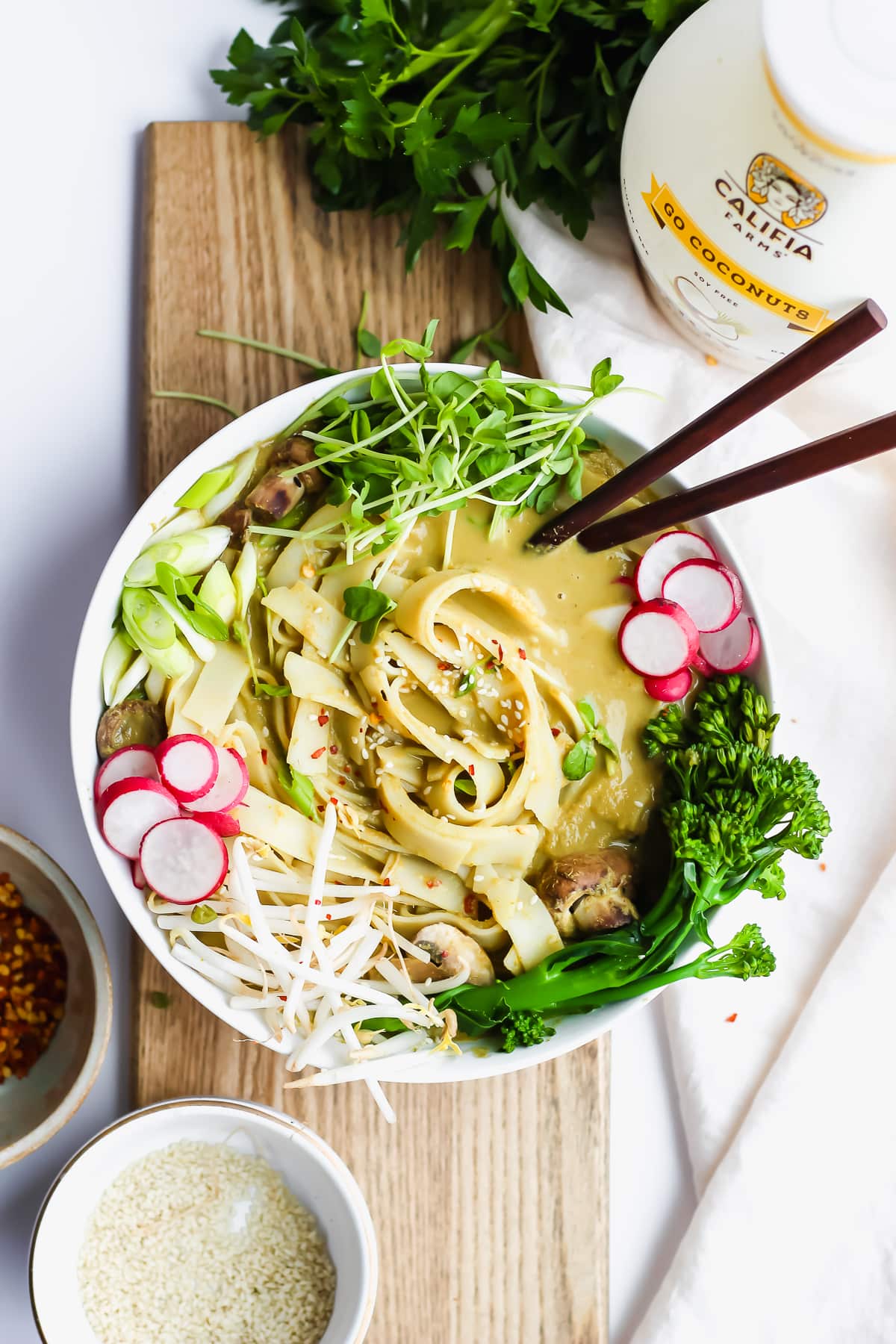 Hope you guys are having a good week!
Don't forget to follow me on Facebook, check out my Instagram account or see what I am pinning on Pinterest!
Love,
E
Print
Vegan Sweet Green Curried Noodles
Author: Erin
Yield: 2-3 servings 1x
Category: Dinner
Method: Stove Top
Cuisine: Indian
---
Description
Looking for a new plant-based recipe? This recipe is for you!
---
1 pkg wide rice noodles, cook per package instructions
2 3oz jars of green curry paste
4 cups Califia Go Coconuts coconut milk
2 Tablespoons olive oil or avocado oil
2 Tablespoons minced garlic
1/4 cup minced sweet yellow onion
2 cups mushrooms, sliced (really any kind will work)
2–3 cups broccolini, cut into bit-sized chunks
Garnish:
bean sprouts
sliced radish
sliced green onion
micro-greens
sesame seeds
red pepper flakes
---
Instructions
In wok or large saucepan, add olive oil.
Once hot, add garlic and move around until it becomes aromatic, about 1 minute.
Add onion and stir until they reduce, about 2-3 minutes (add additional oil as needed to ensure pan doesn't dry out)
Add mushrooms and broccolini.
Sautee for approximately 5 minutes.
Add coconut milk and curry paste.
Stir until fully combined.
Cover and bring to simmer for 5 minutes.
Cook noodles per package instructions.
Fill two bowls with noodles and pour curry sauce on top, along with mushrooms and broccolini.
Garnish as desired.
---
Thank you so much for reading & supporting The Wooden Skillet! This post contains affiliate links for products I actually use in my own home and personally recommend. Should you make a purchase using one of these links, The Wooden Skillet will earn a small commission at no extra cost to you, which helps me continue to bring you great original content. Thank you!